These Butterscotch Chocolate Chip Brownies are ooey-gooey brownies brimming with butterscotch flavor. Made with brown sugar and plenty of butter, these butterscotch brownies are light in color and rich in taste!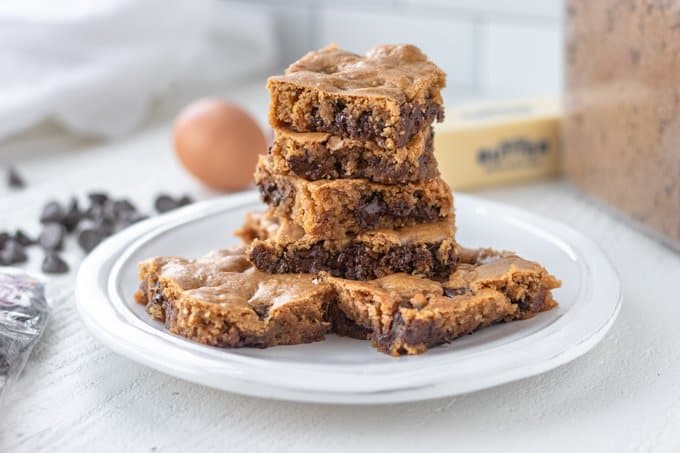 Have you ever paired butterscotch with chocolate?
It's a heavenly combination that's perfect in brownies!
This Butterscotch Brownies recipe is a real throwback. I originally shared it on day three of my original 365 Days of Baking blog. It's so good, I just had to share it again. I think once you it you'll agree, these are the BEST brownies with chocolate chips and butterscotch.
SAVE THIS BUTTERSCOTCH BROWNIE RECIPE TO YOUR FAVORITE PINTEREST BOARD!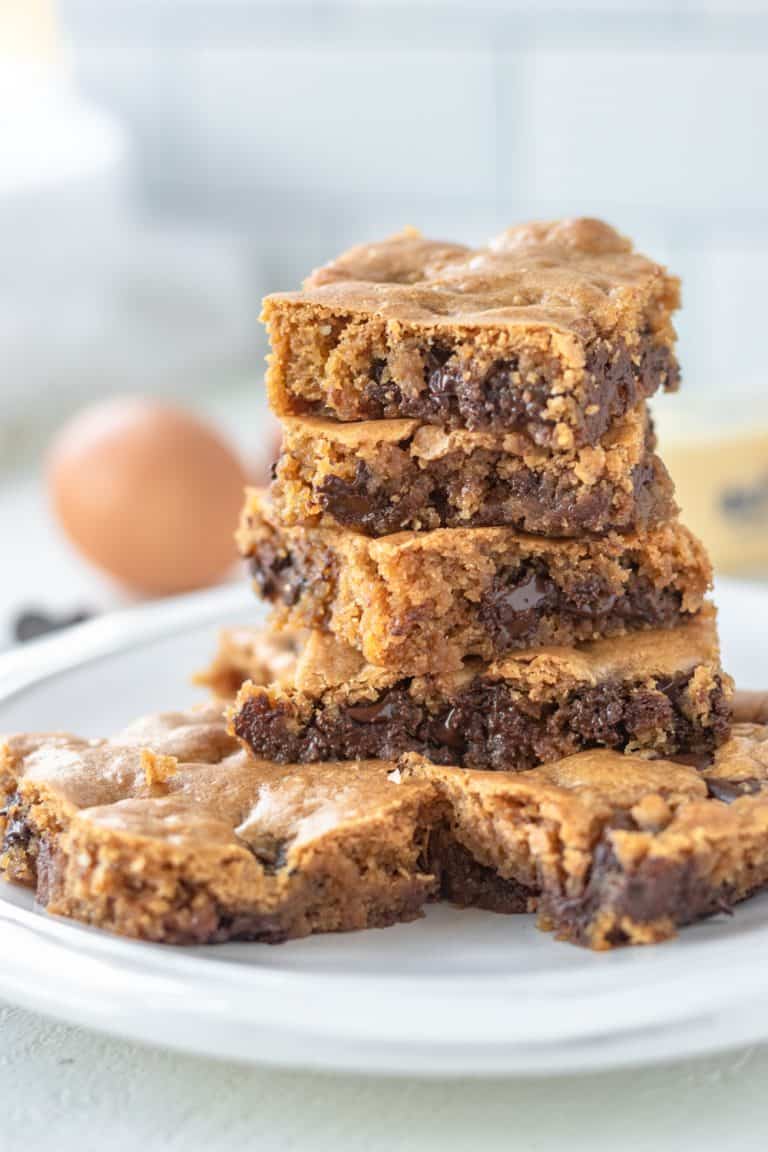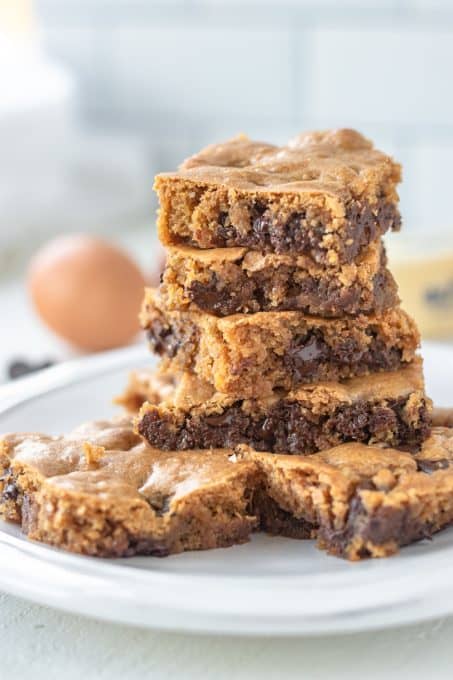 These dessert bars are somewhere between a chocolate brownie and a blondie. While most brownies are made with cocoa powder, the batter for these butterscotch brownies don't have any cocoa in the batter. Instead, we use dark brown sugar and butter to give them a flavor reminiscent of butterscotch fudge.
I say they still count as brownies, though! Chocolate morsels are folded into the batter, melting just the right amount into the brownies as they bake. They have a light brown color with plenty of gooey semi-sweet chocolate at the center. That makes them brownies in my book!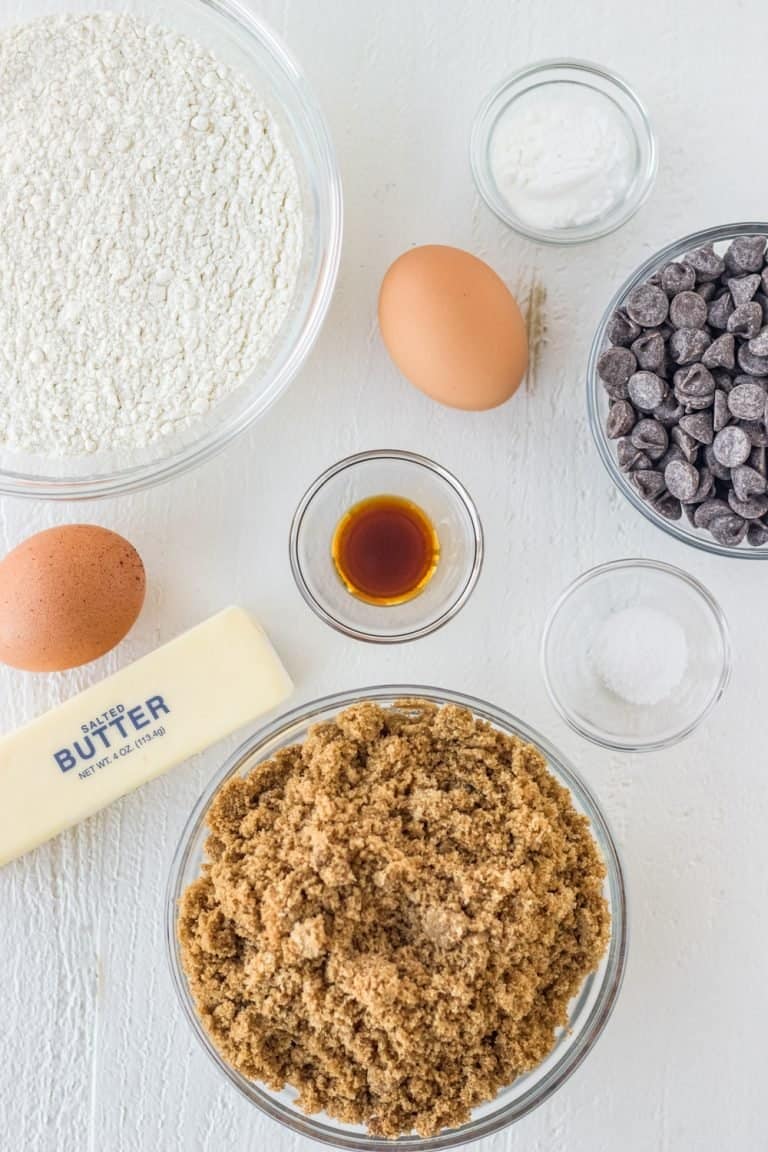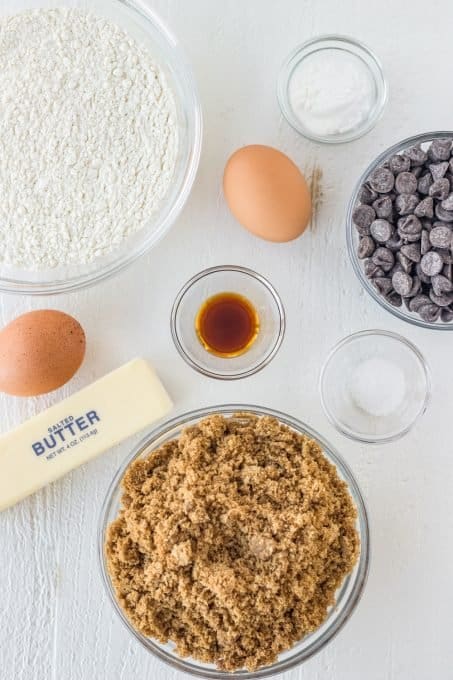 What do I need?
This butterscotch brownie recipe comes together with just eight easy ingredients.
melted butter
dark brown sugar
eggs
salt
flour
chocolate chips
baking powder
vanilla
Along with excluding cocoa powder, you'll notice this recipe is missing another element common in butterscotch brownie recipes: butterscotch chips. If you're looking for a dessert with butterscotch chips, you'll love this Oatmeal Butterscotch Cookies recipe.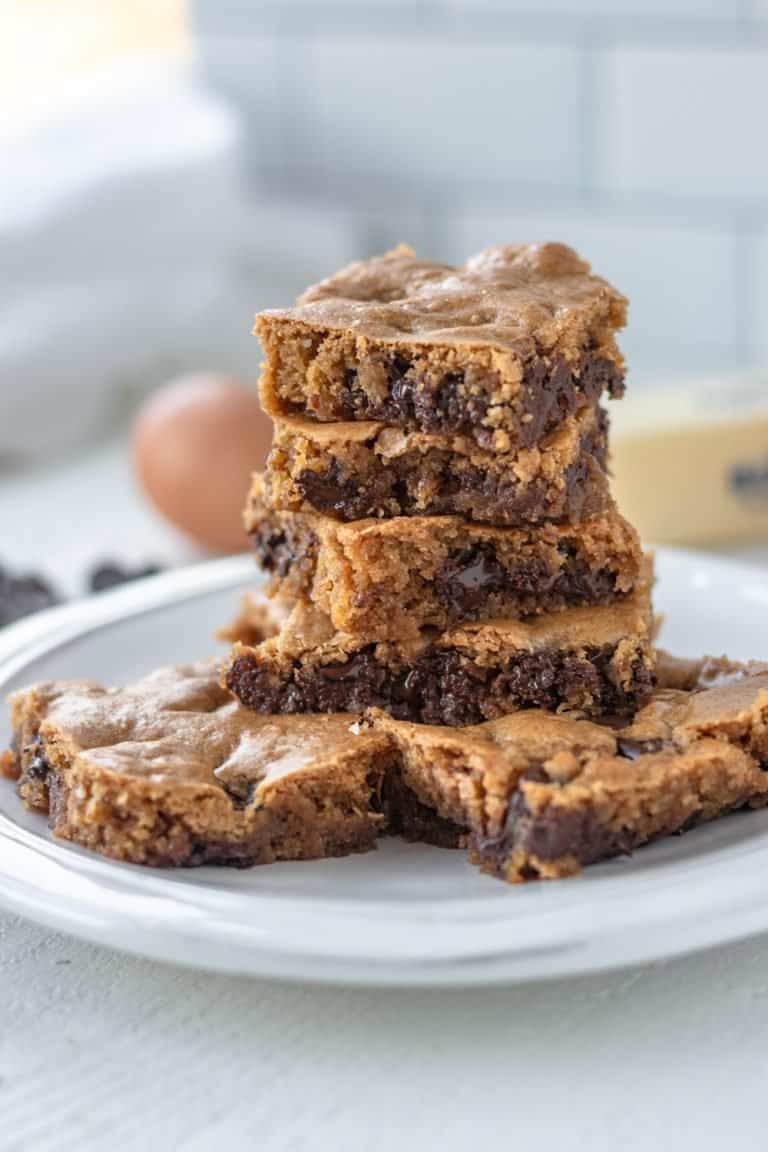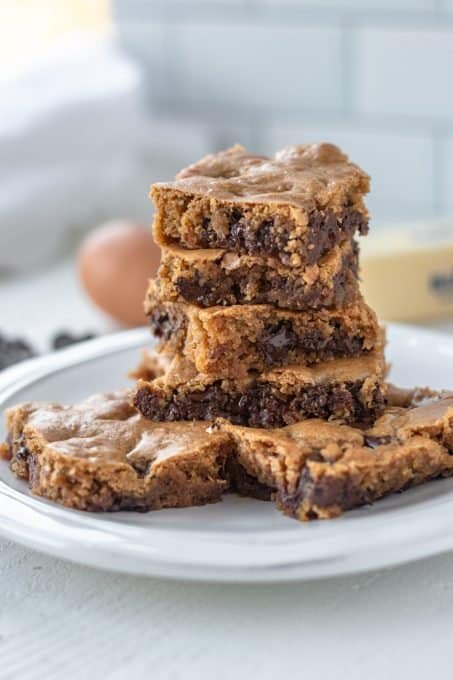 What is butterscotch?
Butterscotch is a confectionary made by cooking brown sugar with melted butter. The buttery sweet combination takes all kinds of forms: candy, sauce, glaze and baking chips. And I love them all.
You're probably familiar with butterscotch sauce as an ice cream topping. But did you know it's an amazing addition to cheese too? This Baked Brie with Dried Fruit, Nuts, and Butterscotch is one of my favorite appetizers to serve at a party. Everyone's jaw drops when they taste the delicious salty-sweetness of brie and butterscotch!
Wondering where the name "butterscotch" comes from?

The butter part is obvious. One theory holds that the "scotch" part of the name evolved from the word "scorch" since making butterscotch requires heating the butter and brown sugar at a high temperature.
There's nothing "scorched" about these brownies but the butterscotch taste in every bite is undeniable.
Combining dark brown sugar and butter in the batter essentially creates butterscotch baked into brownie form. The hint of molasses flavor and rich sweetness is the perfect contrast to the gooey dark chocolate.

It's a heavenly flavor combination that stands out in a crowd of the usual brownie suspects. Not that I don't love a classic chocolate brownie too, but sometimes it's fun to mix things up!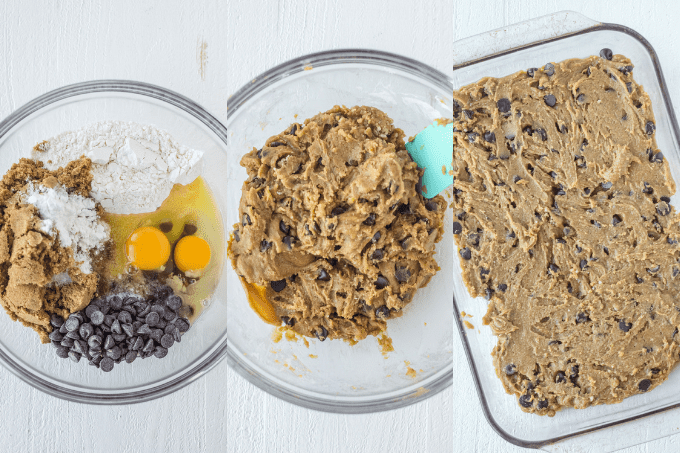 Brownie Recipes
Looking for a more chocolate-y brownie? Try these Chocolate Overload Loaded Brownies. They're the ultimate brownie for chocolate addicts!
These Hot Chocolate Brownies are like a mug of cocoa in brownie form. Complete with marshmallow creme for that authentic hot chocolate taste.
Our Mint Chocolate Brownies are perfect for St. Patrick's Day, but I'd be happy to see them (and eat them) any day of the year! Speaking of mint, these Easy Peppermint Brownie Bites are always a hit on our holiday cookie trays. They even have a surprise inside!
For fans of sweet and salty flavors, we have these Double Chocolate Toffee Caramel Brownies. Toffee, caramel and chocolate in one? Sign me up! I'll take one of those and one of these Chocolate Peanut Butter Pretzel Brownies for the road.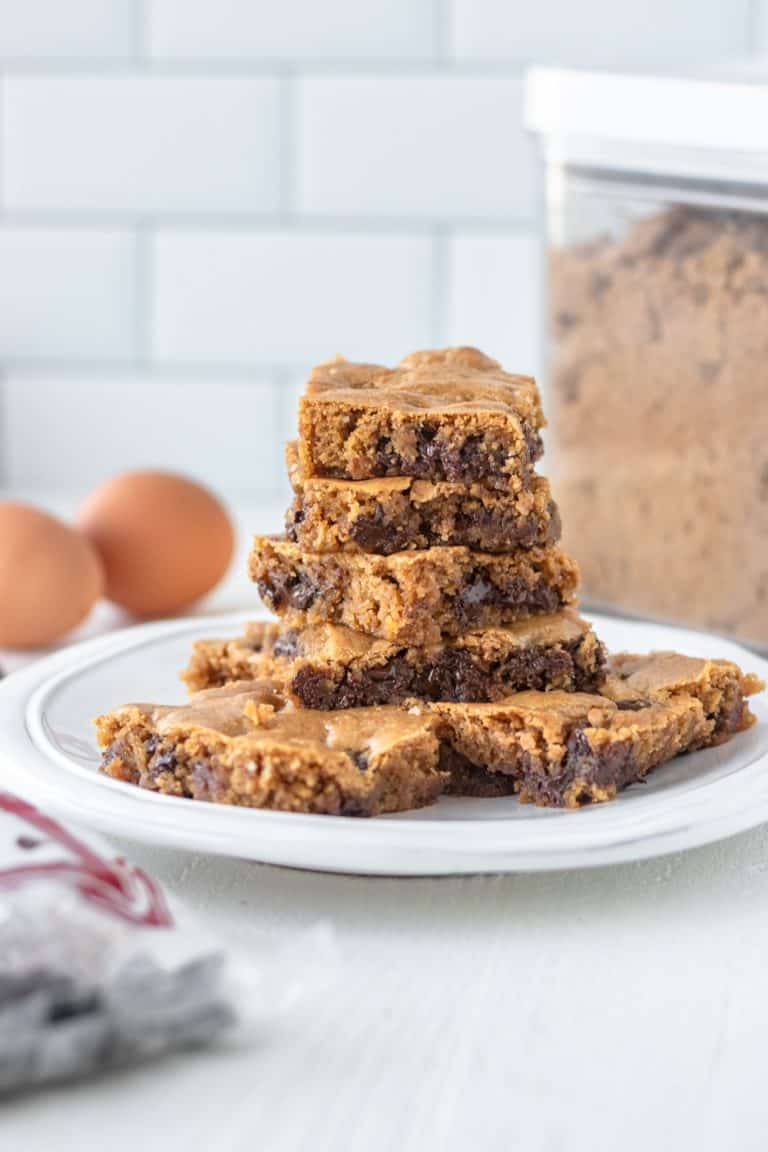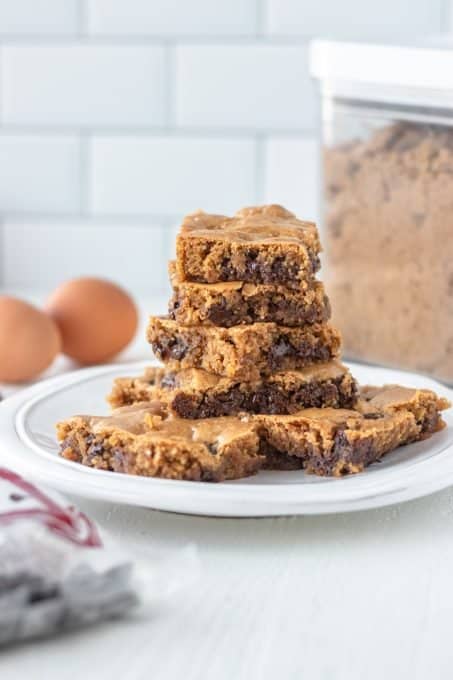 Bar Dessert Recipes
Bar recipes make me extra happy because they're so easy to serve and eat. No fork or plate required! Don't miss out on these other delicious dessert bars:
They're not bars but since we're talking about butterscotch today I'll do you a favor and remind you about these Harry Potter-inspired Butterbeer Cupcakes. You don't have to be a Harry Potter fan to enjoy the magical taste of butterscotch, especially when cupcakes are involved!
SIGN UP FOR THE WEEKLY
365 DAYS OF BAKING & MORE
NEWSLETTER BELOW!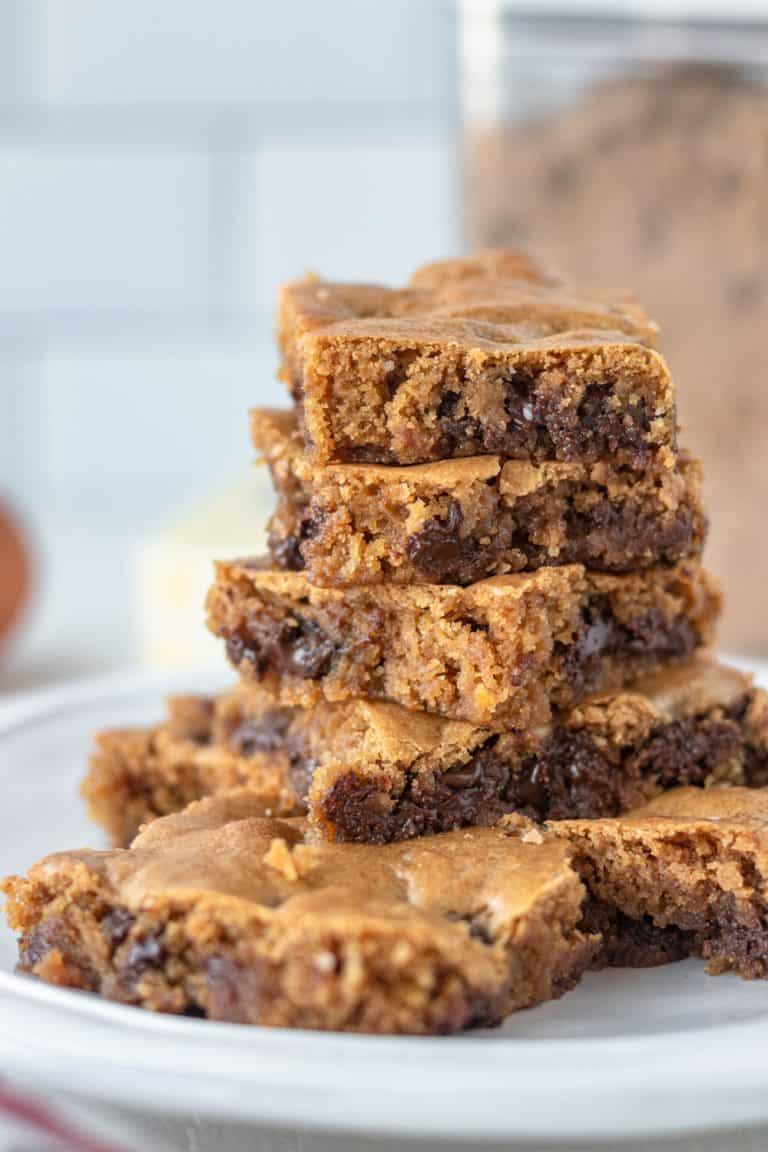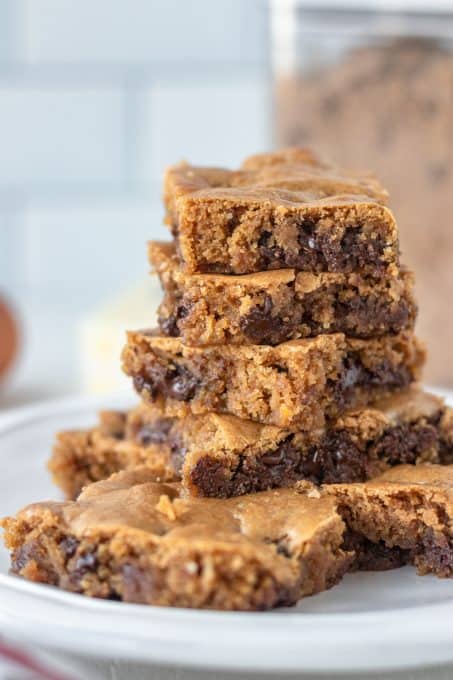 Butterscotch meets chocolate in this easy brownie recipe!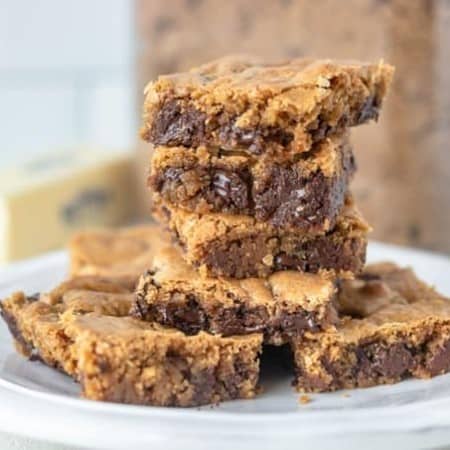 Butterscotch Chocolate Chip Brownies
Butterscotch Chocolate Chip Brownies are ooey-gooey brownies brimming with butterscotch flavor. Made with brown sugar and plenty of butter, these butterscotch brownies are light in color and rich in taste!
Ingredients
½ cup melted unsalted butter
2 cups packed dark brown sugar
2 eggs
½ teaspoon salt
1 ½ cups flour
1 cup semi-sweet chocolate chips
2 teaspoons baking powder
1 teaspoon vanilla
Instructions
Preheat oven to 350 degrees F.

Spray with cooking spray or butter a 9 X 13-inch baking dish.

Mix all the ingredients together in a large bowl until completely combined.

Spread evenly into prepared baking dish.

Bake for 25 – 30 minutes or until dry on top and nearly firm to touch.

Cool for 10 – 15 minutes before cutting into squares.
Nutrition
Serving: 1bar | Calories: 181kcal | Carbohydrates: 28g | Protein: 2g | Fat: 7g | Saturated Fat: 4g | Polyunsaturated Fat: 1g | Monounsaturated Fat: 2g | Trans Fat: 1g | Cholesterol: 24mg | Sodium: 61mg | Potassium: 115mg | Fiber: 1g | Sugar: 21g | Vitamin A: 142IU | Calcium: 39mg | Iron: 1mg
Did you make this recipe?
Share it with me on Instagram and make sure to follow me on Pinterest for more recipes.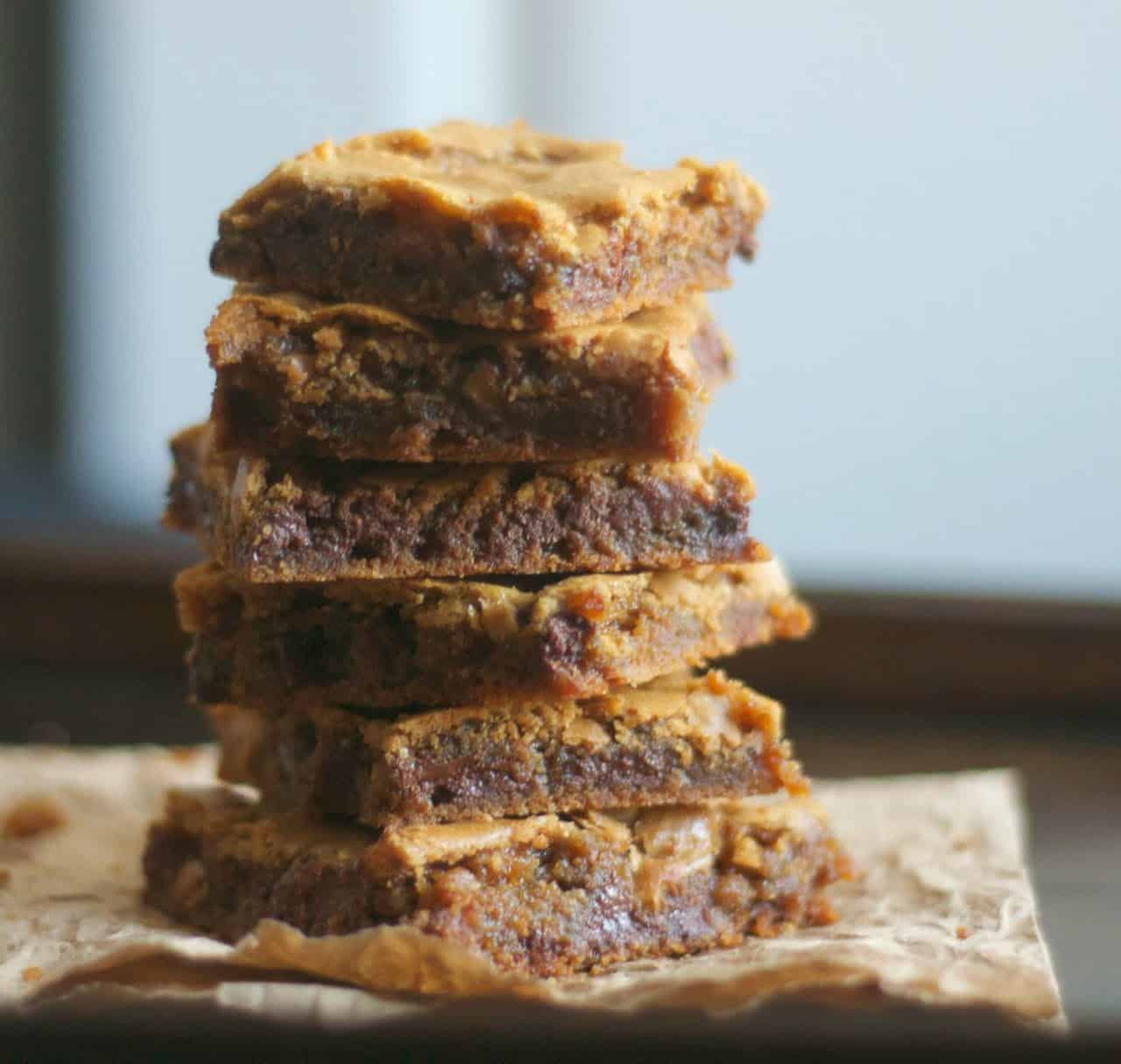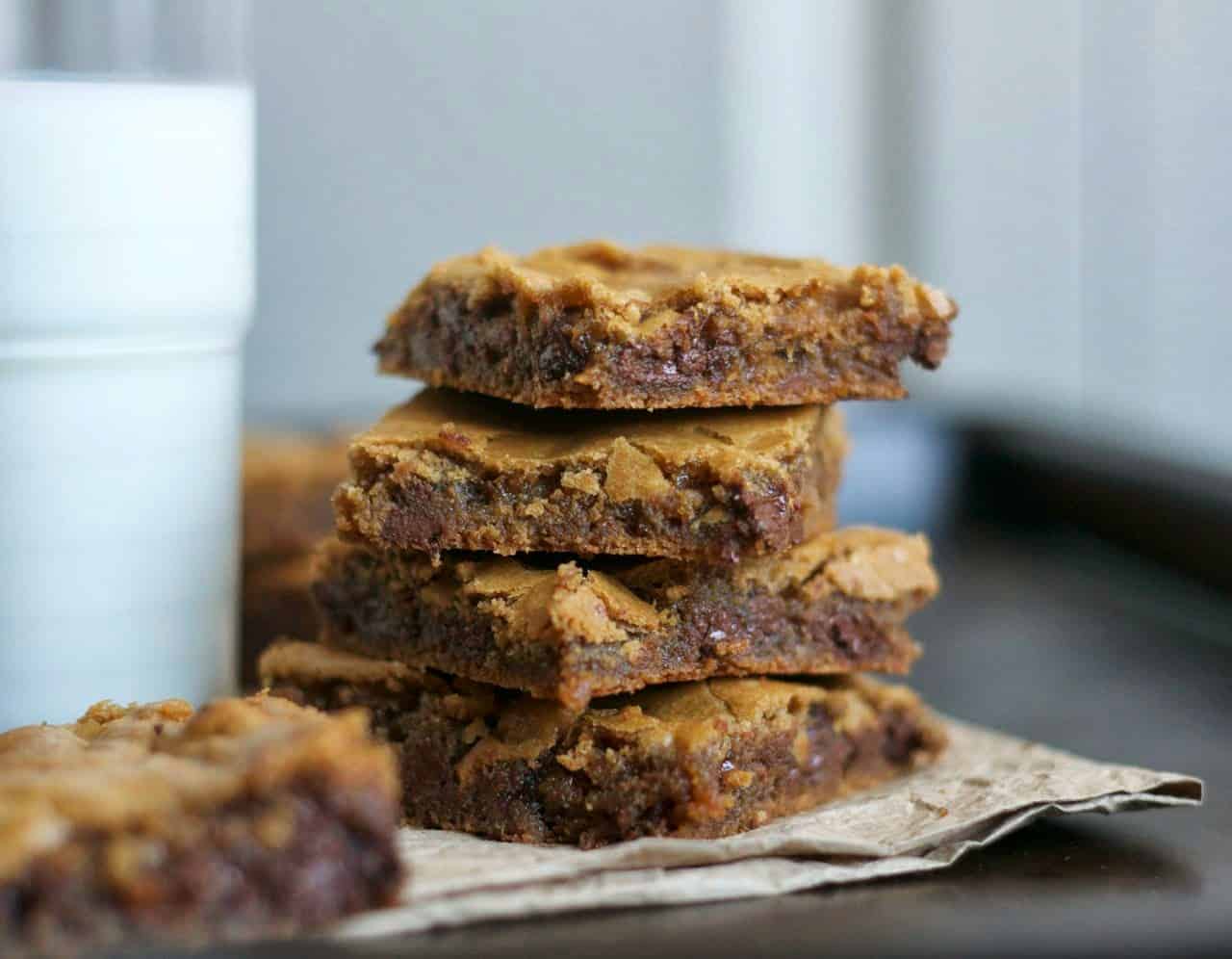 I republished this post on 4/24/2017. It has been updated in format and with pictures on 3/15/22.
Reader Interactions