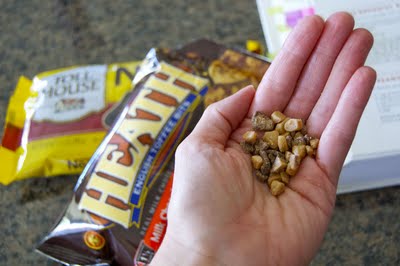 Since yesterday's recipe went so poorly (I'm not even going to link to it, that's how bad it was), I was really wanting to create (yes, create) some yummy tasty goodness for me the family to enjoy.
After having a wonderful coffee date with my friend, Laura, I went to Wallyworld (Wal-Mart) to pick up some necessary ingredients.
I stood there in the baking aisle surveying all of the delicious morsels.
Of course, today's baked good had to include chocolate in part to make up for yesterday.
And those toffee chips I spotted.
And then I remembered the caramel topping sitting in the fridge.
Yeee Ha!!!
I was so excited about the prospect of what was going to come out of the oven that I think there was a little skip in my step as I left the check out.
Ok, I'm kidding. I wasn't skipping.
I can't remember the last time I skipped, actually.
I'll put that on tomorrow's to-do list.
I think we should all do that, just a little bit.
You don't have to skip a long way, just a few steps.
Who cares if anybody's watching you. They'll probably be envious of you and think, "Wow, that takes guts to just skip and not care who's watching".
You might just bring a smile to someone's face and make their day!
Ever think of that.
Your skipping could change someone's day around. Who knows, maybe it will make them want to skip and it will have a domino effect.
IMAGINE!!!!!
We could start a skipping craze on July 26, 2011.
I dare you!
Take that first step!!
I'll start.
You'll feel like a kid again.
Go for it!!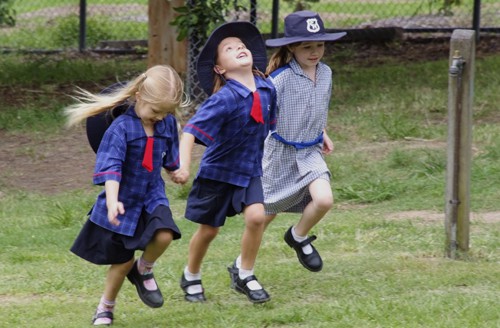 Skip your heart out!
This recipe was adapted from The Fannie Farmer Cookbook Thirteenth Edition.
Double Chocolate Toffee Caramel Brownies – 16 Brownies
2 ounces unsweetened chocolate
1/4 cup butter
1 cup sugar
1 egg
1/8 teaspoon salt
1/2 cup flour
1 cup semi-sweet chocolate chips
1 cup toffee chips
2 tablespoons caramel sundae topping
Prepare an 8-inch square baking pan by lining it with parchment paper.
Here's a great
video
to show you how.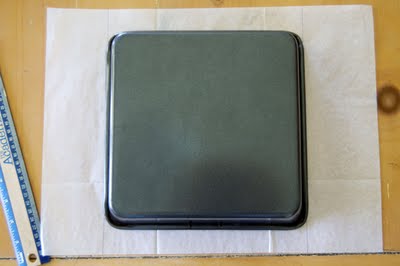 This is what I did before I watched the video. Hmmm…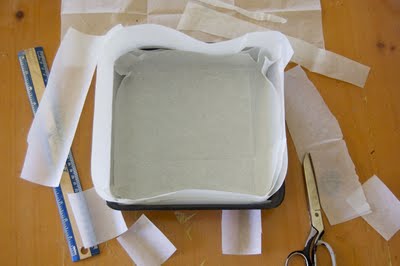 Preheat the oven to 300F.
In a sauce pan over low heat, melt the chocolate with the butter, stirring to blend.
Remove from the heat and allow to come to room temperature.
Stir in the sugar, egg, salt, flour, and vanilla.
Mix until thoroughly combined.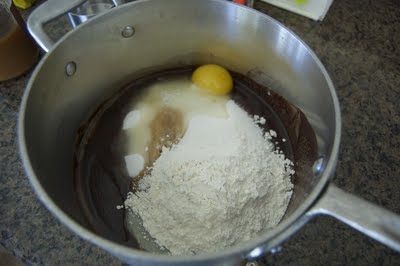 Mix in the chocolate chips.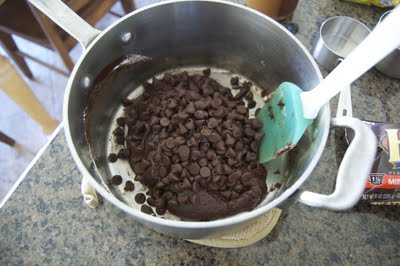 Taste the toffee chips to make sure they won't poison anyone. You need to make sure.
Trust me on this one.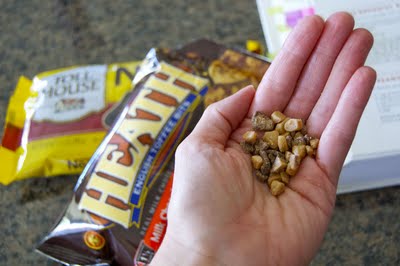 Add 1 cup of toffee chips.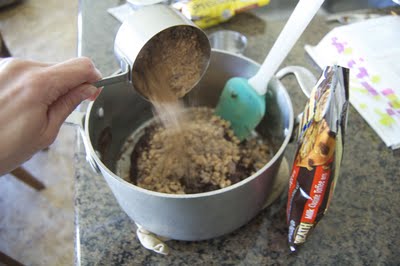 Aw, what the heck?! Add the whole bag!! There's only 1 1/3 cups in there anyway. A little bit more isn't going to hurt!
Mix them in well.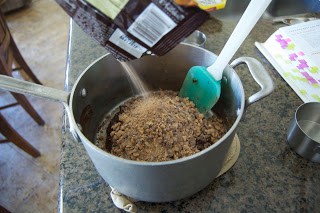 Transfer dough blob to prepared baking pan.
Look, a big Y for YES, chocolate, sugar and toffee chips!!
That wasn't intentional.
Really it wasn't.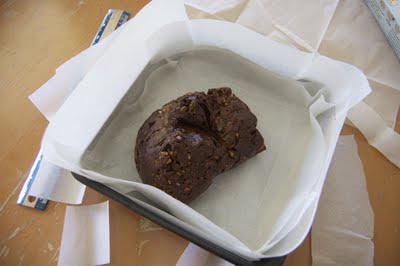 With a rubber spatula, spread brownie batter in pan so that it reaches the edges.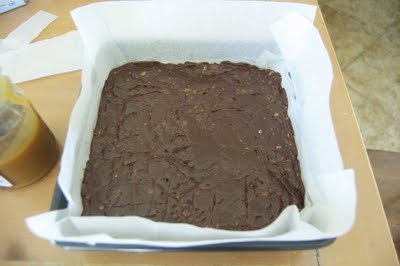 Drizzle caramel sauce over top of batter.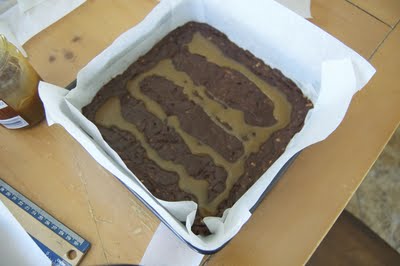 I used a knife to blend it into the batter, but it was so full of toffee and chocolate chips (heehee) that it was really kind of hard to move the knife through, so I just ended up spreading it with the aforementioned spatula.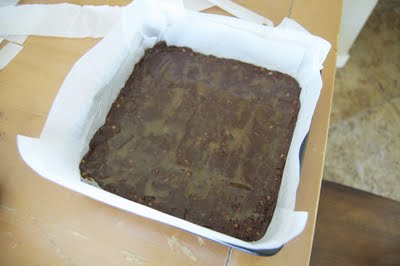 Bake for 45-50 minutes.
Let cool in pan for 5 minutes, then remove brownies by lifting parchment paper. Transfer to wire rack and allow to cool completely.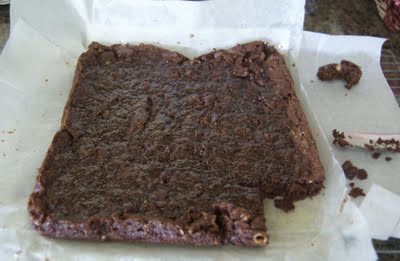 Chocolate brownies with toffee chips and chocolate chips topped with caramel.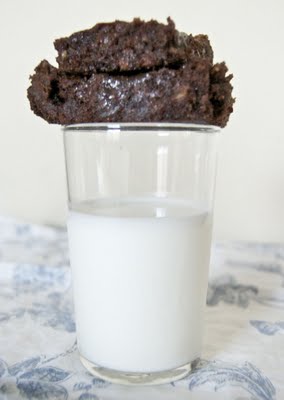 STOP!!!!
I really don't know if you want to make these.
I'm being serious here now.
Wow, two baking disasters two days in a row. This isn't a good thing.
At least today's was a better tasting disaster.
I believe I picked the wrong brownie recipe out of the cookbook for the base.
It took them forever to bake and they didn't look done in the center because of the caramel.
The chocolate chips melted into oblivion and the toffee chips were (ok, I admit it) too many.
They were extremely sweet.
I rate everything I bake on a scale of 1-4 with 4 being the best and these Double Chocolate Toffee Caramel Brownies earned 2 1/2 rolling pins.
I know all you bloggers out there and even you wonderful home bakers can take this recipe as a challenge and rework it so that they are more edible.
Let me know how it goes.
I think they needed more flour and I probably should have used only a half cup of sugar.
They were extremely sweet.
Oh. I already said that.
Thank you my dear readers.
I love you.
Happy baking!
P.S. Remember to skip today, it'll put a smile on your face! I'll be skipping right along with you.
Promise.