Chai Syrup is easy to make with sweetened condensed milk and a handful of spices. Mix a couple of teaspoons with black tea to enjoy a lightly sweetened chai that's every bit as delicious as the coffee house version.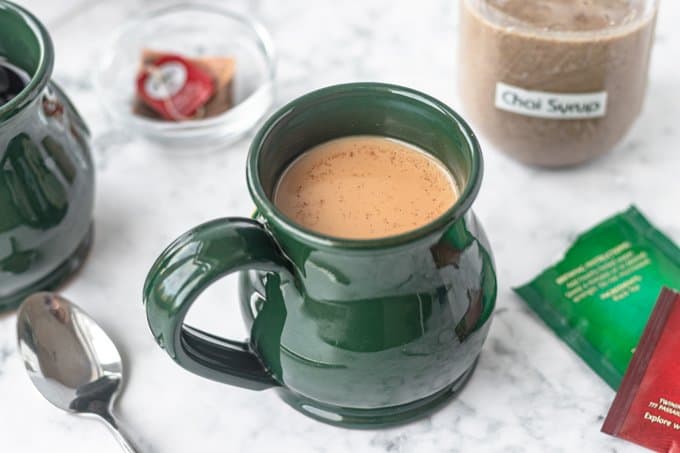 I'm addicted to chai tea.
Like more than coffee even.
A chai tea latte is one of the first things that I want to try it whenever we go to a new coffeehouse. I have high standards when it comes to chai. I want the perfect balance between sweet and spicy. And the milk should add creaminess to the black tea without overpowering it.
SAVE THIS SYRUP FOR CHAI RECIPE TO YOUR FAVORITE PINTEREST BOARD!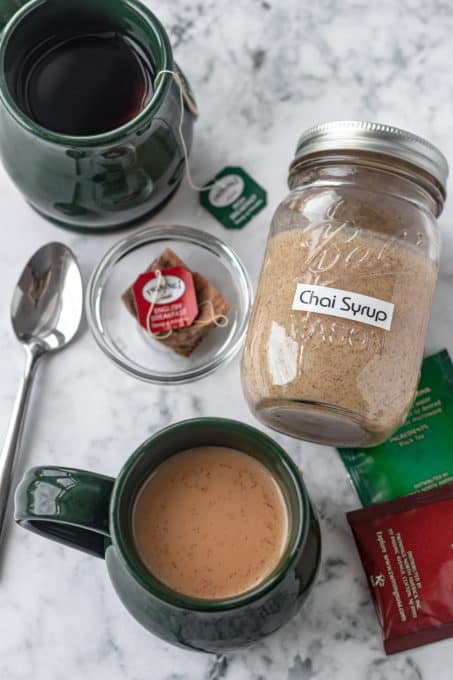 Like I said: high chai standards!
The only problem is that my chai latte habit adds up. A coffeehouse version costs upwards of $5 a pop these days! Since I've had success making my own spice blends (like this Homemade Taco Seasoning), I decided to try making my own chai mix.
In the end, I wound up creating a homemade Chai Spice Tea Syrup!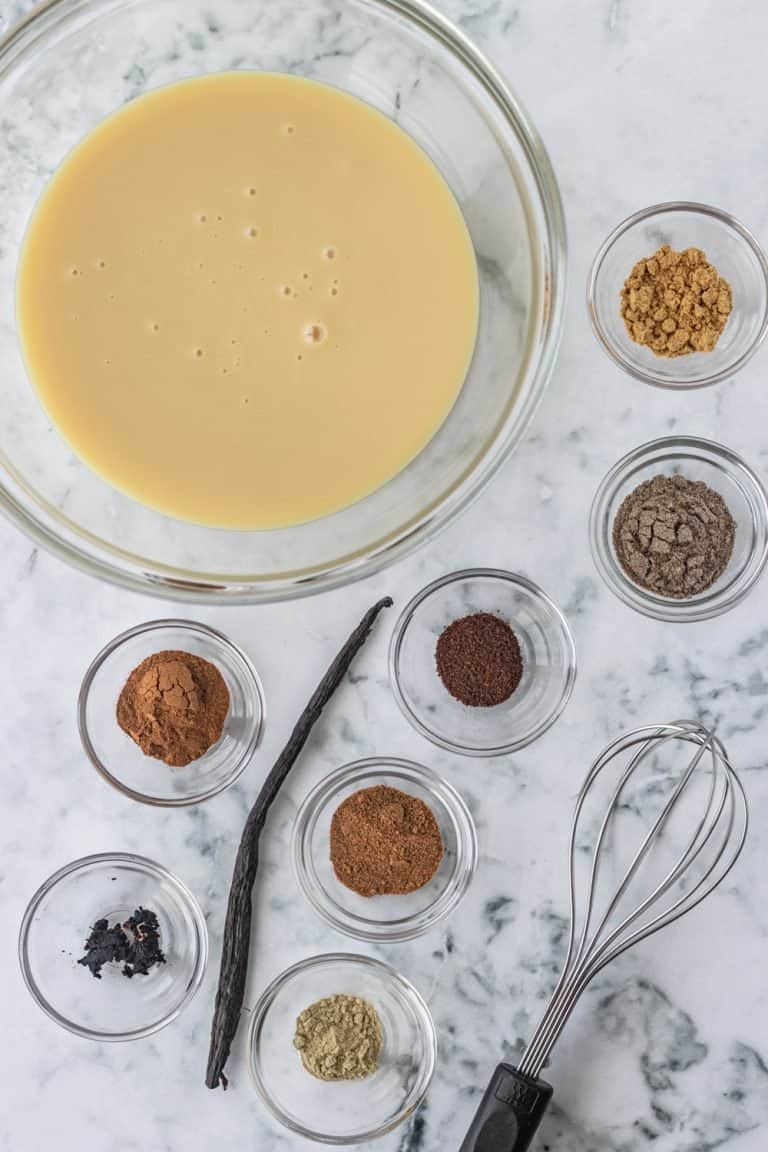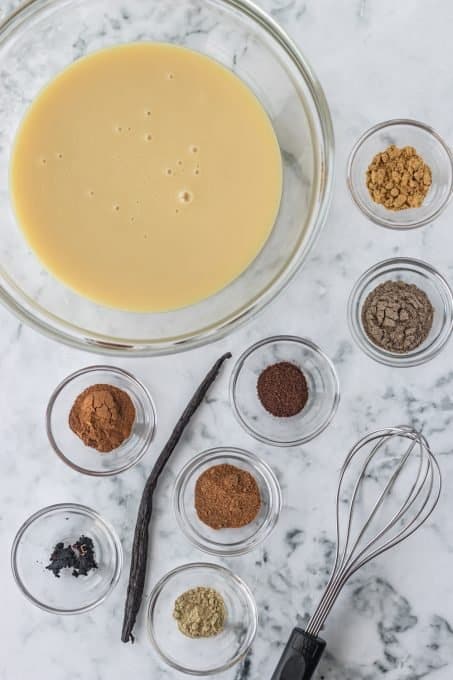 What do I need?
It's so easy to mix together this syrup. Here's what I used:
Condensed milk
Cardamom
Cinnamon
Cloves
Nutmeg
White pepper
Ginger
Vanilla bean seeds – scraped from a whole pod.
Salt – just a pinch!
I used ground spices for everything except the nutmeg, which was freshly grated. I use a zester to grate the nutmeg pieces, but if you don't want to do that you can use ground nutmeg. Both work beautifully.
Using vanilla bean seeds gives the chai syrup a lovely flavor. If you don't have any, you could use vanilla bean paste or a teaspoon of vanilla extract instead.
The white pepper gives the chai a little kick. For less heat, feel free to reduce the pepper or leave it out altogether. And if you want more heat, add a bit more.
Create this to your taste!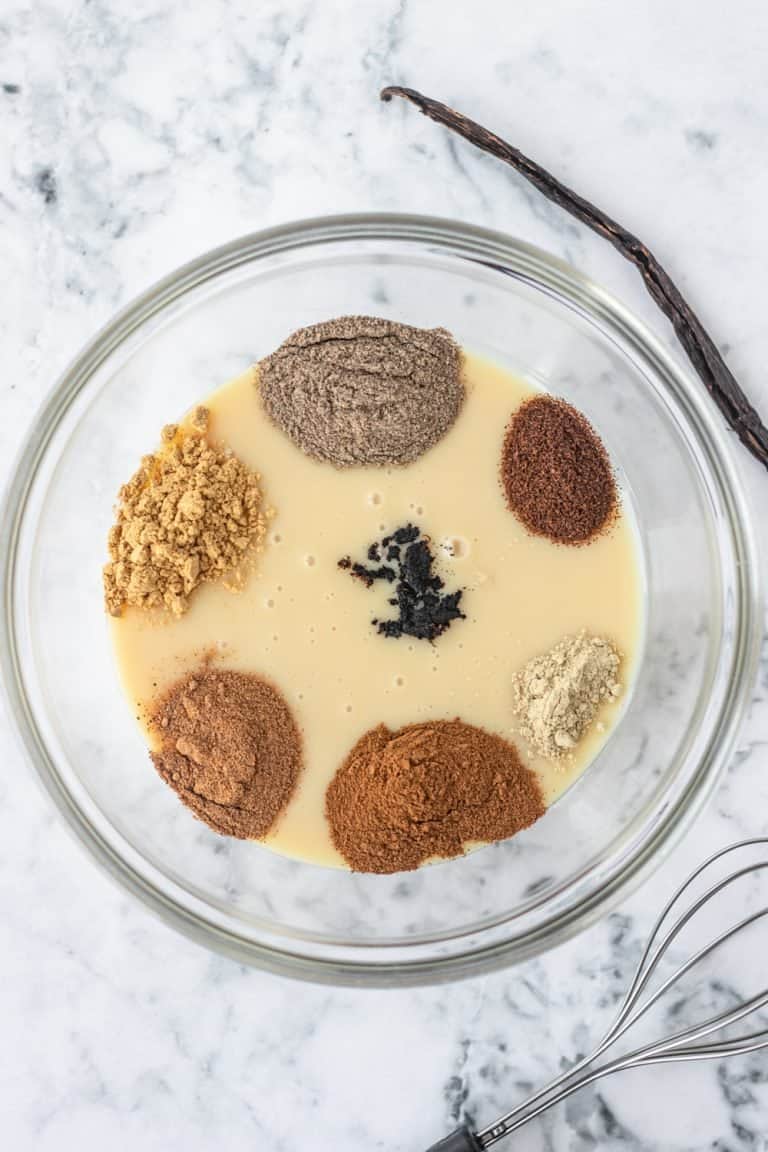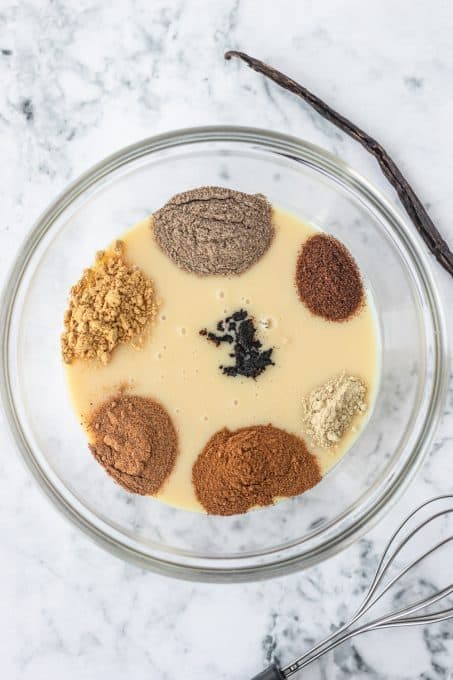 How do you make chai syrup?
Making chai syrup is incredibly easy. Way faster than a drive to the coffee shop!
Pour a can of sweetened condensed milk into a bowl.
Mix in the spices and vanilla bean.
That's it!
How do you store this syrup?
When finished you can use the syrup right away or store it for later. I like to keep it in a jar in the fridge. Make sure to keep a tight lid on it to extend its shelf life. Properly stored, this homemade chai tea syrup stays good for up to 6 months!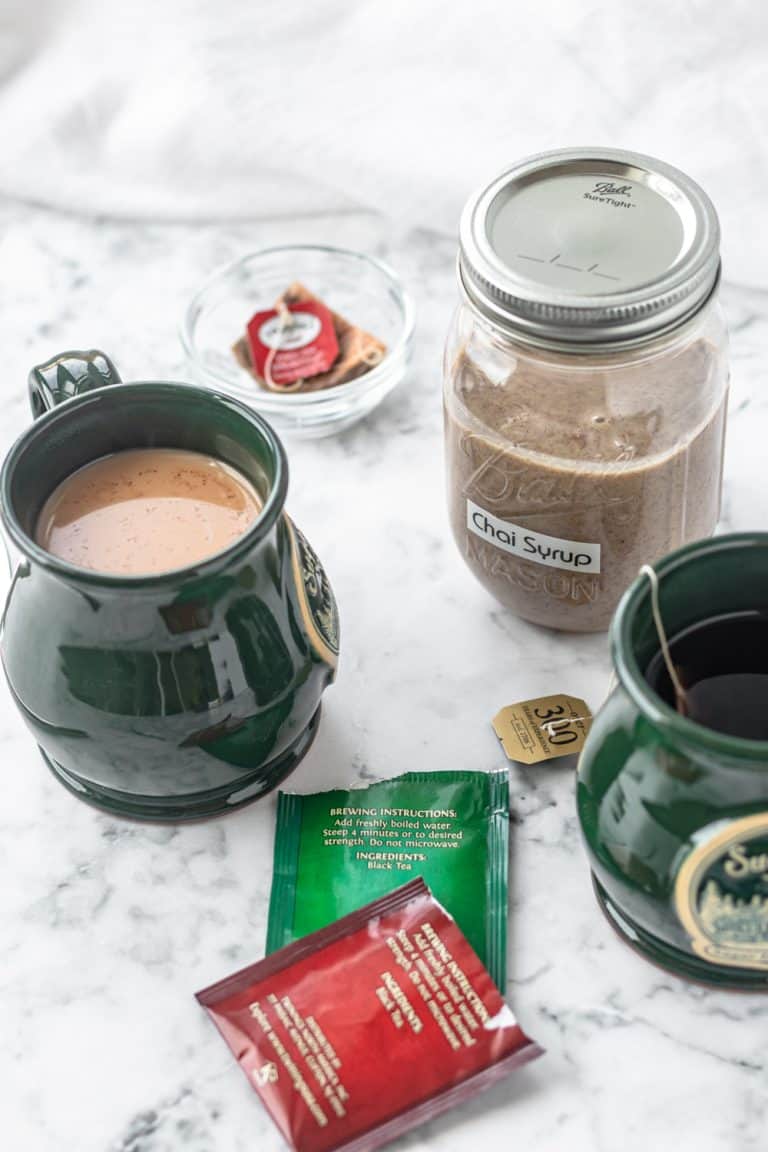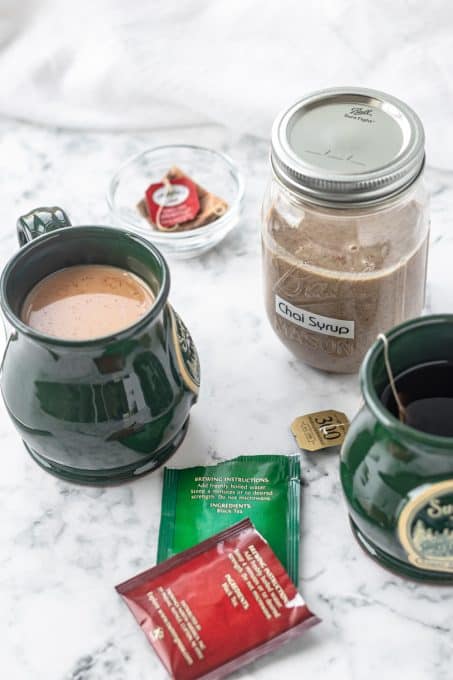 Homemade Chai
Once the syrup is made, you can turn any cup of black tea into a delicious homemade chai. It works with hot tea and iced teas of all kinds but I recommend a strongly brewed black tea without added flavoring, such as English Breakfast or Assam.
I use about 2 heaping teaspoons of chai syrup for a 10 oz. mug of tea. Feel free to use more or less depending on how strong you like it. Since the syrup base already contains milk, there's no need to add milk separately when you make chai tea with this chai syrup, but you can if you'd like.
Since I started making my own chai syrup mix at home, I've cut down on my unnecessary coffeehouse stops exponentially all without giving up my favorite tea. I love that I can adjust the amount of spices based on my own tastes so it's perfect every time.
Chai Recipes
It's the spices that make chai tea so good. The unique blend of cardamom, ginger and cinnamon inspired this Chai Snickerdoodles recipe. I think they're even better than traditional snickerdoodles.
If you like the fall flavors in chai, get ready to swoon for this Chai Spiced Pumpkin Cake. If you turned the entire season of fall into a cake, it would probably look and taste a lot like that!
This Chai Banana Bread is another recipe I crave in the fall but it's totally appropriate for any time of year! The chai spices give a whole 'nother dimension of flavor to the moist banana bread.
Recipes to Enjoy With Tea
There's nothing cozier than a warm blanket and a cup of chai tea. Scones are the natural baked good of choice for tea drinkers, and these Apple Cinnamon Scones are just begging to be paired with chai. They're even topped with maple glaze for extra decadence.
Like lemon in your tea? Dip one of these Citrus Biscotti into your mug instead. They're crunchy, sweet and tangy all in one.
Check out all of these delicious and easy treats we love serving at tea time!
SIGN UP FOR THE WEEKLY
365 DAYS OF BAKING & MORE
NEWSLETTER BELOW!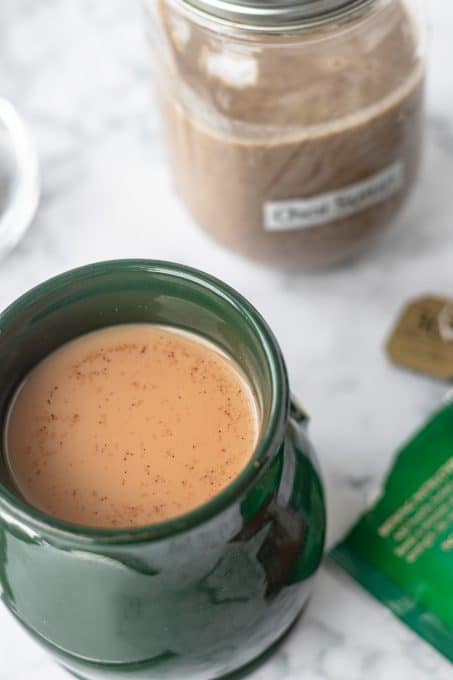 Homemade Chai Syrup turns any cup of tea into an indulgent coffee house treat. Easy, aromatic and delicious!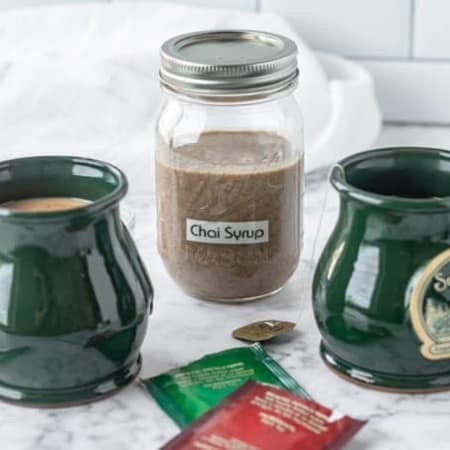 Chai Syrup is easy to make with condensed milk and a handful of spices. Mix a couple of teaspoons with black tea to enjoy a lightly sweetened chai that's every bit as delicious as the coffee house version.
Equipment
mixing bowl

cutting board

paring knife to cut and scrape vanilla bean

mason jar for storing
Ingredients
14 oz. sweetened condensed milk
2 teaspoons ground cardamom
1 teaspoon ground cinnamon
1 teaspoon ground cloves
1 teaspoon freshly grated nutmeg
1 teaspoon ground ginger
¼ teaspoon ground white pepper
pinch of kosher salt
1 vanilla bean, seeds scraped out
Instructions
Into a medium bowl, pour the can of condensed milk. Add all of the spices, including the vanilla bean seeds and mix until thoroughly combined.

Pour entire contents into a jar that has a lid that will fit tightly. Place it into the refrigerator when not using and it will keep for up to six months.

When serving, mix one to three teaspoonfuls into a cup of black tea, depending on personal taste.
Notes
Nutritional info is estimated for 3 teaspoons of chai syrup which equals one serving. Tea nutritional information not included.
Nutrition
Serving: 1serving | Calories: 41kcal | Carbohydrates: 7g | Protein: 1g | Fat: 1g | Saturated Fat: 1g | Polyunsaturated Fat: 1g | Monounsaturated Fat: 1g | Trans Fat: 1g | Cholesterol: 4mg | Sodium: 16mg | Potassium: 49mg | Fiber: 1g | Sugar: 7g | Vitamin A: 33IU | Vitamin C: 1mg | Calcium: 37mg | Iron: 1mg
Did you make this recipe?
Share it with me on Instagram and make sure to follow me on Pinterest for more recipes.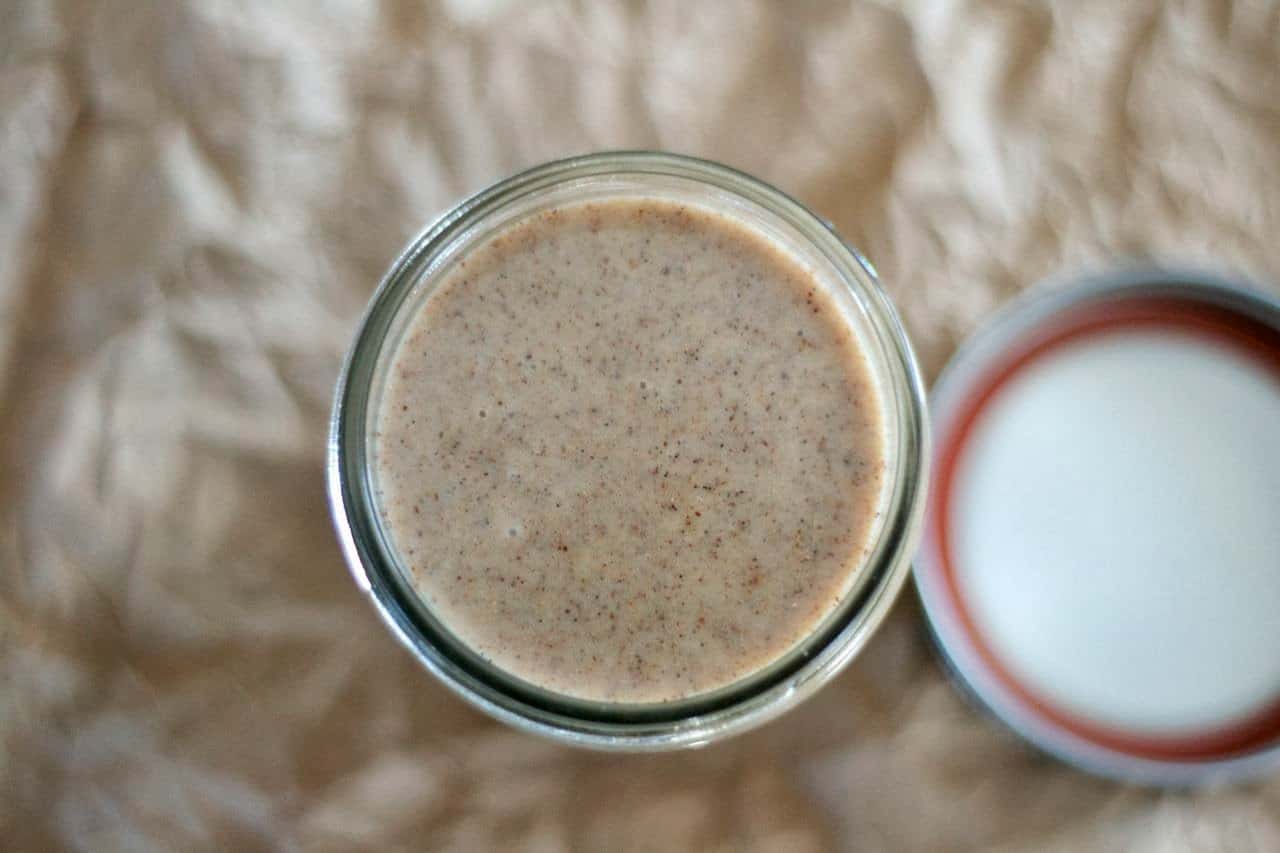 This post was originally published on 1/28/2014. It has been updated in format and with new pictures on 3/16/2022.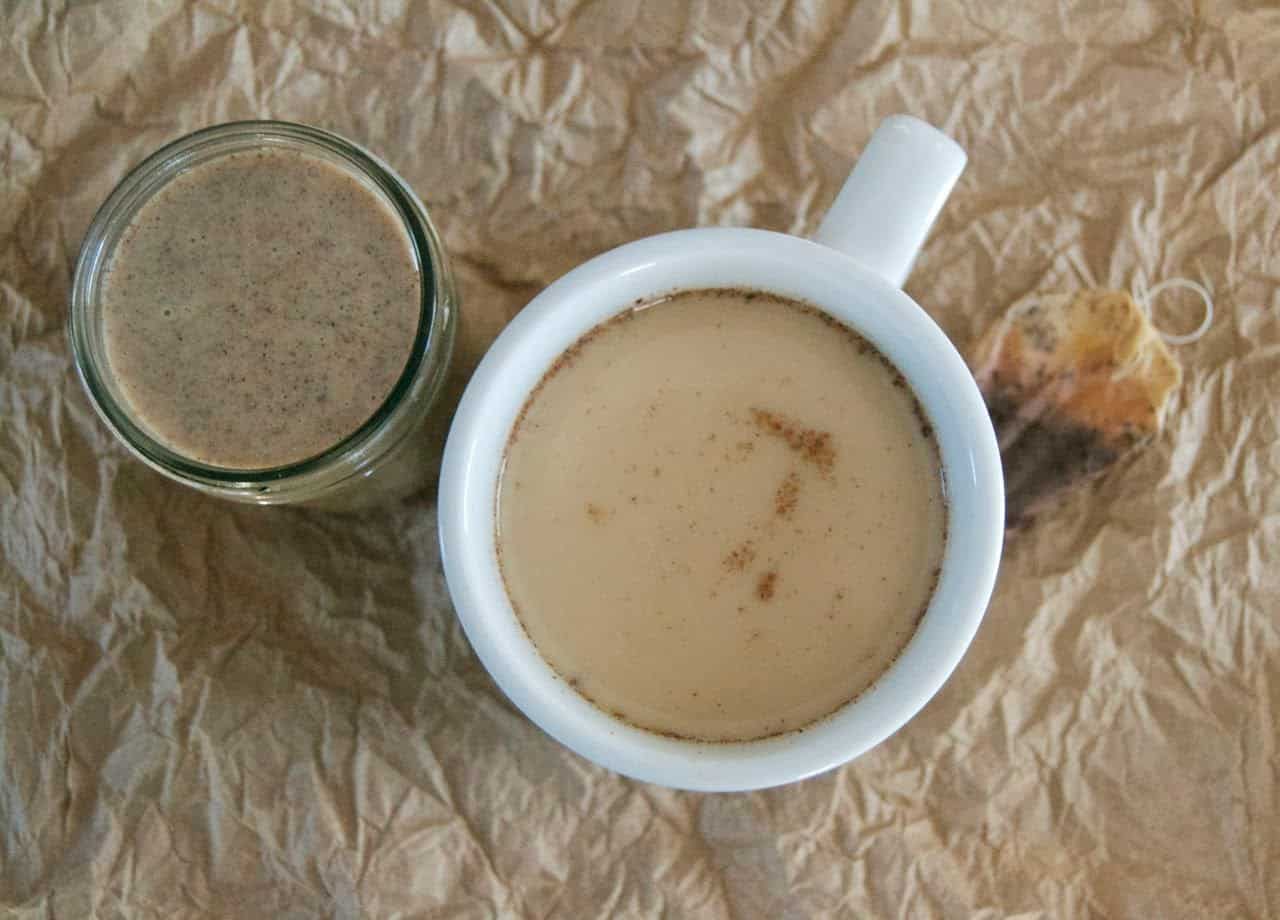 Reader Interactions