Cinnamon Streusel Muffins – a soft, tasty muffin that has cinnamon and sugar mixed throughout. Perfect with that morning cup of coffee.



I don't know, there was something about these muffins…
that took me right back to my 6th grade Home Ec. class. I took one bite and boy did these things transport me to 198…. with Ms. Rathbun.
I also got a flashback of a tall 8th-grade girl who shall remain nameless to protect the innocent. She was well endowed for her age and didn't like to participate much in class, too busy chewing her gum or doing her nails or something of the sort.
I can only imagine what she would have been like had she owned an iPhone! Anywho…this one day, she came into class before the bell rang, but a little later than the rest of us dressed in her brown cords and brown multi-stripe wool sweater, plops herself down at the closest table and says,
"Boy, do these need a rest," proceeding to lift her boobs up and onto the table.
SAVE THIS MUFFIN RECIPE TO YOUR FAVORITE PINTEREST BOARD!
The rest of us sat there a little stunned and I remember thinking, "Heck, if mine were that big, I'd put them wherever they wanted to be, too." It still hasn't happened. Even with all of those 'Are You There God, It's Me, Margaret' bust exercises.
C'mon, you remember…Chanting, "we must, we must, we must increase our bust!" while squeezing our palms together. Oh, those Judy Blume books.
I found this recipe at Spoonful.com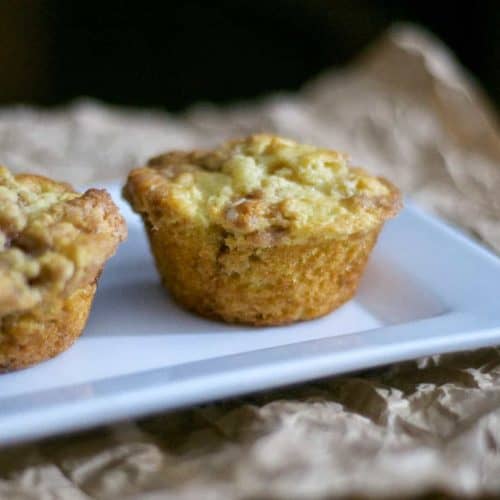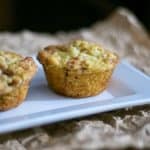 Cinnamon Streusel Muffins
A soft, tasty muffin that has cinnamon and sugar mixed throughout. Perfect with that morning cup of coffee.
Ingredients
Cinnamon Streusel
1/2

cup

packed light brown sugar

4

tablespoons

unsalted butter

cut into small pieces

1/4

cup

flour

2

teaspoons

cinnamon
Muffin Batter
2

cups

flour

2

teaspoons

baking powder

1

teaspoon

baking soda

1/2

teaspoons

salt

1/2

cup

unsalted butter

room temperature

1/2

cup

sugar

2

eggs

room temperature

1/2

cup

buttermilk

*1/2 cup milk mixed with 1 1/2 teaspoons white vinegar and allow to sit for 15 minutes

1

teaspoon

vanilla extract
Instructions
Preheat oven to 400 degrees F.

Grease only the bottoms of a 12-cup muffin tin.

In a medium mixing bowl, combine the ingredients for the streusel, the light brown sugar, flour and cinnamon. With a pastry cutter, cut butter in until it looks like coarse meal. Set aside.

In a small bowl, whisk together the ingredients for the batter – the flour, baking powder, baking soda, and salt.

In the bowl of an electric mixer fitted with the paddle attachment, combine the butter and sugar. Beat until light and fluffy.

Add the eggs, buttermilk, and vanilla extract.

Mix in the dry ingredients and stir until just combined.

Sprinkle the streusel on top of the batter and then use a rubber spatula to gently fold it or poke it in a few times.

Evenly divide the batter between the muffin cups.

Bake for 13 minutes or until a toothpick inserted in the middle comes out clean.

Transfer muffin tin to a wire rack and allow to cool for 5 to 10 minutes before removing from the pan.
I rate everything I bake on a scale of 1-4 with 4 being the best and these Cinnamon Streusel Muffins earned 4 rolling pins!
These were fabulous, dude!! Sorry, I got excited.
I think it was that flashback to Home Ec.
Whether it's a side for breakfast or a quick snack on the go, these other recipes will do just that!