This Cinnamon Sour Cream Coffee Cake from Mary Younkin's new cookbook, The Weekday Lunches & Breakfasts Cookbook, is a recipe you'll make again and again. With a super moist cake and two layers of cinnamon streusel, this morning treat is hard to resist. It is THE perfect accompaniment to your weekend morning coffee!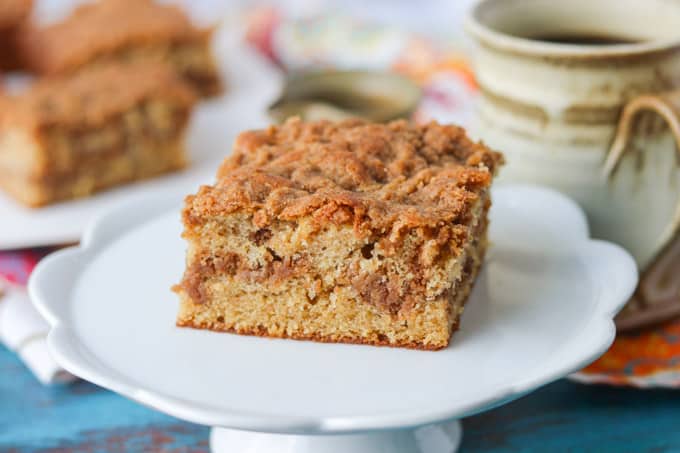 Are you a coffee cake lover like I am?
I was given a copy of The Weekday Lunches & Breakfasts Cookbook to review for this post. As always, all opinions are 100% my own. This post also contains an affiliate link(s) for which I earn a small commission when a product is purchased at no additional cost to you. *See below.
And no, before we go any further, there is NO coffee in this recipe.
Whenever I post a recipe for a coffee cake, like this one, I inevitably get questions about the coffee missing from the ingredients.
The reason they are called "coffee cakes" is because it's a sweet cake that is most often enjoyed with your morning coffee.
I read that the tradition started in Germany in the 16th century.
You can search why coffee cakes are called coffee cakes yourself, and read more about it.
SAVE THIS CINNAMON SOUR CREAM COFFEE CAKE TO YOUR FAVORITE PINTEREST BOARD!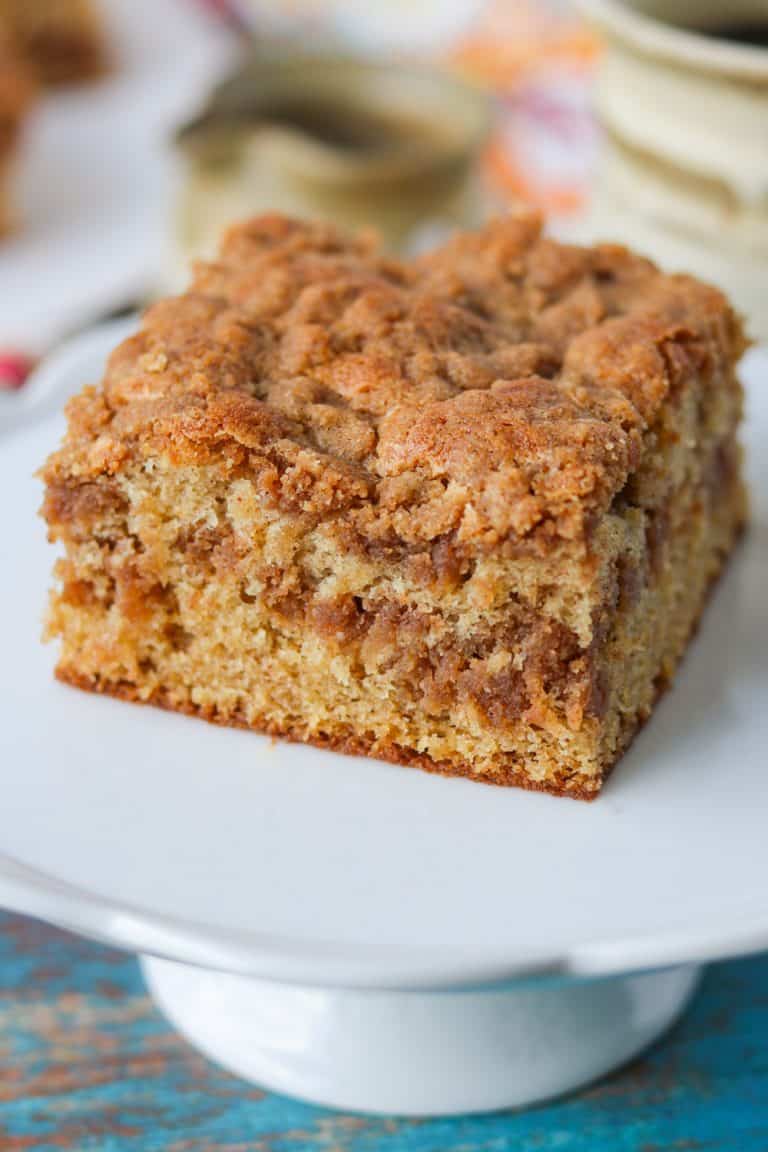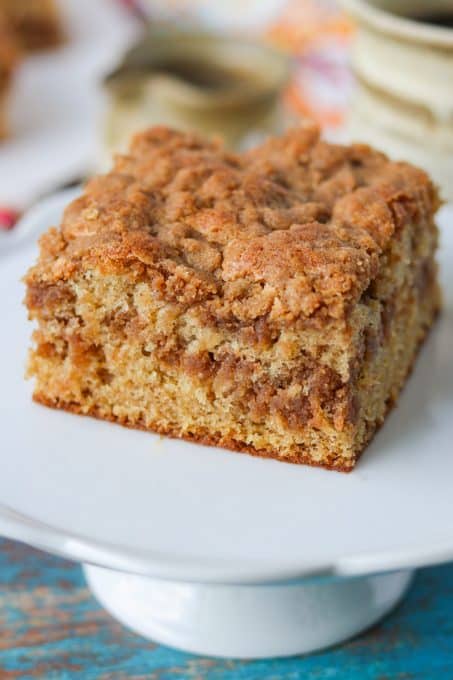 This Cinnamon Sour Cream Coffee Cake is something special I tell ya.
Not only is it super duper delicious, but the recipe was created by one of my blogging besties.
Mary Younkin of Barefeet in the Kitchen has published not her first, but her second cookbook.
The Weekday Lunches & Breakfasts Cookbook is one that I think should be in EVERY kitchen!
Order it on Amazon!
Between her first, The Weeknight Dinner Cookbook and her second, Mary's got all your kitchen conundrums figured out.
Her recipes are delicious, easy to follow, easy to make and are ones you'll use again and again.
I know I do!
I bought her first cookbook for each of my kids to start their own collection.
And have already added the second as well.
They make a great gift for any cook.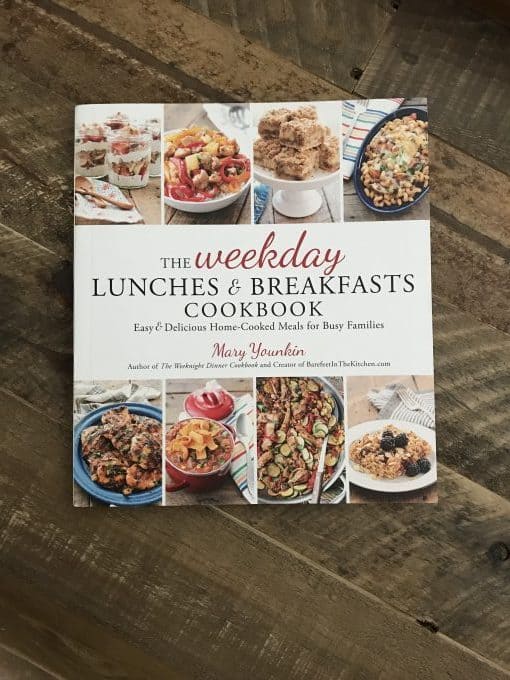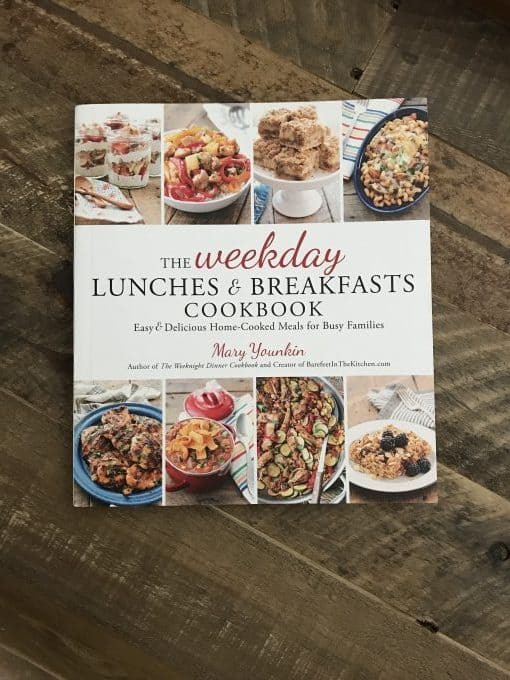 I'm absolutely in love with the Spinach Couscous Salad with Chicken and Cranberries and my son says that Mary's Perfect Pancakes are better than my grandmother's!
Gram wouldn't be too happy to hear that, but I do have to agree that they are pretty darn good.
I've also tasted her Cheddar, Chive and Sausage Biscuits and they are TO. DIE. FOR.
Also, Mary's included brownies because doesn't every cookbook need a brownie recipe?
I don't think a cookbook is complete without it to be honest.
Another thing I love about Mary's cookbook is that these recipes don't strictly tie you to eating them at lunch or breakfast.
Dinner is a fabulous time to enjoy them as well, especially if you're a breakfast for dinner person like I am!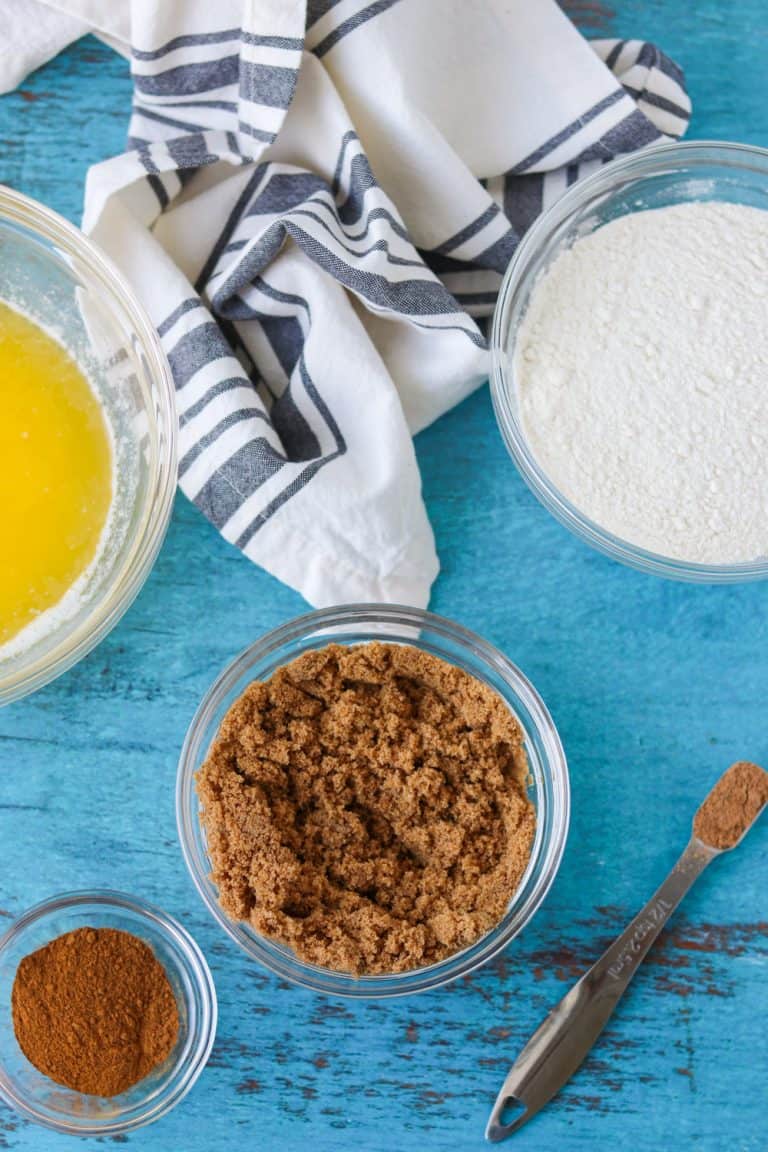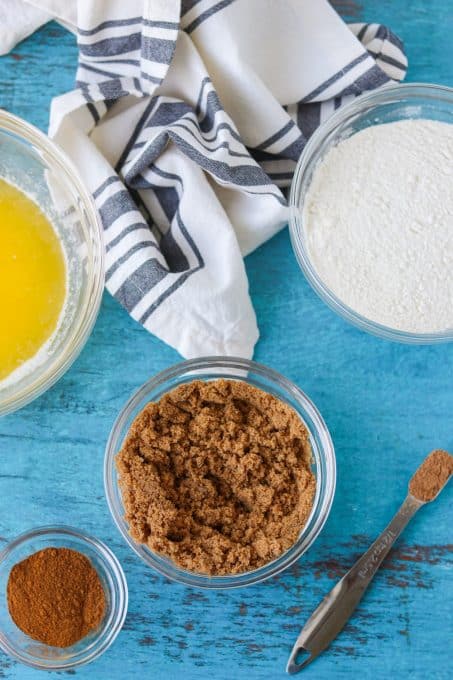 As I was making this coffee cake, it reminded me of one that I loved when I was little.
But I couldn't quite put my finger on it.
Then it came to me, the Hostess Coffee Cakes.
Only this is 1 MILLION times better!
I already can't wait to make it again.
Tips for Making this Cinnamon Sour Cream Coffee Cake –
In the cookbook, Mary's recipe calls for a 10-inch square pan but I couldn't find one in any of my local stores, so used a 9-inch square and then adjusted the baking time slightly.
I used my fingers to spread the butter into the pan that way I was able to put it into all the corners of the baking dish and the cake came out of the pan without any issue.
To spread the streusel layer both in the middle and on the top, I found it easiest to use my hands.
A spoon was just distributing it in large clumps and separating it with my fingers allowed me to make smaller crumbles.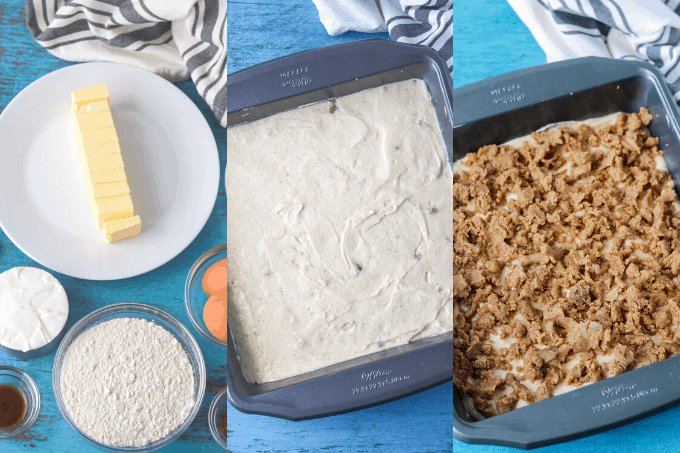 This Cinnamon Sour Cream Coffee Cake is going to be a delicious addition to any brunch table as well.
Also perfect for that brunch table are my Cinnamon Sugar Palmiers.
Not only are they delicious, but they're also pretty to look at, too!
If you have lemon lovers invited to your brunch, these Lemon Crepes might just be one of the highlights of the day. Made with this Easy Crepe Recipe, they have the perfect balance of tart and sweet.
Every brunch needs some meat to go along with the eggs, potatoes, and pastries, so why not add these Cheesy Puff Pastry Sausage Rolls?
They're made with sausage links and store-bought puff pastry, so they're really easy to put together.
Also, making your bacon this way will make sure that it's cooked perfectly!
It will also mean that you don't have to fret about cooking it in batches.
You most likely can finish it up in one fell swoop.
These Healthy Breakfast Egg Muffins are not only perfect for brunch, but they'll also be great for those busy weekday mornings. I love how perfect the serving size is, too!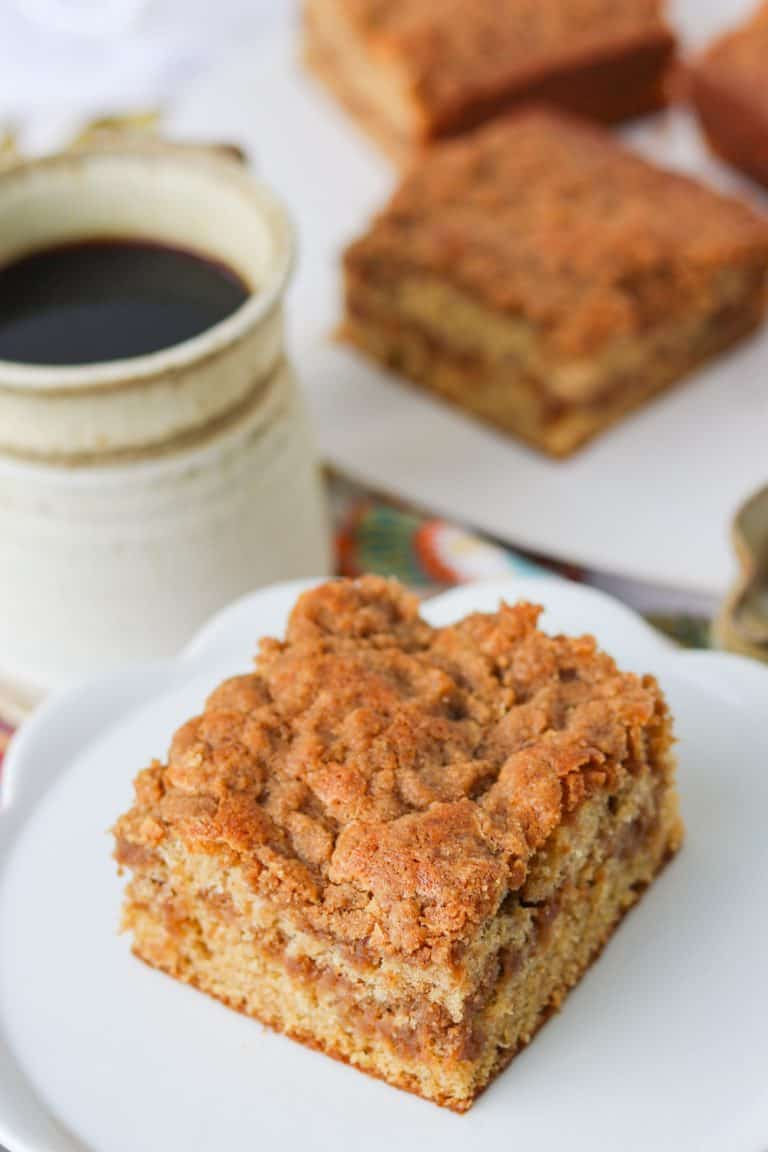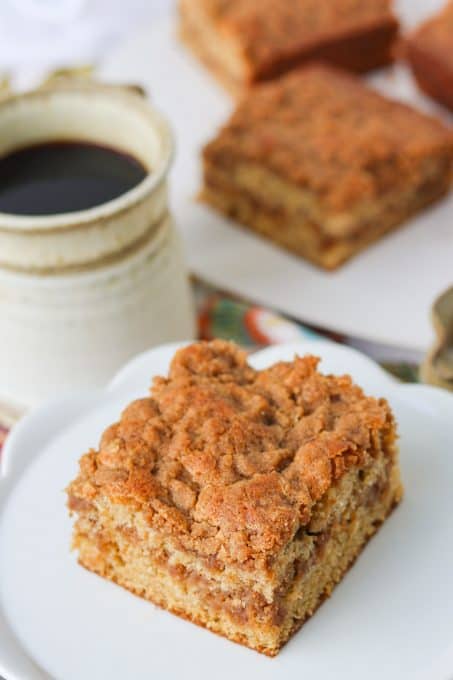 Ham and Cheese Breakfast Casserole?
It's a great breakfast to make the night before a busy morning.
I love recipes like this that I can make the night before.
It just saves me so much time when I have other things to do, especially when it's a holiday morning.
My husband loves potatoes with his eggs on the weekends, so this Fall Breakfast Hash Recipe is going to be delicious.
Especially regardless of what time of year it is!
It will also be a great recipe to serve for your Mother's Day brunch, too!
SIGN UP FOR THE
365 DAYS OF BAKING & MORE
NEWSLETTER BELOW!
JOIN THE
365 DAYS OF BAKING AND MORE FACEBOOK GROUP
TO RECEIVE ADVANCE NOTICE OF MY LIVE FB VIDEOS,
SHARE RECIPES AND MORE!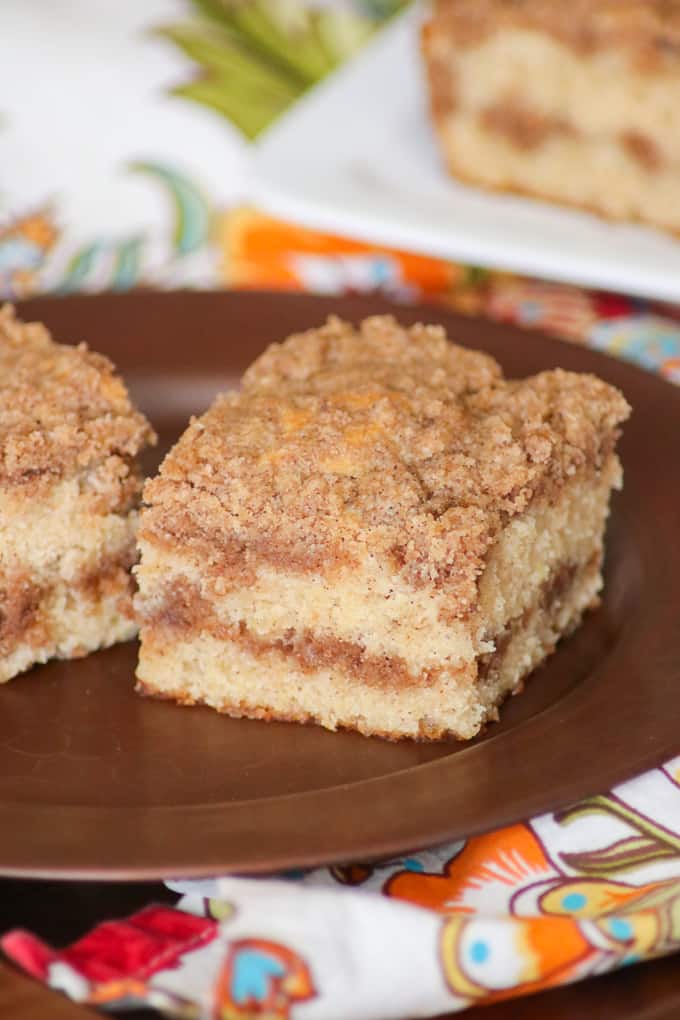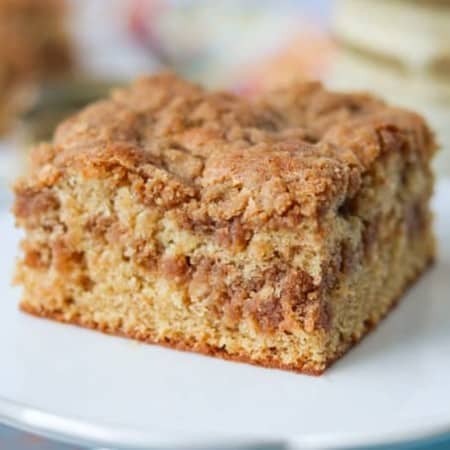 Cinnamon Sour Cream Coffee Cake
This Cinnamon Sour Cream Coffee Cake will be love at first bite! With a super moist cake and delicious cinnamon streusel layers, it's the perfect treat with your morning coffee!
Ingredients
Cinnamon Streusel
1 ⅓ cups all-purpose flour
¾ cup light brown sugar packed
1 tablespoon cinnamon
½ teaspoon nutmeg
¾ cup butter melted
Cake
½ cup butter room temperature
1 cup sugar
2 large eggs
1 teaspoon pure vanilla extract
1 cup all-purpose flour
½ teaspoon baking powder
1 teaspoon cinnamon
½ cup sour cream
Instructions
Cinnamon Streusel
Combine the flour, brown sugar, cinnamon, nutmeg, and butter in a medium bowl. Mix together with a fork until clumps are formed.
Cake
Preheat oven to 350° F. and grease a 9 X 9-inch pan with butter.

In a medium mixing bowl, whisk together the flour, baking powder, and cinnamon.

In a large mixing bowl, cream together the butter and sugar until light and fluffy, approximately 3 to 4 minutes.

Add the eggs and vanilla and mix well, scraping down the sides of the bowl as needed.

Add the flour mixture.

Add the sour cream and mix until well combined. 

Pour half of the cake batter into the prepared pan and with an offset spatula, spread to cover the bottom.

Sprinkle half of the cinnamon streusel evenly over the cake batter.

Cover with remaining batter and then sprinkle again with the remaining streusel.

Bake for 35-40 minutes, until lightly browned and a toothpick inserted into the middle comes out with moist crumbs. Cool completely before slicing.
Nutrition
Calories: 408kcal | Carbohydrates: 49g | Protein: 4g | Fat: 22g | Saturated Fat: 13g | Cholesterol: 86mg | Sodium: 193mg | Potassium: 89mg | Fiber: 1g | Sugar: 30g | Vitamin A: 695IU | Vitamin C: 0.1mg | Calcium: 52mg | Iron: 1.4mg
Did you make this recipe?
Share it with me on Instagram and make sure to follow me on Pinterest for more recipes.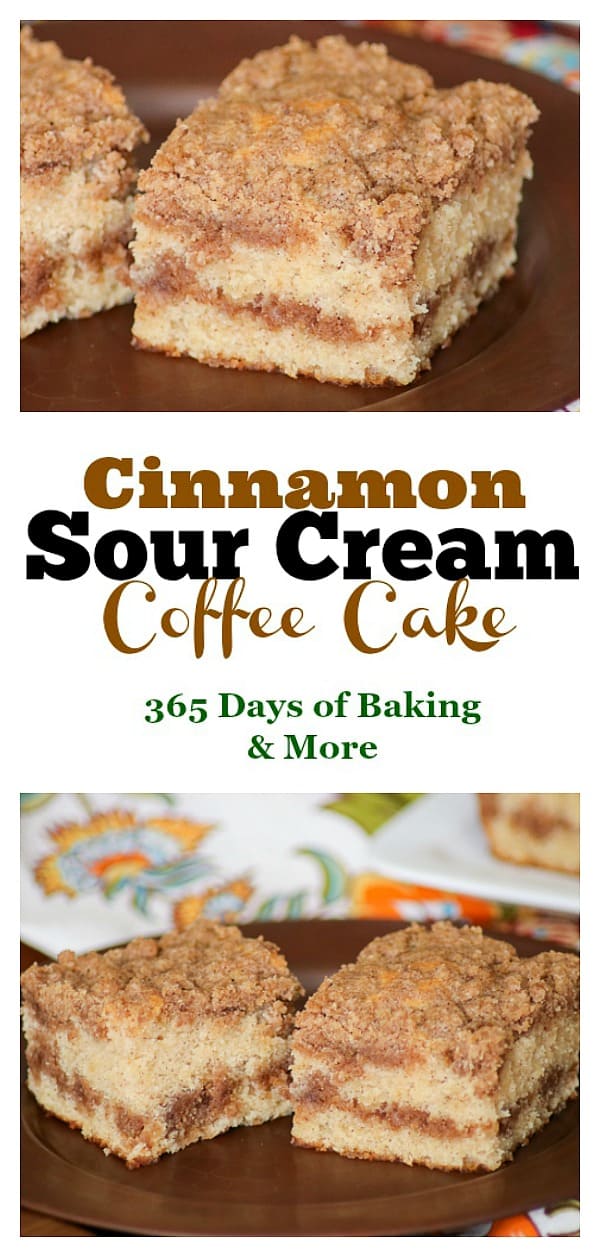 This recipe has been updated with pictures on 8/3/21. It was originally published 4/22/18.
*These are links that can take you to a product (or products) that I recommend. I do receive a portion of the sales or credit for my future purchases from any items purchased through those links. Your purchases encourage my baking, cooking and butter habit, and contribute to the life of this blog. I thank you so very much for your support. Let's keep having fun in the kitchen!!
Reader Interactions