Cinnamon Sugar Palmiers are easy to make with puff pastry! Sprinkled with cinnamon sugar baked to flaky perfection, these "elephant ears" make any morning better.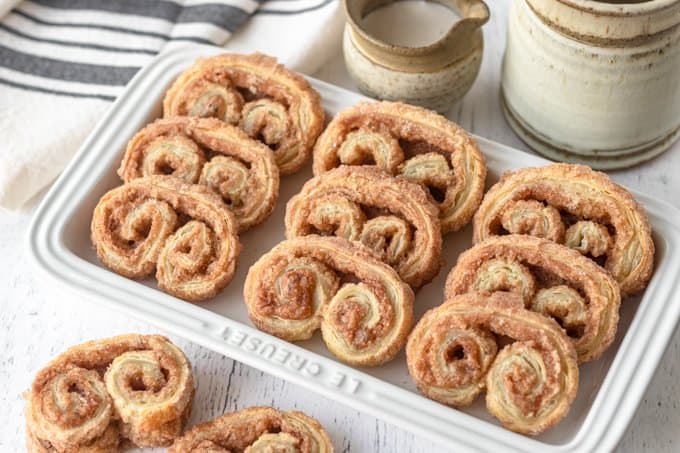 Have you ever had an "elephant ear" pastry?
Cinnamon Palmiers or "Elephant Ears" are a simple treat made of puff pastry rolled into a spiral with cinnamon sugar and baked. The nickname comes from the shape of the palmier: this food really DOES resemble the jumbo ear of an elephant!
SAVE THIS SAVE THIS EASY CINNAMON PALMIERS RECIPE TO YOUR FAVORITE PINTEREST BOARD!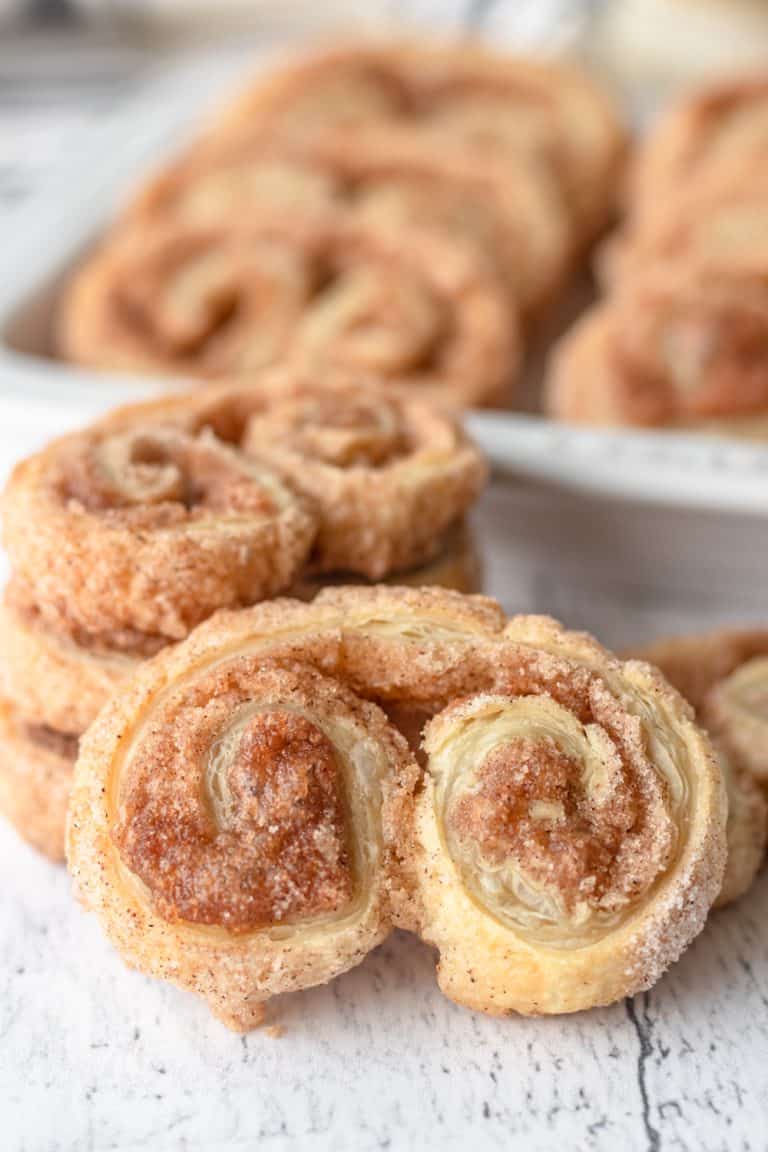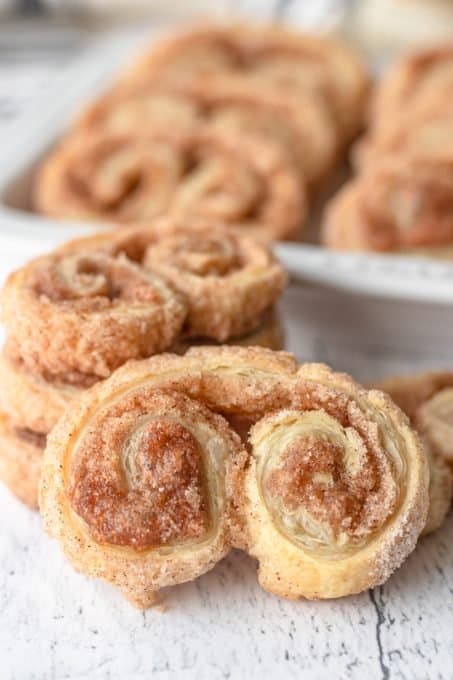 This cinnamon sugar palmiers recipe is one of the quickest and easiest pastry recipes you can make. The flaky layers of baked pastry dough and sweet cinnamon spice are perfect for pairing with a cup of coffee or tea.
Everyone loves homemade cinnamon sugar pastries for breakfast!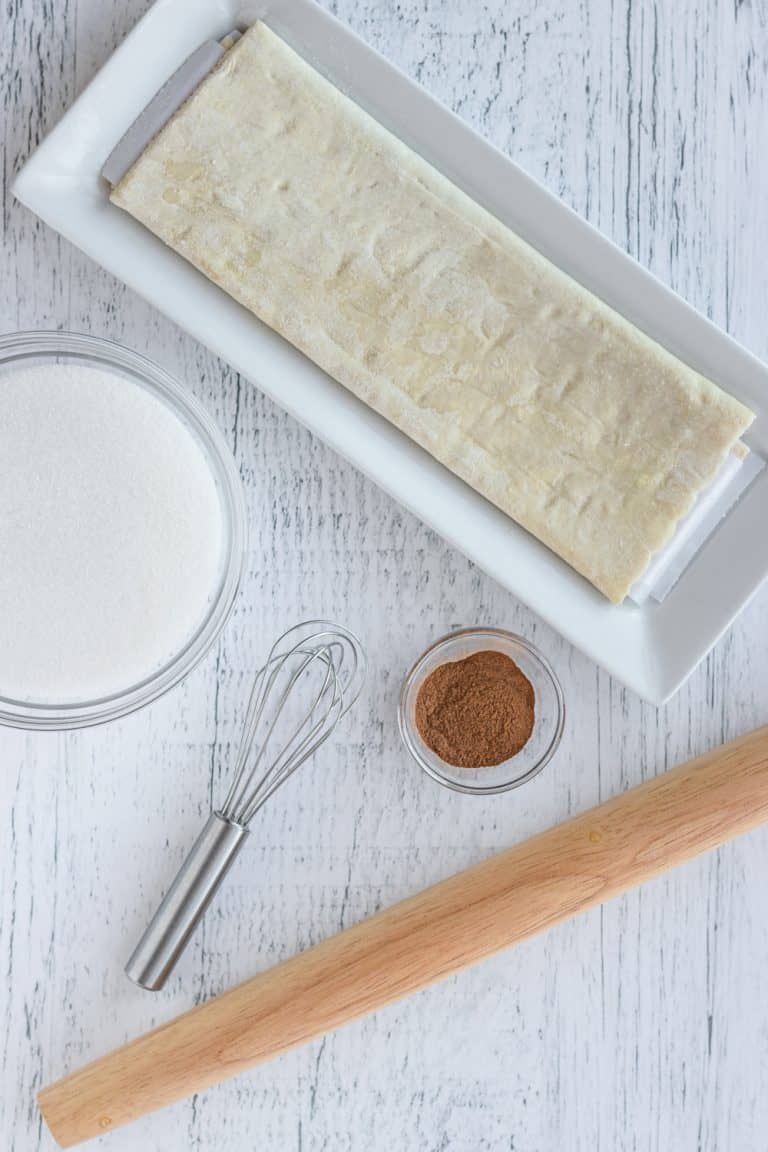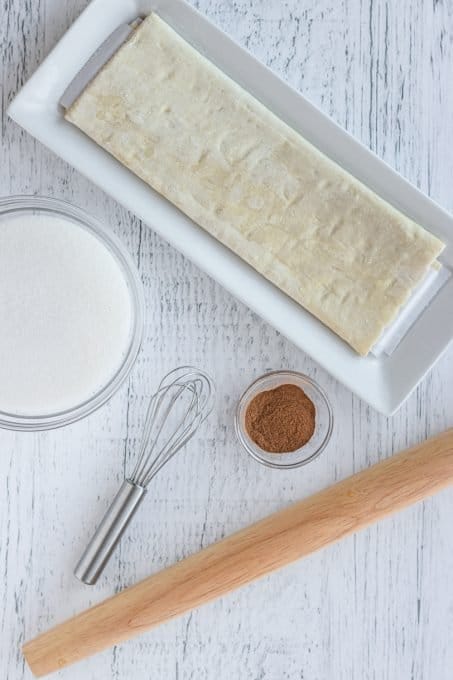 What do I need?
Get this: you only need three ingredients to make these cinnamon sugar palmiers.
Puff pastry dough
Sugar
Cinnamon
I buy the sheets of frozen puff pastry and let them thaw in the fridge. So simple and convenient!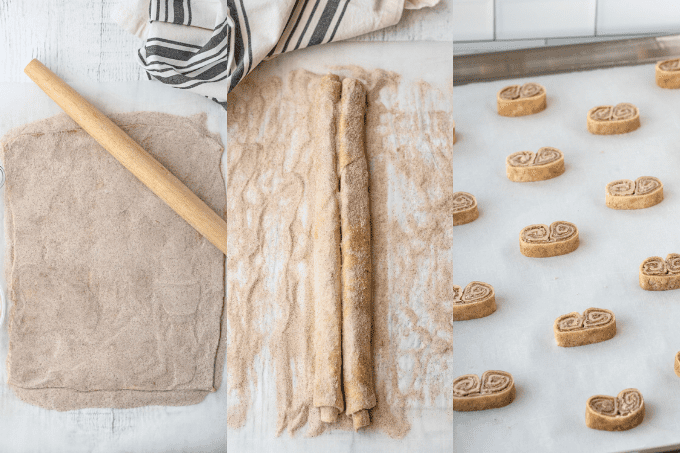 How do I make Elephant Ears using puff pastry?
This recipe comes together in a few easy steps.
STEP 1. Roll out the pastry dough.
I put some cinnamon sugar on the counter first and gently unroll the dough into a rectangle on top.
STEP 2. Sprinkle cinnamon sugar on top.
Get it all the way to the edges to ensure every bite is full of delicious cinnamon flavor.
STEP 3. Roll and chill.
Now roll one of the longer sides in toward the center of the rectangle. Stop in the center of the dough. Repeat with the other side to you have two spiral logs. Wrap the rolled up dough in plastic wrap and chill it in the fridge for about 1 hour.
STEP 4 . Bake!
Cut the chilled dough into slices and bake for 12 – 15 minutes. Rotate the baking sheet half way through your baking time so the cinnamon palmiers bake evenly.
Your kitchen will smell amazing as these are baking! And as good as the palmiers smell, I promise they taste even better.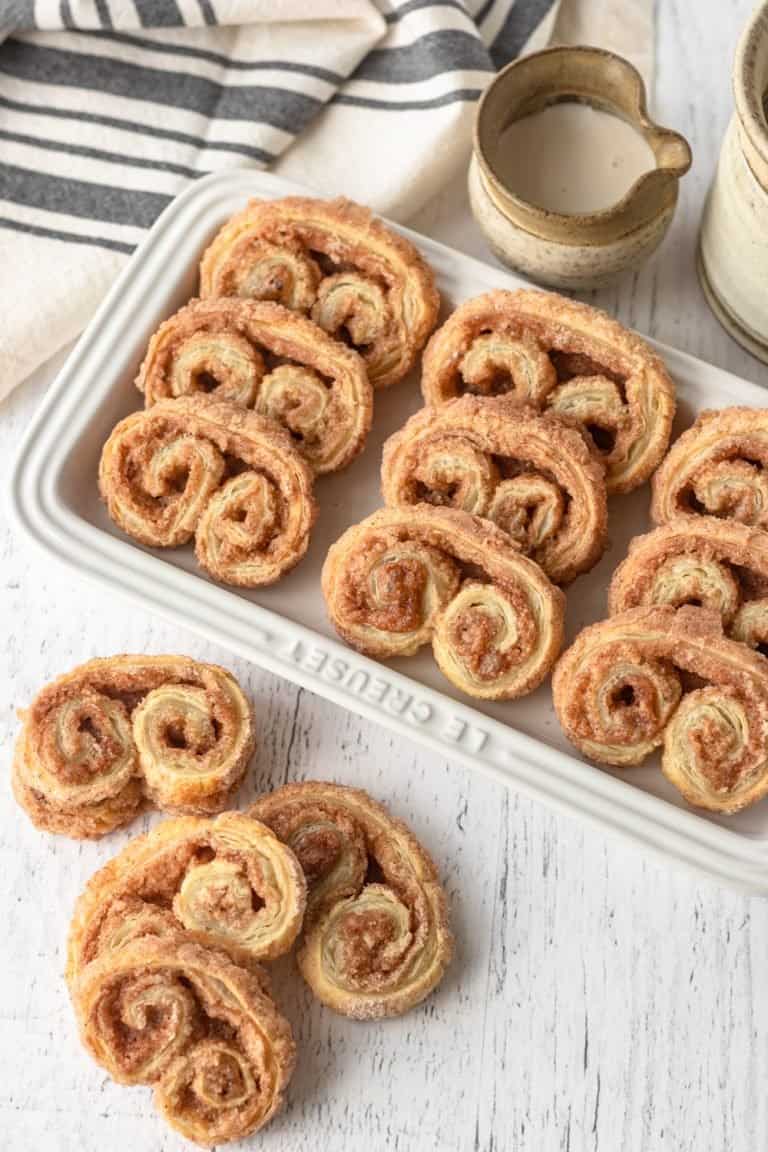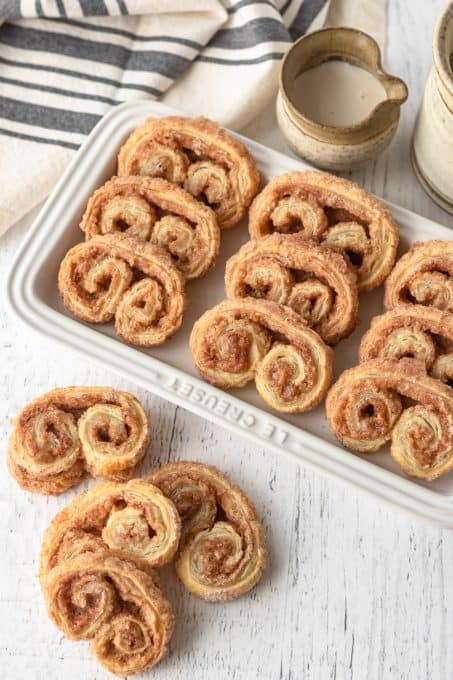 Can I make this recipe with homemade pastry dough?
I have never made my own puff pastry dough from scratch for this recipe. If you have a go-to recipe you love, I'm sure it would work well here. Give it a try and let me know!
Once day, I'll try puff pastry from scratch, but the frozen kinds is so convenient I don't think I'll ever give it up!
Puff Pastry Recipes
This elephant ears food isn't the only easy recipe you can make with frozen puff pastry dough. I like to keep a few sheets stocked in the freezer as a short cut for so many of my favorite desserts and a few savory dishes too!
If you like cinnamon, add these Churro Cream Puffs to your "must try" list next. I also love these mini Boston Cream Puff Cakes made with puff pastry.
Appetizers with puff pastry are always a hit at parties. These Cheesy Puff Pastry Sausage Rolls disappear almost as quickly as I can make them. This recipe for Sausage Cranberry Brie Bites is another one my readers love!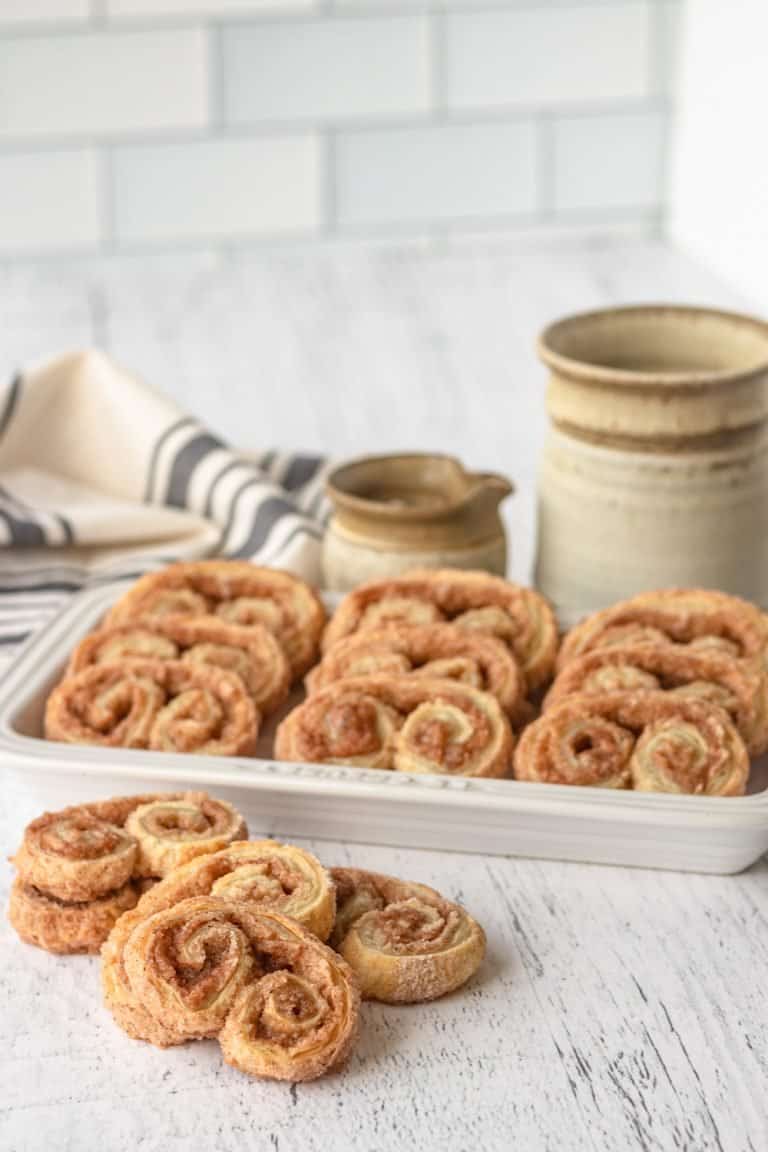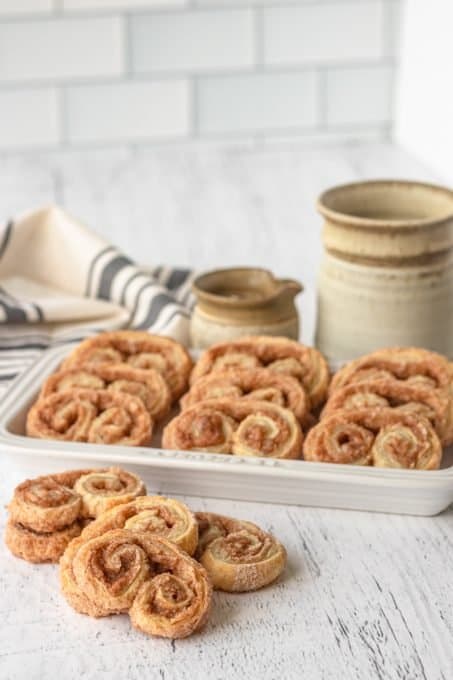 Breakfast Recipes
Shake up your kitchen routine with these other delicious and easy breakfast recipes. From quick morning meal ideas to decadent weekend spreads, we've got you covered!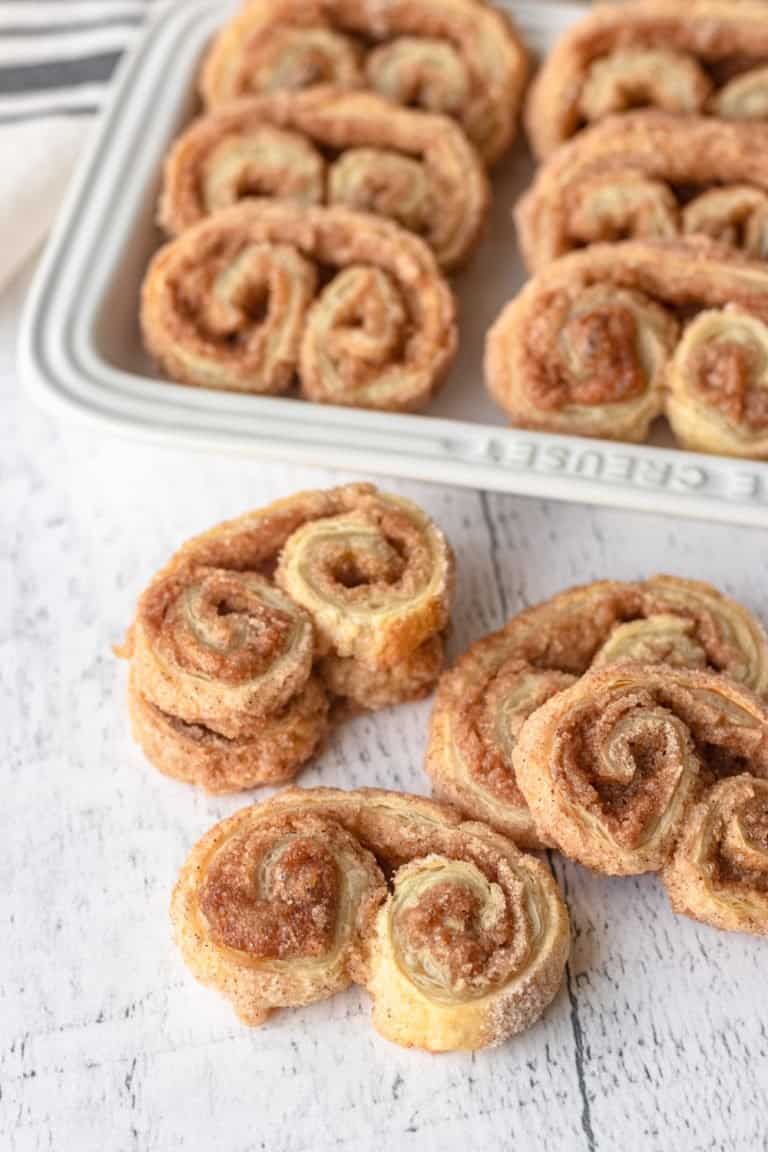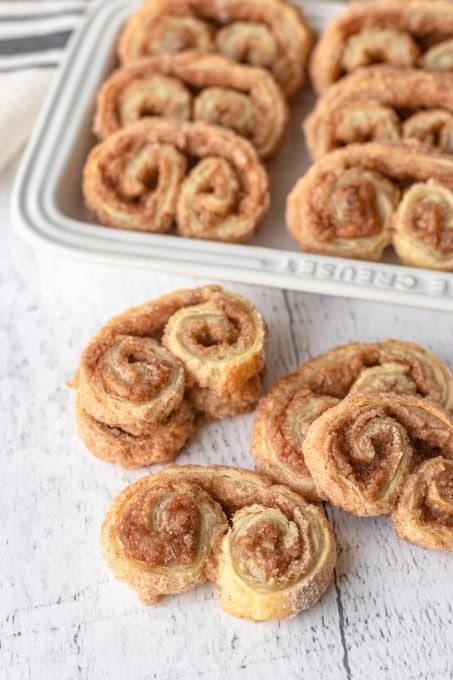 Getting out of bed is easier when you know there's a sweet homemade breakfast treat waiting for you!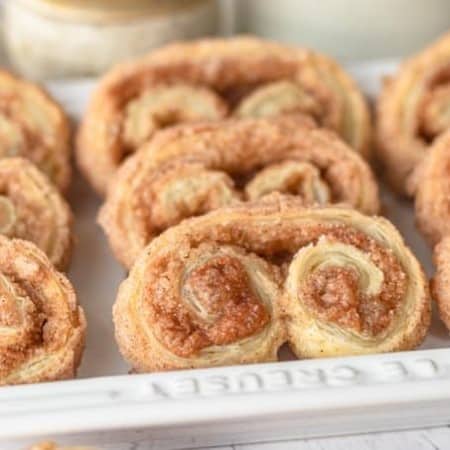 Cinnamon Sugar Palmiers are easy to make with store- bought puff pastry! Sprinkled with cinnamon sugar baked to flaky perfection, these "elephant ears" make any morning better.
Equipment
parchment paper

Baking Sheet
Ingredients
1 sheet puff pastry thawed
1 cup sugar
2 teaspoons cinnamon
Instructions
Preheat oven to 400 degrees F.

Prepare a cookie sheet by lining it with parchment paper.

In a small bowl, mix sugar and cinnamon together.

On a clean surface, sprinkle half of the cinnamon/sugar mixture.

Gently unroll the pastry sheet over the sugar.

Sprinkle the remaining sugar mixture entirely over the dough.

With a rolling pin, roll the dough out so that it is about 1/2-1 inch longer on all sides so that it is approximately 10 X 12-inches.

Beginning with one of the longer sides, gently roll it towards the middle, stopping in the center of the dough.

Do the same with the other side, rolling into the center.

Gently press the two rolls together.

Wrap in plastic wrap, place on a cookie sheet and refrigerate for an hour until firm.

Remove from refrigerator and using a sharp knife, cut dough into 1/2 inch-thick slices and place on prepared cookie sheet about 1-2 inches apart.

Bake for 6 minutes, rotate the cookie sheet and then bake for another 6-8 minutes until golden.
Nutrition
Serving: 1slice | Calories: 89kcal | Carbohydrates: 13g | Protein: 1g | Fat: 4g | Saturated Fat: 1g | Polyunsaturated Fat: 1g | Monounsaturated Fat: 2g | Sodium: 26mg | Potassium: 7mg | Fiber: 1g | Sugar: 8g | Vitamin A: 1IU | Vitamin C: 1mg | Calcium: 3mg | Iron: 1mg
Did you make this recipe?
Share it with me on Instagram and make sure to follow me on Pinterest for more recipes.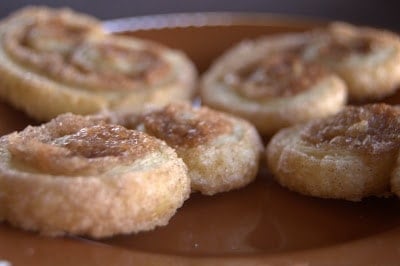 Reader Interactions