This Mexican Breakfast Casserole is an amazing make ahead breakfast recipe.
It's packed with cheesy eggs, spicy chorizo and peppers. Make a hearty, flavorful breakfast any day of the week with this easy recipe.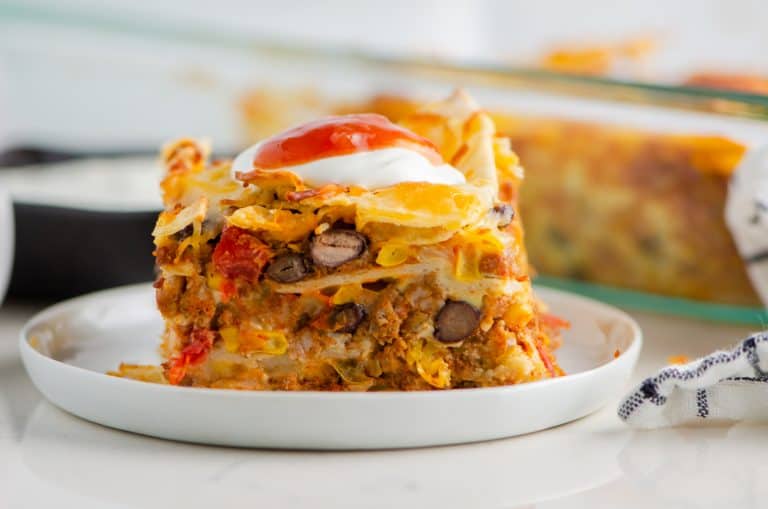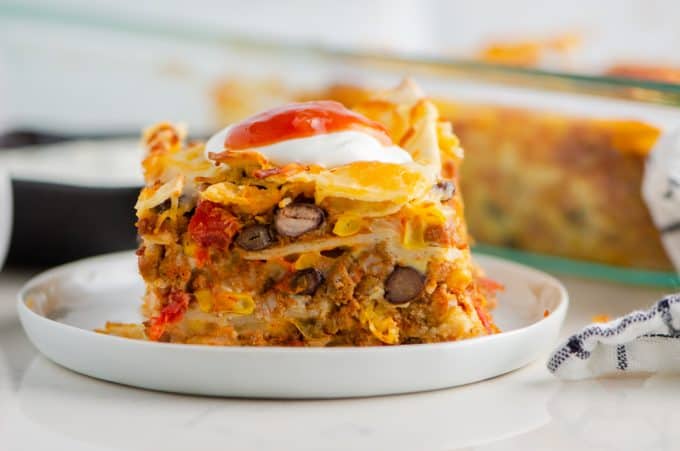 I love breakfast.
Eggs, sausage, biscuits, muffins. . . give me all of it.
But I also love sleep.
And rolling out of bed early enough to get a hot breakfast on the table is next to impossible.
Unless I plan ahead and make Breakfast Casserole!
When I'm in the mood for a sweet breakfast, I'm all about this Almond Berry French Toast Casserole.
But for today's recipe I was in the mood for something SPICY!
Which, if you know me, is odd, because I just don't do spice.
BUT…
SAVE THIS EASY BREAKFAST CASSEROLE RECIPE TO YOUR FAVORITE PINTEREST BOARD!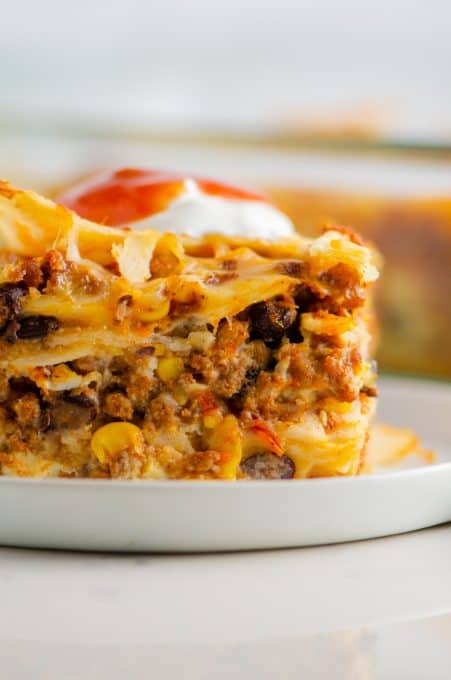 Made with lots of eggs, sausage, and taco seasoning, this Mexican Breakfast Casserole is anything but boring. Savory and hearty with a kick of heat, it's everything I love about breakfast tacos baked into a one dish meal.
Wanna know my favorite part?
You can prep everything the night before!
Assemble everything in your casserole dish and stash it in the fridge.
In the morning, all you have to do is pop the dish in the oven for a hot, made-from-scratch breakfast.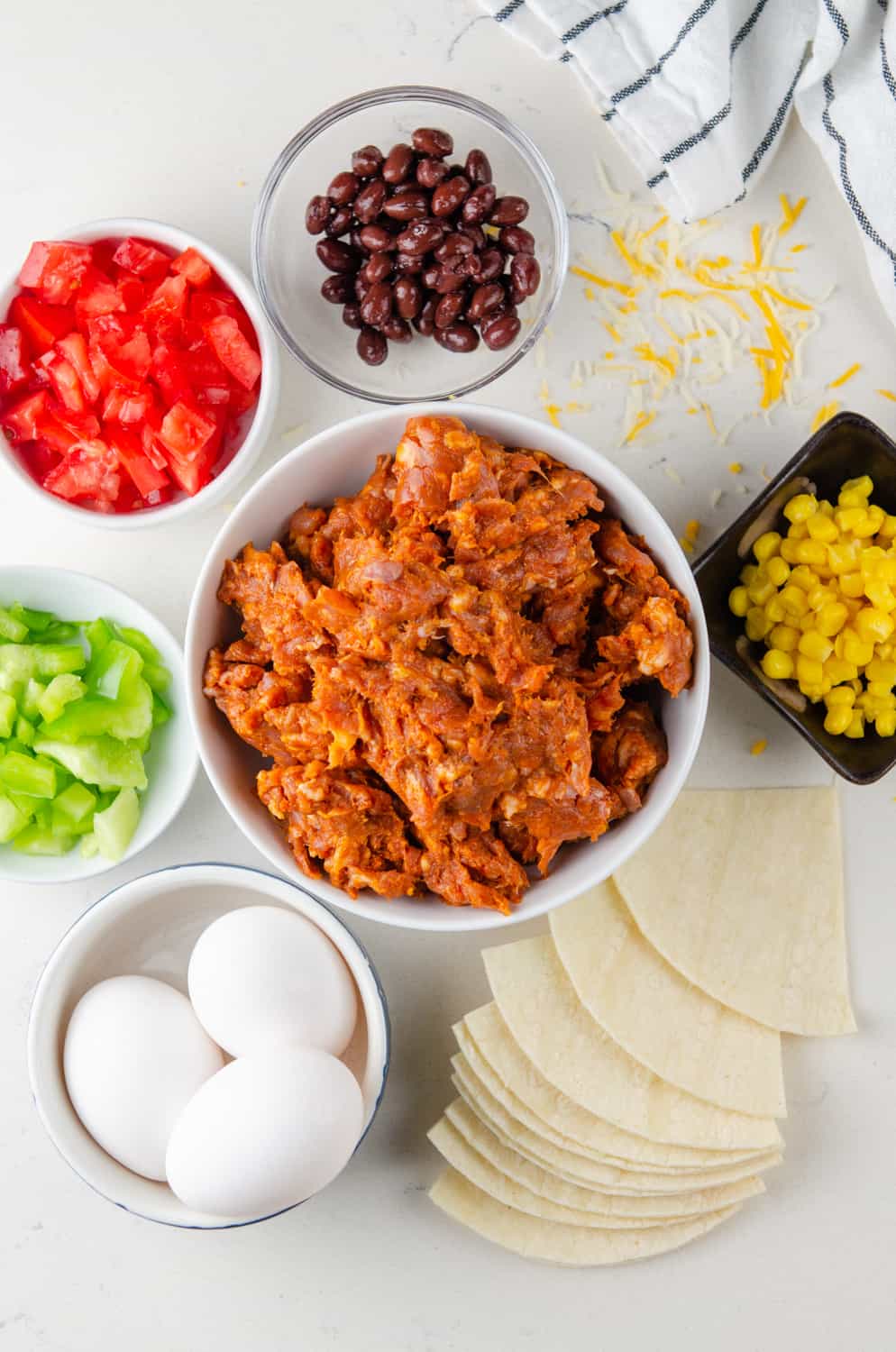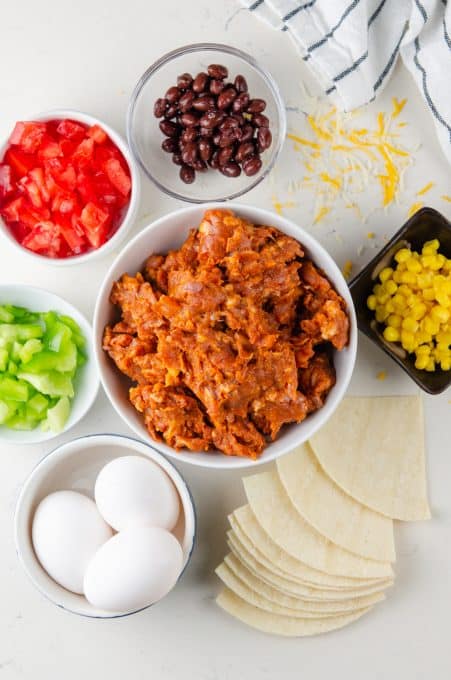 Ingredients for overnight breakfast casserole
olive oil
onion
green pepper
garlic
chorizo
corn
black beans
plum tomatoes
corn tortillas
shredded cheese (Mexican style)
eggs
milk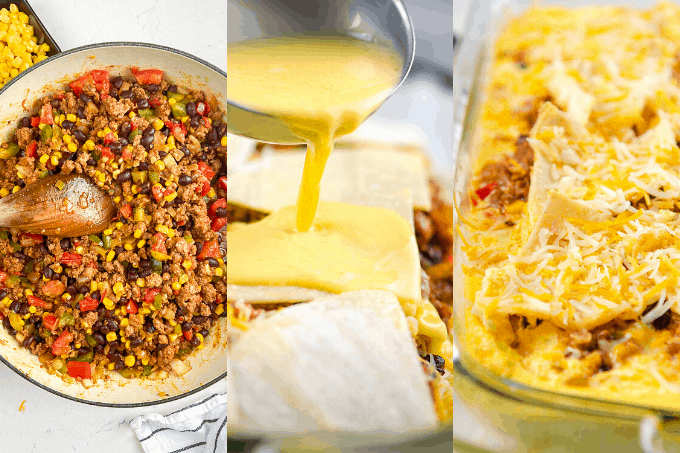 Steps for making this Mexican Egg Tortilla Breakfast Casserole
Heat olive oil in a large skillet over medium high heat. Sauté garlic, onions and peppers in the skillet for about 2 minutes.
Add the chorizo and taco seasoning. Cook another 5 to 7 minutes.
Stir in the black beans, tomatoes and corn.
Place 12 tortilla quarters on the bottom of a prepared baking dish. Spoon 1/3 of the chorizo mixture on top. Sprinkle with cheese. Repeat the layers twice more.
Beat eggs in a separate bowl. Stir in the milk.
Ladle the egg mixture over the assembled casserole. Cover tightly with tinfoil.
From here, you can bake the casserole right away OR store it in the fridge.
Cook the Mexican Breakfast Casserole at 375 F for 25 minutes covered.
Remove the foil, sprinkle more cheese on top and bake for another 25 – 30 minutes.
Not sure how to tell when your breakfast casserole is fully cooked? Insert a clean knife into the center. The casserole is finished cooking when the knife comes out clean.
Serving suggestions: This casserole is especially tasty served with avocado slices, sour cream and your favorite salsa!
Homemade Guacamole makes a delicious topping too.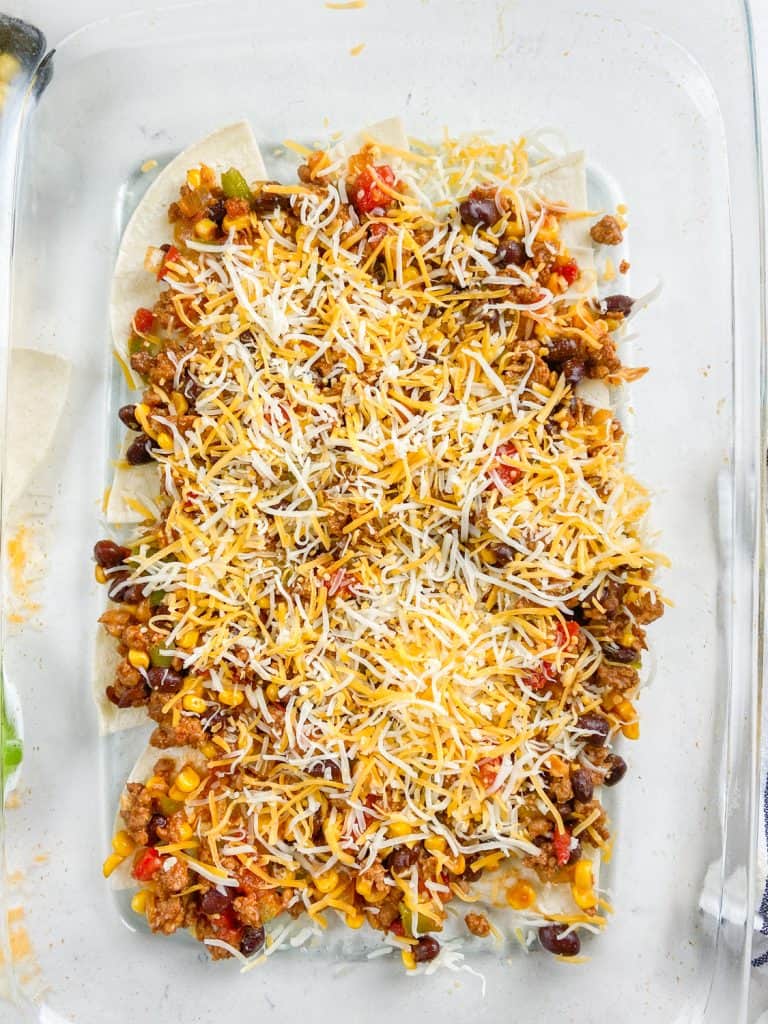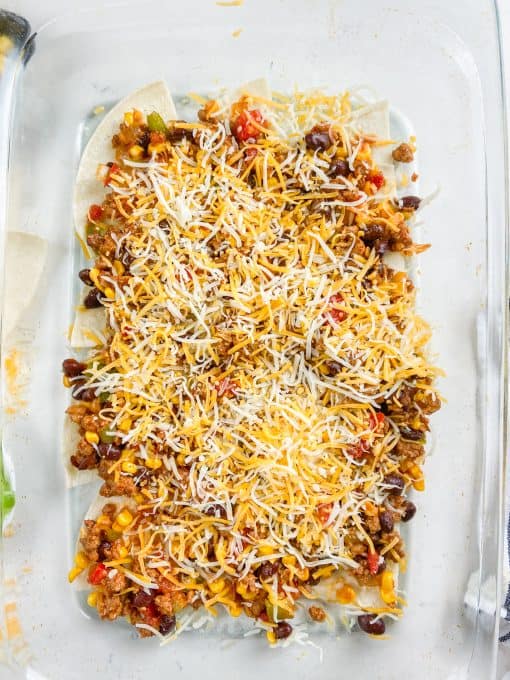 Can I make this Mexican casserole the day of?
You can absolutely prep and bake the overnight casserole the same day if you like!
Get the oven preheating while you prep the other ingredients and pop the casserole right in the oven.
How far ahead of time can I prep this make-ahead breakfast casserole?
I wouldn't prep this more than 24 hours in advance.
Make sure to keep the unbaked casserole chilled in the fridge, well covered with foil, until you're ready to bake it.
Can I make this recipe without chorizo?
This recipe is also delicious with other types of spicy sausage!
If you can't find chorizo, hot Italian sausage crumbles make a fine substitution.
For a vegetarian breakfast casserole, feel free to swap the chorizo for another can of black beans or a meatless sausage alternative!
There are several soy chorizo ("soyrizo") products available at vegetarian-friendly grocery stores that taste great in this casserole too.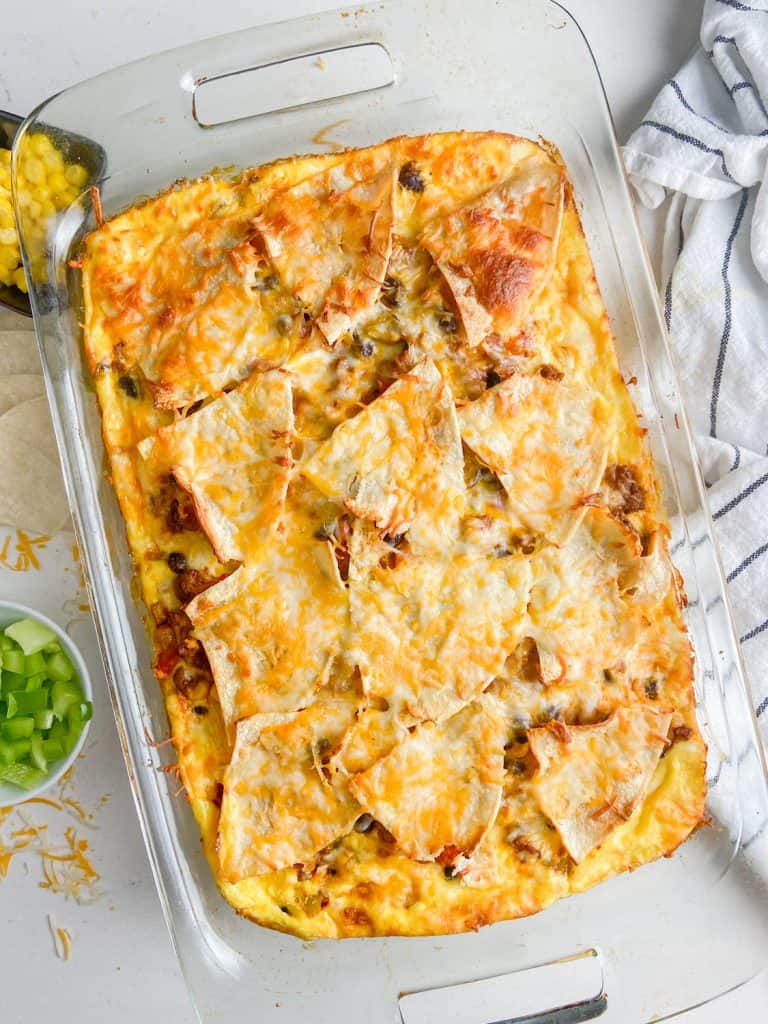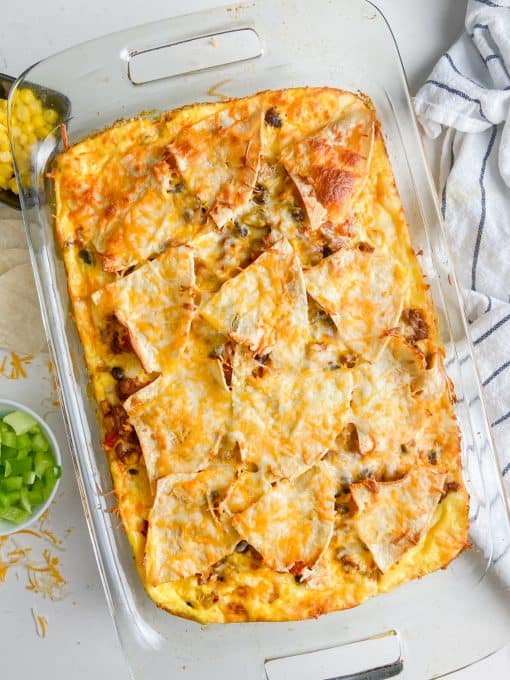 Make Ahead Breakfast Recipes
Thanks to the wonderful world of overnight breakfast recipes, you'll never have to stumble out of bed before sunup to cook a big breakfast again. Try these other breakfast recipes our readers love.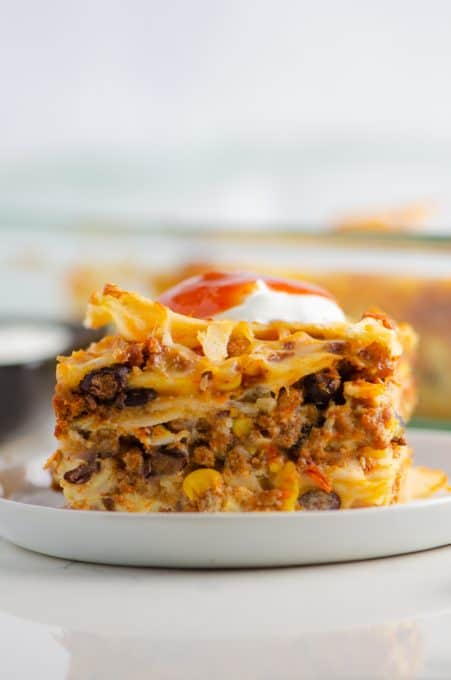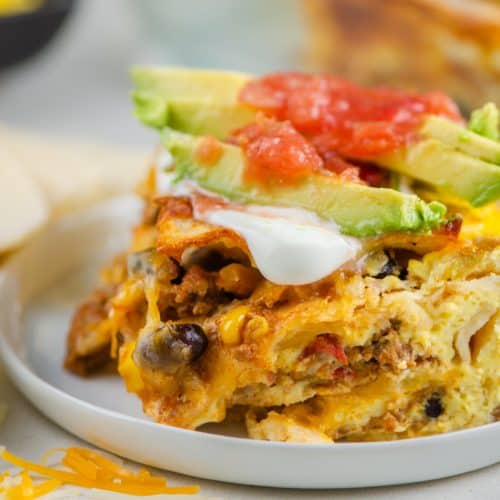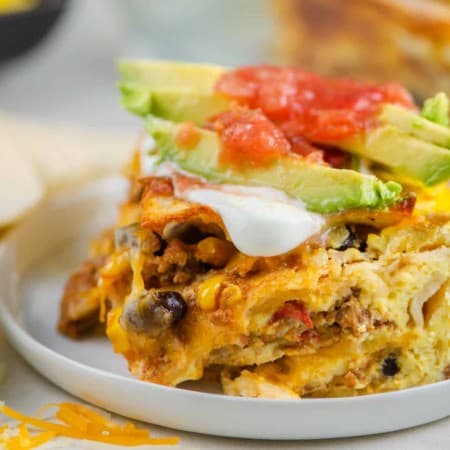 Mexican Breakfast Casserole
Ingredients
1 tablespoon olive oil
1 large onion diced
1 green pepper cored, seeded and diced
3 cloves garlic
1 lb. ground chorizo
2 tablespoon homemade taco seasoning
1 cup frozen corn thawed
15 ounces black beans drained and rinsed
4 plum tomatoes diced
12 corn tortillas cut in quarters
2 cups shredded Mexican style cheese
12 eggs
1 cup milk
Instructions
Preheat oven to 375*, and prepare a 9 X 13-inch baking dish by spraying it generously, especially the bottom, with cooking spray.

Heat the olive oil in a large skillet over medium heat. Add the onion, green pepper, and garlic, and sauté for about two minutes.

Add chorizo and taco seasoning. Cook for about 5-7 minutes. Add corn, black beans, and tomatoes, and cook until heated through.

Place 12 of the tortilla quarters in the bottom of the prepared baking dish. Evenly distribute 1/3 of the meat mixture on top. Sprinkle with 1/2 cup of cheese. Repeat with tortillas, meat, and cheese for two more layers, and top with remaining tortillas.

In a large mixing bowl, beat eggs. Add milk and mix. Using a ladle, evenly distribute the egg mixture over the entire baking dish.

Cover dish with tin foil and bake for 30 minutes. Remove tin foil, sprinkle remaining cheese over top and bake for an additional 20-25 minutes or until a knife inserted into the middle comes out clean.

Serve with sliced avocado, salsa, and sour cream.
Nutrition
Serving: 1g | Calories: 457kcal | Carbohydrates: 35g | Protein: 26g | Fat: 24g | Saturated Fat: 9g | Trans Fat: 1g | Cholesterol: 241mg | Sodium: 641mg | Potassium: 483mg | Fiber: 7g | Sugar: 3g | Vitamin A: 1001IU | Vitamin C: 15mg | Calcium: 359mg | Iron: 3mg
Did you make this recipe?
Share it with me on Instagram and make sure to follow me on Pinterest for more recipes.
Reader Interactions