This is the best Homemade Taco Seasoning for all your taco recipes! Mix up a few spices and you're ready to add instant Mexican flavor to any meal.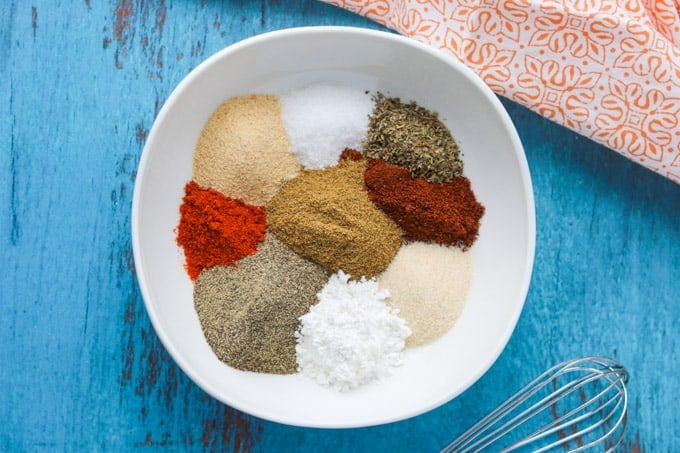 We are forever eating tacos. And when we're not eating tacos, we're eating taco-inspired dishes like this Chicken Taco Dip.
If my son were to be stuck on a deserted island and could only bring one food with him, it would probably be a toss between pasta and tacos.
So, I was going through those little taco seasoning packets like water.
SAVE THIS EASY TACO SEASONING RECIPE TO YOUR FAVORITE PINTEREST BOARD!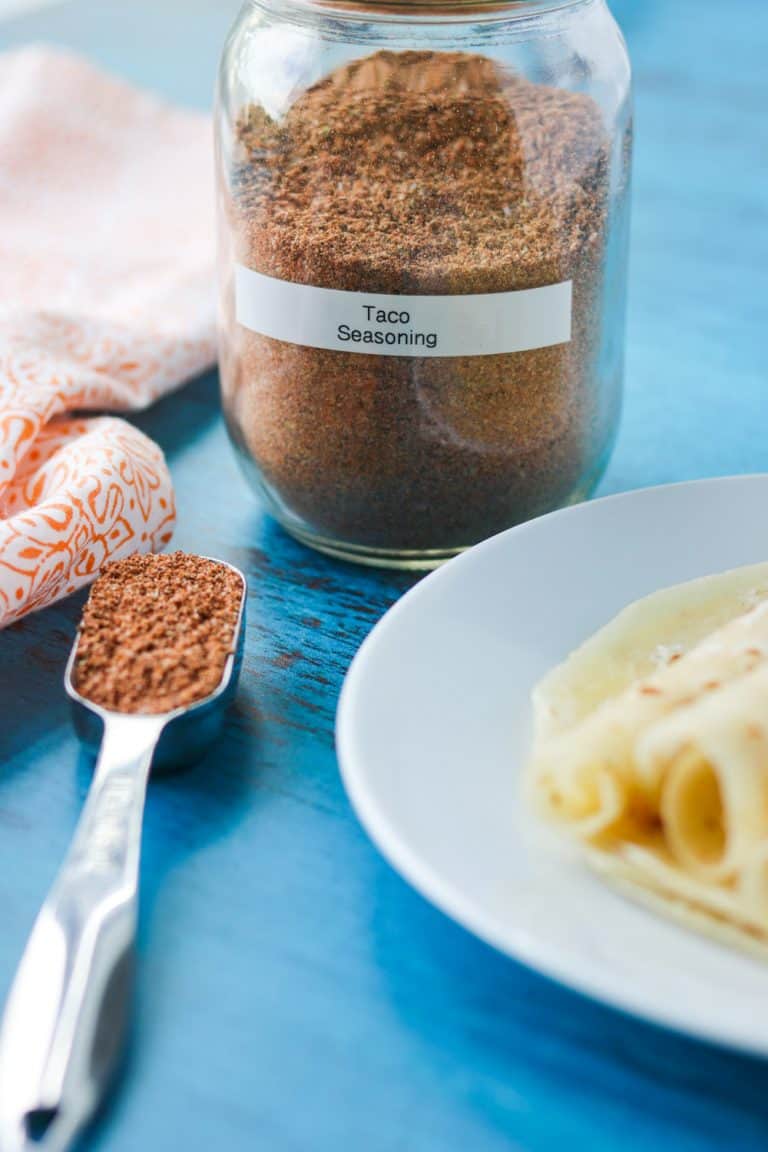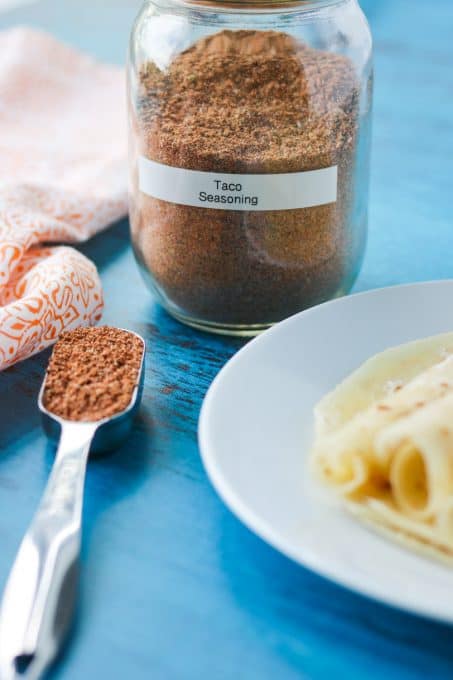 Yes, I don't mind keeping a company in business, but if I can make my own seasoning at home without any additives or preservatives, you can bet I'm going to go for it.
This taco seasoning recipe is the only one I use!
It's got a kick to it, but isn't overwhelmingly hot.
Plus, one batch of this recipe is enough to make more than 11 servings of taco meat!
Keep a jar of this on hand and deliciously seasoned tacos (and more!) are ready to eat in no time.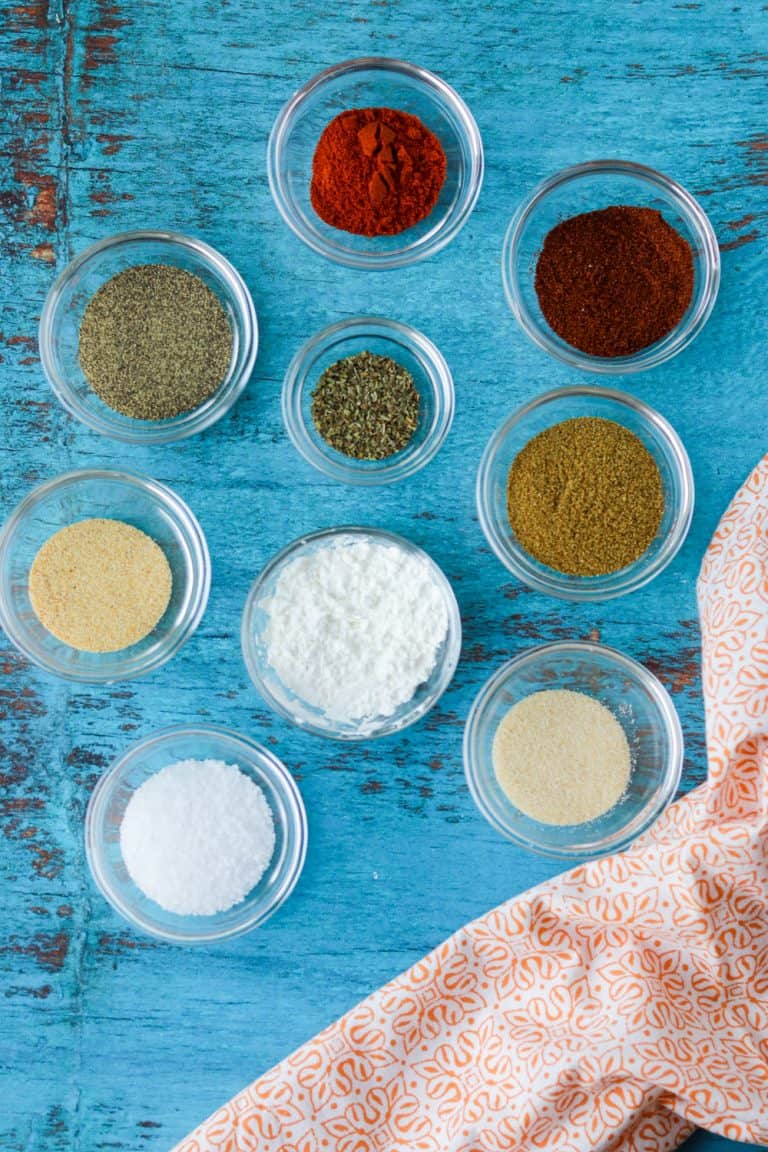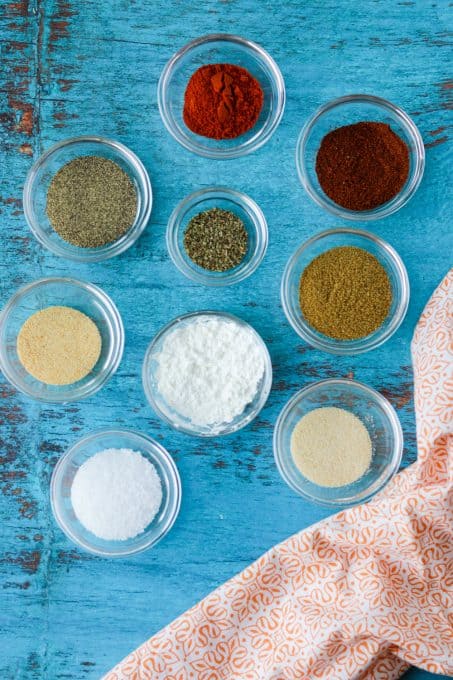 What is in homemade taco seasoning?
Here's what I put in my taco seasoning mix:
chili powder
cumin
salt
corn starch
black pepper
garlic powder
onion powder
paprika
oregano
Pro Tip: Feel free to make adjustments to the amount or type of spices based on your taste preferences.
If you want more heat, add a teaspoon or two of red pepper flakes.
For a more mild taco seasoning, reduce the amount of chili powder.
Mix all your spices together and store in an airtight container.
I like to keep taco seasoning in a wide jar with a lid.
That way, it's easy to measure out with a tablespoon.
Jars of homemade spice blends also make great gifts.
Just add a pretty ribbon and a card with your favorite taco recipe!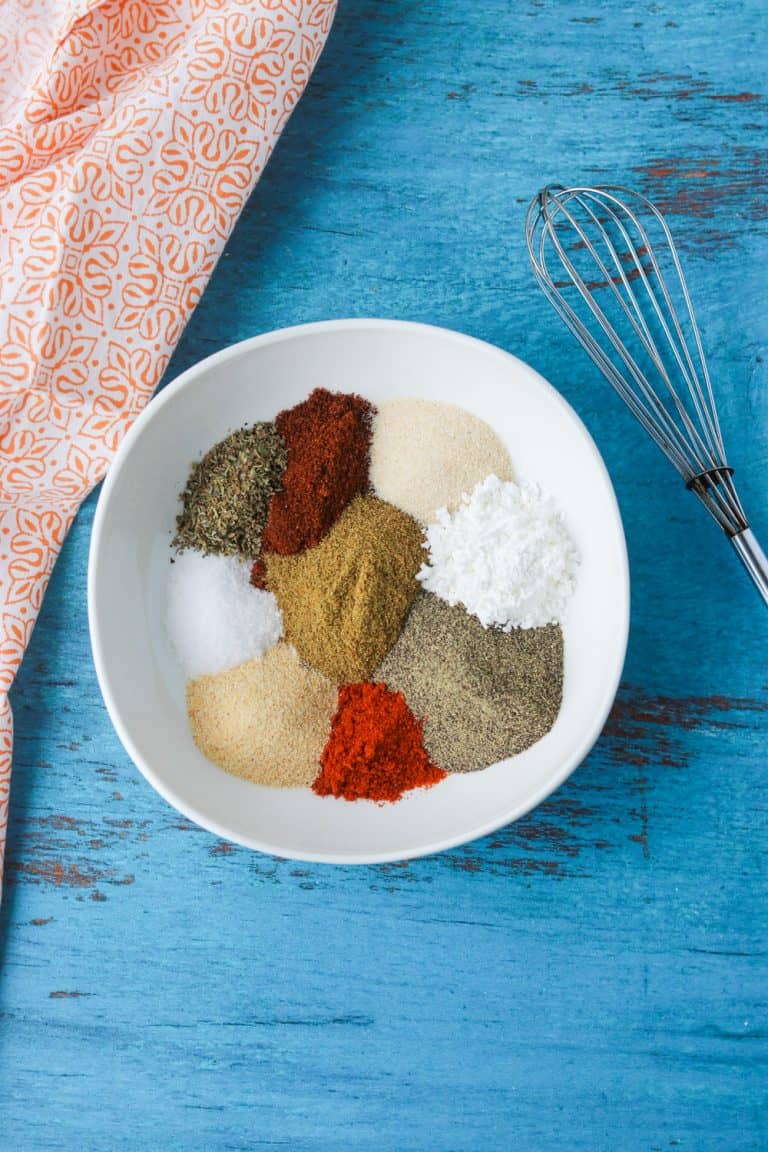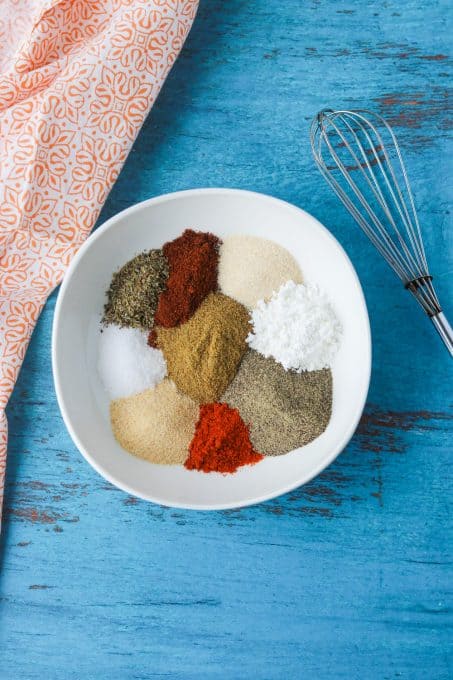 How much do I use per pound of beef?
For every pound of beef, I use about 3 tablespoons of this taco seasoning.
You may prefer a bit more depending on how strong of a spice flavor you like in your taco meat.
I also add 1/3 cup of water to the pan, just like I did when using the spice packets.
It makes the beef saucy and helps deglaze the pan.
How long does it keep?
Stored in a dry dark location, taco seasoning keeps pretty much forever.
I mean, not FOREVER forever, but definitely more than a year.
After a while, the flavors will start to become a bit muted.
If you notice that your seasoning has lost its fragrance and kick, it's time to replace your spices.
If you make tacos frequently, you'll easily use up all the spice mix within a few weeks or months.
It may even be gone within days if you have a big taco-loving family!
Feel free to double or triple the recipe if you want to keep your spice cupboard stocked.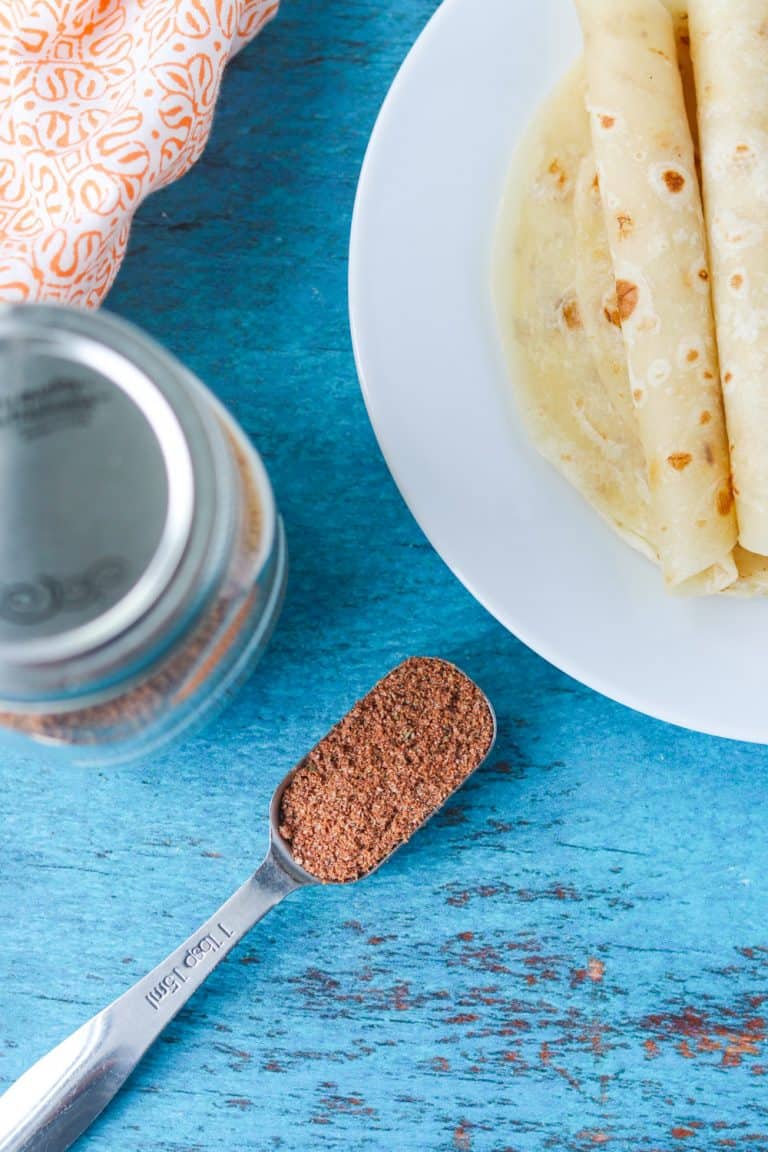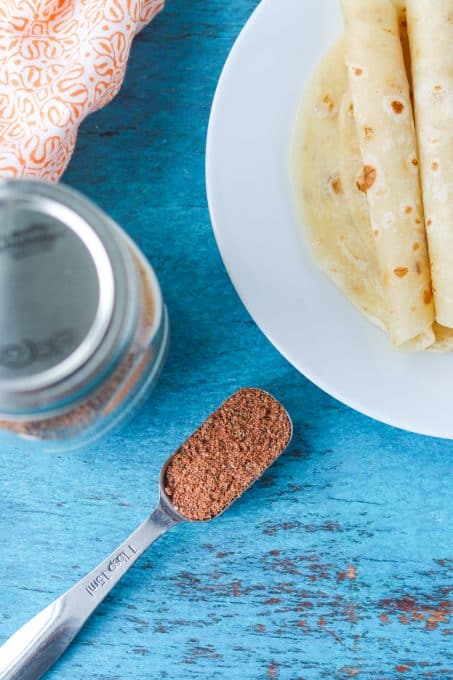 What can I make with DIY taco seasoning?.
This spicy seasoning mixture tastes amazing in so much more than just tacos!
A bit of DIY taco seasoning adds instant Mexican flavor to any dish.
Sprinkle it over chicken breasts before grilling or baking.
Stir it into a pot of beans or rice. Add a bit to your favorite chili or taco soup recipe.
It's also delicious with browned ground turkey, cooked lentils and vegetarian meat substitutes!
More Recipes for Taco Lovers
~ FOLLOW ME ~
~ FACEBOOK ~ PINTEREST ~
~ INSTAGRAM ~ TWITTER ~
SIGN UP FOR THE WEEKLY
365 DAYS OF BAKING & MORE
NEWSLETTER BELOW!
How will YOU use your homemade taco seasoning?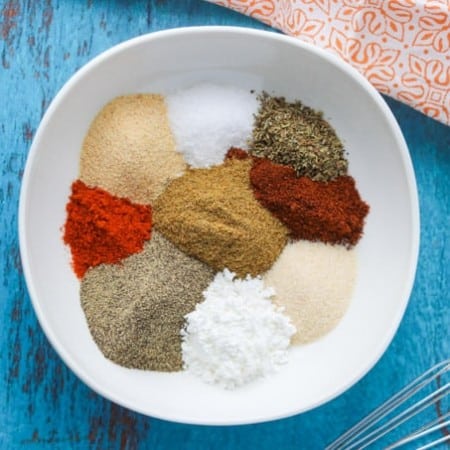 Equipment
airtight container – like a mason jar
Ingredients
4 tablespoons chili powder
5 teaspoons cumin
4 teaspoons salt
4 teaspoons corn starch
4 teaspoons freshly ground black pepper
2 teaspoons garlic powder
2 teaspoon onion powder
2 teaspoons paprika
1 teaspoon oregano
Instructions
In a medium bowl, whisk together all ingredients.

Store in an airtight container.
Notes
Recipe makes just under 11 servings when using 3 tablespoons per pound of meat.
Nutrition
Serving: 1g | Calories: 23kcal | Carbohydrates: 4g | Protein: 1g | Fat: 1g | Saturated Fat: 1g | Polyunsaturated Fat: 1g | Monounsaturated Fat: 1g | Sodium: 986mg | Potassium: 114mg | Fiber: 2g | Sugar: 1g | Vitamin A: 1166IU | Vitamin C: 1mg | Calcium: 30mg | Iron: 2mg
Did you make this recipe?
Share it with me on Instagram and make sure to follow me on Pinterest for more recipes.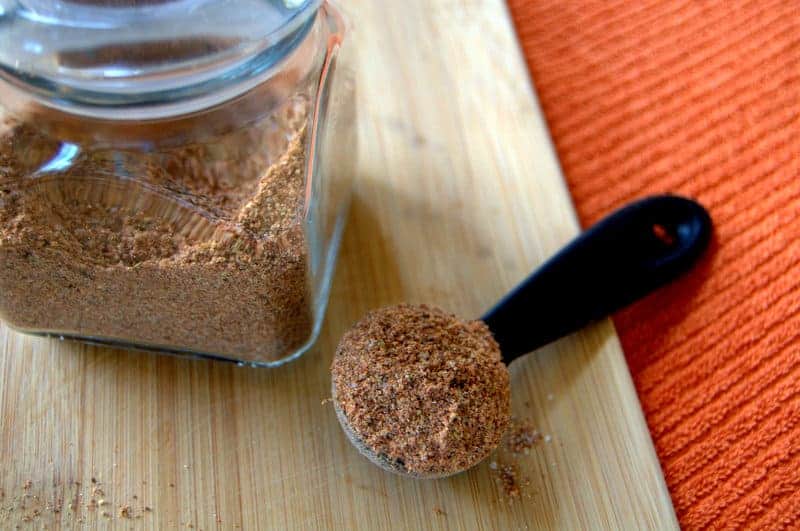 This post has been updated on 9/17/21 and was originally published on 7/31/12.
Reader Interactions