Chai Snickerdoodles – The classic snickerdoodle cookie with all the spices of a great chai latte. Warming cardamom, sweet cinnamon and a kick of clove and ginger makes these just right for a chilly autumn day!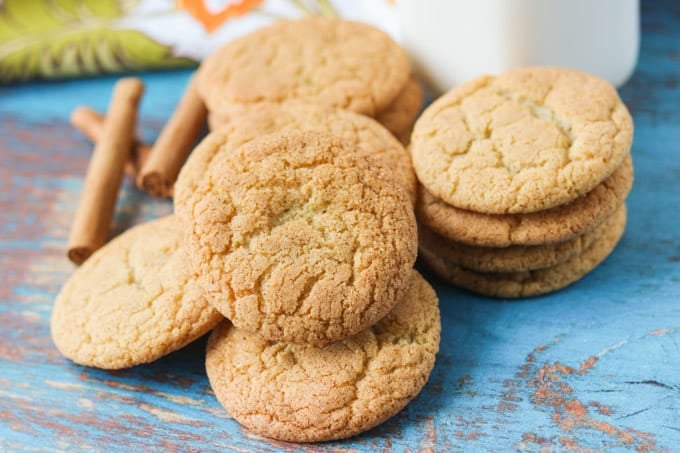 I wanted to combine my favorite cookie with my favorite tea, so I Googled it to see if it had been done.
Of course, it had been.
But I still couldn't resist making them.
And I adapted them from this recipe to do it, making a few swaps and alterations to make it my own.
SAVE THIS EASY CHAI SNICKERDOODLES TO YOUR FAVORITE PINTEREST BOARD!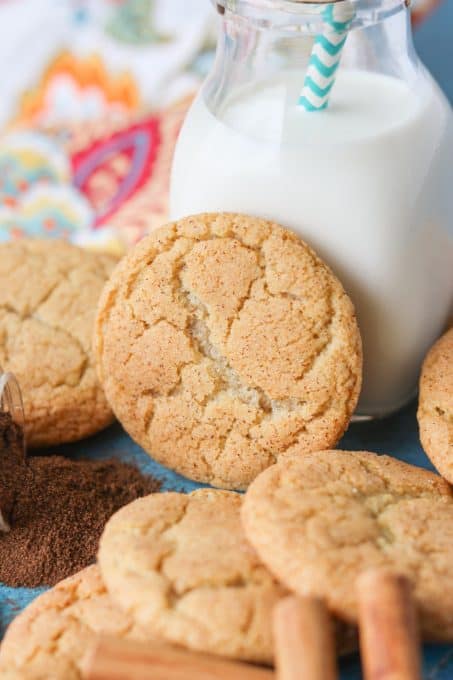 Did you know that the word "chai" just means "tea"?
In the United States, when we think of Chai we usually think of the sweet and spicy drink made from strong black tea, steamed milk and an aromatic blend of spices.
I make my own Homemade Chai Tea Syrup to keep on hand whenever the craving strikes.
While today's Snickerdoodles don't contain any actual tea, they do feature all of the spices I love in my favorite chai drinks!
The spices are mixed into the cookie dough.
Then, in classic Snickerdoodle fashion, you roll the cookies in cinnamon sugar before baking.
They're everything I love about Snickerdoodles with a little extra somethin'-somethin'.
Serve them with a cup of hot tea or coffee for an instant mood boost.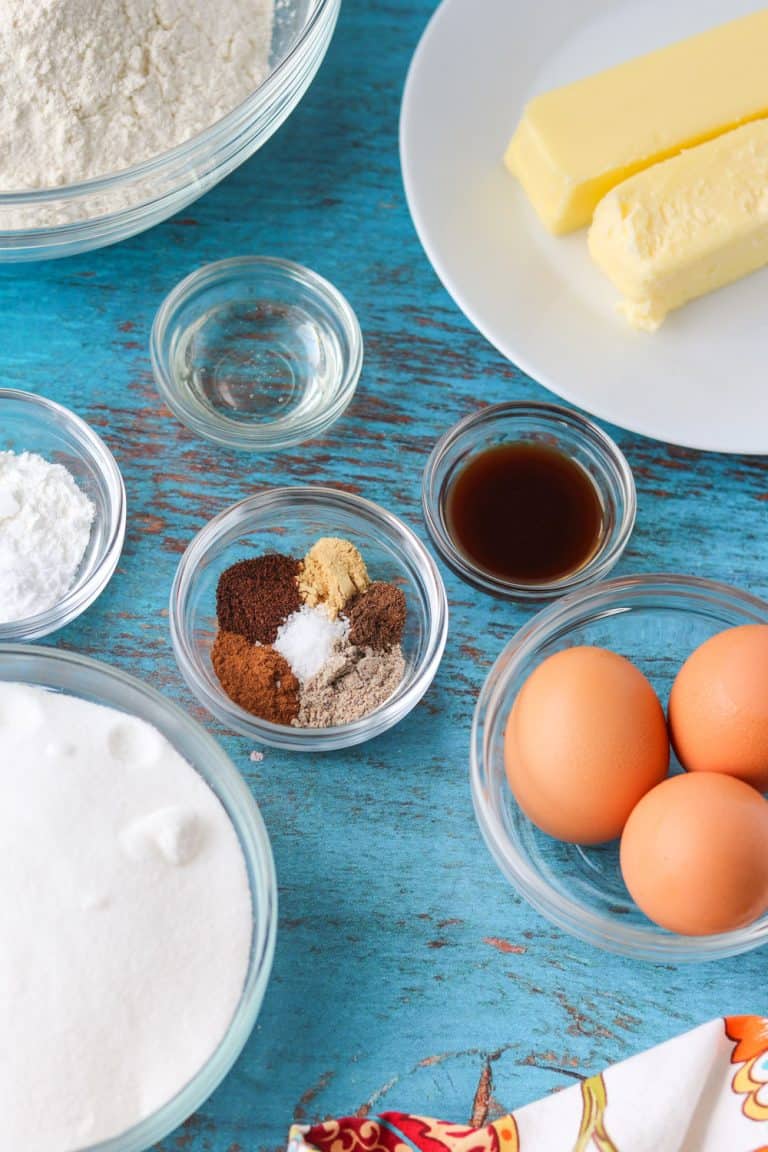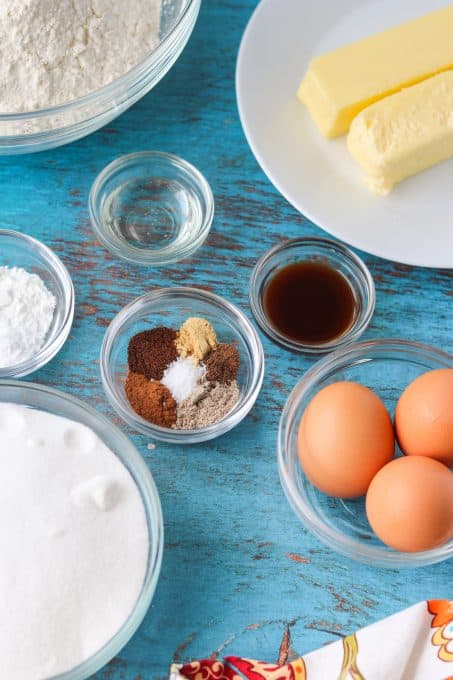 Ingredients for these Chai Cookies
flour
baking powder
baking soda
cinnamon
cardamom
ginger
cloves
all spice
salt
butter
sugar
eggs
corn syrup
vanilla extract
For the coating, you'll also need more granulated sugar and ground cinnamon.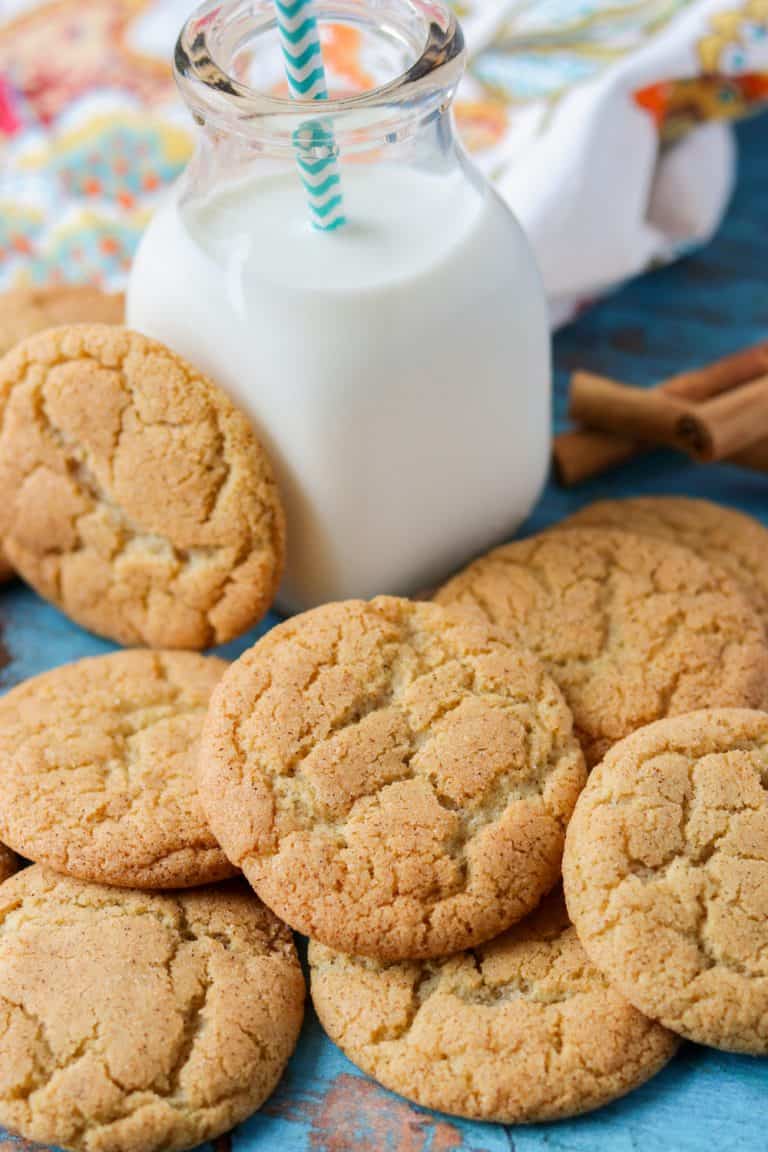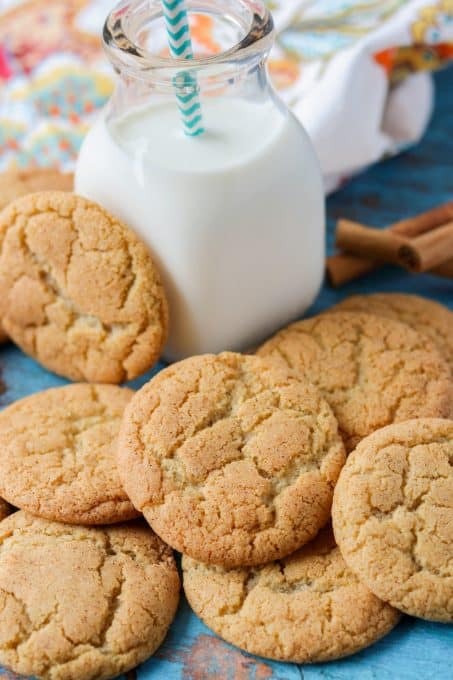 How to make snickerdoodles with chai spices
STEP 1. Combine your dry ingredients.
Mix together the flour, baking powder, baking soda, salt and spices.
STEP 2. Blend together the wet ingredients in a separate bowl.
Cream together the butter and sugar, add the eggs, corn syrup and vanilla while you continue mixing.
STEP 3. Add the dry ingredients to the wet.
Continue mixing until thoroughly combined. Now chill the dough for at least one hour.
STEP 4. Roll and bake
Mix the cinnamon and sugar for the coating together in a small bowl.
Form the cookie dough into walnut sized pieces, then roll through the cinnamon sugar.
Place the rolled cookies on a cookie sheet and bake for 10 to 12 minutes. Let cool and enjoy!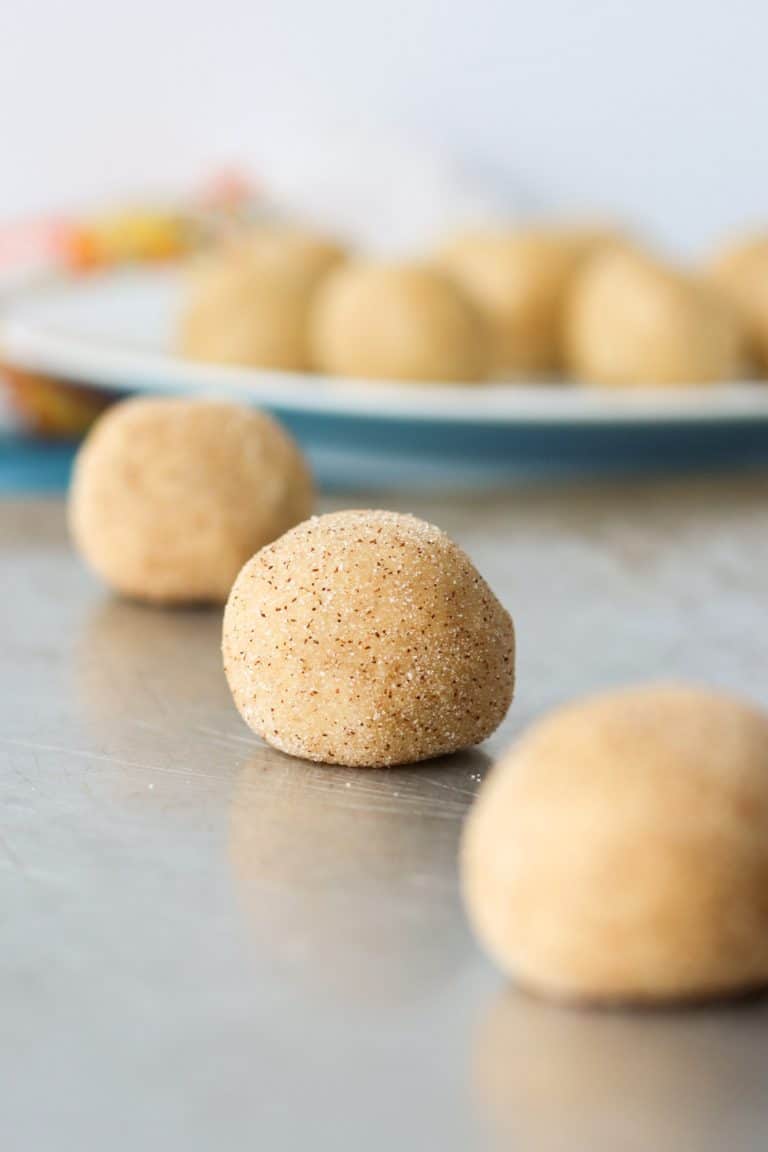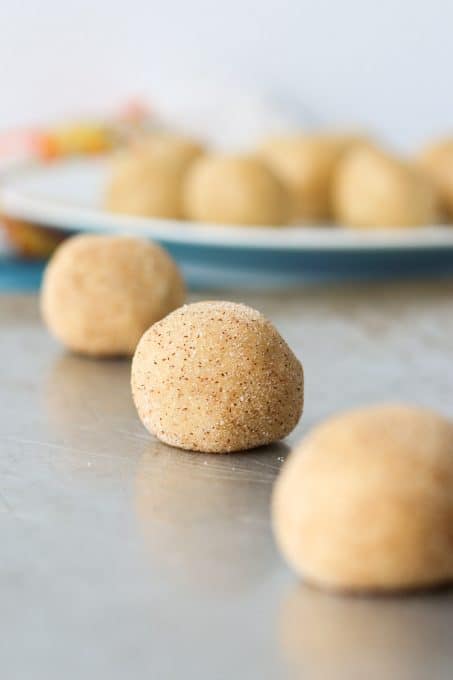 Pro Tips
The cookies should look slightly puffed when they are ready to come out of the oven.
As they cool the tops will settle and form a crackly topping that you know and love on a good Snickerdoodle cookie!
Make sure to place the cookies evenly apart with about 2 inches of space between them.
They will spread slightly as they bake.
Let the Chai Snickerdoodles cool on the baking sheet for a few minutes before transferring to a cooling rack.
The cookies will continue baking and firming up as they cool.
Chai Recipes
Chai Tea is one of my very favorite hot drinks, especially when they weather starts to cool off!
The sweet and warming spice blend used in chai is also a lovely flavor profile to use in desserts all year long.
This Chai Spiced Pumpkin Cake combines two fall flavors I love: pumpkin spice and chai!
Topped with a coating of powdered sugar or accompanied by a dollop of my Stabilized Whipped Cream, it's an easy dessert that requires no frosting or complicated decorating techniques.
Chai Banana Bread is delicious as a breakfast bread, snack or gift to bring to a friend.
It's topped with a heavenly glaze that makes it just sweet enough to serve as a dessert too!
Cookie Recipes
You already have your flour ready and your oven is fired up; so make some of these other well loved cookie recipes while you're at it!
In the mood for more Snickerdoodle variations?
Our readers rave about Ginger Molasses Snickerdoodles and this recipe for Snickerdoodle Bars.
You'll love these other cookie ideas too . . . .
I'm so happy I decided to combine my love of cookies and my love of chai.
When I first made these I tended to rate everything I baked for the blog on a scale of 1-4 with 4 being the best. These Chai Snickerdoodles earned 3 1/2 rolling pins.
We LOVED the flavor of the Chai in these cookies!
I've made them numerous times since that first rating and, if anything, I like them even more now.
I know all you fellow chair latte and Snickerdoodle fans out there will love them just as much as me.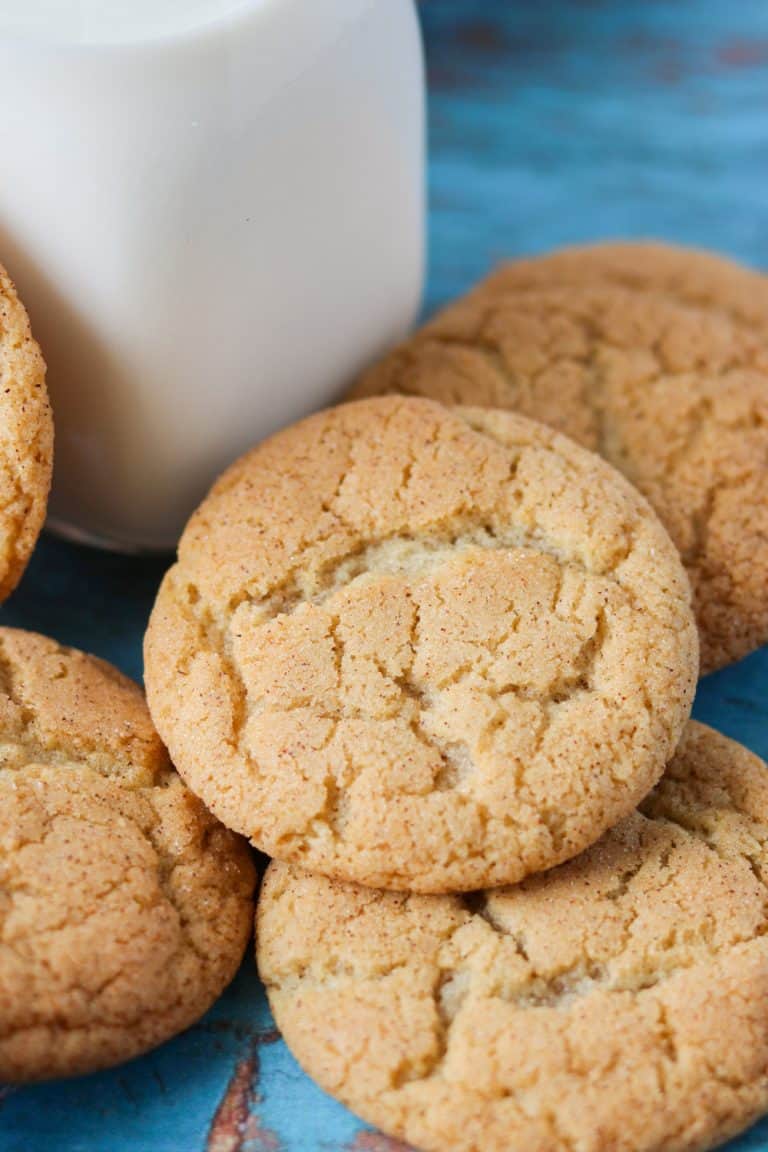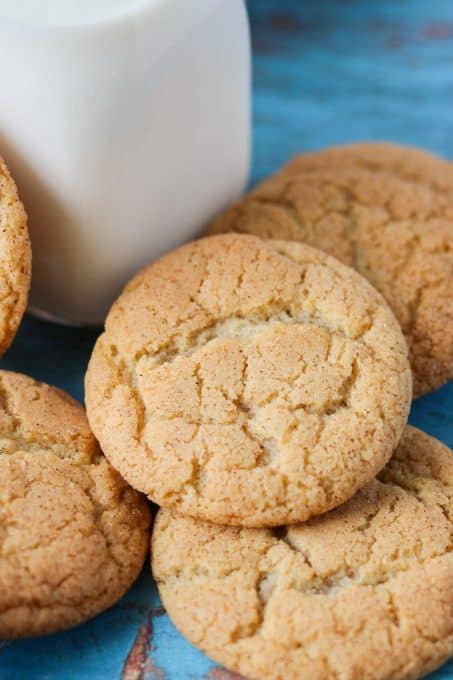 Chai Snickerdoodle Cookies are easy, sweet and chewy with just the right amount of spice!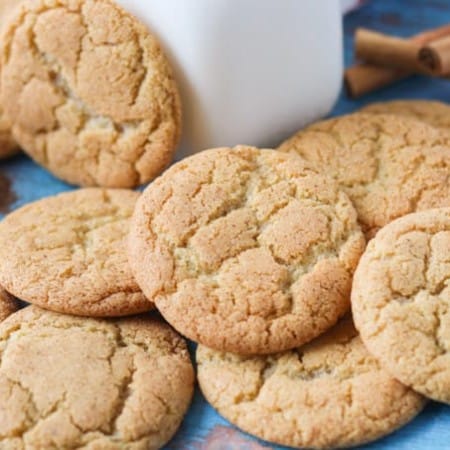 Chai Snickerdoodles – The classic snickerdoodle cookie with all the spices of a great chai latte. Warming cardamom, sweet cinnamon and a kick of clove and ginger makes these just right for a chilly autumn day!
Ingredients
3 ½ cups flour
1 tablespoon baking powder
2 teaspoons baking soda
1 teaspoon cinnamon
1 teaspoon cardamom
½ teaspoon ginger
½ teaspoon cloves
½ teaspoon allspice
¼ teaspoon salt
1 cup butter
2 cups sugar
3 eggs
1 tablespoon light corn syrup
2 ½ teaspoons vanilla extract
For Coating
½ teaspoon cinnamon
3 tablespoons sugar
Instructions
In a medium bowl, whisk together flour baking powder, baking soda, cinnamon, cardamom, ginger, cloves, allspice and salt.

In a mixing bowl fitted with the paddle attachment, cream the butter and sugar.

While continuing to mix, add the eggs, corn syrup, and vanilla. Blend thoroughly.

Gradually add the dry ingredients and mix until thoroughly combined.

Chill dough 1 hour.

In a small bowl, combine the cinnamon and sugar for the coating.

When ready to bake, preheat oven to 375 degrees F.

Using walnut-sized pieces of dough, roll them in the cinnamon sugar to coat, making sure they are completely covered.

Place on an un-greased cookie sheet 2 inches apart.

Bake for 10 to 12 minutes until puffed with surface slightly cracked.

Allow to cool on cookie sheet a few minutes before transferring to a wire rack.
Nutrition
Serving: 1g | Calories: 87kcal | Carbohydrates: 13g | Protein: 1g | Fat: 3g | Saturated Fat: 2g | Polyunsaturated Fat: 1g | Monounsaturated Fat: 1g | Trans Fat: 1g | Cholesterol: 16mg | Sodium: 77mg | Potassium: 33mg | Fiber: 1g | Sugar: 8g | Vitamin A: 107IU | Vitamin C: 1mg | Calcium: 13mg | Iron: 1mg
Did you make this recipe?
Share it with me on Instagram and make sure to follow me on Pinterest for more recipes.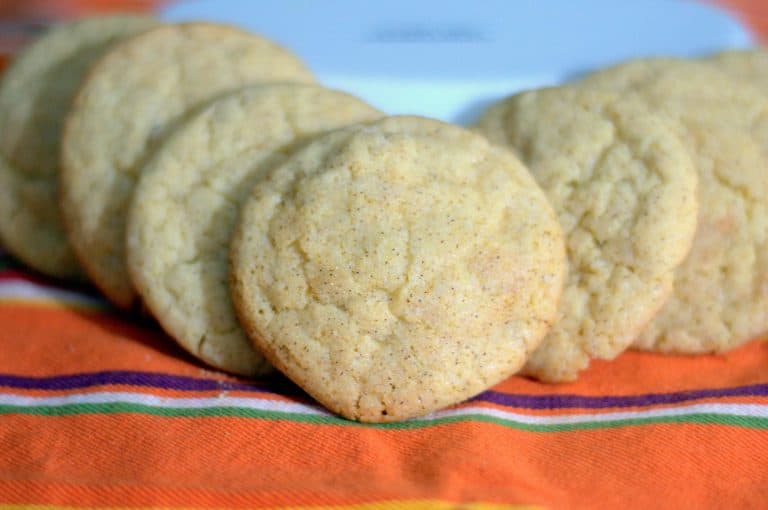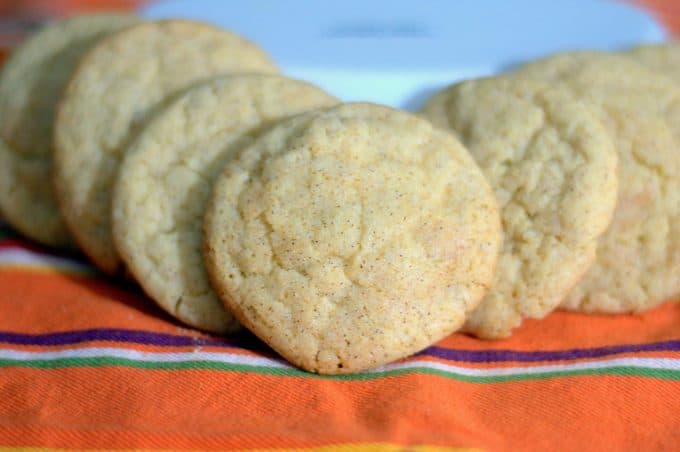 This post was originally published 3/9/2014. It has been updated in format and with pictures on 9/22/2021.
Reader Interactions