These Meatball Sub Sandwiches are easy, satisfying and bursting with flavor!
Turn ordinary frozen meatballs into a crowd pleasing meal with this quick method.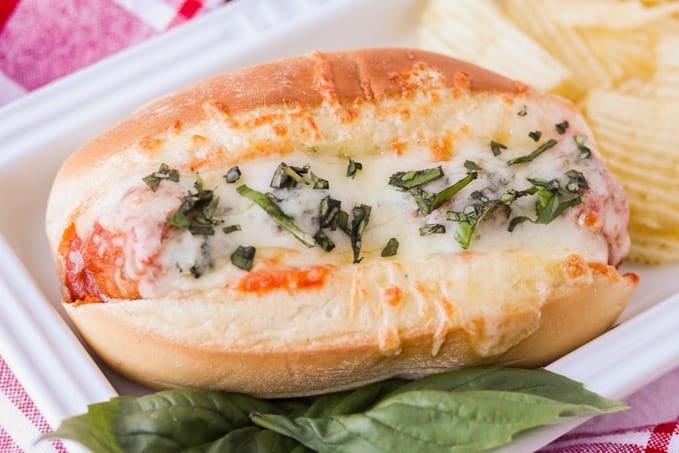 I can't explain it, but sub sandwiches are the BEST kind of sandwiches.
Okay. BBQ Chicken Sandwiches are up there too.
But when I'm craving hearty Italian flavors with lots of cheese, only one kind of sandwich will do: Meatball Subs.

SAVE THESE MEATBALL SUBS TO YOUR FAVORITE PINTEREST BOARD!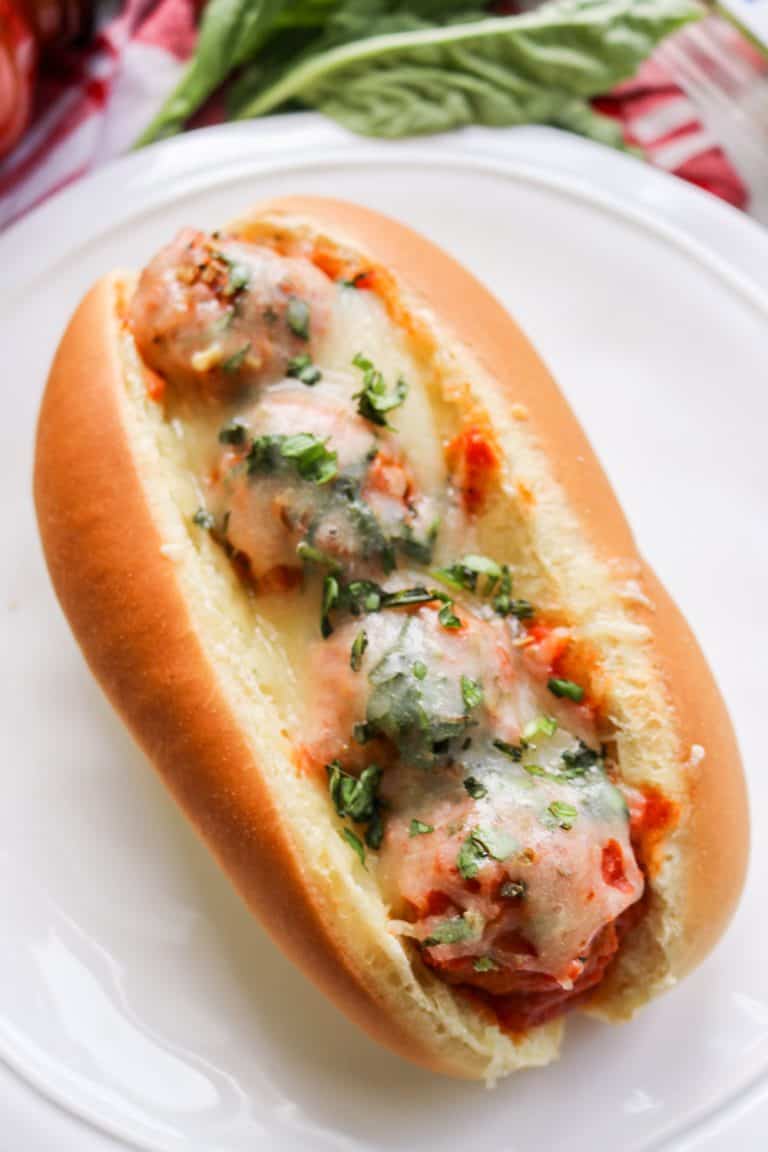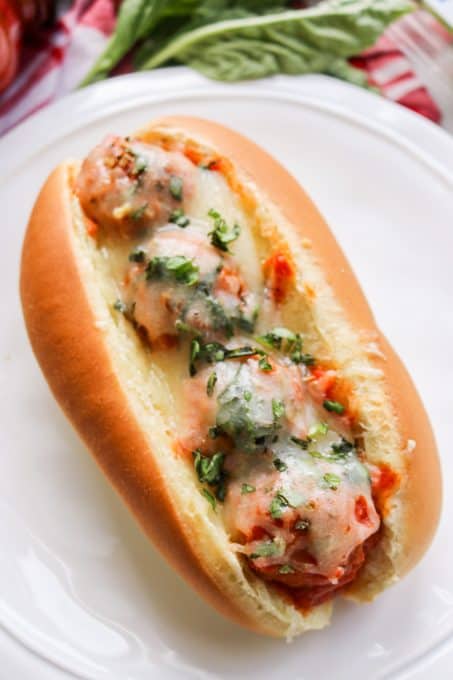 These are the best meatball subs I've ever tasted.
And I've tasted a LOT of meatball subs in my time!
I've eaten quite a few in restaurants, but after making these, there's no need to buy them again.
I don't know what it is but you just can't beat this combination of fresh basil, savory meatballs and cheese.
Add an extra bit pasta sauce into your favorite sub rolls and you have an amazing hearty meal the whole family will love.
Eat them on the go or gather the family around the dinner table!
These meatball subs are too delicious to pass up.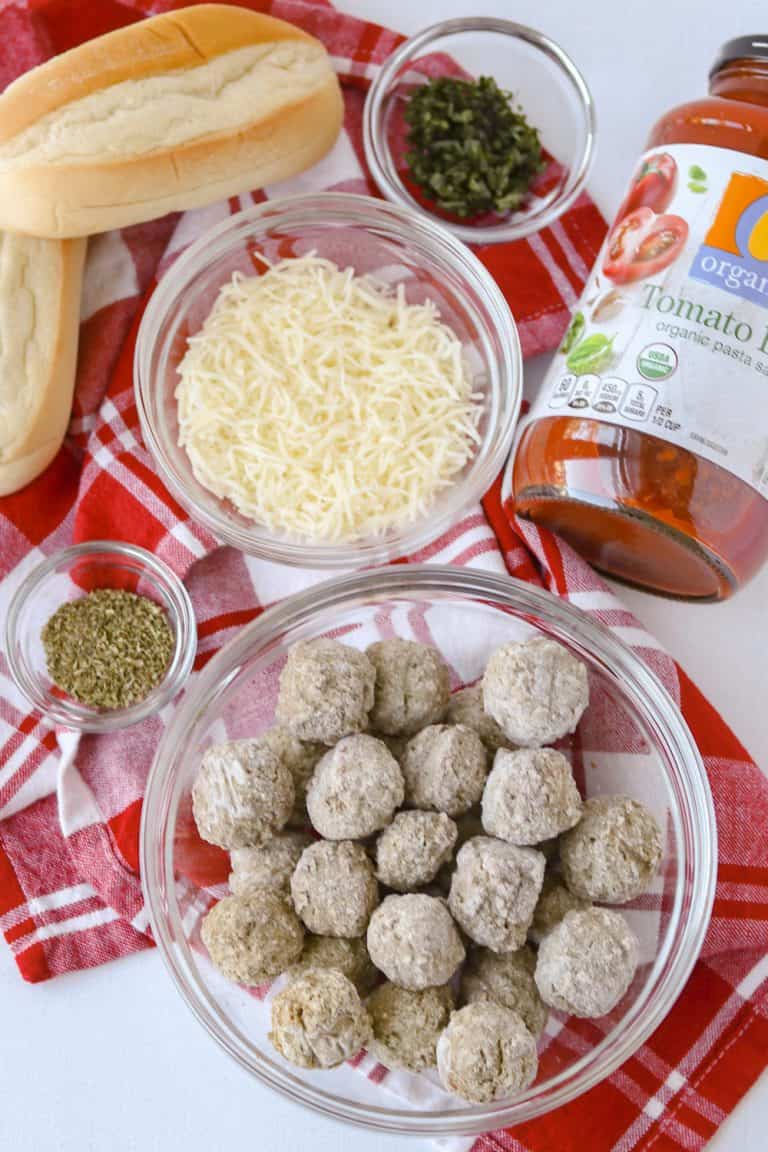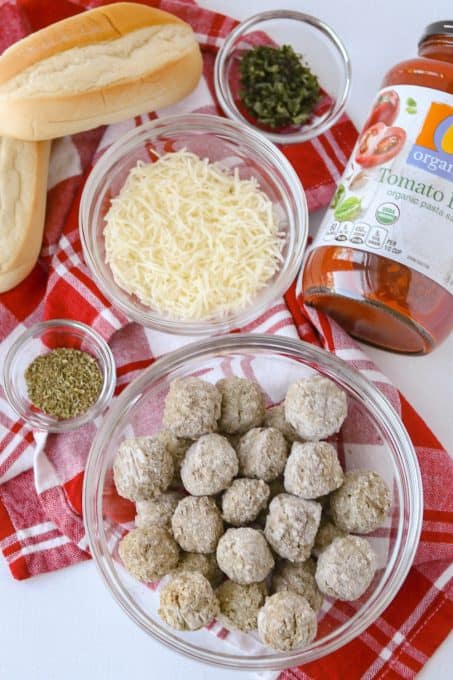 What do I need?
Here's what I use to make the best meatball subs ever.
Pasta Sauce
Use your favorite or try something new!
Italian cheese blend
I use a blend that has a combination of shredded mozzarella, Parmesan, provolone, and Romano, but you can use an one of those.
I especially like using at least some mozzarella if not only mozzarella because it melts really well.
Fresh Basil
Yes, you can use dried, but the flavor of fresh is so much better.
Frozen Meatballs
Use your favorite kind OR you can make your own.
You can even use some STUFFED meatballs, too to make your meatball sandwich even better.
Torpedo Rolls (also known as hoagie rolls or sub rolls)
Hot dog rolls work just as well, too.
Italian Seasoning
If you don't have it, top with some oregano and additional basil.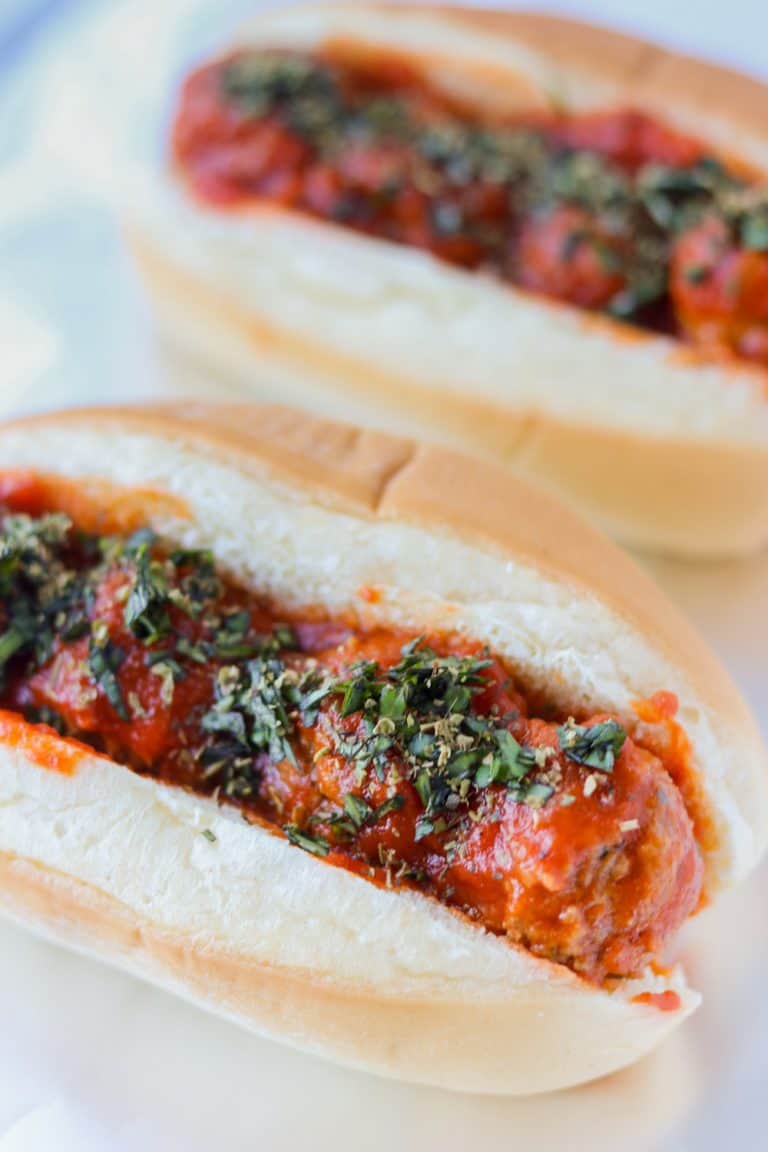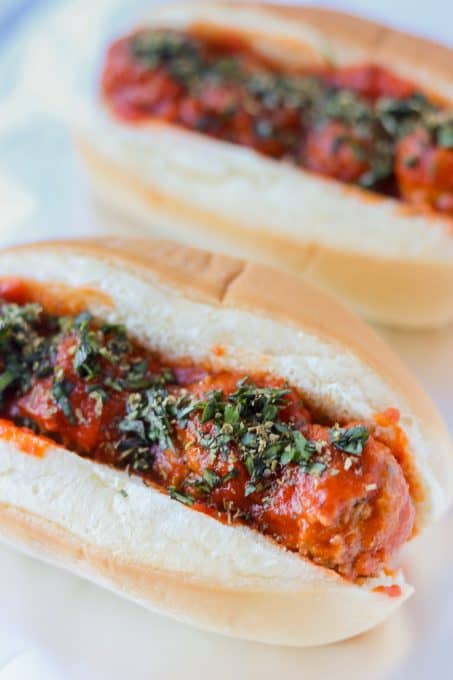 Sides to go with Meatball Subs
Turn your meatball subs into a complete meal with the perfect side dish.
Toss a salad of mixed greens in this Homemade Italian Dressing to round out your lunch or dinner.
Roasted Parmesan Broccoli is another delicious way to add a few more veggies to your meal!
Can't get enough cheese and tomatoes?
These Baked Stuffed Tomatoes will make you very happy served alongside your meatball subs!
If you're short on time, go ahead and serve up these meatball sandwiches with a handful of carrot sticks and potato chips.
You can even make it classic deli style by adding a dill pickle spear on the side.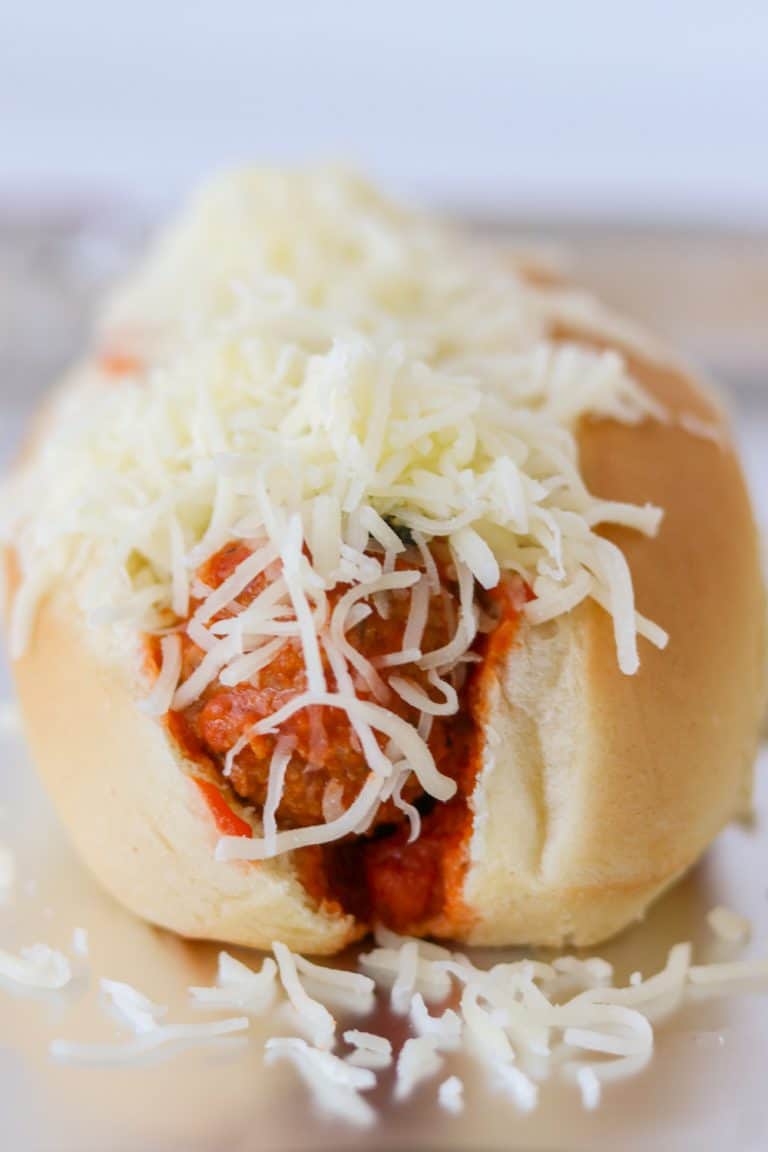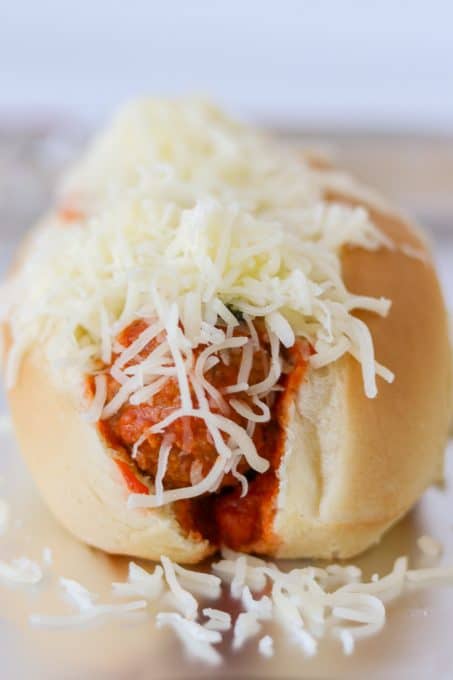 What do you put on a meatball sub?
Classic meatball subs include meatballs (obviously), along with a tomato-based sauce and cheese.
I used my favorite pasta sauce and Italian style cheese to create a mouthwatering blend of flavors.
The cheese melts perfectly over the meatballs when you broil these subs in the oven!
To get the best Italian flavor, I also added some fresh basil leaves.
Along with a touch of Italian seasoning, it elevates the savory meatballs and tangy tomato sauce to create the perfect Italian sub sandwich!
Sandwich Recipes
You can never have enough easy sandwich recipes. Here are a few of our favorites!
More Easy Meatball Recipes
Love Italian flavors and meatballs? Try these other deliciously easy dishes next.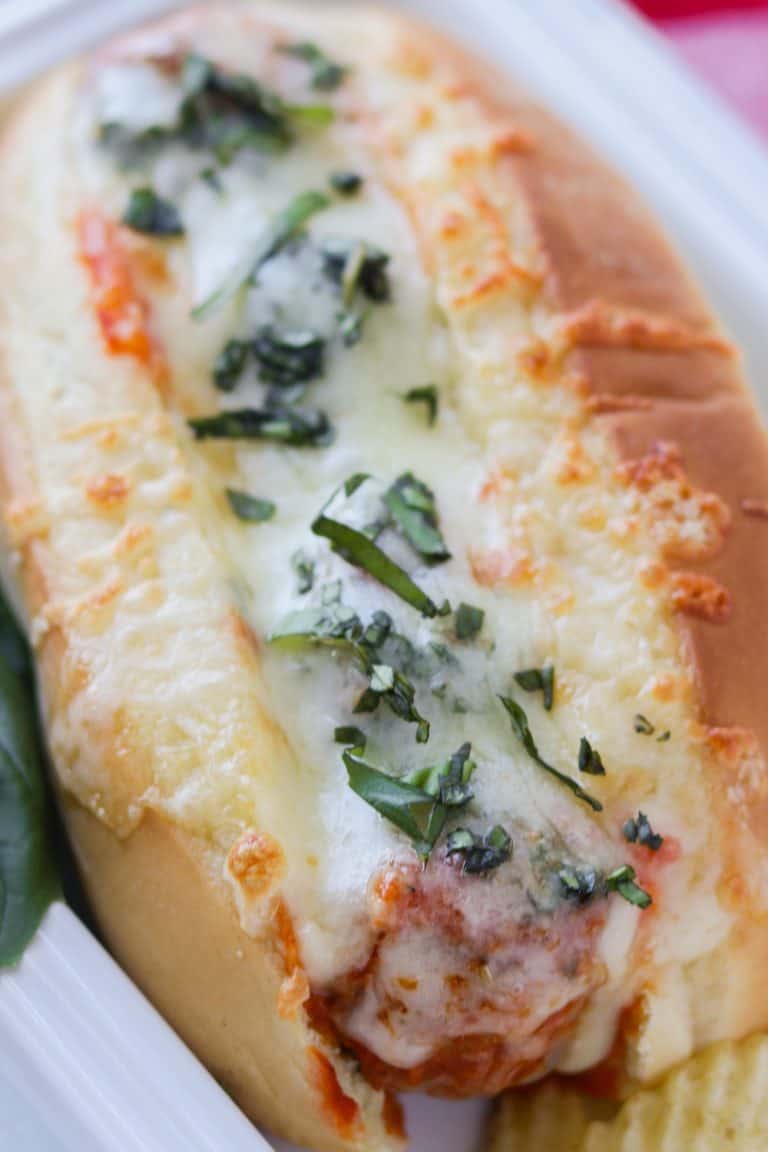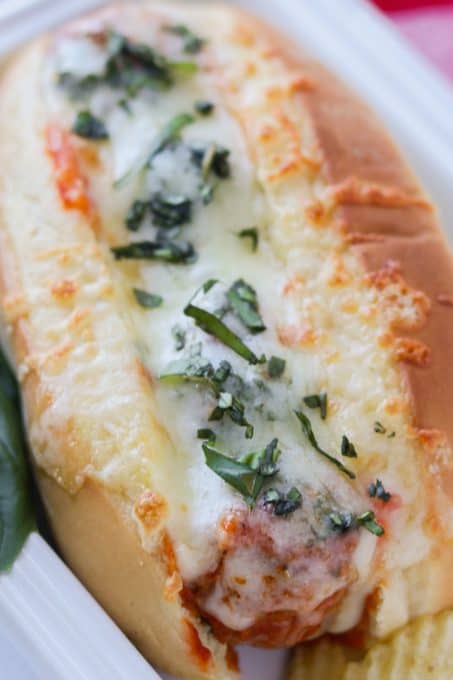 The best meatball sub recipe is so easy to make! These homemade meatball subs are just as good–or better–than anything you can order at your favorite sub sandwich chain.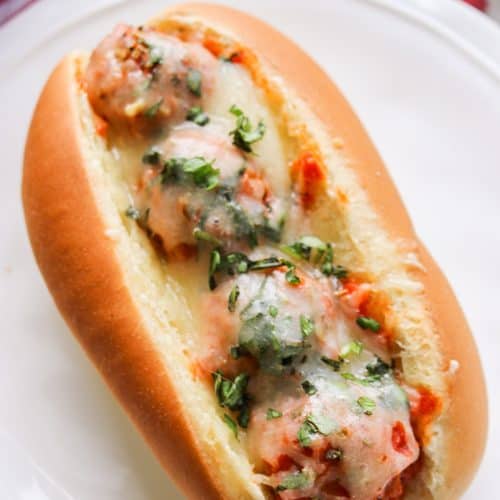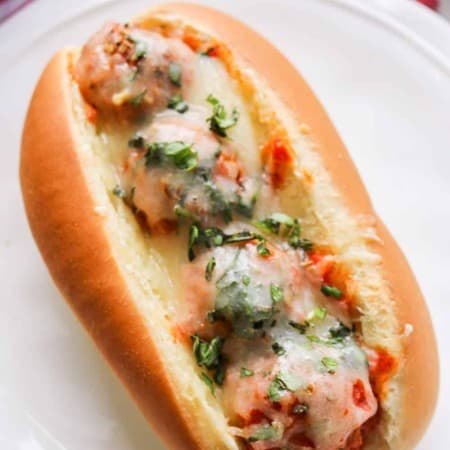 Easy Meatball Sub Sandwiches
These Meatball Sub Sandwiches are easy, satisfying and bursting with flavor! Turn ordinary frozen meatballs into a crowd pleasing meal with this quick method.
Ingredients
14 oz. frozen meatballs
25 oz pasta sauce
4 torpedo rolls or sub rolls
½ cup Italian Style Cheese Blend
3 tablespoons chopped fresh basil
1 teaspoon Italian seasoning divided
Instructions
In a medium saucepan, add the jar of pasta sauce, and the bag of frozen meatballs (depending on their size, you'll want about 5 or 6 meatballs per sandwich, so 20-24 meatballs). Cook the meatballs and sauce over medium heat for 25 minutes, stirring occasionally.

Place a rack in the upper third of the oven and preheat the broiler on low. Line a rimmed baking sheet with a sheet of aluminum foil, and place the 4 rolls on it.

If no already cut, slice the rolls lengthwise, but not all the way through. Spread a small amount sauce into the bottom of each roll and put 5-6 meatballs into each roll.

Sprinkle with sandwich with about 2 teaspoons of the chopped fresh basil, and ½ teaspoon Italian seasoning. Cover each sandwich with 1-2 tablespoons of the shredded cheese.

Place pan into oven and broil for about 3 minutes, or until cheese is melted and rolls are toasted. Sprinkle with remaining basil, and slightly cool before serving.
Nutrition
Serving: 1g | Calories: 523kcal | Carbohydrates: 43g | Protein: 28g | Fat: 27g | Saturated Fat: 8g | Polyunsaturated Fat: 2g | Monounsaturated Fat: 9g | Cholesterol: 74mg | Sodium: 1303mg | Potassium: 882mg | Fiber: 4g | Sugar: 12g | Vitamin A: 862IU | Vitamin C: 13mg | Calcium: 82mg | Iron: 14mg
Did you make this recipe?
Share it with me on Instagram and make sure to follow me on Pinterest for more recipes.
Reader Interactions