Spaghetti and Meatball Braid – try this new twist on that old familiar classic. Wrap your good ol' spaghetti and meatballs in a pizza dough braid. It's a fun new way to feed the family.


If you've been following my site for some time then you know that one of my most popular recipes is a braid.
And because my Taco Braid recipe is so easy to make, I thought I'd make some more braid recipes.
This time of year, everyone's thinking turkey, so let's go with something else, shall we?
SAVE THESE SPAGHETTI BRAID TO YOUR FAVORITE PINTEREST BOARD!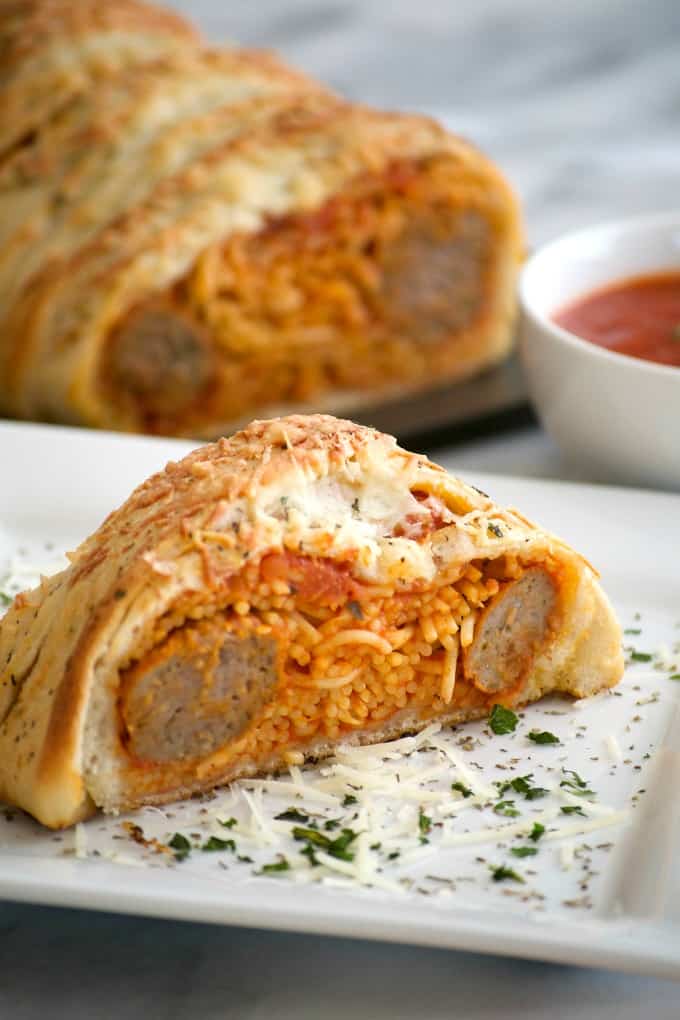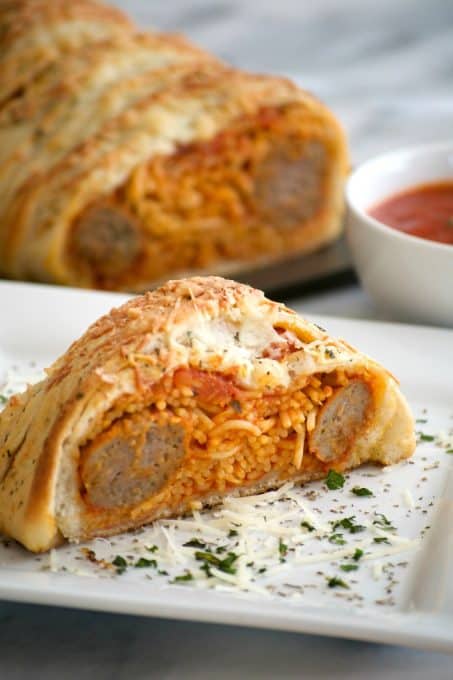 Please don't be intimidated by the fact that it's a braid. It really is an easy recipe to make.
In fact, they're actually kind of fun!
And one of the best parts is that it doesn't have to be made perfectly. Listen, if you're like me and couldn't even braid your daughters' hair when they were younger, you can definitely make one of these.
You just have to follow the steps.

You can see the different phases of the process below the recipe.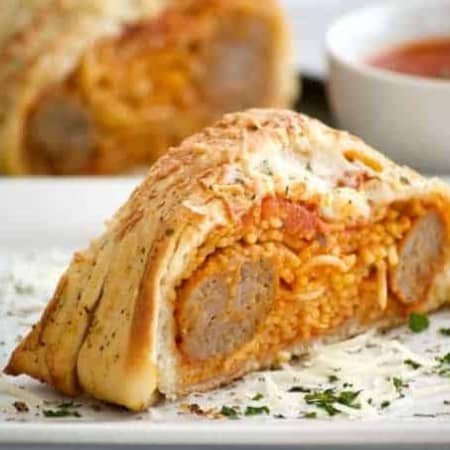 Spaghetti and Meatball Braid
This Spaghetti and Meatball Braid is a new twist on good ol' comfort food - spaghetti and meatballs in pizza dough! It's a fun new way to feed the family.
Ingredients
12 frozen meatballs
1 24- ounce jar spaghetti sauce
8 ounces thin spaghetti
1 13.8- ounce container of refrigerated pizza dough
⅔ cup mozzarella cheese divided
2 tablespoons unsalted butter
½ teaspoon garlic powder
½ teaspoon Italian seasoning
⅓ cup shredded Parmesan cheese
Instructions
Prepare a rimmed baking sheet by lining it with parchment.

Preheat oven to 375 degrees F.

In a medium saucepan, heat the meatballs with 2 cups of pasta sauce over medium heat. Cover and cook for 25 minutes, until thawed, stirring occasionally. Turn heat down if sauce should start to boil.

Cook the spaghetti according to manufacturer's directions. Drain and return to pot.

Toss with the remaining pasta sauce and set aside to cool.

Transfer the piece of parchment to your work surface.

Place the pizza dough on the parchment and roll it out so that it measures 10 X 15 - inches.

With a pizza cutter, make slices 1 1/2 - inches thick and 3 - inches in along both long sides of the dough.

Take some of the spaghetti sauce, about 1/4 cup, from the pot with the meatballs and spread it down the center of the braid, leaving about 1 - 2 inches of plain dough at each end.

Place half of the spaghetti down the center of the braid distributing it evenly.

Sprinkle 1/3 cup of the mozzarella over the spaghetti.

Using a slotted spoon, place the meatballs on top and next to the spaghetti, taking care that they are in the center of the braid. If they begin rolling, you can cut them in half, just make sure they are evenly distributed.

Top with remaining spaghetti.

Place remaining pasta sauce over the meatballs and spaghetti.

Sprinkle with the rest of the mozzarella.

Beginning at one end of the braid, fold the end up and wrap the first two slices over to secure it.

Repeat the wrapping with the remaining slices just until the last two.

Fold the remaining end up and wrap the last two slices over it to secure.

In a small microwavable bowl, melt the butter for 20 - 30 seconds.

Add the garlic powder and Italian seasoning and mix well.

Gently brush the top and sides of the braid with the butter.

Sprinkle the Parmesan cheese on top.

Transfer the parchment on to the rimmed baking sheet.

Bake for 20 - 25 minutes, until golden brown.

Allow to cool for 5 minutes before serving.
Did you make this recipe?
Share it with me on Instagram and make sure to follow me on Pinterest for more recipes.
First, you're going to roll out a package of pizza dough so that it measures 10 X 15-inches.
Then make slits into the sides about 3 inches long and 1 1/2-inches wide.
Spread some of the tomato sauce over the middle, make sure to leave some dough without it at the ends so you can fold that up.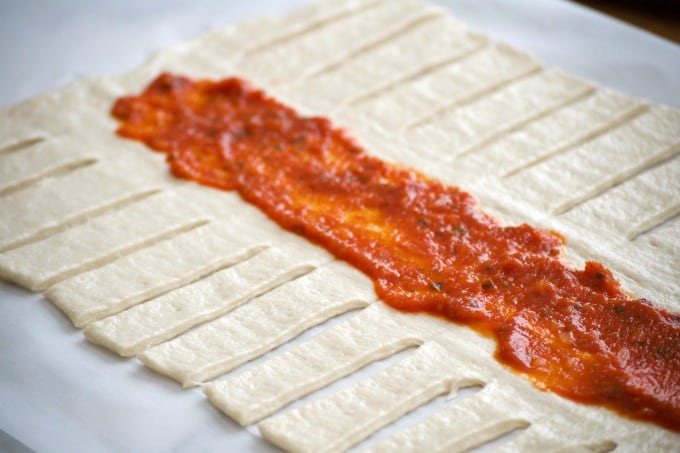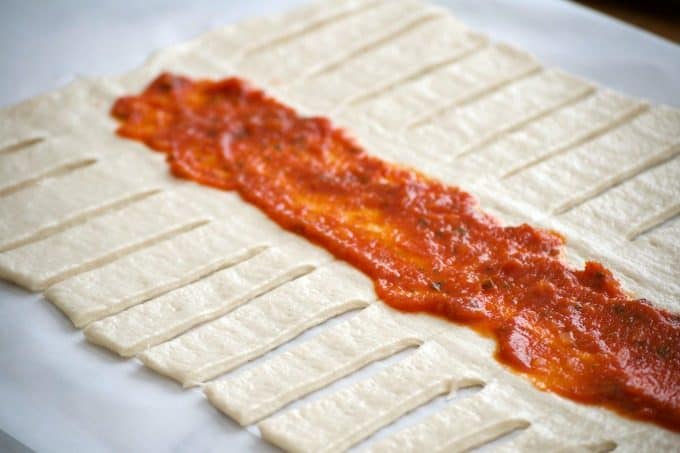 Then comes the spaghetti, but not all of it. You want to place half of it over that sauce.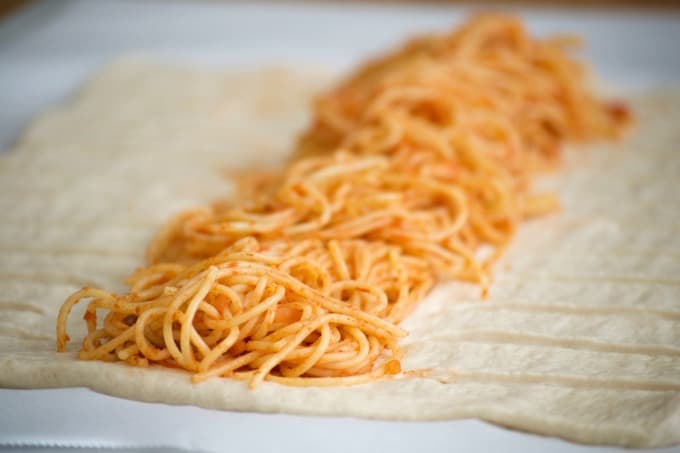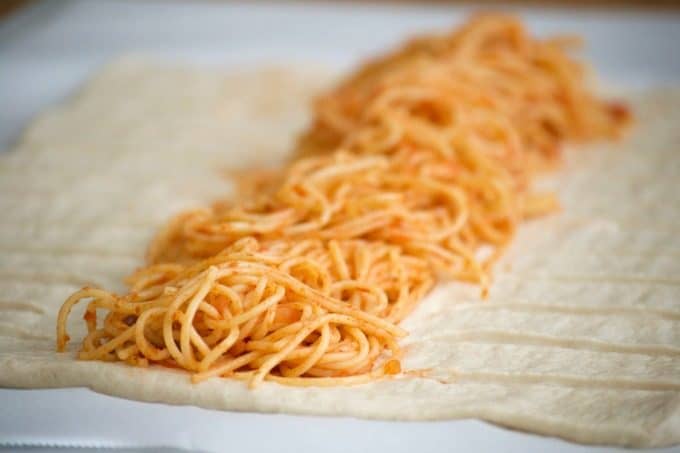 Sprinkle some cheese on the spaghetti and then try to evenly distribute your meatballs.
You might want to think about cutting them in half as they might tend to roll…like that song!
"On top of Old Smokey all covered with cheese, I lost my poor meatball when somebody sneezed!"
Memories of my childhood.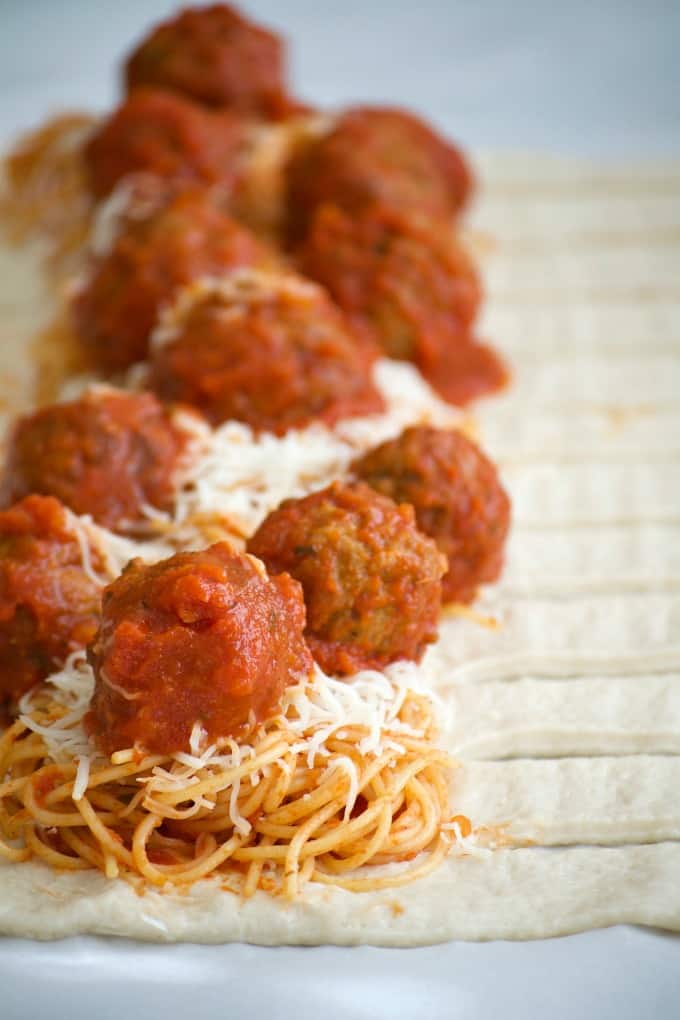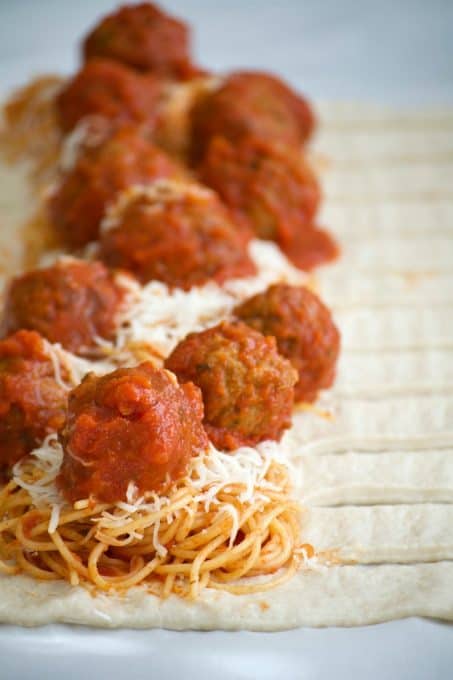 Now put more spaghetti, sauce, and cheese on the meatballs.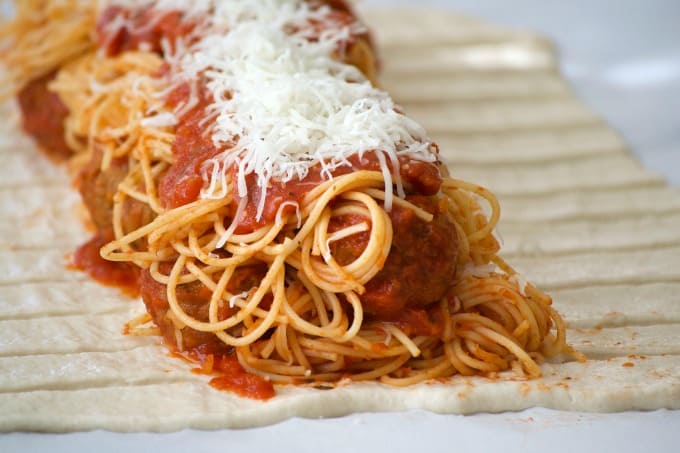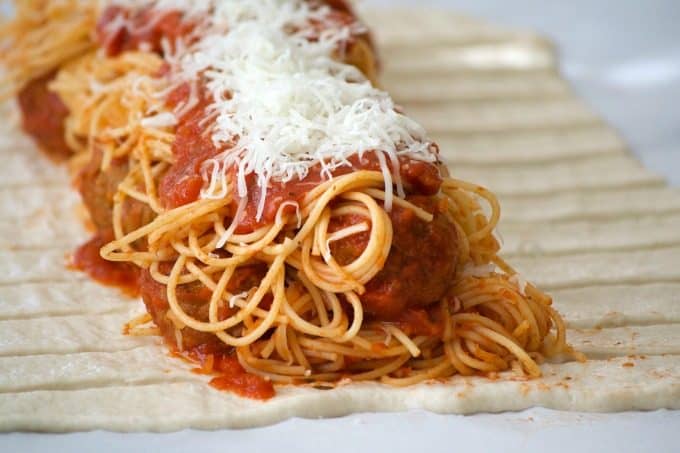 Then you're going to fold up one end of the braid and then overlap the dough strips. If possible, tuck the ends of the strips in, so they're compact.
You can see in the picture below that I neglected a few poor souls.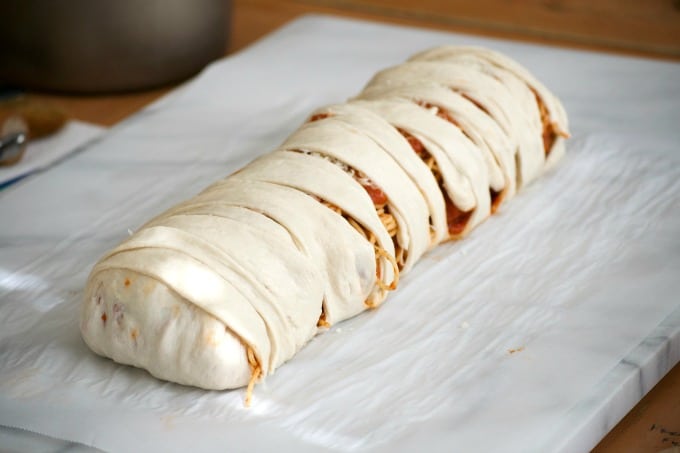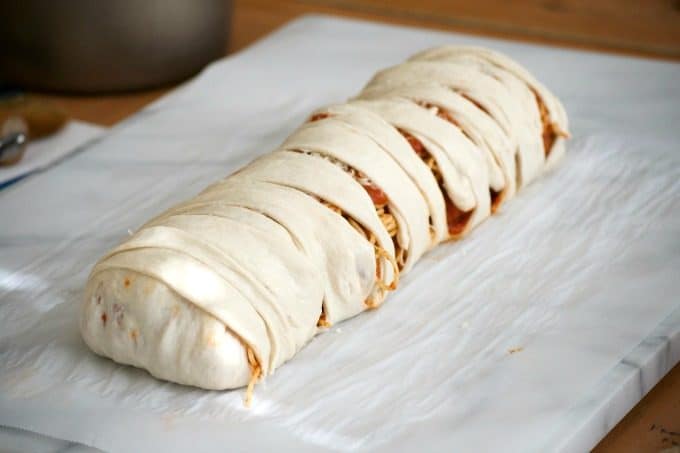 Mix the butter with the spices and then gently brush it on to the wrapped bundle.
Sprinkle with cheese!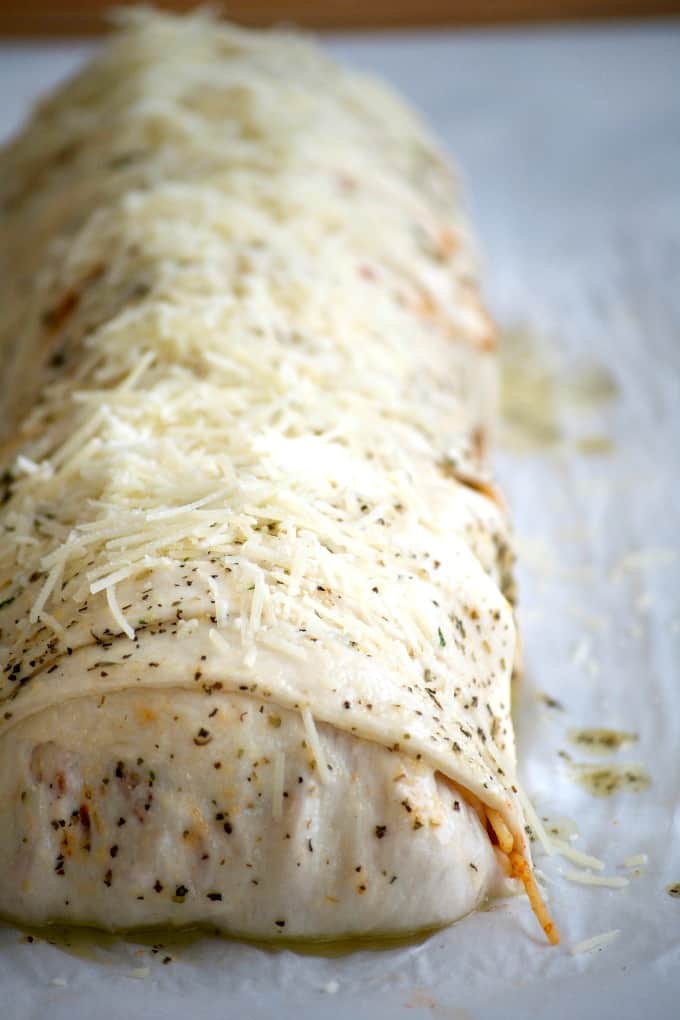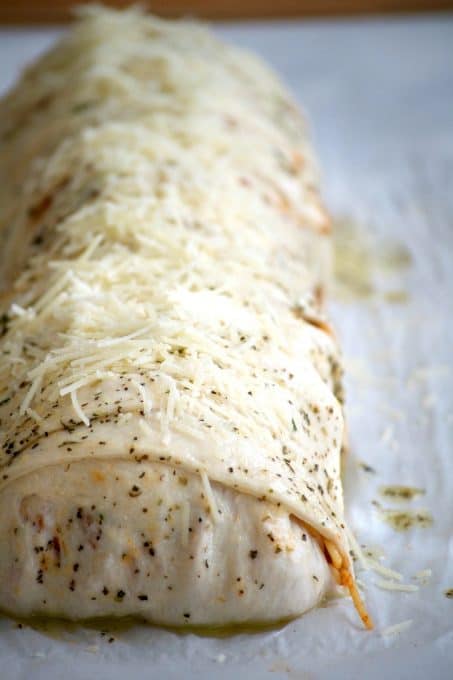 Then you're going to pop her into the oven to bake.
If you like this Spaghetti and Meatball Braid, then you'll enjoy…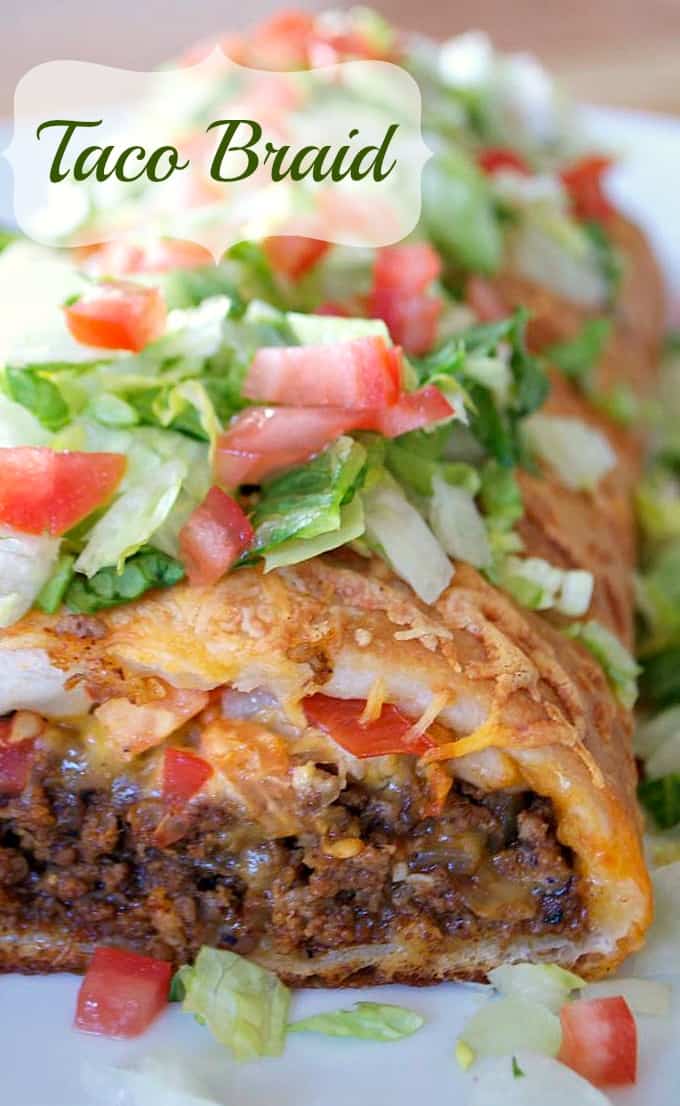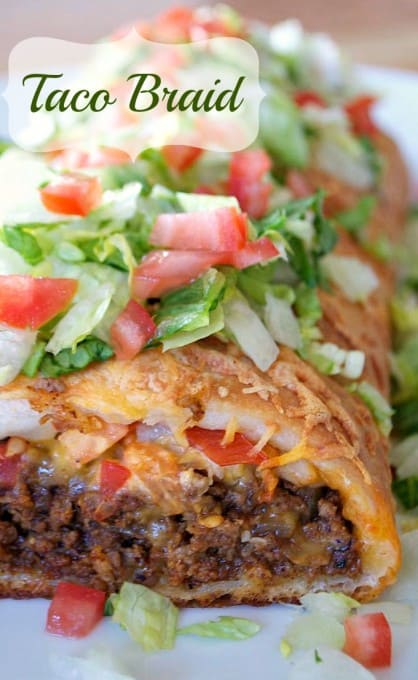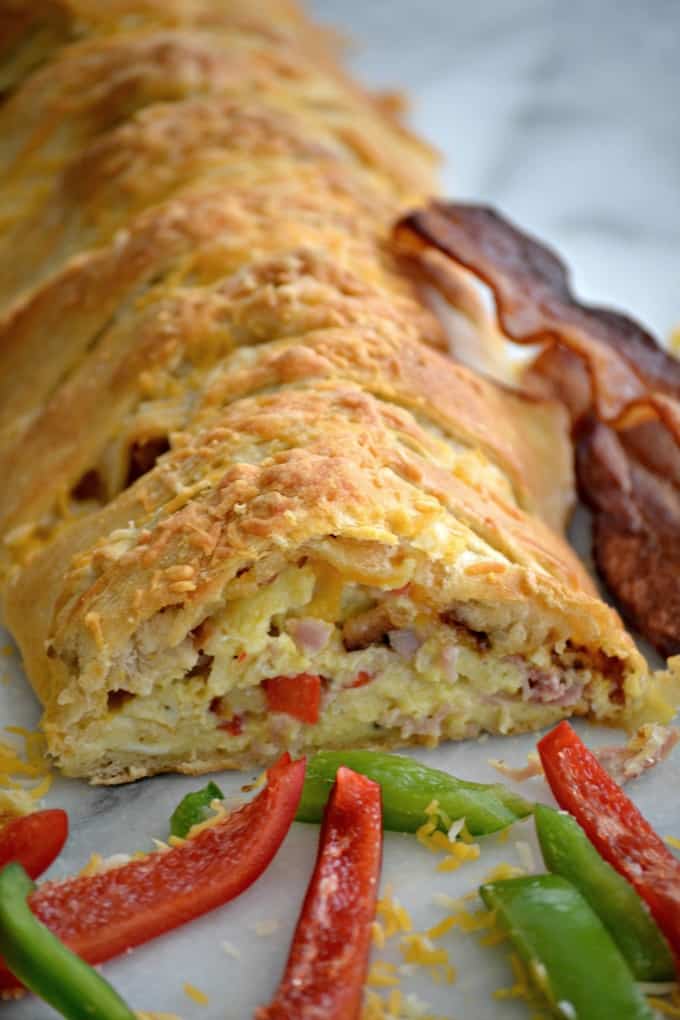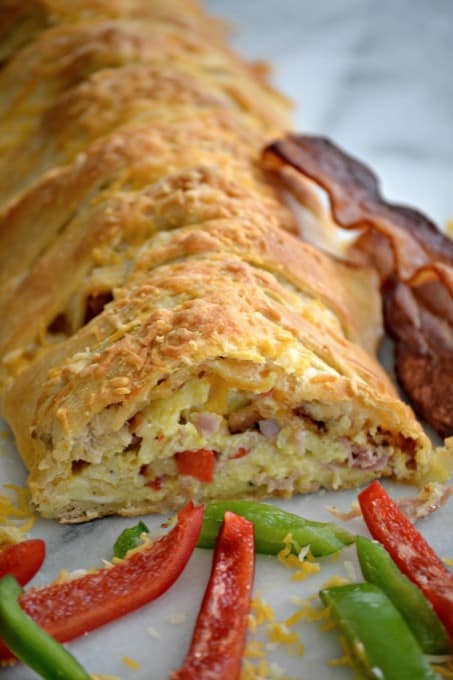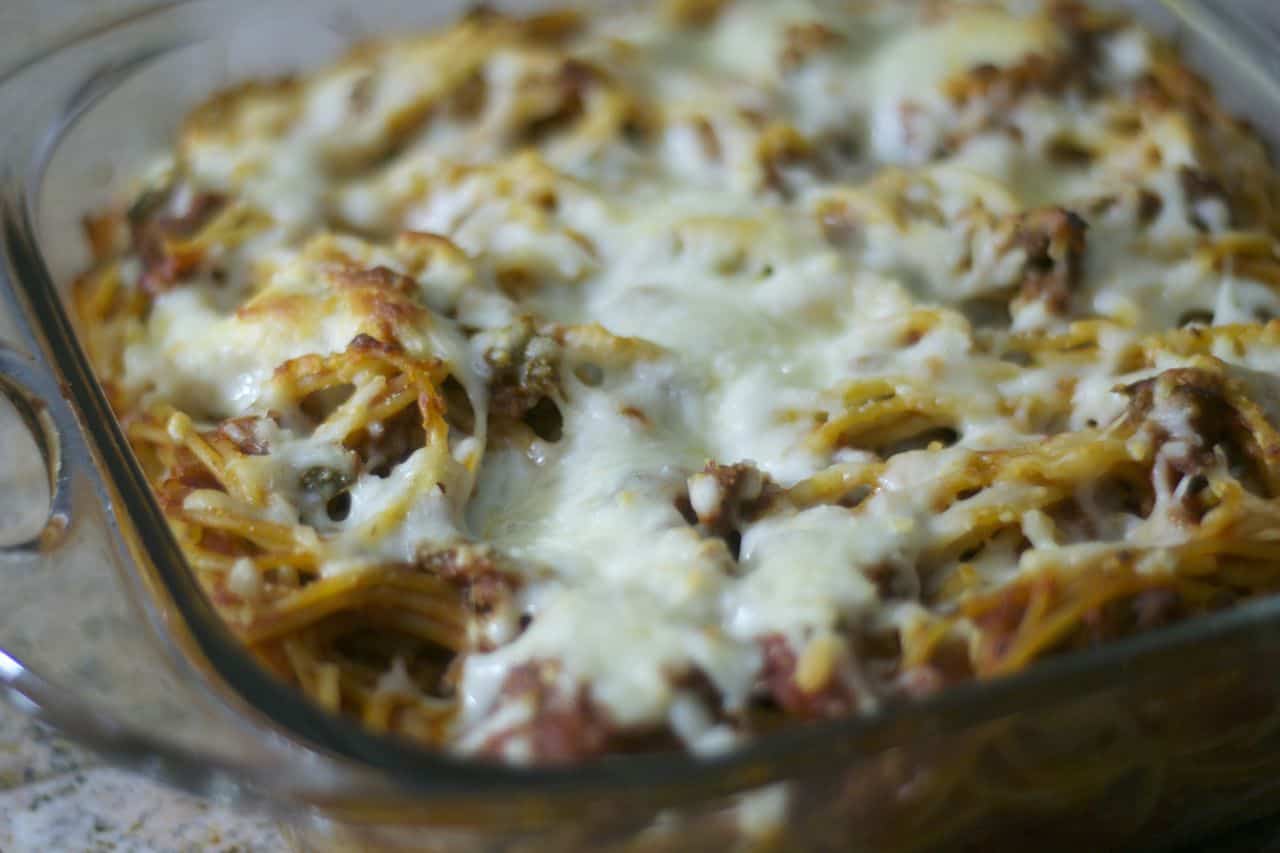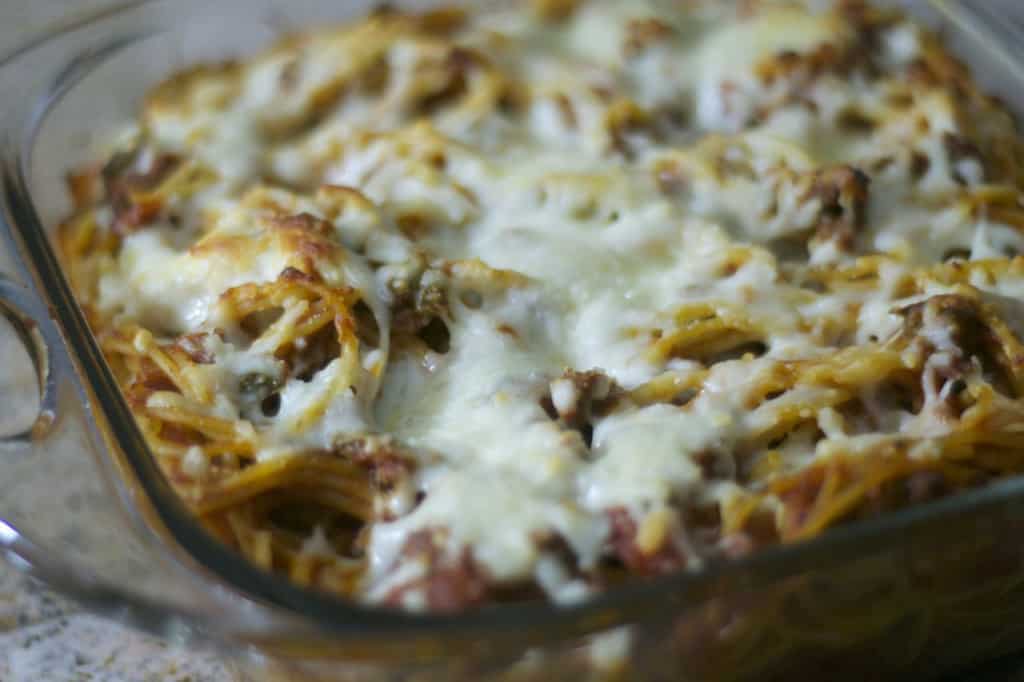 Here's a video for a great recipe with leftover pasta and an amateur cook making spaghetti and meatballs…
Reader Interactions