Taco Braid – ground beef seasoned with taco seasoning, covered with shredded cheese and tomatoes and wrapped in a braided pizza dough. It's a fun and different way to eat a taco!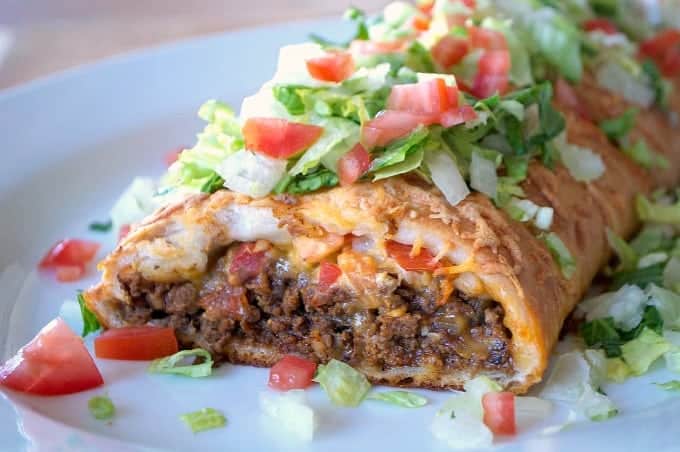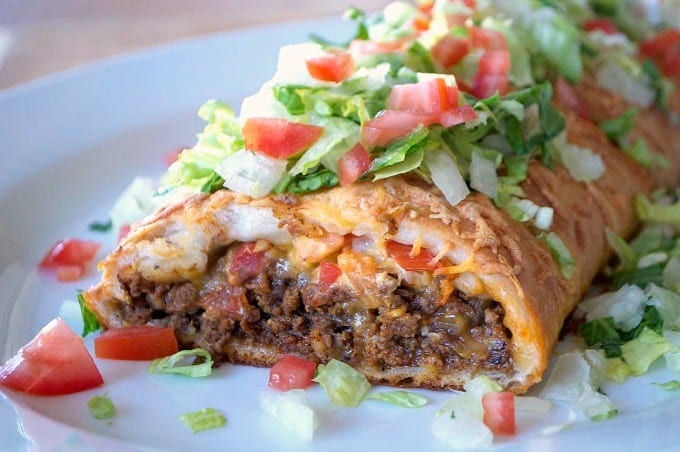 We've all heard of tacos. Whether it's a regular taco, a fish taco recipe, or any type of taco your heart desires. But, this recipe takes it one step further. Introducing, the taco braid!
**This post contains a referral link as well as affiliate links. These links take you to a product (or products) that I recommend. I will receive a credit from any items purchased through those links and your purchases encourage my baking, cooking and butter habit, and contribute to the life of this blog. I thank you so very much for your support. Let's keep having fun in the kitchen!!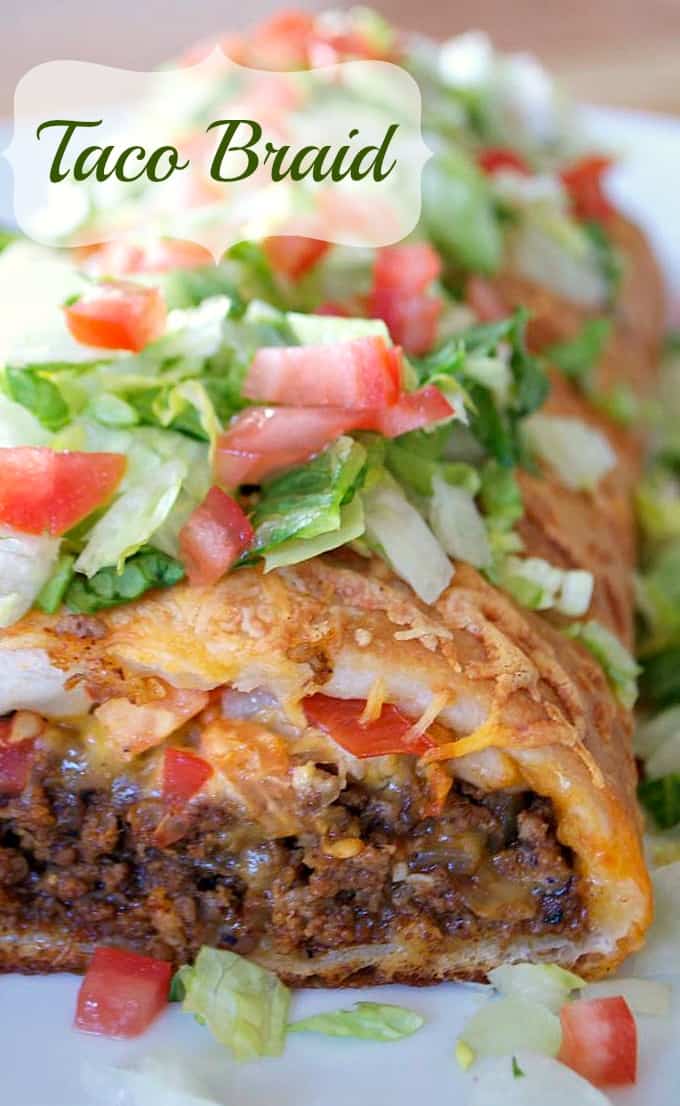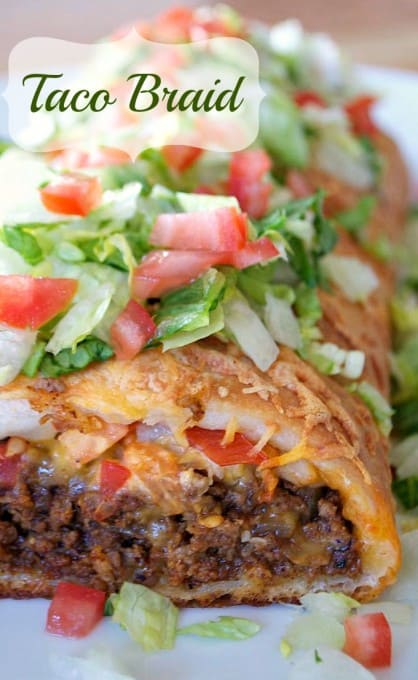 Today I have for you, the illustrious Taco Braid! The video and pictures say it all. You have your meat, cheese, lettuce, tomatoes and the pizza dough. Pretty easy checklist if you ask me! So, here's your go-to for taco Tuesday.
Watch this quick video on how to make it!
We eat tacos quite a bit around here because they're easy and I like to make my own Homemade Taco Seasoning instead of buying the packets at the store. This time, I decided to change things up a bit and do something similar to our favorite Spinach Pepperoni Bread.
The braid was super easy to make and delicious to eat, so I'm sure it's something the whole family will enjoy.
Place a package of refrigerated pizza dough onto a sheet of parchment that will fit a rimmed baking sheet and roll it out so that it's 10 X 15 inches. Make sure you use the parchment. It makes it so much easier to transfer the braid from your work surface to the baking sheet. Ask me how I know…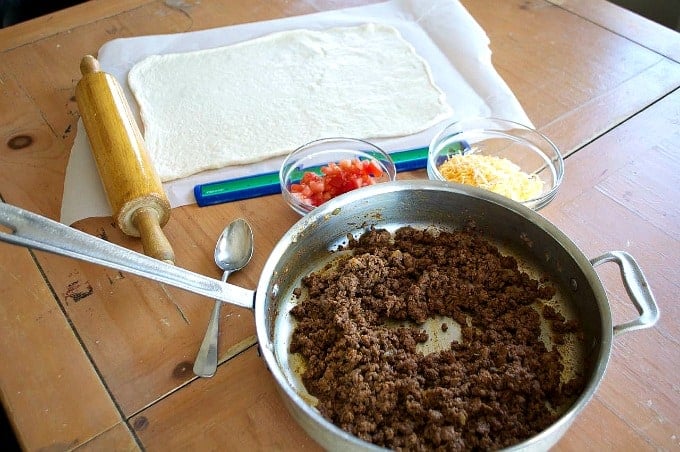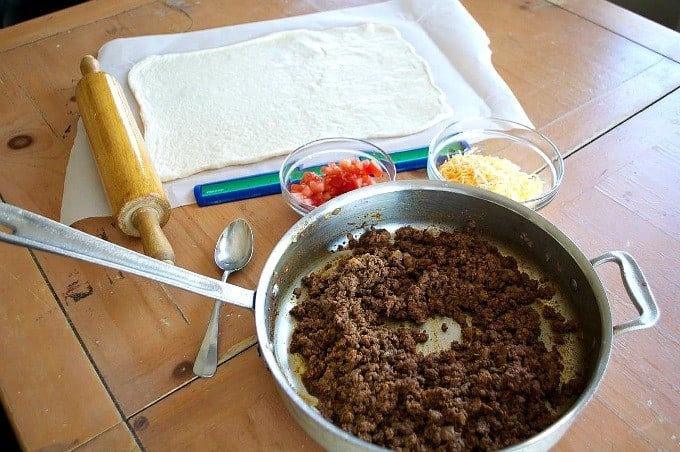 Next, use your cut slices into the long sides of the dough, making them 1 1/2 inches thick and 3 inches in. You'll be placing your ingredients down the middle.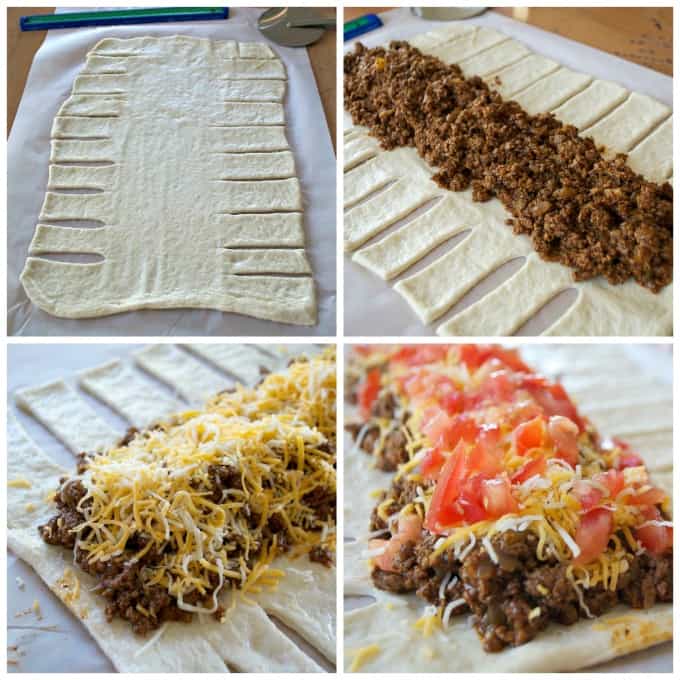 Now, fold one end up and take the first two slices and fold them over to hold the end in place. Repeat with the dough slices, folding them over each other until just before you reach the last two at the opposite end.
Fold the remaining end up and wrap the last two slices over it. Spread the melted butter over the top and sprinkle with cheese.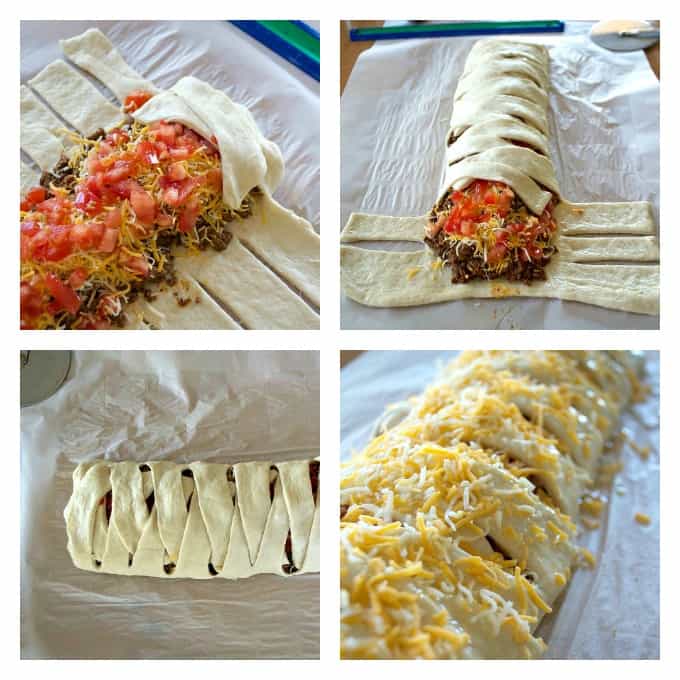 TA DA!!!!
Look at that beauty! Really, don't be intimidated. Pre-made pizza dough, some really great ingredients and you've got yourself a beautiful and delicious dinner. Or, if you want to go a step further you can make your own homemade pizza dough.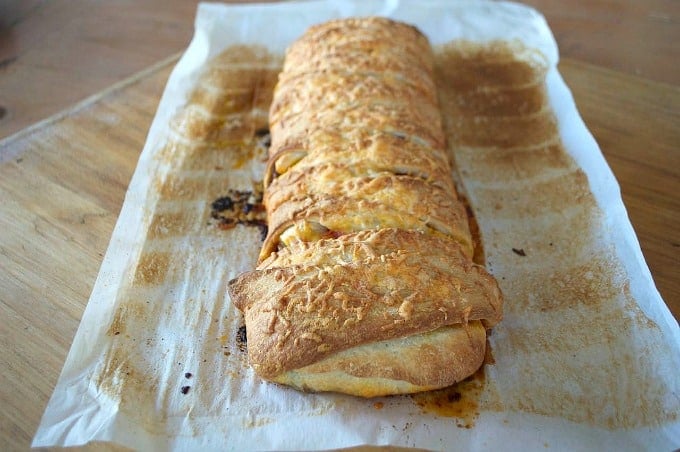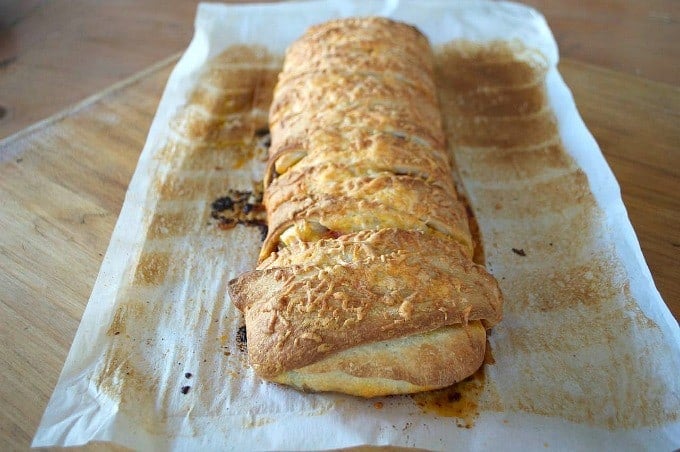 I think the family will be pleased.
SAVE THIS TACO BRAID TO YOUR FAVORITE PINTEREST BOARD!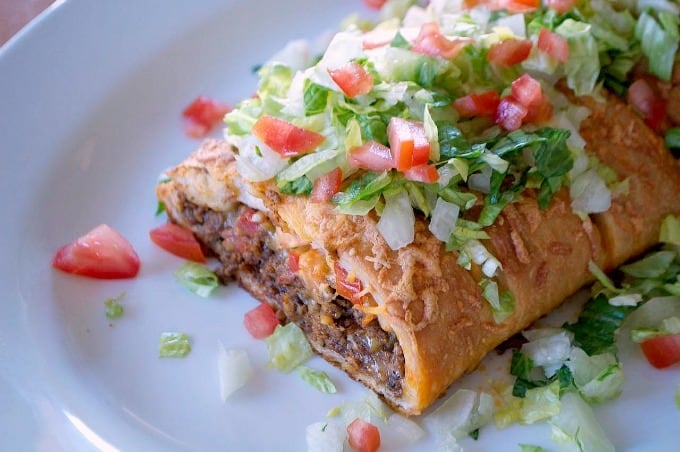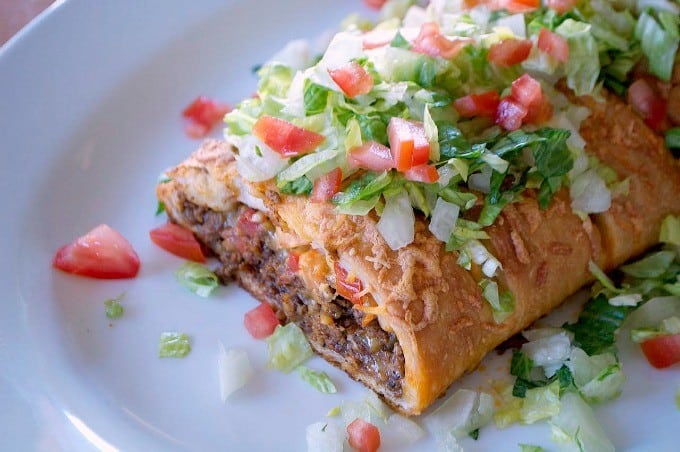 ~ FOLLOW ME ~
~ FACEBOOK ~ PINTEREST
SIGN UP FOR THE WEEKLY
365 DAYS OF BAKING & MORE 
NEWSLETTER BELOW!
More Taco Recipe Ideas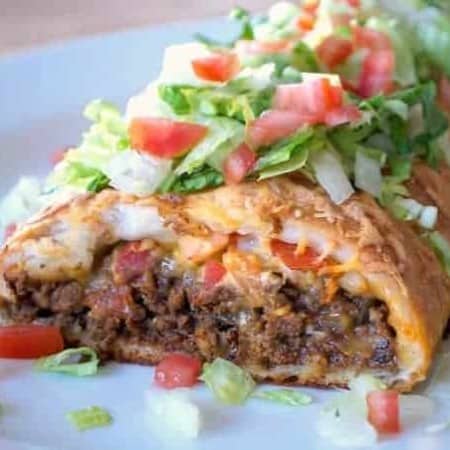 This super easy Taco Braid is ground beef seasoned with taco seasoning, covered with shredded cheese and tomatoes wrapped in a braided pizza dough. It's a fun and different way to eat a taco, and perfect for Taco Tuesdays or even Game Days!
Ingredients
1 refrigerated pizza crust
2 tablespoons olive oil
½ cup chopped onion
1 lb. ground beef
3 tablespoon Homemade Taco Seasoning
½ cup water
1 cup Fiesta Blend shredded cheese divided, or you can use your favorite. Plus additional for serving, if desired.
1 tomato, diced plus additional for topping, if desired
2 tablespoons butter melted
2 cups chopped Romaine lettuce
sour cream and taco sauce for serving if desired
Instructions
Prepare a rimmed baking sheet by lining it with parchment.

Preheat oven to 375 degrees F.

In a large skillet, heat the olive oil over medium heat. Add the chopped onion and cook until soft, about 3-5 minutes. Add the ground beef and cook until brown. Pour in the water and homemade taco seasoning and mix until well incorporated. Reduce heat to low and simmer for 5-7 minutes.

Transfer the piece of parchment to your work surface and using a rolling pin, roll out the pizza dough so that it measures 10 x 15-inches. With a knife or pizza cutter, make slices 1½ inches thick and 3 inches long down both long sides of the dough.

Leaving about an inch at the top and bottom, place the ground beef down the center of the dough. Cover the beef with 3/4 cup of the cheese, and then add the diced tomato.

Beginning at one end of the braid, fold the end up and wrap the first two slices over to secure it. Repeat the wrapping with opposite slices just until the last two. Fold the end up and wrap the last two slices over it to secure.

Gently brush the top and sides with the melted butter. Sprinkle the remaining 1/4 cup of cheese on top.

Transfer the braid on the parchment to the rimmed baking sheet. Bake for 20-25 minutes, until golden brown. Allow to cool a few minutes before serving. Cover with chopped Romaine lettuce, additional tomato and cheese, if desired. Serve with sour cream and taco sauce.
Nutrition
Serving: 1g | Calories: 508kcal | Carbohydrates: 35g | Protein: 23g | Fat: 31g | Saturated Fat: 13g | Trans Fat: 1g | Cholesterol: 81mg | Sodium: 790mg | Potassium: 328mg | Fiber: 2g | Sugar: 6g | Vitamin A: 1892IU | Vitamin C: 5mg | Calcium: 149mg | Iron: 4mg
Did you make this recipe?
Share it with me on Instagram and make sure to follow me on Pinterest for more recipes.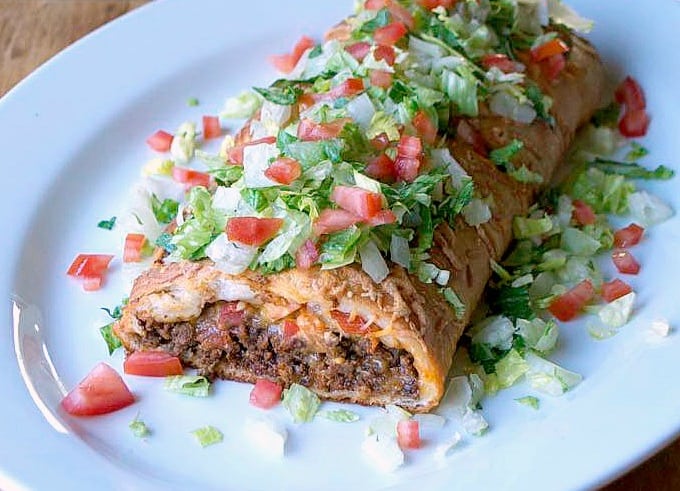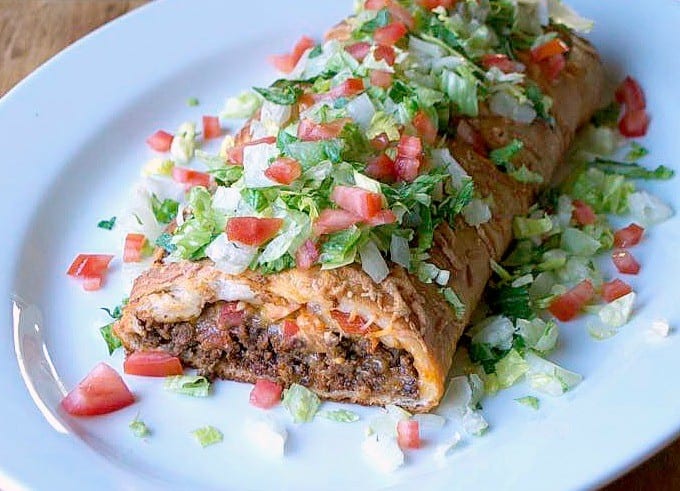 I rate everything I make on a scale of 1 – 4 with 4 being the best and this Taco Braid earned 4 rolling pins. As I said, it was delicious and I really think your family will enjoy it. Mine certainly did.
The kids will have fun eating it and it will be a great dish to take to a party.
Reader Interactions