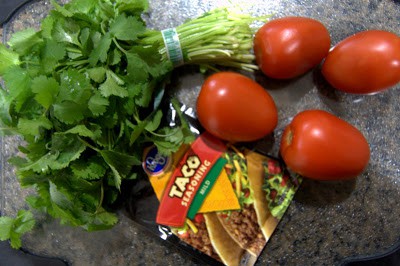 Good grief. I bought frozen pizzas to have for dinner tonight.
I took it out of the fridge and went to turn on the oven.
I completely forgot the thing isn't working.
Now I'm bummed because I really wanted to eat this pizza.
I made these babies (haha, get it, babies, diapers).
I found this recipe for Dirty Diapers and thought they were a cute idea.
The recipe I found is more for a slider type appetizer, so I adapted it and made it taco-ey because we live in the southwest.
I was in a hurry to bring these to a Girl's Night Out, so the pictures were rushed, but you can definitely get the idea of what I was doing.
Taco Pockets – aka Dirty Taco Diapers – makes 32
1 lb. ground beef
1 small onion, chopped
1 package taco seasoning (I used mild)
1/2 cup water
8 slices pepperjack cheese
2 cans (8 oz.) 8 count crescent rolls
3 plum tomatoes
2 tablespoons fresh cilantro, chopped
Preheat oven to 350 degrees F.
Prepare a baking sheet by lining it with parchment paper.
In a skillet over medium high-heat, place ground beef. Cook until beef is no longer pink and crumble while cooking.
Add onion and cook until soft.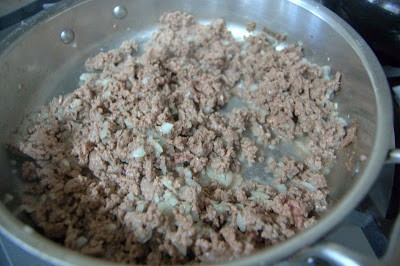 Drain grease.
Add taco seasoning packet and 1/2 cup of water. Stir to thoroughly combine.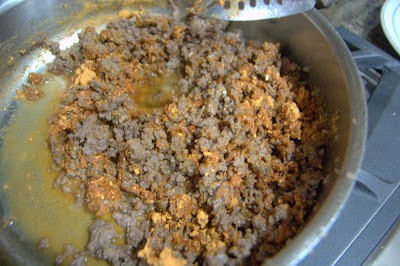 Cover and simmer on low while preparing crescent rolls.
On a piece of parchment, unroll crescents. You can also do this on a clean surface. I just found it easier to do on parchment so they wouldn't stick and I would have less clean-up.
Separate the triangles and cut each in half diagonally to make two smaller triangles.
Stack the slices of cheese and cut them diagonally so that there are 4 piles of smaller triangles.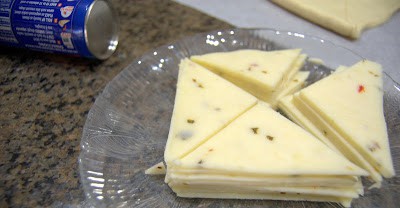 Place one triangle of the cheese onto a crescent triangle.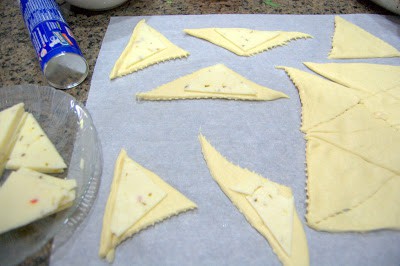 Place about 1 1/2 -2 teaspoons of ground beef mixture on top of the cheese.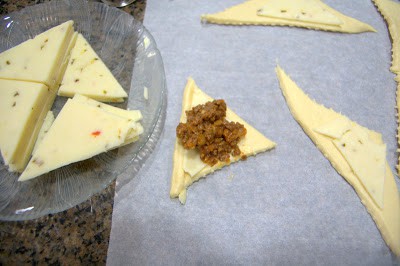 Put a few pieces of chopped tomato on top and sprinkle with some cilantro.
Fold the points of the dough over to the center so that it wraps up like a diaper.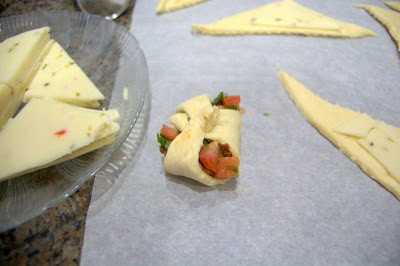 Place them on the prepared baking sheet.
Bake for 10-15 minutes, rotating sheet halfway through baking, until golden brown.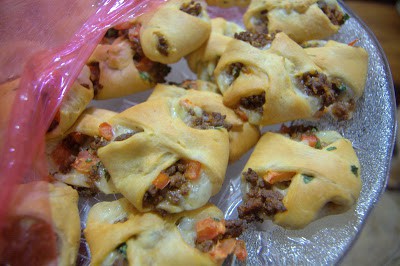 I rate everything I bake on a scale of 1-4 with 4 being the best and these Taco Pockets or Dirty Taco Diapers earned 3 1/2 rolling pins.
These are sure to be a hit if anyone loves tacos.
These things are compact, but pack a lot of flavor with the beef, and pepper jack cheese.
The tomato and cilantro were great additions, too.
I think the thing that's only holding it back from being a 4 is that I should have served them with some sour cream or Greek yogurt.
That would probably do it.