Funfetti Oreo Cheesecake Bars are a delicious combination of classic cheesecake, cookies and sprinkles! Homemade chocolate crust is layered with sweet cream cheese, Oreo pieces and Funfetti sprinkles in this easy recipe. You'll love how the different layers make your taste buds dance!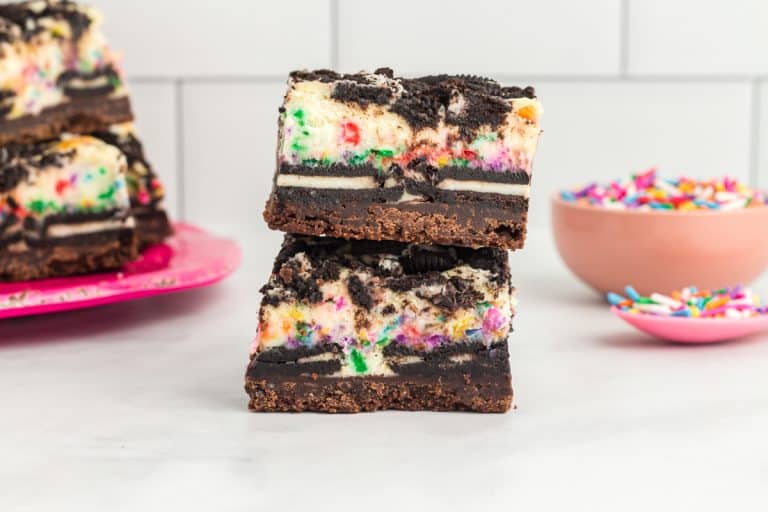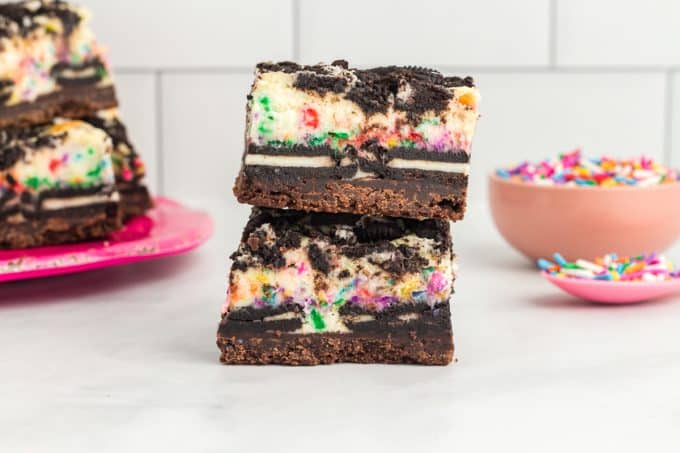 The Oreo flavor in these bars reminds me of my Cookies and Cream Cheesecake Bars. The sprinkles add an extra dose of fun and color!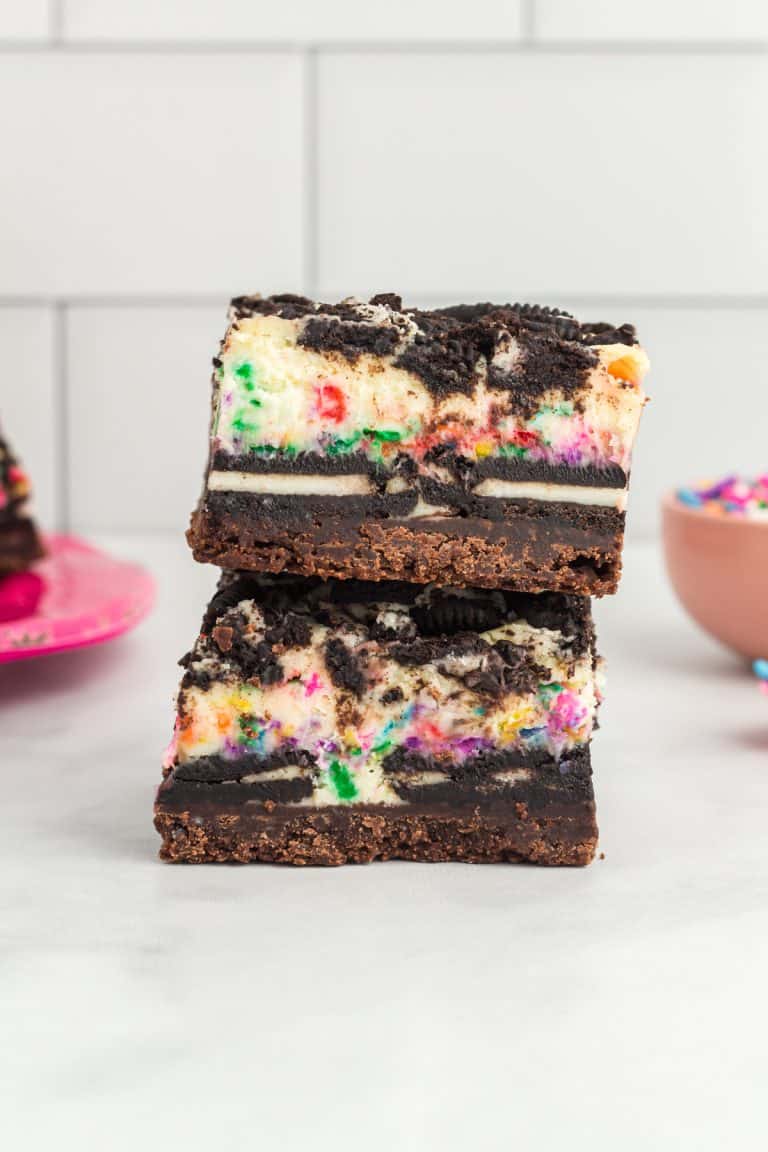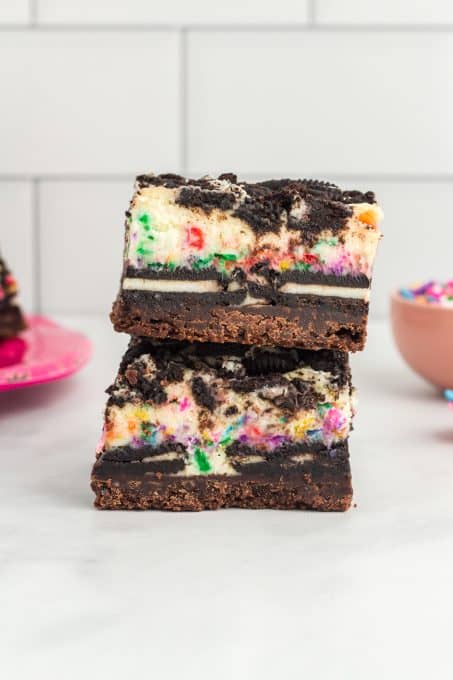 Today's recipe is what happens when you combine cheesecake, funfetti and Oreos into one dessert bar. Every bite of these creamy, tangy cheesecake bars is packed with an amazing cookies and cream flavor. I couldn't resist stirring a few colorful sprinkles into the Oreo cheesecake filling before baking!
These funfetti Oreo bars would be perfect for a birthday or other celebration, but you won't want to save them for special occasions. Make them anytime the craving strikes for an instant mood boost!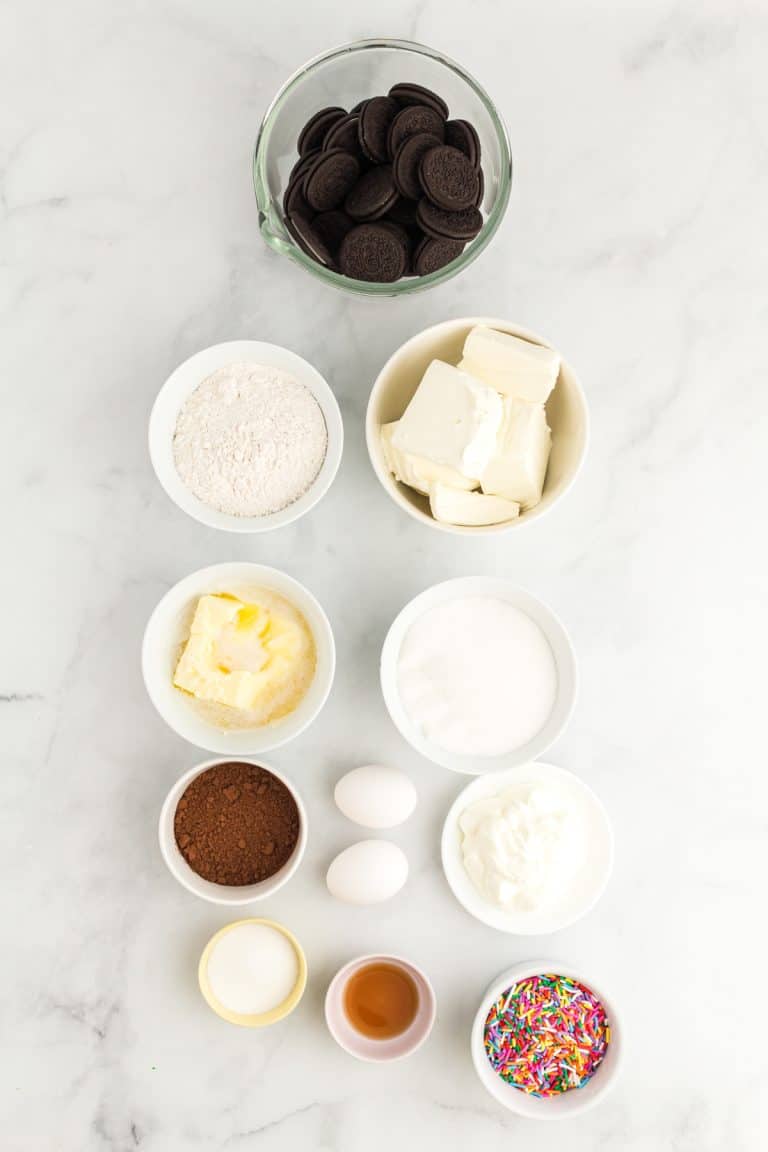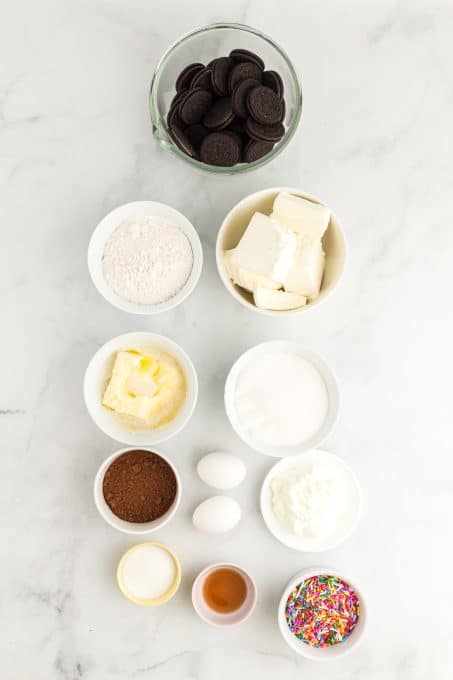 What do I need for funfetti cheesecake bars?
This cheesecake bar recipe has two components: the crust and the Funfetti cheesecake filling.
You might expect that an Oreo cheesecake recipe would start with an Oreo crumb crust. Not this time! I opted to make this tasty treat with a chocolate cheesecake crust from scratch with these ingredients instead.
Butter – Slightly melted.
Flour
Cocoa powder – The darker the better!
Sugar
And for the cheesecake center, you will need:
Cream cheese
Sugar
Eggs
Sour cream
Vanilla extract
Oreo cookies – I used regular Oreos, but you can mix it up with different flavors if you want.
Rainbow Sprinkles – The jimmies style sprinkles NOT nonpareils!
Before making this cheesecake bars recipe, let your eggs, cream cheese and sour cream come to room temperature. Warmer ingredients mix better resulting in a smoother, tastier cheesecake.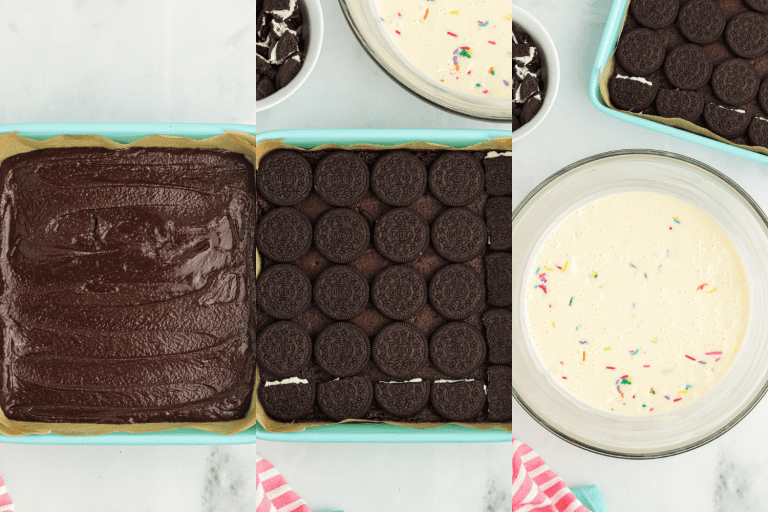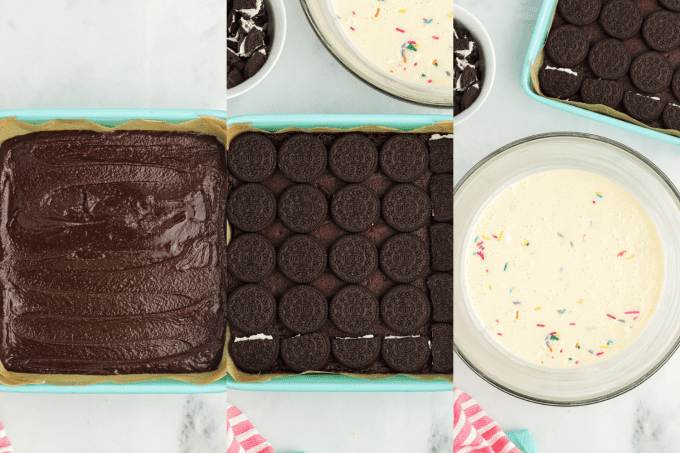 How do I make Funfetti Oreo Cheesecake?
First, prepare your baking dish. I use a square cake pan to make these bars. Line the whole pan with parchment paper, leaving about 2 inches of excess paper hanging over the sides of the pan. This makes it easier to remove the baked cheesecake bars later.
Now it's time to make the crust. Combine slightly melted butter with the dry ingredients. Spread the mixture over the bottom of the pan. Chill in the refrigerator for at least 30 minutes while you preheat your oven.
Next, we'll blind bake the crust. "Blind baking" means the crust gets baked on its own before adding the filling. After blind baking, let the crust cool for 15 minutes while you make the cheesecake batter
For the cream cheese mixture, beat together the cream cheese and sugar with an electric mixer in a large bowl. Then beat in the eggs one at a time, until you have a smooth mixture. Beat in the sour cream and vanilla, followed by the sprinkles.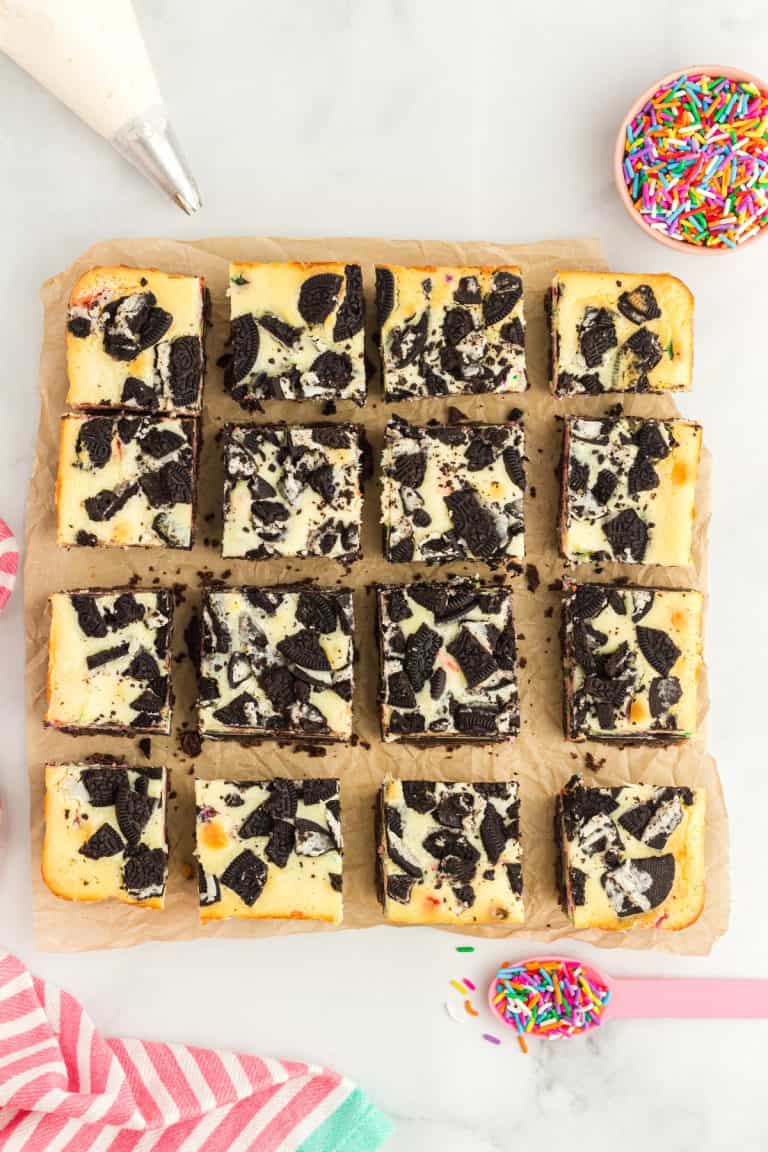 Now arrange a layer of whole Oreos over the baked, cooled crust. You may need to break them up a little with your hands to ensure you can fit them all in the pan.
With an offset spatula, spread the cheesecake filling in an even layer over the Oreos. Break the remaining cookies up with your hands and sprinkle the crushed Oreos over the top of the cheesecake mixture
Place your cake pan on a baking sheet to bake for about 45 minutes. The center of the cheesecake layer should look set with only a slight jiggle. Remove from the oven and let the cheesecake cool in the cake pan at room temperature. Once it's totally cooled, wrap the cheesecake (still in the pan) in plastic wrap.
Chill the Funfetti Oreo Cheesecake Bars in the refrigerator overnight, or at least 8 hours before slicing and serving. This allows the cheesecake to set up to the correct consistency. If you rush this step, the individual bars will break and crumble as you try to cut them.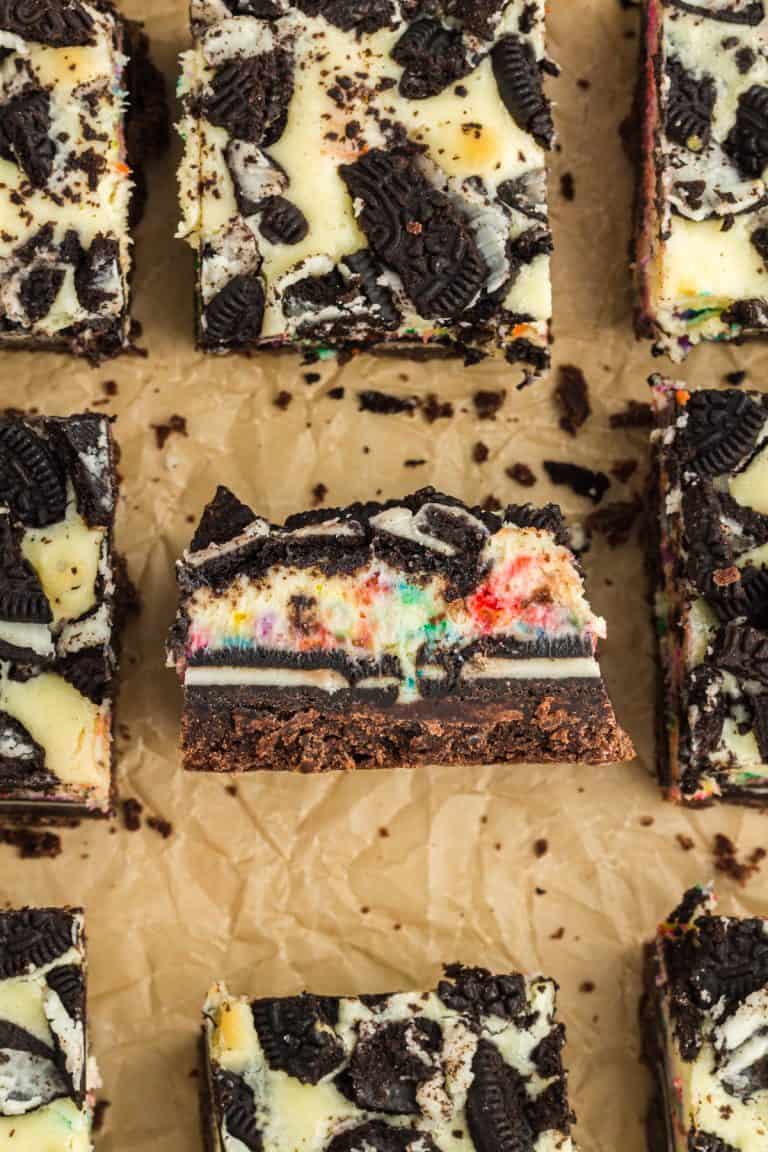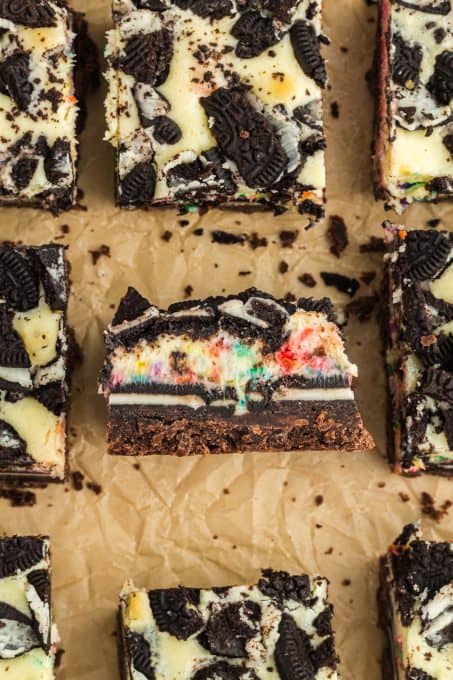 Funfetti Cheesecake Tips
Don't forget to place your cake pan on a baking sheet, NOT directly on the oven rack! This extra layer of protection helps prevent the top of the cheesecake bars from cracking.
Serve sliced bars with a dollop of whipped cream and more sprinkles!
Store the cheesecake bars in the refrigerator when you aren't eating them. They stay good for about 4 days.
Funfetti Recipes
Sprinkles always make me feel like a kid again! Especially when they're baked into homemade versions of nostalgic desserts like these Easy Funfetti Cupcakes and Funfetti Cookies. Who needs a boxed cake mix when you can make funfetti treats from scratch?
You get two childhood favorites in one dessert with these colorful Cake Batter Rice Krispie Bars! The gooey ribbons of marshmallow and festive sprinkles make a perfect match. I love these Funfetti Ooey Gooey Bars too.
Bookmark this Easy Funfetti Puppy Chow for next time you're planning a party. It's a sweet snack mix that comes together in minutes and gets everyone gathered around the snack bowl.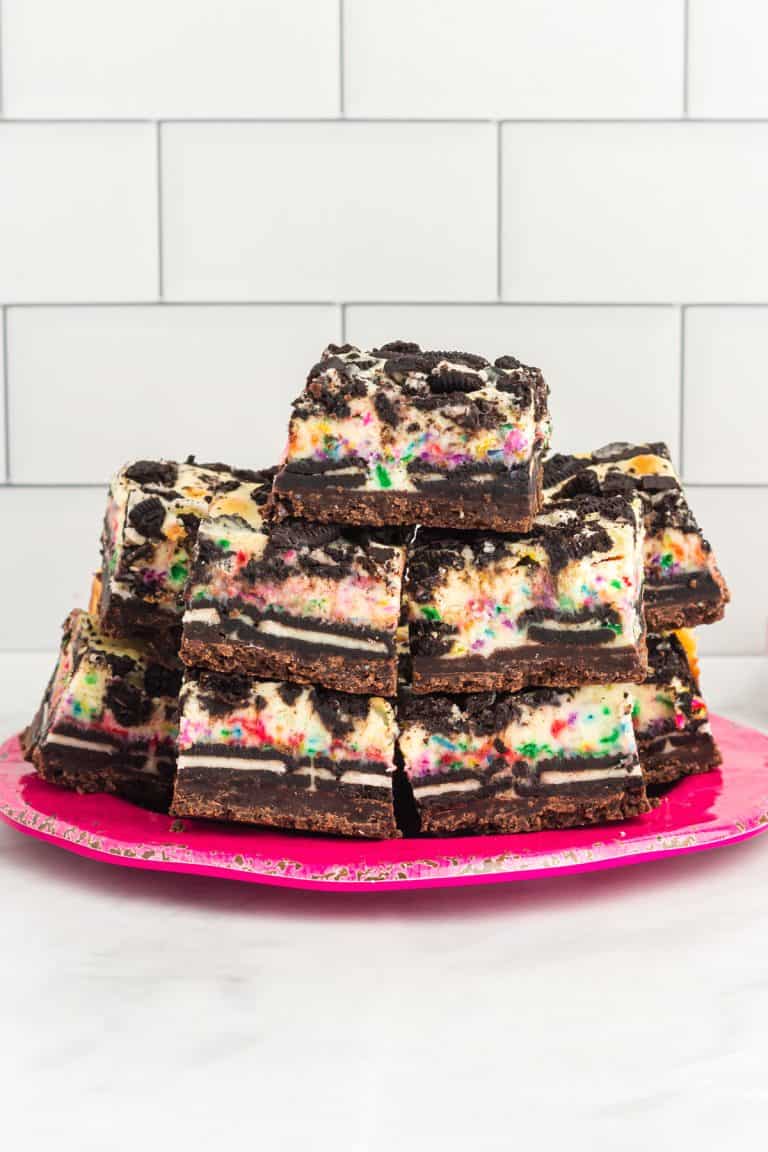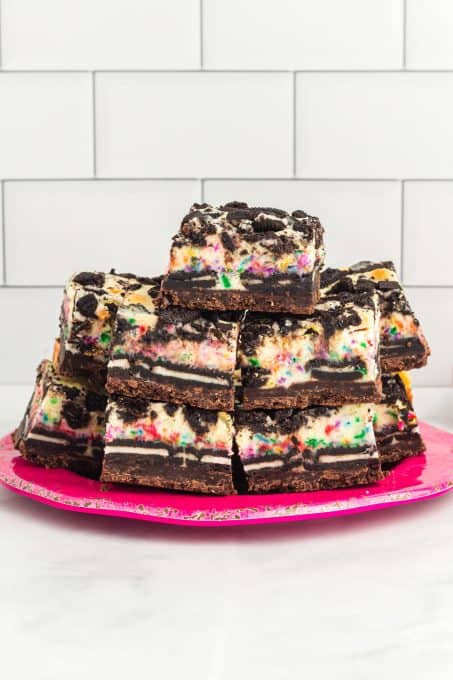 Great Recipes with Oreos
The layer of Oreos at the bottom of these cheesecake bars is to die for. I used a similar method to add Oreos to chocolate cake in this Oreo Cake and these Homemade Chocolate Oreo Cupcakes.
Whoever first came up with the idea of adding Oreos to other desserts was a genius! These Oreo Chocolate Chip Cookies are two cookies in one, and so easy to make too.
If you need a good no-bake dessert with Oreos, I have two perfect options: My Easy No Bake Oreo Pie and these Oreo Pudding Dream Bars!
Cheesecake Recipes
Check out all the delicious, flavorful cheesecake recipes I've shared over the years! You'll find recipes for all occasions, from Christmastime to summertime.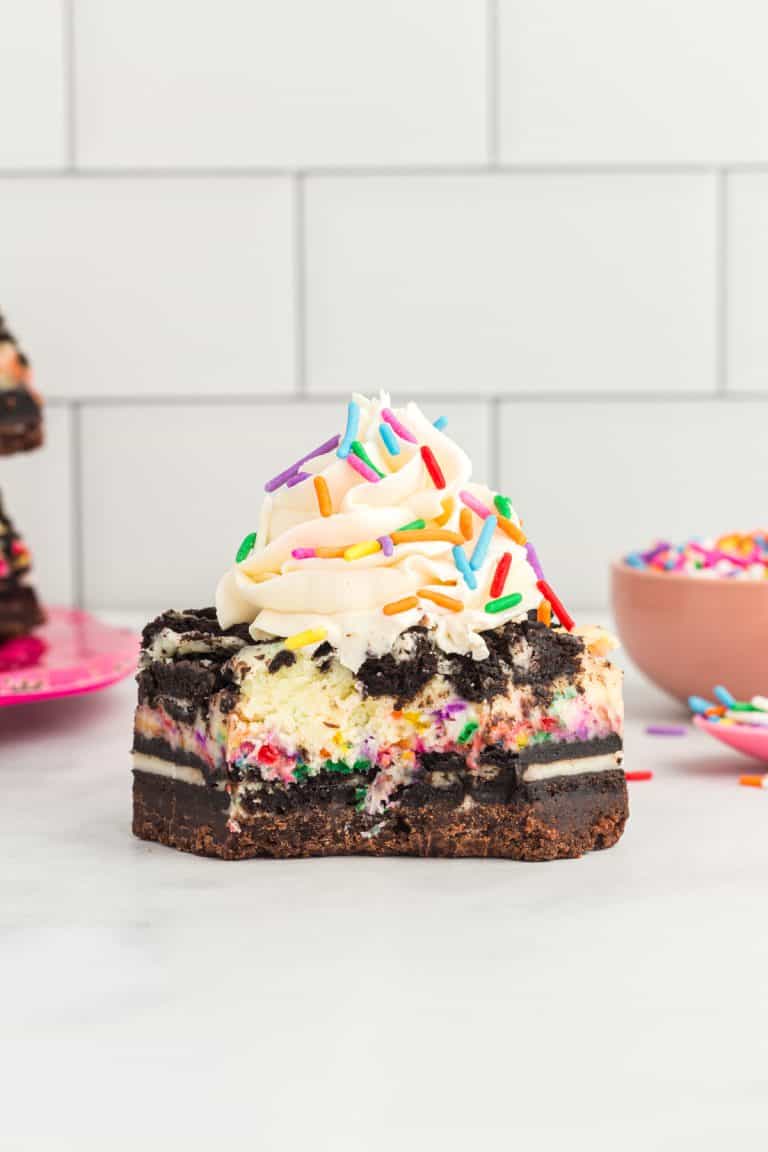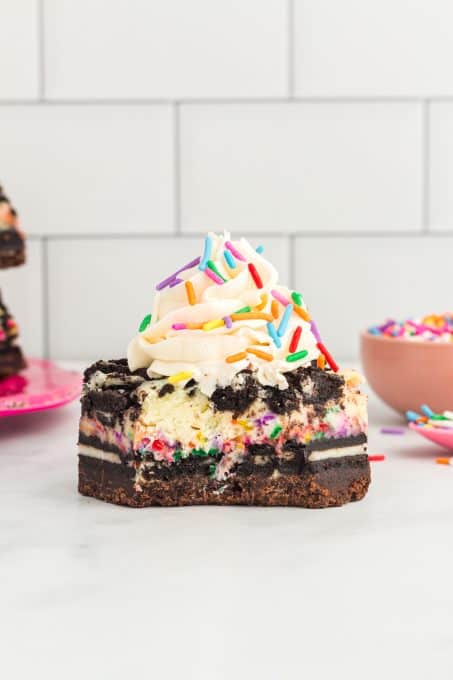 Oreos and sprinkles combine in these fun, festive and tasty Funfetti Oreo Cheesecake Bars! The best part, they're the perfect dessert for any occasion.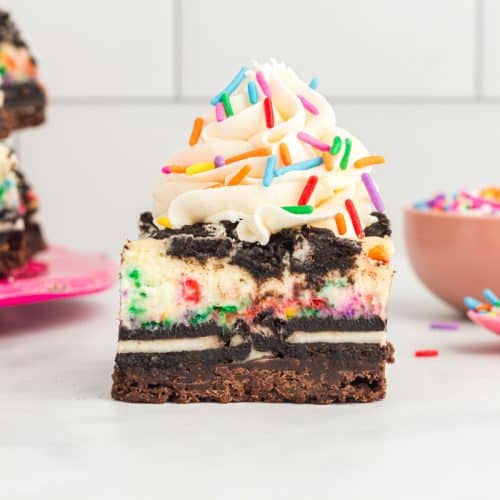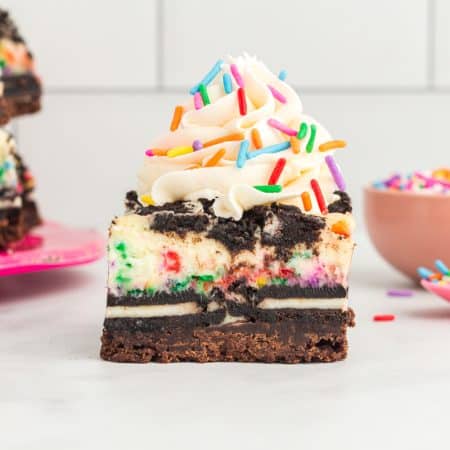 Funfetti Oreo Cheesecake Bars
Funfetti Oreo Cheesecake Bars are a delicious combination of classic cheesecake, cookies and sprinkles! Homemade chocolate crust is layered with sweet cream cheese, Oreo pieces and funfetti sprinkles in this easy recipe. You'll love how the different layers make your taste buds dance!
Ingredients
Crust
1 cup unsalted butter
1 cup all-purpose flour
¼ cup unsweetened cocoa powder
3 tablespoons granulated sugar
Cheesecake
16 ounces cream cheese room temperature
1 cup granulated sugar
2 large eggs room temperature
⅓ cup sour cream room temperature
1 teaspoon pure vanilla extract
¾ cup colored sprinkles Jimmies style, NOT non pareils
Instructions
Line an 8" x 8" square cake pan (pan at least 2" in depth) with parchment paper. Have parchment paper slightly higher than the edges of the pan to make the cheesecake bars easier to lift out once they have cooled. Spray the inside of the pan with non-stick cooking spray. Set aside.
Crust
In a medium bowl, beat together slightly melted butter, flour, cocoa powder and sugar until smooth.

Use a spatula to spread this evenly in the bottom of the prepared cake pan.

Place in fridge to chill for 30 minutes.

Preheat oven to 350 degrees F.

After 30 minutes, use a fork to poke a few holes into the crust then place in oven to bake for 15 minutes.

Remove crust from oven and allow crust to cool for 15 minutes before adding in cheesecake batter.

Reduce oven heat to 325 degrees F.
Cheesecake Batter
In a large bowl, beat together softened cream cheese and sugar on high speed until smooth. 

Beat in eggs, one at a time, on high speed until fully combined. Use spatula to scrape down sides of bowl.

Beat sour cream and vanilla extract into the cheesecake batter until fully combined. Stir in sprinkles.

Place 25 Oreos in an even layer on top of the crust in the cake pan. You'll have to break a few Oreos in order for them to fit in a single flat layer.

Pour cheesecake batter into the cake pan over top of the Oreo and crust base.

Break the remaining 10 Oreos into small pieces and sprinkle these evenly over top of the cheesecake batter.

Place cake pan on a baking sheet and bake in oven for 45 to 50 minutes or until cheesecake looks set (middle should only have a very slight jiggle). 

Remove cheesecake from oven and let cool to room temperature.

Once cooled, wrap the cheesecake (still in the cake pan) well in food-safe plastic wrap and place in fridge to chill for at least 8 hours (preferably overnight) before removing from pan and cutting into squares.

Removed chilled cheesecake from pan and cut into 16 squares.

Serve cold. Optional: can top with whipped cream or frosting and sprinkles.

Cheesecake bars must be stored in the fridge in a sealed food-safe container. Can remain in fridge for up to 4 days. To freeze, wrap squares tightly in food-safe plastic wrap and place in sealed food-safe container. Can be frozen for up to 3 months.
Nutrition
Serving: 1bar | Calories: 340kcal | Carbohydrates: 30g | Protein: 4g | Fat: 23g | Saturated Fat: 14g | Polyunsaturated Fat: 1g | Monounsaturated Fat: 6g | Trans Fat: 0.5g | Cholesterol: 85mg | Sodium: 102mg | Potassium: 85mg | Fiber: 1g | Sugar: 23g | Vitamin A: 799IU | Vitamin C: 0.04mg | Calcium: 42mg | Iron: 1mg
Did you make this recipe?
Share it with me on Instagram and make sure to follow me on Pinterest for more recipes.
Reader Interactions