It's Oreo Cake with a surprise inside! Layers of moist chocolate cake are sandwiched with a cream filling, covered with a thick layer of homemade chocolate frosting and stuffed with whole Oreos. This ultra decadent cake is a dream come true for any Oreo lover!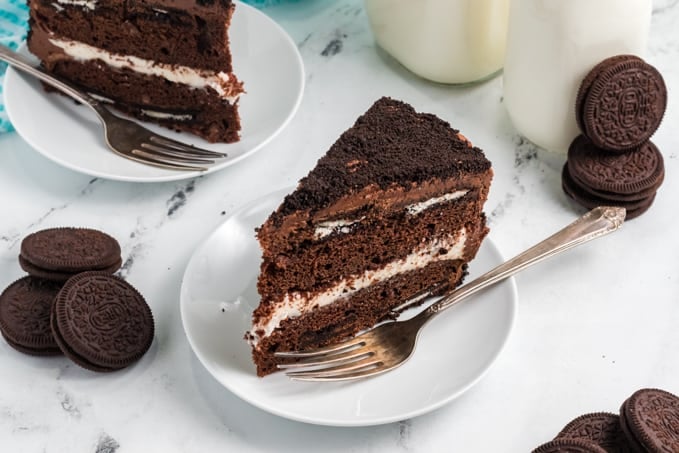 This isn't your ordinary Oreo Cake recipe.
It's the absolute BEST Oreo cake you'll ever eat.
This cake doesn't just have a few cookie crumbs on top. It has actual, whole Oreo Cookies tucked into every bite!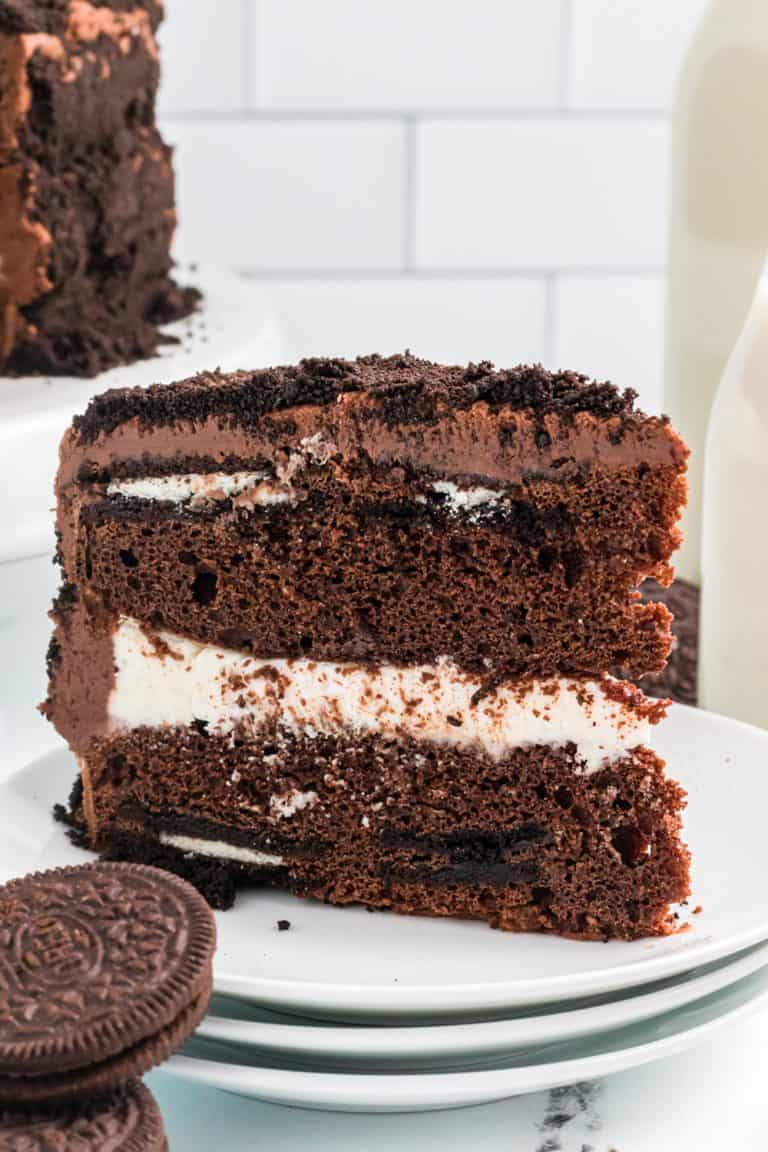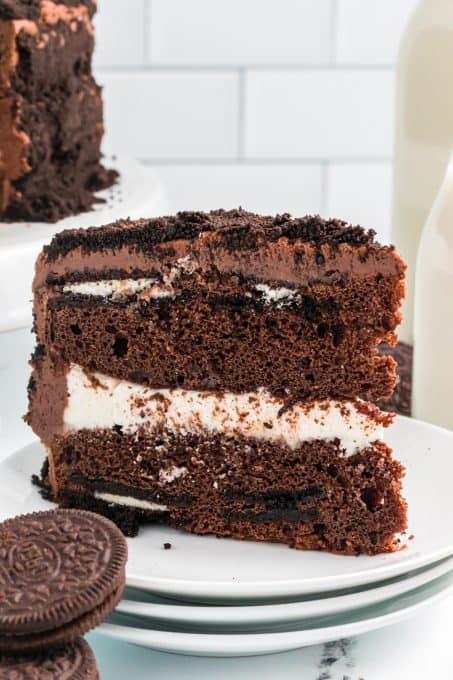 At first glance this cake looks like a straightforward chocolate cake. A beautiful, delicious chocolate cake sprinkled with chocolate cookie crumbs. At this point, I'm already sold.
Then you cut a big slice to reveal the marvelous layers of Oreos and fluffy vanilla cream. It's pure magic.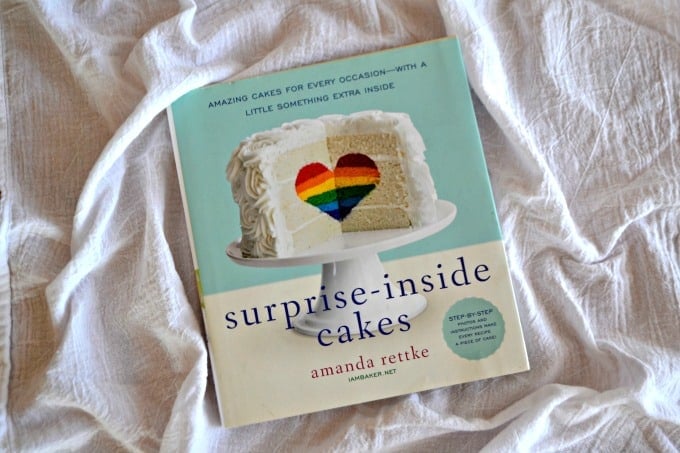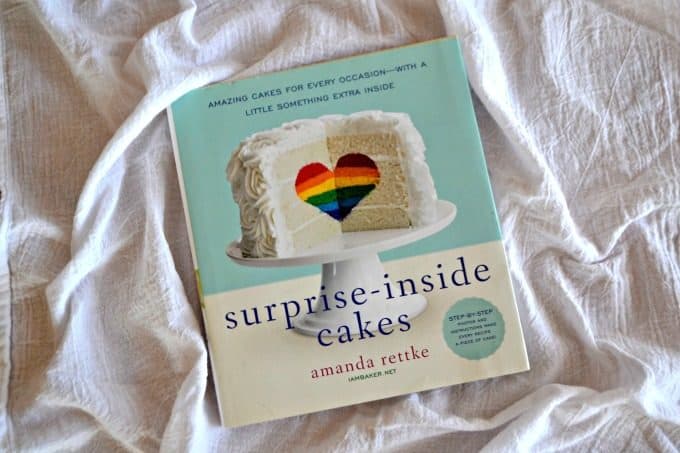 I stumbled across this recipe in the cookbook Surprise-Inside Cakes by Amanda Rattler of the blog, I Am Baker. After flipping through all of the amazing looking cake ideas inside, I knew I had to try this Oreo Cake first. It's cookies and cake in one!
This cake is about as decadent as they come. Make it for a special occasion, a birthday party or any time you need to wow someone with an indulgent, chocolate-y cake.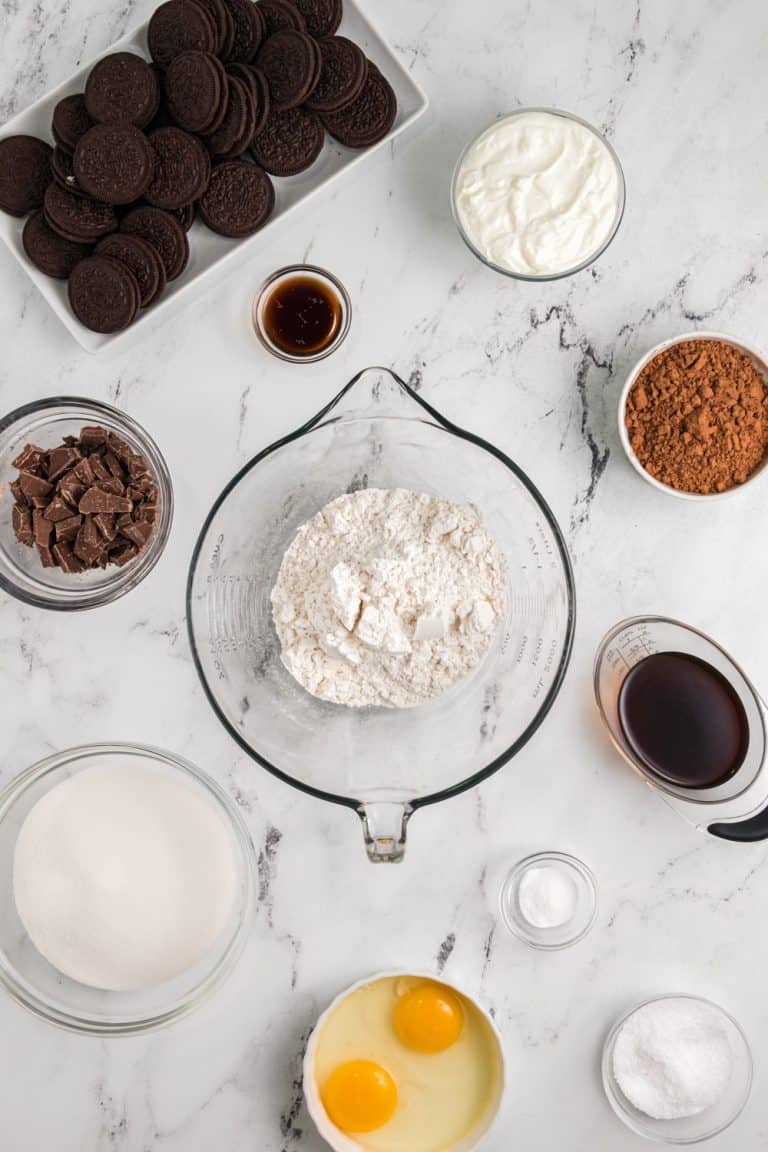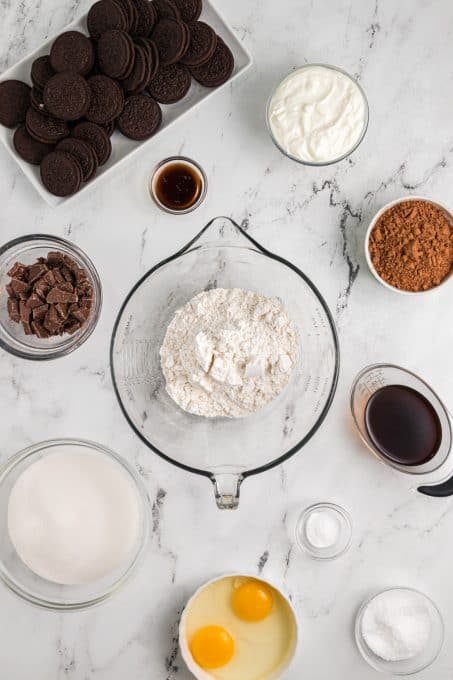 What do I need?
You will need these ingredients to make an Oreo Cake from scratch.
For the chocolate cake:
cocoa powder
cake flour
sugar
baking soda
salt
eggs
Greek yogurt (or sour cream)
vanilla
hot brewed coffee
milk
butter
shortening
powdered sugar
chopped milk chocolate
Whole Oreo cookies (lots of 'em!)
crushed Oreos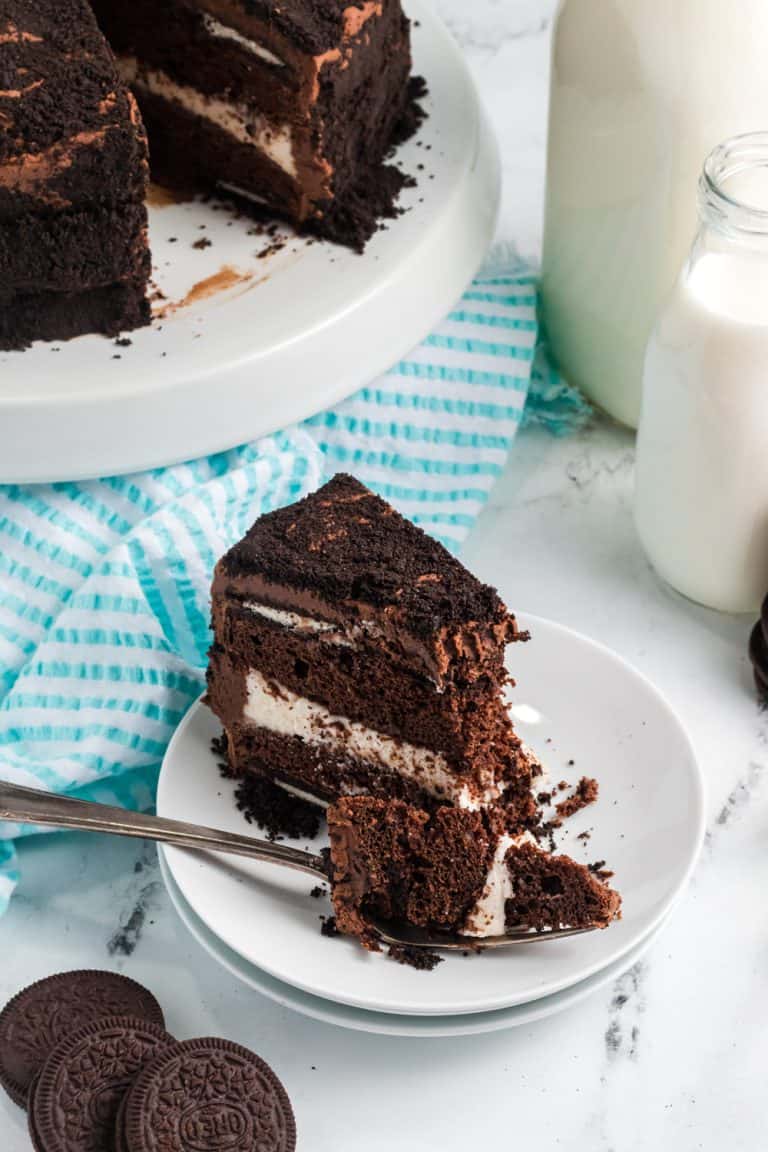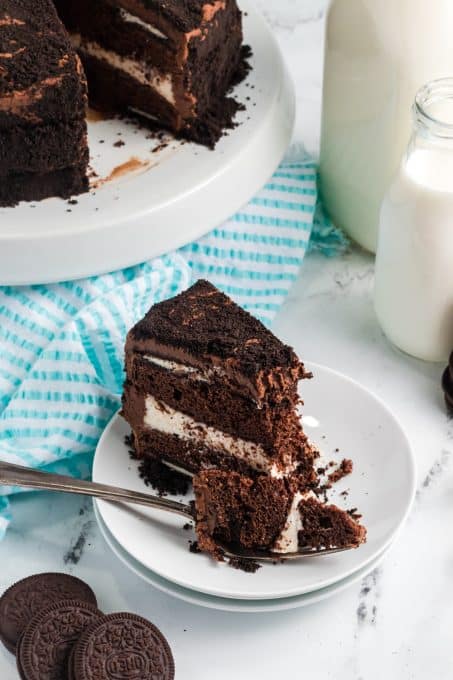 Does the cake taste like coffee?
Not at all. Hot brewed coffee deepens the flavor of the chocolate in this cake with Oreos. It adds no coffee flavor to the chocolate cake or the frosting. If you really prefer not to use coffee, you can use hot water instead but the flavor won't be as rich.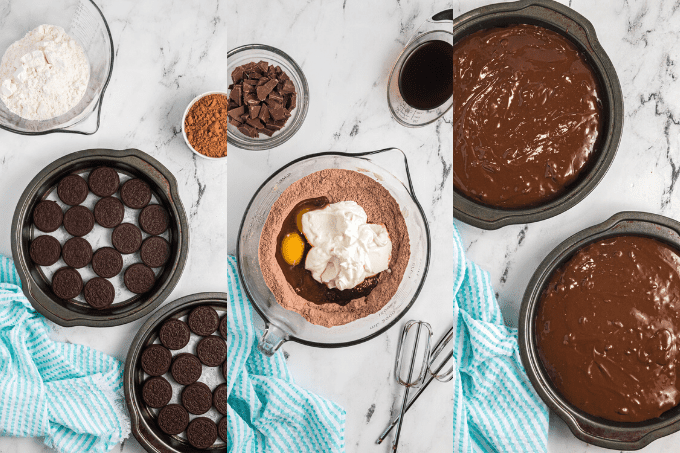 How to Make an Oreo Cake
Arrange Oreo cookies on the bottom of two round cake plans. Pour cake batter over the cookies and bake.
Now, whip up the Oreo cream filling. Spread it on top of one of the cake layers, then top it with the second cake layer.
Finally cover the top and sides of the whole cake with a generous layer of chocolate buttercream frosting. Sprinkle crushed Oreo cookie crumbs over the cake. Voila!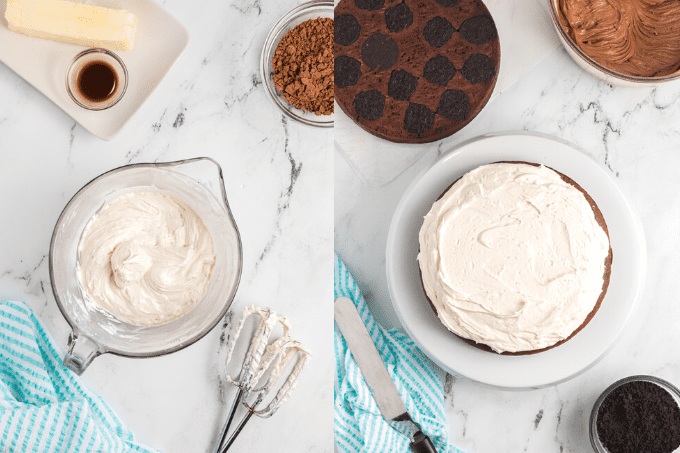 Tips
Chill: Hoemeade Oreo cake is best when it's chilled for at least 2 hours in the refrigerator before cutting. You'll get more even, pretty looking slices that way!
How to cut perfect slices: Use a warm knife for best results. Wipe it clean with a napkin between each cut.
Storing: Store leftovers in the fridge. This Oreo cake tastes amazing cold, and will be delicious with a tall glass of cold milk!
Use an Oreo pie crust to make cookie crumb coating. Just use the bottom of a heavy glass to break the cookie crust into fine crumbs.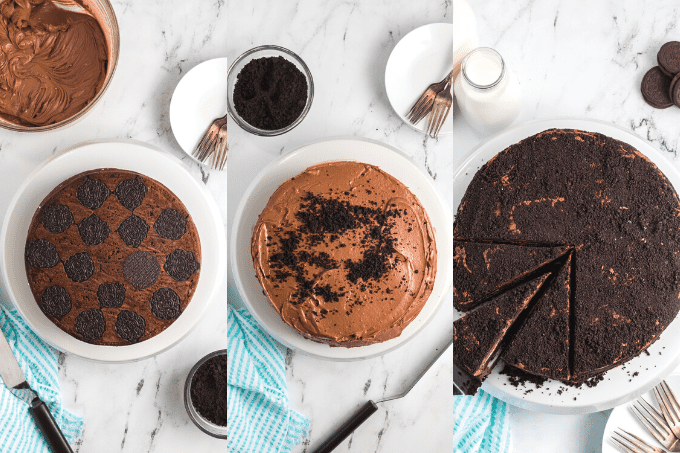 Cake Recipes
Love cakes with extra surprises inside? You'll love this Double Chocolate Coconut Cream Cake. It's a delicious chocolate bundt cake with a coconut cream in the middle!
This Peanut Butter Chocolate Lava Cake Recipe is another one that's oozing with sweet decadence. Chocolate and peanut butter is a hard combo to beat, especially when it's baked into a cake this amazing.
If fruity fillings are more your style, you'll love JELL-O poke cake! I have an incredible (and easy) Strawberry Poke Cake recipe that's perfect for any season. For a tarter twist, try the lemon version too.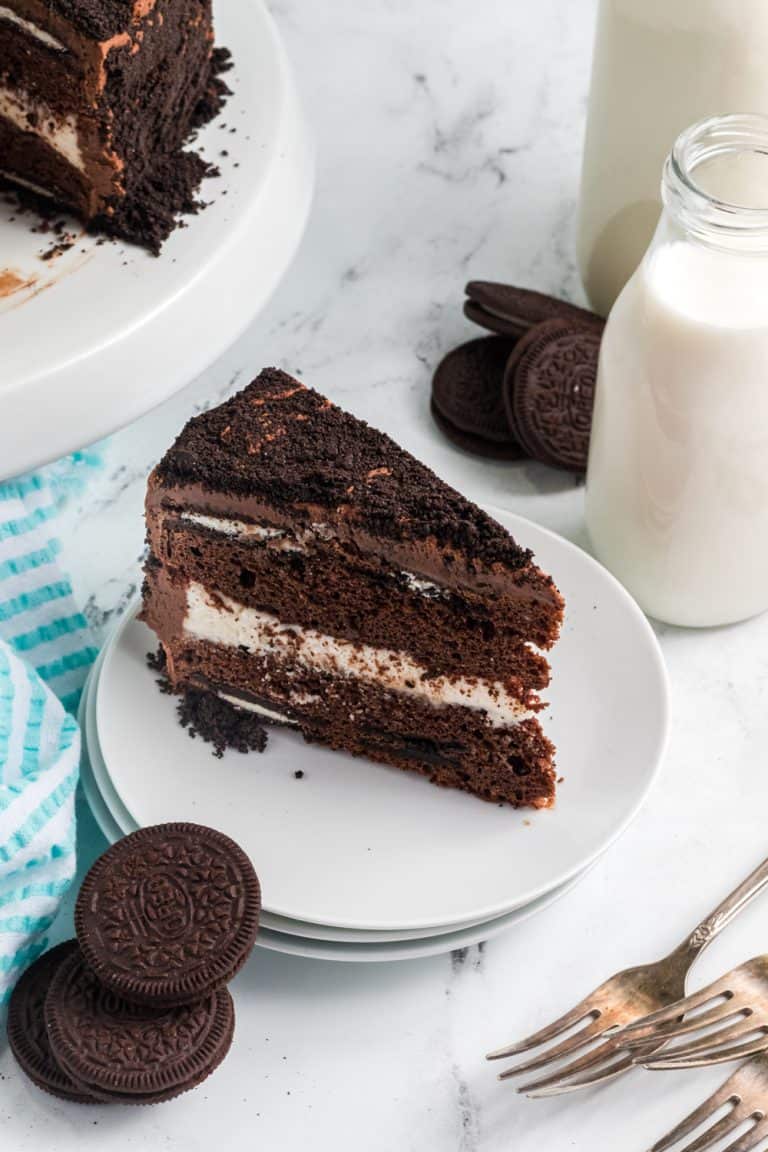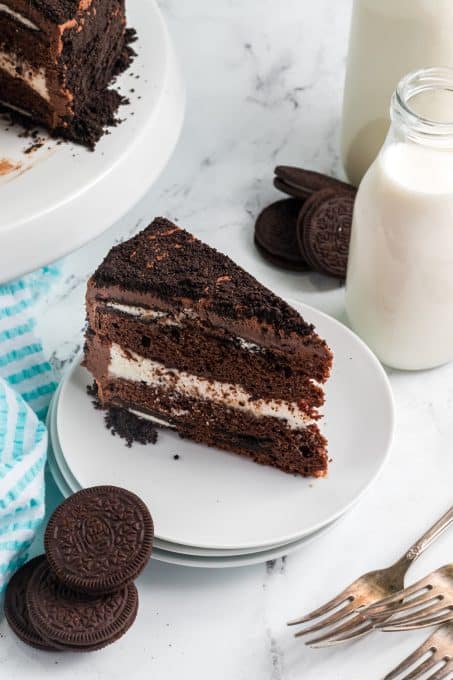 Oreo Recipes
I love creating food with Oreos almost as much as I love eating them! Try these other desserts with Oreos next: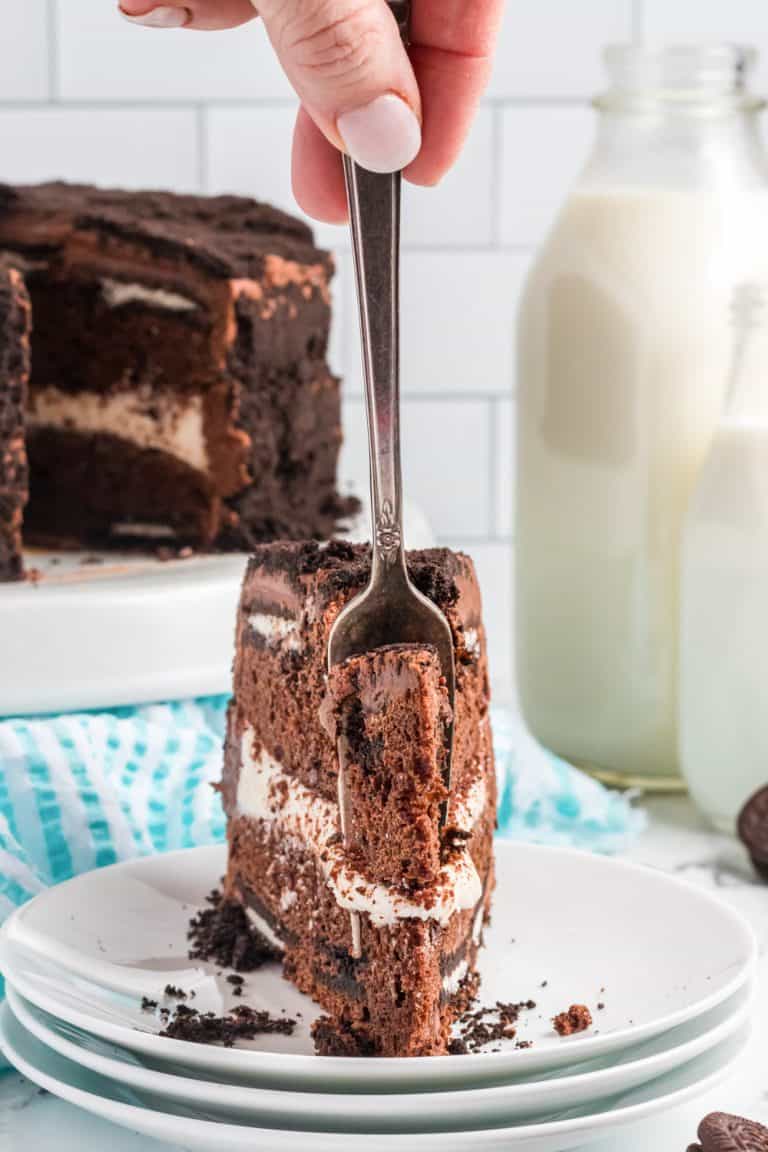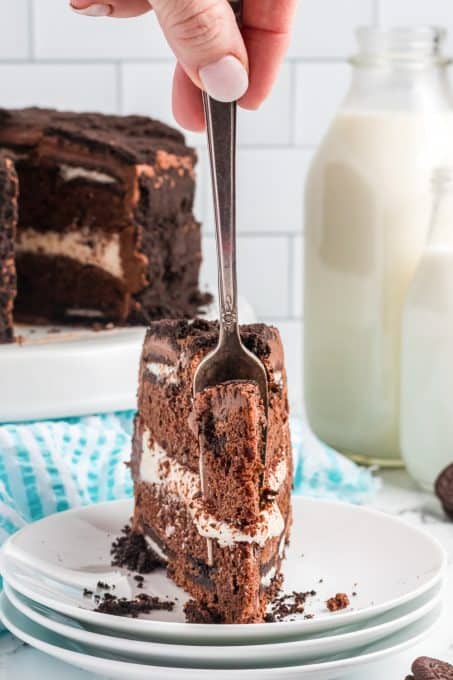 SIGN UP BELOW FOR THE WEEKLY
365 DAYS OF BAKING & MORE
NEWSLETTER!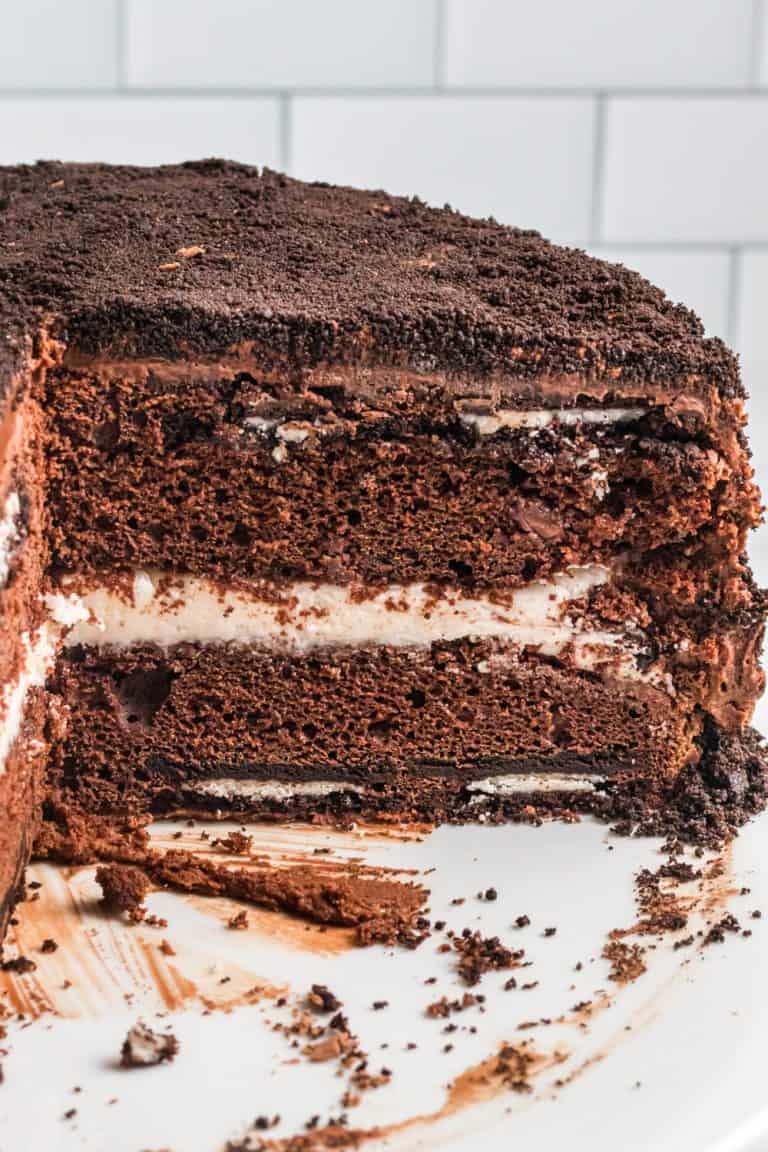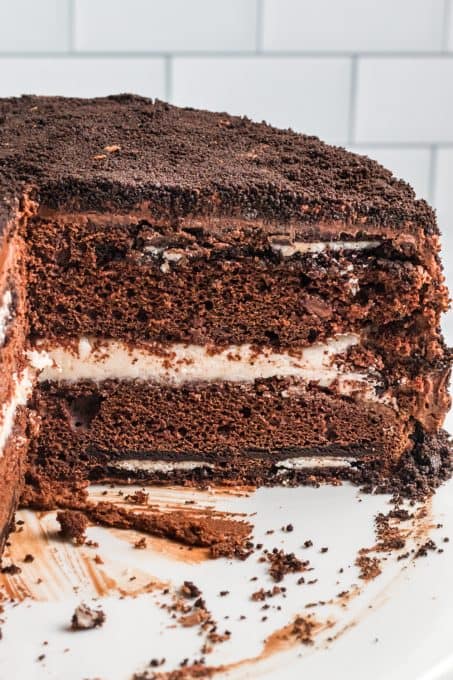 The search for the best Oreo Cake recipe is over!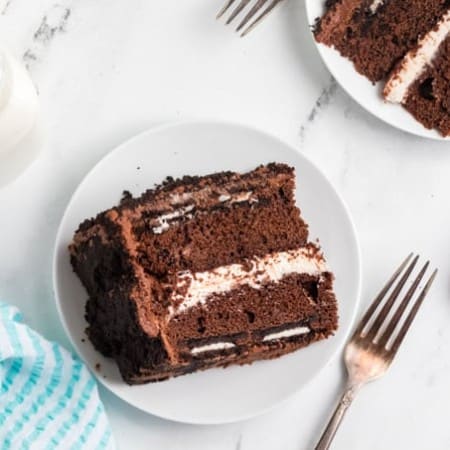 This Oreo Cake is a surprise-inside cake with chocolate layers, an Oreo filling, covered in chocolate buttercream and topped with Oreo cookie crumbs. Found in Amanda Rettke's (I am Baker) cookbook, Surprise-Inside Cakes.
Equipment
2 9-inch round cake pans

1 rubber spatula

1 Food processor or blender
Ingredients
1 recipe Chocolate Cake – follows
15.25 oz Oreos
1 recipe Oreo Filling – follows
1 recipe Chocolate Buttercream – follows
1 premade Oreo pie crust or an additional 24 Oreos with fillings removed and ground fine in food processor
Chocolate Cake
¾ cup unsweetened cocoa
1 ½ cups sugar
1 ½ cups cake flour
1 teaspoon baking soda
pinch salt
2 large eggs room temperature
1 cup plain Greek yogurt or sour cream
2 teaspoons pure vanilla extract
½ cup hot coffee
1 cup milk chocolate about 4 ounces finely chopped
Oreo Filling
¼ cup unsalted butter
¼ cup shortening
3 cups powdered sugar
2 – 3 tablespoons milk
2 teaspoons pure vanilla extract
Chocolate Buttercream Frosting
½ cup unsalted butter room temperature
½ cup unsweetened cocoa powder
1 teaspoon pure vanilla extract
4 to 5 cups confectioners' sugar
¼ cup milk
Instructions
Chocolate Cake
Set a rack in the center of the oven and preheat to 350 degrees F. and prepare two 9-inch round cake pans by spraying them with a floured baking spray.

Place 15 – 19 Oreos into the bottom of each cake plan so that they are laying flat. I say 15 – 19 because I could only fit 15, but Amanda fit 19 in her cookbook photo. I used two 9-inch pans, too.

In a mixer, combine the cocoa, sugar, cake flour, baking soda and salt. Mix on low speed for about 30 seconds.

Add the eggs, Greek yogurt, and vanilla. Mix for 1 minute on medium speed.

Add the coffee and the chopped chocolate to the bowl and blend together with a rubber spatula, scraping the sides of the bowl until fully blended.

Evenly divide the batter into both pans and bake for 28 – 32 minutes or until a toothpick inserted into each center comes out clean.

Place pans on a wire rack and allow to cool for 5 – 10 minutes.

Carefully remove each cake from the pan and cool on the wire racks until they are room temperature.
Oreo Filling
Cream the butter and shortening until well blended.

Add the sugar one cup at a time, alternating with the milk and vanilla. The filling will be very thick, but you can add more milk if you need to.
Chocolate Buttercream Frosting
Cream the butter, cocoa and vanilla at medium speed for about 2 minutes.

Add the confectioners' sugar, one cup at a time, alternating with some milk when frosting becomes too dry.

After 4 cups of the confectioners' sugar has been added, pour in remaining milk and beat until frosting is smooth, about 2 minutes.

For a stiffer frosting, add more confectioners' sugar, 1/4 cup at a time and if frosting should become too stiff, add more milk, just one tablespoon at a time.
Assembly
Place one cooled cake layer onto a cake stand or serving platter with the Oreo cookie side down.

With an offset spatula, spread the Oreo Filling so that it is about an inch thick.

Place second cooled cake layer on top of the Oreo filling with the Oreo cookie side up.

Cover the cake in Chocolate Buttercream

To quickly spread the crushed Oreo crumbs, place some Oreo crumbs on top of the cake near the edge. With one hand, move the crumbs over the edge and use the other to catch the crumbs on the side and push them into the side of cake.

Repeat around the entire cake. When finished with the sides, pour the remaining crumbs onto the top of the cake. Smooth the top and the sides by gently pressing with your hands or by using a fondant smoother.
Notes
I found it best to refrigerate the cake for at least a couple of hours before immediately slicing into it. That way the filling and the frosting will set and the slices will come out even when sliced with a hot knife. Run the knife under hot water and wipe dry before slicing.
Nutrition
Serving: 1person | Calories: 861kcal | Carbohydrates: 147g | Protein: 9g | Fat: 31g | Saturated Fat: 15g | Polyunsaturated Fat: 3g | Monounsaturated Fat: 10g | Trans Fat: 1g | Cholesterol: 60mg | Sodium: 287mg | Potassium: 333mg | Fiber: 5g | Sugar: 117g | Vitamin A: 414IU | Calcium: 65mg | Iron: 5mg
Did you make this recipe?
Share it with me on Instagram and make sure to follow me on Pinterest for more recipes.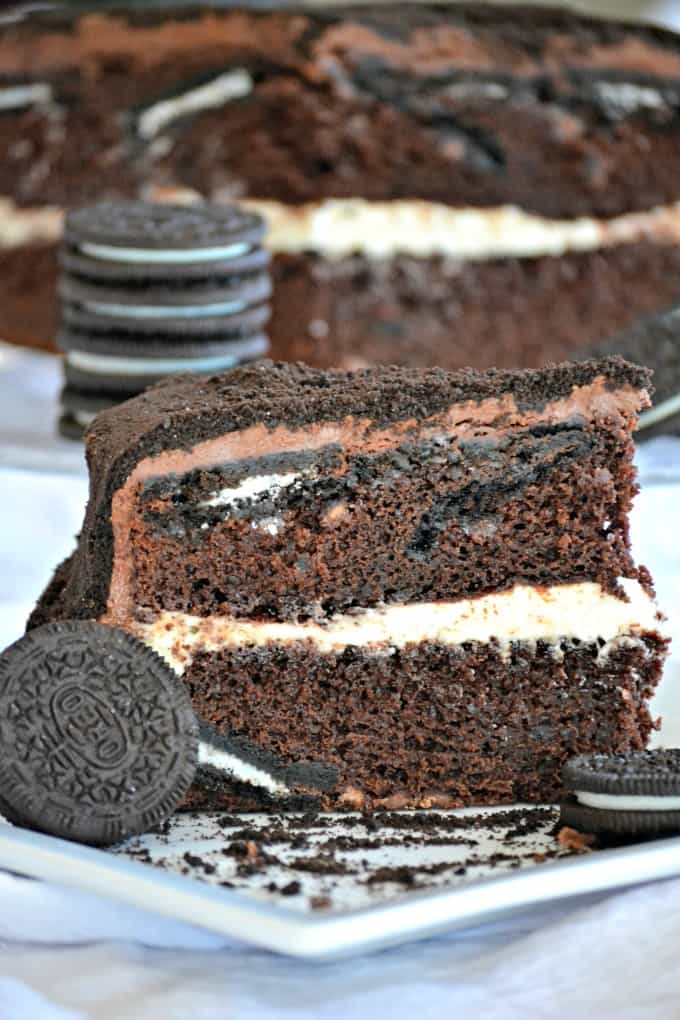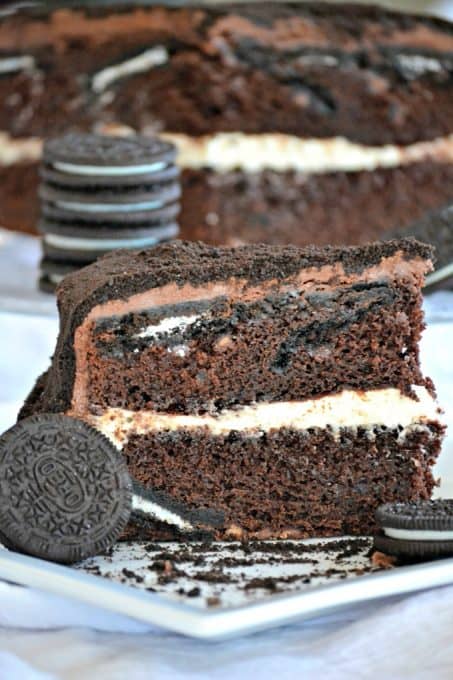 This post was originally published 7/3/16, and has been updated on 1/27/22.
Reader Interactions