Oreo Cake – a Surprise-Inside cake made from Amanda Rettke's (I Am Baker) cookbook Surprise-Inside Cakes. This chocolate cake with an Oreo cream filling, an Oreo crumb topping over chocolate buttercream and Oreo cookies inside is sure to please any Oreo lover, especially on their birthday!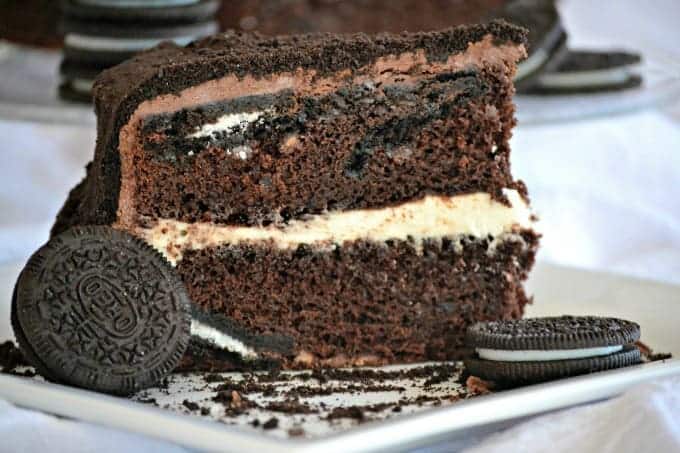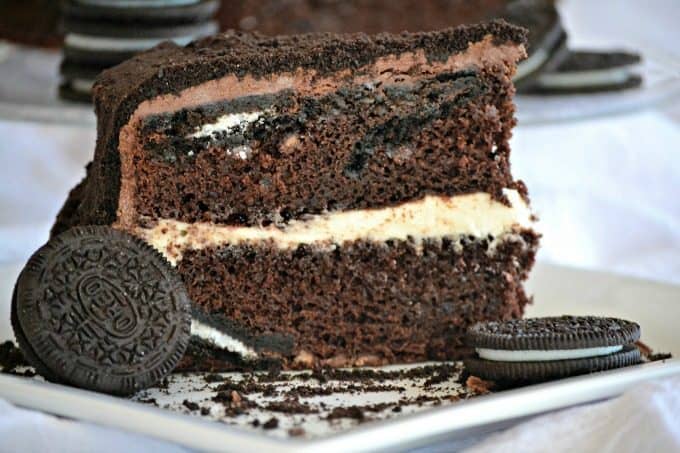 Yes, today is a milestone for me.
July 3.
It's my birthday.
And while some people may think that 30, 40, and age 50 are milestones, this number 48 is a pretty big one for me. Don't get me wrong, I think those others are as well, but this birthday means a lot more than many of my others.
You see, a few days from now, July 6, marks the anniversary of my mother's death. It will be 24 years since she's passed and at that point, I will have lived longer without her than I did with her.
My birthday today is one she never lived to see. She passed just three weeks shy of her 48th of breast cancer.
SAVE THIS OREO CAKE TO YOUR FAVORITE PINTEREST BOARD!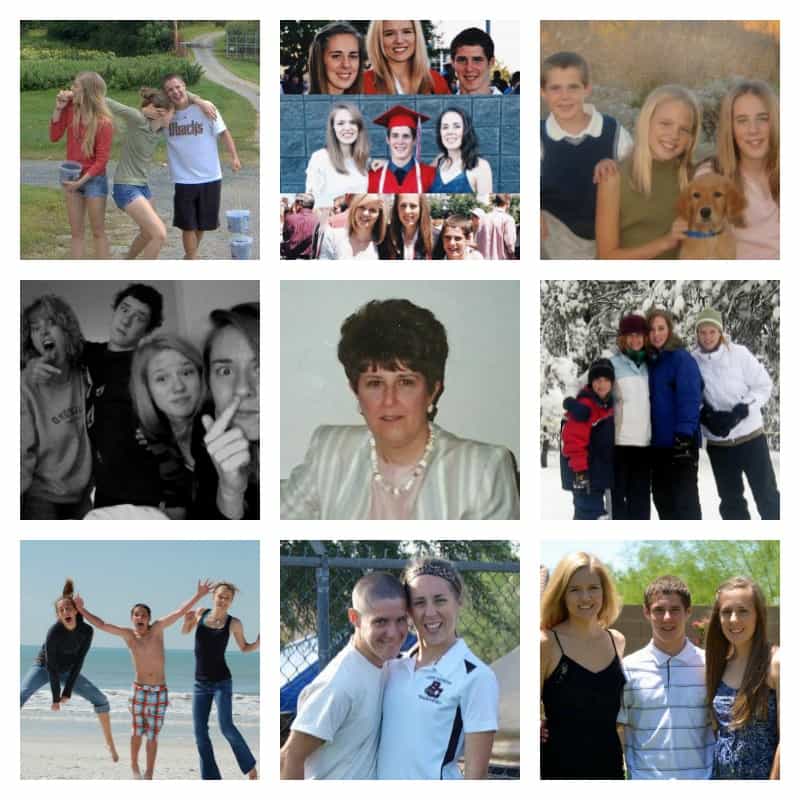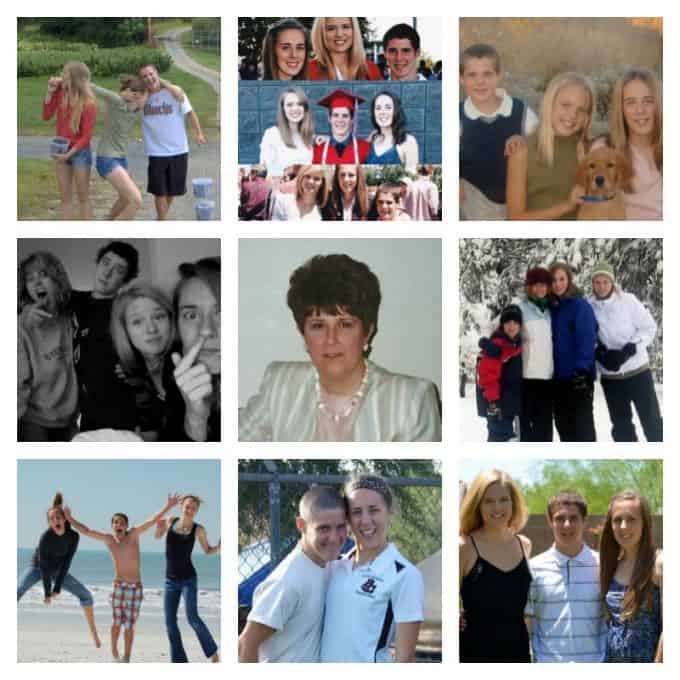 There are days I miss her more than I ever thought I would and others I'm ok. Our oldest was just three months old when she passed. I like to think that she hand-picked our other two children. Some times there's anger.
I wanted my children to know, love and dote on her grandchildren, for them to hear stories of me when I was little and for them to know and love the woman who helped make me who I am today.
On the other hand, I know that life would be a heck of a lot different, too if she were here. I was forced to grow up pretty quickly being married, having a three-month-old and losing my mother at such a young age. Our oldest is the age I was when it all happened and it just blows me away to look back and remember where I was 24 years ago.
I plan to live at least another 48 years, y'all. I've got things to do, places to go and people to see. I know I'm not done here and I've been extremely blessed with great health, an amazing family, an abundance of friends. I am grateful.
I'm also grateful for you because I know without YOU I wouldn't be here as well. Your support through reading, sharing, pinning, liking, following and commenting has been tremendous and I truly appreciate it and do not take it for granted.
I hope to do so much more in the future and I thank you for helping to make that happen. I love you and thank you for making this birthday and so many more to come so absolutely fantastic!!
I found this recipe in Miss Amanda's great cookbook, Surprise-Inside Cakes. She is the creator of the fantastic blog I Am Baker.
You can purchase her book here through Amazon.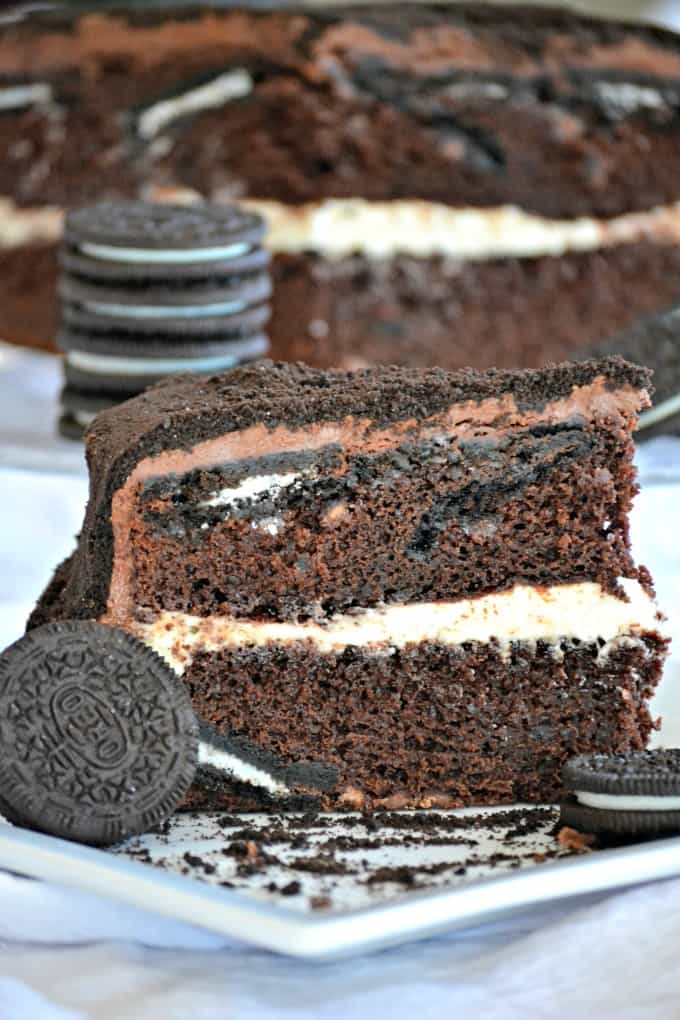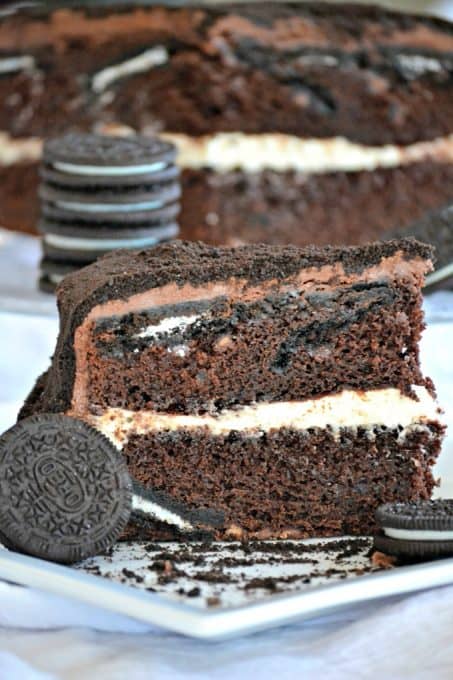 This recipe is printed with her permission.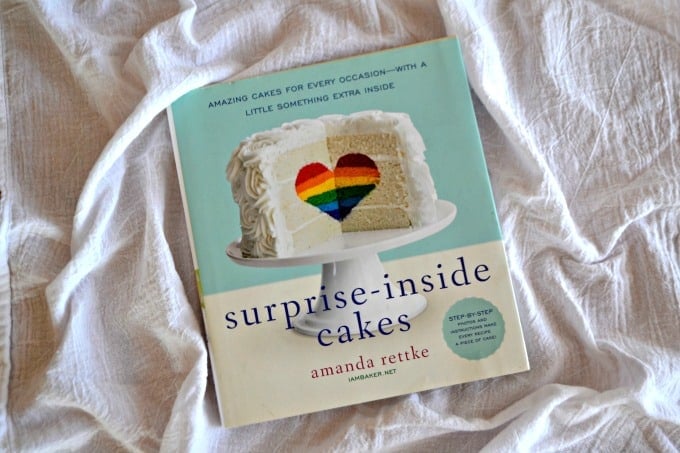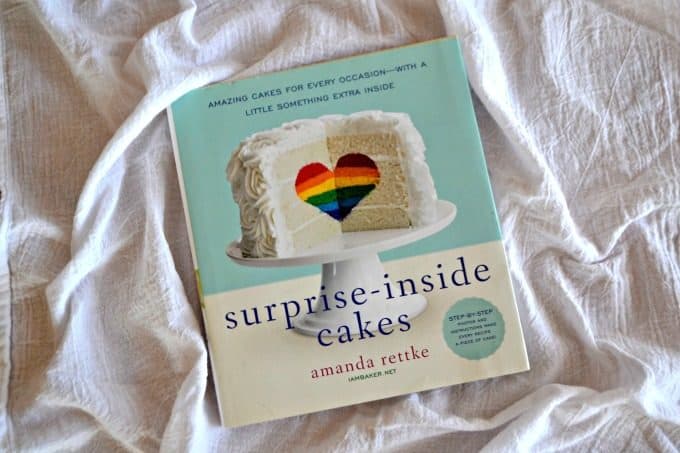 Here are some of the pictures during the process of the cake creation.
Mixing the dry ingredients for the cakes.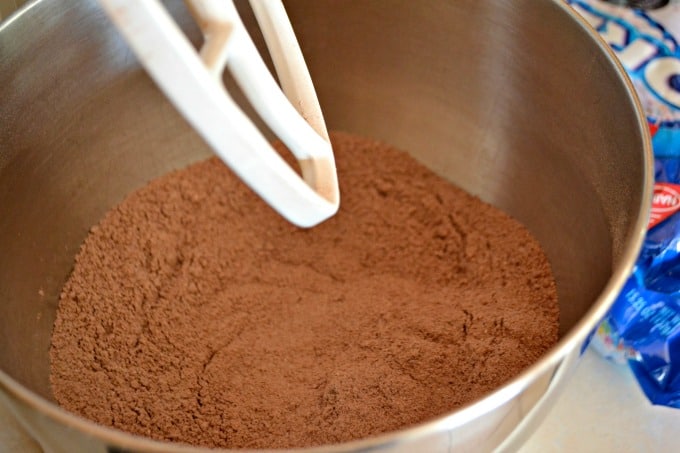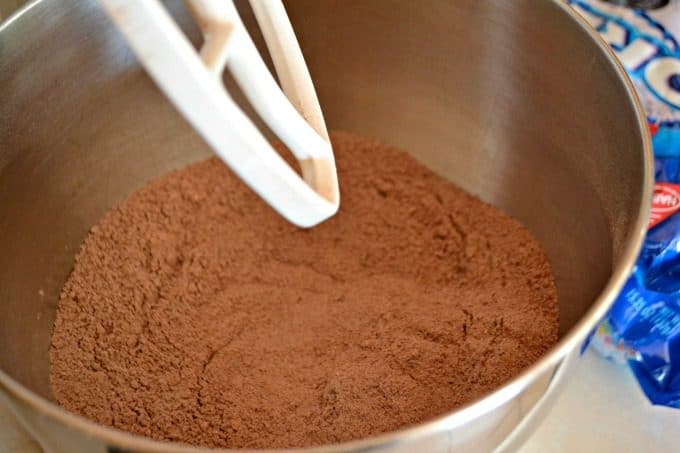 Oreos in the bottom of each pan for the surprise!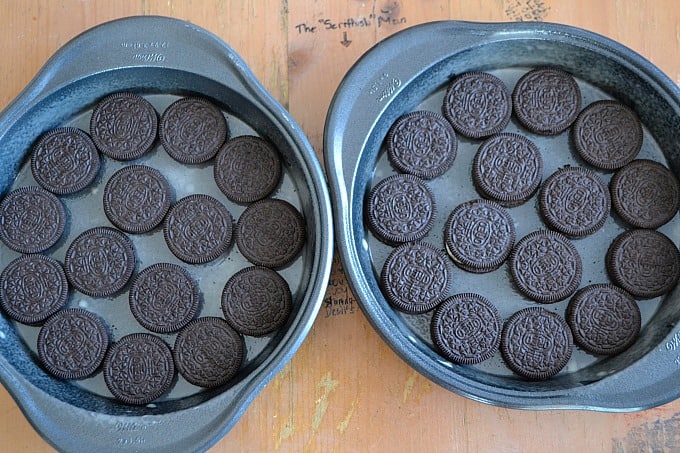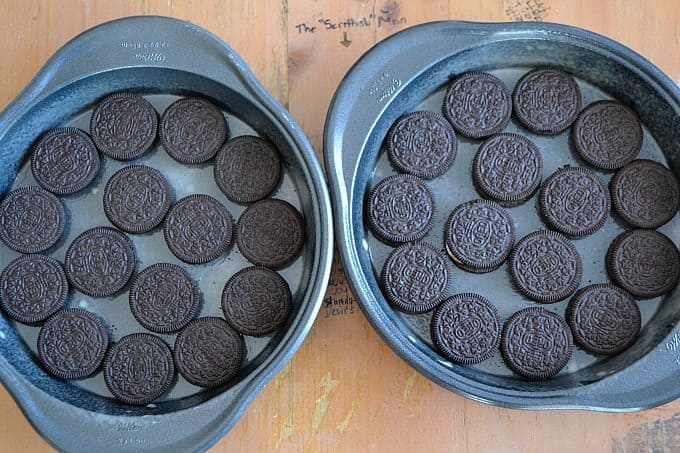 The batter in the pans before oven bound.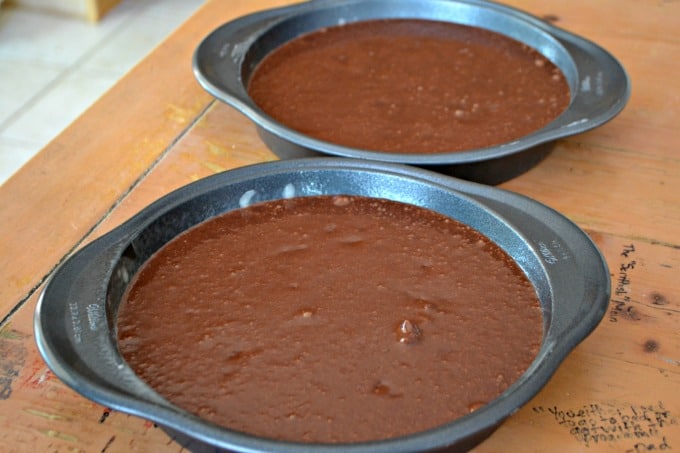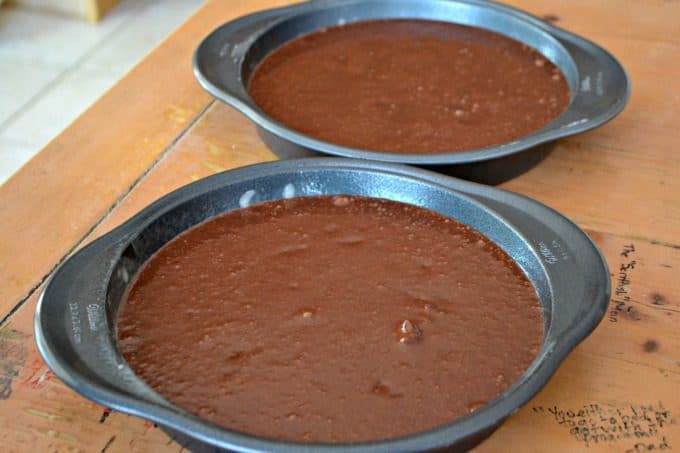 Looking good!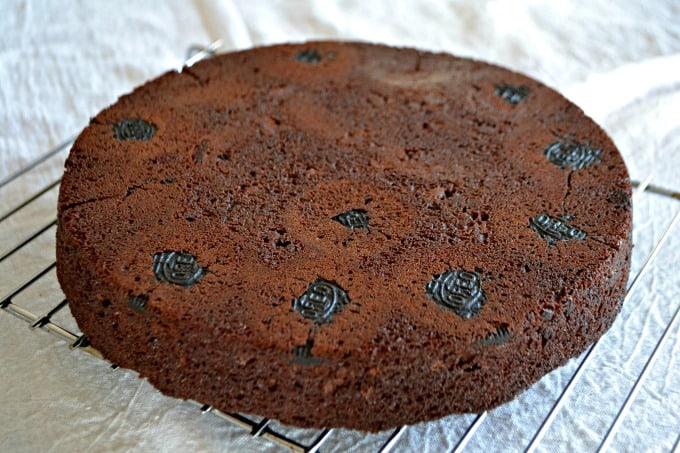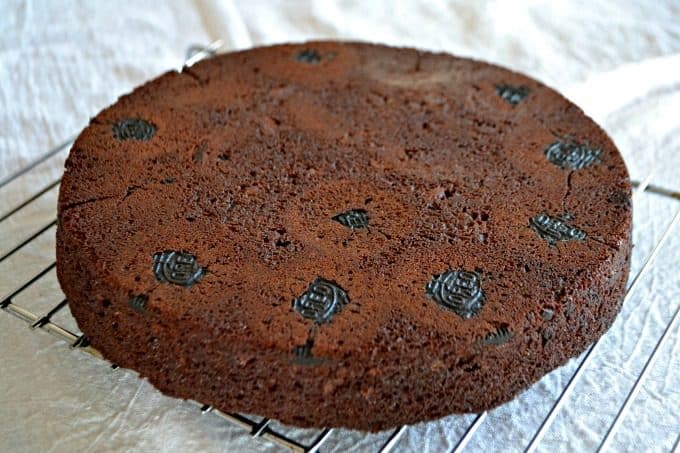 The Oreo filling.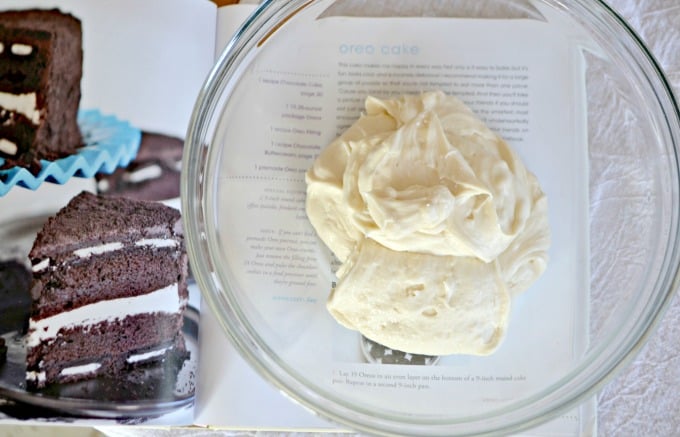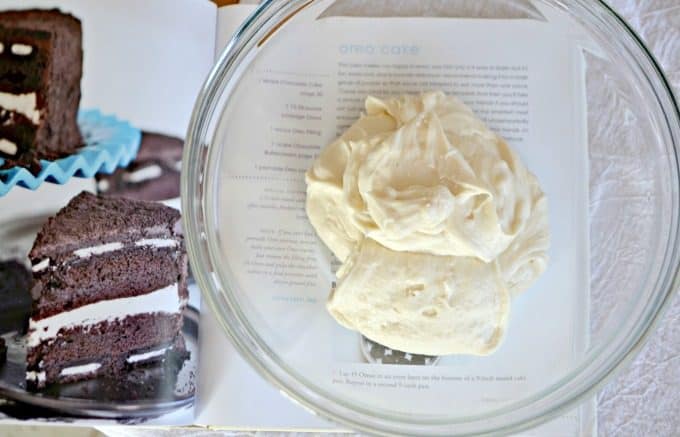 The chocolate buttercream frosting. I sure do hope my finished cake looks something like the one pictured above. If not, I know it will still taste delicious!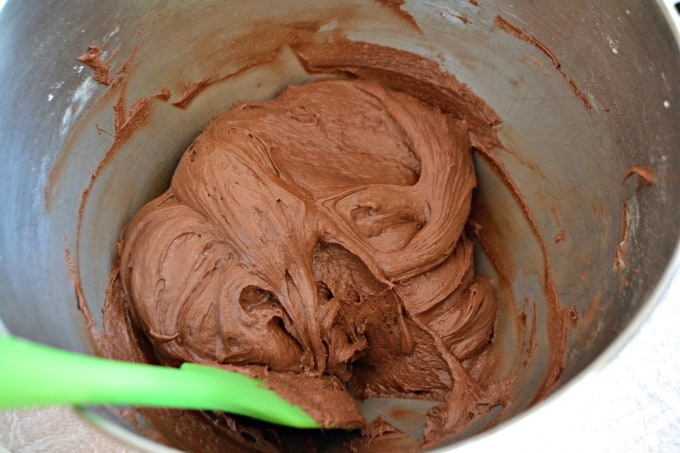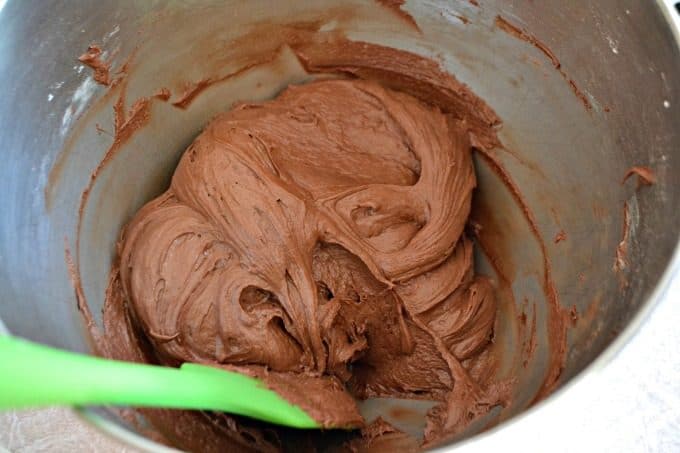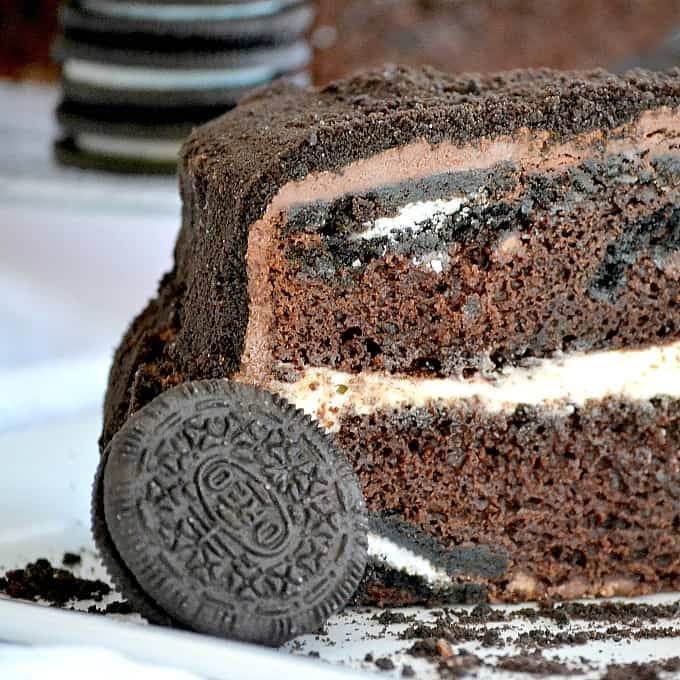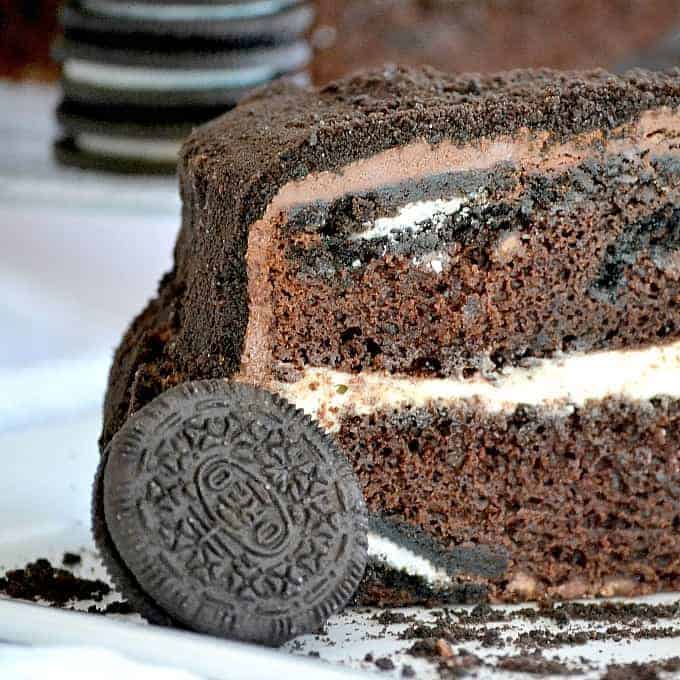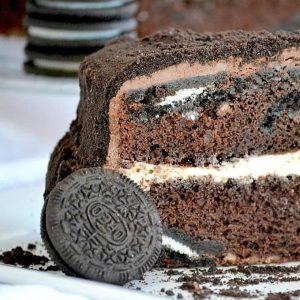 Oreo Cake
This Oreo Cake is a surprise-inside cake with chocolate layers, an Oreo filling, covered in chocolate buttercream and topped with Oreo cookie crumbs. Found in Amanda Rettke's (I am Baker) cookbook, Surprise-Inside Cakes.
Print
Pin
Rate
Ingredients
1

recipe Chocolate Cake - follows

1 15.25-

ounce

package Oreos

1

recipe Oreo Filling - follows

1

recipe Chocolate Buttercream - follows

1

premade Oreo pie crust

or 24 Oreos with fillings removed and ground fine in food processor
Chocolate Cake
¾

cup

unsweetened cocoa

1 ½

cups

sugar

1 ½

cups

cake flour

1

teaspoon

baking soda

pinch

of salt

2

large eggs

room temperature

1

cup

plain Greek yogurt

Amanda used sour cream in the cookbook

2

teaspoons

pure vanilla extract

½

cup

hot coffee

1

cup

milk chocolate

about 4 ounces finely chopped
Oreo Filling
¼

cup

unsalted butter

¼

cup

shortening

3

cups

powdered sugar

2 - 3

tablespoons

milk

2

teaspoons

pure vanilla extract
Chocolate Buttercream Frosting
½

cup

unsalted butter

room temperature

½

cup

unsweetened cocoa powder

1

teaspoon

pure vanilla extract

4 to 5

cups

confectioners' sugar

¼

cup

milk
Instructions
Chocolate Cake
Set a rack in the center of the oven and preheat to 350 degrees F. and prepare two 9-inch round cake pans by spraying them with a floured baking spray.

Place 15 - 19 Oreos into the bottom of each cake plan so that they are laying flat. I say 15 - 19 because I could only fit 15, but Amanda fit 19 in her cookbook photo. I used two 9-inch pans, too.

In a mixer, combine the cocoa, sugar, cake flour, baking soda and salt. Mix on low speed for about 30 seconds.

Add the eggs, Greek yogurt, and vanilla. Mix for 1 minute on medium speed.

Add the coffee and the chopped chocolate to the bowl and blend together with a rubber spatula, scraping the sides of the bowl until fully blended.

Evenly divide the batter into both pans and bake for 28 - 32 minutes or until a toothpick inserted into each center comes out clean.

Place pans on a wire rack and allow to cool for 5 - 10 minutes.

Carefully remove each cake from the pan and cool on the wire racks until they are room temperature.
Oreo Filling
Cream the butter and shortening until well blended.

Add the sugar one cup at a time, alternating with the milk and vanilla. The filling will be very thick, but you can add more milk if you need to.
Chocolate Buttercream Frosting
Cream the butter, cocoa and vanilla at medium speed for about 2 minutes.

Add the confectioners' sugar, one cup at a time, alternating with some milk when frosting becomes too dry.

After 4 cups of the confectioners' sugar has been added, pour in remaining milk and beat until frosting is smooth, about 2 minutes.

For a stiffer frosting, add more confectioners' sugar, 1/4 cup at a time and if frosting should become too stiff, add more milk, just one tablespoon at a time.
Oreo Cake Assembly
Place one cooled cake layer onto a cake stand or serving platter with the Oreo cookie side down.

With an offset spatula, spread the Oreo Filling so that it is about an inch thick.

Place second cooled cake layer on top of the Oreo filling with the Oreo cookie side up.

Cover the cake in Chocolate Buttercream

To quickly spread the crushed Oreo crumbs, place some Oreo crumbs on top of the cake near the edge. With one hand, move the crumbs over the edge and use the other to catch the crumbs on the side and push them into the side of cake.

Repeat around the entire cake. When finished with the sides, pour the remaining crumbs onto the top of the cake. Smooth the top and the sides by gently pressing with your hands or by using a fondant smoother.
Notes
I found it best to refrigerate the cake for at least a couple of hours before immediately slicing into it. That way the filling and the frosting will set and the slices will come out even when sliced with a hot knife. Run the knife under hot water and wipe dry before slicing.
If you like this Oreo Cake, then you'll enjoy…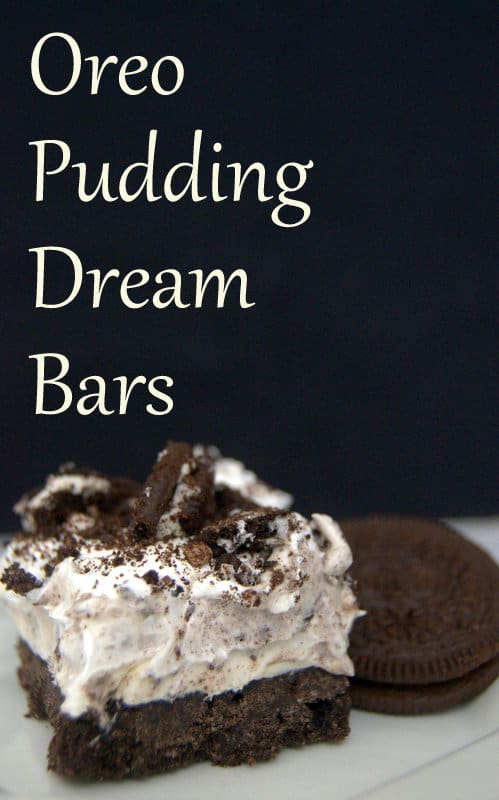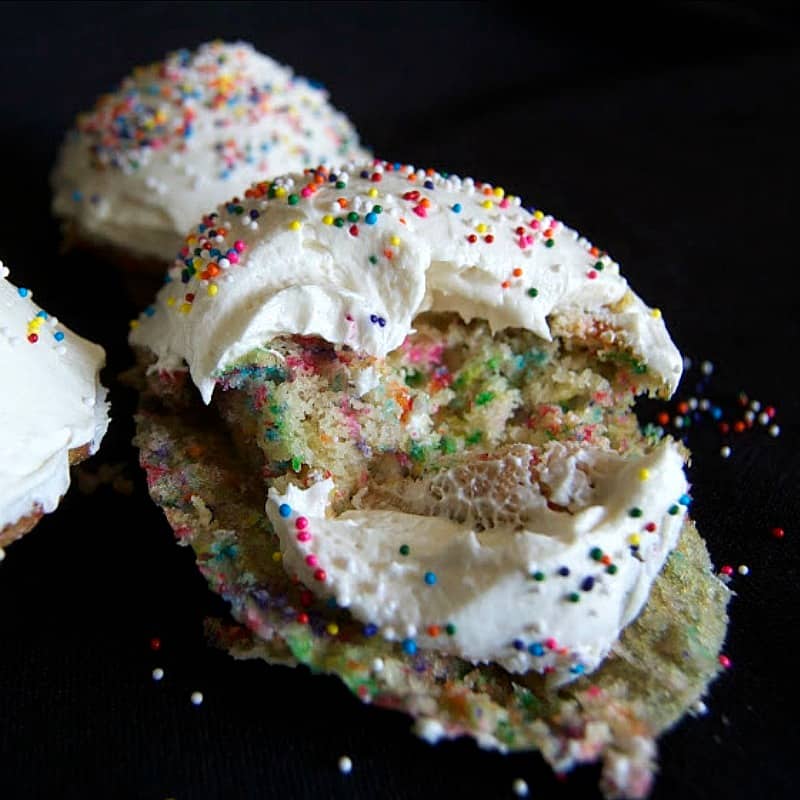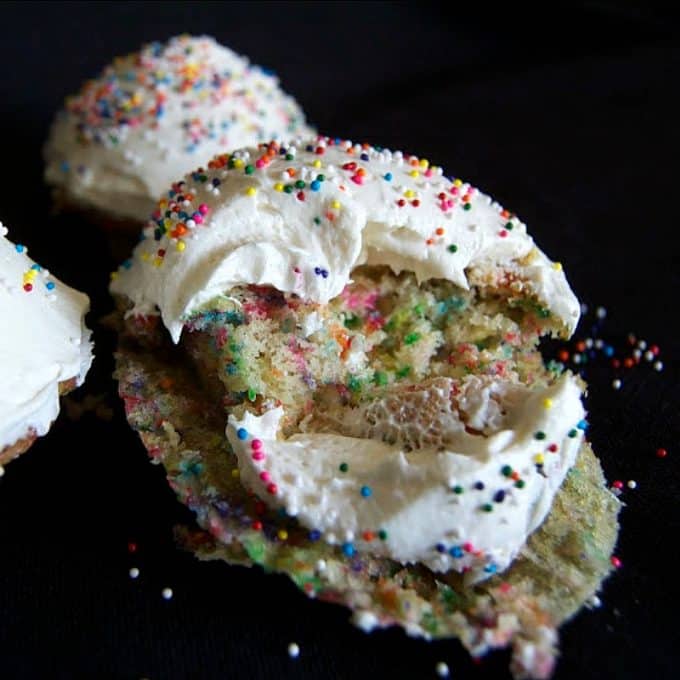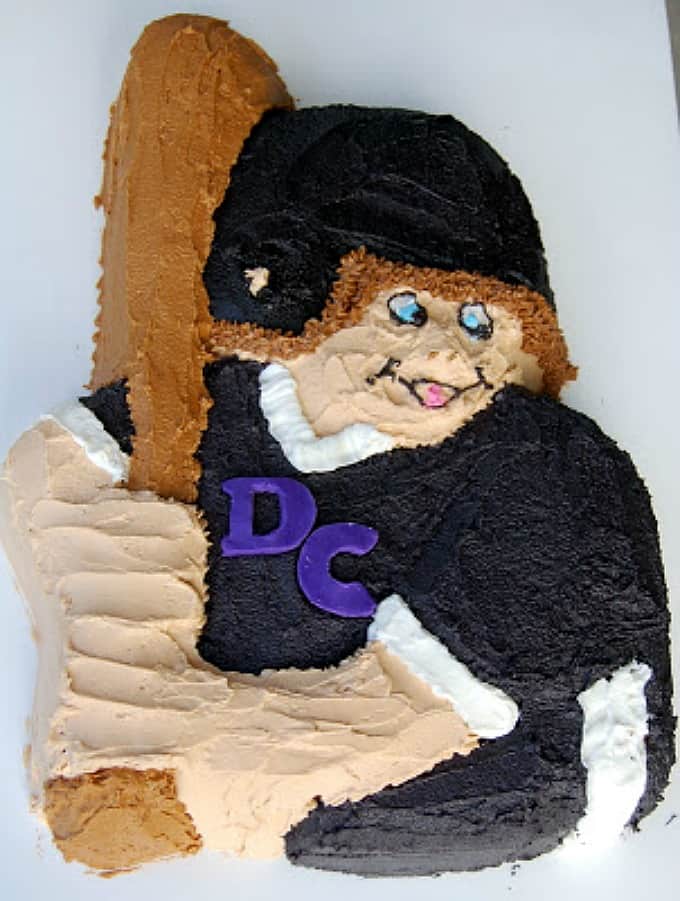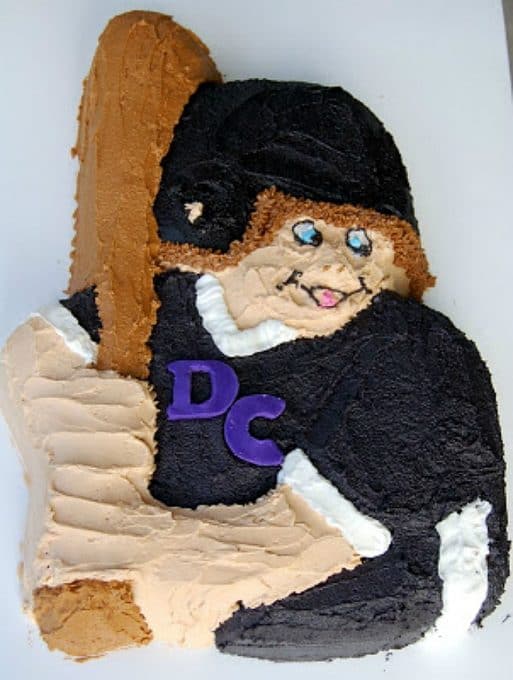 *This post contains an affiliate link(s). These are links that can take you to a product (or products) that I recommend. I do receive a portion of the sales or credit for my future purchases from any items purchased through those links. Your purchases encourage my baking, cooking and butter habit, and contribute to the life of this blog.
I thank you so very much for your support. Let's keep having fun in the kitchen!!