One bite of this Lemon Marshmallow Poke Cake and you'll fall in love. The combination of tangy lemon and soft white cake is simply irresistible. Cover your semi-homemade cake with marshmallow frosting and it's even better!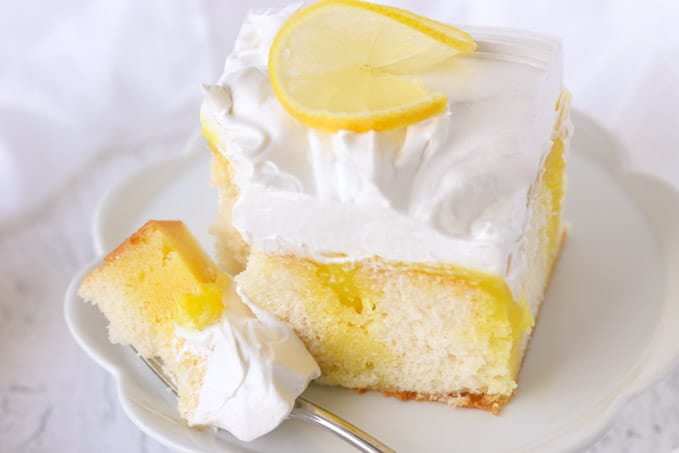 Do you ever feel like lemon cake doesn't get nearly the attention it deserves?
Don't get me wrong, I LOVE a good chocolate cake or peanut butter cake or yellow cake . . . actually any kind of cake.
Cake + Frosting = happy me!
Save this easy Lemon Poke Cake recipe to your favorite Pinterest board!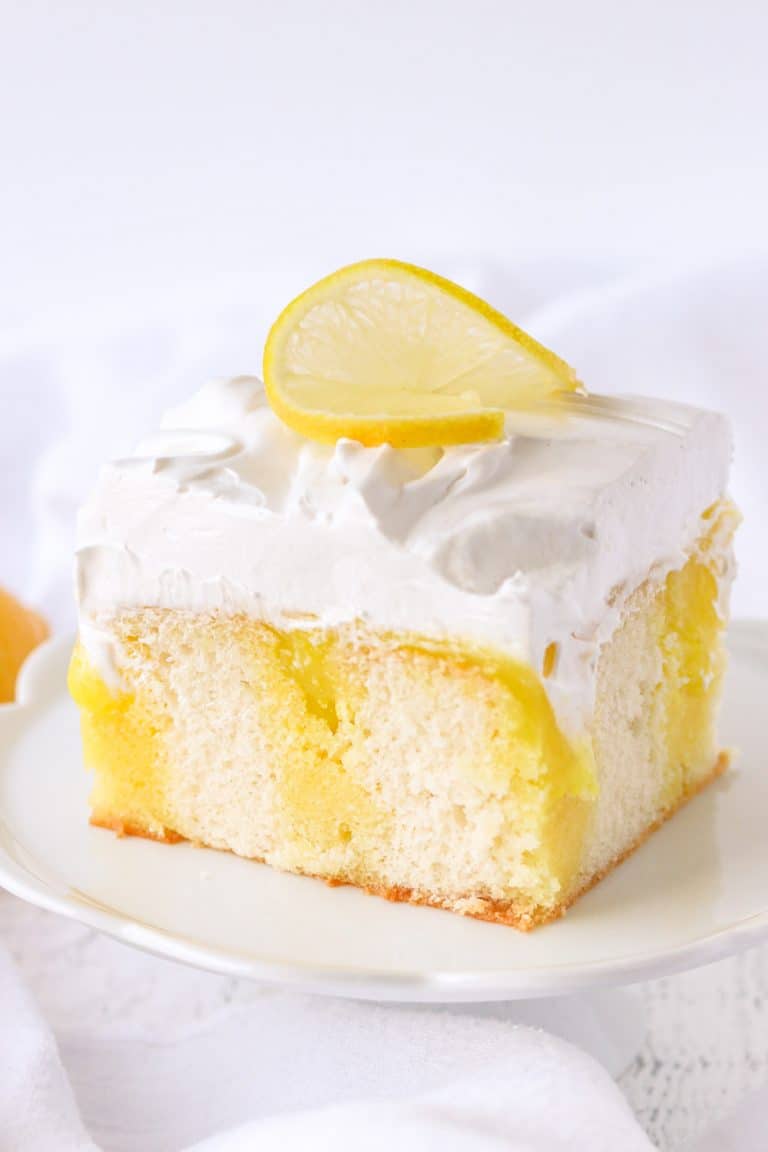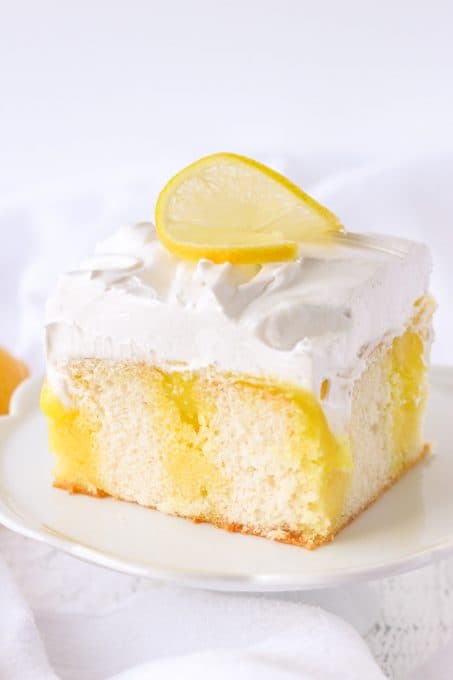 But the bright flavor and zest of a good lemon dessert is something special.
It makes me think of sunny afternoons and breezy spring evenings.
Give me ALL the Lemon Bars and Lemon Ricotta Pound Cake, please!
Today's Lemon Poke Cake recipe is the latest lemon cake to steal my heart.
Maybe it's the lemon on top and throughout or the marshmallow, but I seriously think my eyes rolled back in my head when I tasted this for the first time.
I am SO very excited to share it with you, too!
Are you familiar with poke cake recipes?
You bake a simple cake, poke holes in it and pour gelatin over the cake so that it seeps in.
You can also spread something smooth and delicious on top.
In this case, we use lemon gelatin and lemon pie filling!
The pie filling seeps into every crumb of the cake making it explode with sweet and tangy lemon flavor.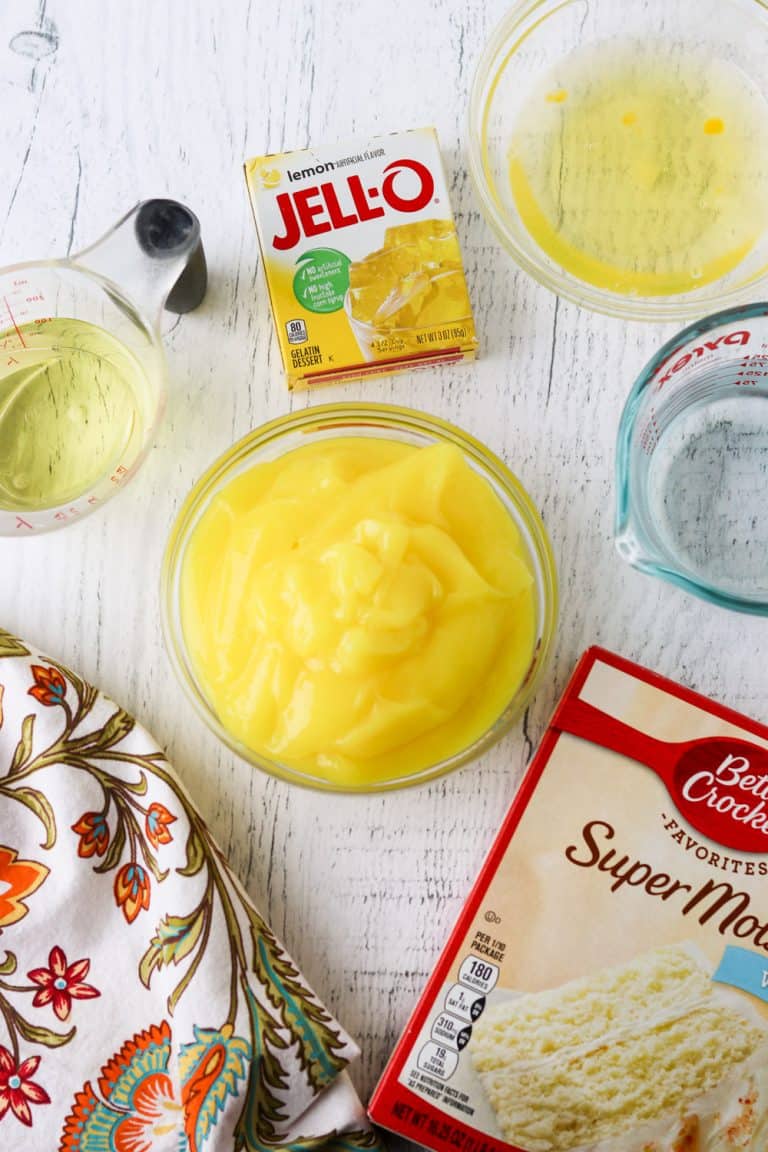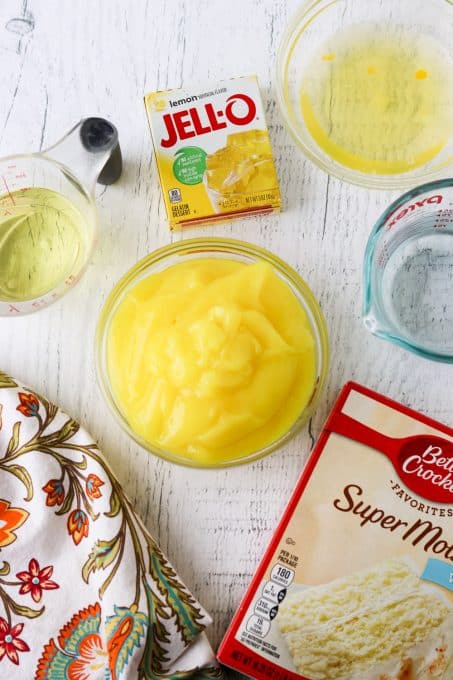 What you'll need for this poke cake with lemon pie filling
White cake mix
Oil
Eggs
Lemon gelatin
Water
Lemon pie filling or Lemon Curd (optional, but just as delicious)
Marshmallow frosting
Make this poke cake!
You won't be sorry, and I'd love to know if you love it as much as I do.
So, please leave me a comment and recipe rating.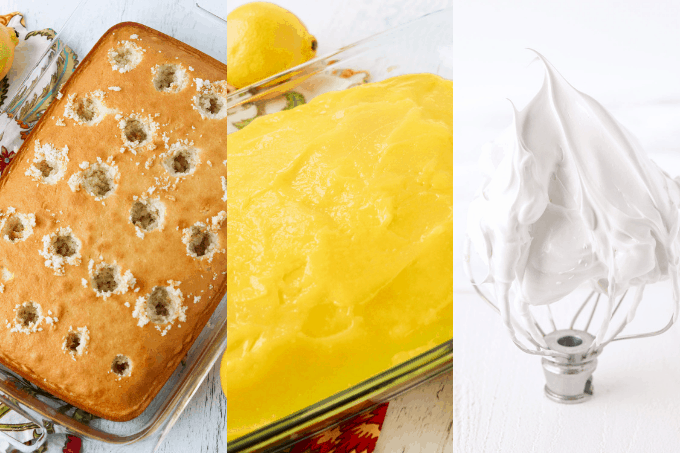 Steps to make the best lemon poke cake
Once you learn how to make poke cake, you'll want to make them every day of the week.
Bake up a boxed cake mix.
Poke holes all over the top of the baked cake.
Pour lemon gelatin over the cake.
Spread lemon pie filling (and lemon curd, if desired) over it.
Chill for several hours or overnight.
Cover with homemade marshmallow frosting and serve immediately!
That's it!
Easy steps, delicious results.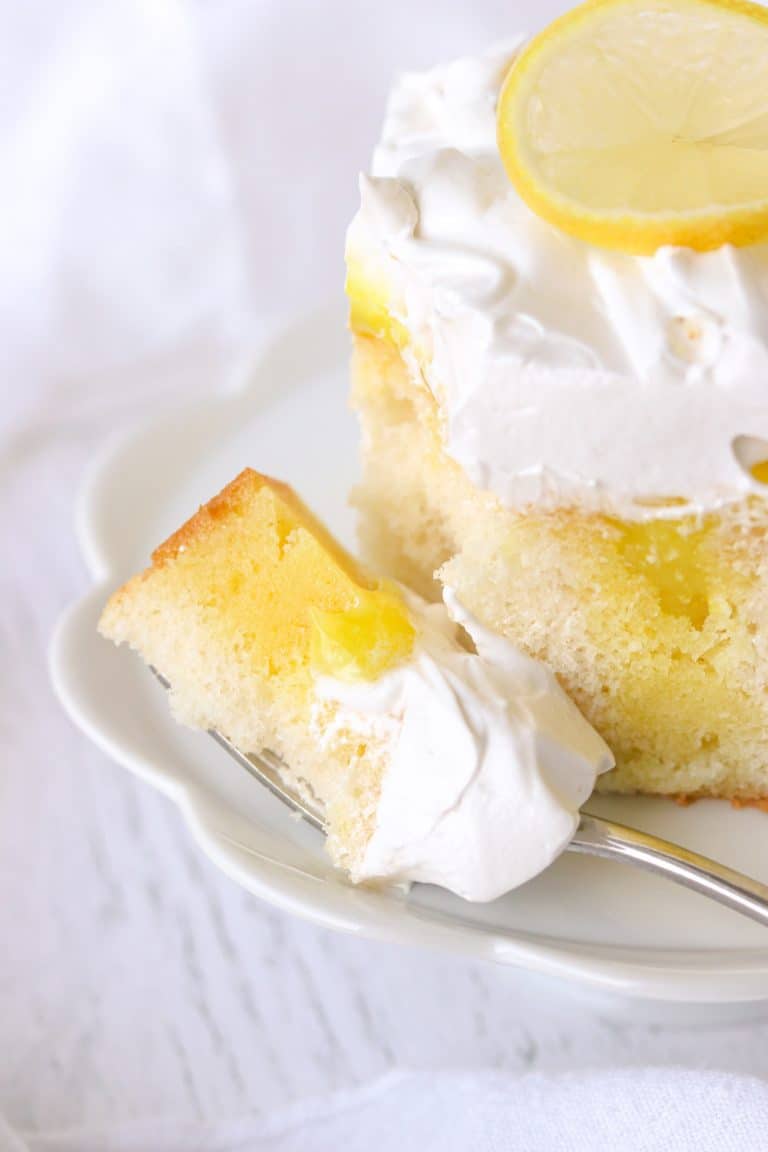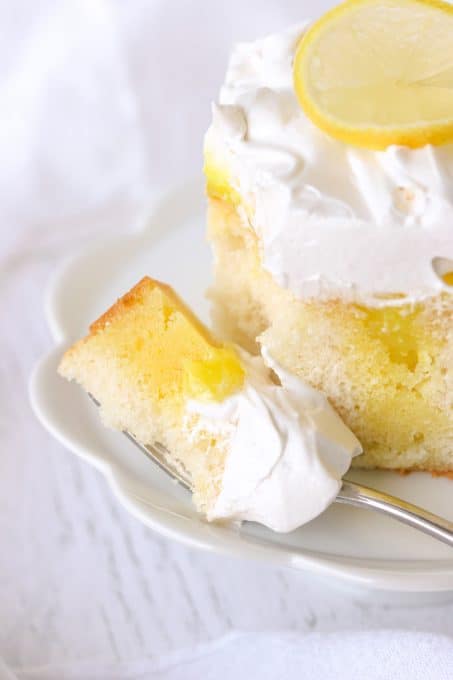 Pro Tips
You can poke holes in your cake using the handle of a wooden spoon, a dowel or even a meat thermometer!
Try to cover the cake evenly with holes for best absorption of the lemon gelatin and pie filling.
Feel free to substitute the boxed cake mix for your favorite vanilla cake recipe if you prefer.
The cake will seem very soft at first. This is normal. It'll continue to set up in the refrigerator.
If you do serve it with the marshmallow frosting, you'll want to serve the cake immediately or as soon as you can after frosting it. This frosting is one that won't be able to sit long and will give you that amazing marshmallow flavor as soon as it's made.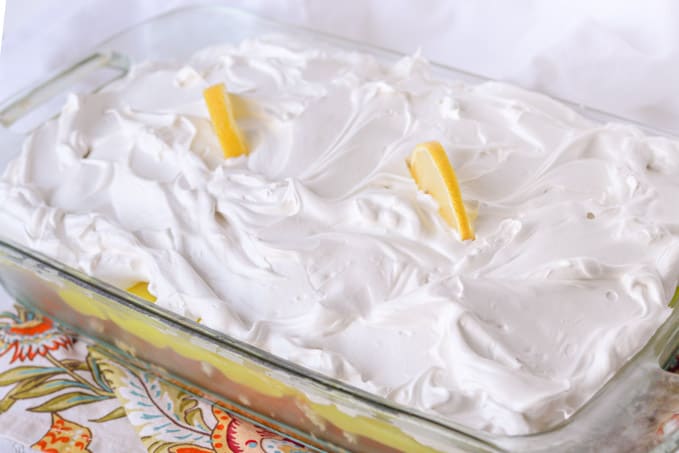 What kind of pan do I need for poke cake?
I made this recipe, as I do all my poke cakes, in a basic 9 x 13 glass baking pan.
Poke Cake and Cake Recipes
Can't get enough poke cake in your life?
Neither can I!
Add these other delicious cake ideas to your Pinterest board or bookmarks.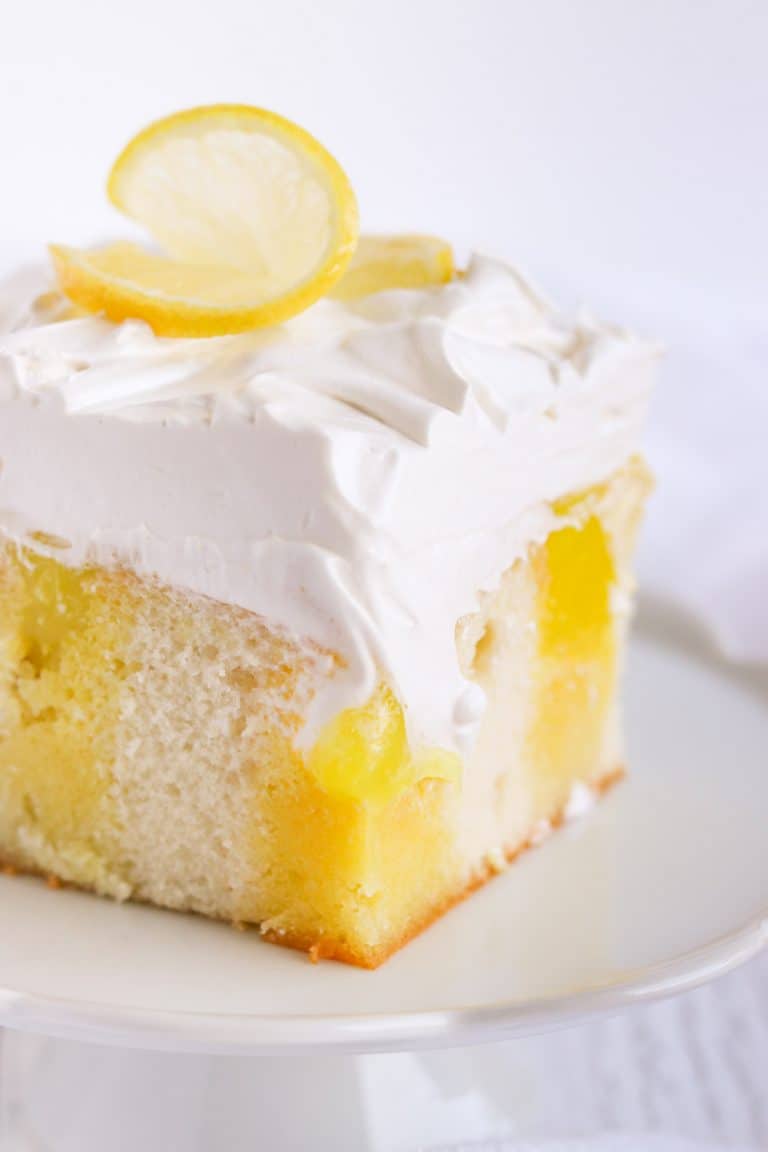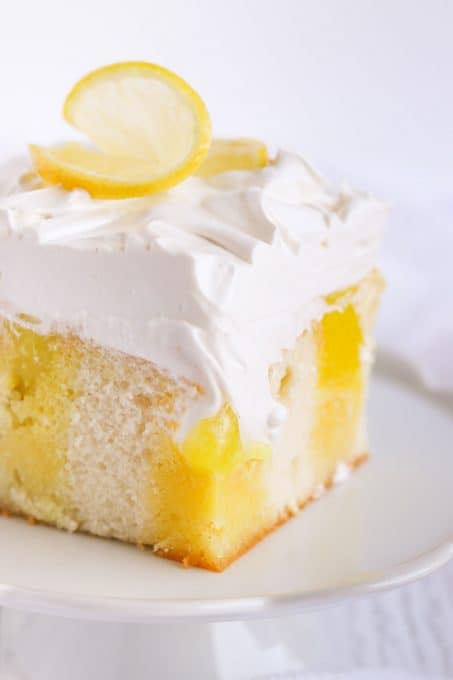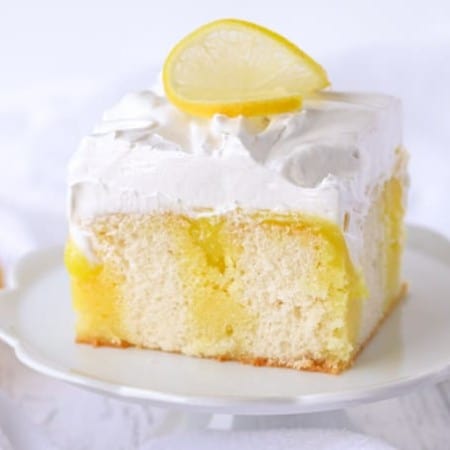 Lemon Marshmallow Poke Cake
One bite of this Lemon Marshmallow Poke Cake and you'll fall in love. The combination of tangy lemon and soft white cake is simply irresistible. Cover your semi-homemade cake with marshmallow frosting and it's even better!
Equipment
9 X 13-inch baking dish

Mixer

Offset spatula

wooden spoon
Ingredients
Cake Mix
16.25 ounces boxed white cake mix
1 cup water
½ cup vegetable oil
3 egg whites
Lemon Gelatin
3 ounces lemon gelatin
1 cup boiling water
22 ounces lemon pie filling or 1 ½ lemon curd recipe
Marshmallow Frosting
5 egg whites room temperature
¾ cup granulated sugar
¼ teaspoon cream of tartar
⅛ teaspoon salt
1 teaspoon pure vanilla extract
Instructions
Cake
Preheat oven to 350°F for a shiny metal or glass pan or 325° for dark or coated non-stick pans. Prepare your 9 X 13-inch baking dish by spraying the bottom with cooking spray.

In a mixing bowl, combine the cake mix, 1 cup water, egg whites, and vegetable oil. Beat at medium speed or vigorously by hand for 2 minutes.

Pour batter into pan and bake for 29-34 minutes or until a toothpick inserted into the middle comes out clean. Place cake on a wire rack to cool for at least 20 minutes.

When the cake has cooled, poke holes halfway into the cake about 1-inch apart with the rounded handle of a wooden spoon.
Lemon gelatin
Combine the cup of boiling water and gelatin and stir until gelatin has dissolved. Spoon evenly over the entire cake.

Spread the lemon pie filling over the cake and cover tightly with plastic wrap. Refrigerate for a minimum of two hours.
Marshmallow Frosting
In the pot of a double boiler, bring some water to a boil and then lower the heat to a simmer. In the top portion of the double boiler, mix together the egg whites, sugar, salt, and cream of tartar.You can also use a heat proof mixing bowl and place it over, but not into, a medium pot of simmering water.

Heat the egg white mixture while whisking constantly until warm and sugar has completely dissolved. The egg will be warm and the mixture smooth when rubbed between your fingers. This should take about 3-4 minutes.

Transfer mixture to your mixing bowl (if not already using it to heat the egg), and using the whisk attachment, and starting on low speed beat the mixture gradually increasing to high speed until stiff, glossy peaks form. This will take about 7-9 minutes.

Add the vanilla and mix until combined. Place dollops of the frosting over the cake and spread with an offset spatula, and serve immediately. Top with slices of lemon or yellow sprinkles, if desired. You can also lightly brown the marshmallow frosting with a small hand blow torch, if you'd like!
Nutrition
Serving: 1g | Calories: 378kcal | Carbohydrates: 67g | Protein: 4g | Fat: 11g | Saturated Fat: 8g | Polyunsaturated Fat: 1g | Monounsaturated Fat: 1g | Trans Fat: 1g | Cholesterol: 9mg | Sodium: 487mg | Potassium: 68mg | Fiber: 1g | Sugar: 50g | Calcium: 87mg | Iron: 1mg
Did you make this recipe?
Share it with me on Instagram and make sure to follow me on Pinterest for more recipes.
Reader Interactions