Lemon Meringue Cheesecakes – individual cheesecakes with a lemon filling and topped with that incredible meringue that makes you say, "oh, so good"! You'll be tasting Spring and they won't last long when served for dessert on Easter!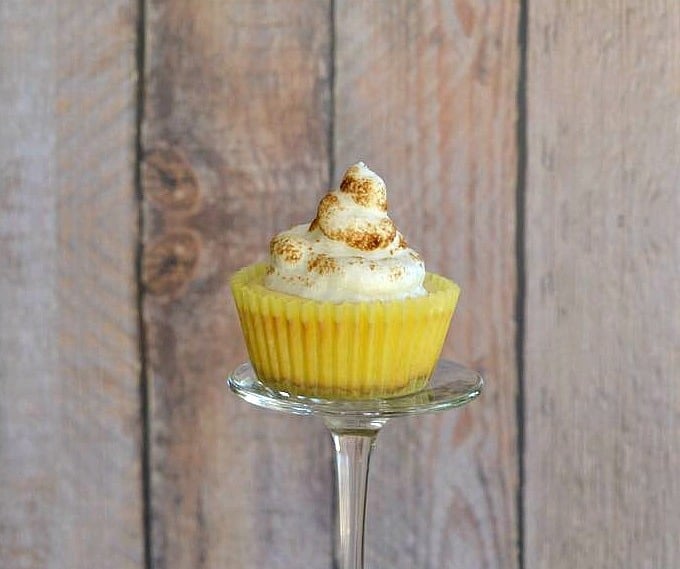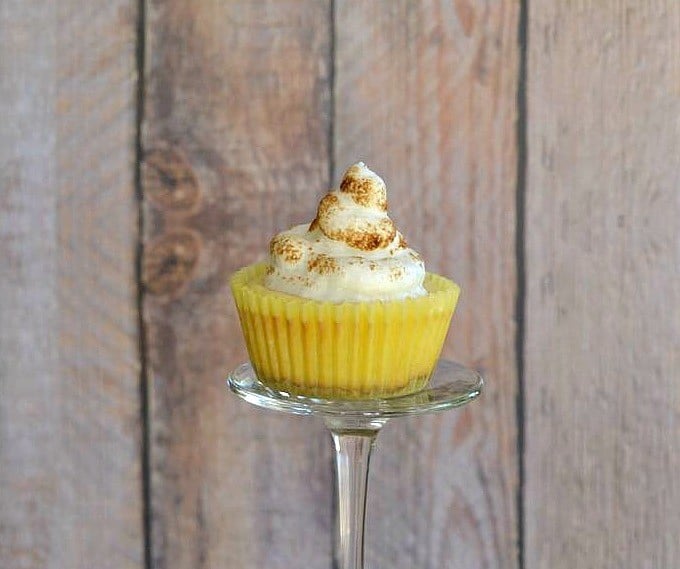 It's been hot here…
Maybe that's the last thing you want to hear, especially if the weather's still a wee bit cold back in the northeast. However, I've been hearing from friends that they're actually starting to see plants pop up through the piles of snow still present in their yards.
So, there's hope! Green grass and warmer temps. are on the way, my friends! This wonderful dessert will make you think of Spring.
SAVE THIS CHEESECAKE RECIPE TO YOUR FAVORITE PINTEREST BOARD!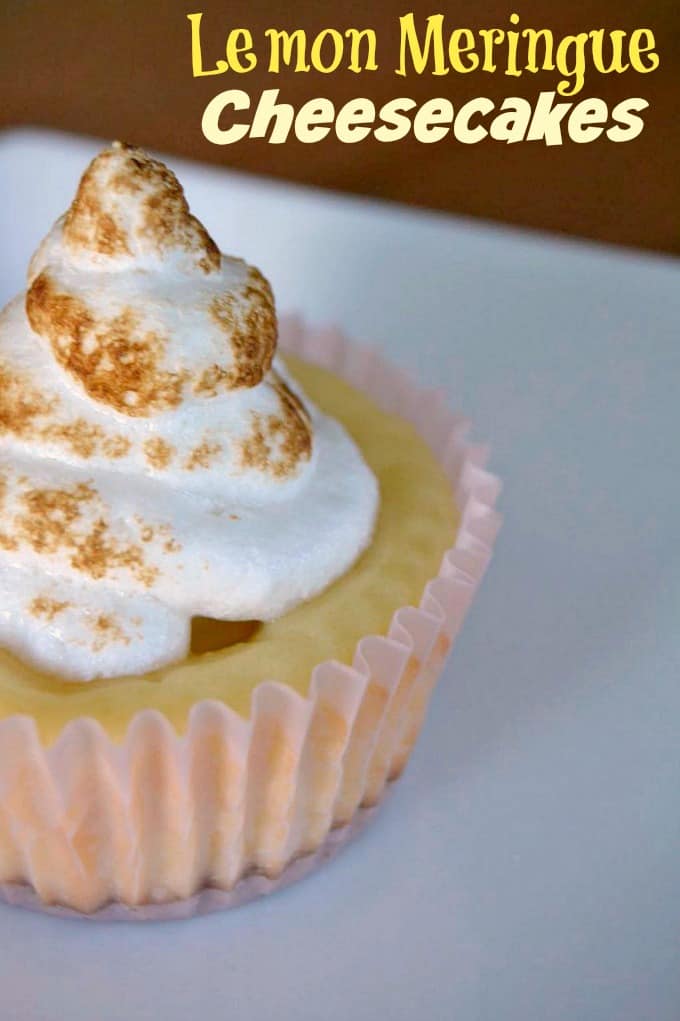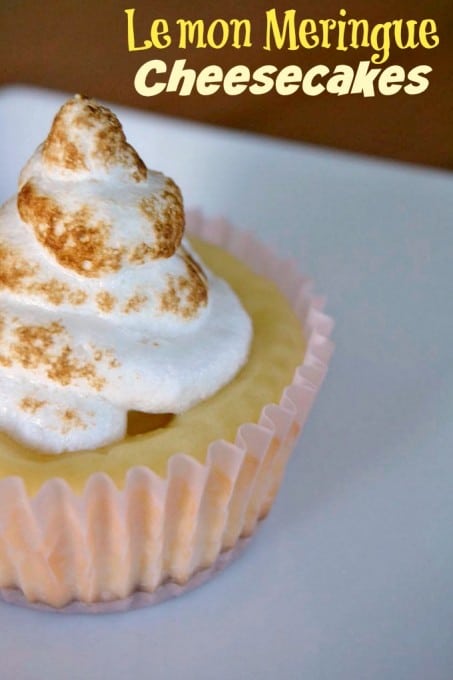 Here in Phoenix, we've had some record breaking temps the past few days. Now, this is all well and good, but when it starts getting this hot the end of March we know odds are that a very hot summer lies ahead.
We've been through it plenty of times before, so this isn't our first go 'round, but I'd love it if we could just hold off on the scorching heat until say…August maybe?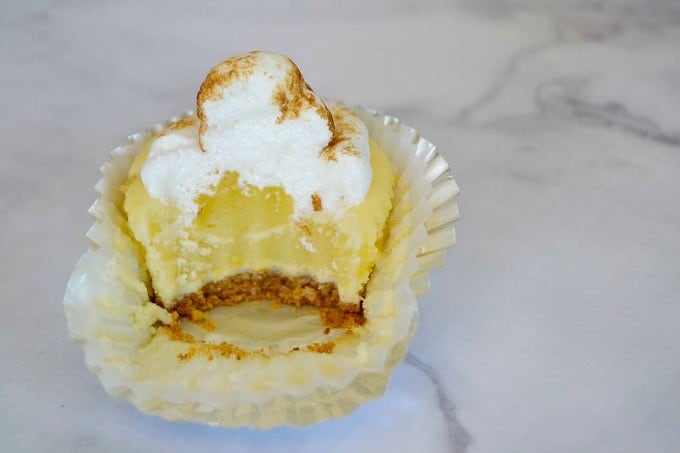 Yeah, I know, wishful thinking. It'd just be nice if we could keep the air conditioner off as long as possible because those electric bills are pricey come summer!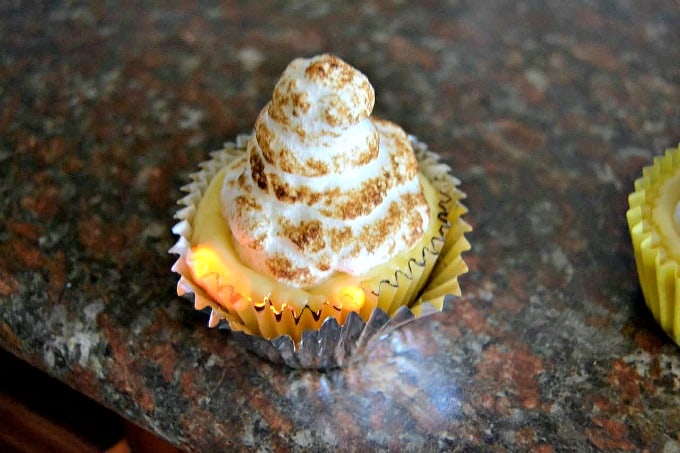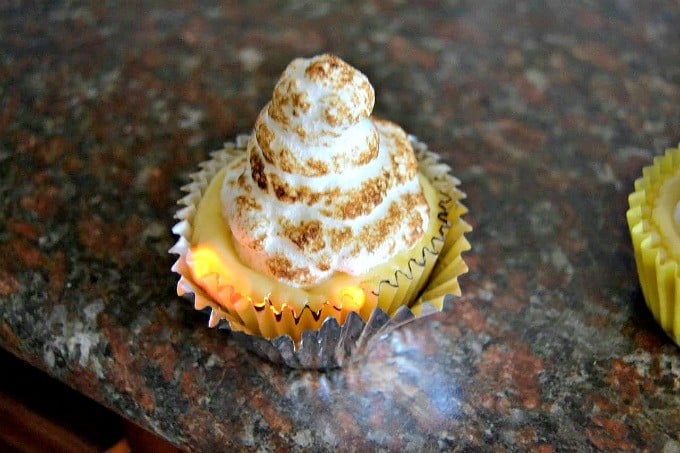 I was in a hurry trying to finish everything up so that I could quickly take pictures before I went out today. I looked away for a minute only to look back and see the above.
Be careful, PLEASE! Fire in the kitchen is really no joke and can be very dangerous. Sometimes it comes in handy to have your camera around your neck at all times, hunh? 😉
It's also handy to have when caramelizing a Creme Brulee. You may not use it often, but when you do need one, at least you have it.
SIGN UP FOR THE WEEKLY 365 DAYS OF BAKING & MORE
NEWSLETTER BELOW!
I adapted this recipe from Annie's Eats.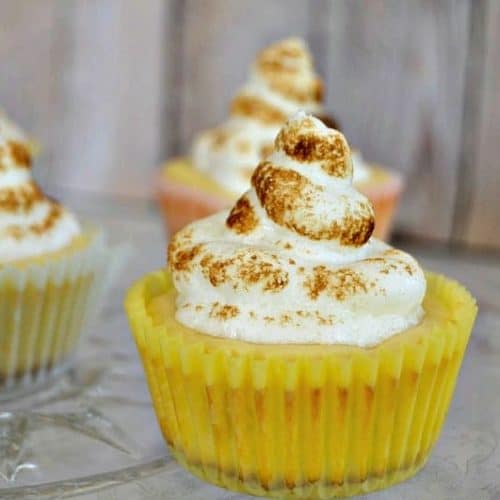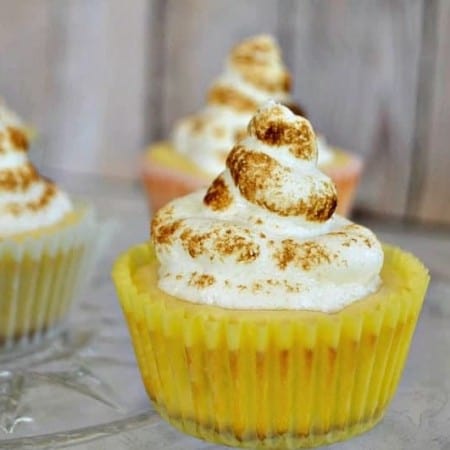 Lemon Meringue Cheesecakes
Ingredients
Cheesecake Crust
¾ cup graham cracker crumbs
2 tablespoons butter melted
1 ½ tablespoons sugar
Cheesecake
16 oz. cream cheese room temperature
¾ cup sugar
pinch of Kosher salt
1 teaspoon pure vanilla extract
2 eggs room temperature
Lemon Filling
4 tablespoons cornstarch
4 tablespoons flour
¼ teaspoon salt
1¼ cups sugar
1½ cup water
Grated rind of 1 lemon
½ cup lemon juice
2 tablespoons butter
4 egg yolks slightly beaten
Meringue
5 egg whites at room temperature
½ cup sugar
¼ teaspoon salt
Instructions
Cheesecake Crust
Preheat oven to 325 degrees F.

Line two cupcake tins with 18 liners and fill the empty cups with water to ensure even baking.

In a medium bowl, melt butter in microwave for 30 seconds to 1 minute. Add graham cracker crumbs and the 1 1/2 tablespoons of sugar. Mix until thoroughly combined.

Using a tablespoonful of the crumb mixture, place into each cupcake liner. Press the crumbs down using the bottom of a small drinking glass.

Bake for 5 minutes so that the crusts are just set and allow them to cool on a wire rack.
Cheesecake
In the bowl of an electric mixer, beat cream cheese on medium-high until fluffy.

Gradually add the 3/4 cup sugar and beat until smooth.

Mix in vanilla and salt and scrape down the sides of the bowl.

Add the eggs, one at a time, making sure to blend well after each addition.
Lemon Filling
In a medium saucepan over medium-high heat, mix together the cornstarch, flour, salt, sugar, and water. Cook while stirring constantly until thickened, about 3 minutes.

Remove from heat and stir in the lemon rind, lemon juice, and butter.

Add 1/2 cup of the hot mixture to the egg yolks while whisking.

Stir the yolk mixture into the remaining hot mixture and cook while stirring for another 3 minutes.
Assembly
Place one tablespoonful of cheesecake batter onto each crust.

Using one tablespoonful of lemon filling, place that on top of the cheesecake filling.

Cover with another tablespoon for cheesecake.

Top with a teaspoonful of lemon filling.

Bake for 22 - 25 minutes or until set., turning the trays halfway through baking.

Allow to cool on a wire rack before transferring to the refrigerator to cool for at least 4 hours.
Meringue
Put the egg whites and sugar in a mixing bowl and place the bowl in a pan of hot water.

Stir constantly until the egg whites feel warm, then add the salt.

Remove the bowl from the hot water and beat with an electric beater until the meringue is stiff and shiny.

Use a piping tip to decorate the cheesecakes and a hand-held torch to brown the meringue.

Keep in refrigerator for storage and until serving.
Did you make this recipe?
Share it with me on Instagram and make sure to follow me on Pinterest for more recipes.
They may not look too pretty after they come out of the oven with that dollop of the lemon filling on the top. But, don't be discouraged because that will be covered up with the meringue. See, we're not talking perfection here, we're talking reality and Martha Stewart I ain't. And I'm ok with that.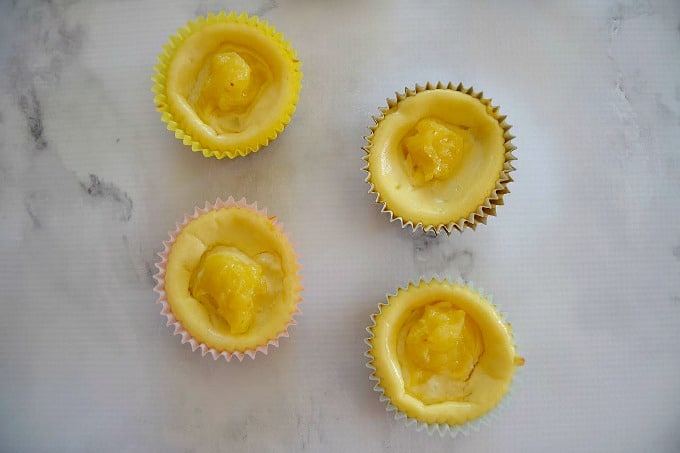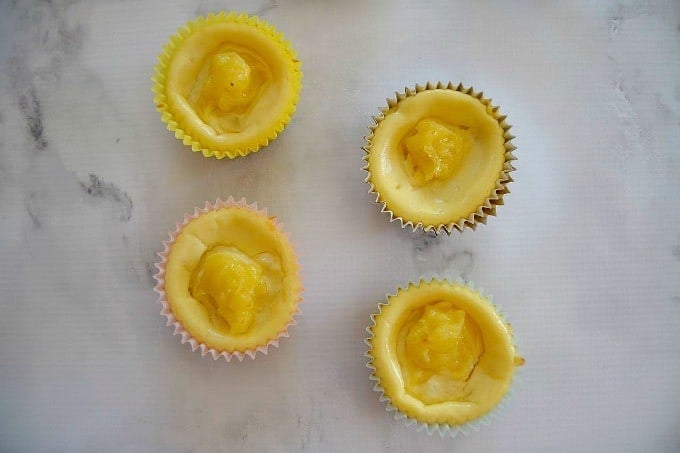 I rate everything I make on a scale of 1 – 4 and these individual Lemon Meringue Cheesecakes earned 3 rolling pins.
While they were quite delicious, they weren't the best dessert I've ever made.
I think it's because I'm not much of a cheesecake fan. I'd prefer to take a slice or two of lemon meringue pie over it any day. These cheesecakes will be so pretty on your Easter dessert table. And, are perfect when you're wanting a lemon fix!
If you like these then you'll LOVE…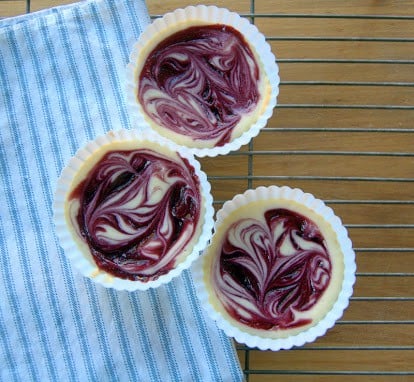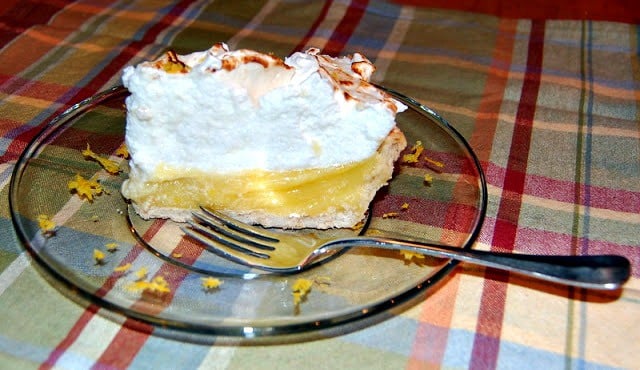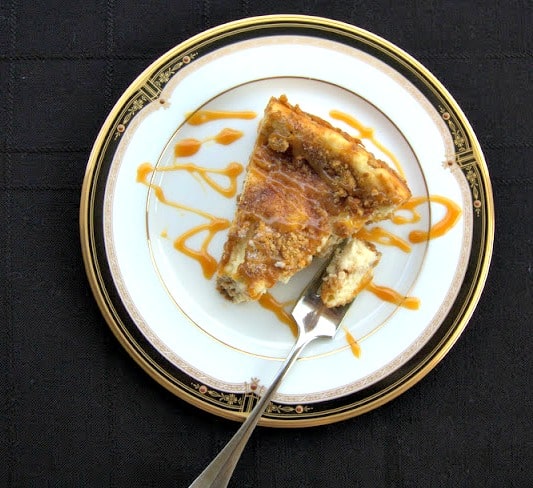 Reader Interactions