Brown Sugar Glazed Carrots are quick and easy to make with mouthwatering flavor. Whole carrots are boiled until tender, then tossed with butter and brown sugar giving them beautifully caramelized edges.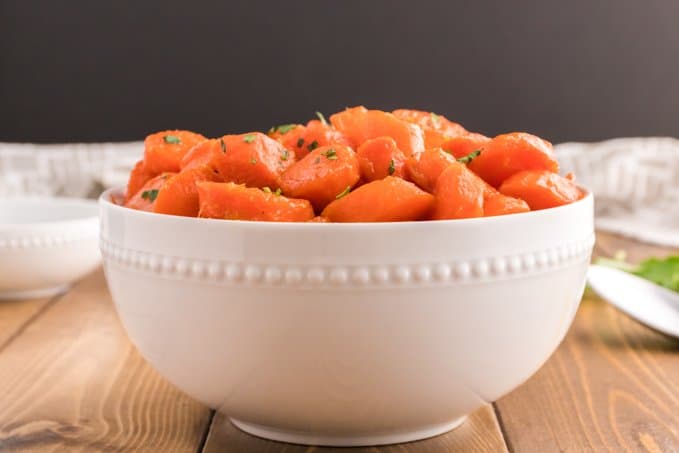 This recipe turns ordinary carrots into an irresistible side dish.
Everything is better with butter and brown sugar. Carrots included!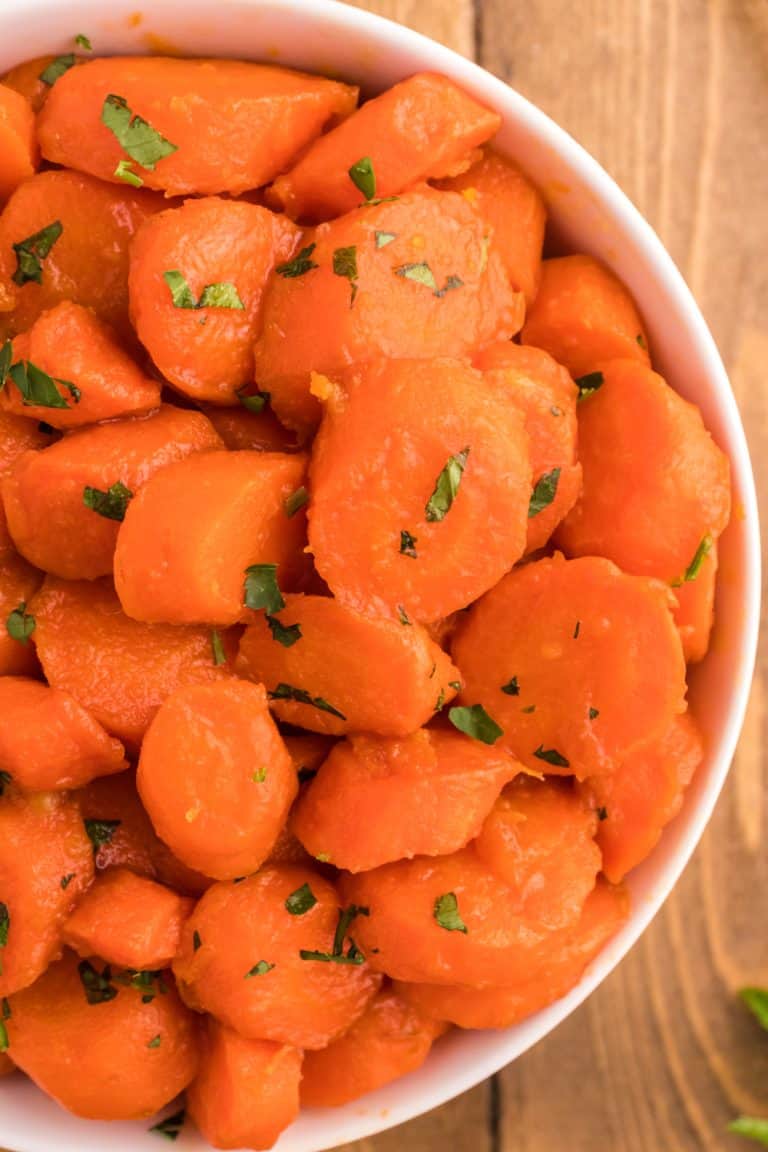 This might be the best possible way to cook carrots. A brown sugar glaze brings out the carrot's natural sweetness while a generous amount of butter and sprinkle of parsley add a savory element. After biting into the slightly crisp edges, the soft carrot nearly melts in your mouth.
If you're looking for a delicious way to cook carrots that the whole family will love, this glazed carrot recipe is a must-try.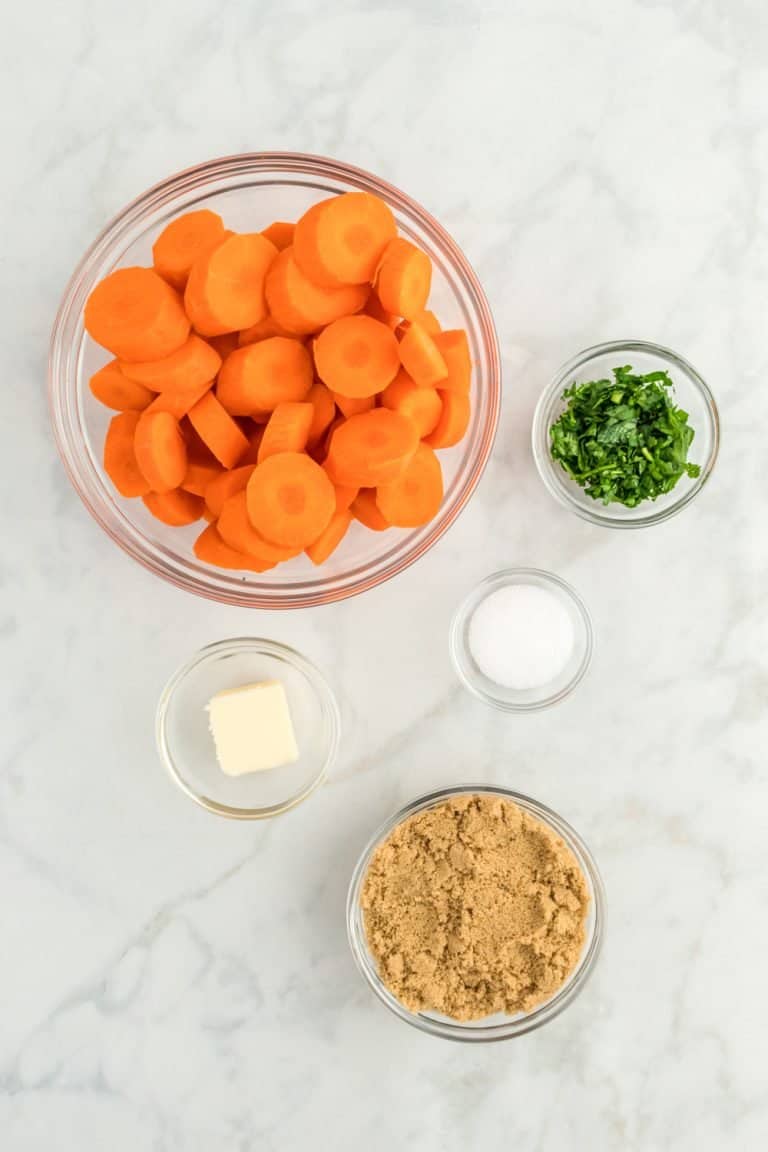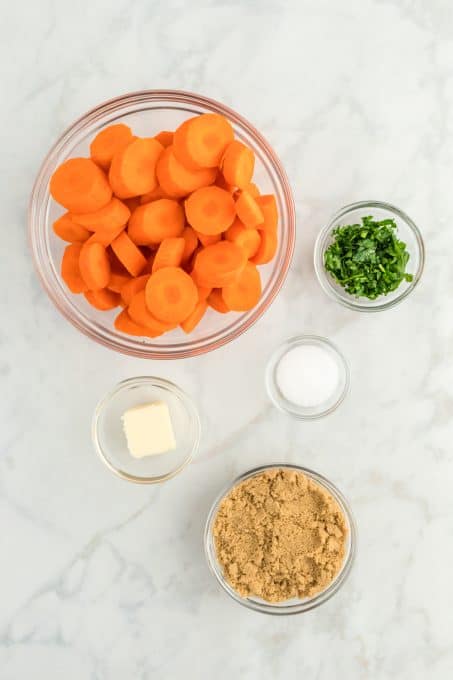 What do I need?
You only need five ingredients to make these easy glazed carrots.
Carrots
Butter
Brown sugar
Salt
Parsley
Notice that the recipe calls for whole peeled carrots, not baby carrots. (Save those for snacking!) Angle your knife to cut off the root, then cut the carrots along the bias into half inch ovular pieces.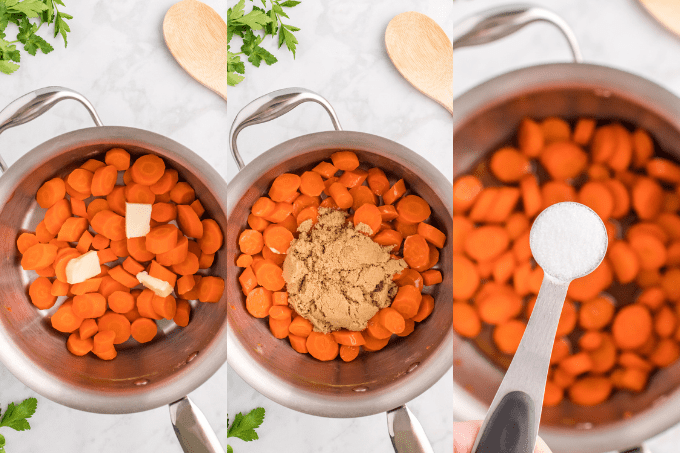 How to cook carrots glazed with brown sugar?
These brown sugar glazed carrots are made on the stove top with just one pot. So there's easy clean up, too!
First, simmer the carrots in salted water until fork tender. This takes anywhere from 10 – 20 minutes depending on how soft or firm you want the carrots to be.
Once the carrots have softened the your preferred consistency, drain out the water. Return the carrots to the pot along with the butter.
When the butter has almost fully melted, it's time to sprinkle in the brown sugar. Let it cook for a few more minutes until the sugar and butter have combined and started to look thickened.
Remove the glazed carrots from the heat and add a little bit of salt. Garnish them with chopped fresh parsley for a pop of freshness and color before serving.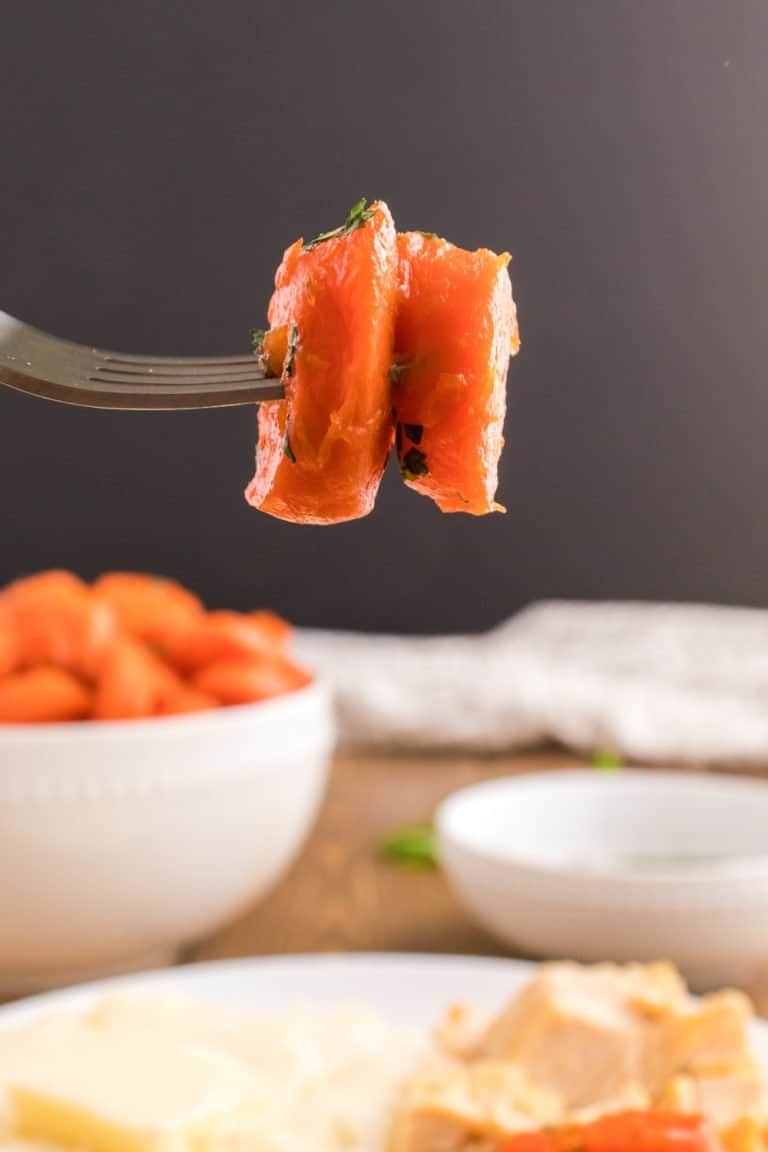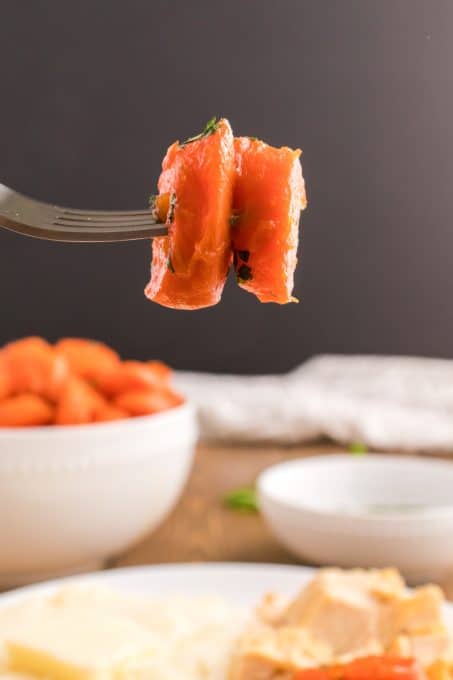 Tips and Tricks
Prefer a sweeter taste in glazed carrots? Don't add the additional teaspoon of salt before serving. Want it less sweet? Reduce the amount of brown sugar to two tablespoons.
The brown sugar coating will likely still be a little bit on the runnier side when you take it off of the stove and that's perfectly fine. It just needs to be thick enough to coat the carrots.
Reserve any extra glaze at the bottom of the pot for drizzling over the glazed carrots just before serving.
What ingredients can I add?
You are more than welcome to dress up this easy carrot recipe with additional spices. I recommend warming spices like pumpkin pie spice, all spice or ground cinnamon which will complement the brown sugar glaze.
Start with a 1/4 teaspoon to 1/2 teaspoon of additional spice and adjust according to taste. Remember, just a little cinnamon can go a long way, so it's best to add a little, give it a taste and then add more if desired.
What substitutions can I make?
Dark brown sugar makes a good substitute for light brown sugar. It will give the carrots a darker color and more robust molasses flavor.
You can also substitute brown sugar with an equal amount (or less) of honey or real maple syrup. Both are delicious!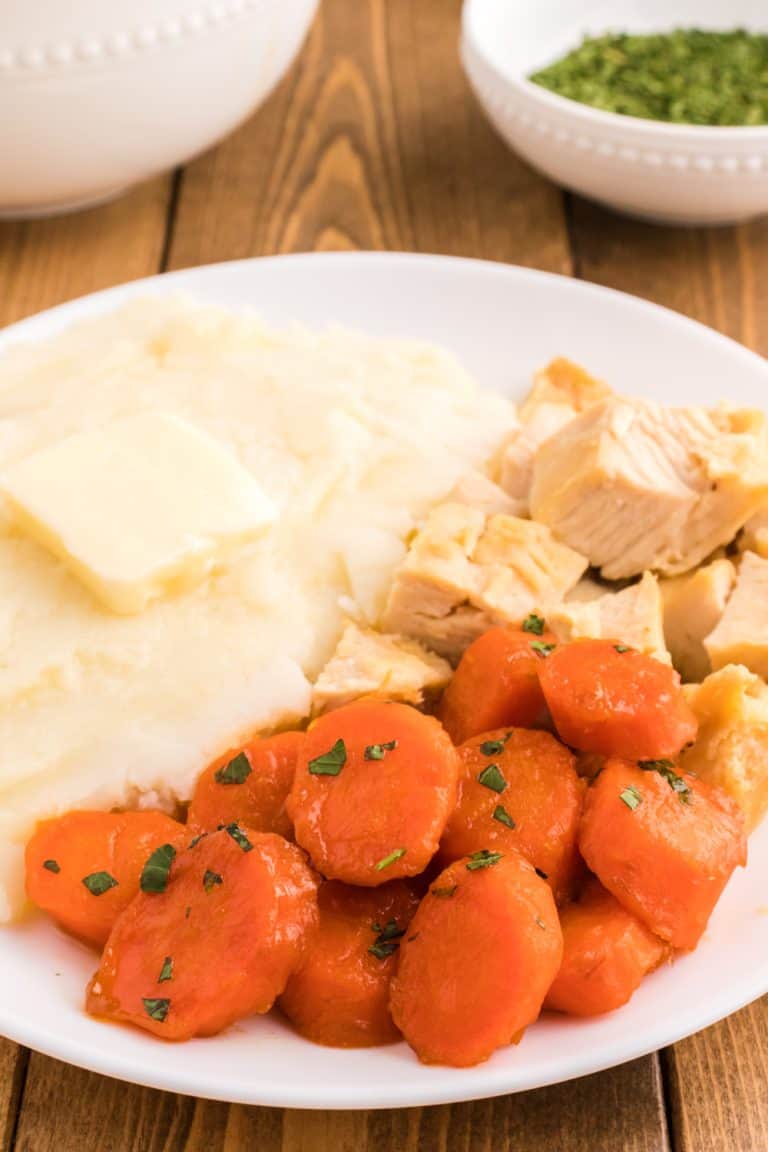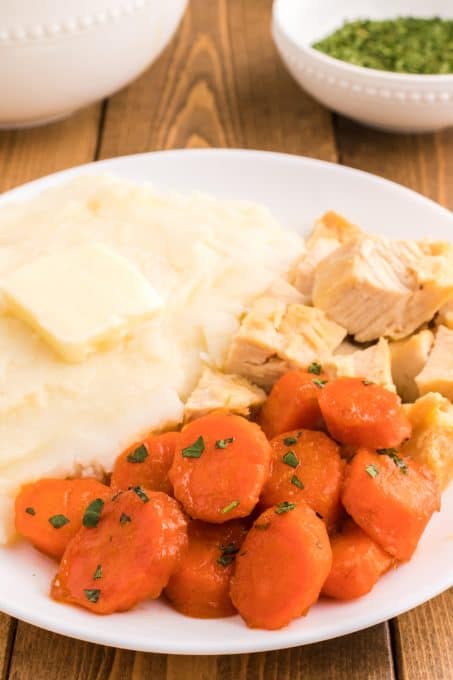 Side Dishes
Sometimes the side dishes are the biggest hits of the meal! That's often the case when Brown Sugar Glazed Carrots are on the menu.
These Maple Roasted Sweet Potatoes are another delicious one to try if you like some sweetness on your dinner table. Our Molasses Glazed Sweet Potatoes are awesome too.
Looking for a savory option? This Roasted Parmesan Broccoli recipe gets rave reviews from everyone who tries it. For the best of both worlds, make a sheet full of Maple Bacon Brussels Sprouts for your next family meal. It brings smoky bacon together with sweet maple in a green veggie you can pop right into your mouth.
For even more menu inspiration, check out these other quick and easy sides we love:
What can serve this with?
Glazed carrots are a sweet side dish that pairs well with all kinds of meats like chicken, beef, ham and turkey. It's a delicious option for your Easter or Thanksgiving meal!
We have a few recipes on the blog that would be fabulous served with a hearty helping of brown sugar glazed carrots on the side.
Main Dishes to Pair with Glazed Carrots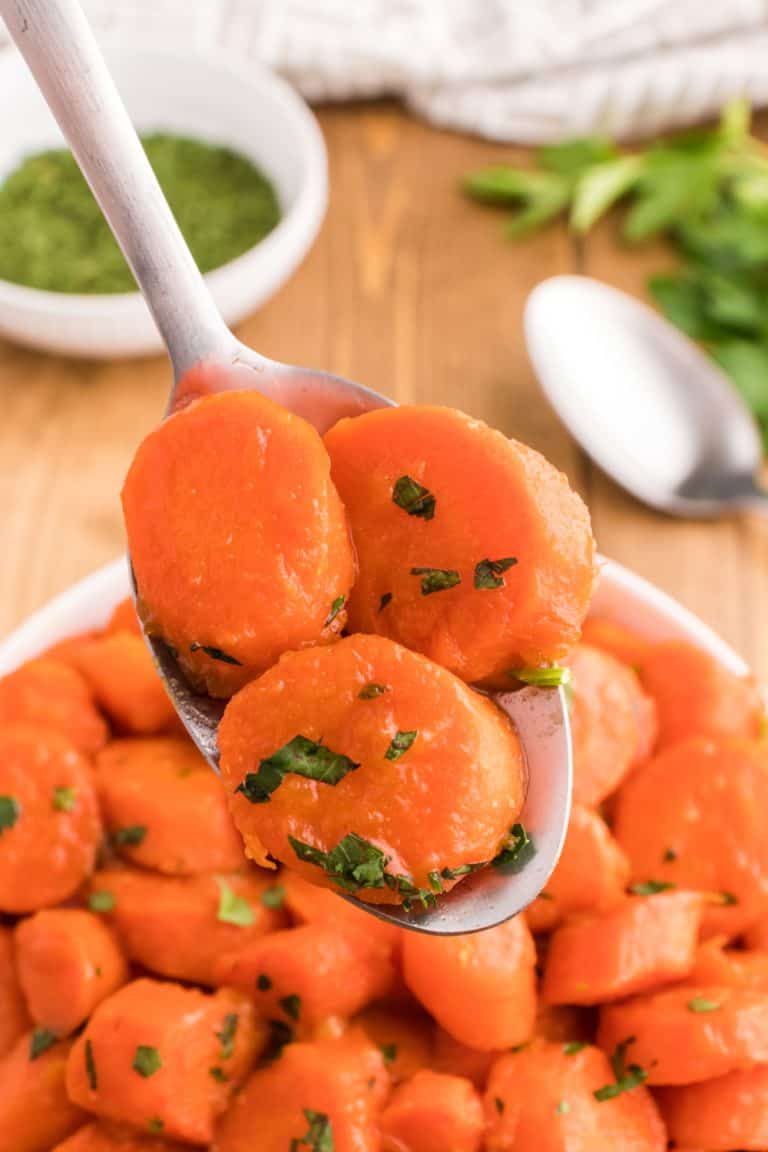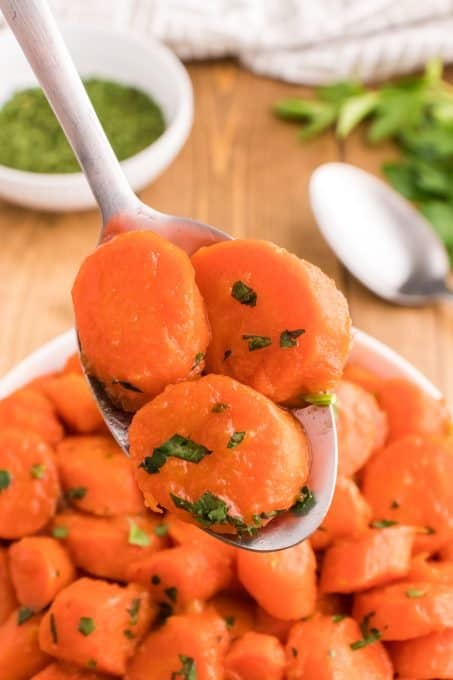 Grab a bunch of carrots and a few simple ingredients to make the best glazed carrots. The rich flavor and tender bite makes them the perfect sweet side dish for a special occasion, but they're easy enough to make any night of the week!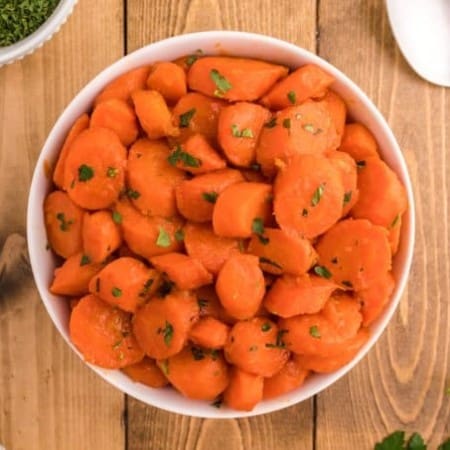 Brown Sugar Glazed Carrots
Brown Sugar Glazed Carrots are quick and easy to make with mouthwatering flavor. Whole carrots are boiled until tender, then tossed with butter and brown sugar giving them beautifully caramelized edges.
Equipment
chef's knife

cutting board

medium size pot
Ingredients
1 ½ lbs. carrots peeled and sliced on the bias into ½ inch pieces
2 teaspoons salt divided
1 ½ tablespoons salted butter
½ cup packed light brown sugar can use dark brown sugar
freshly chopped parsley for garnish if desired
Instructions
Place carrots in a medium-size pot. Add 1 ½ teaspoons of salt and cover completely with cold water at least 1 inch above the carrots. Give the carrots a stir.

Bring to a boil and the lower the temperature to a simmer. Cook for about 10-20 minutes of until carrots are tender. The cooking time is determined on the size of the carrots and how soft or firm you like them.

Drain the carrots and return to the pot.

Cut up the butter and place into the pot. Over medium heat, melt the butter. Once butter is nearly melted, add brown sugar and continue to cook over medium heat, stirring occasionally, until brown sugar is completely melted and begins to thicken (about 5 minutes). Remove from heat. Mix in remaining ½ teaspoon of salt.

Serve topped with a garnish of freshly chopped parsley, if desired.
Nutrition
Serving: 1person | Calories: 141kcal | Carbohydrates: 29g | Protein: 1g | Fat: 3g | Saturated Fat: 2g | Polyunsaturated Fat: 1g | Monounsaturated Fat: 1g | Trans Fat: 1g | Cholesterol: 8mg | Sodium: 881mg | Potassium: 388mg | Fiber: 3g | Sugar: 23g | Vitamin A: 19032IU | Vitamin C: 7mg | Calcium: 54mg | Iron: 1mg
Did you make this recipe?
Share it with me on Instagram and make sure to follow me on Pinterest for more recipes.
Reader Interactions