Mac and Cheese is a classic childhood favorite for many. Let this one be a fond memory for your kids and grandkids when they're older.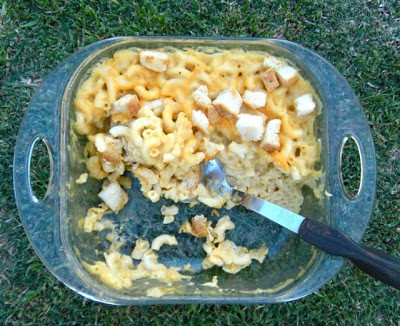 With the gooey cheddar cheese, coated bread crumbs, and baked macaroni, this Mac and Cheese is something else.
It seems like it's been forever since I've posted anything, but it's only been 2 days. I think it's because I keep thinking that today is Thursday, too, instead of Friday.
Ok, DUH! I really meant to say that the other way around – feels like it's Friday, instead of it actually being THURSDAY. Yeah, and this while I'm drinking a LARGE cup of java. I don't know, some days I've got it, some days not so much. This could be one of those days. haha
Today I give to you Kid-Friendly Macaroni and Cheese! I'm calling it "kid-friendly" because it only contains one type of cheese, sharp Cheddar, and not the Gruyere as in this recipe for mac & cheese that I posted on Day 94. I look at that as being the more "adult version".
I'm not too sure kids under the age of 10 would go for Gruyere since they're so used to what comes in the blue box from Kraft. I love that stuff, too, on occasion, but homemade mac and cheese warms my heart and brings me back to 6th grade Home Ec. class.
That mac and cheese we made that day was the best I'd ever had! Granted I was only 11, but still! I haven't been able to duplicate it and seeing as how it's been (ahem) over 30 years, I don't know if I'd even remember how it tasted.
SAVE THIS MAC AND CHEESE RECIPE TO YOUR FAVORITE PINTEREST BOARD!
I also wanted to make a version that a toddler would eat. When I went over to Athena's the other night to give her a HUGE hug upon hearing the news that Ava would be returning home, she mentioned that Mac & Cheese is her daughter's favorite food.
Ava is the toddler I've written about who had been missing since February 22 when her biological father did not return her after a custodial visitation. They were located over the weekend in Mexico and her father was arrested for kidnapping. Ava was reunited with her mommy on Tuesday and needless to say, it was an extremely joyous reunion. It was a long and extremely stressful time for the family while she was missing.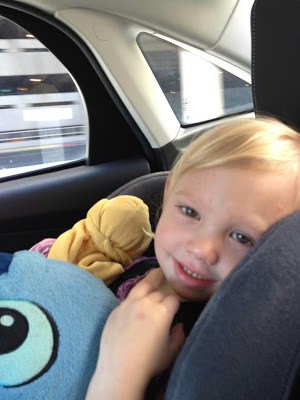 Ava on her way home from the airport!! Such a WONDERFUL site to see!!
I decided to make Ava a meal to celebrate her homecoming complete with Mac & Cheese, applesauce, salad, and brownies. I admit, I only made the entree from scratch even though I have made applesauce and of course, brownies in the past.
It was absolutely wonderful to see mother and daughter together last night when I dropped the food off, to see this child playing with the toys that hadn't been touched for well over a month, and to hear the joyous sound of her laughter.
Ava is home.
Thank you again for all of your prayers and positive thoughts! It made a world of difference and I know the family is extremely grateful for all of the help and support they received during that difficult time!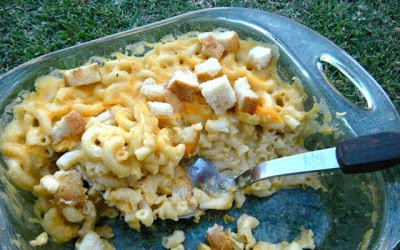 This recipe was adapted from my New Doubleday Cookbook, p. 475-476; authors, Jean Anderson and Elaine Hanna; publisher, Bantam Doubleday Dell Publishing Group, Inc., an imprint of Random House, Inc.; ISBN 0-385-19577-X.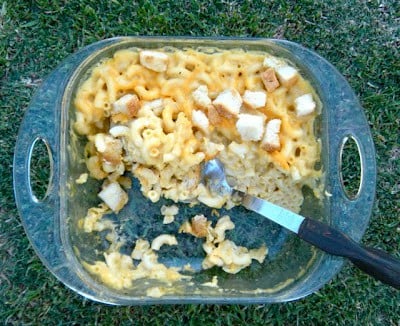 Kid-Friendly Mac and Cheese
Ingredients
¼ cup (4 tablespoons) unsalted butter
¼ cup flour
1 teaspoon ground mustard
2 ½ cups milk
3 cups shredded sharp cheddar cheese
¼ teaspoon salt, and more if needed
freshly ground pepper to taste
½ lb. elbow macaroni
5-6 slices French bread, cubed
2 tablespoons salted butter, melted
1 tablespoon Worcestershire sauce
Instructions
Preheat oven to 350 degrees, and prepare an 8x8-inch baking dish by spraying it with cooking spray.

Place the French bread cube in a single layer on a rimmed baking sheet. Drizzle with butter and toss to coat; set aside.

Melt butter in a large saucepan over medium heat. Whisk in flour and mustard.

Slowly whisk in milk and continue to cook until thickens.

Mix in 2 cups of the shredded cheese, salt, pepper, and Worcestershire sauce. Add more salt if needed.

Cook and stir until cheese melts. Remove from heat and mix in the macaroni, stirring until thoroughly combined.

Pour into prepared baking dish. Sprinkle 1/2 the remaining cheese on top.

Cover with buttered bread cubes and sprinkle with remaining cheese. Bake for 30 minutes or until golden brown.
Nutrition
Calories: 295kcal | Carbohydrates: 37g | Protein: 8g | Fat: 12g | Saturated Fat: 7g | Cholesterol: 31mg | Sodium: 74mg | Potassium: 241mg | Fiber: 1g | Sugar: 6g | Vitamin A: 410IU | Vitamin C: 0.3mg | Calcium: 128mg | Iron: 0.9mg
Did you make this recipe?
Share it with me on Instagram and make sure to follow me on Pinterest for more recipes.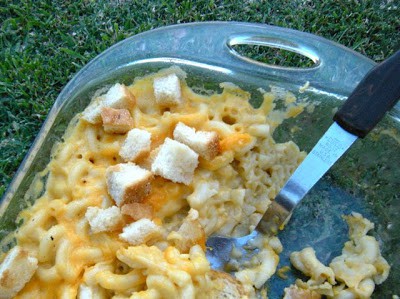 I rate everything I bake on a scale of 1-4 with 4 being the best and this Kid-Friendly Macaroni and Cheese earned 3 1/2 rolling pins. I actually tripled the recipe – twice for Athena and her family, filling a 9 X 13-inch dish for them, and I made the 8 X 8-inch dish for us, hence the pictures of the half-eaten baking dish.
Everyone liked the flavor of this mac and cheese, but I think I preferred the depth of flavor in the other one more.
I was going to make this with some shell macaroni, but elbows are always fun to eat and more likely to remind a toddler that this is their mac and cheese. Oh yeah, and the buttered cubes of bread on the top?
Pasta is something we have often at the 365 household, and we certainly don't want the same thing every time. So, these recipes are kid approved and really delicious.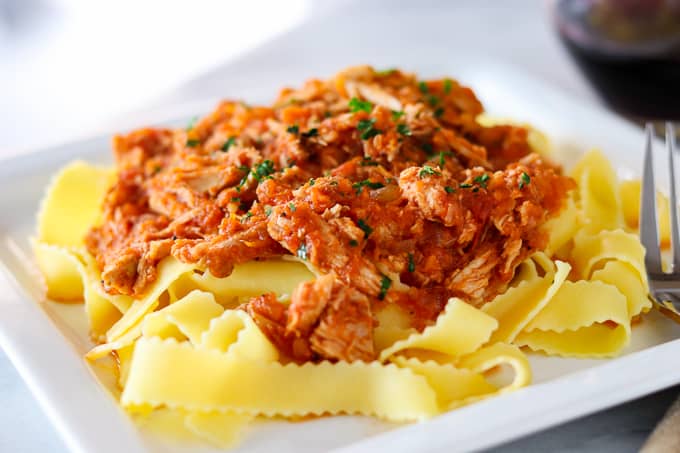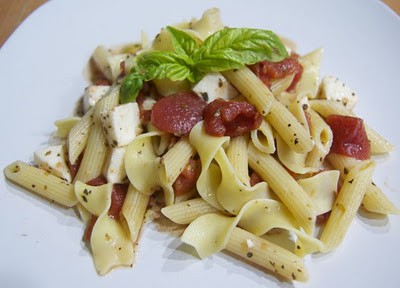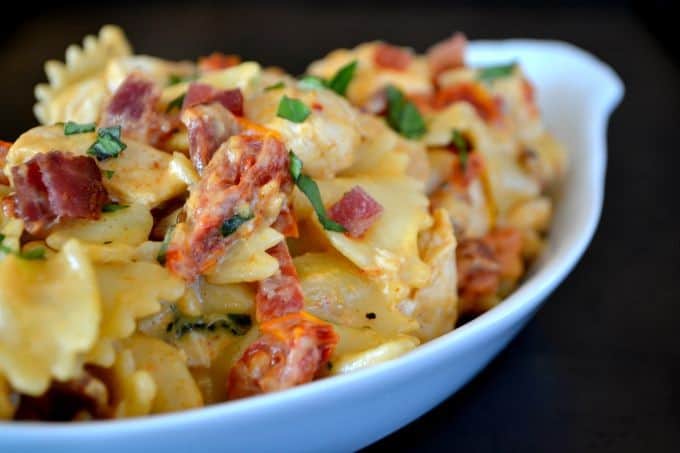 A must and so warm, and comforting and they add a really awesome crunch. I hope you enjoy it!
Oh yeah!
Tomorrow, I'll be doing my first guest post!!! I'm SO excited about it! It's on a WONDERFUL blog and I'll be sharing one of our family's MOST FAVORITE recipes!! This dish is only made on special occasions such as Easter or birthdays which makes it that much more special.
Reader Interactions