This delicious and easy Meatloaf is one the whole family will enjoy. With a sweet, tangy sauce on top, this dinner recipe is definitely comfort food at its' finest when paired with a side of mashed potatoes or used for a sandwich.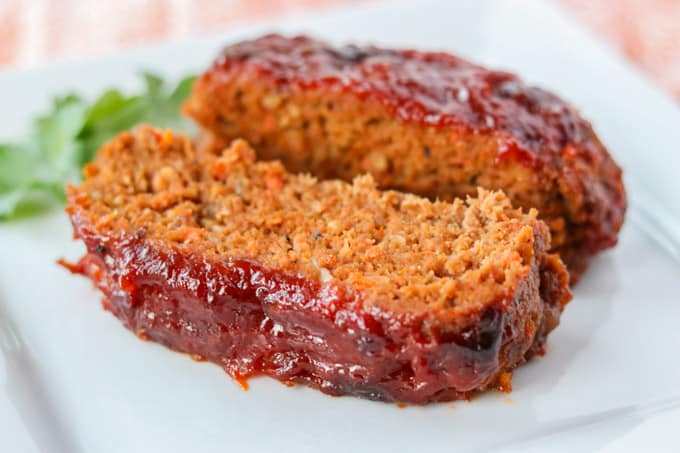 A simple meatloaf recipe like this one is a star-studded event for your weekday dinner. Whether it's an Italian meatloaf, a paleo meatloaf, or a slow cooker meatloaf, they're all great. And THIS meatloaf is just as good if not better. Maybe I'm biased because I'm really liking my cooking lately, or it's the fact that I've been deprived of a good meatloaf recipe all my life. One of the things I like about eating this is that you can have a variety of ingredients in the meatloaf to give it lots of flavor!
I have to be honest, I always dreaded hated when my mother would make her meatloaf for dinner. Hers was dry and I had to drown it in ketchup. Not only that, but just the word "meatloaf" is a HUGE turnoff for me! Meat. Loaf. A loaf of meat. BLECH!!
SAVE THIS CLASSIC MEATLOAF RECIPE TO YOUR FAVORITE PINTEREST BOARD!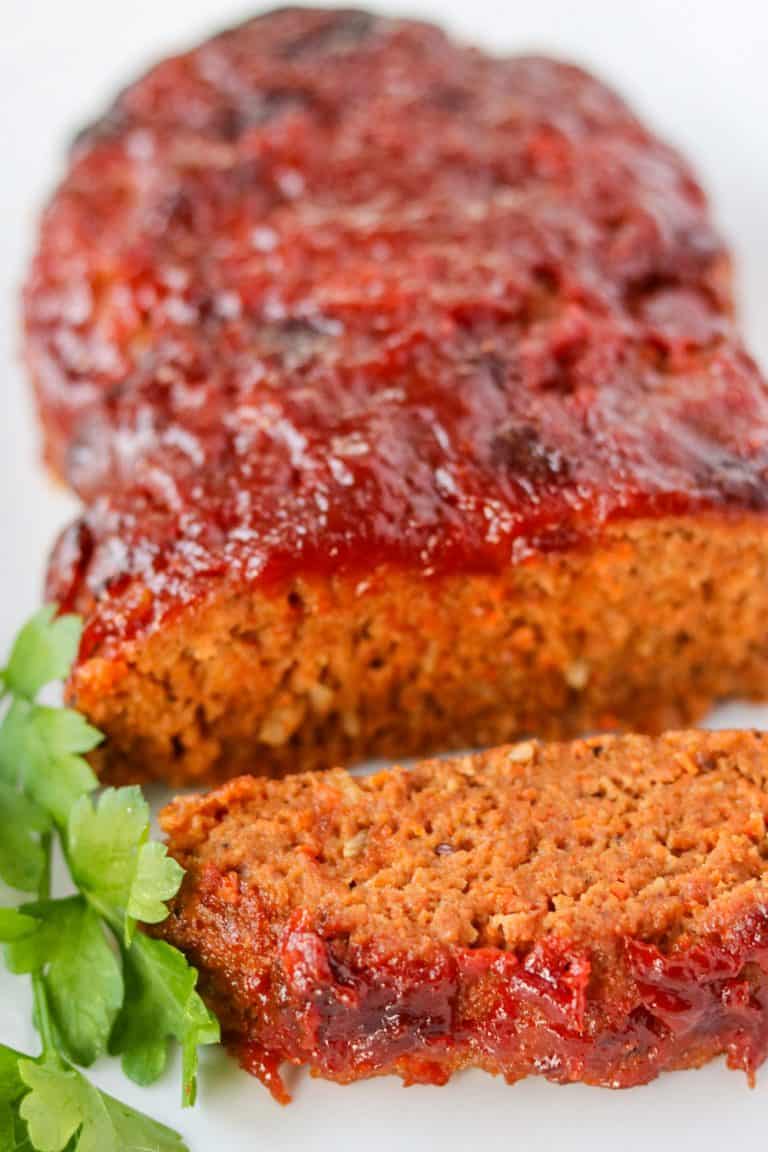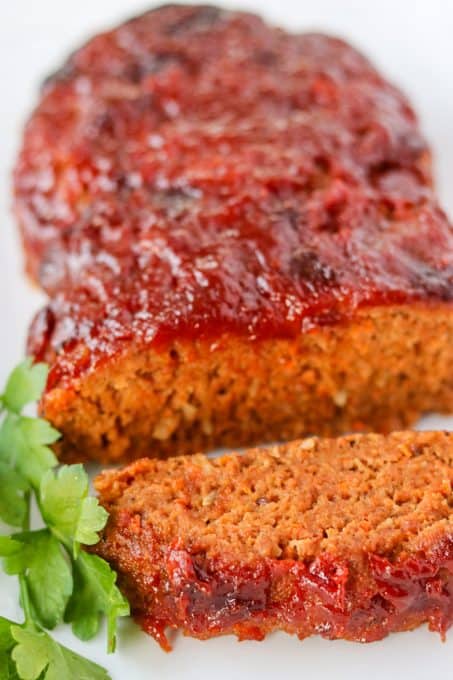 Really? Who thought of that?! I know that that's what it is, but that word… Couldn't it have been named something like, I don't know, meat… Ah, phooey, I can't think of anything. I looked up synonyms for loaf on Thesaurus.com and found some interesting ones. All we need to do is insert the word meat in front of them.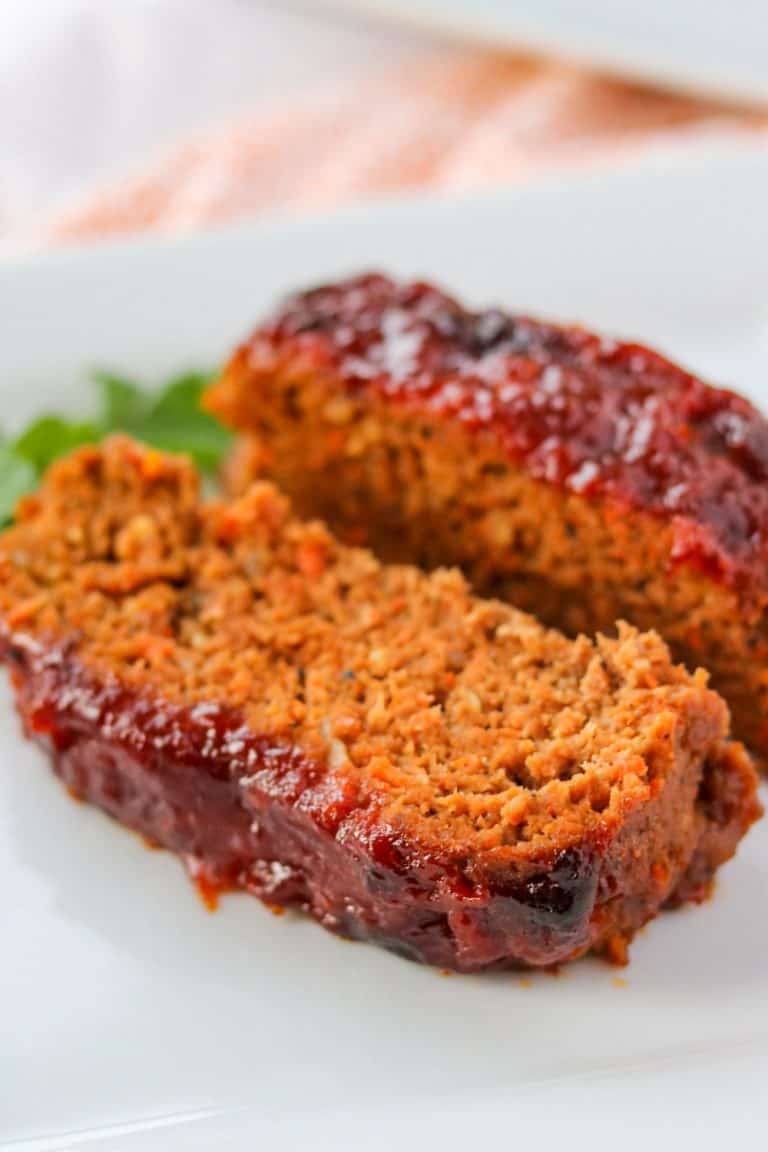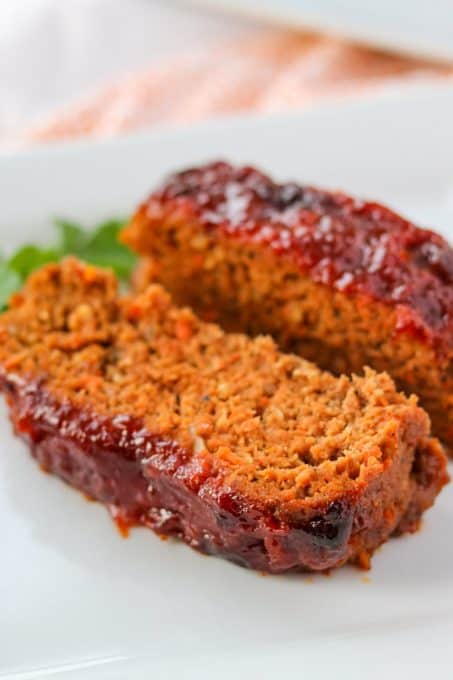 Meat Bun, Meat Cake (DEFINITELY NOT – how can those two words possible be uttered in the same sentence?!), Meat Cube, Meat Dough, Meat Lump, Meat Mass, Meat Slab, or you could go with visually pleasing Meat Twist. Unfortunately, meat loaf, I guess, is the best choice.
I had the trio of ground meats in the freezer from the meatballs I made on Day 128, and those were yummy, so I wanted to see how they would be in a…(gulp) meatloaf. Not really, but I knew it was something I should at least try.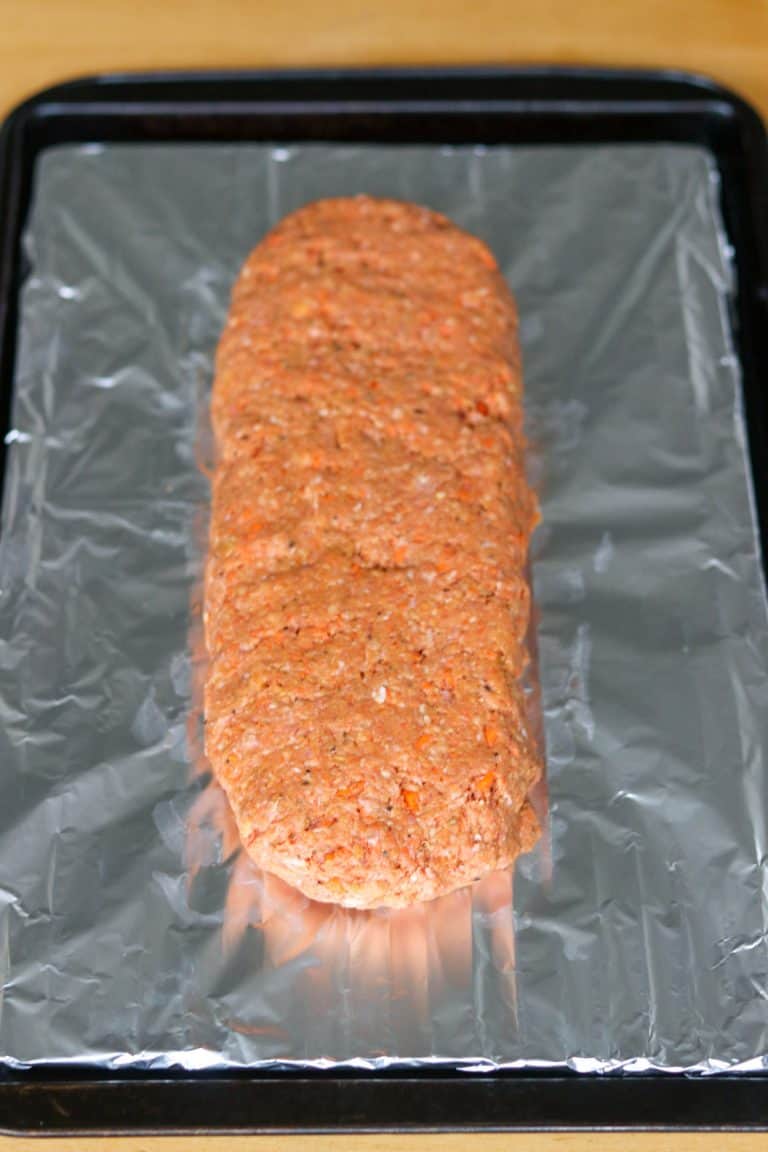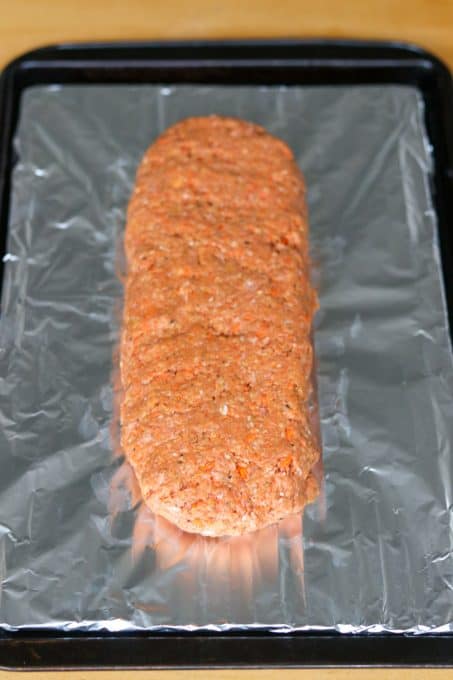 If you scroll down below, you'll see that my family absolutely loves this recipe now and I make it quite often.
Kurt loves the leftovers for meatloaf sandwiches, too!
SIGN UP FOR THE WEEKLY
365 DAYS OF BAKING & MORE
NEWSLETTER BELOW!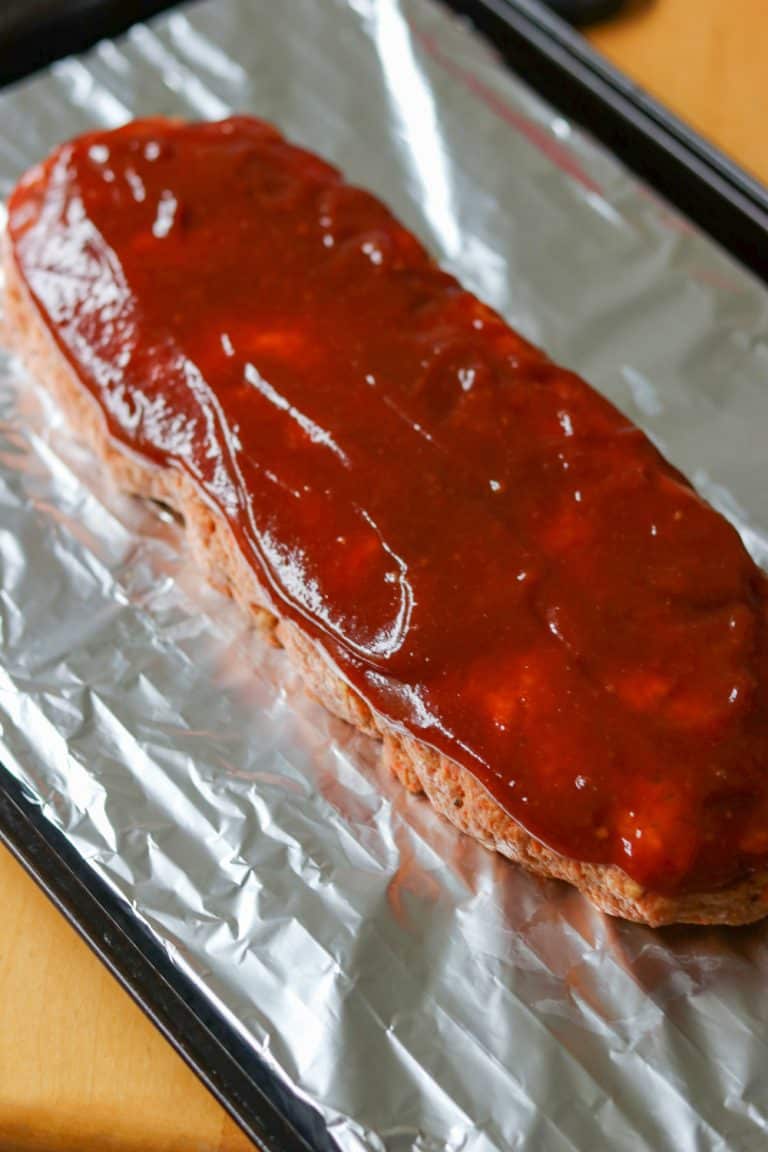 Meatloaf Sauce or Meatloaf Glaze?
One of the secrets to the best meatloaf I've ever eaten is the delicious sauce or glaze that's on top.
Seriously.
You call it what you want, but I'm gonna call it just plain delicious!
It's comprised of just three ingredients –
ketchup
dark brown sugar
ground mustard
Mix them all together in a small bowl and then spread all over the top of the loaf before you put it into the oven.

To prevent the sauce from browning too much or burning, cover the meatloaf loosely with a sheet of tin foil at about the 30 minute mark.
I like to crease it in the middle and form a tent. That way the sauce doesn't stick to it.
Or you can also put some toothpicks into the top as well to prevent the foil from touching.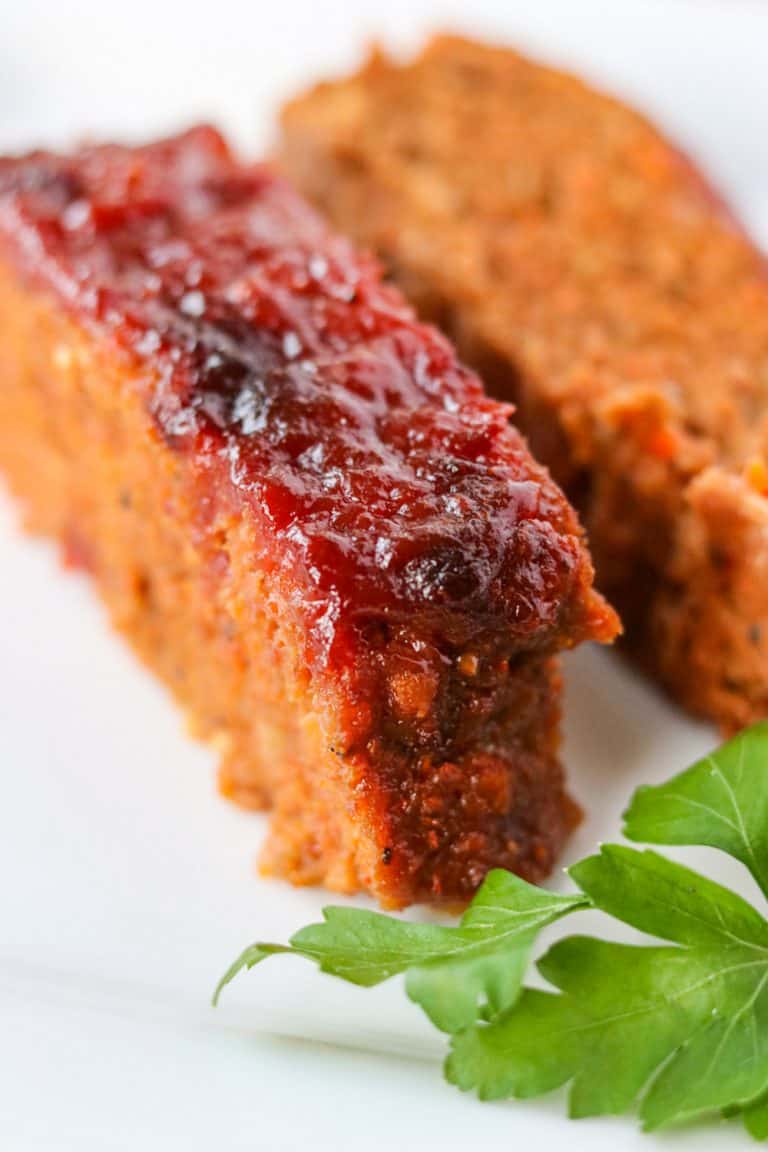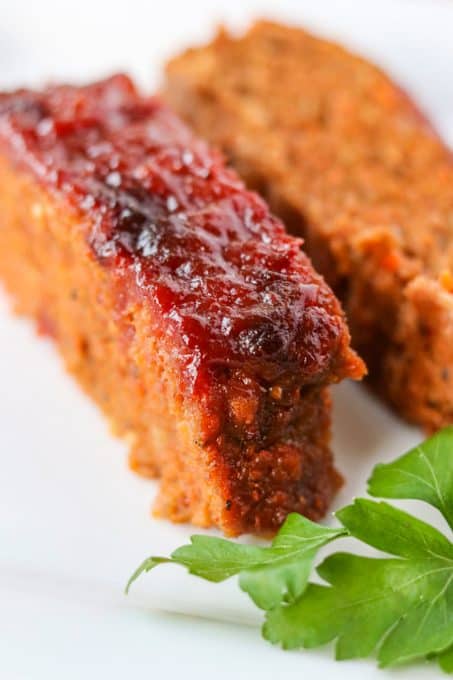 Looking for some sides to go along with this easy, delicious dinner?
I've got you covered.
You really can't beat these Vanilla Mashed Potatoes, or these Easy Roasted Smashed Potatoes with CHEESE! Both of them will pair perfectly.
As will these Maple Roasted Sweet Potatoes or even a Twice Baked Potato.
This Loaded Red Bliss Potato Salad will wow your taste buds just as much as the entrée recipe will!
Looking for green? This Strawberry Spinach Salad, these Maple Bacon Brussels Sprouts, Roasted Parmesan Broccoli, and Easy Three Bean Salad, have those bases covered, too.
And you can't forget those Baked Parmesan Zucchini Sticks! They're definitely one of my all-time favorites.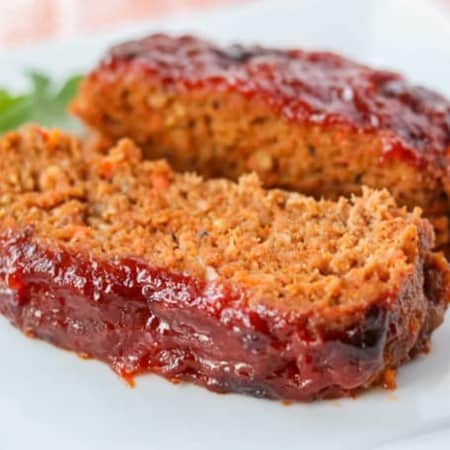 This delicious Meatloaf is one the whole family will enjoy. With a sweet sauce on top, this dinner recipe is definitely comfort food at its' finest when paired with a side of mashed potatoes.
Ingredients
8 ounces ground pork
8 ounces veal
8 ounces beef
2 tablespoons chili sauce
2 tablespoons flour
1 packet Lipton Onion Soup (not mixed with water)
1 large carrot, minced
1 clove garlic, minced
2 tablespoons A1 steak sauce
½ cup Ritz Crackers crumbled (about 15 crackers)
2 teaspoons Montreal Steak Seasoning *see note
1 ¼ teaspoon salt if not using Montreal Steak Seasoning
¼ teaspoon pepper if not using Montreal Steak Seasoning
Glaze
3 tablespoons ketchup
2 tablespoons dark brown sugar
2 teaspoons ground mustard
Instructions
Combine glaze ingredients in a small bowl and mix together; set aside

Preheat oven to 400 degrees. Cover a baking rack in tin foil and spray generously with cooking spray. Place in a rimmed baking sheet and set aside.

In a small bowl, mix chili sauce and flour until smooth.

In a large bowl, combine pork, veal, beef, chili sauce/flour mixture, the packet of soup mix, carrot, garlic, steak sauce, Ritz Crackers, and Montreal Steak Seasoning, OR salt, and pepper. 

Mix all ingredients together until well combined. (to better mix everything, I used my hands.)

Place meat mixture onto the foil covered prepared rack and shape into a 3 x 11-inch loaf (of meat).

Using a pastry brush, spread the glaze over the top and sides of the loaf.

Bake for 50-55 minutes when a meat thermometer inserted tells you the internal temperature is 160 degrees. 
Notes
*NOTE: I love to use 2 teaspoons of Montreal Steak Seasoning in this recipe because it adds some great flavor, and I'll omit the salt and pepper called for because it's already in the seasoning. If you don't have it, the meatloaf is still delicious without it, and you'll use the required amounts of salt and pepper.
ALSO, I've found a "Meatloaf Mix" in my local grocery store that has a combination of ground pork, veal and beef and it weighs about 1 ½ lbs. 
Nutrition
Serving: 1g | Calories: 298kcal | Carbohydrates: 20g | Protein: 15g | Fat: 17g | Saturated Fat: 6g | Trans Fat: 1g | Cholesterol: 54mg | Sodium: 1412mg | Potassium: 451mg | Fiber: 2g | Sugar: 8g | Vitamin A: 2114IU | Vitamin C: 3mg | Calcium: 53mg | Iron: 2mg
Did you make this recipe?
Share it with me on Instagram and make sure to follow me on Pinterest for more recipes.
I love how every week there can be something different for dinner. Or, you can have it every week and not get tired of it. This dijon herb roasted pork cranberry pear chutney is EXACTLY that.
Everyone wants more time and I couldn't agree more. However, when you are crazy busy, let this slow cooker chicken sandwich help you when dinner isn't on your mind. The family will love it!
I can't think of a grilled cheese sandwich the same when this ultimate grilled cheese roast beef is the one I want every time.
I made it free form instead of putting it into a loaf pan because there's more of a "crust" that way and with a pan, there's just too much meat for me. I don't like thick hamburgers either. I rate everything I bake on a scale of 1-4 with 1 being "DON'T waste your time or money" and a 4 being "you haven't LIVED until you've made this!".
Believe it or not, this Tasty Meatloaf earned 3½ rolling pins! I will definitely make this version the next time we need dinner and there aren't any eggs in the fridge.
Happy baking!!
Reader Interactions