Slow Cooker Chicken Sandwich – shredded and slow cooked, this barbecue chicken on a Cobblestone Bread Co. Corn Dusted Kaiser Roll is topped with melted Monterey Jack / Colby cheese, coleslaw and onion strings. It's the perfect sandwich for your Game Day party!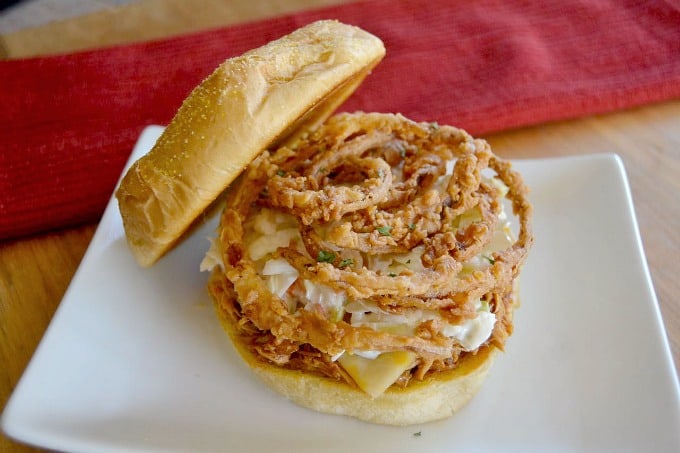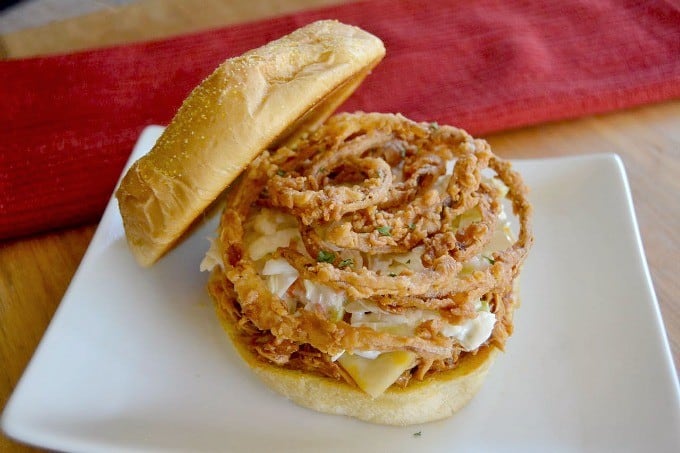 Let's face it. I love to eat.
This is a sponsored conversation written by me on behalf of Cobblestone Bread Company via Burst Media. The opinions and text are all mine.
And I love to eat food that's really good!
Ok, I'm not tooting my own horn or anything and something I rarely do is tell you what I think of the recipe at the beginning of any post, but this sandwich…I just can't wait to share it with you!
Yeah.
I really, really think you need this in your life.
Amen. Over and out. Fini.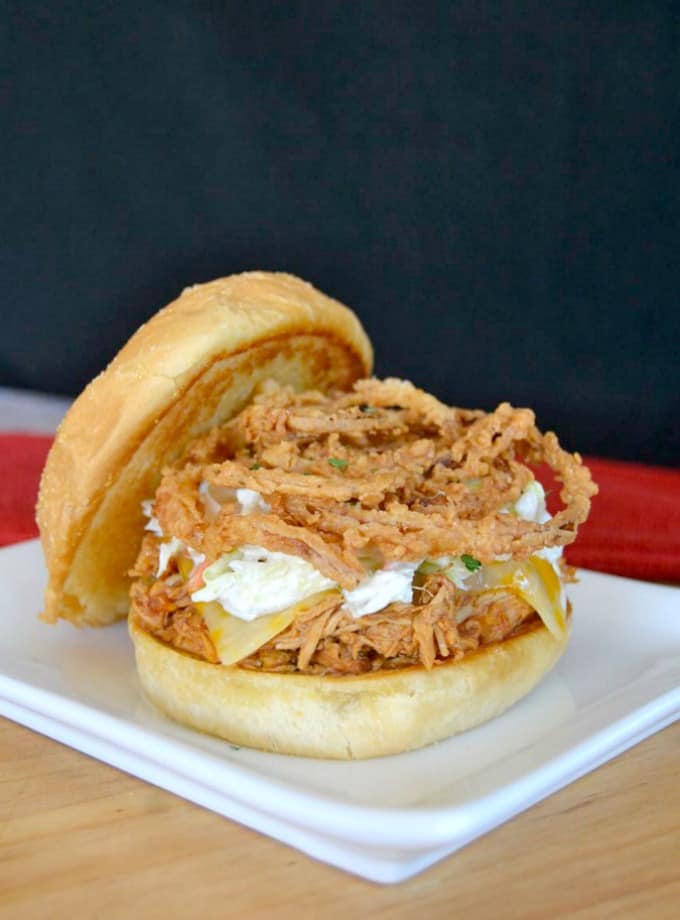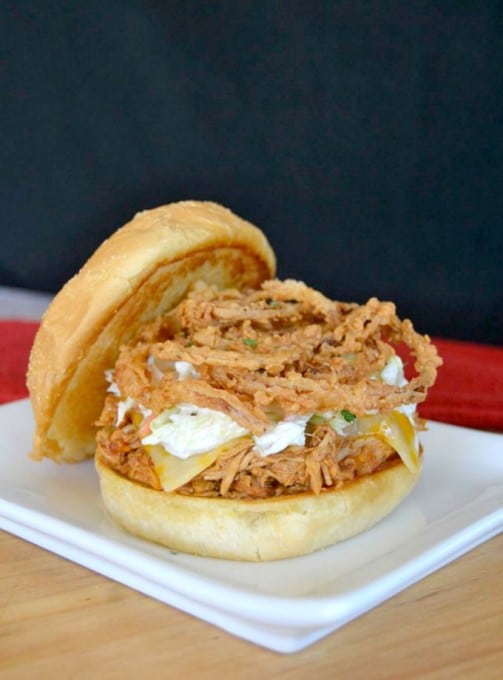 I mean, just LOOK at this thing, would you?
It's a soft, delicious, Cobblestone Bread Co. (CBC) Corn Dusted Kaiser roll that sets the stage.
Then making its debut appearance is this oh, so perfect shredded barbecue chicken dressed in a slice of Monterey Jack / Colby cheese, a spoonful (or more if you'd like) of creamy coleslaw and crowned with…get this…homemade onion strings!!
Hunh? What did I tell you? Wait, I do believe I see you drooling. Here, *handing you a napkin* there's a little to the right of your mouth.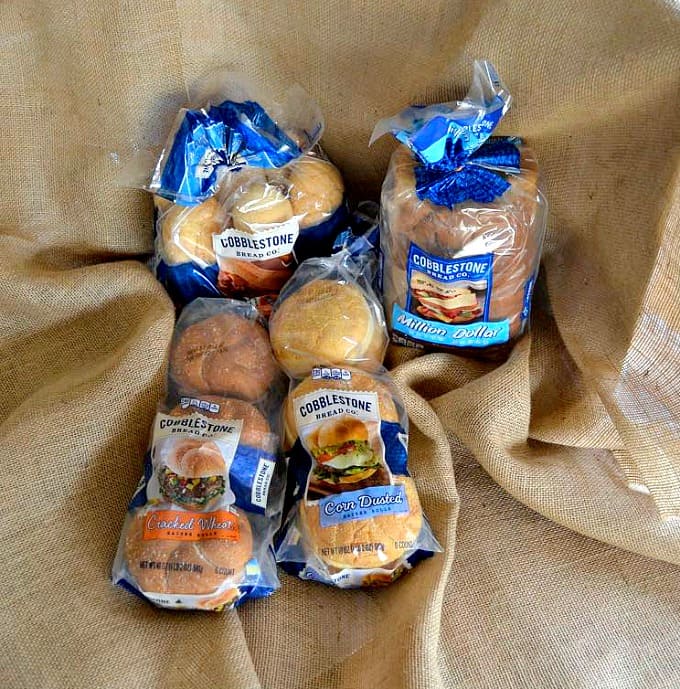 We all know that in order to make a great sandwich, you need to have great ingredients. Actually, it's that way no matter what dish you're making, really.
With a sandwich though, you can have the absolute best ingredients for the inside, but if the bread holding it all together doesn't cut it, then it will be a huge disappointment. Am I right?
Seriously, do you think that these kinds of insides could just go on any kind of bread – a pita or a wrap, perhaps? No way, not happening.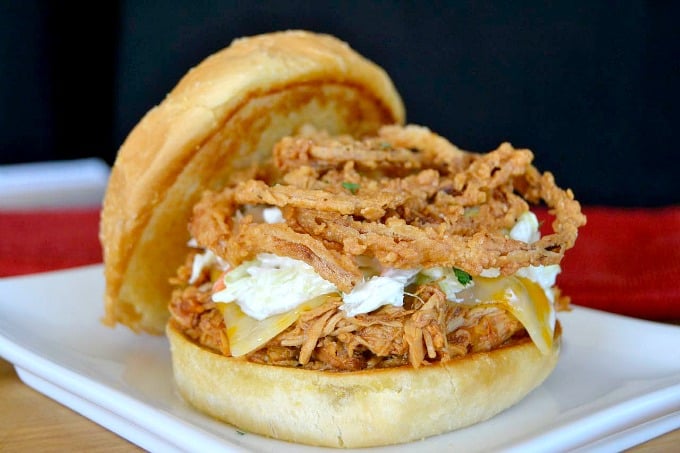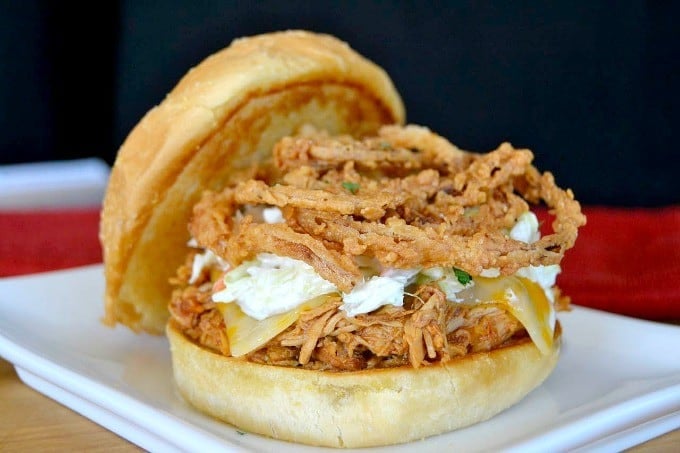 I was excited to use the different CBC breads to see which one would fit best with this sandwich and I'm pleased to say that the Corn Dusted Kaiser Rolls really rocked it!
But…you may not be a Kaiser roll kind of person. That's ok because Cobblestone Bread Co. has you covered with plenty of other delicious choices and each is perfect for your Game Day sandwiches. That's right, March Madness is upon us – basketball, basketball, BASKETBALL! Filled out your brackets yet?
What better way to celebrate your favorite team and cheer them on than by having a party with your friends and eating some delicious sandwiches?
That's why this chicken sandwich is such a winner – you put the ingredients into the slow cooker and in four hours, your chicken is ready to go. Who wants to be working hard on a meal before company comes? Not me! (I always have a house to clean and my brackets to worry about. haha)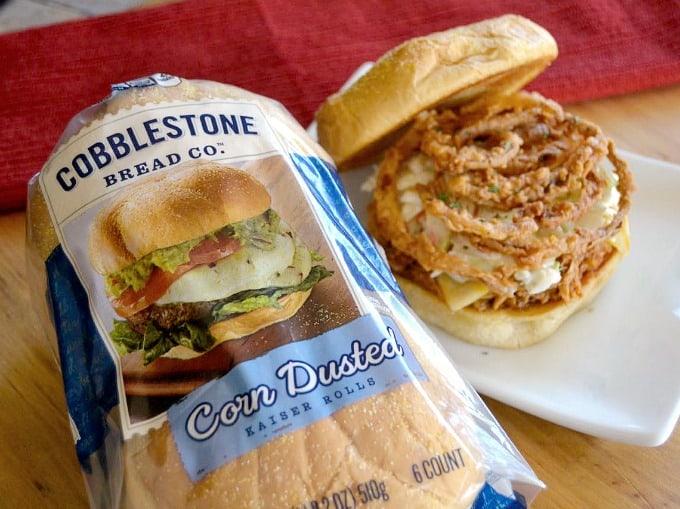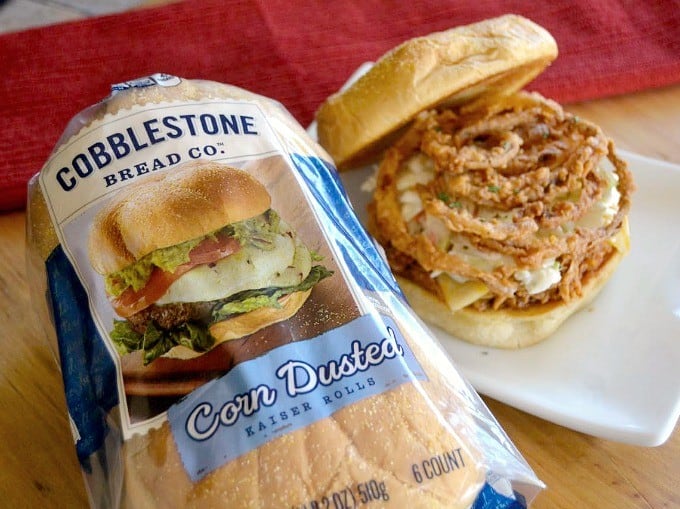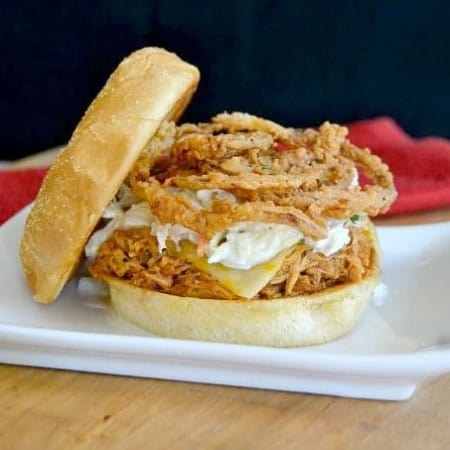 Slow Cooker Chicken Sandwich
Ingredients
4 boneless skinless chicken breasts
⅓ cup molasses
6 tablespoons lemon juice
3 tablespoons white vinegar
2 tablespoons Worcestershire sauce
3 tablespoons brown sugar
5 tablespoons water
1 12- ounce bottle chili sauce
1 teaspoon soy sauce
1 teaspoon Kosher salt
½ teaspoon freshly ground pepper
2 cloves garlic minced
½ cup diced onion
½ cup diced green pepper
1 stalk celery diced
Butter for grilling the rolls
1 6- count package Cobblestone Corn Dusted Kaiser Rolls
6 slices Colby / Monterey Jack cheese
1 pound coleslaw I used store bought
1 recipe for onion strings
Instructions
Place into the slow cooker the molasses, lemon juice, vinegar, Worcestershire sauce, brown sugar, water, chili sauce, soy sauce, salt, pepper and garlic. Whisk together.

Add the onion, green pepper and celery.

Place the chicken breasts into the cooker in a single layer, if possible, making sure each is submerged in the sauce.

Cook on high for 3 1/2 hours.

Transfer chicken to a plate and shred with two forks.

Return to slow cooker, reduce heat to low and cook for an additional 1/2 hour.

Spread butter on each half of the Cobblestone Corn Dusted Kaiser Roll and grill until lightly browned over medium heat.

Place approximately 1/2 cup of the chicken on each roll.

Top with a slice of the Colby / Monterey Jack cheese.

Add approximately 1/4 cup cole slaw.
Did you make this recipe?
Share it with me on Instagram and make sure to follow me on Pinterest for more recipes.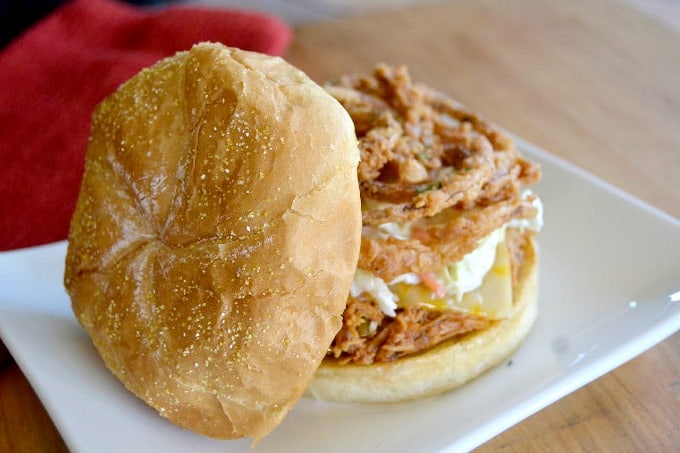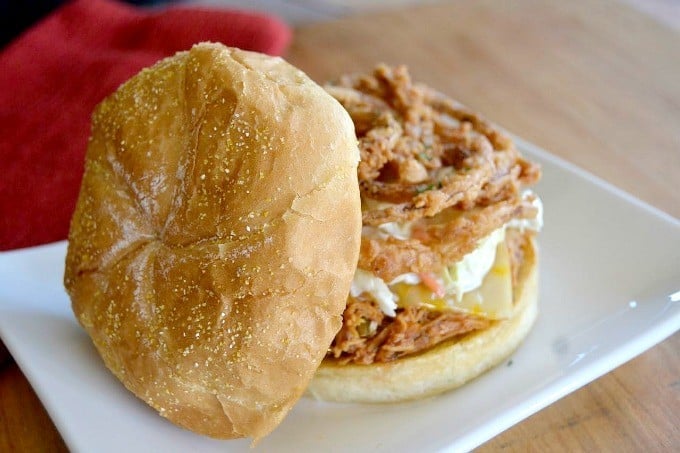 I rate everything I make on a scale of 1 -4 with 4 being the best and…guess what? Yuppers…
These Slow Cooker Chicken Sandwiches earned a whopping 4 Rolling Pins!!
Woohoo!!
That homemade barbecue sauce for the chicken was perfect, but when put onto a Cobblestone Bread Co. Corn Dusted Kaiser Roll, topped with a slice of cheese, coleslaw, and those onion strings?? Man, oh, MAN!!!
Yeah, baby, 4 rolling pins!! 'Nuff said.
CBC has a wonderful variety of Pinterest boards where you can pin great ideas for your Game Day sandwiches. They even have a board with instructional videos from their CBC chef showing sandwich shortcuts!
You can also follow them on Facebook, Instagram, and YouTube.
What kinds of sandwiches will you be making with Cobblestone Bread Co. bread for your 2015 NCAA March Madness Game Day party? We'd love for you to share them with us on social media using #ShareaSandwich and tag them with @CBCBreads!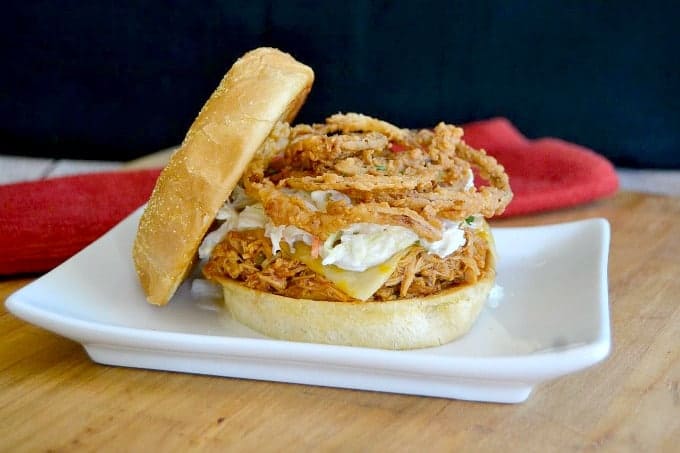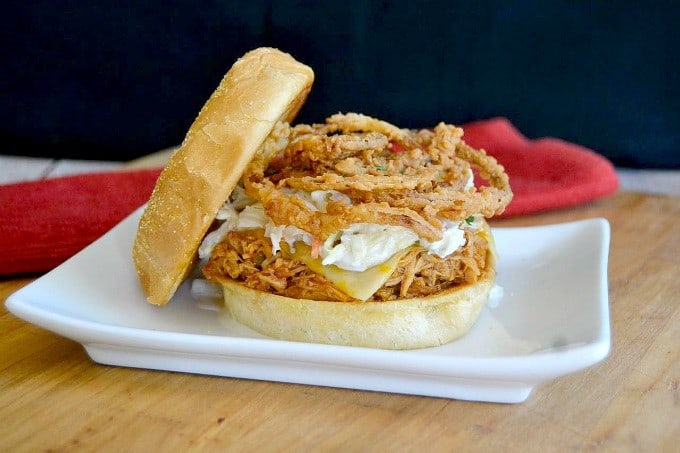 Comments submitted may be displayed on other websites owned by the sponsoring brand.
This is a sponsored conversation written by me on behalf of Cobblestone Bread Company via Burst Media. The opinions and text are all mine.