Onion Strings – thin slices of onion, soaked in buttermilk dipped in spiced flour and fried to perfection. They're great on top of your favorite burger, steak or just by themselves!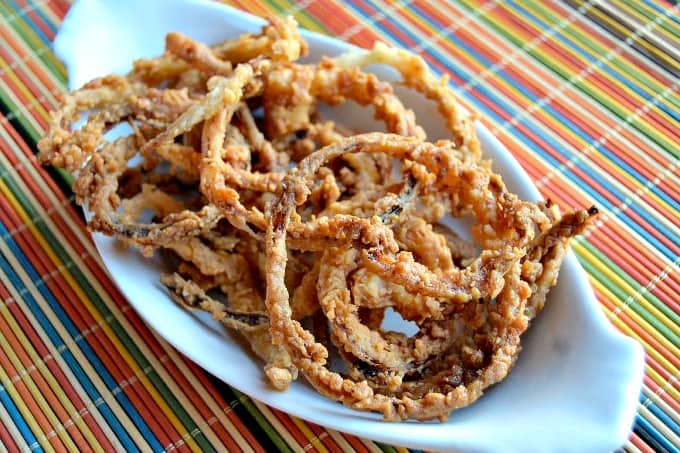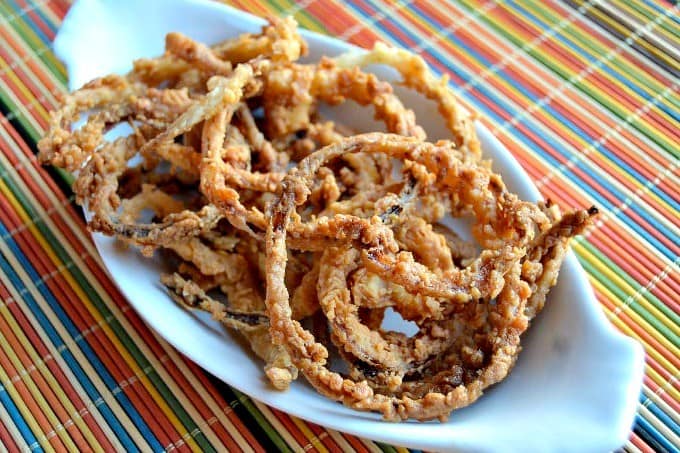 I think I've discovered the next best thing to bacon and sliced bread!
These Onion Strings!!!
Seriously, have you made these yet? Well, no you probably haven't because you're just seeing the recipe here now and I know that 365 Days of Baking and More is the only site you come to for all your recipes! Am I right?
I know I'm not, but I can dream, can't I? 😉
Actually, I hope you have a lot of different sites that you like and you trust for delicious food. Variety is great and not everyone has the same tastes, so why not get different ideas from lots of different places?
SAVE THIS ONION STRINGS RECIPE TO YOUR FAVORITE PINTEREST BOARD!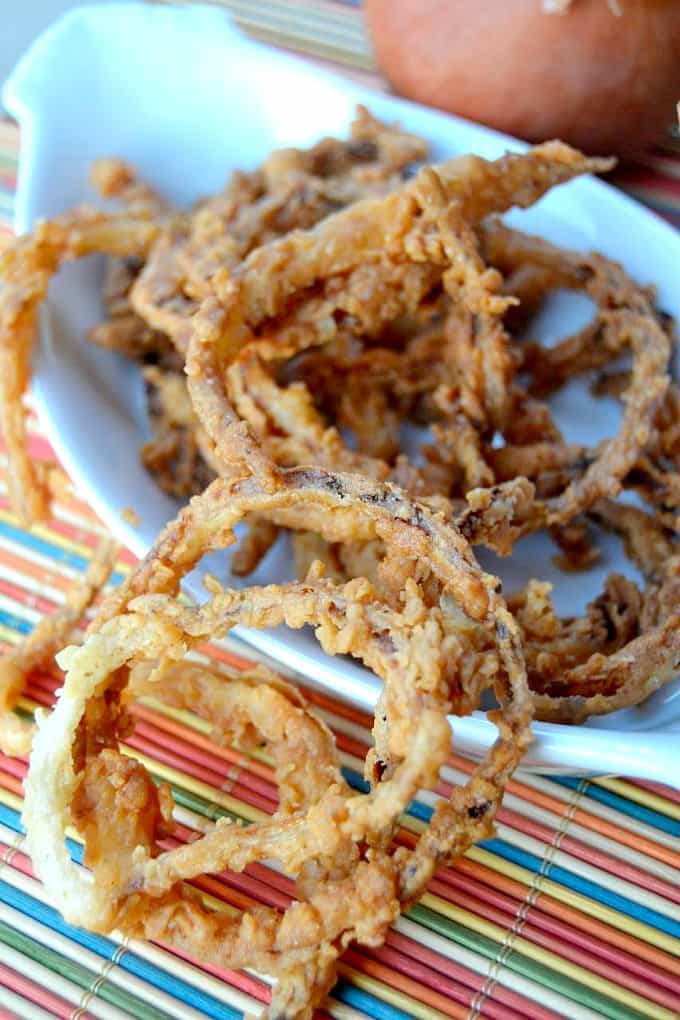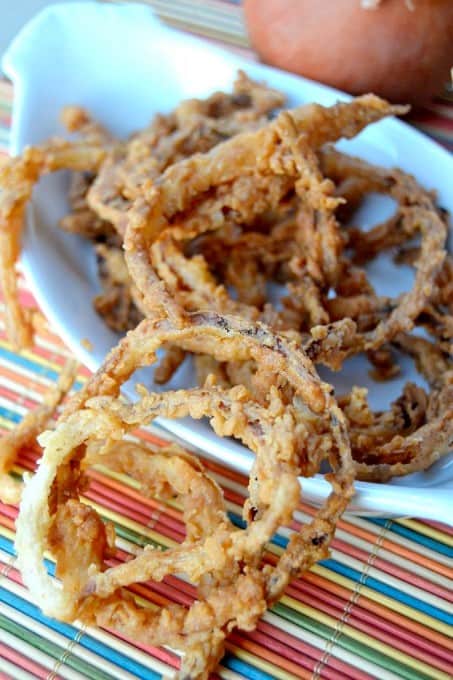 Heck, I do!
If I had to just go to one cookbook for all the recipes I put here on the blog, I think I'd go a little batty and then who knows in which direction this blog would go? So, let's not go there. K?
One of the many blogs I visit quite often is Ree Drummond, The Pioneer Woman. L-O-V-E her!! She has SO many incredible recipes and they're always so delicious! Not only do I love the food she makes, but her photos are always spot on and I have so much fun living on a ranch vicariously through her.
I don't think I could live out there in Oklahoma or anywhere for that matter, on a ranch. I need suburbia. Just like camping for me would be a hotel room instead of a tent.
There are limits and I'm not crossing them!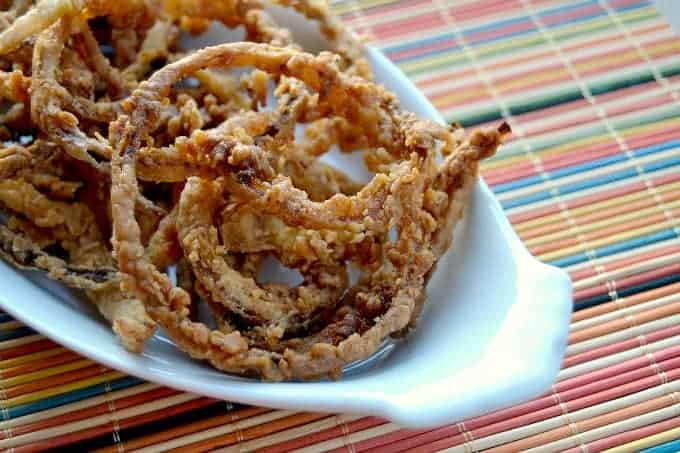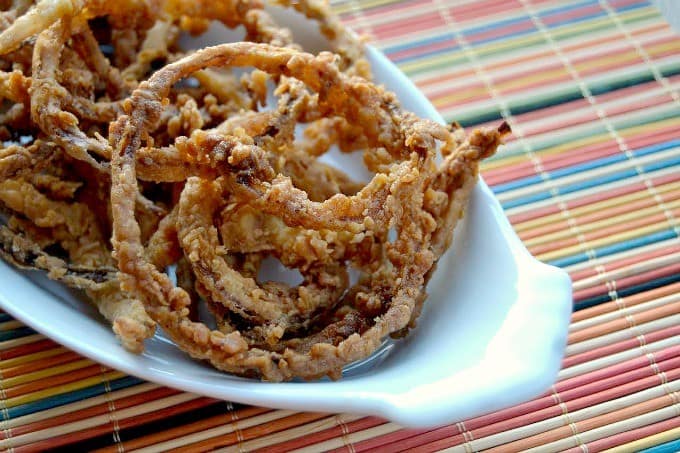 I found these Onion Strings on where else, Ree's site. I fell in love with them at first sight=, I did.
And you know what?
I went out and bought the Farberware 2.5 Liter Single Deep Fryer just so I could make them.
Ok, I didn't buy it just to make onion strings (which I am almost certain I will be making a lot of), but to make all sorts of yummy food to put here on the blog, like my grandmother's doughnuts, maybe some clam cakes (not sure about that one, but we'll see), and lots of other things.
I. Can't. Wait!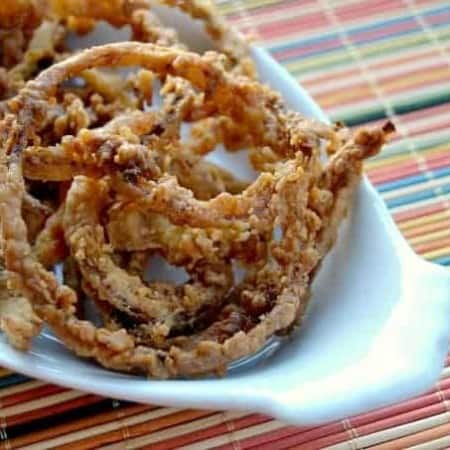 Ingredients
1 large onion
2 cups buttermilk
2 cups all-purpose flour
1 tablespoon Old Bay Seasoning
2 teaspoons Kosher salt
½ teaspoon freshly grated pepper
1 - 2 quarts canola oil
Instructions
Cut the onion so that you have very thin slices.

Place the slices into a baking dish and pour the buttermilk over them. Cover with plastic wrap and refrigerate for an hour.

In a medium bowl, whisk together the flour, Old Bay seasoning, salt and pepper.

Heat oil in a pot or fryer to 375 degrees F.

Working in batches, place some onions into the flour mixture and toss to coat. Shake off excess.

Gently place onions into the oil and fry until they are a golden brown, approximately 3 - 5 minutes.

Place on a plate lined with paper towels to drain.
Did you make this recipe?
Share it with me on Instagram and make sure to follow me on Pinterest for more recipes.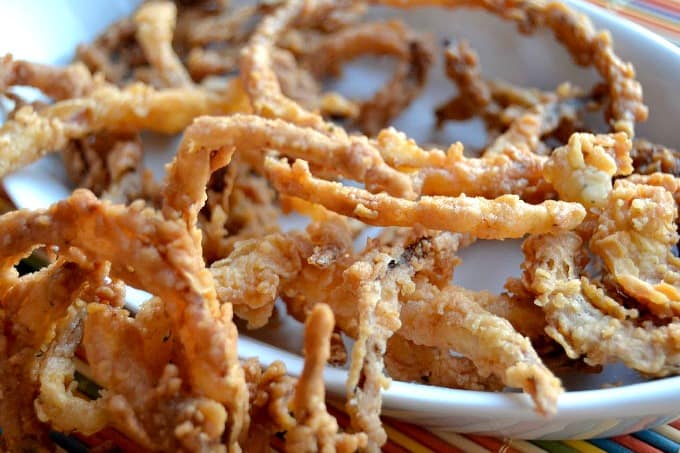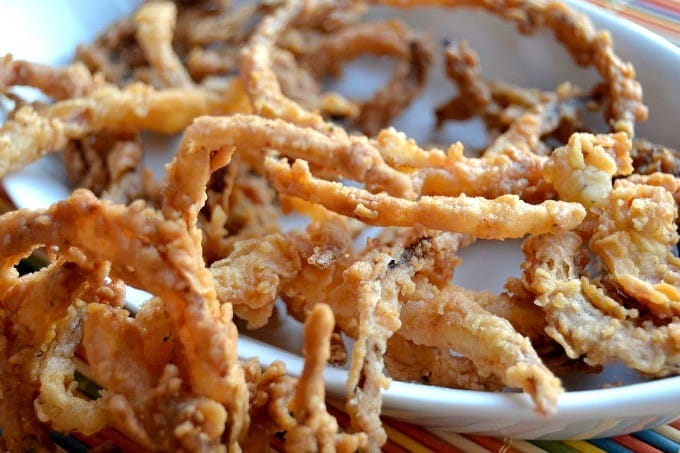 Um, so you might really want to think about doubling this recipe because it was extremely difficult to stop taste-testing once I had started which um, didn't really leave too many for the men in my life.
Whoops.
Try out a few of my other terrific recipes on the blog with this…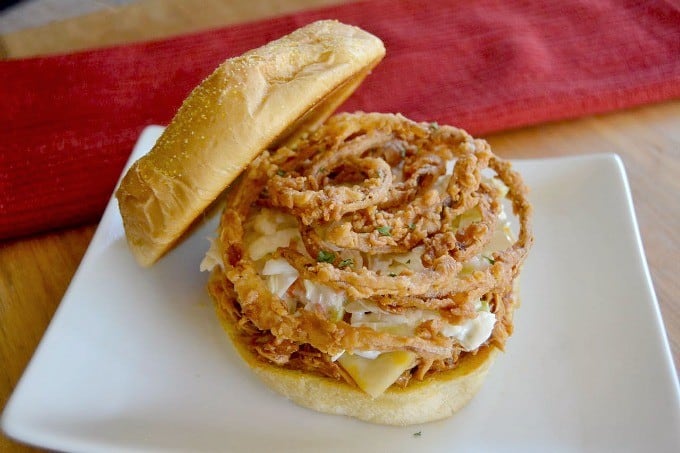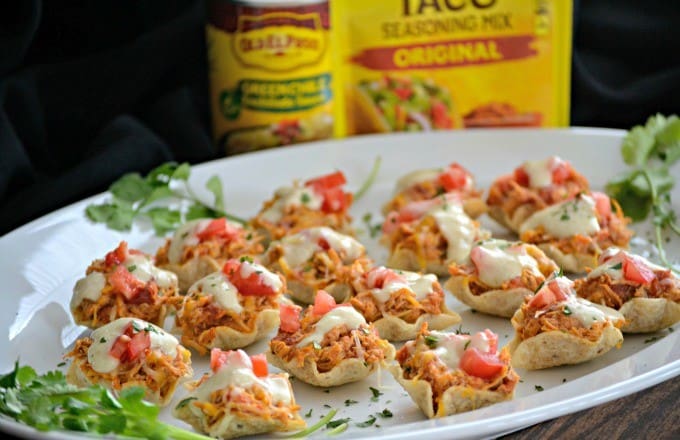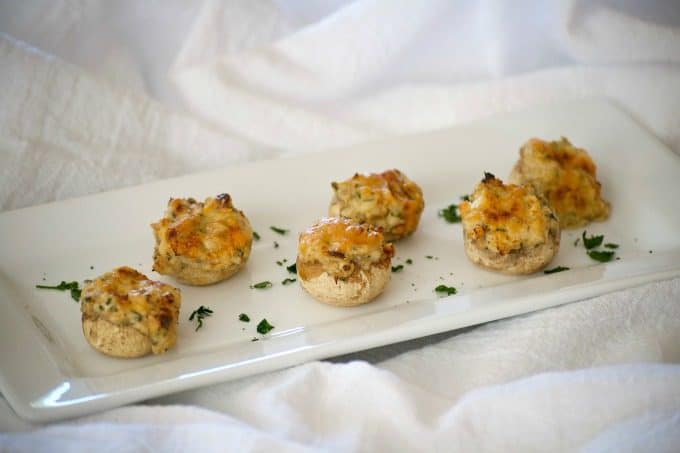 They were absolutely DELICIOUS by themselves, but even better on tops of something I'll be posting in just a little while, so be on the lookout!
I rate everything I make on a scale of 1 -4 with 4 being the best and these Onion Strings earned…
4 ROLLING PINS!!!! Hot diggity were they YUMMY!!
I really think you'll like them- by themselves, on top of things, there is just no limit as to what these babies can do for you.
You need them in your life.
Trust me.
This post contains affiliate links. These are links that can take you to a product (or products) that I recommend. I do receive a portion of the sales from any items purchased through those links. These sales encourage my baking, cooking and butter habit, and contribute to the life of this blog. Please know that I only recommend products and items that I use and that I think would best benefit my followers. I thank you so very much for your support.
Reader Interactions