I am excited to be partnering with Wisconsin cheese to share with you the 2015 Grilled Cheese Recipe Showdown®. All opinions expressed are my own.
The Ultimate Grilled Cheese Roast Beef – slices of tender roast beef, tomato, arugula and spinach, caramelized onion, and plum chutney between layers of shredded Wisconsin cheddar and gouda cheeses melted to perfection on Rye bread. You'll want to make this again and again.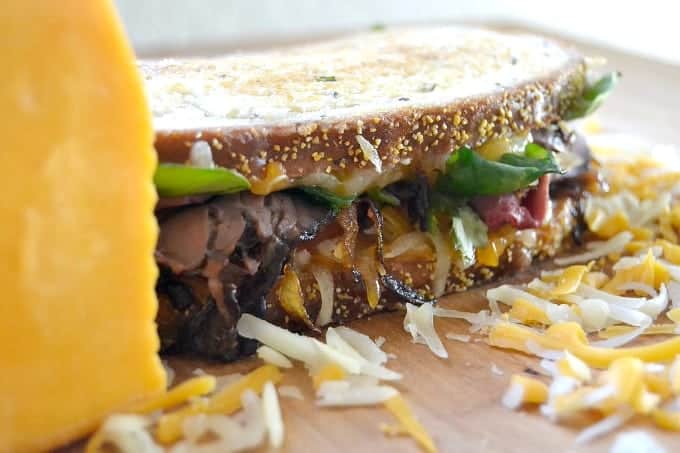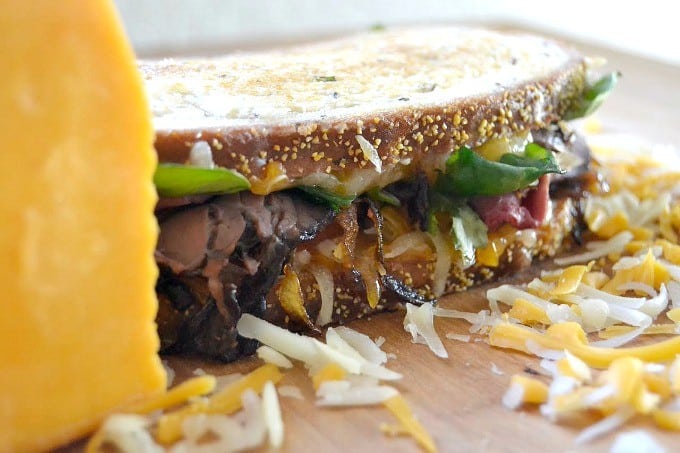 Here she is, folks! THIS is the post I've been talking about since last week!
Are you ready for it???
I sure am, AND it ties in SO nicely with Grilled Cheese Month.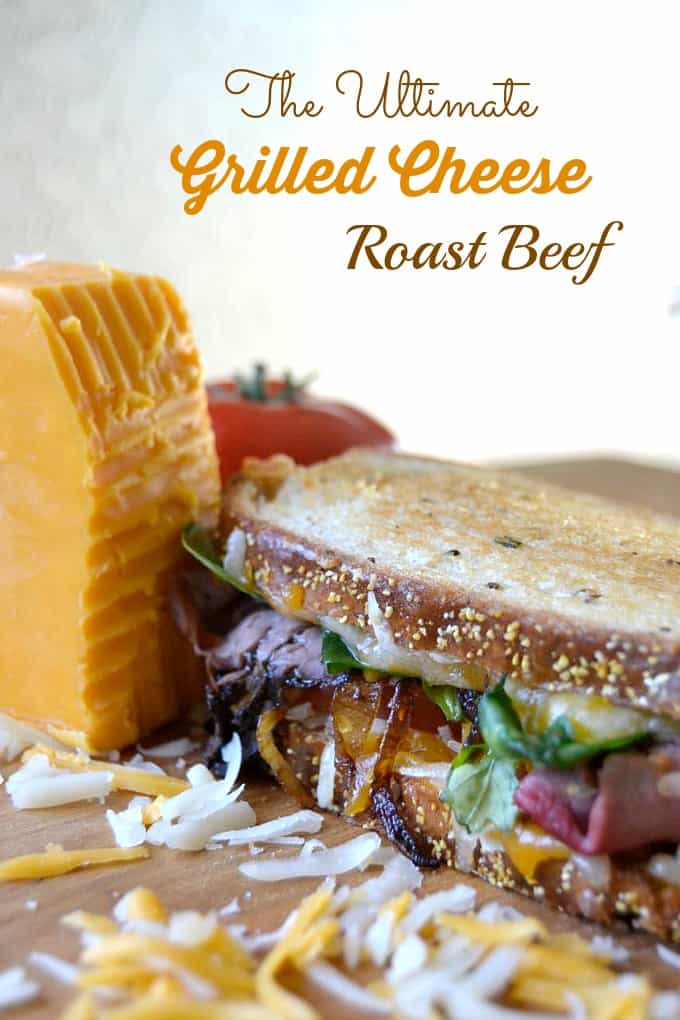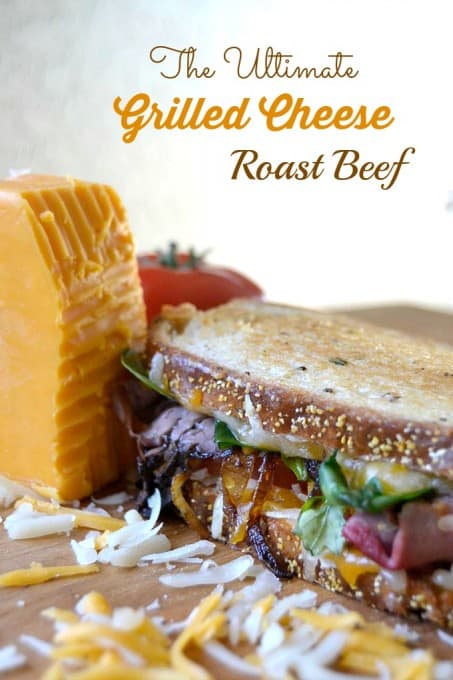 I am very pleased to announce that I have been selected as a Grilled Cheese Academy Insider! It's exciting for me, but it's even MORE exciting for Y-O-U!
This is BIG, people, really BIG!
Wisconsin Cheese and the Grilled Cheese Academy are sponsoring the 2015 Grilled Cheese Recipe Showdown and YOU could be the grand prize winner of $15,000 with your fantastic grilled cheese recipe!
But first, to get you started, we want to give you the opportunity to win a gift prize worth $250 which includes a Le Creuset Grill and Panini Set, $50 of Wisconsin cheese and a Grilled Cheese Academy apron, all perfect for making your own ultimate grilled cheese sandwich!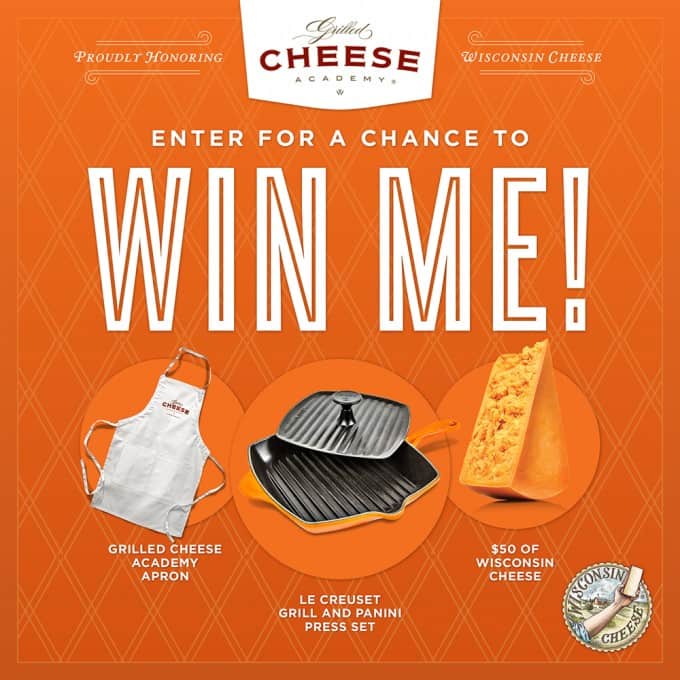 To enter, visit the 365 Days of Baking and More on Facebook and leave a comment on this post. After you've left your comment there, head on over to the Grilled Cheese Academy on Facebook to give them some grilled cheese love. That way you'll hear all about their contest announcements. There's even more to come in the next few weeks, SO go now and enter! Facebook contest ends Friday April, 17 at 11:59 pm EST.
Be sure to visit the Grilled Cheese Academy and Wisconsin Cheese to submit YOUR best recipe in the 2015 Grilled Cheese Recipe Showdown. We want to see what wonderful grilled cheese ideas you have up your sleeve. Grab your spatula and let the melting begin!
Now, remember how I said last week that you were going to need two pieces in order to put this recipe puzzle together? I included both of those recipes and thanks to Wisconsin Cheese, I was able to put together one of the best grilled cheese sandwiches this family has ever had. Ok, well for three out of the five family members it was the best because two no longer live here, but it was smashingly delicious! SO, in a nutshell, you are going to want to include the caramelized onions and plum chutney to make your Grilled Cheese Roast Beef Sandwich the ultimate one. Trust me.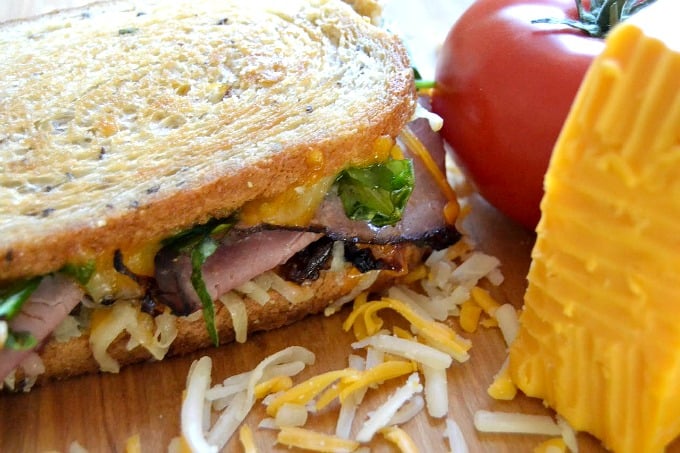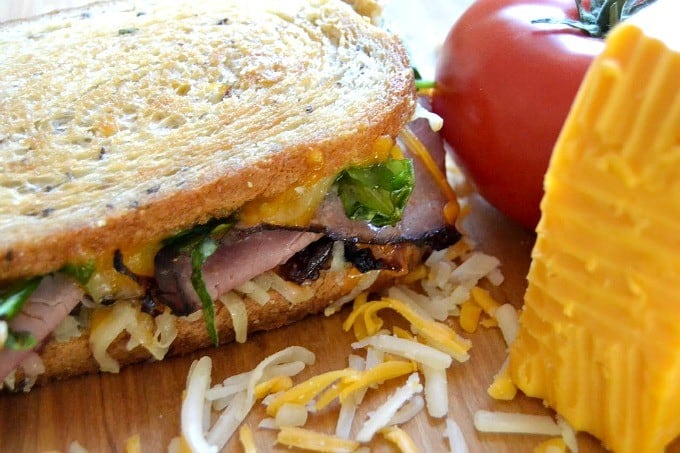 *The measurements in the recipe are approximate and may need to be adjusted depending on the size of your bread slices. Adding the roast beef, Dijon mustard, greens, tomato, caramelized onions, and plum chutney, will definitely take this sandwich over the top, but we all know that a grilled cheese is ALL about the CHEESE! You could even just put the Wisconsin cheddar and Wisconsin gouda in between the two slices of bread and you'll have a pretty spectacular grilled cheese in and of itself, just be sure to use a bit more of it!
A fellow 2015 Grilled Cheese Insider Mary, of the blog Barefeet in the Kitchen, shared her Step-by-Step Guide to the Perfect Grilled Cheese, so check it out! She's got great tips and has photos of different Wisconsin cheeses and how they melt. It was very helpful to me when I made mine.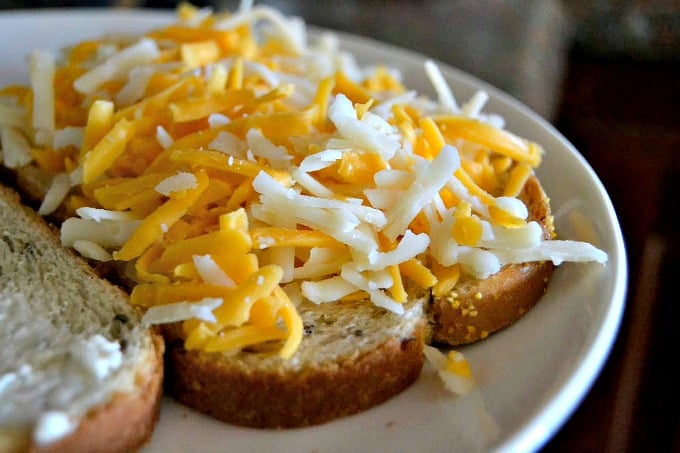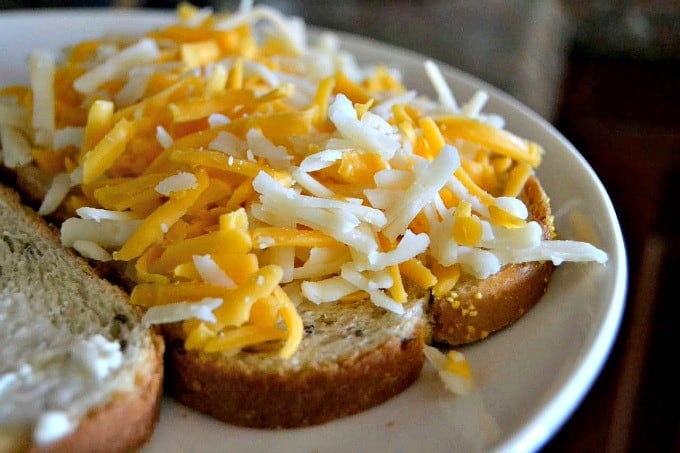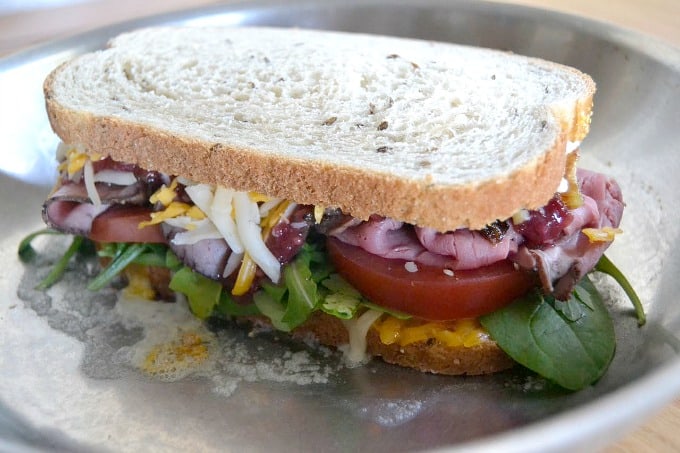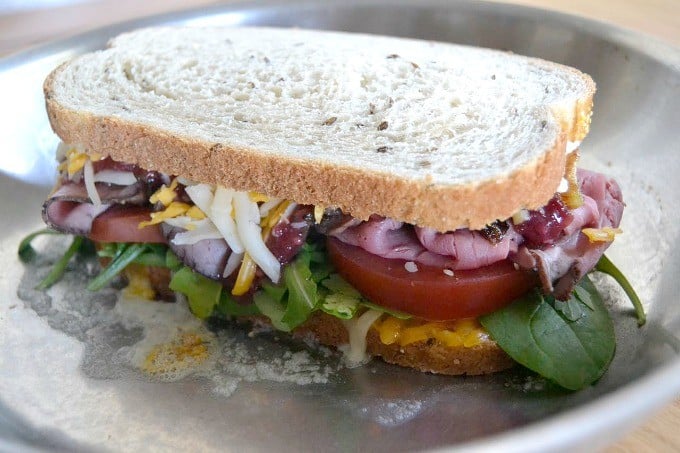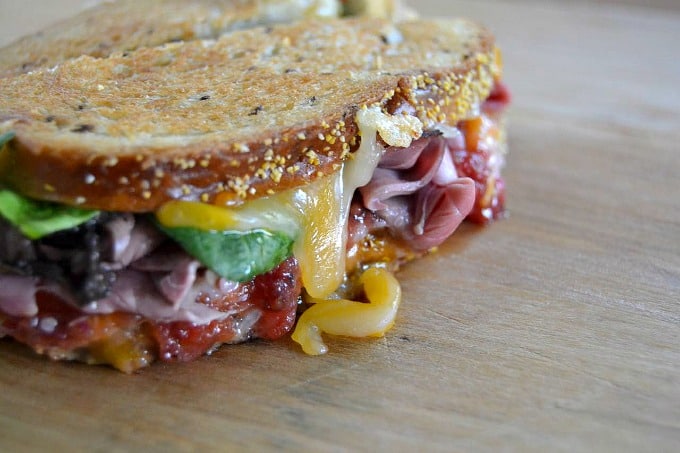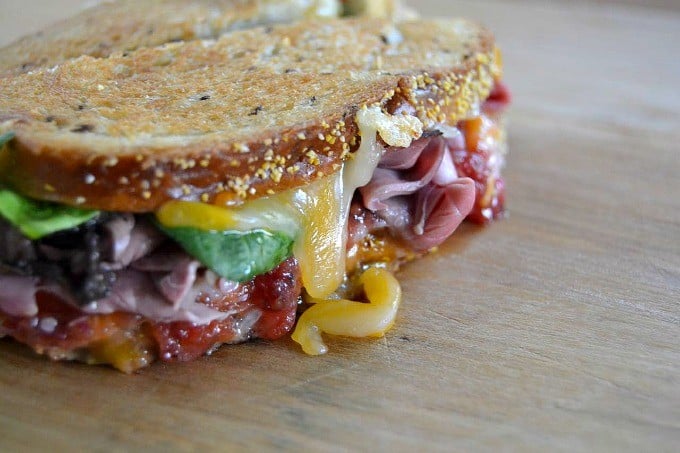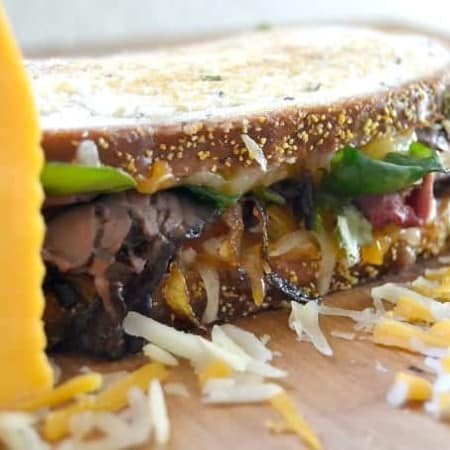 The Ultimate Grilled Cheese Roast Beef and a Giveaway!
Ingredients
2 slices of Rye bread
1 tablespoon mayonnaise
2 teaspoons Dijon mustard
⅓ cup freshly grated Wisconsin cheddar cheese
⅓ cup freshly grated Wisconsin gouda cheese
¼ cup fresh arugula / spinach mix
2 slices thinly sliced roast beef
1-2 tablespoons caramelized onions
1-2 tablespoons plum chutney
2 slices tomato
Approximately 2-3 tablespoons butter for the pan
Instructions
In a small bowl, mix together the mayonnaise and the Dijon mustard.

In another small bowl, mix together the grated Wisconsin cheddar and Wisconsin gouda cheeses.

Heat a large skillet over medium-low heat.

Spread the mayonnaise and Dijon mixture on the inside of each slice of bread

On one slice that is spread with the mayonnaise mixture, place about 1/3 cup of the cheese.

Place the arugula / spinach mix on top of the cheese.

Add the roast beef.

Top the roast beef with the caramelized onions and plum chutney.

Add the tomatoes.

Cover with the remaining cheese.

Top with the slice of Rye bread.

Melt one tablespoon of butter in the pan, focusing on the area where the sandwich will be.

Gently place the entire sandwich into the pan.

Cook for approximately 7 minutes, checking the bottom with a thin spatula after 5 minutes.

When the bread is golden brown, lift the sandwich up with the spatula and add another tablespoon of butter (or more, of necessary) to the pan and allow it to melt.

Gently flip the sandwich over and return to the pan to cook for an additional 7 minutes, again checking the bottom at the 5 minute mark.

Do not be tempted to turn up the heat. We want it to cook low and slow and allow the cheese to melt perfectly without burning the bread.
Did you make this recipe?
Share it with me on Instagram and make sure to follow me on Pinterest for more recipes.
I rate everything I make on a scale of 1 – 4 and this Ultimate Grilled Cheese Roast Beef earned 4 rolling pins!!
It is THE bomb and the grilled cheese I would enter in the 2015 Grilled Cheese Recipe Showdown. 😉
I've made quite a few grilled cheeses in my day, but it's good to remember the important factors that go in to making a great grilled cheese sandwich:
Start out with some really good bread. None of that white, inexpensive, very little flavor stuff.
no, you want something that will contain all the inside goodness and add some extra taste. The bread is like a book cover – it needs to look really great and it's critical because it holds the jewels inside.
Take care not to overload your sandwich with ingredients. Adding things to a plain grilled cheese can give you lots of wonderful flavor, but putting on too many things and it can fall apart when you flip it or as you're eating it. I was overloading this sandwich at first and then decided to add less of each, but was still able to keep the same great taste.
Remember, low and slow is the way you want to cook it. Keep the heat of your pan on medium low and check the bottom after 5 minutes. Too high heat will not sufficiently melt your cheese and will burn your book cover. No bueno. Unless, of course, you like burnt bread like my grandfather. :-/
THE most IMPORTANT part of a grilled cheese sandwich is what? Of course, the CHEESE!!!
Use Wisconsin cheeses that will melt and give you that ooey gooey goodness, like when you take a bite and you pull the sandwich away from your mouth with the cheese still hanging out of the bread not wanting to leave your mouth. THAT'S what it's all about! I love that!
Enjoy making your very own grilled cheeses! I can't WAIT to see what you all create. Channel your inner grilled cheese maker and go for it!! Be sure to enter the 2015 Grilled Cheese Recipe Showdown.
This is a sponsored post with Wisconsin cheese. In exchange, I have been compensated monetarily and with complimentary product to create my ultimate grilled cheese. I only endorse or recommend a company, website, or product(s) I personally use and feel will best benefit my readers. It is written by me and all opinions expressed are my own.
I give you BIG baking hugs and muffins!!
Reader Interactions