This Roasted Parmesan Broccoli tossed in olive oil, garlic powder and a touch of salt is a perfect easy side dish for almost any meal! Baked until tender, the Parmesan cheese gives it crunch that makes it almost addicting and is best served hot.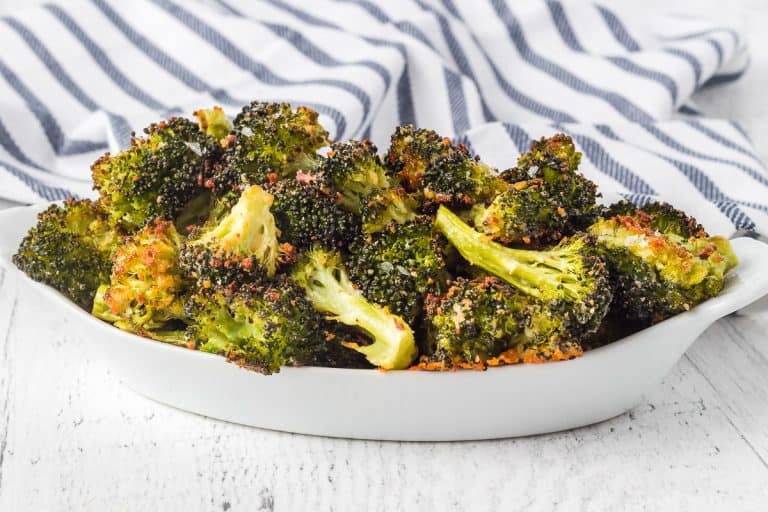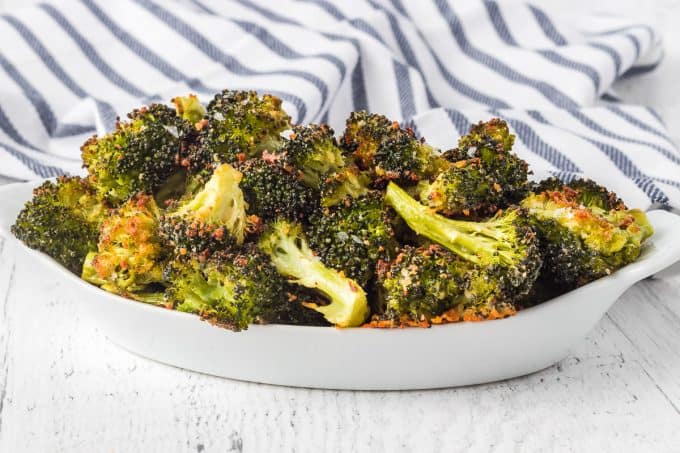 Vegetables taste so much better when properly seasoned! Roasting is my favorite way to cook vegetable side dishes because it brings out so much more flavor. I think so many of us didn't like vegetables as kids because we only had them reheated from a can or ate fresh vegetables served without much seasoning.
I love this recipe for Parmesan Roasted Broccoli because it combines a few simple ingredients that hit all the right flavor notes for broccoli lovers! Add your own variations if desired, but this broccoli is delicious just like this!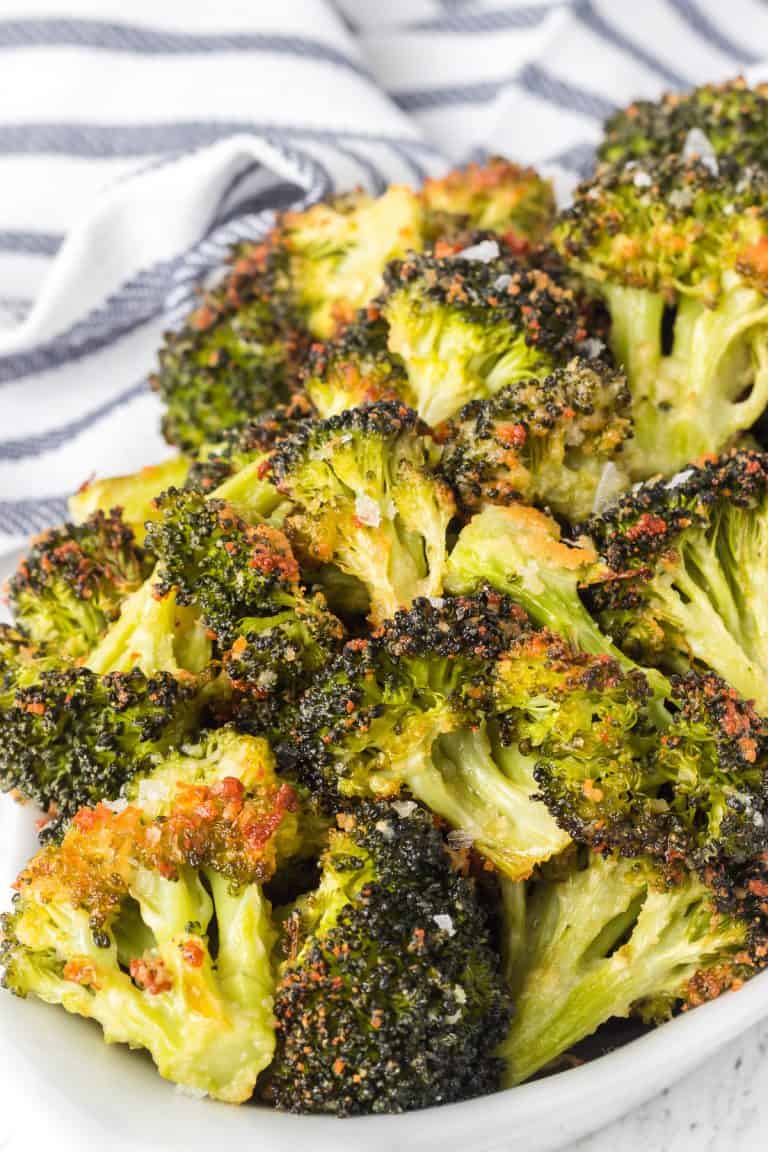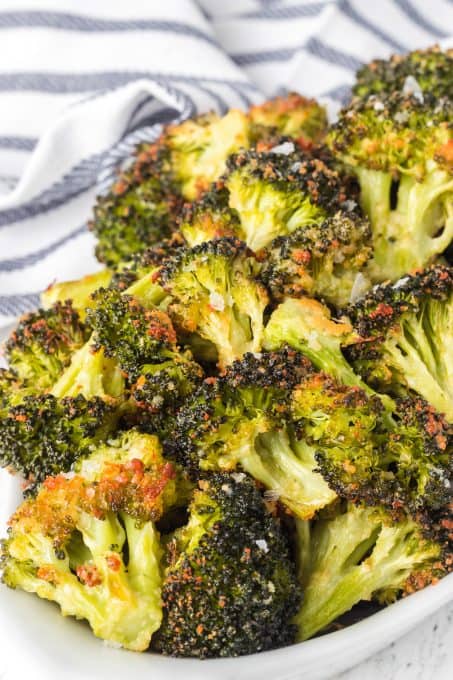 Why Broccoli?
If you're not already a broccoli fan, I need to convert you! Broccoli is full of fiber, Vitamin C, and even protein! Adding broccoli to your meal provides color and helps fill you up. Simple steamed broccoli is pretty good, but if steamed veggies aren't your favorite, this recipe for parmesan broccoli roasted in the oven is a tasty alternative and might just become one of your new favorites. It certainly is mine!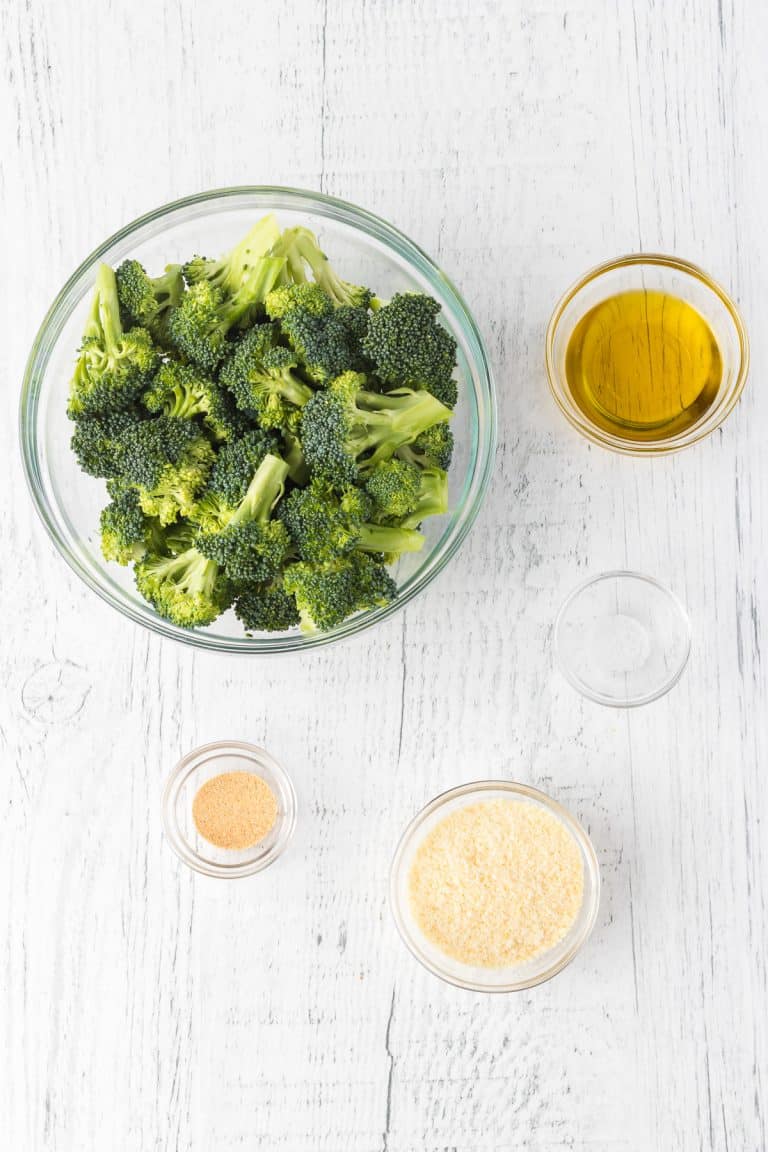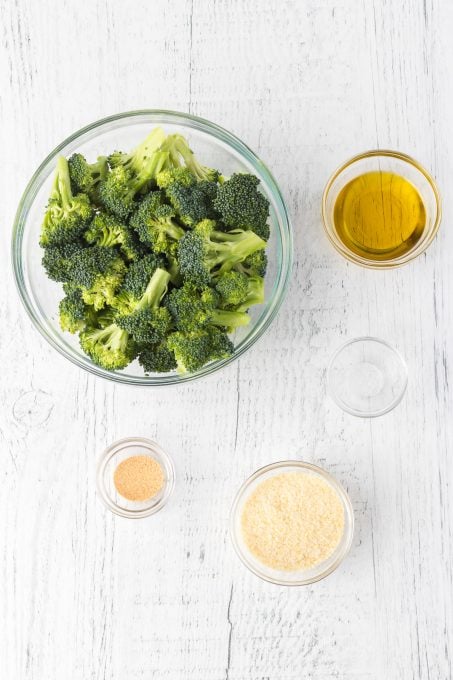 Ingredients
You only need a few basic ingredients from your pantry to make this roasted broccoli recipe:
Broccoli- use fresh broccoli florets for this recipe
Olive oil- or substitute with ghee,
Keep in mind that you want to use an oil that has a high smoke point. This will make sure that it won't give your food a burnt or bitter taste when cooked beyond it's smoke point or that the nutritional qualities of the fat are compromised.
I've always had the best results with olive oil when roasting my vegetables.
Garlic powder and salt- these seasonings are all you need to add flavor to this broccoli side dish
Parmesan cheese- cheese makes everything better, doesn't it?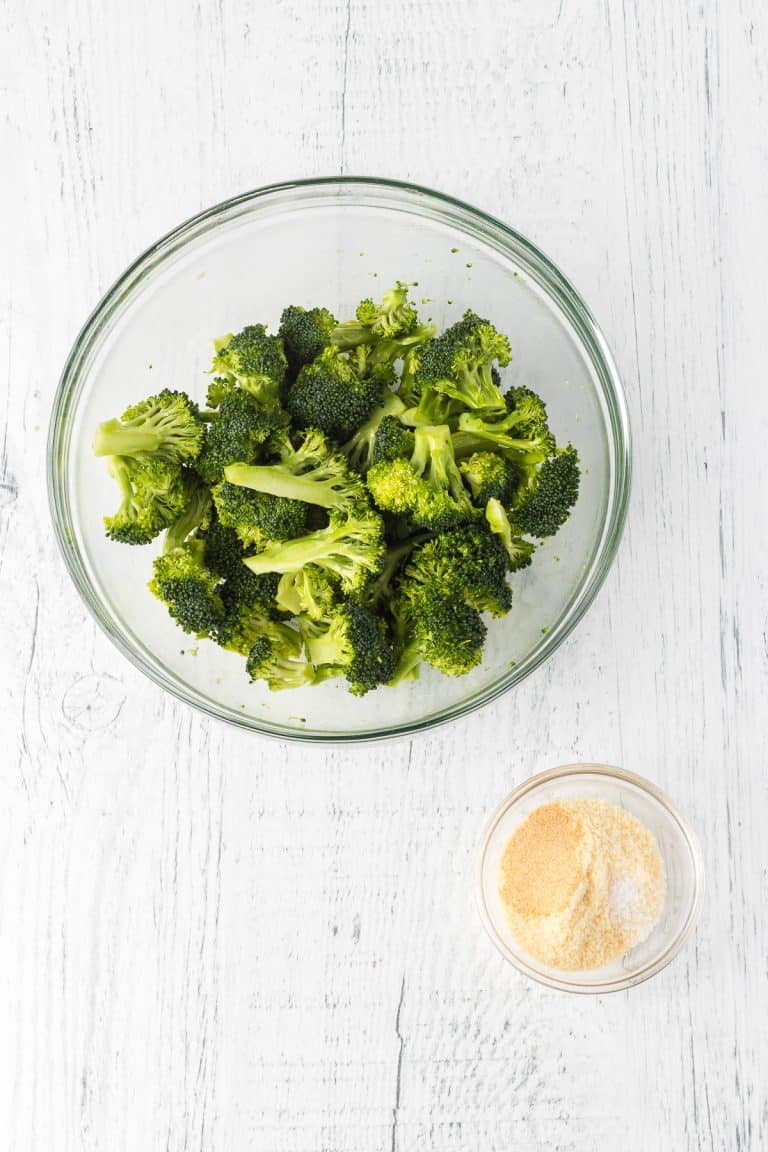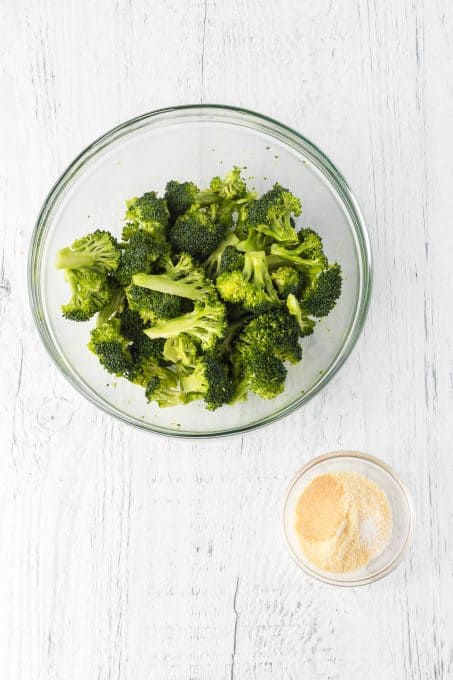 How to roast Broccoli in the oven
Make sure your roasted broccoli turns out perfect every time. Here are a few general tips to get you started:
Cut florets into bite-sized pieces. Make sure they're all about the same size then they're easier to eat and will cook more evenly.
Place florets in a single layer in a pan. Give them some space between each one so the edges can crisp up. Don't overcrowd your pan!
Using olive oil allows you to roast the broccoli using high heat without the oil burning since olive oil has a high smoke point. If you use a different oil, watch to make sure it doesn't burn and turn your broccoli bitter.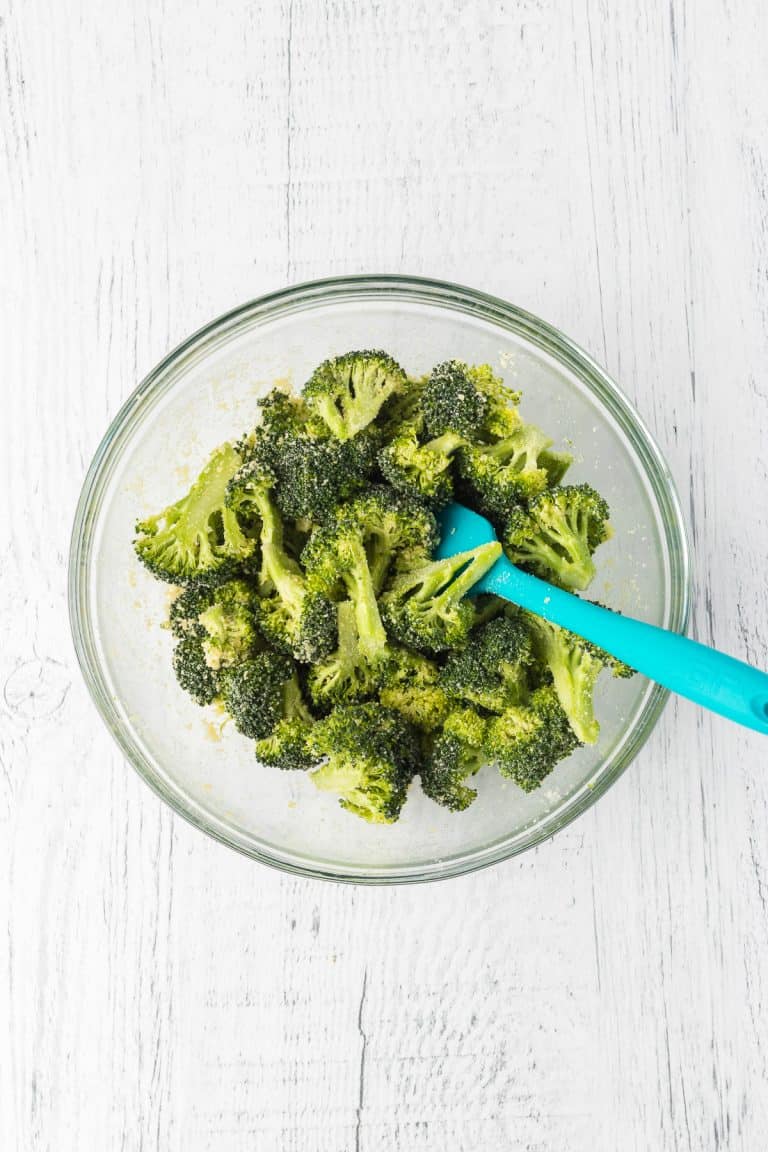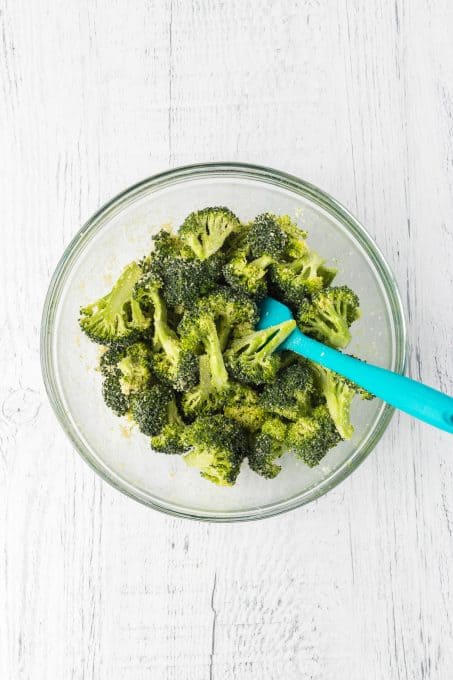 How to make easy Roasted Parmesan Broccoli
This recipe comes together in just a few easy steps.
First, preheat your oven to 425 degrees F. Cut the broccoli into bite-sized florets and place into a large bowl.
In a small bowl, mix together the Parmesan cheese, garlic powder, salt and pepper. Drizzle the broccoli florets with the olive oil and sprinkle the Parmesan mixture over them.
Toss gently to ensure everything is evenly coated.
Spread the broccoli florets onto a rimmed sheet pan in a single even layer. Roast the broccoli for 20 minutes or until brown and crispy on the edges.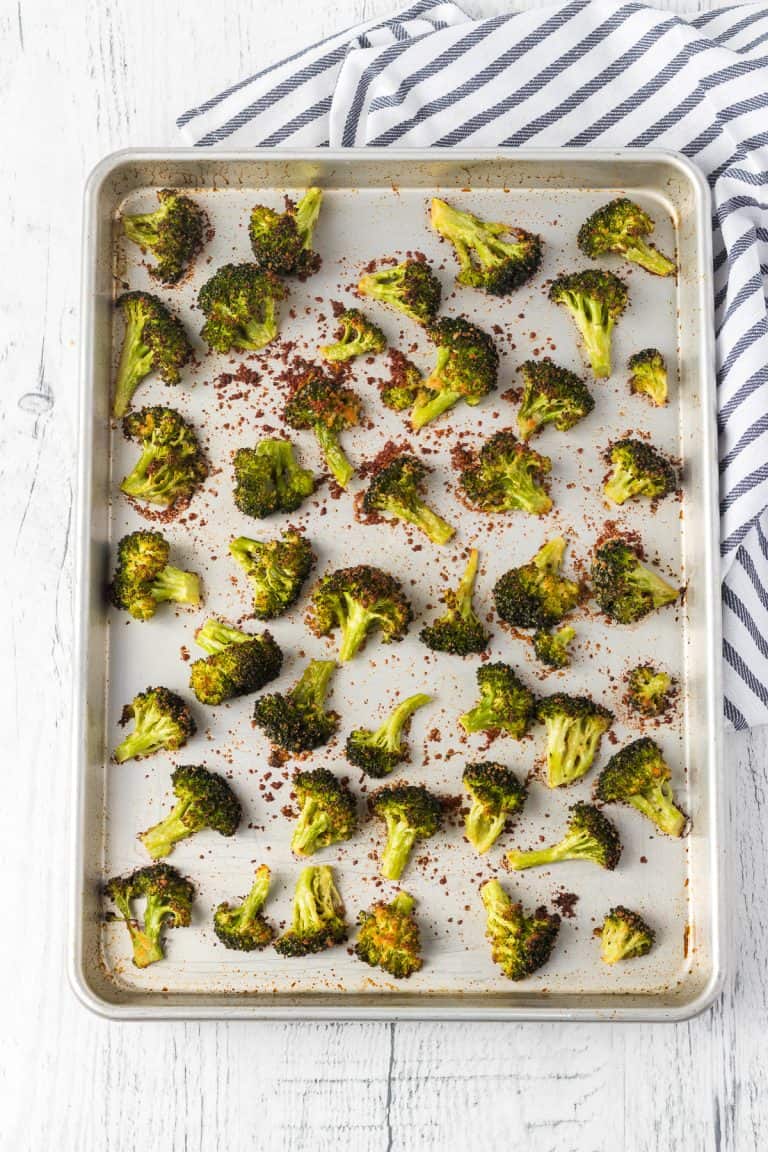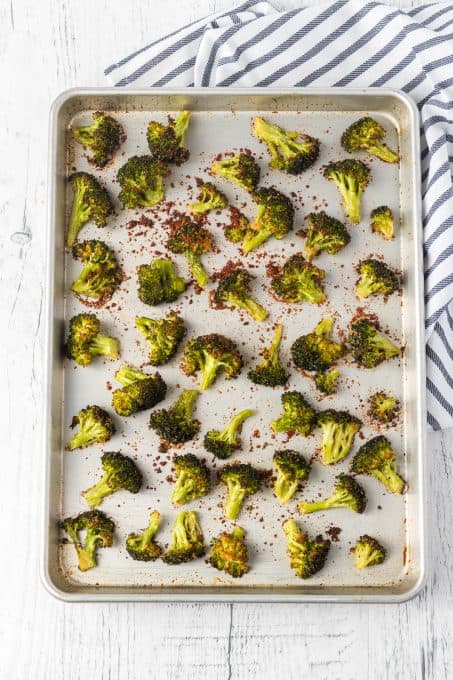 Store leftover Roasted Broccoli
If your family is like mine, you won't have any broccoli left after dinner! But if you do, you can store it for another meal this week!
Refrigerate: Cool the broccoli to room temperature. Then, store it in an airtight container in the fridge for up to 3 days.
Freeze: You can store cooked and cooled broccoli in a freezer-safe bag for up to 3 months. To reheat, warm in a skillet with a little olive oil until hot.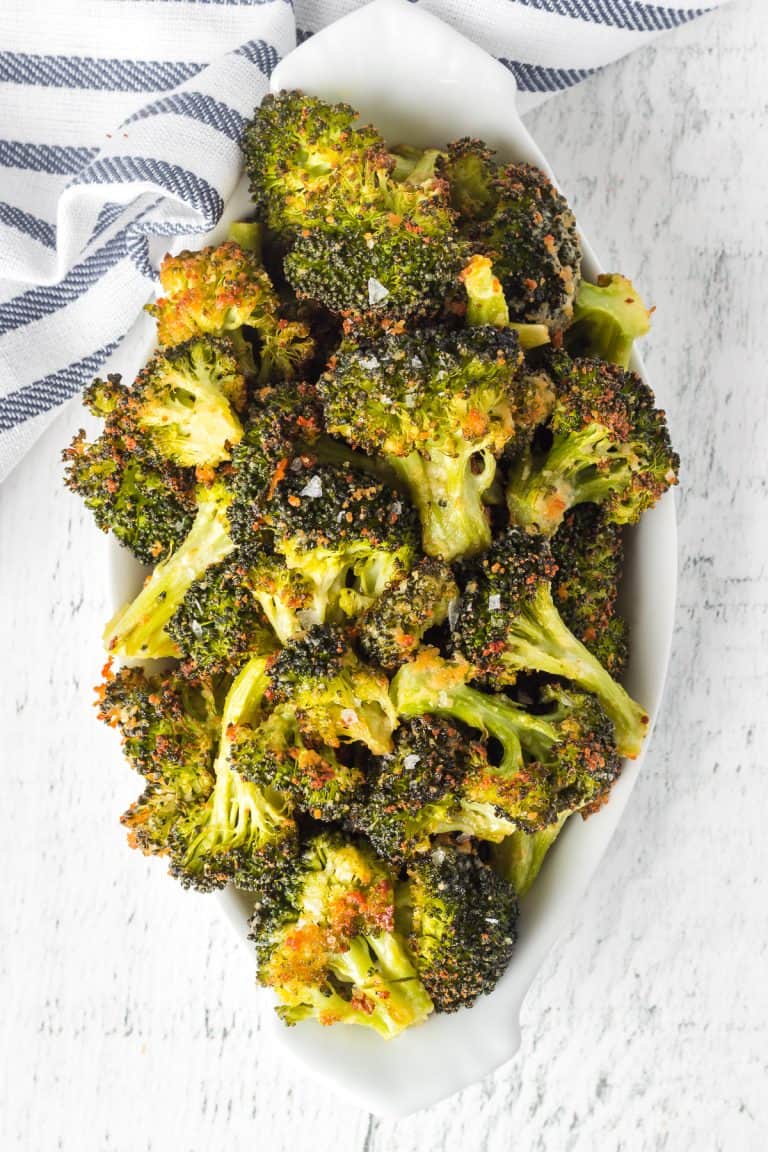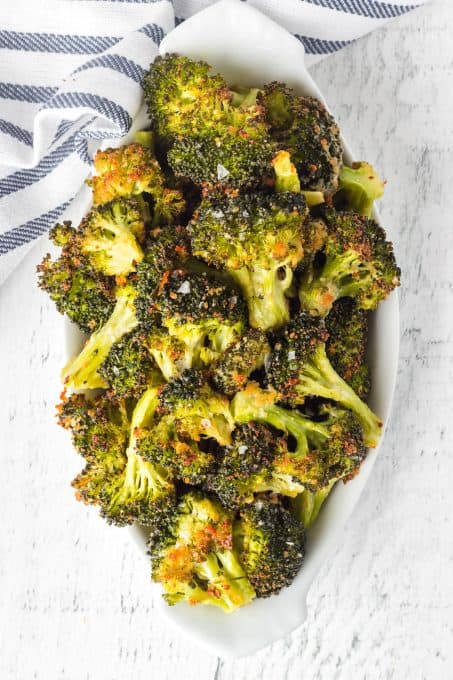 What goes well with Roasted Parmesan Broccoli?
This tender broccoli recipe goes well with just about anything. I recommend you try one of these meals: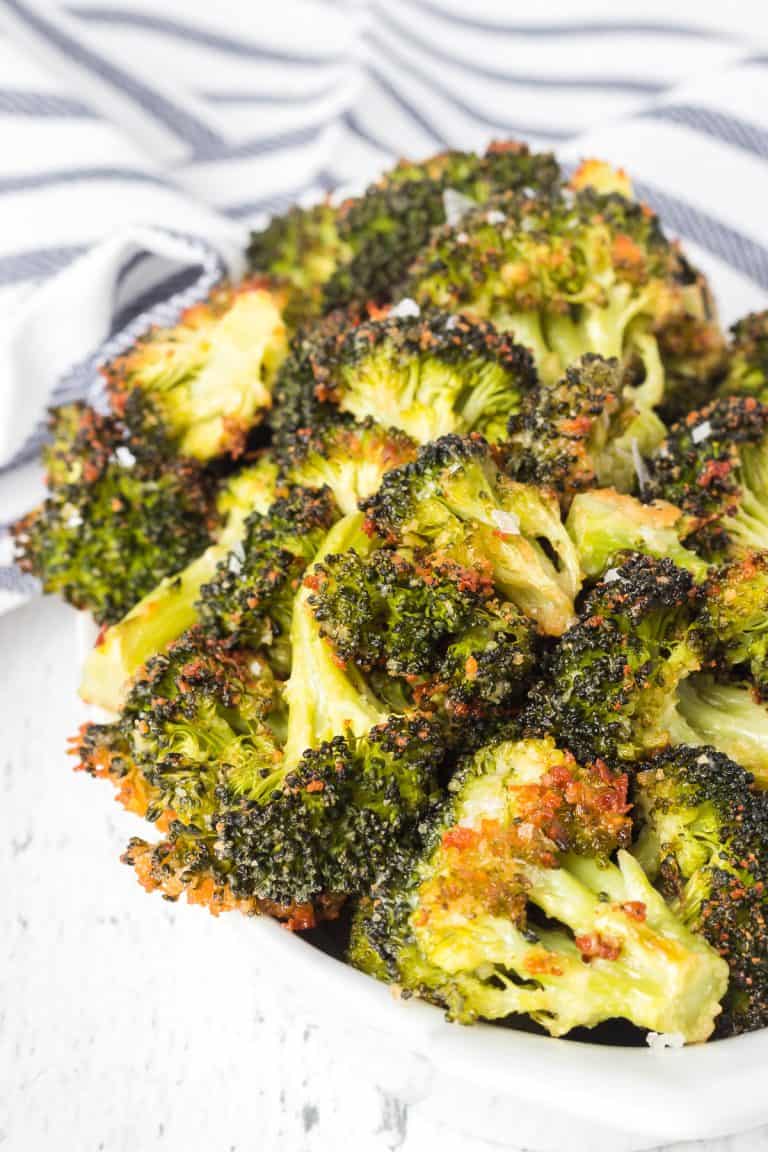 Try More Roasted Vegetable Recipes
Roasting vegetables is the way to go for a tasty, healthy side dish!
These Roasted Brussels Sprouts are amazing! Or, try serving Roasted Teriyaki Cauliflower with your meal. Not a Teriyaki fan? Maybe you'd prefer Roasted Curry Cajun Cauliflower instead!
I also love to roast potatoes of all kinds. Here's a recipe for classic Oven Roasted Potatoes that goes with just about anything! For a fun alternative, make these Roasted Thyme Blue Potatoes!
What are you going to try roasting next?
~ FOLLOW ME ~
Keep an eye out for more of my easy recipes each week!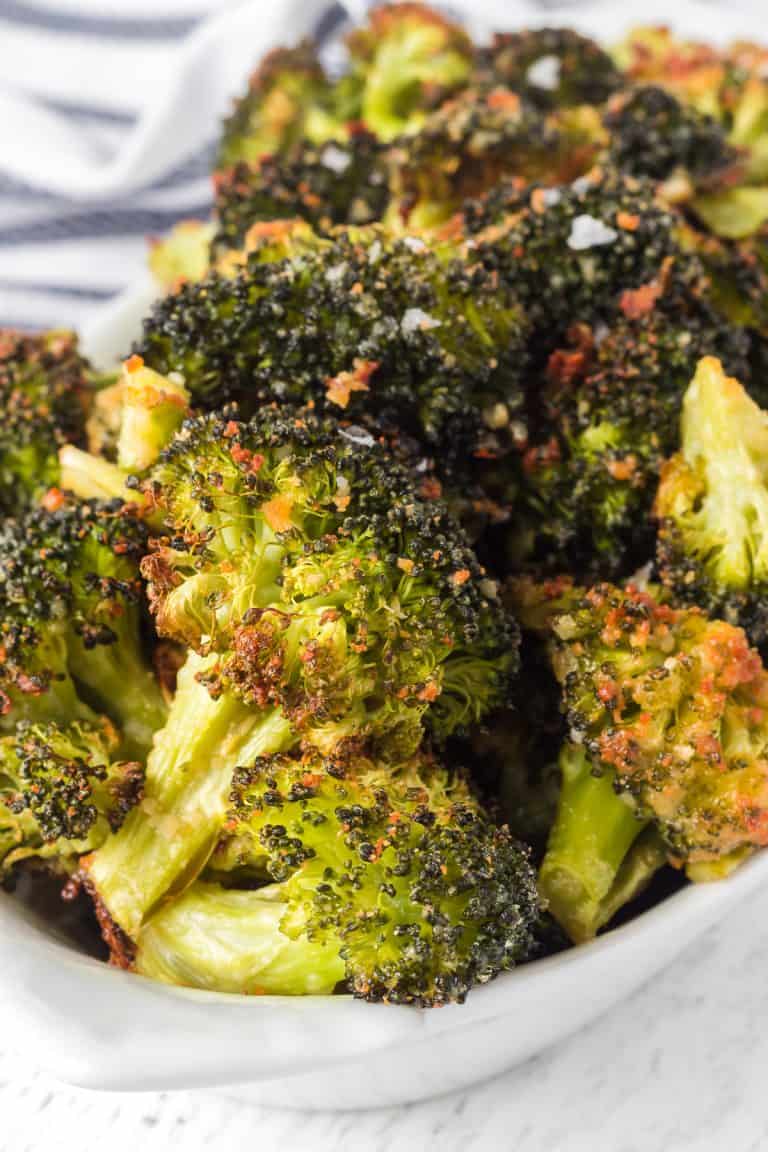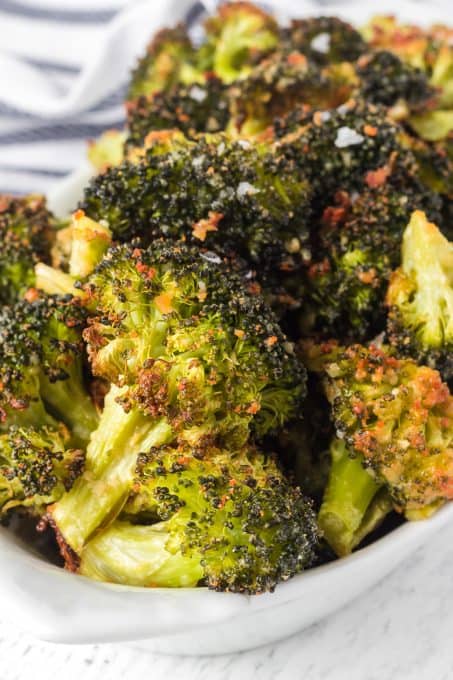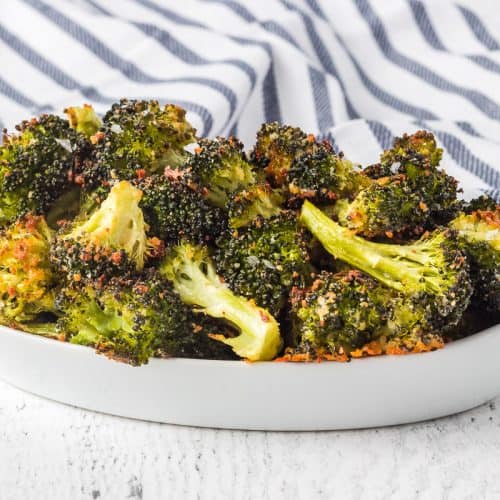 Roasted Parmesan Broccoli
This Roasted Parmesan Broccoli tossed in olive oil, garlic powder, and a touch of salt is the perfect easy side dish for just about any meal! Roasted in the oven until tender, this is delicious tossed in grated parmesan and served hot!
Ingredients
1 ½ pound head(s) of broccoli florets should equal about 5 cups
3 tablespoons olive oil
¾ teaspoon garlic powder
¼ teaspoon kosher salt
⅓ cup grated Parmesan cheese
pinch of black pepper
Instructions
Preheat oven to 425 degrees F.

Cut broccoli into florets of approximately even size and place into a large bowl.

Drizzle the olive oil over the top of the broccoli.

In a small bowl, mix together the Parmesan cheese, garlic powder, salt and black pepper. Toss gently to ensure everything is evenly coated.

Pour onto a rimmed baking sheet in a single layer.

Bake for 20 minutes or until edges are browned and crispy.
Nutrition
Serving: 1serving | Calories: 188kcal | Carbohydrates: 13g | Protein: 7g | Fat: 13g | Saturated Fat: 3g | Polyunsaturated Fat: 1g | Monounsaturated Fat: 8g | Cholesterol: 7mg | Sodium: 348mg | Potassium: 560mg | Fiber: 4g | Sugar: 3g | Vitamin A: 1132IU | Vitamin C: 152mg | Calcium: 154mg | Iron: 1mg
Did you make this recipe?
Share it with me on Instagram and make sure to follow me on Pinterest for more recipes.
This post was originally published 3/7/2014. It has been updated in format and with pictures on 5/8/23.
Reader Interactions