Pina Colada Milkshakes with vanilla ice cream and crushed pineapple are a cold, refreshing taste of the tropics! Blend up a batch of these to beat the summer heat. Delicious with or without the rum!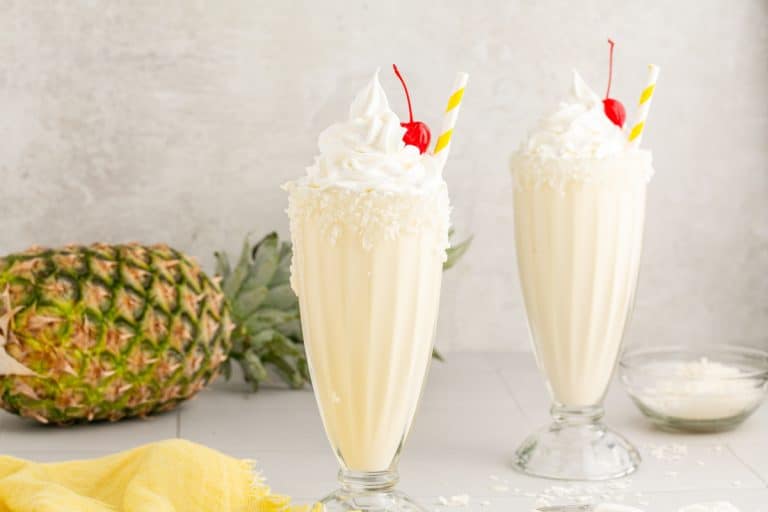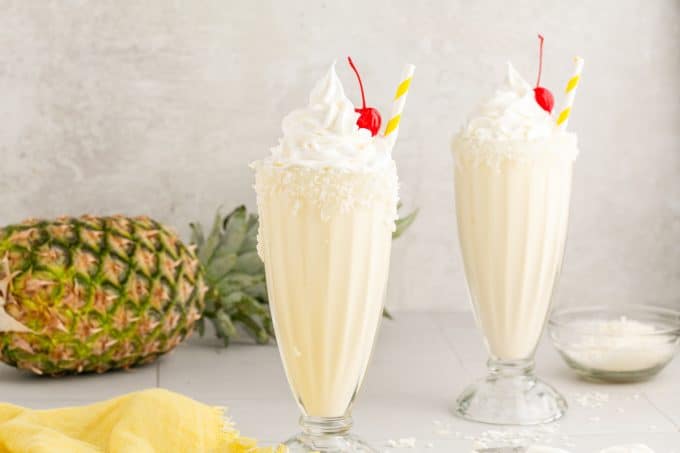 I love a good milkshake.
Have you tried these Double Chocolate Malted Milkshakes yet?
There's just something wonderful about this cold, refreshing treat.
I mean, you can drink your ice cream through a straw for crying out loud!
How genius is that?!
I also love a piña colada on a hot summer day.
So it only made sense to combine the two to make the best easy Pina Colada Milkshakes!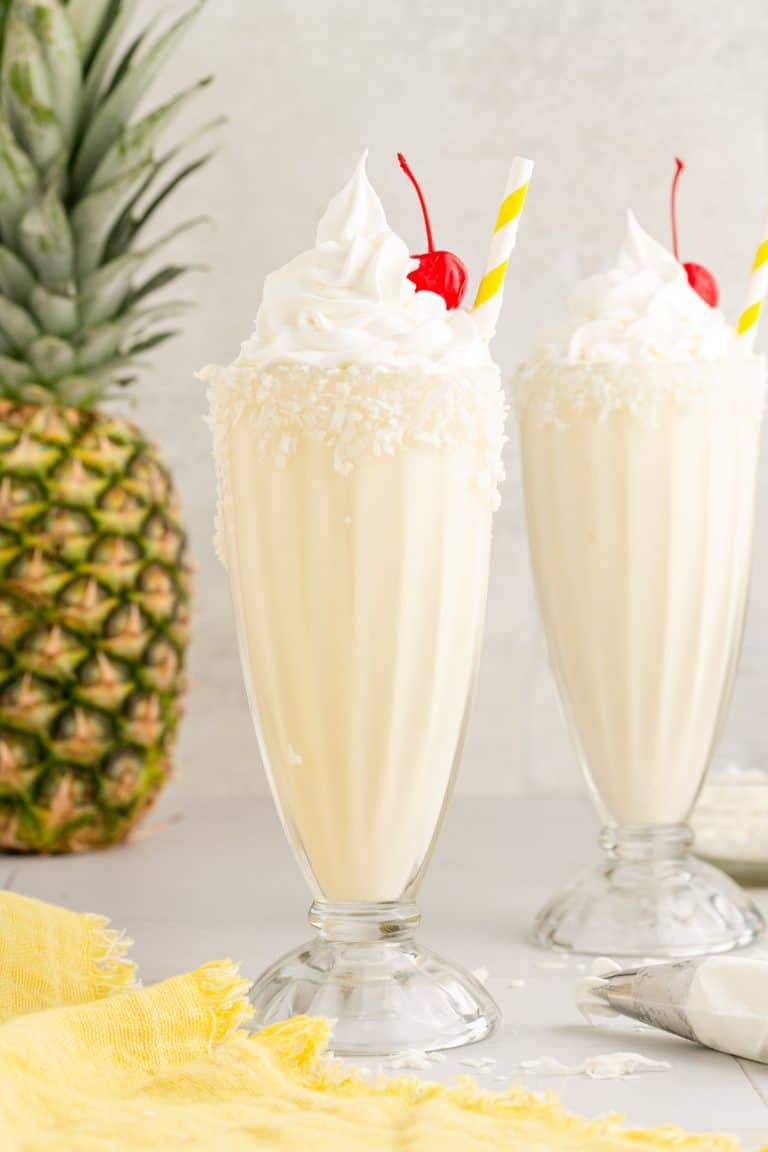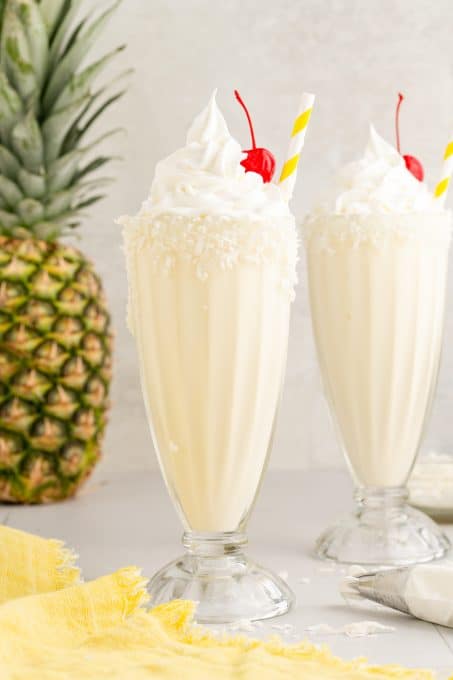 What's in a Pina Colada Milkshake
Vanilla ice cream
Crushed pineapple
Coconut milk
Cream of coconut
Coconut flakes
Rum – optional!
I've used a couple of different types of cream of coconut and found that the Coco Real brand was the best one for this recipe.
It also helped the shredded coconut stick to the rims of the glasses really well.
I found it in the alcohol section of my local Walmart and grocery store near the drink mixers.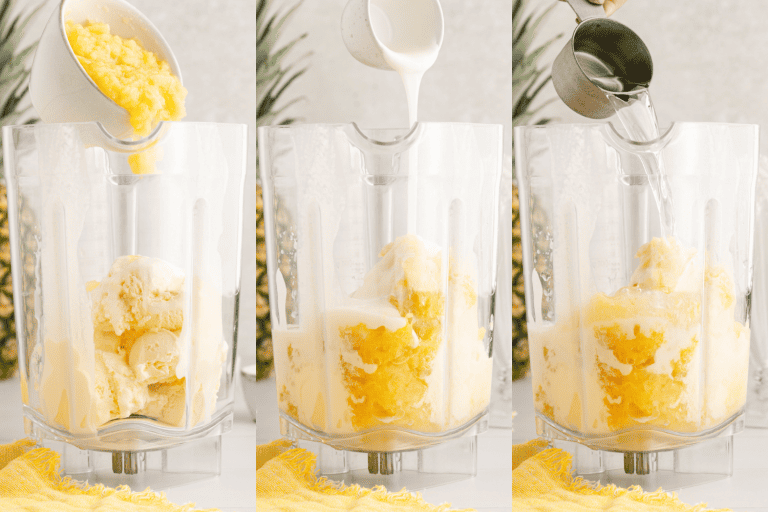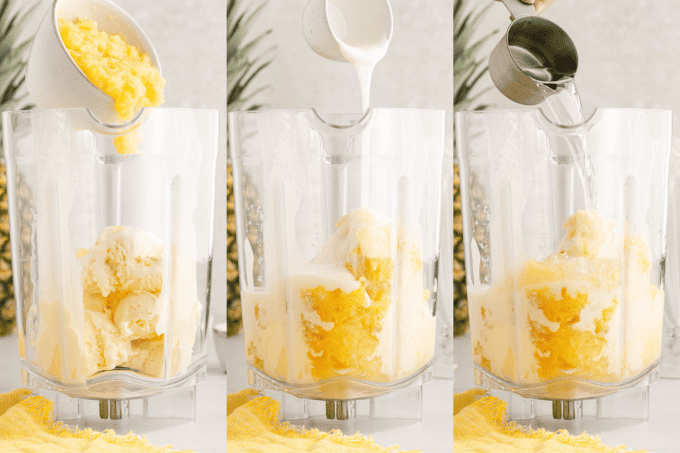 If you like pina coladas, then you'll love these milkshakes and can easily make them at home.
These offer an even creamier take on the classic tropical cocktail.
The taste is so much fresher than the bottled piña colada mixes!
Just toss everything in your blender, hit the button and let it come together in creamy pineapple coconut perfection.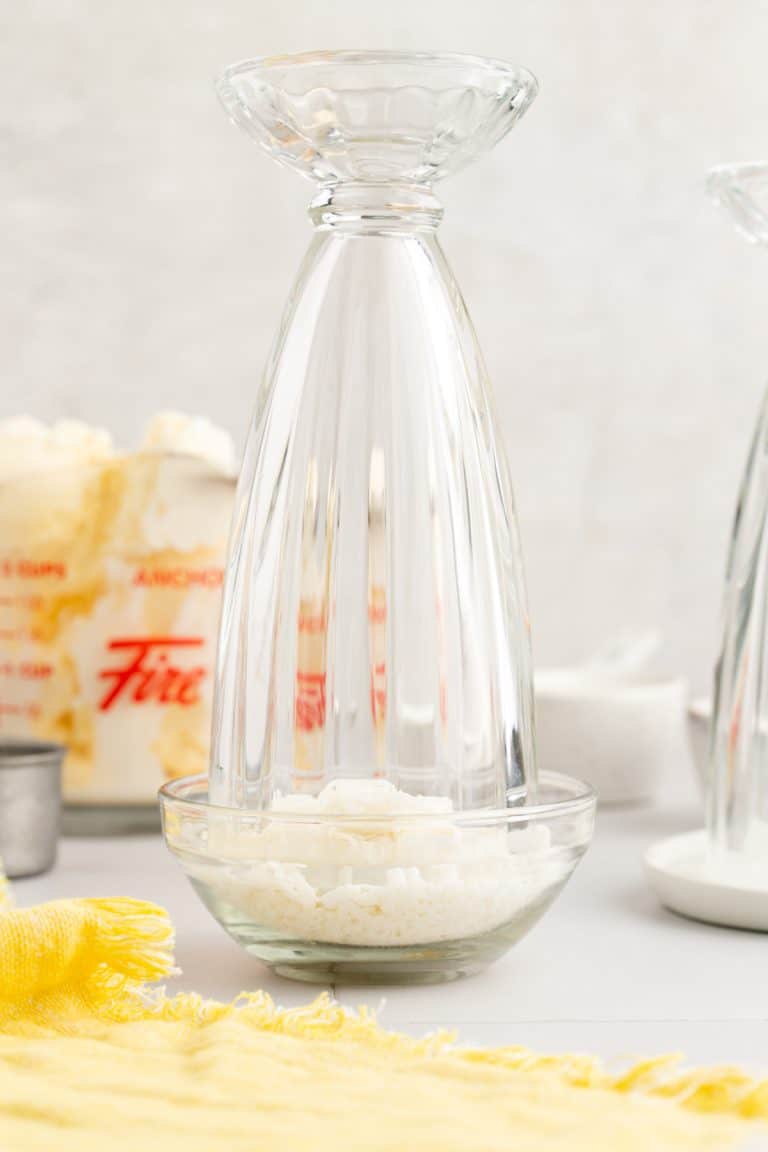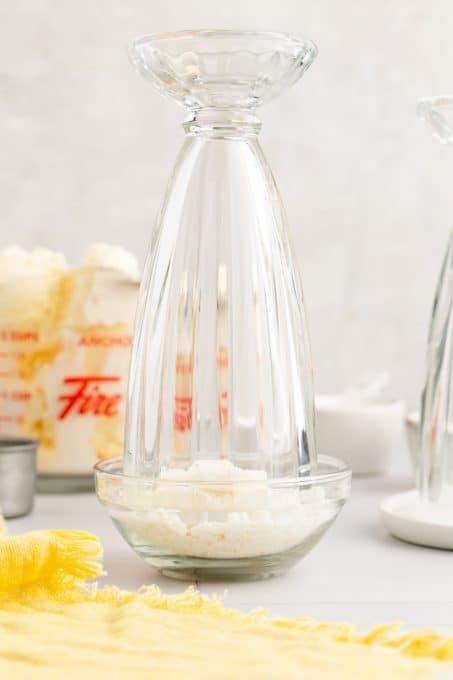 What kind of rum is best for pina colada milkshakes?
I recommend white rum or a gold rum.
The flavor of the rum is masked by the other ingredients in this recipe, so it doesn't need to be top shelf.
Any rum you usually enjoy in your cocktails is perfect here.
I'd personally avoid flavored versions, unless you like them in your piña coladas!
This recipe is already pretty sweet and most flavored rums contain added sugar.
Of course, if you want to try this milkshake recipe with a pineapple flavored rum, don't let me stop you!
I bet it'll be delicious every which way.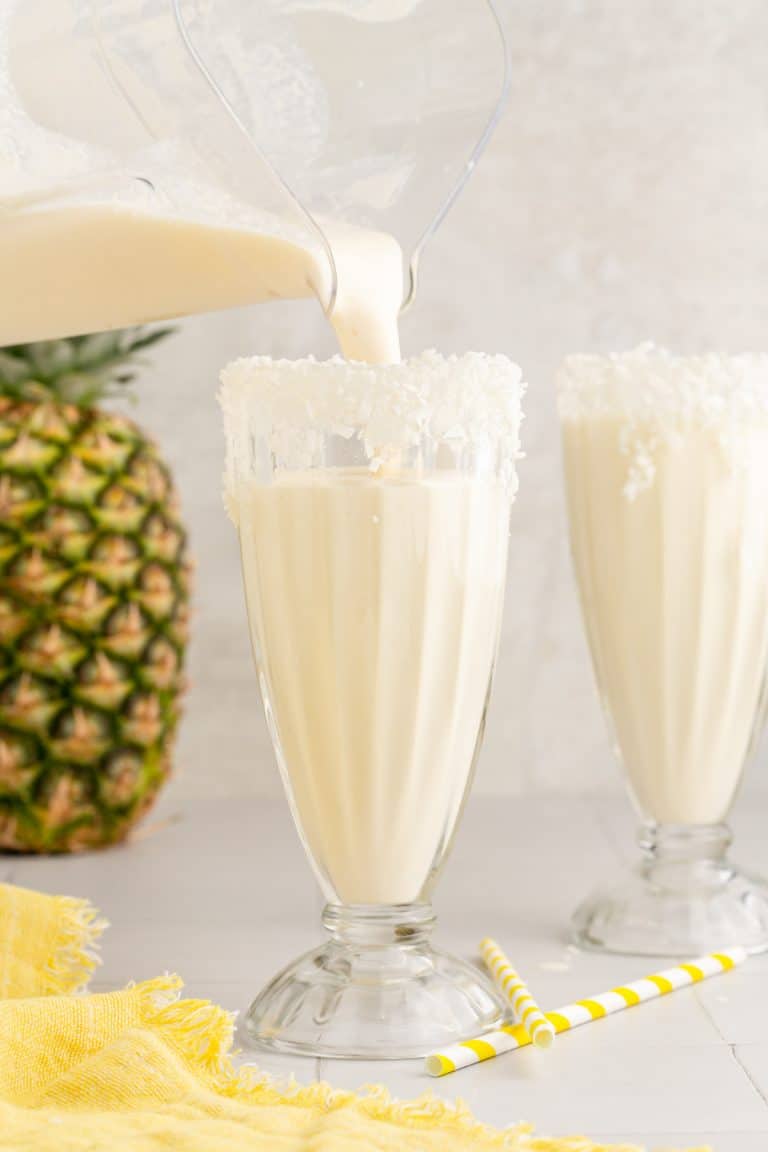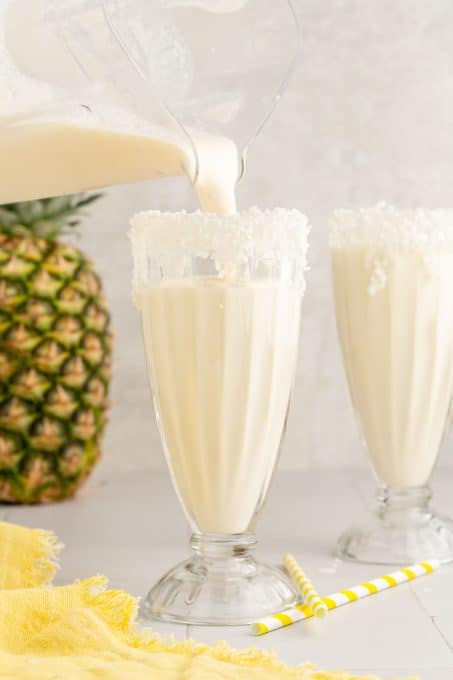 Can these milkshakes be made without rum?
Need another reason to love this recipe?
It's equally delicious without the rum!
That way, you can make two batches: one for the kids and one for the grown ups!
Sometimes I opt for the virgin piña colada milkshake version myself.
My suggestion is to substitute the same amount of milk for the rum so, it's still the same consistency.
I like mine with a long straw for sipping and an extra cherry on top.
And can we talk about how fabulous the coconut flakes look on the rim of the glass?
Don't want them, you can leave them off.
You'll feel like you're sitting in a fancy resort having frozen drinks delivered to your cabana.
Close your eyes and you can almost smell the ocean.
Or is that just the fruity aroma of the pineapple in every sip?
Either way, I'll take it!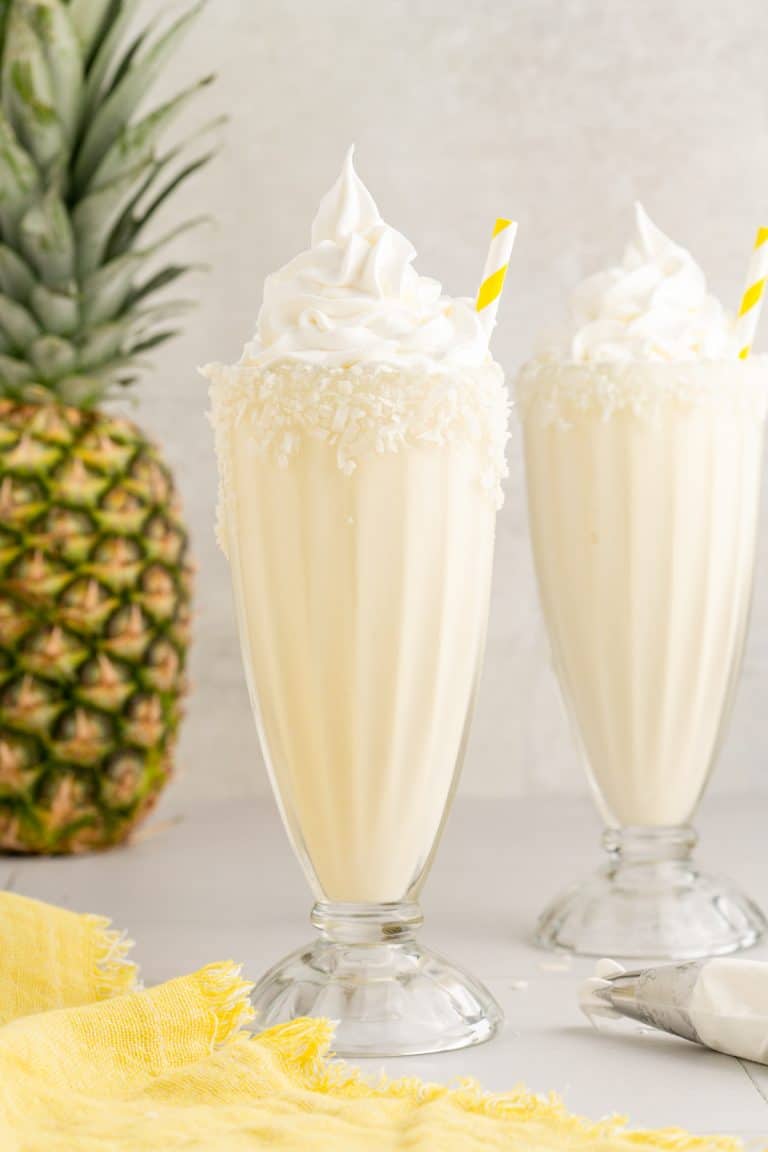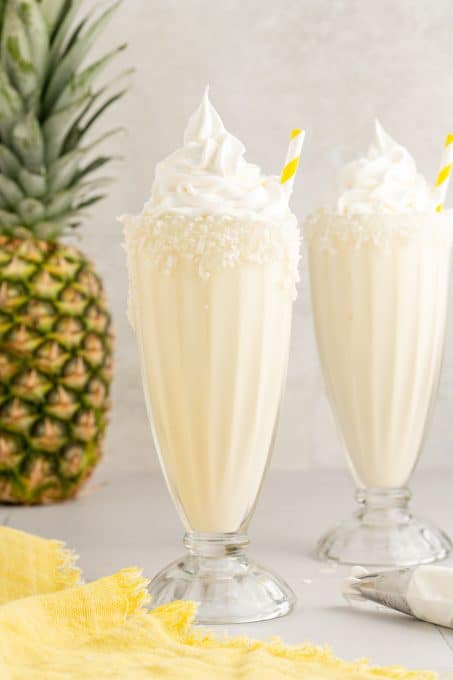 This recipe makes enough for two large pina colada milkshakes.
It's easy to double the recipe if your blender is big enough.
When making these for a crowd, I usually just make a few batches separately.
Some with alcohol and some without.
They're so fast and easy to make that I can always make more at a minute's notice.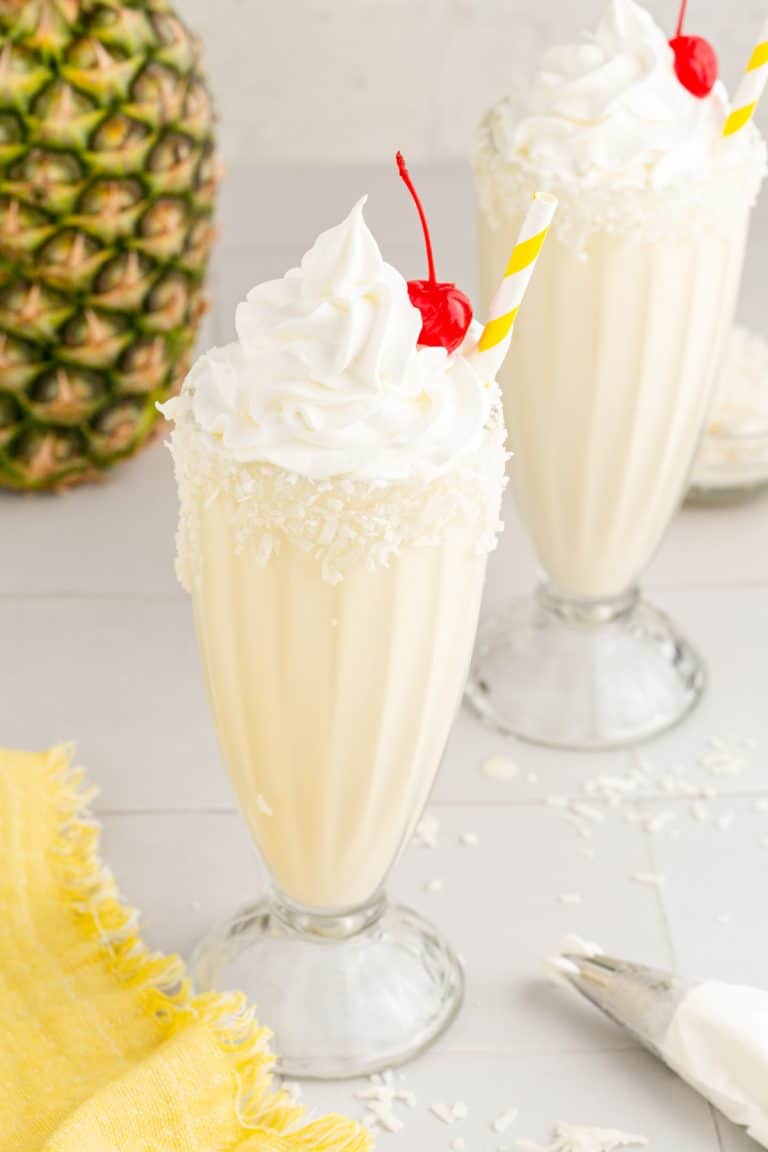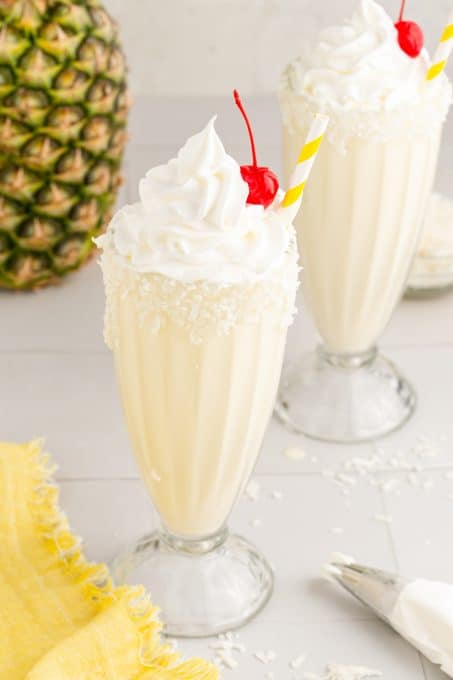 More pineapple and coconut recipes
When it comes to summertime, nothing hits the spot more than a sweet treat made with these two sunshine-summoning ingredients.
Looking for something to serve for dinner before you dig into dessert?
Give these Toasted Coconut Chicken Bites with Pineapple Salsa a taste.
SIGN UP FOR THE WEEKLY
365 DAYS OF BAKING & MORE
NEWSLETTER BELOW!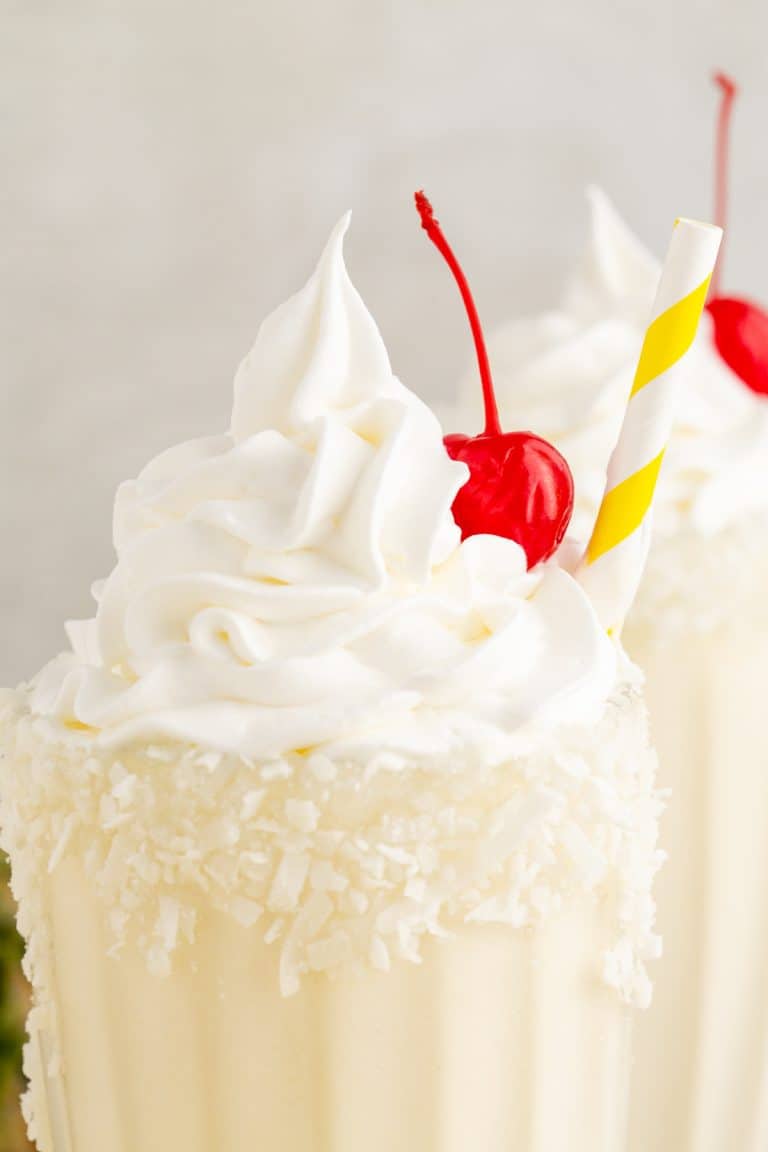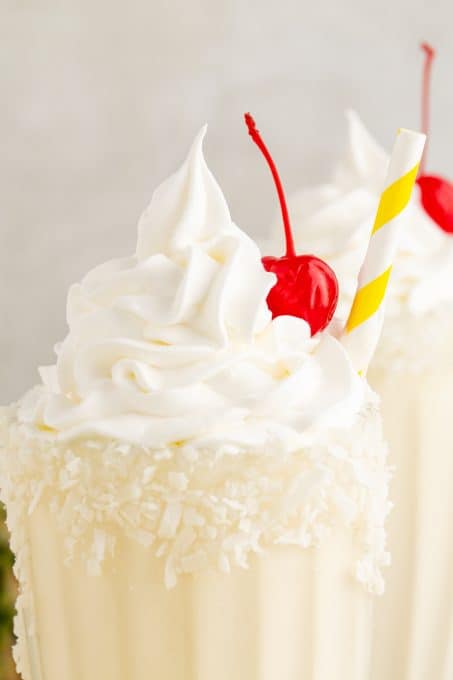 If anyone needs me I'll be lounging in the sunshine with a homemade Pina Colada Milkshake!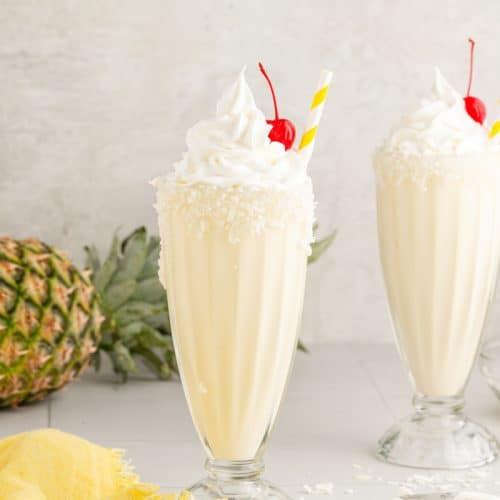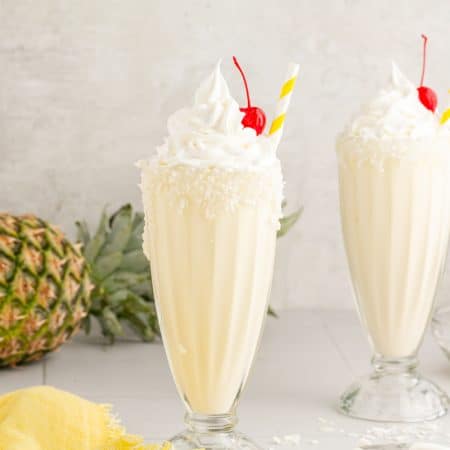 Pina Colada Milkshakes – vanilla ice cream, cream of coconut, rum and crushed pineapple give these drinks a cold, refreshing taste of the tropics that are perfect for the summer heat!
Ingredients
2 ½ cups vanilla ice cream
8 ounces crushed pineapple in pineapple juice undrained
¼ cup coconut milk
¼ cup Cream of Coconut plus two additional tablespoons for rim
¼ cup rum *See note for virgin recipe
Shredded sweetened coconut flakes
whipped cream and maraschino cherries for garnish
Instructions
Place about two tablespoons of the cream of coconut into a small shallow plate and the coconut flakes into a small shallow bowl.

Put the rims of the serving glasses into the cream of coconut, making sure to place a good amount all along the rim.

Place the glasses into the coconut flakes and completely cover the rim.

Put the ice cream, pineapple, coconut milk, 1/4 cup cream of coconut and rum into the blender.

Blend until completely mixed and smooth.

Gently pour into garnished serving glasses, top with whipped cream and a cherry, if desired and serve immediately.
Notes
Want to make it a virgin Pina Colada Milkshake? You can do that! My recommendation is to substitute some milk for the ¼ cup of rum so that you have the same consistency. 
Nutrition
Serving: 1g | Calories: 667kcal | Carbohydrates: 83g | Protein: 13g | Fat: 32g | Saturated Fat: 23g | Polyunsaturated Fat: 1g | Monounsaturated Fat: 6g | Cholesterol: 91mg | Sodium: 172mg | Potassium: 632mg | Fiber: 4g | Sugar: 76g | Vitamin A: 751IU | Vitamin C: 12mg | Calcium: 240mg | Iron: 2mg
Did you make this recipe?
Share it with me on Instagram and make sure to follow me on Pinterest for more recipes.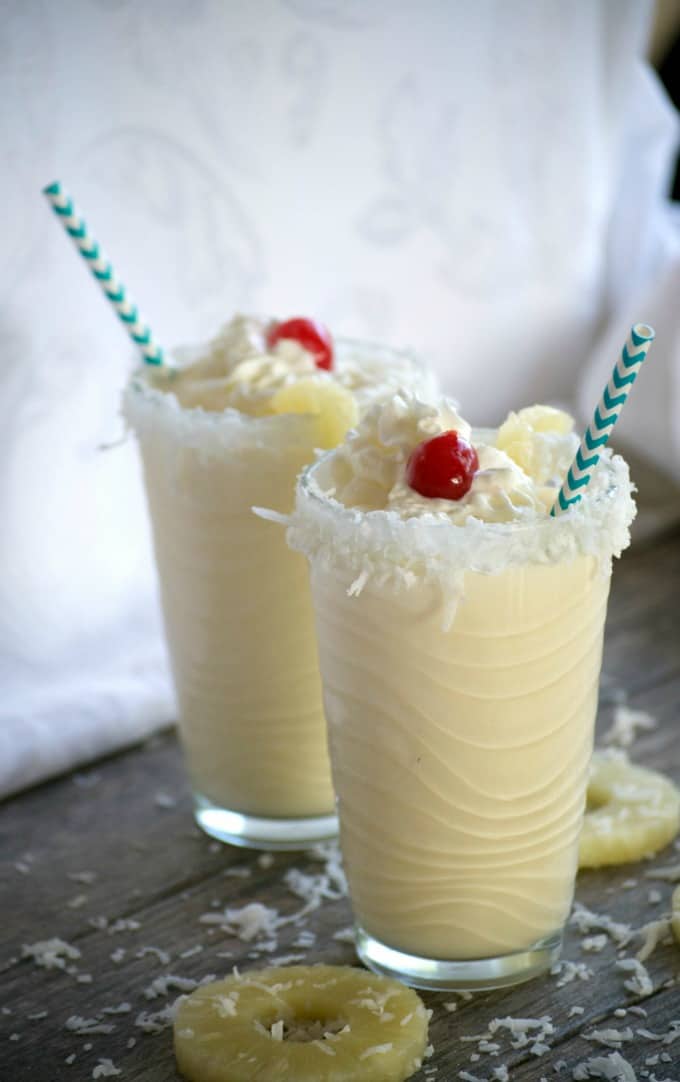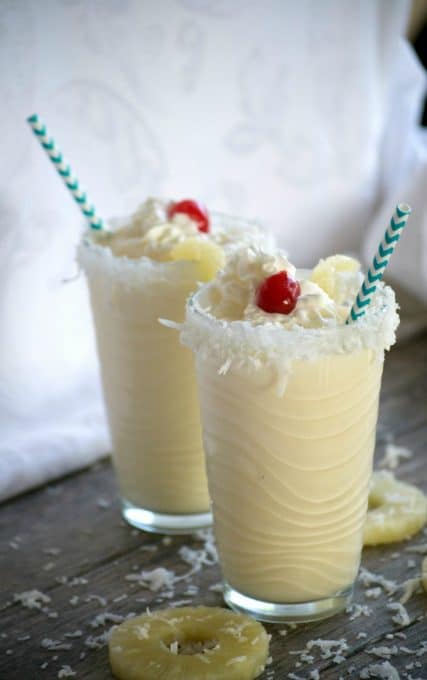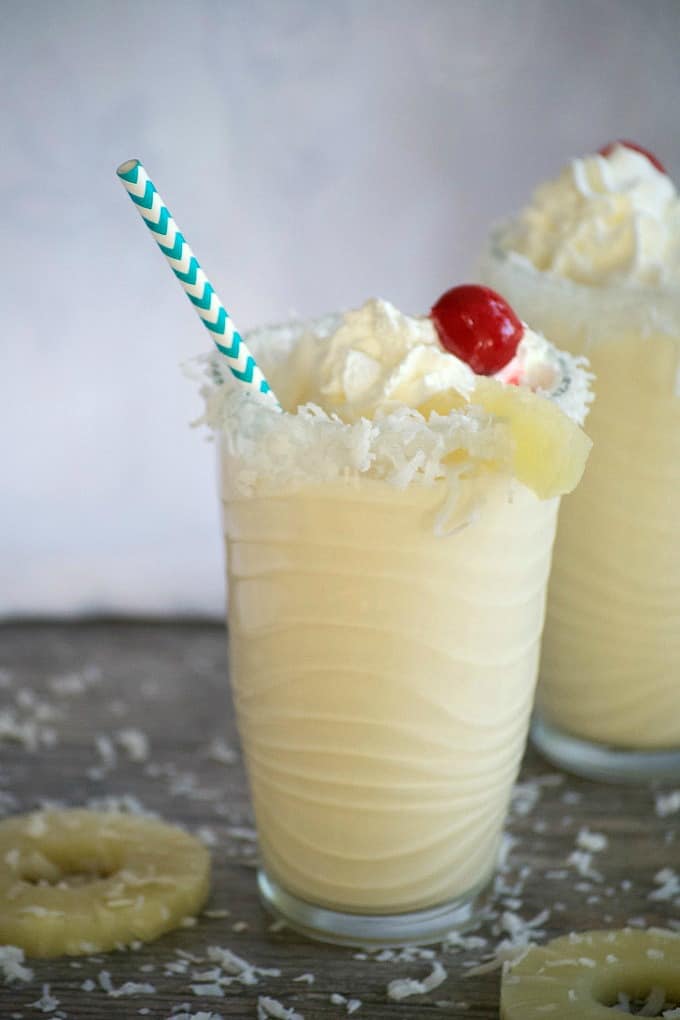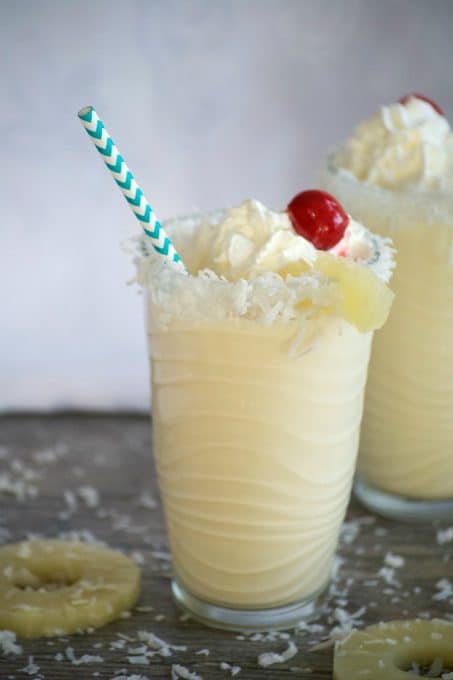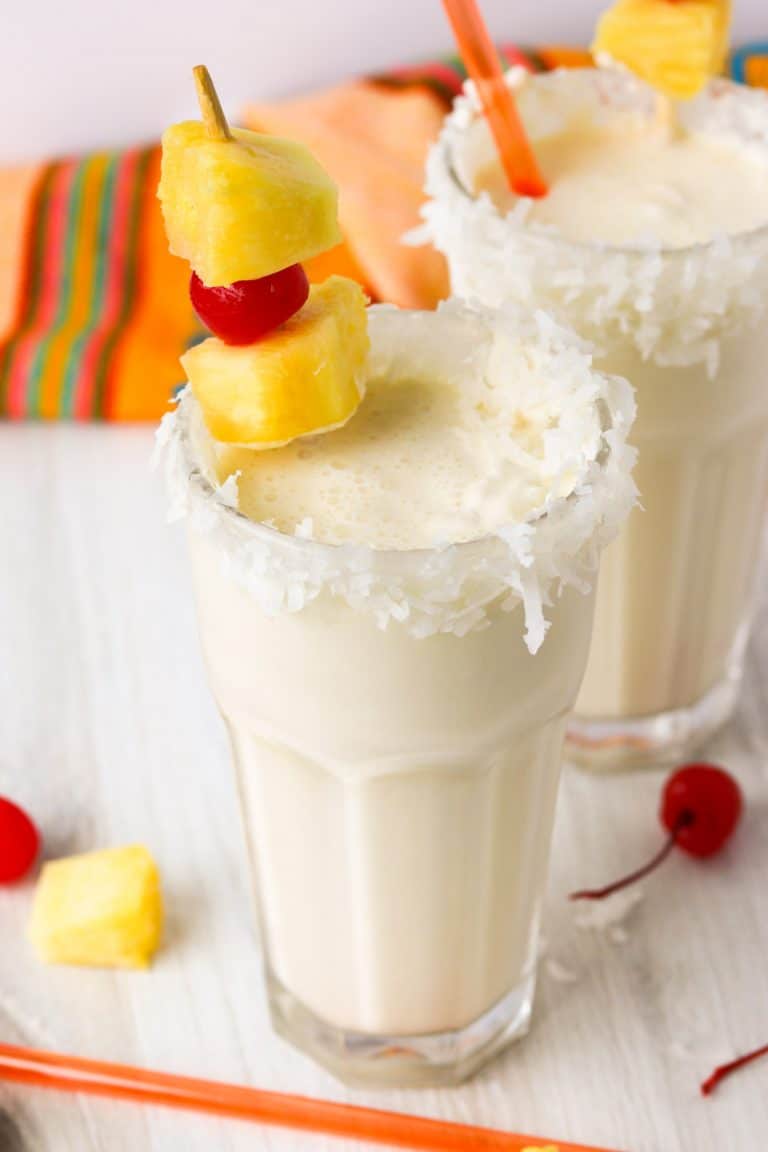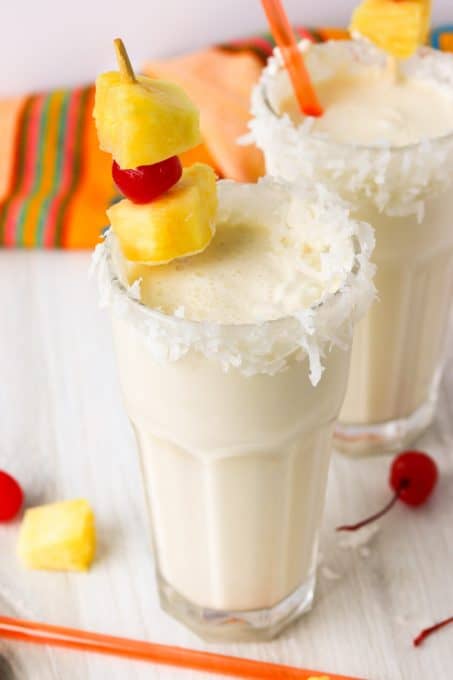 This recipe was updated with pictures and in format on 8/16/21 and again on 5/5/23. It was originally published 5/2/2016.
Reader Interactions