I decided to go tropical today.
Maybe it's because it's been chilly here and I'm already missing the warmer weather.
I have to admit though that it is a nice change to wear jeans and long sleeve shirts.
But, I am definitely NOT missing those 100+º temperatures.
I had wanted to make a Pineapple Mango Salsa to go with the chicken, but the mango I bought was brown in places when I peeled it, so I scratched that idea.
It really looked pretty gross.
And on that note, we're off to today's recipe… 😉
Toasted Coconut Chicken Bites with Pineapple Salsa – serves 4
Pineapple Salsa
1 20 oz. can pineapple slices, drained and diced
1 tablespoon fresh cilantro, chopped
1 1/2 teaspoon red onion, chopped
1 clove garlic, minced
pinch of salt
pinch of freshly ground pepper
In a medium bowl combine all ingredients and mix well. Set aside.
Toasted Coconut Chicken Bites
2 large boneless, skinless chicken breasts, cut up into bite size pieces
1 egg
1 1/2 cups coconut, toasted
1 cup Panko bread crumbs
1/2 teaspoon salt
1/4 teaspoon freshly ground pepper
To toast coconut:
Preheat oven to 300º. Line a rimmed baking sheet with parchment paper.
Place coconut on baking sheet and spread into a single layer as evenly as possible.
Bake for 10-15 minutes, checking and stirring it after 5 minutes and again at 10.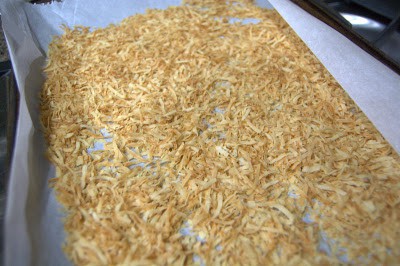 To prepare chicken:
Increase oven temperature to 375º.
Prepare a 9 X 13-inch baking dish by spraying it with cooking spray.
In a medium bowl, beat egg.
Add chicken pieces and toss to coat. (I did this in two separate batches – too many chicken pieces to fit into the bowl.)
In a separate bowl, combine toasted coconut, bread crumbs, salt and pepper. Mix well.
Take chicken out of egg and allowing the excess egg to drip back into the bowl.
Place chicken into the coconut mixture.
Toss to coat completely.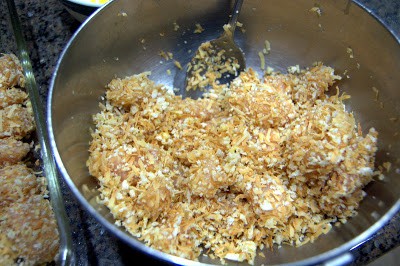 Put chicken in a single layer in the prepared baking dish.
Bake for 20 minutes.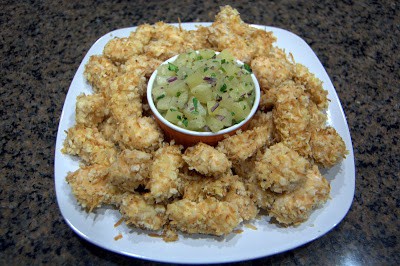 I rate everything I bake on a scale of 1-4 with 4 being the best and these Toasted Coconut Chicken Bites with Pineapple Salsa earned 3 rolling pins.
My critics here said they would have liked a crunchier texture on the chicken.
They also would have liked the salsa as a sauce drizzled over the chicken instead of the salsa.
I'll definitely be adding this to my rotation of recipes, so I'll be making the sauce and will have to let you know.
I just need to get me an immersion blender.
Santa, oh, Santa?
I can definitely see this being served at a Superbowl party and it would make a great appetizer or main dish served at a party with a tropical theme.
Pass me one of those fruity drinks with the umbrella!
I give you all BIG baking hugs and muffins!!
Make it a great week!