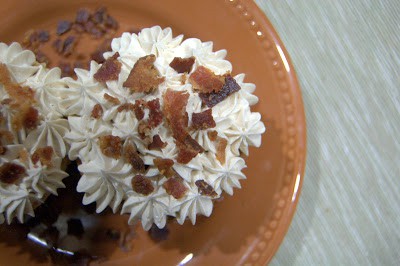 Can someone tell me why it is that the day your hair turns out perfectly in the morning, it starts to rain?
Or
When you feel as if you're having a really bad hair day, someone compliments you on it?
Ooh, that was a LOUD thunder BOOM!!
Signing off for a few…
Yeah, we had a bit of rain.
And yes, I thought my hair turned out perfectly this morning.
It was just perfectly curled to my liking and it wasn't frizzy.
Then it started to downpour.
And I had some grocery shopping to do.
I waited. Clipped coupons. And waited.
Then I cooked bacon.
Bacon to sprinkle on top of these cupcakes.
Sounds weird?
It could be if you've got a thing against bacon on a cupcake, but have you ever tried bacon on a cupcake?
Don't judge a book by its' cover. Or a cupcake by its' bacon.
I'll tell you about it, of course, after the recipe.
Adapted from Let's Dish.
French Toast Cupcakes with Maple Buttercream Frosting – makes about 20 cupcakes
Cupcakes
3/4 cup (1 1/2 sticks) unsalted butter, room temperature
1 cup sugar
1 1/2 cups cake flour
1 1/2 teaspoons baking powder
1 1/2 teaspoons cinnamon
1/2 teaspoon freshly grated nutmeg
1/4 teaspoon salt
1/2 cup milk
1 1/2 teaspoon vanilla
3 large eggs, separated
Preheat oven to 375ºF.
Line 2 12-cup muffin trays with liners. Fill any empty cups halfway with water to allow for even cooking.
In a mixing bowl, fitted with the paddle attachment, cream butter and sugar on high speed until light and fluffy. This should take about 10 minutes.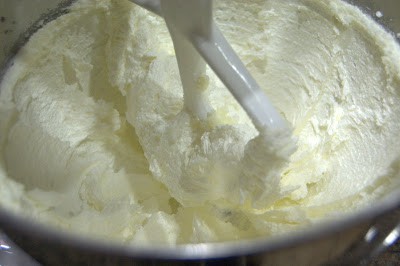 In a medium bowl, mix together flour, baking powder, cinnamon, nutmeg, and salt; set aside.
In measuring cup with milk, add vanilla and stir to combine and set aside.
To the butter and sugar combination, add egg yolks, one at a time, incorporating each one completely before adding the next.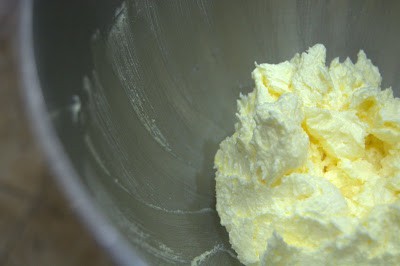 In alternating steps, add the flour and the milk, beginning and ending with the flour also incorporating each before adding the next.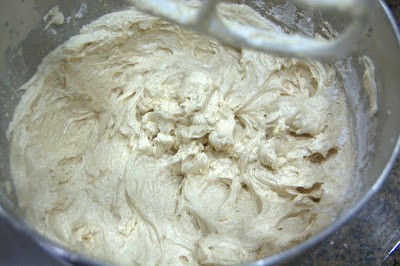 Do this on low speed so you won't have a milk mess to clean up in your kitchen.
Trust me on this.
You'd think by the 257th day of 365 days of baking this is something I would have learned.
Nope
.
Make sure batter is smooth by raising speed of the mixer to medium.
Place batter in a large bowl.
Insert mixing bowl cleaning music because it's time to clean the mixing bowl.
Place egg whites into cleaned mixing bowl, and with wire whisk, beat on high speed until stiff peaks are formed.
Fold egg whites into batter using a rubber spatula, a third at a time, and just until they are mixed in.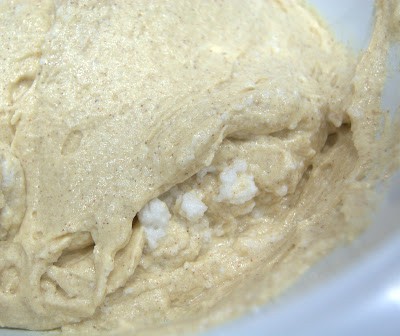 Fill the muffin cups 2/3 full.
Bake for 25-30 minutes or until a cake tester/toothpick inserted into the center comes out clean.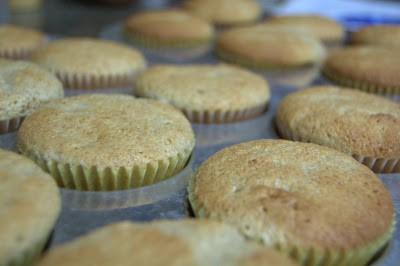 Allow cupcakes to cool completely on a wire rack before frosting.
Maple Buttercream Frosting
1 cup (2 sticks) unsalted butter, room temperature
2 3/4 cup confectioners' sugar
2 teaspoons whole milk
3/4 teaspoon maple extract
6 strips bacon, cooked crisp and crumbled
In a mixing bowl, cream butter and sugar on low speed gradually increasing to high and beating until mixture is light and fluffy, about 5 minutes.
Reduce mixer speed to low and add milk and maple extract.
Beat until well blended.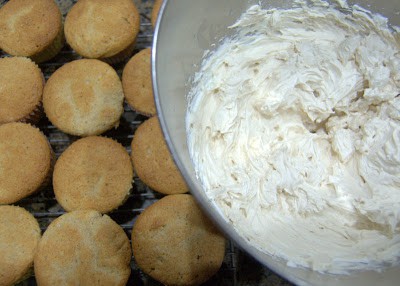 Frost cupcakes and sprinkle with bacon bits.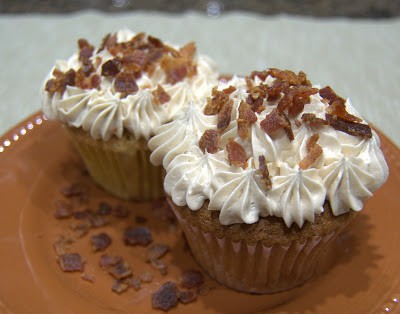 I rate everything I bake on a scale of 1-4 with 4 being the best and these French Toast Cupcakes with Maple Buttercream Frosting and Bacon Sprinkles earned 2 1/2 rolling pins.
I think I may have beaten the egg whites too long as they looked a little dry when I was folding them into the batter.
AND, I didn't fold until "just incorporated'.
I overfolded.
I was having too much fun folding and trying to make the egg whites disappear.
I don't know. I guess I was in a zone.
Yeah, zoned OUT.
So, this is one time where I can say, "Do as I say, not as I do."
The cupcake was just a tad bit dry and I think that was the reason.
The frosting was a wee bit too sweet for me. I really don't like sweet sweet frostings, but I have to say that having the bacon bits on top helped.
The saltiness of the bacon was a very good addition (mostly because I'm NUTS about bacon) because if it hadn't been on top I would not have been able to eat the whole thing.
Frosting – too sweet.
And actually, I didn't. One cupcake was too much for moi.
My husband ate not even half of one and didn't like them at first, really turning his nose up at the bacon, but when the last thing he could taste was bacon, he decided to change his mind and say they were at least ok.
Our son and daughter didn't have any. I think they may have been too "French toasted out" because upon coming home from school and after hearing what was being baked for today, the boy asked if we could have French toast for dinner.
Why did I ever say yes to that?
French Toast cupcakes AND French Toast for dinner?!
One word.
OVERLOAD
If you're going to make these cupcakes, have protein for dinner or at least a delicious, healthy GREEN salad.
I think I'm going to go munch on some lettuce now before I go to bed and decompress.