Chicken Parmesan Gnocchi is an easy skillet recipe with Italian flair that's ready in just 30 minutes! Made with shredded chicken, mozzarella and a crispy breadcrumb topping, this recipe offers a delicious twist on classic gnocchi.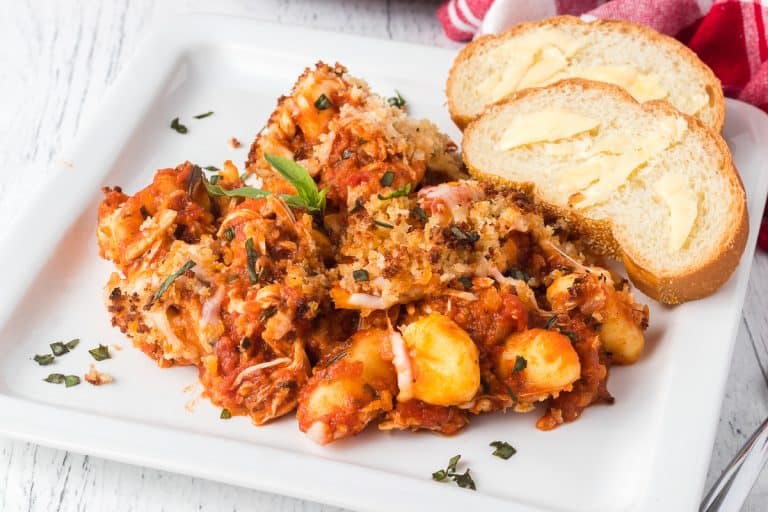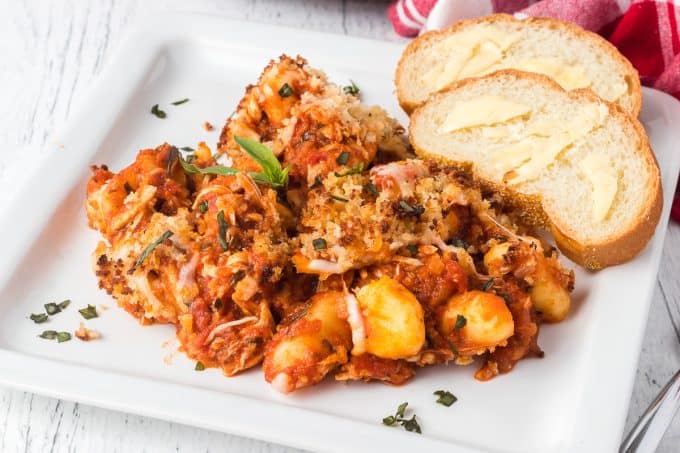 You can make this entire meal in one skillet. It's even faster than my Roasted Chicken and Vegetables recipe and full of amazing cheesy, garlicky flavor!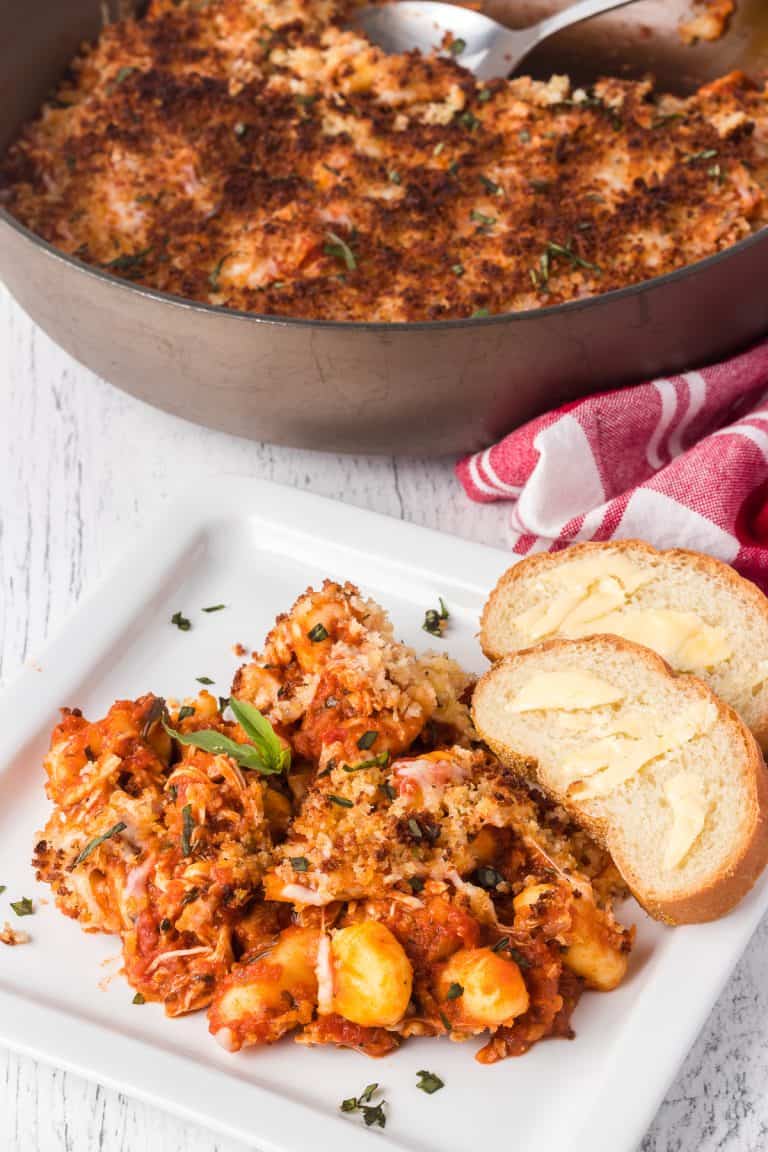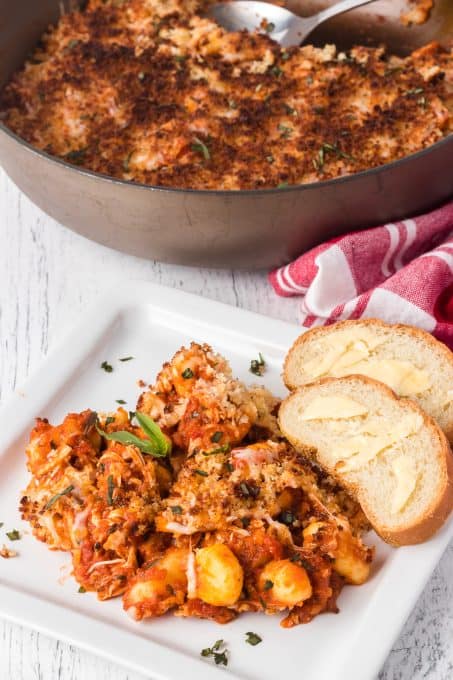 There's something magical about gnocchi — those soft, pillowy dumplings that are potatoes and pasta all in one. You can enjoy them on their own, but gnocchi also make a fantastic meal starter. For this skillet gnocchi recipe, I took inspiration from one of my other favorite Italian dishes: chicken parmesan!
Chicken Parmesan Gnocchi starts with a bag of uncooked gnocchi. Combined with a hearty tomato sauce, tender chicken and a crispy panko parmesan topping, it's a full Italian feast that's ready in only 30 minutes.
And since everything bakes together in the same skillet, you won't have to spend your evening scrubbing piles of pots and pans either. Take your time and savor your fresh-from-the-oven cheesy parmesan gnocchi. I know you'll agree — every bite is even better than the last!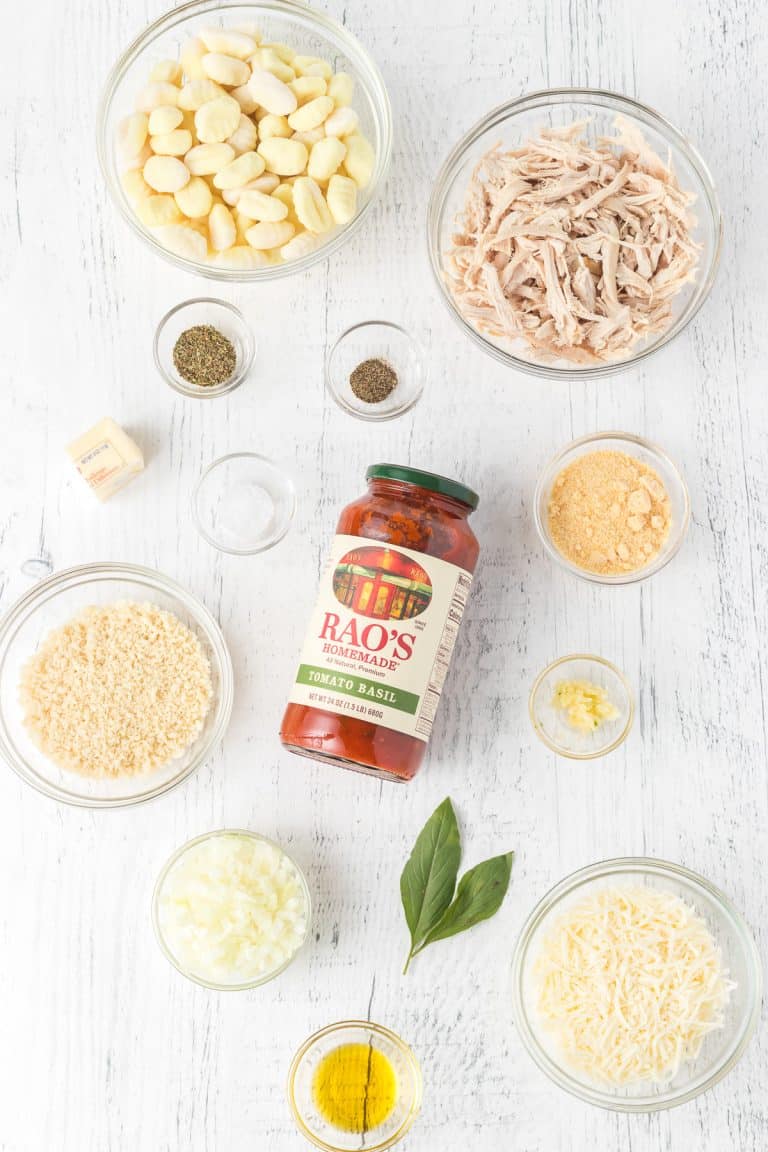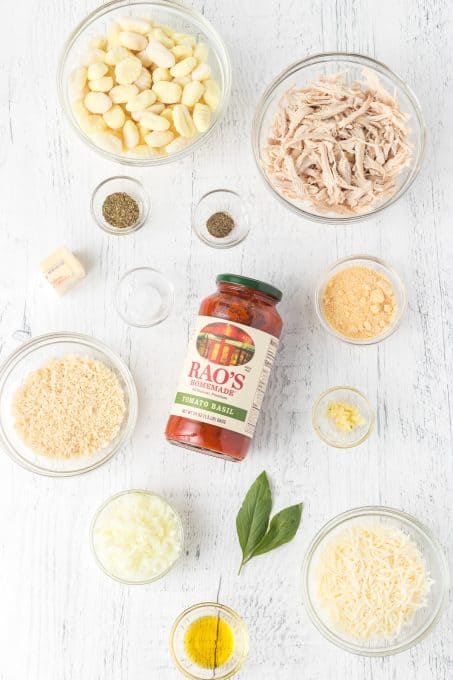 What do ingredients do I need for chicken parmesan recipe with gnocchi?
Like a lot of my quick and easy weeknight dinners, this recipe uses a combination of store bought prepared items supplemented by fresh ingredients. Here's the complete list of everything you'll need to make the chicken parmesan dish at home:
Extra-Virgin Olive oil
Garlic cloves – freshly peeled and minced is best, but you can use garlic powder!
Onion
Cooked chicken – I shred a rotisserie chicken from the grocery store to save time.
Potato gnocchi – Use fresh or thawed from frozen, not dried.
Italian seasoning
Salt and pepper
Pasta sauce – store bought marinara sauce or homemade.
Mozzarella cheese
Panko bread crumbs
Parmesan cheese
Butter
Fresh basil leaves
Once you've gathered up your ingredients, it's time to get cooking!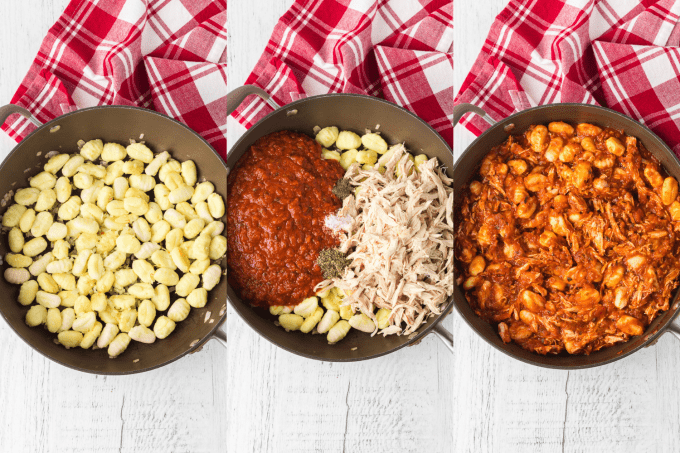 How to Make Parmesan Chicken Gnocchi
Put down your fancy kitchen gadgets. Making this gnocchi recipe is as simple and straightforward as it gets. 
First, slide an oven rack into the top third of your oven. Preheat your broiler while you prepare the chicken and gnocchi.
Warm an oven safe skillet over medium heat, then drizzle in a tablespoon of olive oil.
Add minced garlic and diced onion, and sauté them in the oil for around 2-3 minutes until they turn translucent. After that, add your package of gnocchi and stir after 2 minutes, cooking for a total of about 3 – 4 minutes. Then, it's time to add the shredded chicken, pasta sauce, 1 teaspoon of the Italian seasoning, salt, and pepper.
Stir everything together and mix well before reducing the heat, covering the skillet and cooking for 5 minutes. Meanwhile, combine your bread crumbs, Parmesan cheese, and remaining Italian seasoning with melted butter in a mixing bowl. Once the chicken gnocchi skillet is ready, sprinkle the top of the dish with shredded mozzarella and the breadcrumb mixture. 
Put the large skillet into the heated oven to broil until the cheese melts and the bread crumbs are golden brown. This can take anywhere between 5 to 7 minutes.
Let your Chicken Parmesan Gnocchi cool for a couple of minutes, then serve hot with a garnish of fresh basil leaves. You can even add a sprinkle of red pepper flakes if you want to spice it up a bit.
Get ready to receive tons of compliments from your family and dinner guests for this meal; it's a surefire crowd pleaser!
*See the full recipe in the recipe card below!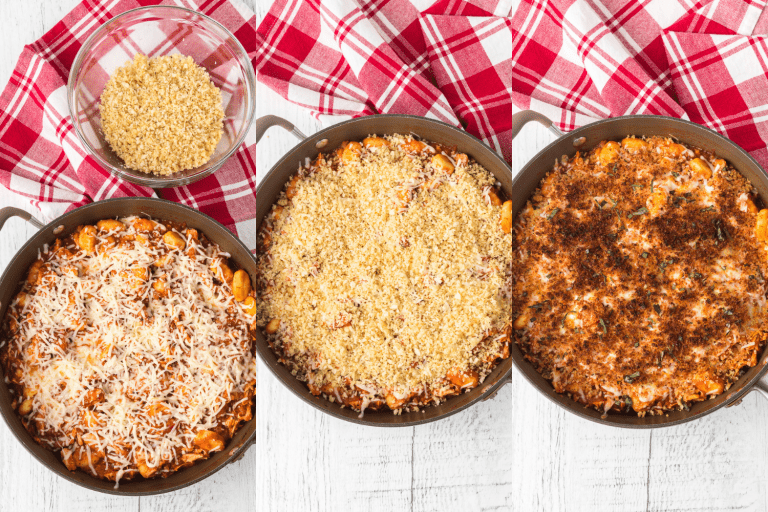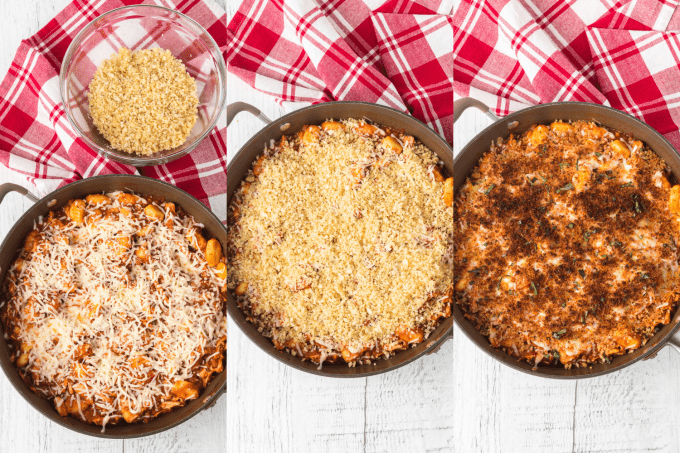 How do I cook the shredded chicken?
Most of the time, I just use one of the ready made rotisserie chickens from my local grocery store. You can also cook chicken breasts or thighs from scratch to use in the gnocchi recipe.
Any way you usually cook chicken will work beautifully. The quickest way is to pan-fry your chicken breasts on the stove with a little bit of olive oil. Alternatively, you can boil the chicken or cook it in your slow cooker for a few hours. Shred the cooked chicken with a couple of forks and add it to the parmesan gnocchi recipe as directed.
Food safety reminder: Always make sure the inside of your chicken reaches an internal temperature of 165 ° F!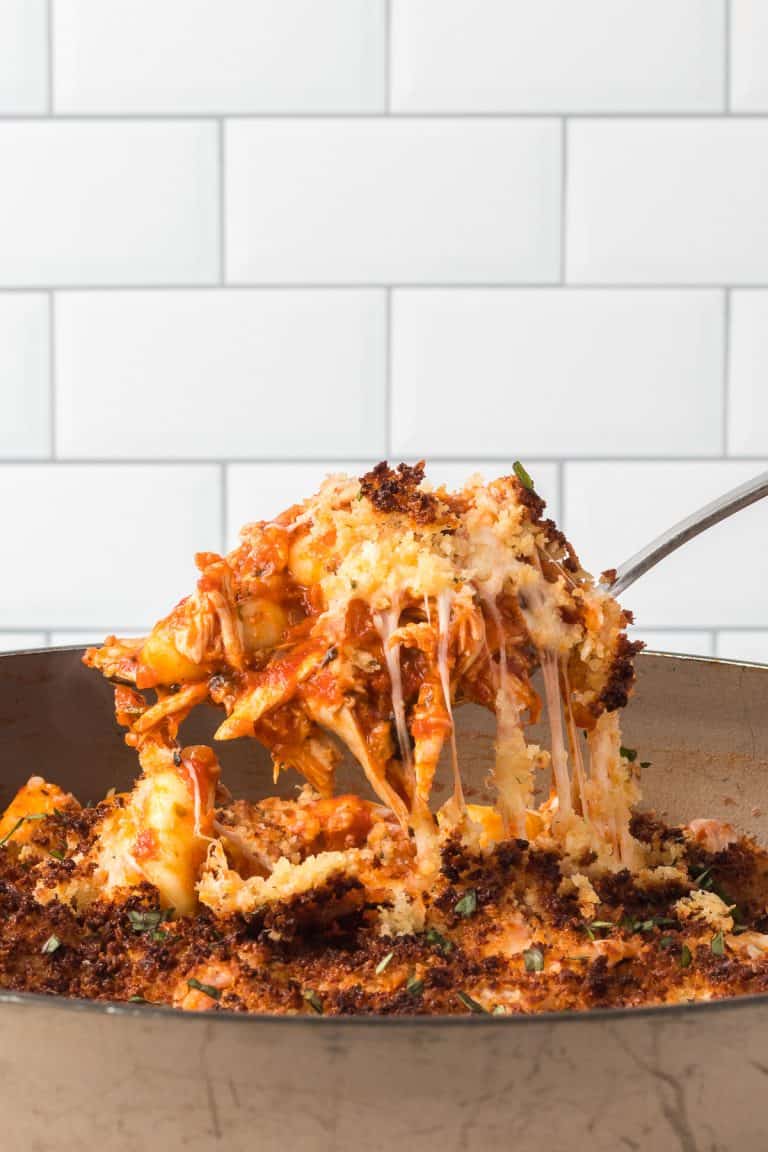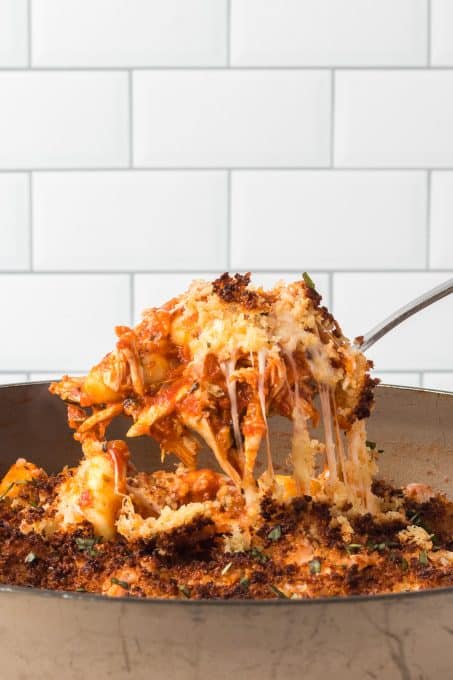 Serving Suggestions
Wondering what to serve with chicken parmesan? Since this is a cheesy, hearty main course, I like to serve it with something fresh and green. Toss your favorite salad greens with my Homemade Italian Dressing for an instant healthy side dish.
Of course, every Italian dinner needs bread, too. This Easy Homemade Italian Bread is a great recipe from my grandmother and has been in my family forever. I never get tired of the way my house smells when I have a loaf of bread baking in the oven. For something less traditional but every bit as mouthwatering, these copycat Olive Garden Breadsticks are perfection. 
Every good meal needs a great dessert. You can make these 3 Ingredient Peanut Butter Cookies in just 13 minutes! Or whip up a bowl full of my comforting, creamy Homemade Banana Pudding to serve as a sweet finish to your dinner.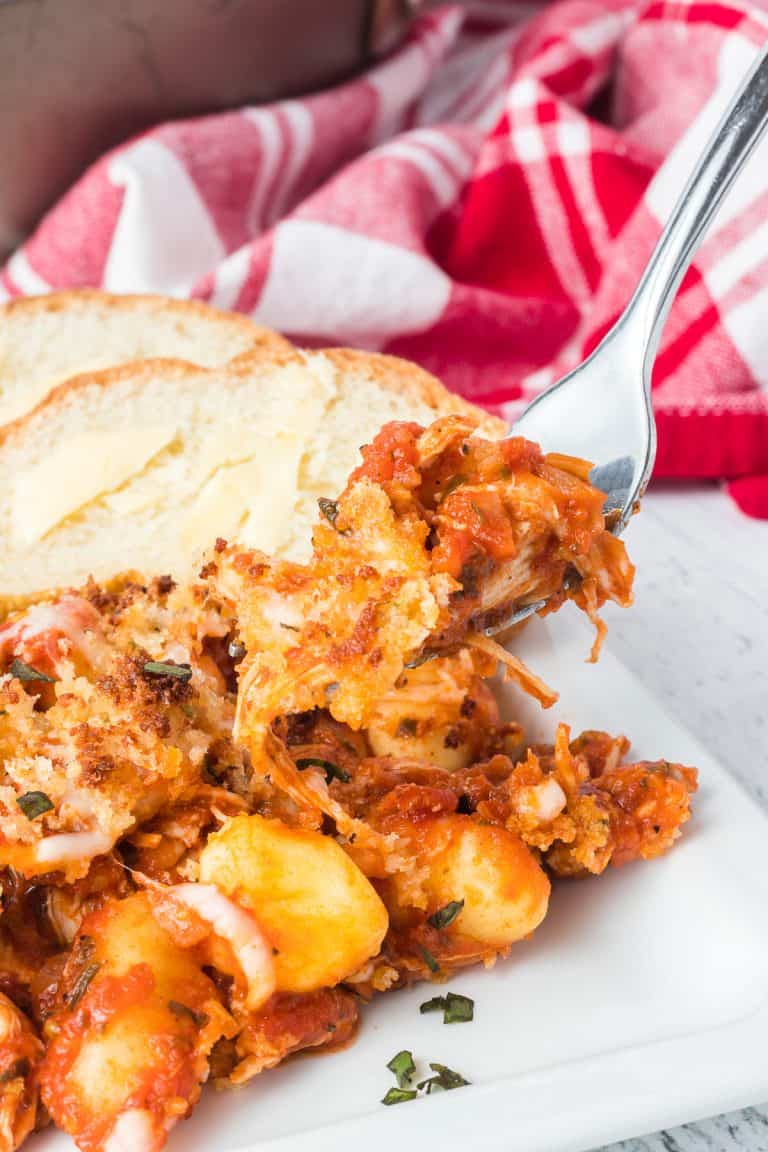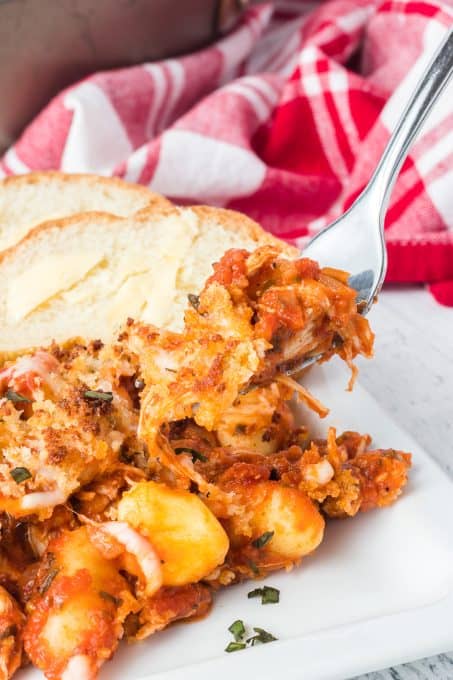 More Uses for Rotisserie Chicken
I'd love to shout out a big old THANK YOU to whoever decided every grocery store should carry rotisserie chicken. Being able to grab a fully cooked, roasted chicken on your way home from work or school is a game changer when you're looking to make easy meals.
This Chicken Parmesan Gnocchi is just one of hundreds of ways to use rotisserie chicken in recipes. Toss it into a Chicken Caesar Salad for a quick lunch or light dinner. Greek Quinoa Chicken Salad is another tasty salad recipe that's unbelievably easy to make!
Craving a comforting, stick-to-your ribs kind of dinner? You can't go wrong with Chicken Noodle Casserole or a steaming pot of Homemade Chicken Noodle Soup. I'm getting hungry just writing about it!
Make an ordinary weeknight dinner more fun by serving a platter of Loaded BBQ Chicken Nachos to share. Just like this gnocchi recipe, you can make the nachos with a rotisserie chicken or cooked leftover chicken you need to use.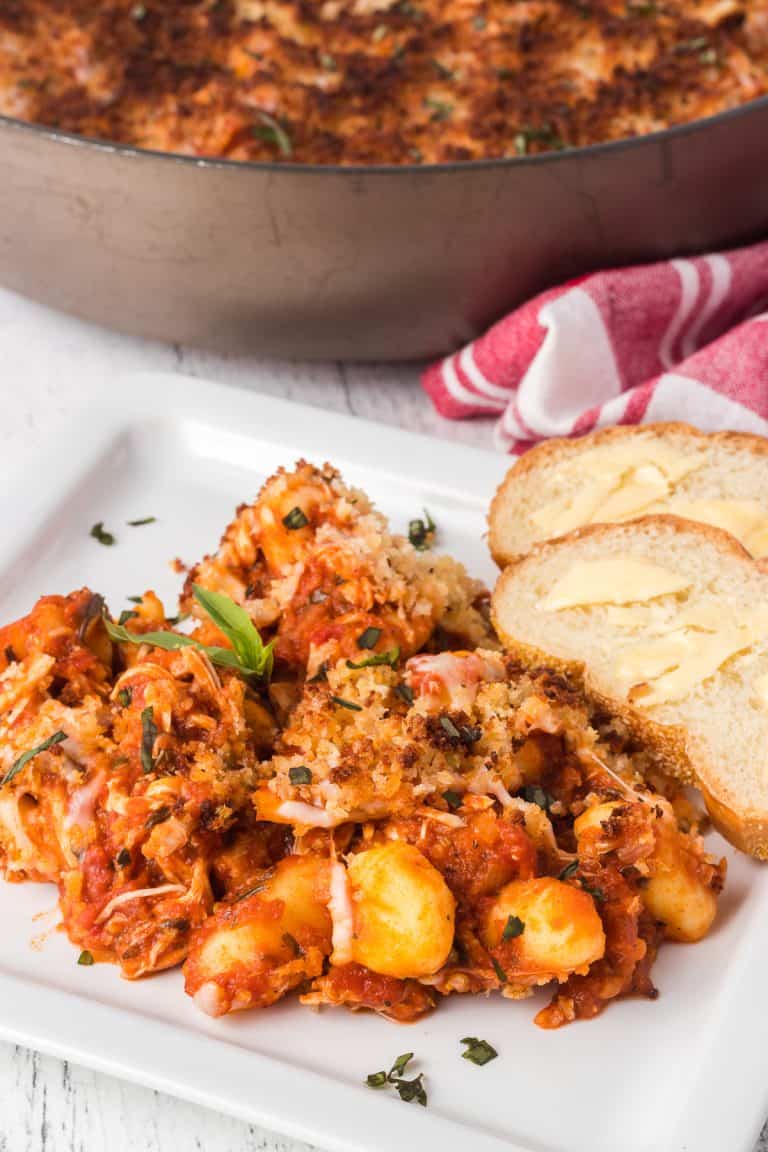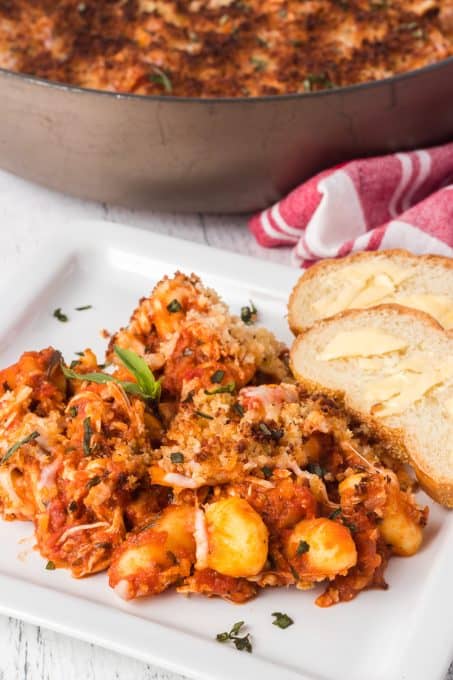 ~ FOLLOW ME ~
Keep an eye out for more of my easy recipes each week!
Chicken Parmesan Gnocchi is about to become a new family favorite dinner and is the definition of comfort food!
Ready in just 30 minutes, this delicious chicken skillet recipe delivers cheesy, garlicky Italian flavor with pillow-soft gnocchi and a crispy breadcrumb topping.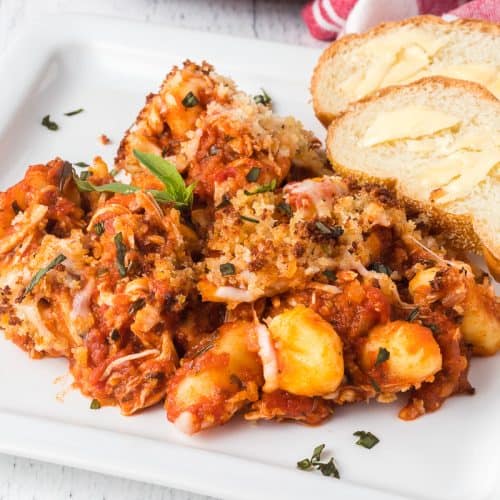 Chicken Parmesan Gnocchi is an easy skillet recipe with Italian flair that's ready in just 30 minutes! Made with shredded chicken, mozzarella and a crispy breadcrumb topping, this recipe offers a delicious twist on classic gnocchi.
Ingredients
1 tablespoon olive oil
2 cloves garlic minced
½ cup minced onion 1 small onion is fine
3 cups shredded cooked chicken I used a rotisserie chicken
17.6 ounces gnocchi not dried
1 teaspoon Italian seasoning
½ teaspoon kosher salt
¼ teaspoon pepper
24 ounces pasta sauce
1 cup shredded mozzarella cheese
Panko Topping
2 tablespoons butter
¾ cup panko bread crumbs
¼ cup Parmesan cheese
½ teaspoon Italian seasoning
2 tablespoons freshly chopped basil
Instructions
Place an oven rack in the upper third of your oven, and preheat the broiler on low.

Put the tablespoon of olive oil into a large oven-proof skillet that has been warmed over medium heat. Sauté garlic and onion for about 3 minutes until translucent. Add gnocchi and stir after 2 minutes, cooking for a total of about 3 – 4 minutes.

Add chicken, pasta sauce, the 1 teaspoon of Italian seasoning, salt, and pepper, and mix well. Reduce heat to medium low. Cover and cook for 5 minutes.

In a medium microwavable bowl, melt the butter. Add the bread crumbs, Parmesan cheese, and Italian seasoning and mix until completely combined.

Remove cover from the oven-proof skillet, and sprinkle the mozzarella cheese over the top of the skillet. Evenly distribute the panko crumb topping.

Place into oven and broil for about 5-7 minutes or until cheese has melted and bread crumbs are golden.
Nutrition
Serving: 1serving | Calories: 665kcal | Carbohydrates: 65g | Protein: 44g | Fat: 26g | Saturated Fat: 11g | Polyunsaturated Fat: 3g | Monounsaturated Fat: 9g | Trans Fat: 0.2g | Cholesterol: 120mg | Sodium: 2003mg | Potassium: 846mg | Fiber: 7g | Sugar: 8g | Vitamin A: 1259IU | Vitamin C: 14mg | Calcium: 321mg | Iron: 9mg
Did you make this recipe?
Share it with me on Instagram and make sure to follow me on Pinterest for more recipes.
Reader Interactions