Chick fil A Potato Salad gives a popular picnic side dish a tangy, smoky twist! The fast food chain's famous sauce is the secret ingredient to this easy potato salad recipe with eggs, celery and a creamy dressing the whole family will enjoy.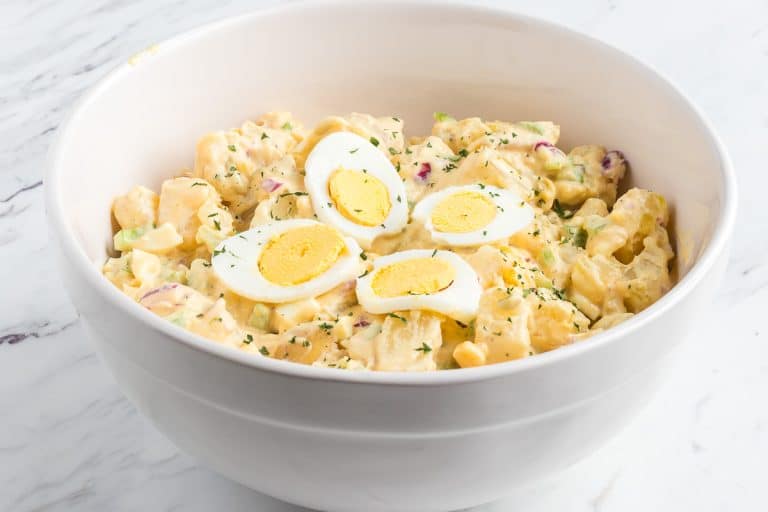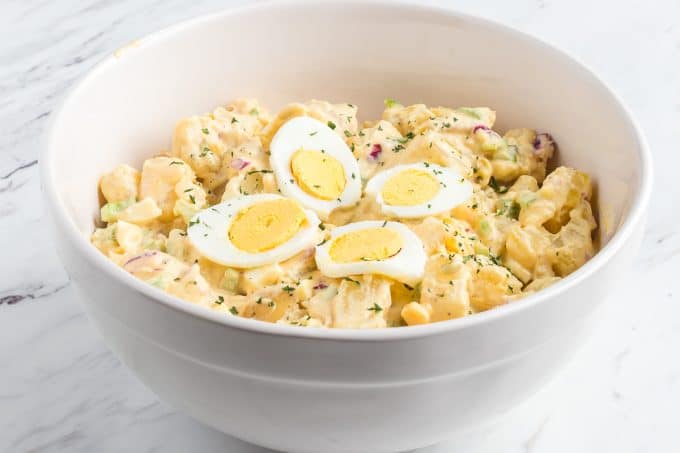 The menu item I crave most at Chick-fil-A isn't even the chicken sandwich, the waffle fries, grilled chicken nuggets or their Cobb Salad. It's the dipping sauce!!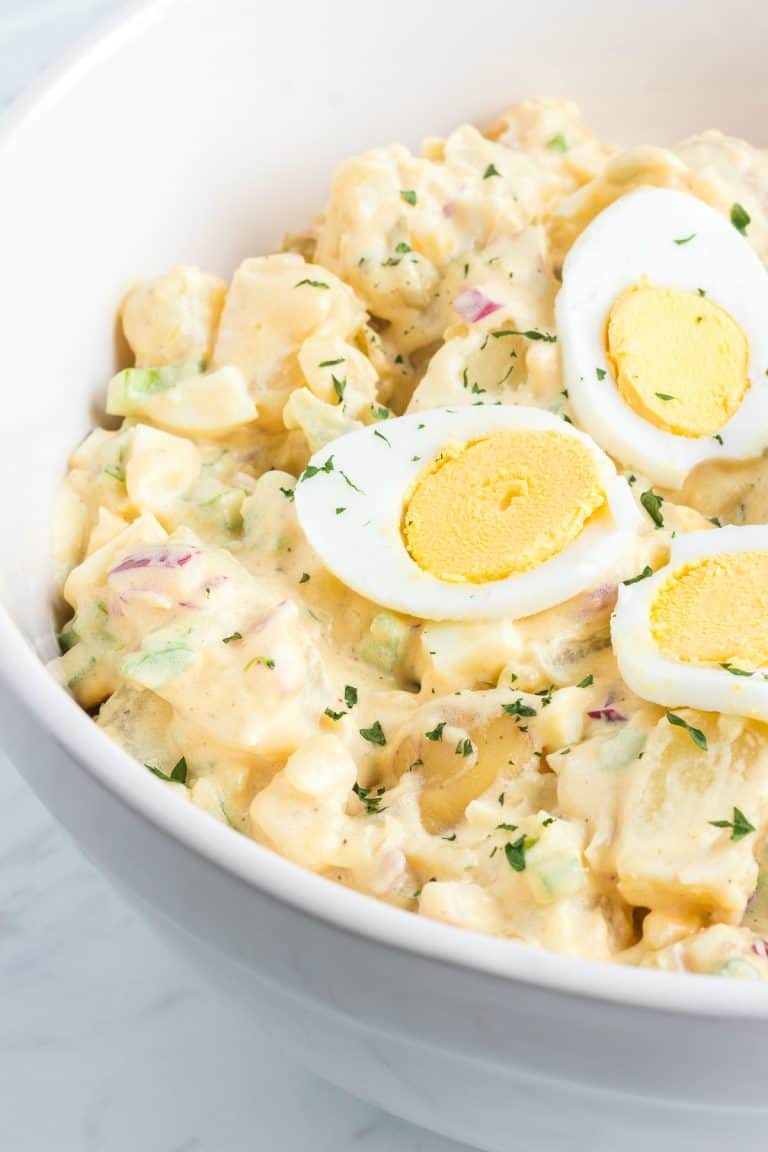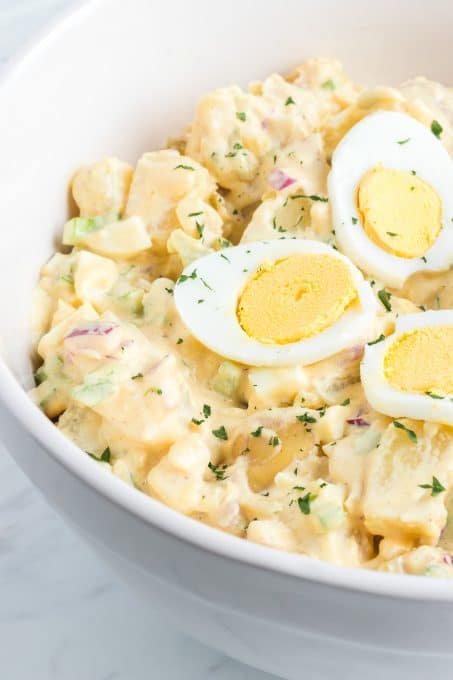 I can't get enough of the stuff. I'm typically not a fan of fast food restaurants, but when I go to a Chick-fil-A, I come home with as many packets of their signature sauce that I can get away with. And after tasting it, you'll understand why. It strikes a flavor balance that's almost impossible to describe: creamy, tangy, and sweet with just a hint of smokiness.
The great thing for Chick-fil-A sauce fanatics like me is that you can now buy it by the bottle at the store. Hallelujah!!
When you use it to make Deviled Eggs, they're turned from ordinary to EGGSTRAordinary, too!
Ok, I know that was corny and now I have egg on my face. HA!
Ever since this magical news of it being in grocery stores, I've become obsessed with trying it on anything and everything I can. With summer just around the corner and cookouts with marinated chicken breast, it seemed like the perfect time try adding the crave-worthy condiment to potato salad.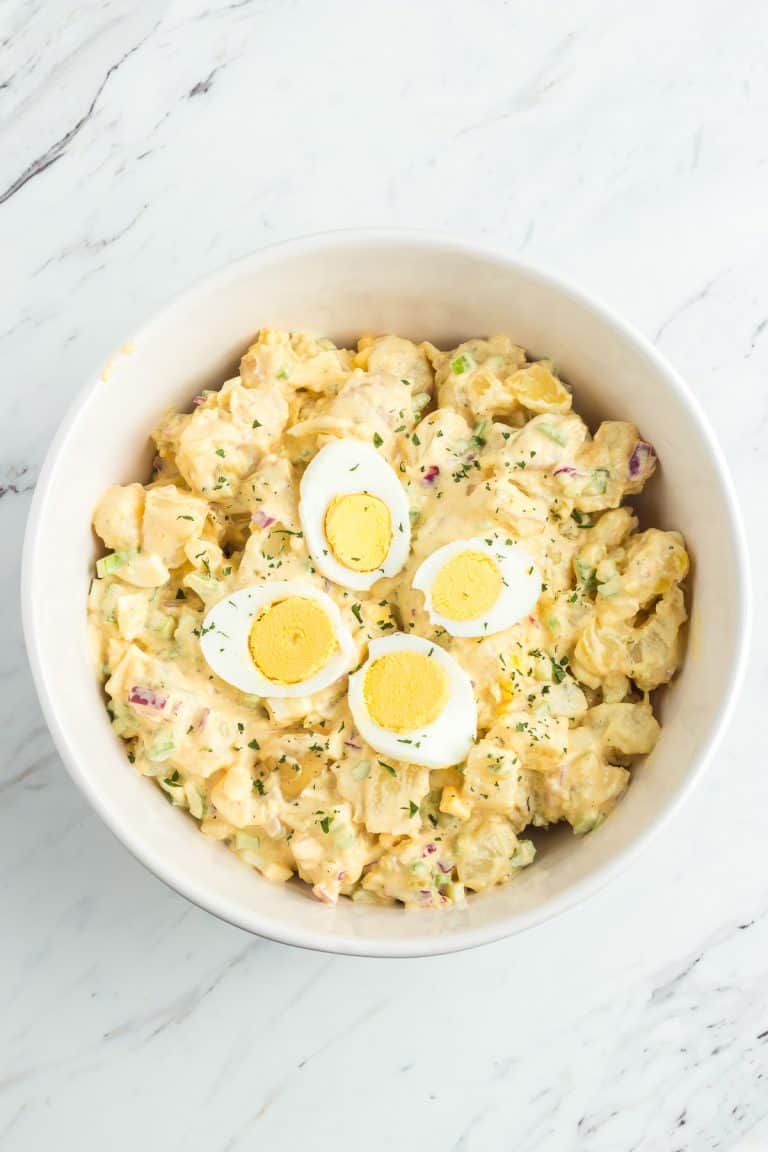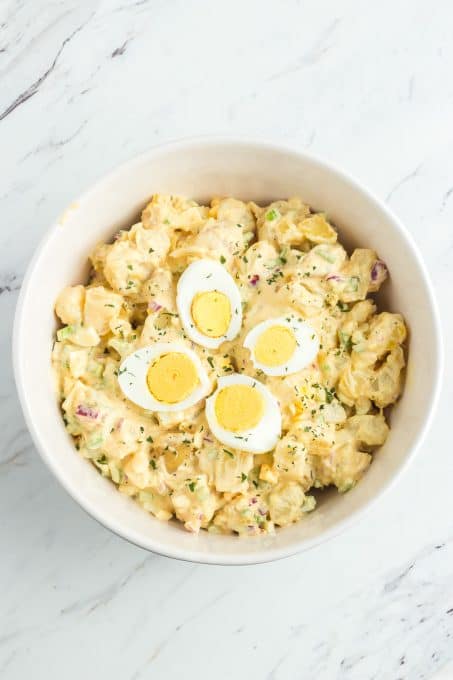 For this new salad recipe, I started with a classic combination of potatoes, celery, eggs and a classic mayo dressing. Only I replaced half of the mayonnaise with Chick-fil-A sauce with delicious results! I love the extra dimension of flavor you get with the sauce paired with the familiar comfort of the traditional potato salad ingredients.
This potato salad makes a crowd-pleasing addition to a potluck, barbecue or summer picnic. Serve it with a glasses of refreshing Copycat Chick-fil-A Frosted Lemonade and some BBQ Root Beer Shredded Chicken Sandwiches for a complete feast!
Why This Potato Salad is Best
It's made with the perfect ratio of potatoes to eggs.
Chick-fil-A sauce adds a smoky, tangy sweetness.
Easy to make with simple ingredients.
Pairs well with just about every main course.
Less expensive than fast food per serving.
Feeds a crowd!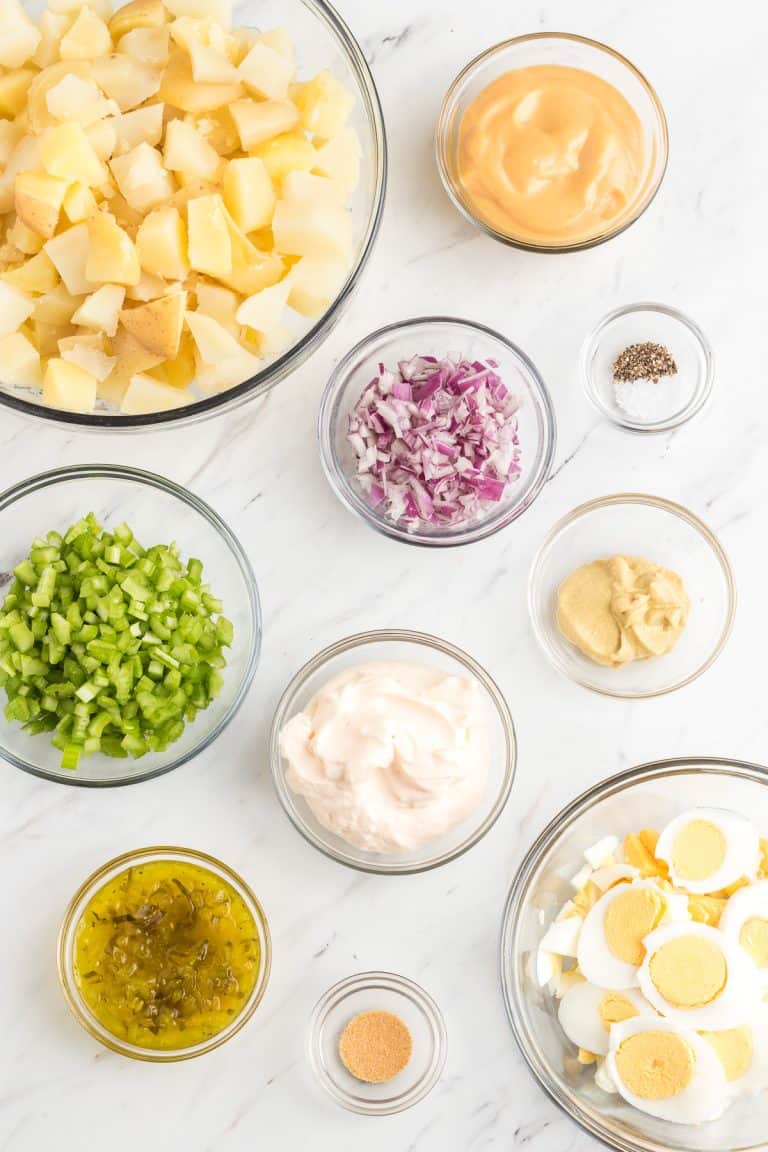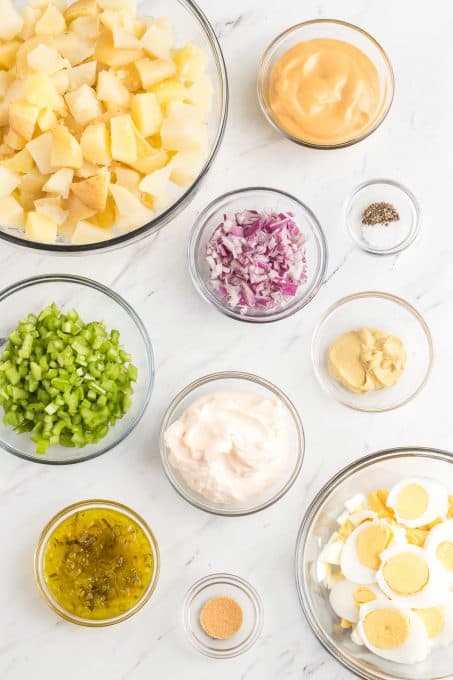 What key ingredients do I need for this southern potato salad?
Here's what you'll need to make this Chick-fil-A Potato Salad recipe at home.
Potatoes
Eggs
Celery
Red onion
Chick-fil-A sauce
Mayonnaise
Dijon mustard
Sweet pickle relish
Garlic powder
Salt and
Pepper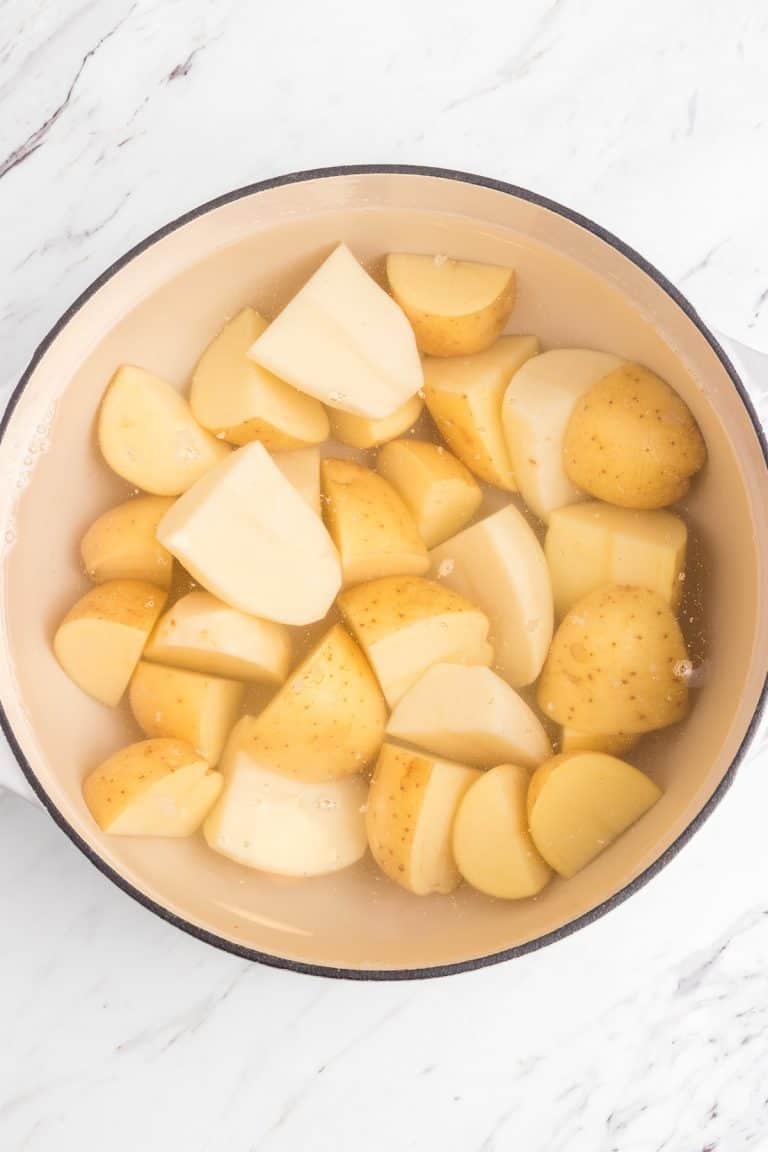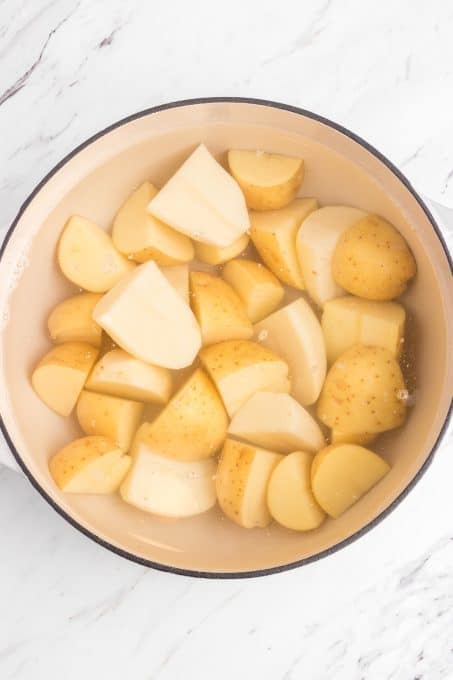 What kind of potatoes are best for potato salad?
For best results, I use a combination of Yukon gold and Russet potatoes. I like the variety and what each kind adds to the salad.
Russet potatoes, also called baking potatoes, are higher in starch and get softer when boiled. This means they absorb plenty of the amazing sauce as the salad chills. Yukon gold, also called yellow potatoes, hold their shape well which adds a nice variety of texture.
If you can, use half of each in this potato salad recipe. Only have one kind available? That's okay! The recipe works like a charm with just about any kind of potato. You can even use red potatoes if that's what you have.
What is Chick-fil-A sauce?
Chick-fil-A sauce is a cross between honey mustard, ranch dressing and barbecue sauce — with a hint of lemon. The tangy sweetness of the honey mustard and smoky richness of the barbecue make for an unforgettable dipping experience. And the flavors taste just as delicious mixed into potato salad dressing!
It used to be that you could only find Chick-fil-A's signature sauces at their restaurant locations. But now Chick-fil-A sells bottles of their popular sauces at grocery stores and online.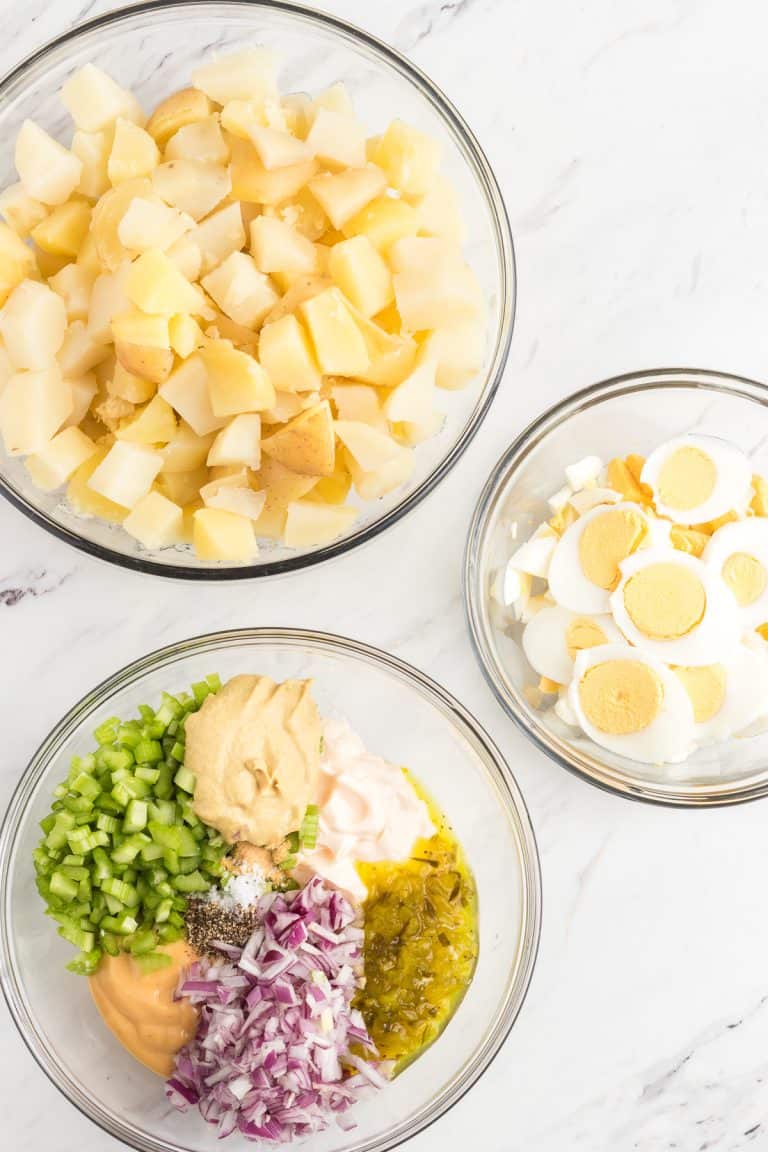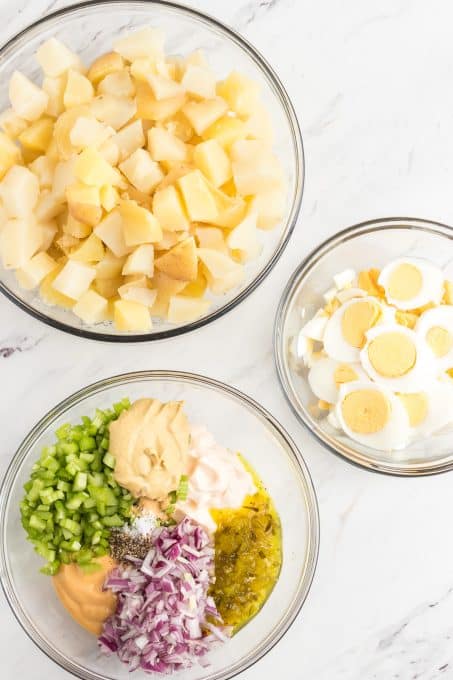 How to Make Chick-fil-A Potato Salad
Making potato salad with Chick-fil-A sauce is super easy!
First, hard boil your eggs. You can use the stove top method, which I include in the recipe card below, or use my method for Hard Boiled Eggs in the Oven. Once boiled and cooled, peel and chop the eggs into chunks.
Next, boil the potatoes. Chop the spuds into 1 inch chunks. Place them in a pot of water on the stove and bring to a boil. Let the potatoes cook in boiling water until fork tender. Drain, and let cool.
Now it's time to make the dressing. Whisk together the dressing ingredients, including celery and minced red onion, in a large bowl. Add the chopped eggs and potatoes to the bowl, then toss to coat with dressing. Cover the bowl with plastic wrap or tin foil, then place in the refrigerator to chill for at least two hours. Serve with sliced green onions on top.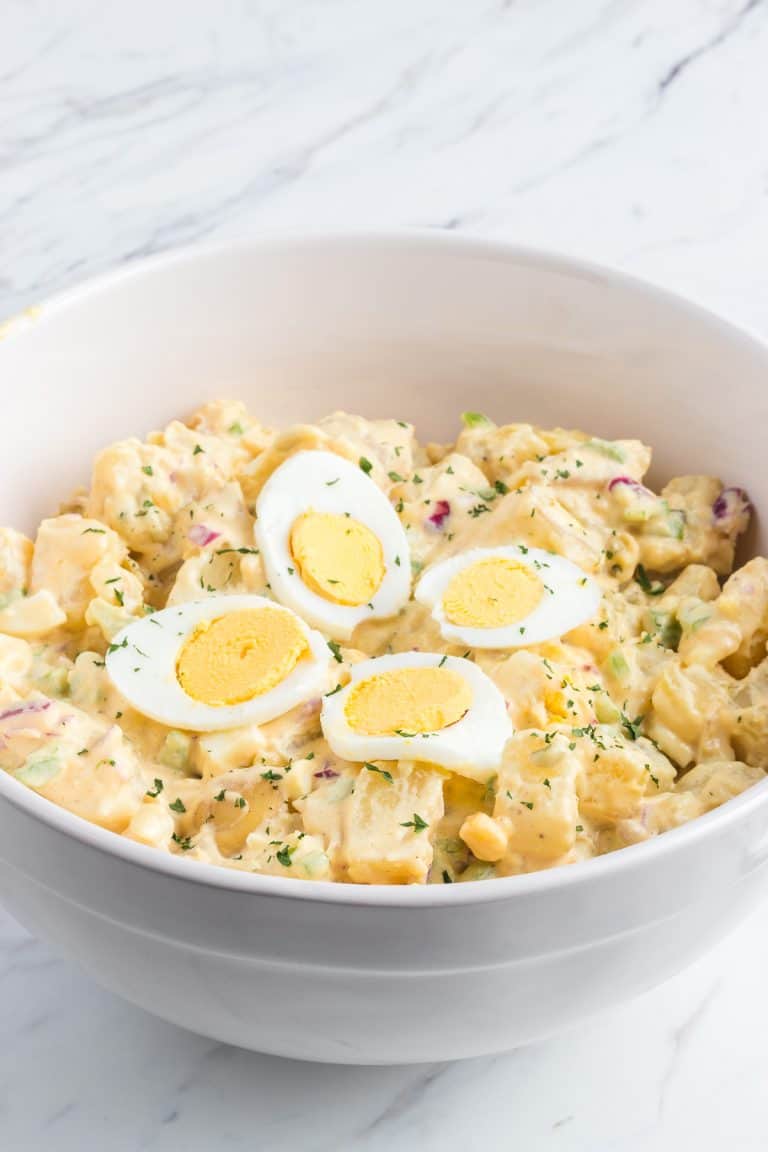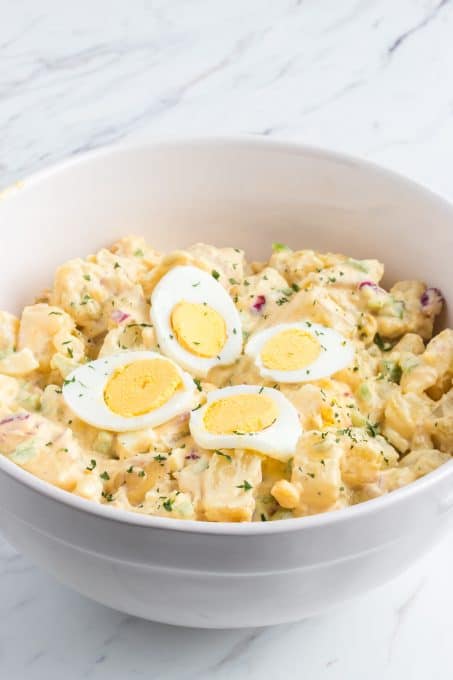 Recipe Tips
Chick-fil-A potato salad tastes even better the next day! Prep the salad the night before and let it chill overnight for cold, flavorful potato salad.
No need to peel the Yukon gold potatoes! The thin skin adds a nice variety of texture and color to the potato salad. I do peel the Russet potatoes which have a much thicker, more bitter skin.
This salad keeps well for about 3 days in an airtight container in the refrigerator. If you're serving it outdoors, make sure to enjoy it soon after removing it from the fridge or cooler. Potato salads with mayonnaise should not be left at room temperature for more than 1 -2 hours. In hot sun, the salad could spoil even sooner, so eat up!
Salad Side Dishes
Looking for a good recipe for cold side dishes and salads?
This simple recipe for Easy Macaroni Salad is a classic that I never get tired of! Made with elbow noodles, green pepper and yellow mustard, it gets rave reviews at every potluck. For a different twist on the pasta salad concept, try my Tex-Mex Pasta Salad with red bell peppers. You could even add some black beans to it as well.
Ranch BLT Pasta Salad is hearty enough to serve as a meal all on its own. The zesty ranch flavor is to die for!
Not a ranch lover? You can make your own blue cheese dressing. It's so easy making your own salad dressings.
For a lighter side dish you can't go wrong with this Strawberry Spinach Salad with orange segments. It's a great option. Serve it on its own as a side, or add grilled boneless breast of chicken to turn it into a complete balanced meal. This Greek Quinoa Chicken Salad and my all-time favorite Pesto Chicken Pasta Salad are two more light and nourishing meals to add to your summer time rotation!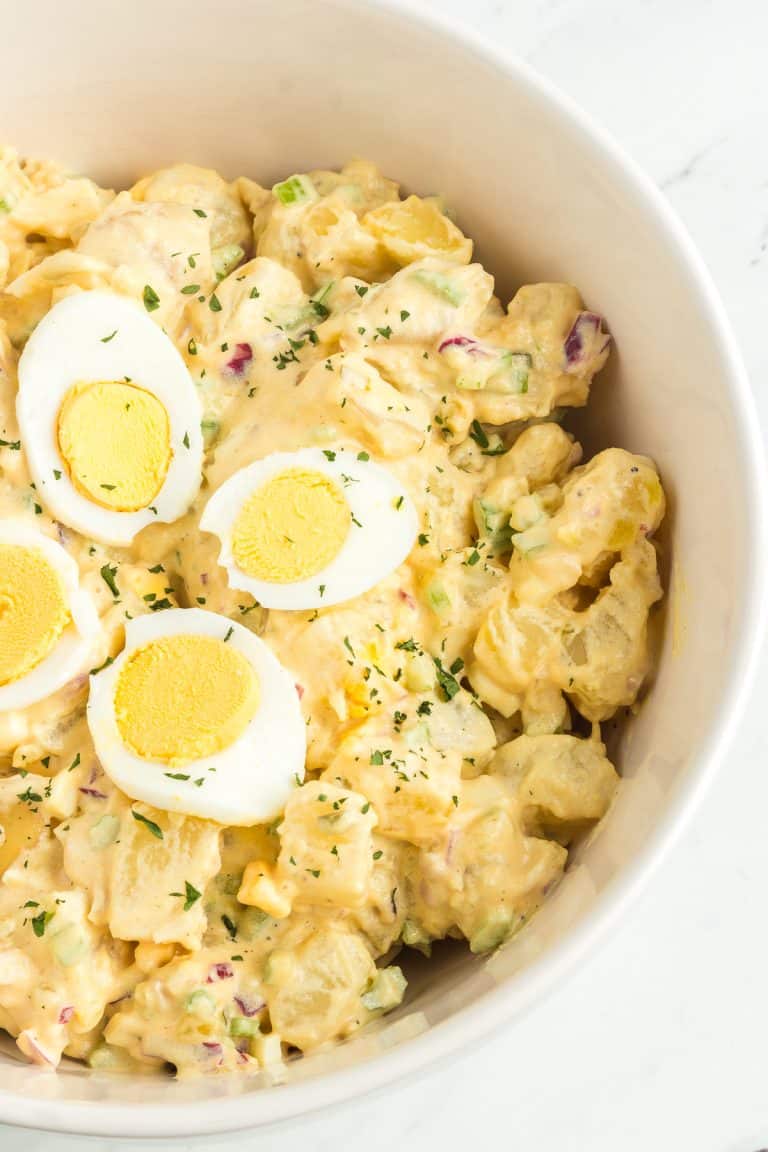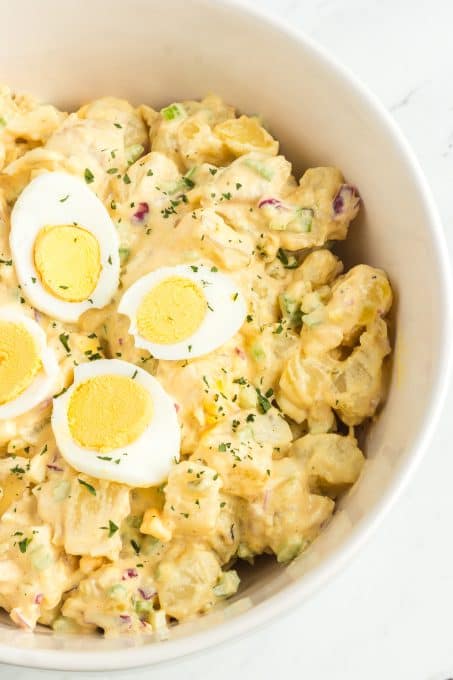 Potato Recipes
All hail the mighty potato! Potatoes always amaze me with how versatile they are. It's almost impossible to choose a favorite potato dish. I have dozens of delicious and simple potato recipes for every occasion.
Love potatoes with cheese? Try my Scalloped Hasselback Potatoes, these Cheesy Mashed Potatoes and my absolute favorite, these Easy Roasted Smashed Potatoes with Cheese. All of these are great additions to any meal.
For a curiously delicious alternative to a familiar dish, this Vanilla Mashed Potatoes is perfection. I also adore these Ranch Mashed Potatoes if you're into zesty, herby flavors.
Now, there's another potato recipe to add to my roster: Chick-fil-A sauce potato salad!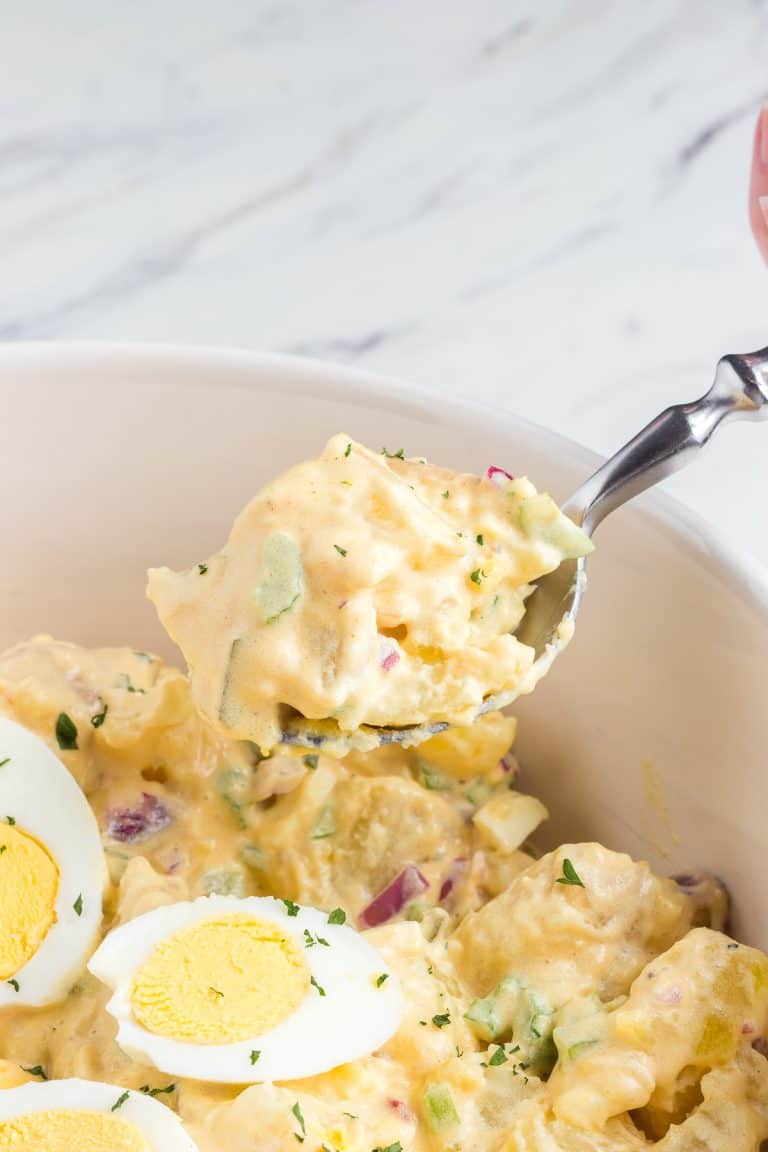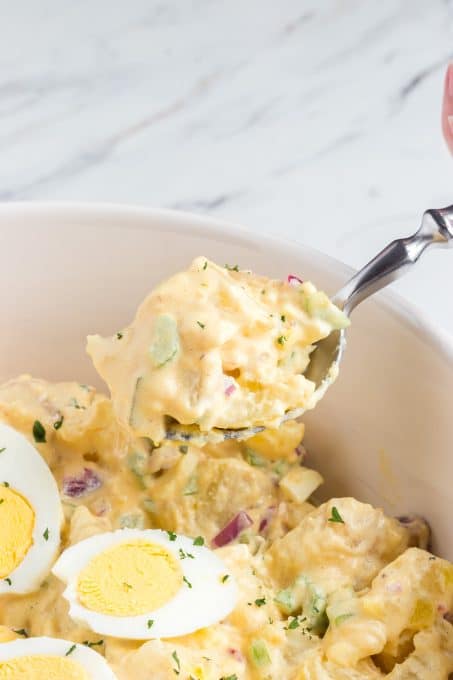 ~ FOLLOW ME ~
Keep an eye out for more of my easy recipes each week!
Whether you're a long time Chick-fil-A sauce fan, or just discovering it for the first time, your taste buds will go wild for this Chick-fil-A potato salad recipe with its' unique flavor.
Leave me a comment at the bottom of the post to let me know what you think of it!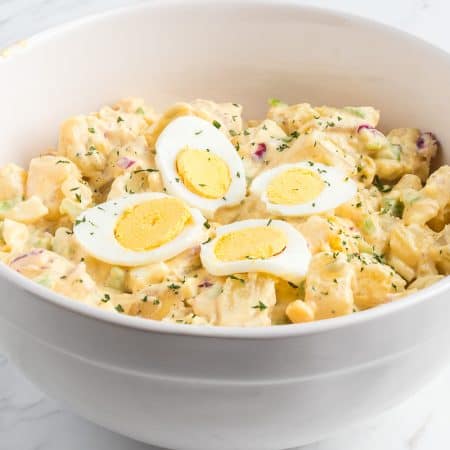 Chick-fil-A® Potato Salad
Chick fil A Potato Salad gives a popular picnic side dish a tangy, smoky twist! The fast food chain's famous sauce is the secret ingredient to this easy potato salad recipe with eggs, celery and a creamy dressing the whole family will enjoy. 
Ingredients
2.5 pounds potatoes I use a combination of Russet and Yukon Gold potatoes
4 large eggs hard boiled and chopped
1 teaspoon salt divided
½ cup Chick-fil-A® Sauce
½ cup mayonnaise
1 cup chopped celery
½ cup minced red onion
¼ cup sweet pickle relish
2 tablespoons Dijon mustard
¼ teaspoon garlic powder
¼ teaspoon kosher salt
¼ teaspoon pepper
Instructions
Eggs
To hard boil the eggs, place the four eggs into a medium saucepan and cover them with cold water so that there is about an inch of water above them. Add a 1/2 teaspoon of salt. Bring to a boil over medium-high heat. Once boiling, remove pot from heat, cover and let sit for 12 minutes. At the 10 minute mark, fill a medium bowl with cold water and add some ice cubes. With tongs or a slotted spoon, gently remove the eggs from the pan and submerge in the ice bath to stop the cooking process. Let them sit in the cold water for about 5-10 minutes before you peel and chop them.
Potatoes
Fill a medium pot with cold water and add the ½ teaspoon of salt. Peel the Russet potatoes, rinse, and cut into 1-inch cubes. Put into the pot. Rinse the Yukon Gold potatoes off, cut into 1-inch cubes, and place into water. Bring the potatoes to a boil over high heat. Once boiling, cook the potatoes for 10-12 minutes until fork tender. Once cooked, drain and put into a large bowl to cool for about 15 minutes.
Dressing
In a medium bowl, combine the Chick-fil-A® Sauce, mayonnaise, Dijon mustard, celery, onion, relish, garlic powder, salt, and pepper. Mix well.

Add the chopped eggs and dressing to the potatoes and gently mix until everything is well coated. Cover the bowl with plastic wrap or tin foil, and place into the refrigerator for at least two hours before serving, though best if left overnight.
Notes
I like to use a combination of potatoes because I like the variety and what each kind adds to the dish. The Russet potatoes will absorb the mayonnaise and sauce well because they're so high in starch, and they'll tend to be quite a bit softer when cooked.
Yukon Gold potatoes hold their shape well. I just give them a gently scrub under cold water to clean them off, and leave the skin on for some extra flavor and texture where as the Russets I peel. 
Nutrition
Serving: 1serving | Calories: 422kcal | Carbohydrates: 42g | Protein: 10g | Fat: 25g | Saturated Fat: 5g | Polyunsaturated Fat: 9g | Monounsaturated Fat: 5g | Trans Fat: 0.05g | Cholesterol: 135mg | Sodium: 959mg | Potassium: 914mg | Fiber: 3g | Sugar: 5g | Vitamin A: 398IU | Vitamin C: 12mg | Calcium: 59mg | Iron: 2mg
Did you make this recipe?
Share it with me on Instagram and make sure to follow me on Pinterest for more recipes.
Reader Interactions