Scalloped Hasselback Potatoes – baked potatoes filled with butter and cheese and topped with a sprinkling of garlic powder. They're sure to please any potato lover!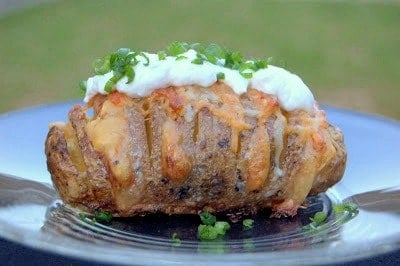 This potato recipe just shows you how much you can do!

It's that time of the month for Your Best Recipe hosted so wonderfully by Nancy at Spicie Foodie. I, along with a number of other bloggers have selected our best recipes for the month of January. Click on the YBR link and see the magnificent creations! Thanks, Nancy, for hosting again!
Can I tell you I had never even heard of Hasselback Potatoes until a few months ago? How is that?
It's not like I'm living in a cave or nuttin'. Alright, granted before I started this endeavor I really only cooked a few things for dinner. You could say I was in a cookbook rut.
SAVE THIS SCALLOPED HASSELBACK POTATO RECIPE TO YOUR FAVORITE PINTEREST BOARD!
There are times where a recipe takes me back to my childhood or reminds me of a cherished memory. When I make this Chicken Pot Pie Soup it does exactly that, thanks to Sandra at dashofsanity. Tacos are my comfort food, and I assume they're many others that think the same. With this recipe from pinchofyum, her Chicken Tinga Tacos are on another level.
I loved collecting cookbooks and actually have a pretty good collection between my own and the ones I kept when my mother passed away. But did I use them often? No. They looked pretty impressive anyway sitting in this specially built bookcase I had in my old kitchen for them.
Where was I going with this?
Oh yeah…
In all of those cookbooks, not once did I ever see a recipe for Hasselback Potatoes. AND, I hadn't seen them on the internet until I started reading other blogs. But seeing them made me want them. REALLY want them.
I adapted this from Shelbi Keith on Tasty Kitchen.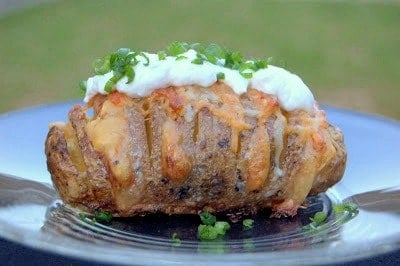 Scalloped Hasselback Potatoes
Ingredients
4 medium potatoes
4 tablespoons butter, frozen
1 3-inch solid piece of Parmigiano-Reggiano cheese, thin sliced
¼ teaspoon garlic powder
¼ teaspoon salt
1 teaspoon olive oil
¼ cup heavy cream
¼ cup shredded Colby cheddar/ Monterey Jack cheese
Plain Greek yogurt or sour cream
Green onions
Instructions
Preheat oven to 400 degrees.

Prepare a rimmed baking sheet with parchment paper. Rinse and scrub potatoes under cold water. Pat dry.

On a cutting board, place two wooden spoons with handles the same thickness on either side of a potato.

With a sharp knife, cut the potatoes into thin slices, about 1/4-inch thick. The spoons will prevent you from cutting all the way through to the bottom of the potato.

Repeat with other potatoes. Cut the butter into thin slices and place a slice of butter into every other slit in the potatoes. In the other slit, insert a piece of Parmigiano cheese, so that it alternates. Butter, cheese, butter, cheese etc.

Sprinkle each potato evenly with the garlic powder and salt. Drizzle each with olive oil.

Bake for 45 minutes.

Remove baking sheet from the oven and drizzle each potato with the heavy cream.

Sprinkle shredded cheese over the top of each, then place back in the oven for another 10-12 more minutes.

Serve warm with plain Greek yogurt and green onions, if desired.
Nutrition
Calories: 737kcal | Carbohydrates: 108g | Protein: 23g | Fat: 26g | Saturated Fat: 14g | Cholesterol: 81mg | Sodium: 689mg | Potassium: 3563mg | Fiber: 21g | Vitamin A: 875IU | Vitamin C: 97.1mg | Calcium: 294mg | Iron: 27.6mg
Did you make this recipe?
Share it with me on Instagram and make sure to follow me on Pinterest for more recipes.
I rate everything I bake on a scale of 1-4 with 4 being the best and these Scalloped Hasselback Potatoes earned 3 1/2 rolling pins.
Oh. My. Goodness! These were SO darned delicious!!! I was hesitant about the taste of the Parmigiana cheese in them, but it added a great flavor to it. SO stinkin' GOOD!
Are you as much of a potato fan as my family is? Well, here are a few recipes I make that they love.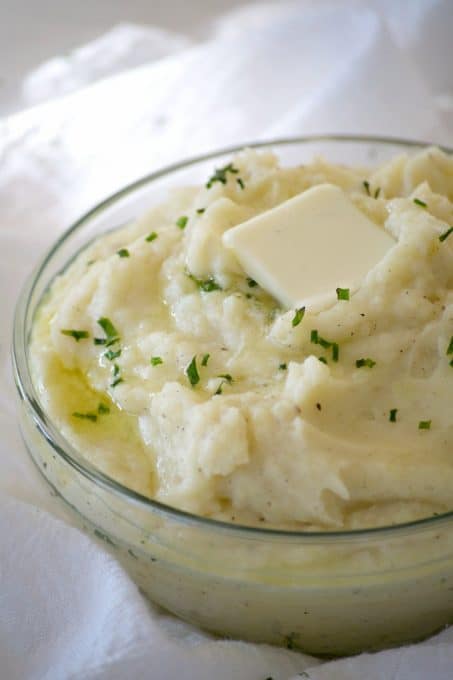 Some of the cheese slices were breaking when I was putting them into the slits, but the slivers I didn't eat, I shoved back into the potato. It doesn't have to be stuffed perfectly, the butter and cheeses will melt perfectly into the spud. Another great side to add to our menu rotation. I hope you enjoy them as well!
Reader Interactions