Incorporate these potato wedges as a side dish for your next dinner meal. Add some salt and ketchup to it and those picky eaters will be taking handfuls of these.
Seasoned with rosemary, these homemade french fries are the real deal.
I think my guilty pleasure is french fries. No matter what time of day or if I've had them already, I still crave these suckers. When they're warm and have just enough, but not too much salt on them. OHHHH, BABY! I'll be right back. Need to go to Mcdonald's real quick. I guess now that I have these awesome homemade french fries at hand, there's really no need to go drive. Oh, the perks of baking. I love it.
Now, these potato wedges get the job done. Yes, they're not the fries that are doused in chili and cheese, but they do have that seasoning that shows it means business. It's fairly simple too. All you need to do is cut 'em up and coat the potato wedges. Oh, there is that baking part I forgot about. And when they are baking in the oven, every inch of your house smells really good. I think that's one of the best parts about baking in general. However, when the family gets a whiff of it, it's all hands on deck. Good thing I'm the boss in the kitchen.
I know I've given you quite a few roasted vegetable recipes lately, but it's good to know that there are other ways to prepare them so that you change things up for the family and friends. You keep serving them the same way people may stage a revolt. Variety is the spice of life, right? I rate everything I roast, ahem, I mean bake on a scale of 1-4 with 4 being the best and the 365 family said these Roasted Potato Fingers earned 3 1/2 rolling pins. I didn't serve them with a sauce. They were great by themselves, but we also were dipping them in ketchup. Ok, we'll take it easy on the vegetable roasting for a while and I'll make some other things. I'm not sure what it will be tomorrow, but we'll see.
In case you need a few dinner meals this week or next, I have some awesome bloggers that can help you out just as much as they help me. Littlebroken has her black bean and sweet potato shepherds pie I instantly go to for a casual weekday meal. Not only is it filling, but it's also shepherds pie. Some good chicken always hits the spot for me, and countrycleaver and the family favorite teriyaki orange roasted chicken.html is a perfect way to go.
I find it so hard to believe that today is Day 120! Haha WHOOPS!! I meant Day 220!! As I said, I can't believe it. It is flying. I can almost see the light at the end of the tunnel, so to speak. Yet I'm having so much fun doing this that I can't imagine not baking or blogging every day Ok, maybe I can imagine not baking, but blogging, no. I've decided that I will continue posting recipes, either baked, made on the stove top or in the crockpot. I'm very excited because I have more family recipes I need to share. And you need to know them! Meanwhile, enjoy tonight's side dish…
Ingredients
3 medium potatoes with skin on, washed
¼ cup olive oil
2 cloves garlic, minced
1 teaspoon fresh rosemary, chopped
½ teaspoon coriander
¼ teaspoon salt
¼ teaspoon freshly ground pepper
Instructions
Preheat oven to 425 degrees. Prepare a rimmed baking sheet by generously spraying it with cooking spray.

Cut potatoes in half, then lengthwise into individual "fingers" (strips) about 1/2-inch wide.

In a large bowl, combine olive oil, garlic, rosemary, coriander, salt, and pepper. Mix well.

Add potatoes and coat.

Pour potatoes onto prepared baking sheet into one even layer.

Bake for 20 minutes. Flip sides and bake for an additional 20-25 minutes.
Nutrition
Calories: 486kcal | Carbohydrates: 2g | Fat: 54g | Saturated Fat: 7g | Sodium: 583mg | Vitamin C: 1.9mg | Calcium: 11mg | Iron: 0.3mg
Did you make this recipe?
Share it with me on Instagram and make sure to follow me on Pinterest for more recipes.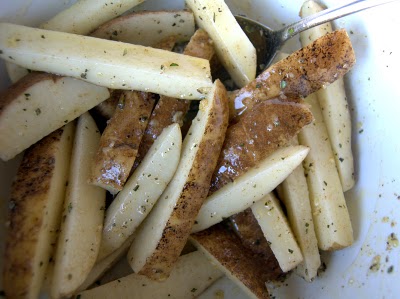 Pizza is another food where I can eat it for days on end. My family is the same and I would think yours is probably the same. Here's the sauce to put on that pizza you're making.
A great side comes with a great entree, and this burger is at the top of the list.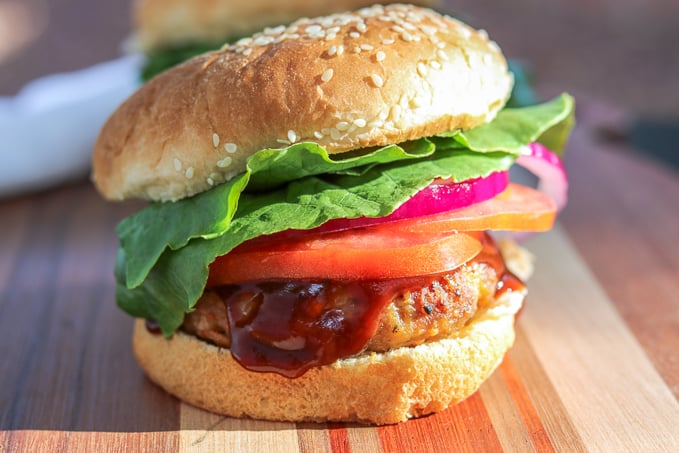 Reader Interactions