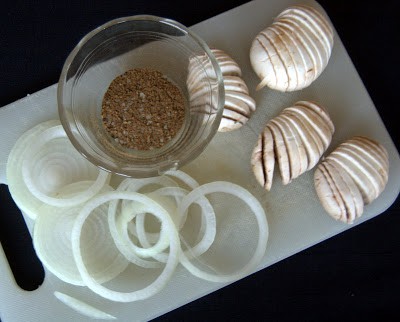 Tonight we had…
Seasoned Pork Chops – serves 4
1 lb. pork chops, bone-in (there were 3 in the package)
1 tablespoon coconut oil
1/2 teaspoon sea salt
1/4 teaspoon freshly ground pepper
1/4 teaspoon paprika
1/4 teaspoon sage
1/4 teaspoon thyme
8 button mushrooms, sliced
1 onion, sliced thin
Preheat oven to 425 degrees F.
Prepare a rimmed baking sheet by lining in both ways with tin foil. The lengthwise strip should be long enough to join the ends together and fold over.
In a small bowl, combine salt, pepper, sage, paprika and thyme.
Rub the spice mixture into both sides of each pork chop.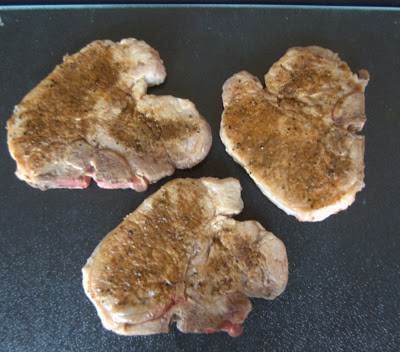 In a large skillet over medium-high heat, add coconut oil.
When oil is hot, sear both sides of the chops until they are browned.
Transfer the browned pork chops to the prepared baking sheet.
Layer the onions, and mushrooms on top of each chop.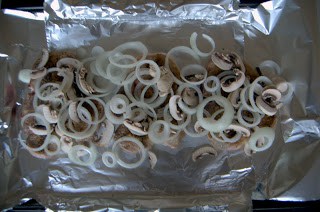 Encase the meat by folding up all sides of the tin foil and folding them over. This will allow for the steam to be contained as they bake.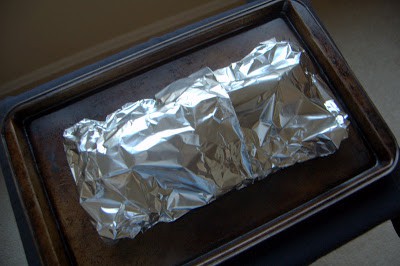 Bake for 30 minutes.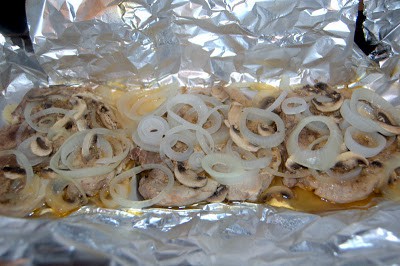 The recipe was great because it was quick and easy, but…
I rate everything I bake on a scale of 1-4 with 4 being the best and I have to admit that I am struggling to give these Seasoned Pork Chops even 1 rolling pin.
I unwrapped the foil to put them onto the plate and the smell overtook me and almost made me nauseous.
Seriously.
I don't know what it was, the mushrooms and onions, the chops or the spices.
And NO, I'm NOT pregnant!
How could you even think such a thing!!
Unfortunately, from that point on I had NO desire to eat dinner. So, chalk it up to another cereal night.
They smelled ok after I browned them in the skillet, but somewhere during the baking process something went awry.
The rest of the family wasn't nuts about it either. They all took a few bites, leaving most of it on their plates and politely requested that I not make it again.
Oh well, you can't win them all.
Tomorrow's another day.
No more seasoned pork chops for the 365 family!
BIG baking hugs and muffins!