It's that time of the month again!!
NO!!! NOT THAT!!! C'mon!! 😉
It's time for the reveal of this month's Secret Recipe Club blog.
The Secret Recipe Club is a group of blogger's who have chosen to participate once a month and are each given a blog from which we are to chose any recipe to make and then post about.
But, shhhhh…., it's a secret!!
We are not supposed to tell the writer of the blog that we have them.
It's a lot of fun blog stalking and going through their recipes discovering new ideas and "meeting" a fellow blogger.
The idea is based on the Secret Santa and was originally started by Amanda of Amanda's Cookin'. The group has grown so much over the last few months that there are now 4 separate groups revealing their recipes on separate dates in October! How cool is that??!!
The leader of my group is Angela of the blog, Big Bear's Wife, and she's been a tremendous help and source of support to all of us as has Amanda! A BIG baking hug goes out to both of them for all of their hard work!!
Oh yeah, so I'm guessing that you're wanting to know who's blog I was assigned?
Hmmmm…..the suspense!
I was excited to see that I had gotten this one because just a few days before I had actually discovered it on my own. I can't remember how I found her, but I was really enjoying all that I was seeing and reading.
She has a wonderful site, previously known as Recipe Rhapsody (love that name, too!), and she has a lot of great recipes to choose from.
They include
sugar-free
,
slow cooker/crockpot
(which I'll definitely be trying because there's nothing better than sticking stuff in the pot and letting it sit, so that it's cooking all day and ready at dinnertime – little work for great reward!), and
vegetarian/vegan
.
In her
tips and tricks
she shows you how to add Henna to your hair and how to create an absolutely beautiful lattice pie crust! She make it look SO easy! Making one of those can be so intimidating, but it is truly a gorgeous thing to look at once it's finished, and hers are something you need to see.
Veronica started Recipe Rhapsody on MySpace, but decided to add more to her site. There are posts about life with her husband, Dennis Miller (No, not
that
Dennis Miller),
Wordless Wednesdays
where she only posts pictures without any words (hence the name
wordless!
haha), and one section of her blog that I really have enjoyed is her
Thanksgivings
or Thankful Thursdays. This is a part of her site where she posts something she is grateful for every Thursday. It is either something that happened or something she realizes she has, every day of the previous week leading up to that Thursday.
10 years ago, Veronica was diagnosed with diabetes and this past Thursday she wrote that she is grateful for the disease. What a remarkable woman, to be able to take an adversity and be able to change it into a positive! Many people would be saying, "Why me?" or complaining about the problems they have because of it, but Veronica has
chosen
to view it differently. I know we could all learn from that. She is grateful that it has made her more aware of her health and she takes active steps to keep both the diabetes and her health in check.
There are so many great recipes to chose from that I really had trouble deciding. I know I'll be making one of her recipes this week for Mr. 365's birthday, but I can't tell you what it is because I don't want anyone spilling the beans! I know how some of you have trouble keeping a secret!
There were some main dishes like her
Mediterranean Tacos
and definitely some desserts like her
Grandma's Pie Crust Cookies
that I wanted to make. Ultimately I went with something that had to be…
C'mon, you know what I'm going to say…
What, what…
Yes,
Baked!
But, I will definitely be returning to her blog quite often!
This may be a first for the Secret Recipe Club because I haven't seen anyone choose a recipe like this. I did a search on the site and nothing came up. It is a recipe and it is for those important (ahem) beings in our lives who need love and desire great food just as much as we do. Maybe this will give you a hint…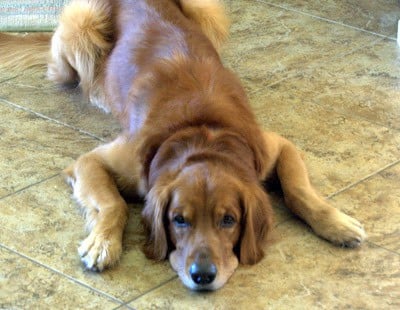 He's our Golden Retriever, Brady, named after the New England Patriot's quarterback, Tom Brady, since we originate from Rhode Island.
I did make a few adaptations which I'll explain after the recipe.
PB Banana Dog Treats


3 cups whole wheat flour
1/2 cup old-fashioned rolled oats
1/4 cup flax seed meal
1 ripe banana, mashed
1 medium carrot, finely shredded
3/4 cup milk
1 1/4 cup peanut butter
1/3 cup molasses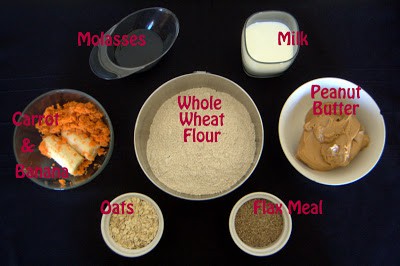 Preheat oven to 350 degrees F.
Combine flour, oats and flax seed meal in a large bowl.
In a mixing bowl, mix banana, carrot, peanut butter, milk and molasses on low speed until smooth.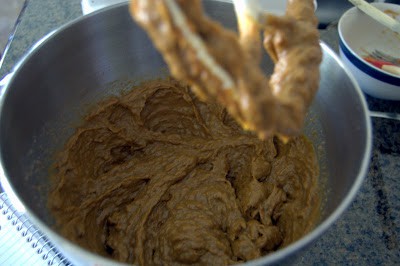 Slowly add the dry ingredients. It may help to knead the dough by hand after it has been completely blended.
On a lightly floured surface roll out dough to ¼ inch thick.
Use cookie cutters to cut into shapes and place on baking sheets.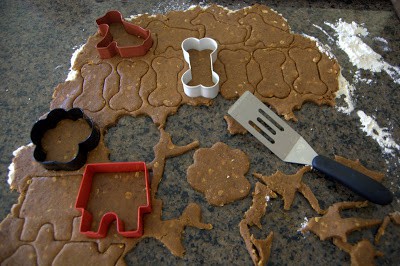 Bake for 20 minutes. Turn off oven and leave inside until it is cool.
Store treats in an airtight container.
Brady really, really likes bananas and carrots, so to Veronica's recipe I added one mashed banana, and one medium carrot. I substituted 1/4 cup flax seed meal for the wheat germ to give him some extra omega 3's, decreased the amount of milk from 1 1/4 cups to 3/4 cup because of the extra moisture from the banana and carrot, and omitted the baking powder, but not intentionally.
He LOVED these treats!!
He knew I was making something just for him because he barely left the kitchen. And the only time he did leave was when I gave him the empty peanut butter jar.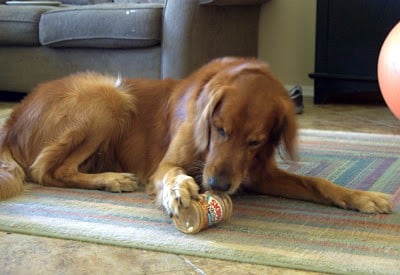 But then he was back, staring at me and waiting, and waiting, and waiting.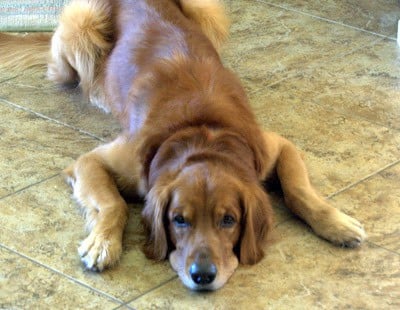 He loves treats! I've made them for him before on Day 6 and he absolutely LOVED those, too, so I knew these would be a hit, especially with his added favorites.
I rate everything I bake on a scale of 1-4 with 4 being the best and these PB Banana Dog Treats earned a 4 rolling pin rating. How did I know they were a four? Based on the amount of drool dripping from Brady's mouth as I held one out to him, and also because he swallowed a couple without even chewing! And they were pretty big, too!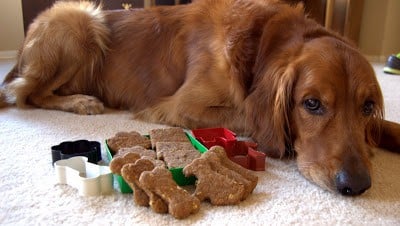 I'm sure if you make these for the 4 legged-friends in your life they will be wagging their tails and giving you lots of licks and kisses!
Thank you, Veronica, for sharing your blog and your life with us! It's been a pleasure getting to know you!
Until next month's Secret Recipe Club, BIG baking hugs and muffins!