Try these Vanilla Mashed Potatoes–your classic mashed potato recipe made even more tasty with some mascarpone and vanilla paste added. Vanilla paste isn't just for baking anymore!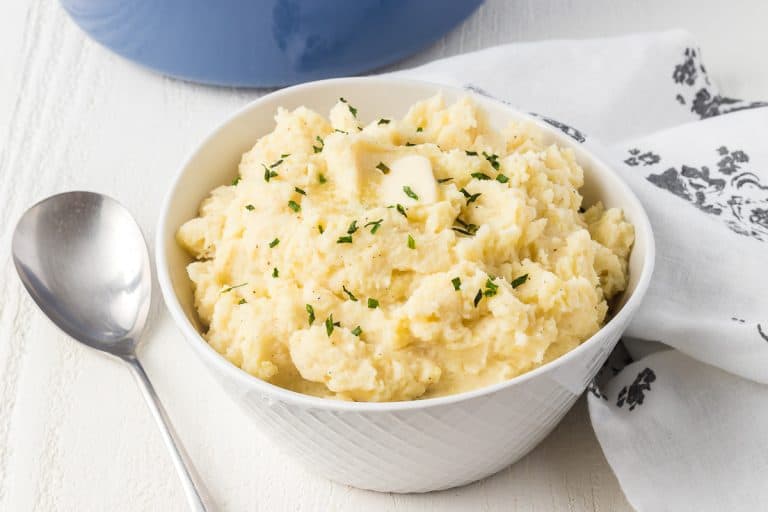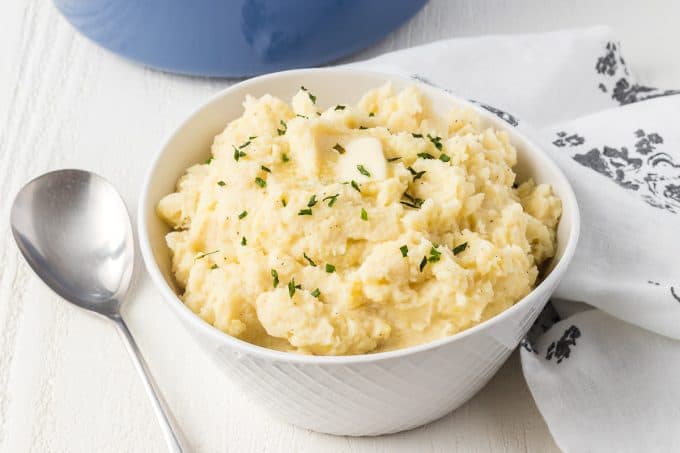 Vanilla Mashed Potatoes are fluffy, creamy, buttery potato heaven made all the more delicious by the fragrant vanilla flavor in each and every spoonful. It's the perfect side dish for your holiday or weeknight dinner!
I can hear you now: "Vanilla in MASHED POTATOES???" I know. It sounds like some kind of horrible culinary fail. However, vanilla paste is such a handy little ingredient and it can be used for more than just baking.
I've made plenty of different potato recipes in my life and more than my fair share of mashed potatoes. From Potatoes Au Gratin to Rosemary Potato Fingers, chances are I've made a version of it in my kitchen.
This, however, is my first foray into using both vanilla paste and mascarpone to flavor them. I definitely wasn't prepared for just how delicious the outcome of this idea would be.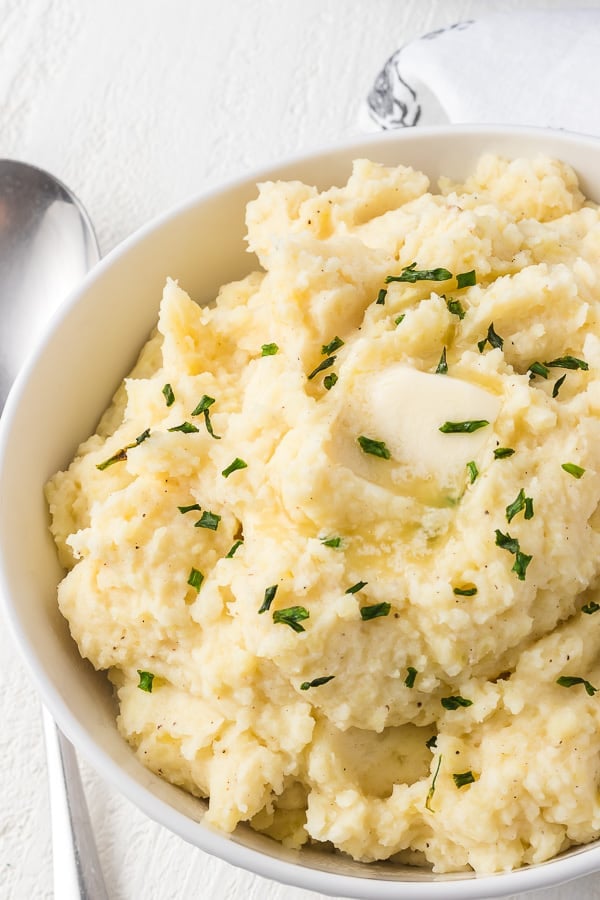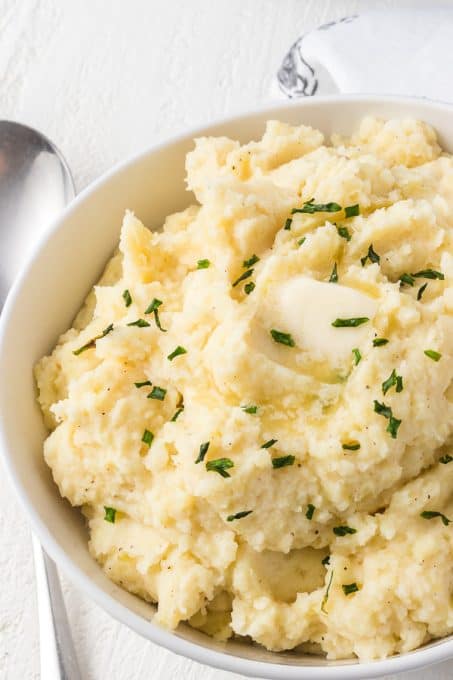 What is Vanilla Paste? 
Most home bakers are familiar with pure vanilla extract and whole vanilla beans. Vanilla bean paste is a less common but delicious way to infuse lots of rich vanilla flavor into any recipe.
Rodelle Vanilla Paste utilizes the whole vanilla bean pod and includes both the powdered bean itself and bourbon vanilla extract. I found that the vanilla flavor is far more complex and deep than plain old vanilla extract. 
It's well worth picking up a bottle online or from your grocery store for all your baking and cooking, but especially to try these Vanilla Mashed Potatoes!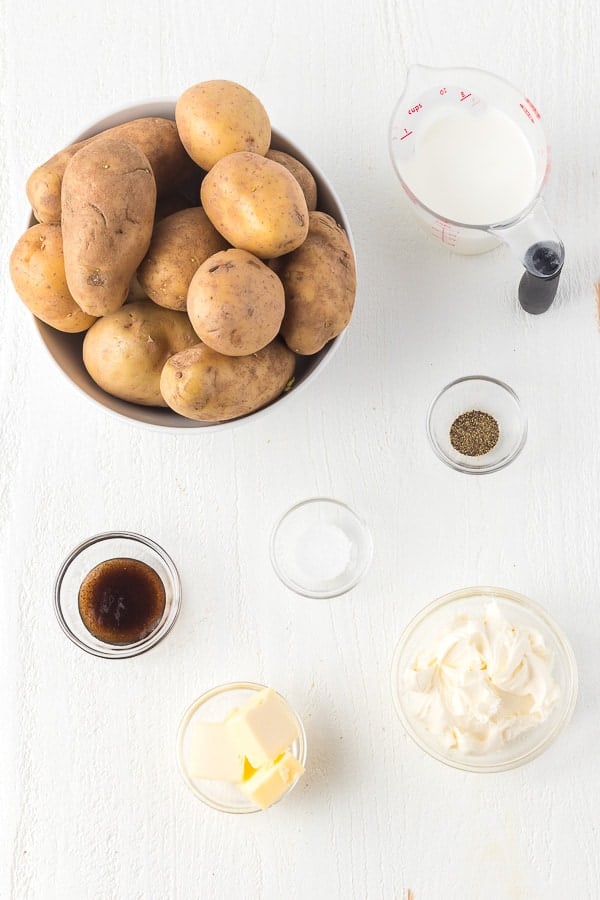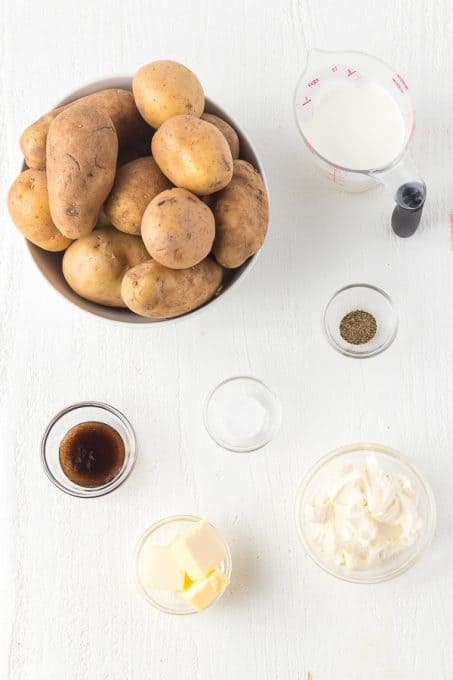 Vanilla Bean Mashed Potatoes Recipe
This recipe starts just like a classic mashed potato recipe: rinse potatoes with cold water, then peel and cut them into small chunks. I used a combination of Russet and Yellow varieties of potato in this dish. You're welcome to use your favorite potato for mashing.
Fill a medium saucepan with salted water and boil the potato chunks until tender, about 15-20 minutes. Drain the potatoes and use a potato masher or a fork to mash potatoes with the usual suspects of butter, milk, salt, and pepper.
Then, add the magic ingredients:
First, add the mascarpone, that thick cream-cheese-like cheese that adds creaminess and just the slightest hint of tang. Next, use 3 teaspoons of Rodelle Vanilla Paste. 
Everything is mashed and stirred together until warmed and combined. Add a sprinkling of chives on top of each helping of these mashed potatoes for color and flavor.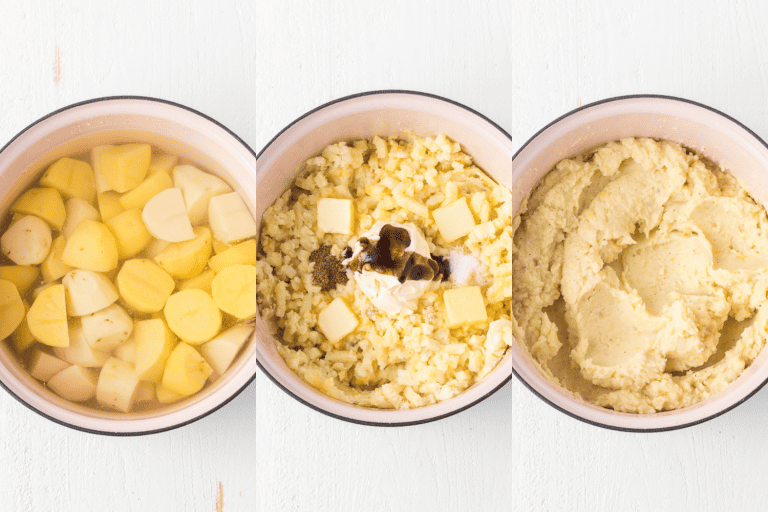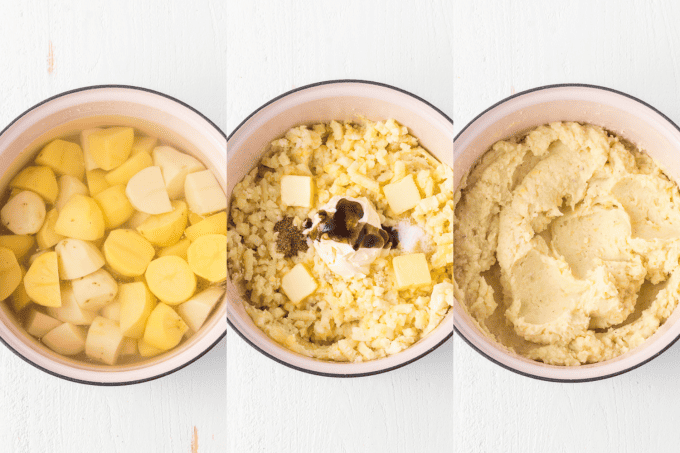 Can I make these potatoes ahead of time?
Things get busy when preparing a large holiday meal, so you can make mashed potatoes ahead of time in one of two ways:
First Method: Make and Reheat– Make your potatoes as directed in the recipe, then store them in an oven-safe casserole dish. Cover and refrigerate. When you're ready to reheat, set them on the counter for 30 minutes to come to room temperature.
Add a dash of milk or butter to help prevent them from drying out. Then pop them into the oven at 350 degrees for 15-20 minutes or until the potatoes are hot throughout. This method is also perfect for reheating leftovers!
Second Method: Cook and Keep Warm– Follow the recipe as directed, then transfer cooked potatoes to a slow cooker or instant pot to stay warm. Use the WARM setting. You can keep potatoes warm for several hours until you're ready to serve.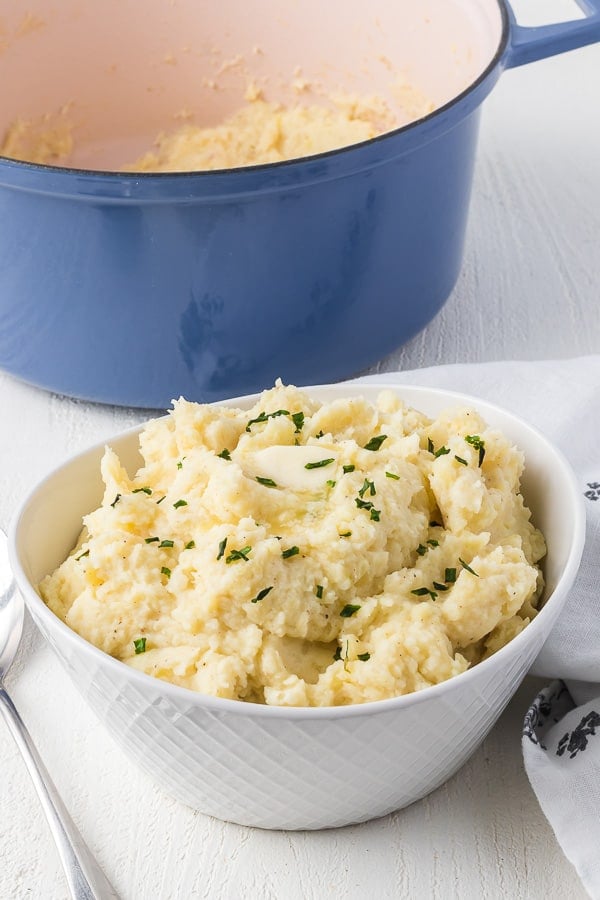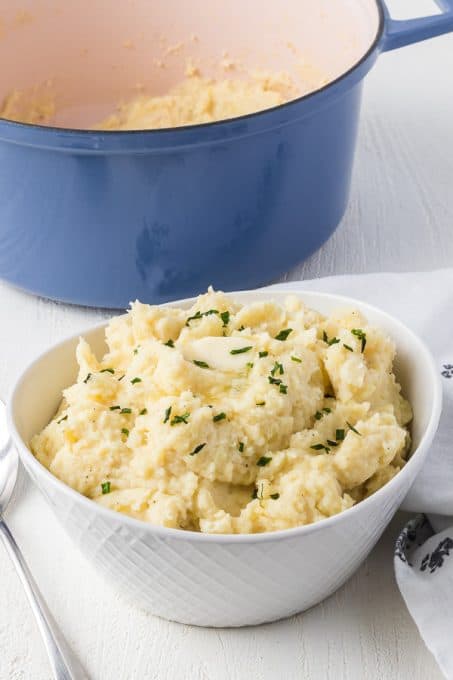 What substitutes can I use for milk in mashed potatoes?
If you are dairy-free, you can leave out the milk and butter and use dairy-free milk such as unsweetened almond milk, or even use broth. For those looking for richer potatoes, try sour cream or heavy cream in place of the milk. Use about ¼ of the milk in the recipe if using cream.
Potato Side Dish Recipes
Everyone loves a heaping helping of potatoes on the side of their meal, especially creamy fluffy mashed potatoes that are seasoned to perfection.
Try my Molasses Glazed Sweet Potatoes and these Melting Sweet Potatoes by Foodie with Family, too!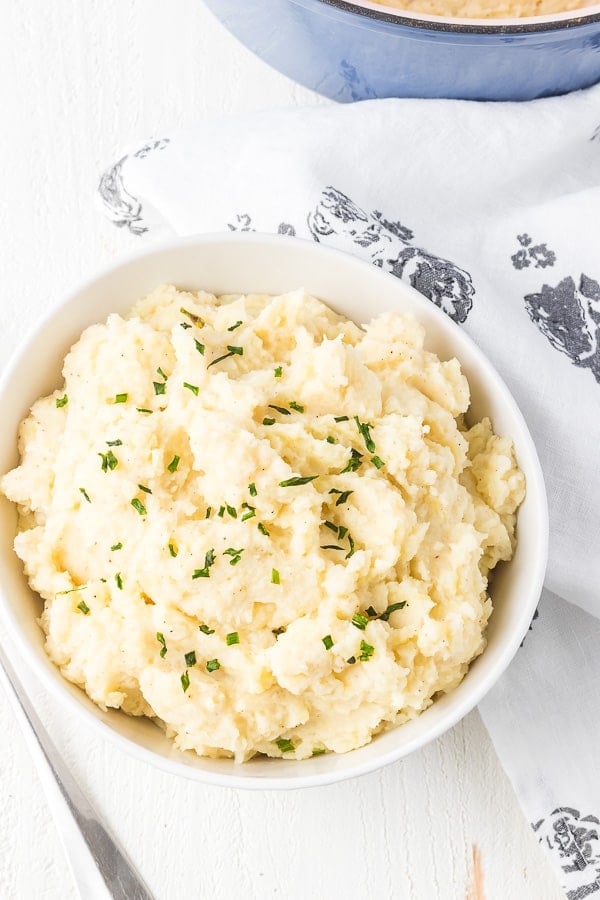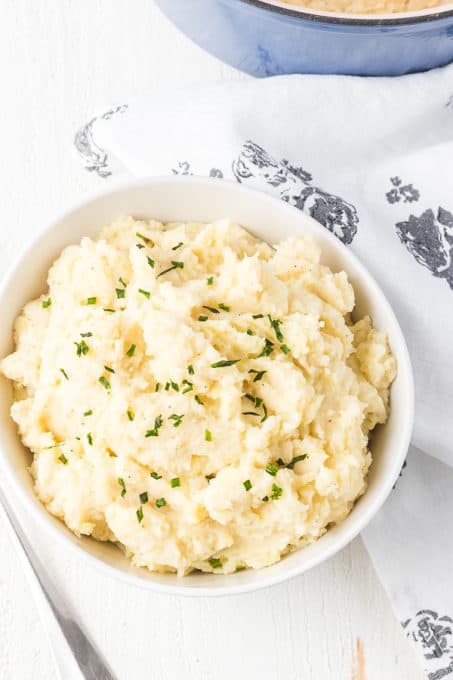 More Potato Recipes
I have no shortage of tasty potato recipes to keep your side dishes fresh and interesting! If you like these Vanilla Mashed Potatoes, then you'll enjoy my Smashed Roasted Cheesy Potatoes, these Twice Baked Potatoes, and my Maple Roasted Sweet Potatoes. We've also been loving Roasted Thyme Blue Potatoes and Oven Roasted Potatoes lately!
Are you still skeptical about putting vanilla into a savory potato recipe? Have a little faith, friends! I promise I wouldn't steer you wrong! Give it a try and let me know how you like this potato side dish.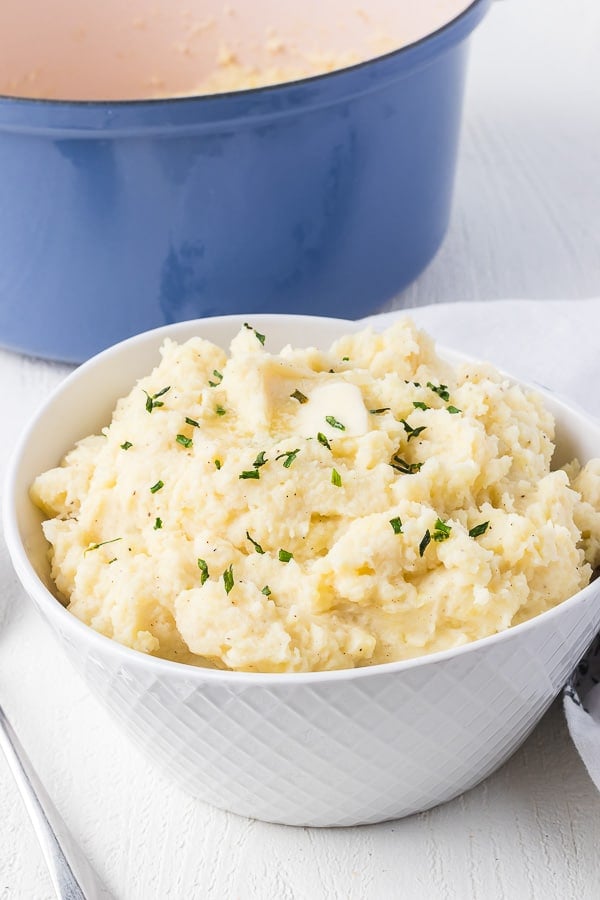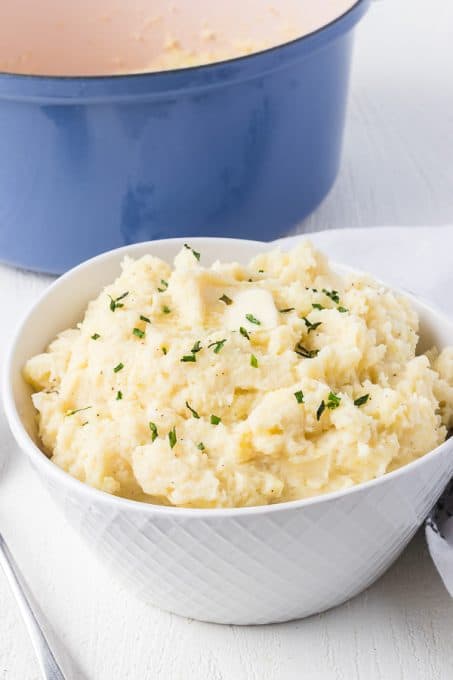 ~ FOLLOW ME ~
Keep an eye out for more of my easy recipes each week!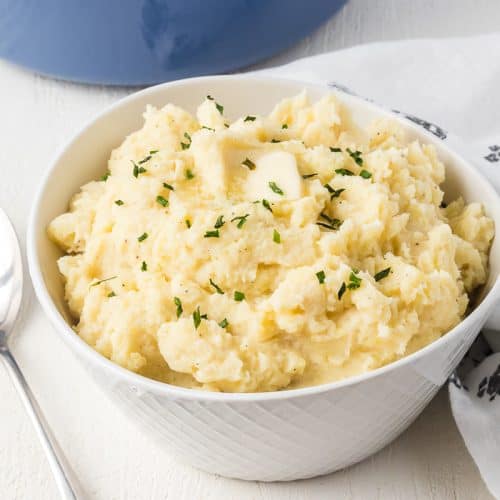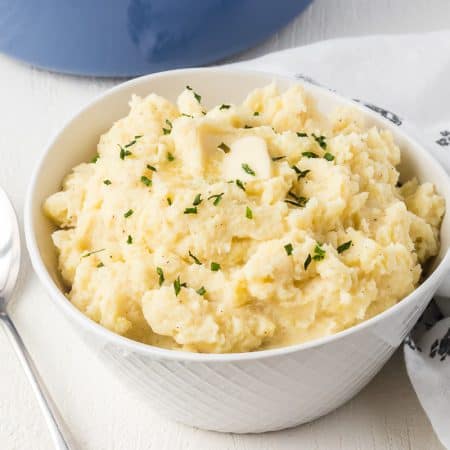 These Vanilla Mashed Potatoes are your classic mashed potatoes recipe made even more delicious with some mascarpone and vanilla paste added. Vanilla paste isn't just for baking anymore!
Ingredients
4 lbs. potatoes a combination of Russet and Yellow potatoes
4 tablespoons salted butter
4 ounces mascarpone
¾ cup milk plus additional added one tablespoon at a time, if needed
3 teaspoons Rodelle Vanilla Paste
¾ teaspoon salt or to taste
½ teaspoon ground black pepper or to taste
fresh chopped chives for garnish if desired
Instructions
Peel and cut the potatoes into 1-inch pieces.

Place into a medium size pot and cover with cold water.

Place pot onto stove and bring to a boil over medium-high heat. Reduce heat and simmer for 15 – 20 minutes or until potatoes are fork tender.

Drain the potatoes in a colander and return to pot.

Over the warm burner, and with a potato masher, mash the potatoes.

Add the butter, mascarpone, milk, vanilla paste, salt and pepper and stir to completely combine.

Transfer to a serving dish and garnish with fresh chopped chives, if desired.
Nutrition
Serving: 1serving | Calories: 315kcal | Carbohydrates: 44g | Protein: 7g | Fat: 13g | Saturated Fat: 8g | Polyunsaturated Fat: 0.3g | Monounsaturated Fat: 2g | Trans Fat: 0.2g | Cholesterol: 32mg | Sodium: 291mg | Potassium: 983mg | Fiber: 3g | Sugar: 4g | Vitamin A: 413IU | Vitamin C: 13mg | Calcium: 80mg | Iron: 2mg
Did you make this recipe?
Share it with me on Instagram and make sure to follow me on Pinterest for more recipes.
This post was originally published on 11/8/16. It has been updated in format and with photos on 5/22/23.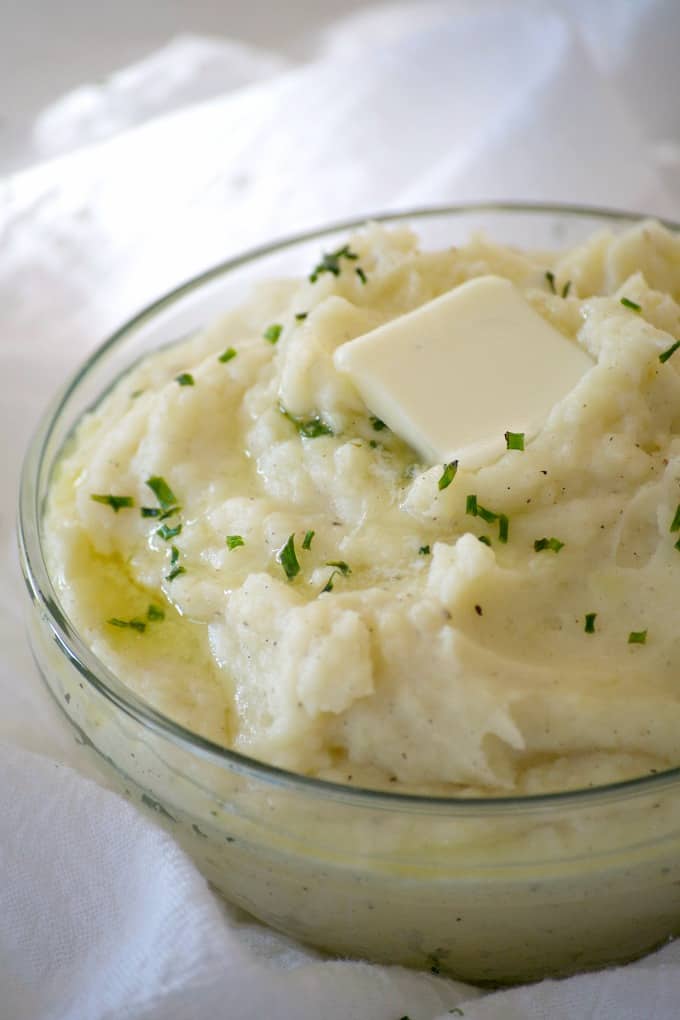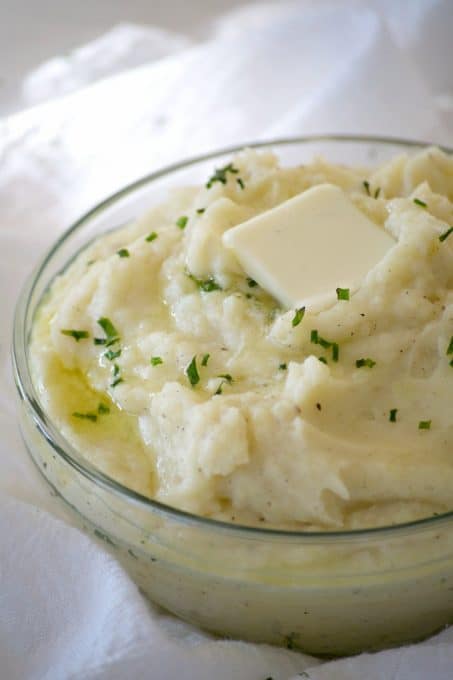 Reader Interactions