Here are more than 40 Potato Side Dishes to make. With the holidays coming, you're going to love this assortment of potato recipes. They'll be perfect to serve with your turkey on Thanksgiving or alongside that holiday ham.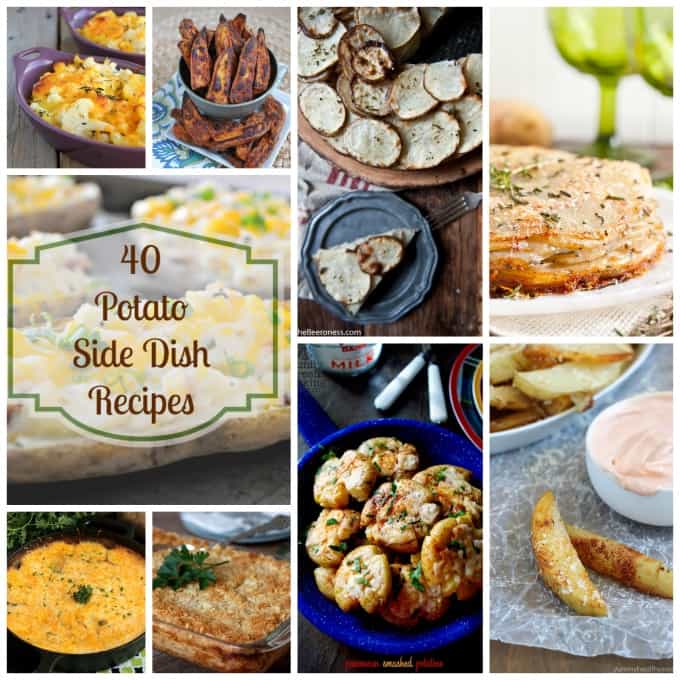 You might already have your menu planned for the holidays, but…
there's always that chance that you don't. And if you do, you can always make an addition or substitution – there'a nothing wrong with that. Besides, if you see something you REALLY like, but decided to not use it over the holidays, this collection will always be here! Enjoy these fantastic recipes from some of my blogger friends. Be sure to pin, and share them!
SAVE THIS 40 POTATO SIDE DISHES RECIPE COLLECTION TO YOUR FAVORITE PINTEREST BOARD!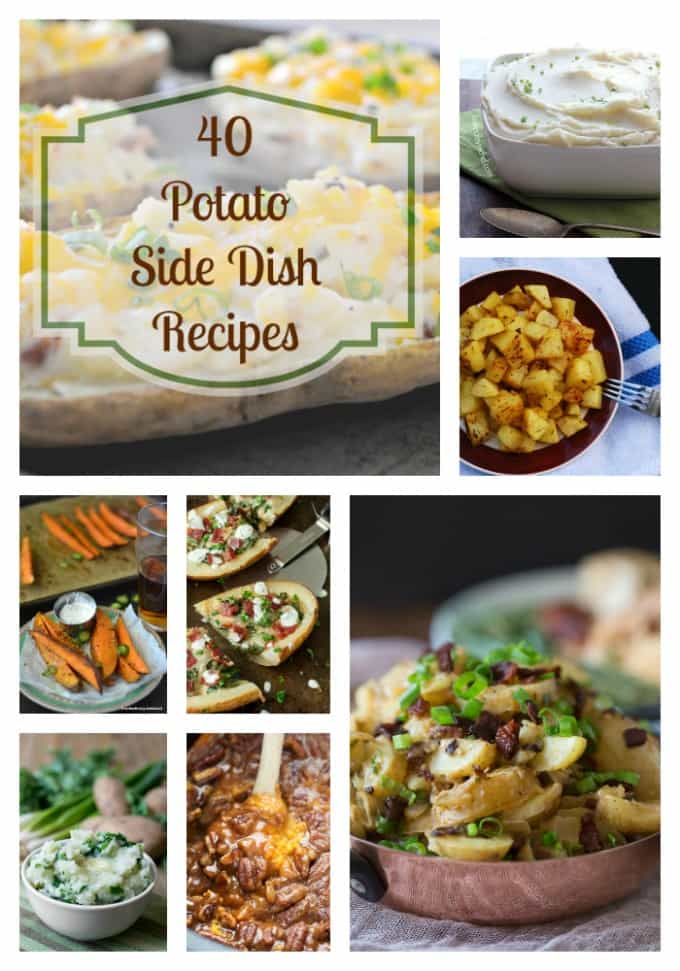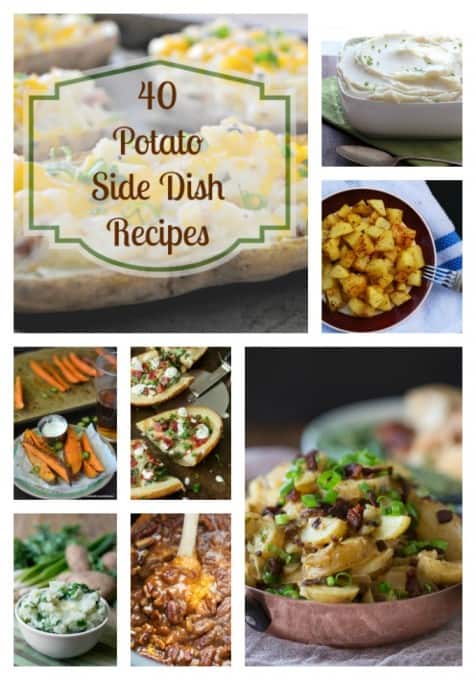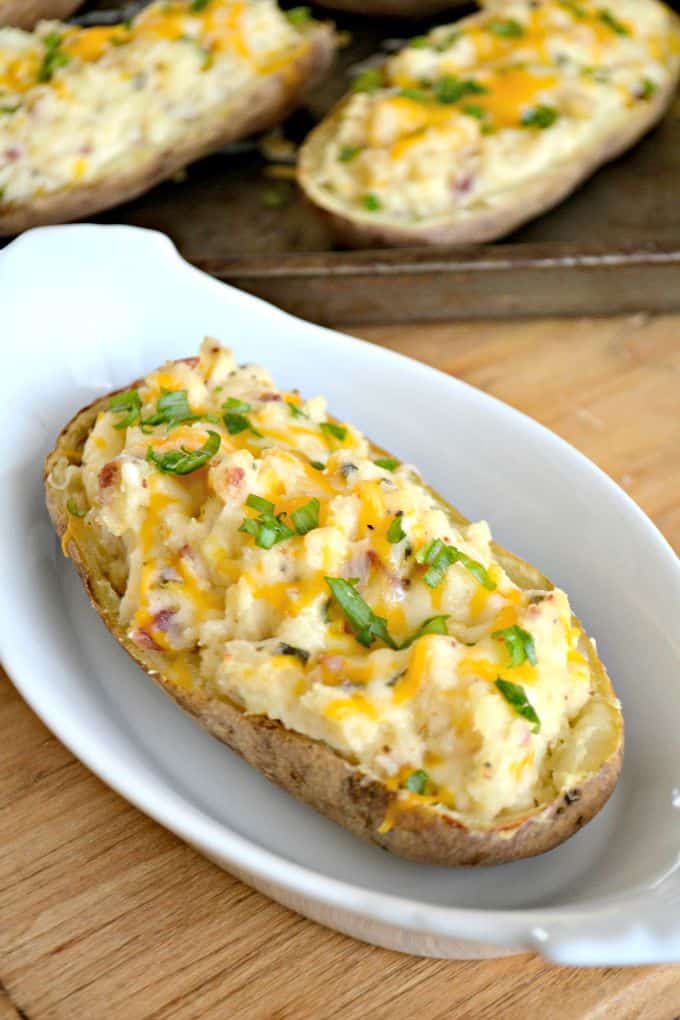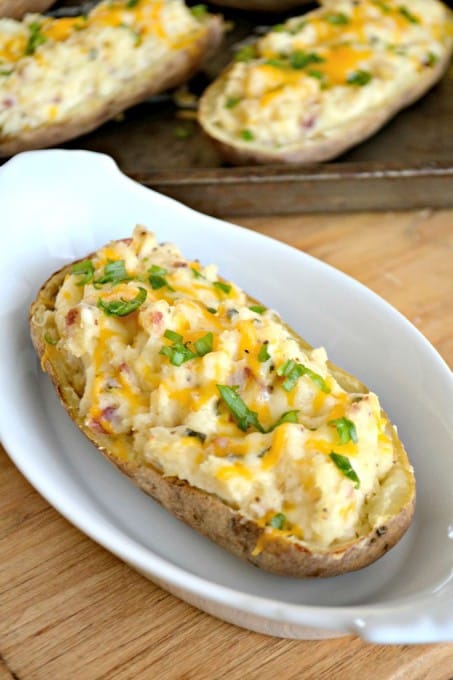 My twice-baked potato recipe makes a stellar side dish for just about any occasion. I love them served with a full steak dinner, plated next to a slice of Herb Roasted Turkey or even all on their own.
Scalloped Hasselback Potatoes – 365 Days of Baking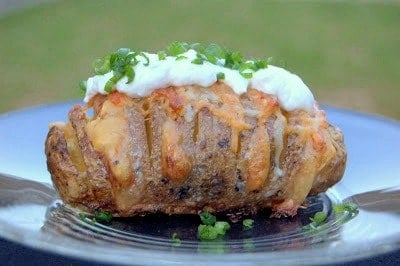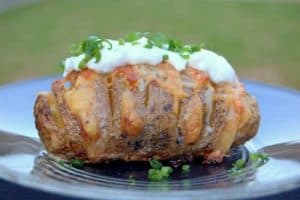 Tired of the same old baked potatoes? This one is cut hasselback style and full of all the flavors I love in scalloped potatoes.
Maple Roasted Sweet Potatoes – 365 Days of Baking and More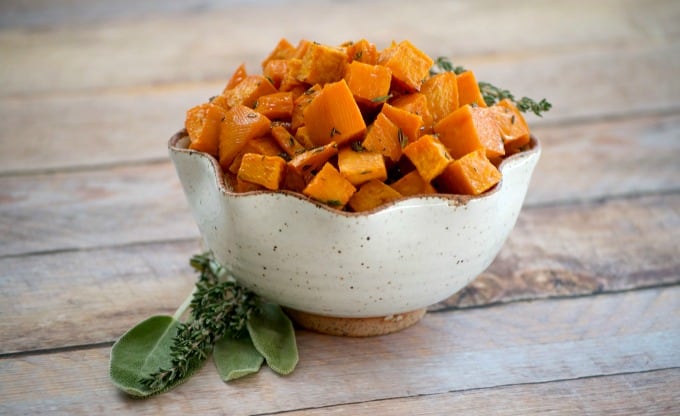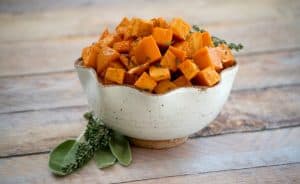 Hello, maple fans and welcome to your new favorite potato recipe! These are just begging to be served at your Thanksgiving meal.
Molasses Glazed Sweet Potatoes – 365 Days of Baking and More
Looking for another sugary sweet potato recipe? This molasses glazed adaption tastes amazing alongside a slice of turkey!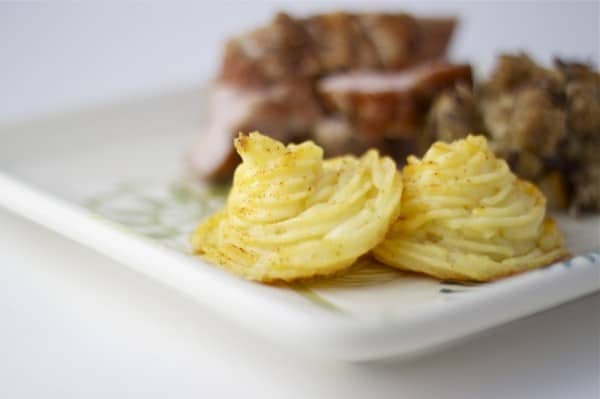 These gorgeous cheddar potatoes taste as good as they look. And that's saying something!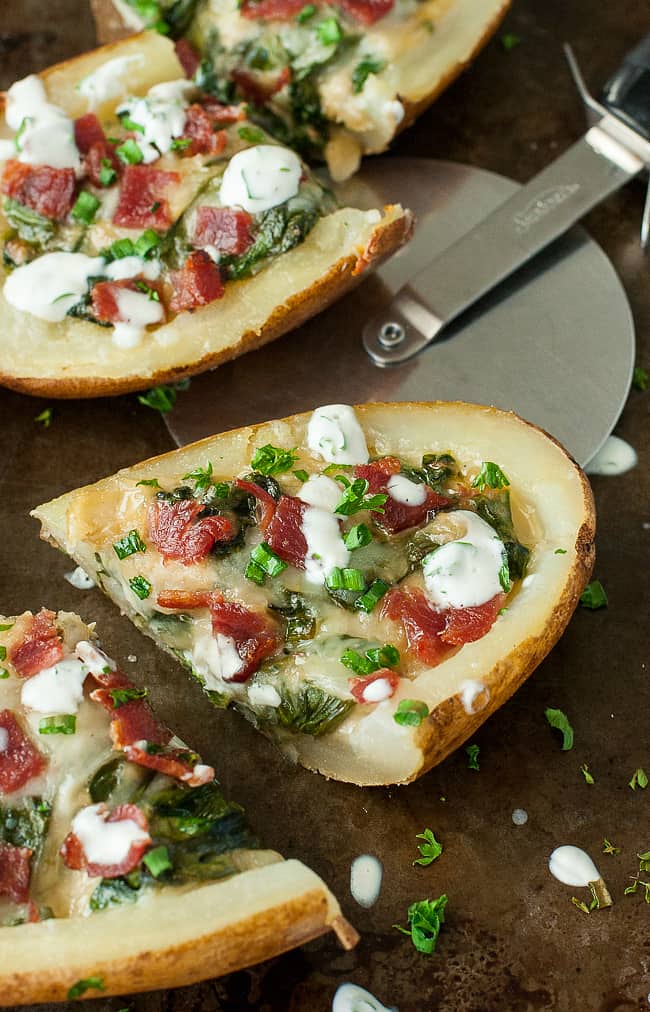 Combining spinach and artichoke together with plenty of cheese and stuffing it into crisp potato skins might be one of the most brilliant ideas ever.
Melting Sweet Potatoes – Foodie with Family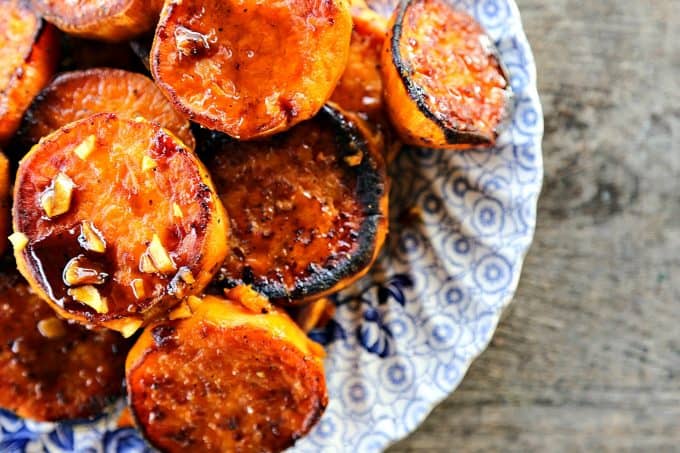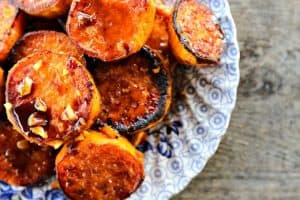 Rebecca's sweet potato recipe is one of the most addictive I've ever made. Thick sweet potato wedges roasted until tender and sprinkled with a little garlic are hard to stop eating!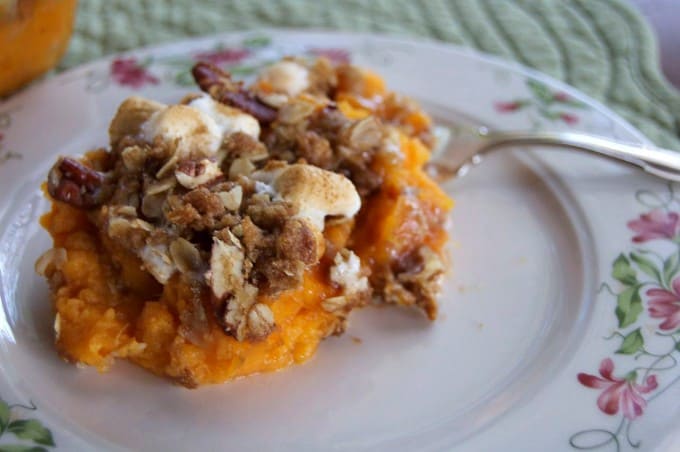 Everything about this potato side dish recipe says "Thanksgiving" to me. With the traditional marshmallow topping and lots of maple flavor, this sweet potato casserole keeps everyone coming back for second helpings.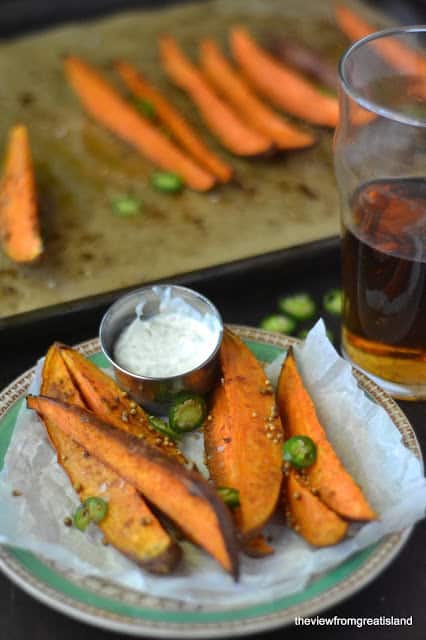 If you're in the mood for a less traditional–but just as delicious–sweet potato recipe, these baked sweet potato spears are for you. Served with a flavorful lemongrass dip, this is a restaurant-quality side dish you'll be proud to serve.
Roasted Thyme Blue Potatoes – 365 Days of Baking and More
This side will make all your guests "oooh" and "ahh" when you bring them to the table!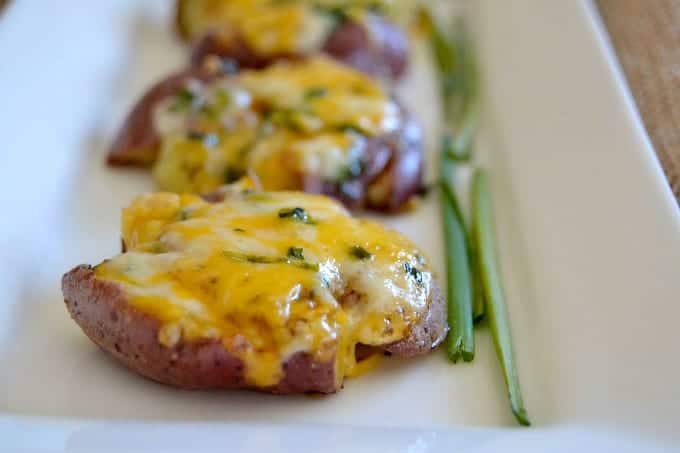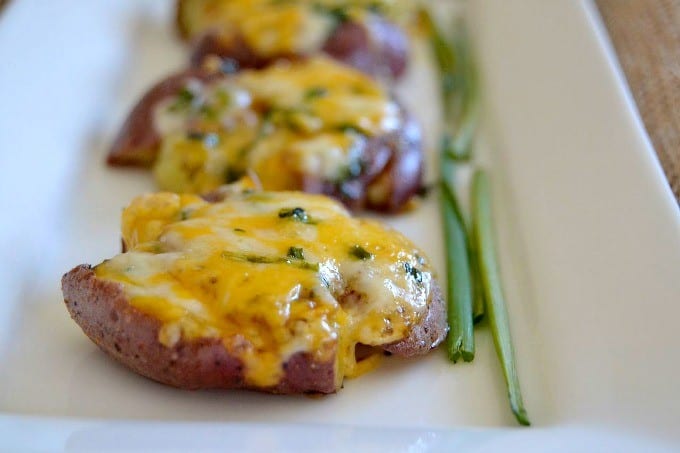 Here's another potato side I never get tired of. Roasted red potatoes are covered with a generous handful of cheesy and "smashed"; the result is a crispy skin and fluffy buttery interior.
Vanilla Mashed Potatoes – 365 Days of Baking and More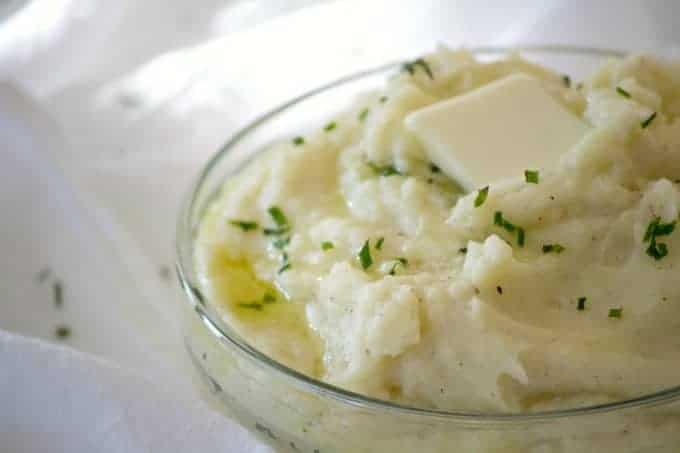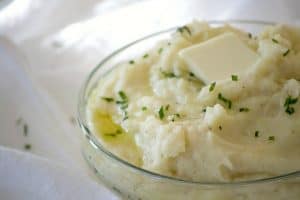 I got tired of sweet recipes taking all the vanilla glory for themselves! I love serving these vanilla infused mashed potatoes and seeing the joy on people's faces when they take a bite!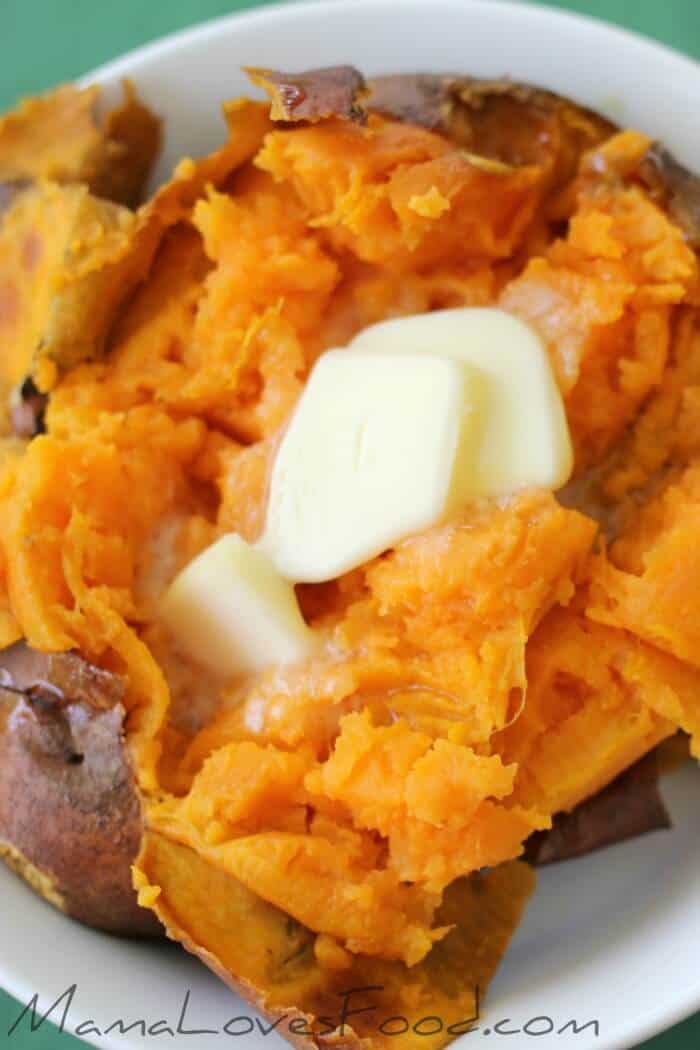 If you've never baked a sweet potato before, or you haven't been happy with the spuds you've baked, check out this guide. April walks you through how to make the very best baked sweet potato side each and every time.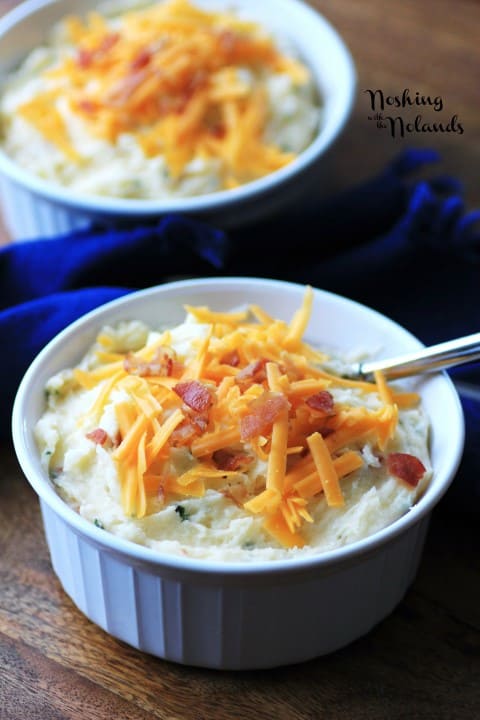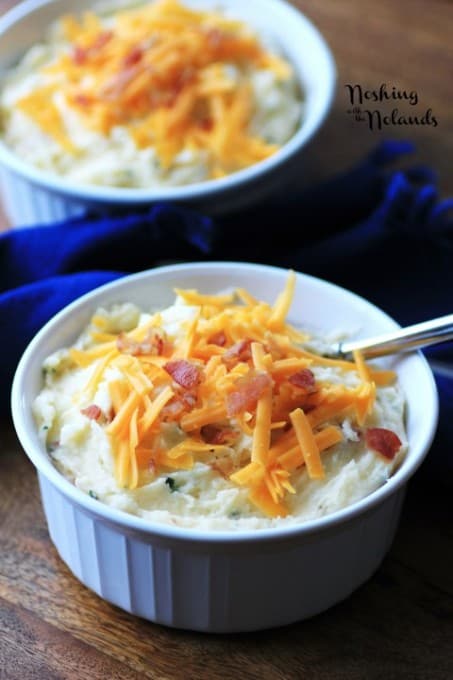 Fluffy mashed potatoes with cheese, bacon bits and all the other best potato toppings? Sign me up.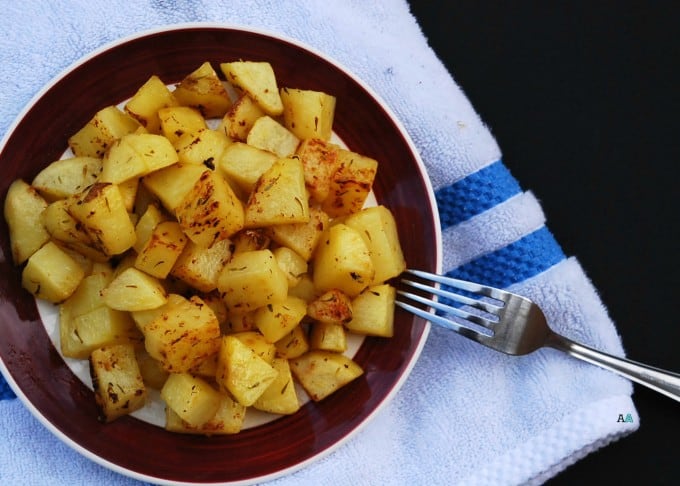 This simple roasted potato recipe tastes just like the herby potatoes from your favorite Greek diner.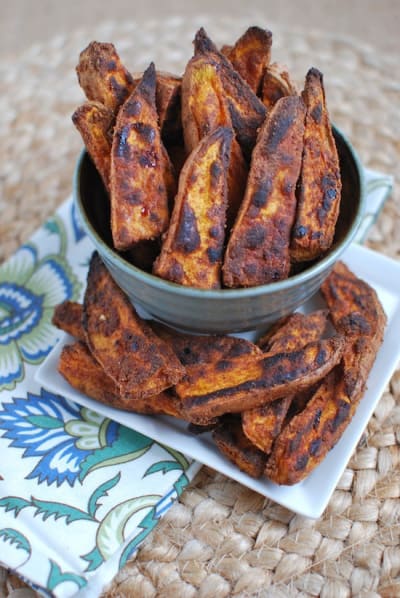 This potato recipe side dish is a delightful surprise with every bite. You get sweet, spicy and smoky flavors all in one crisp potato wedge.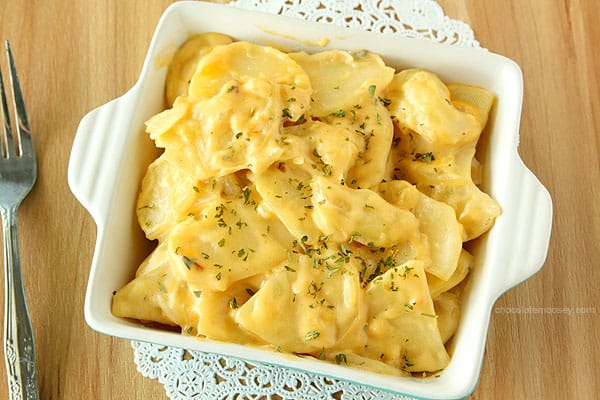 Scalloped potatoes minus the time in the oven means you can enjoy this cheesy side dish any night of the week.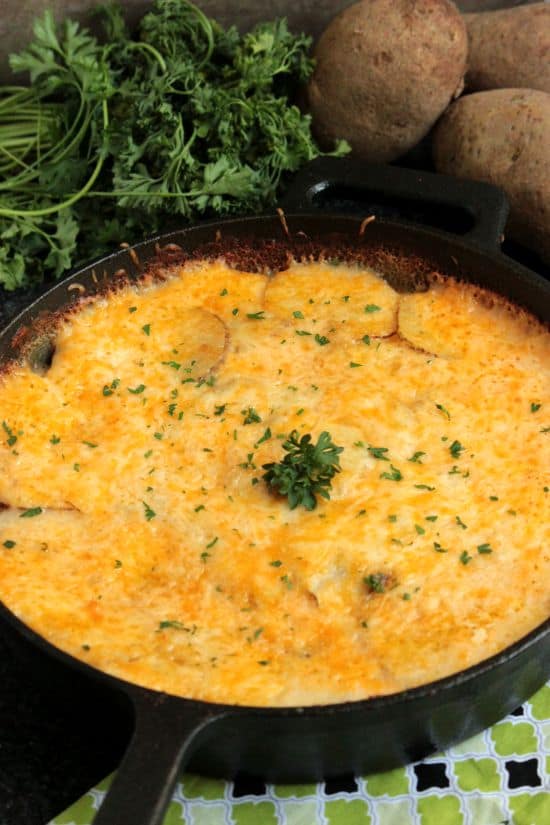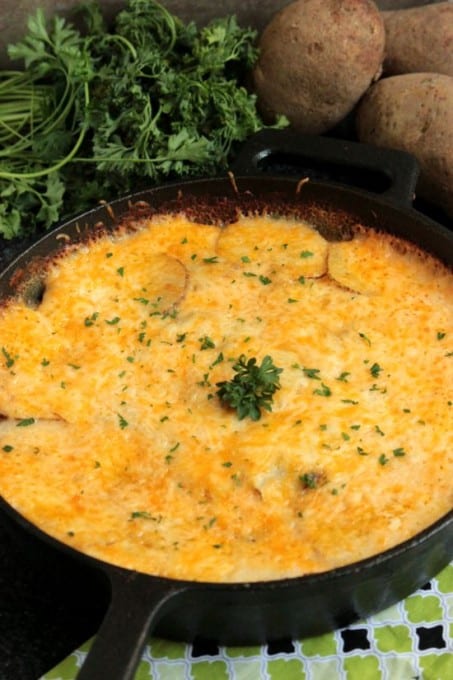 Here's another skillet potato side dish recipe I love. If you like creamy potatoes, you'll love this recipe!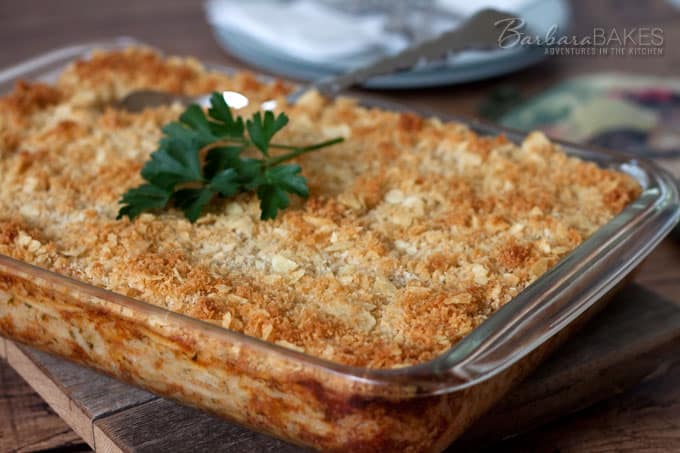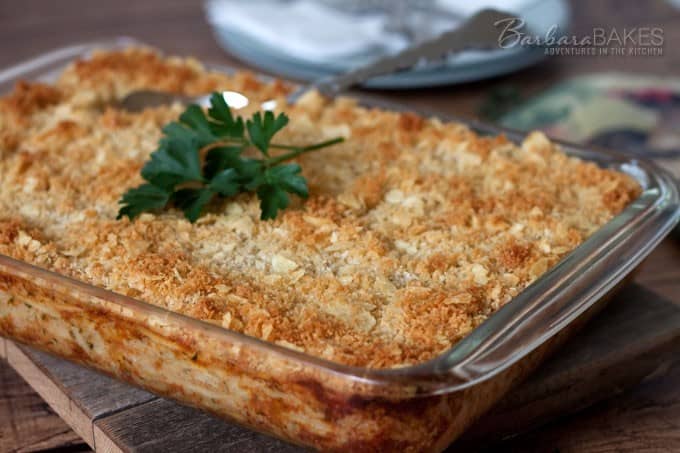 The name might sound bleak but this potato casserole is a complete delight!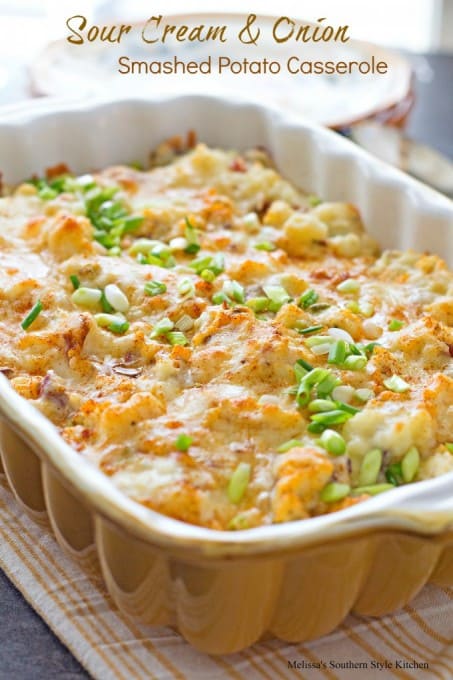 Do you like sour cream and onion potato chips? If so, you're going to go wild for Melissa's casserole.
Savory pies make a welcome change on a Thanksgiving table. This potato and leek pie is sure to wow the crowd when you host your big holiday dinner.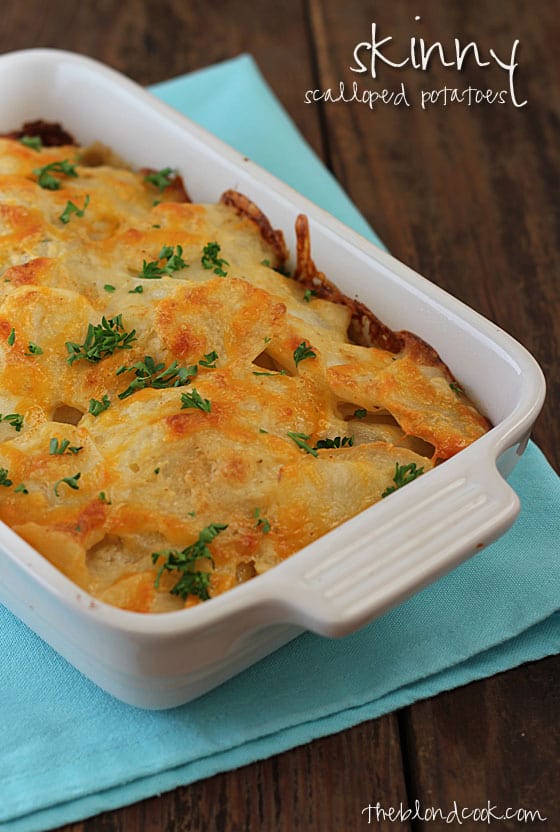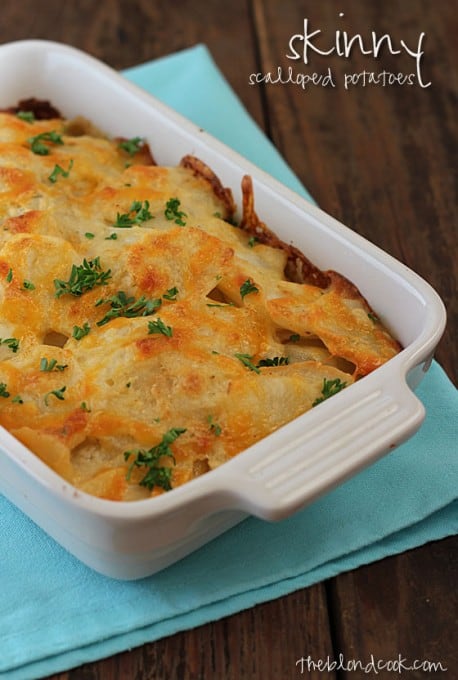 Just in case you're looking for a lighter spin on classic scalloped potatoes that's just as tasty as the original, The Blond Cook has you covered.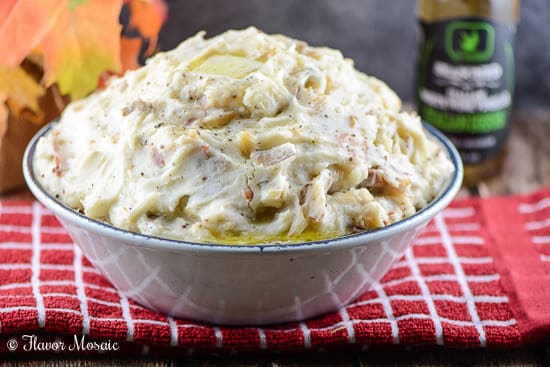 Add bacon to any potato dish and it's sure to become one of my favorite things. This mashed potato recipe with horseradish is like none other I've ever tasted.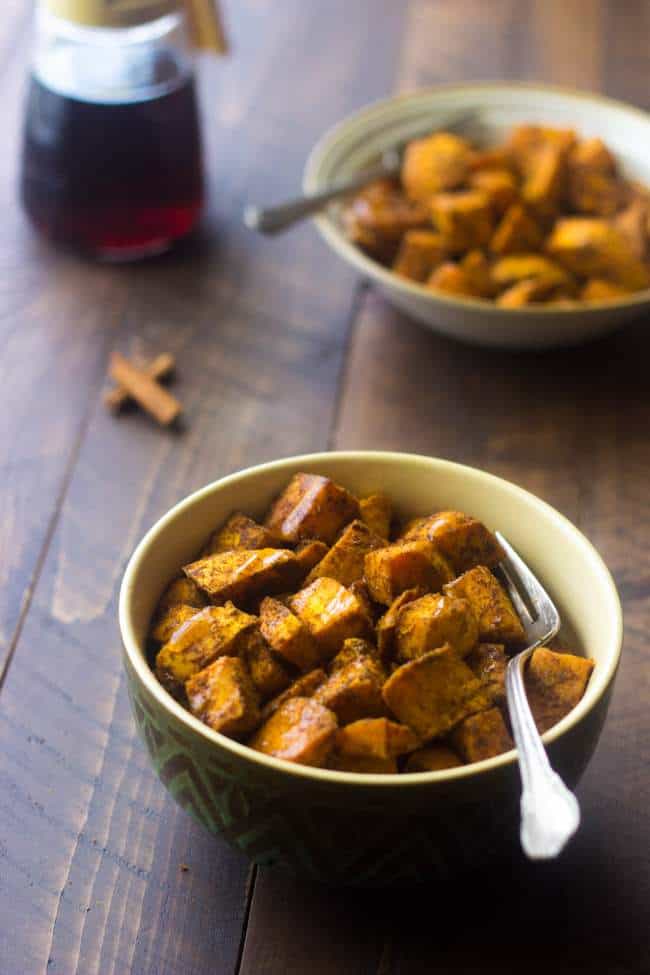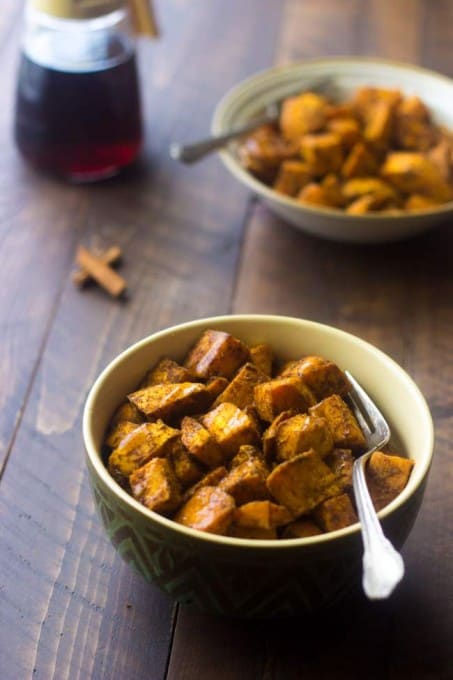 Have you ever tried curry spices with sweet potatoes? Now's the time!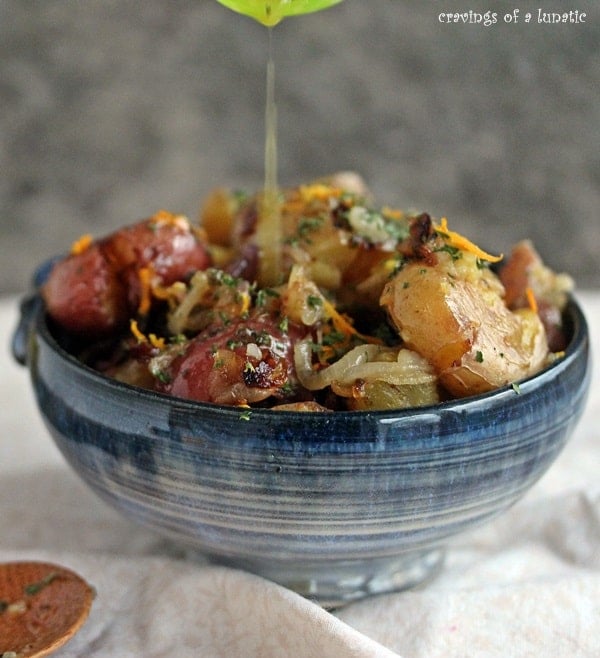 Savory, crispy and just a bit tart, this side dish made me smile big time!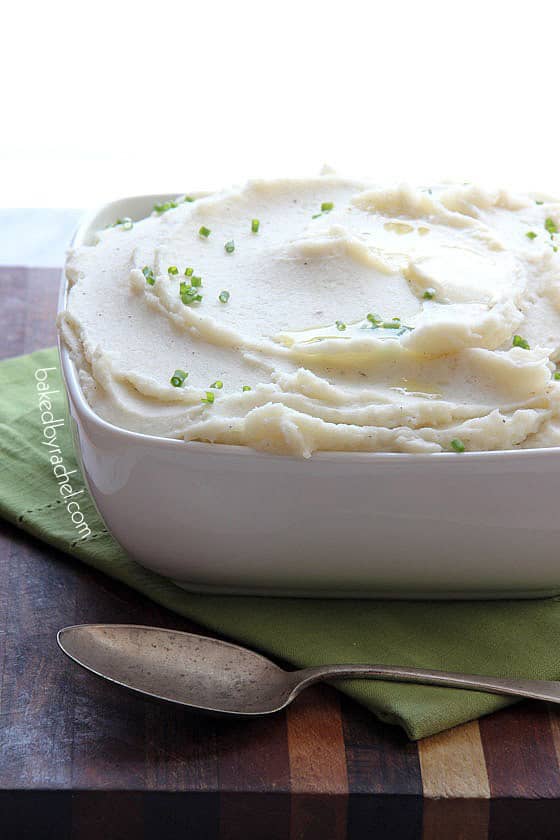 Is there anything you CAN'T make in a slow cooker? I was amazed by these mashed potatoes!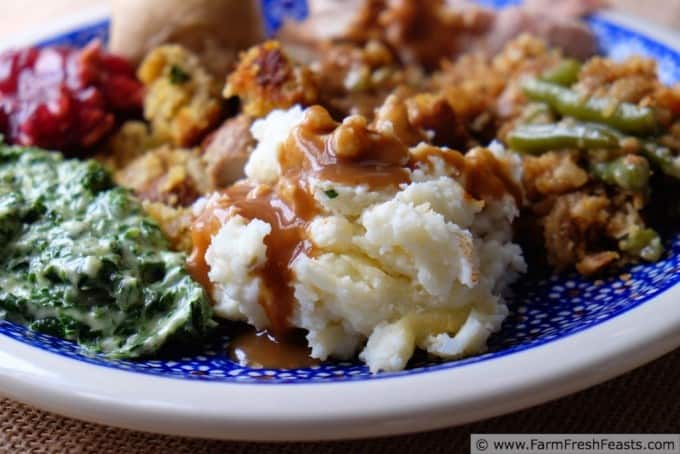 Whether you make it for St. Patrick's Day, Thanksgiving or Christmas, this Irish-inspired casserole always hits the spot.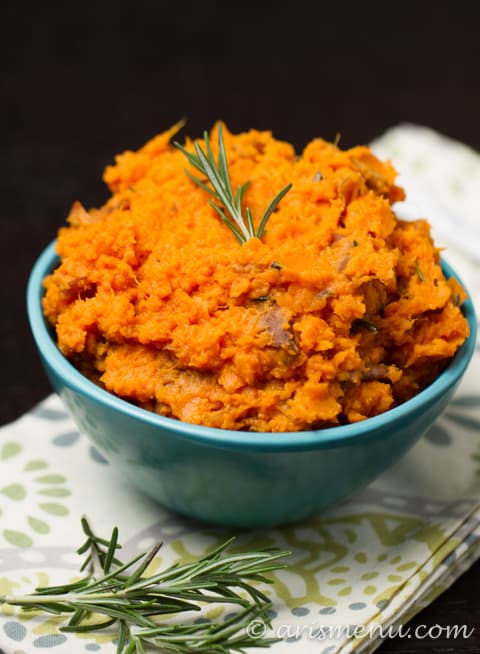 The simple addition of rosemary to mashed sweet potatoes adds a beautiful dimension to the side dish!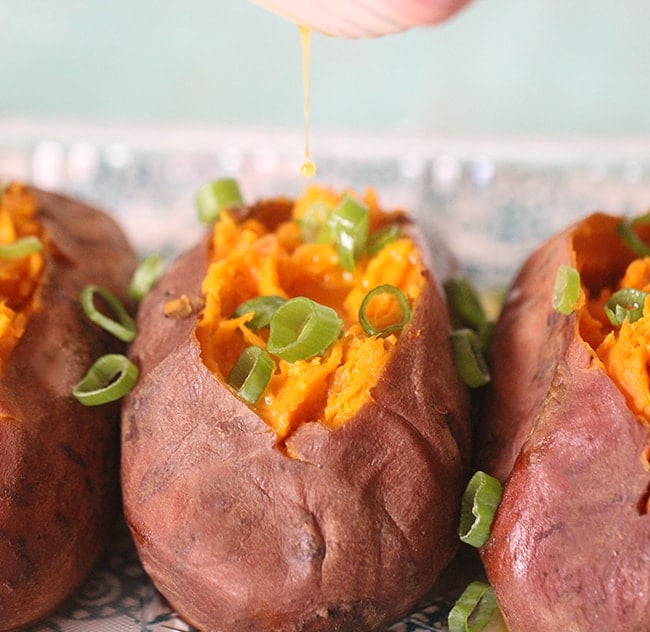 Here's another slow cooker recipe that's perfect for a busy holiday week. When your oven is occupied by turkey and stuffing, pop these potatoes in the crock pot.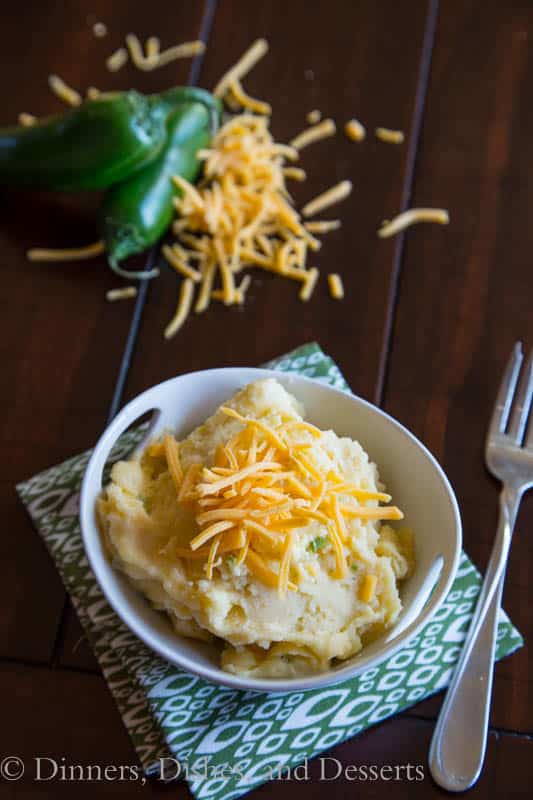 Where are my jalapeno fans? You're going to love this mashed potato recipe!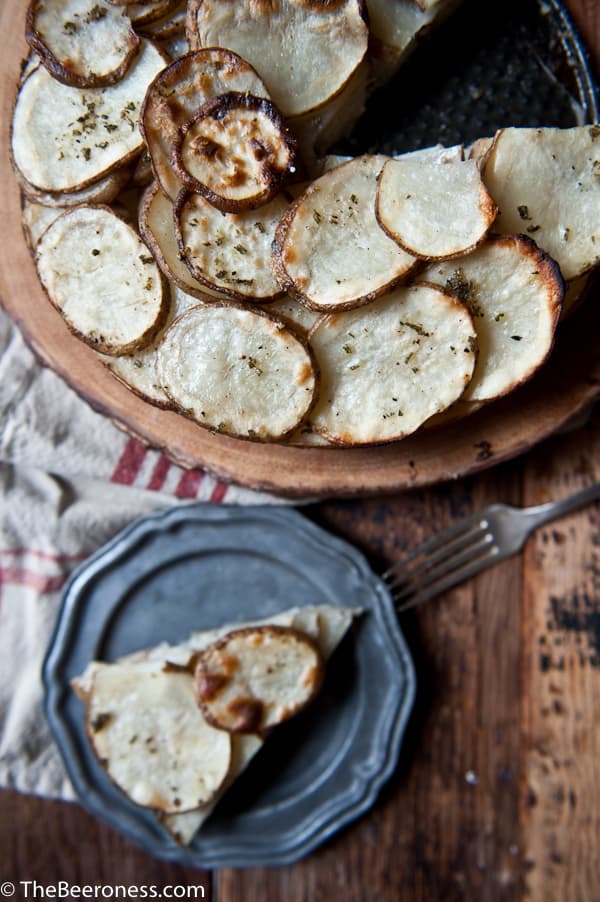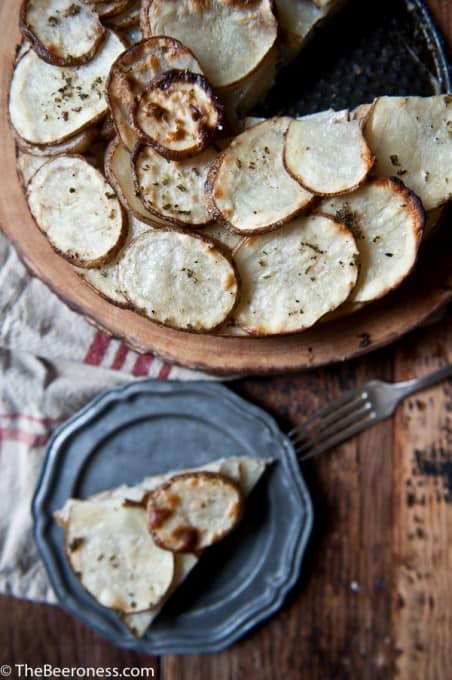 Here's another potato side that uses rosemary to incredible effect.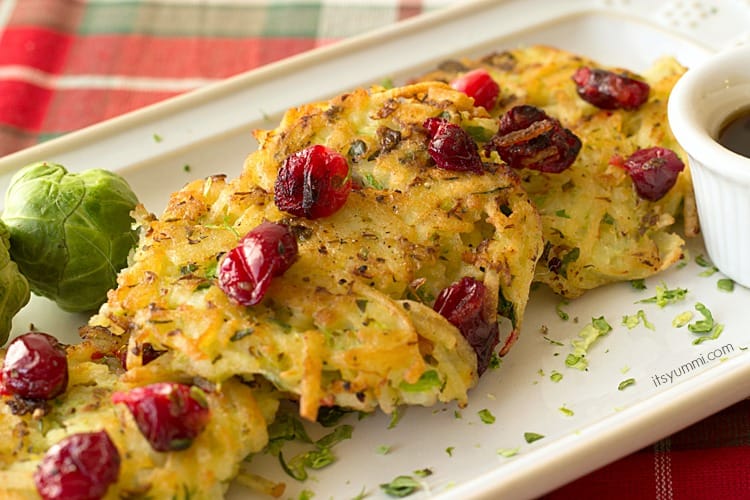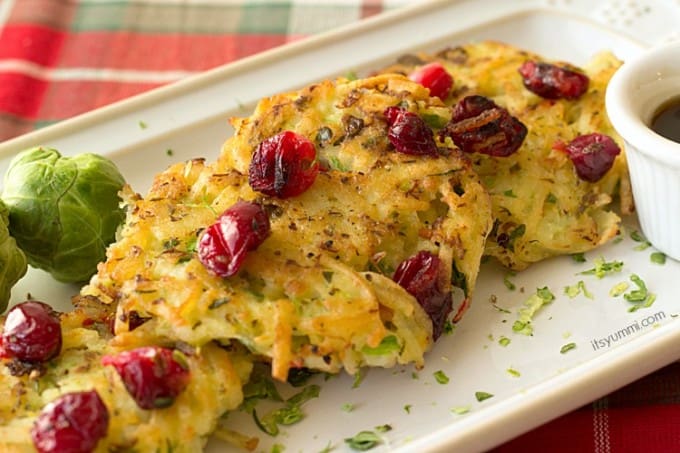 Perfect for any holiday, these potato pancakes look impressive on a plate and taste even better.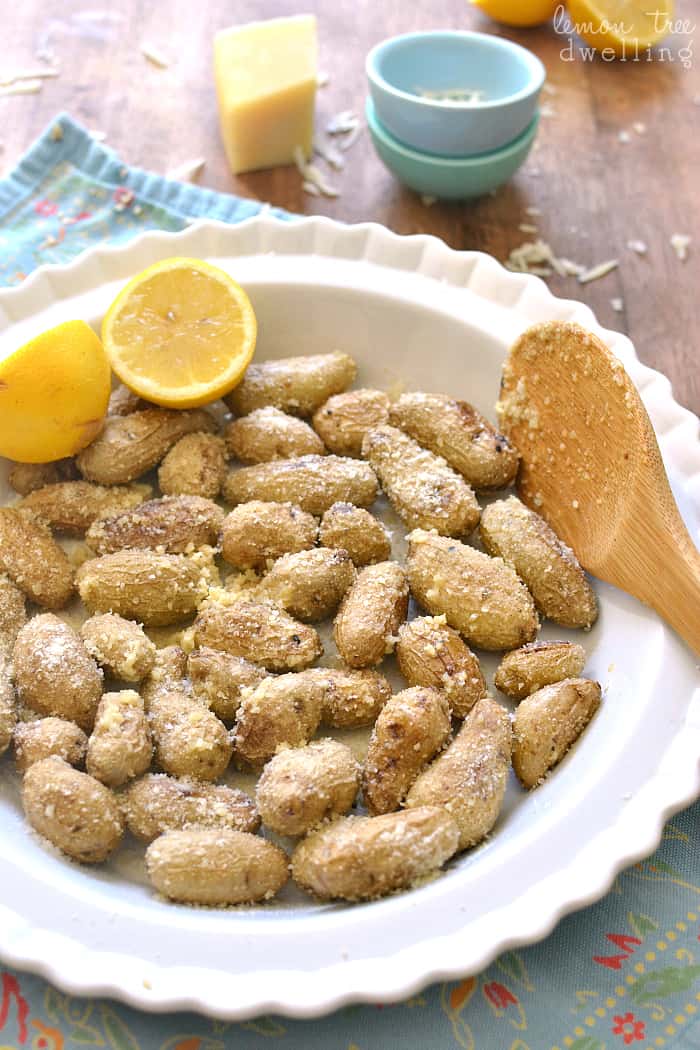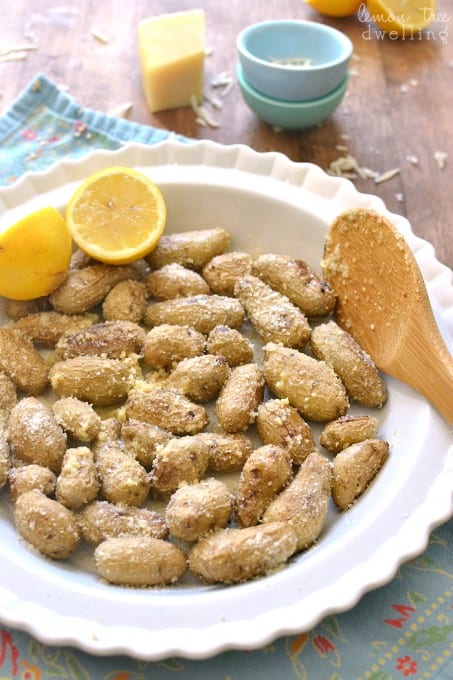 I'd never thought to combine lemon AND parmesan on potatoes before. Brilliant!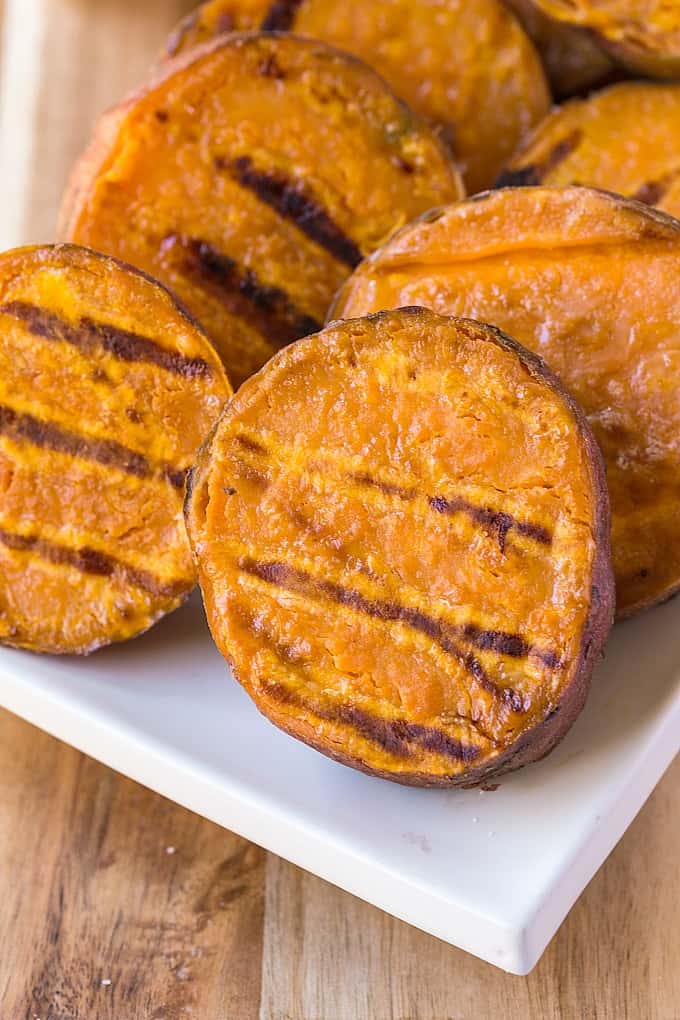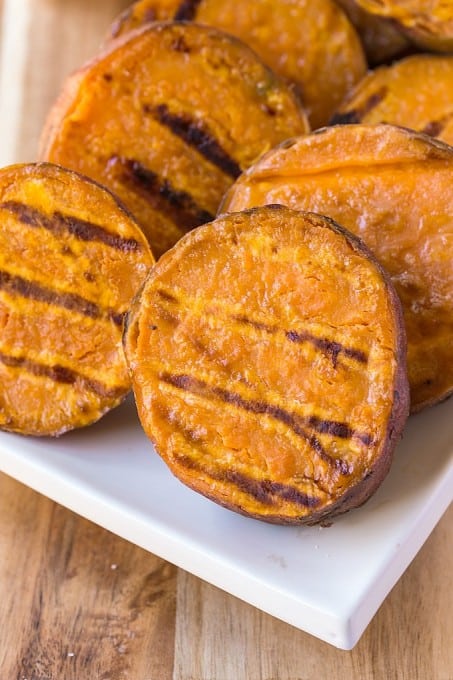 Grilling sweet potatoes is another idea I'd never thought to try. Give these a spin and let me know how they turn out!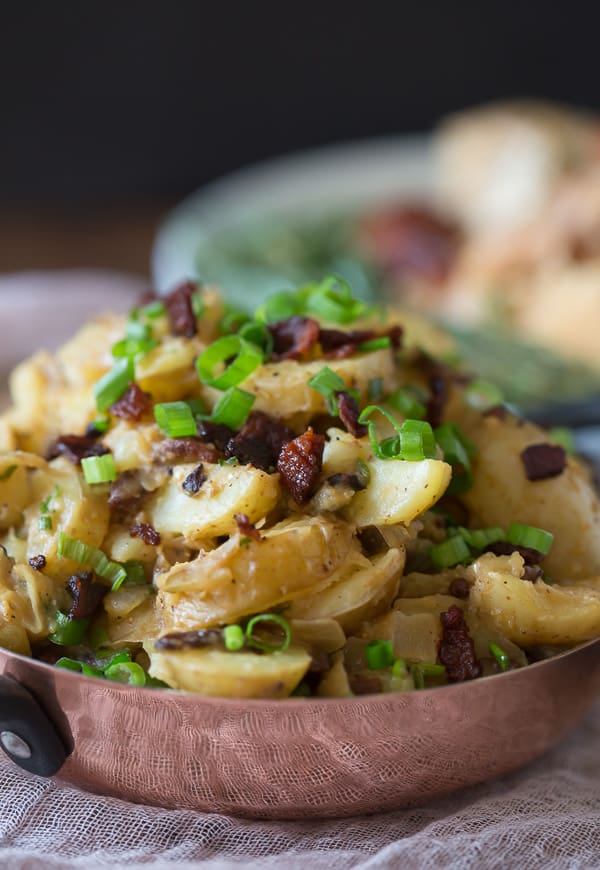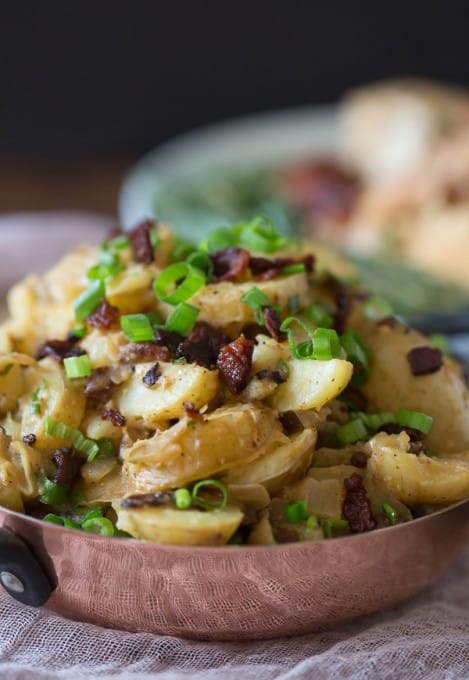 If you enjoy potato salad in the summer, try this warm take on the classic side dish when the weather is cooler.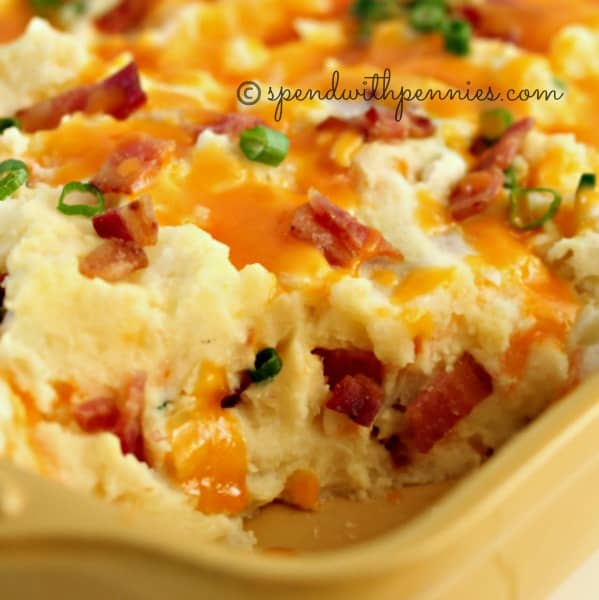 This dish is everything I adore about twice-baked potatoes mixed into a tasty one pan casserole.
Give this casserole a try when you need to free up some oven space at Thanksgiving this year!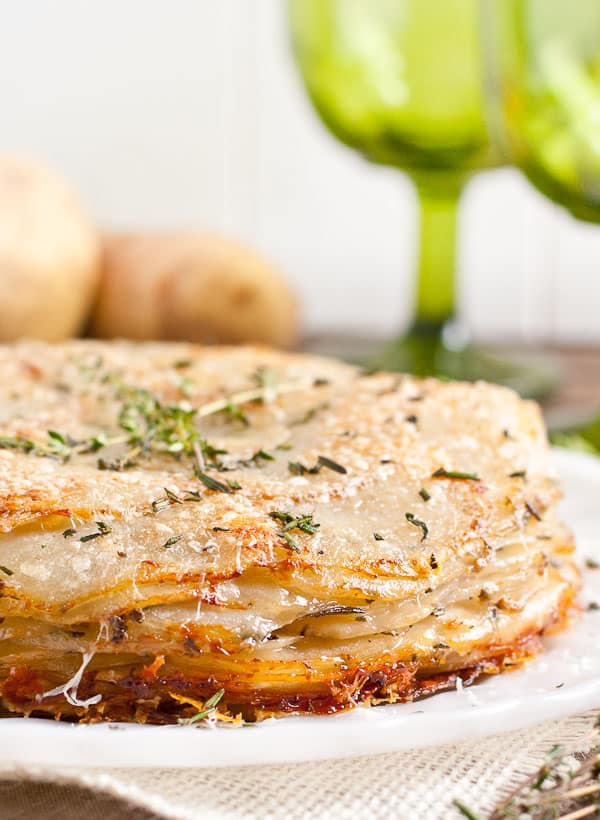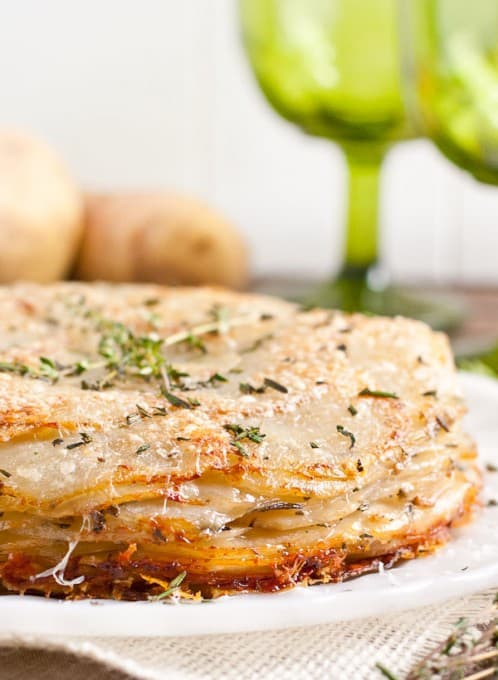 How pretty are these thinly sliced herby potatoes?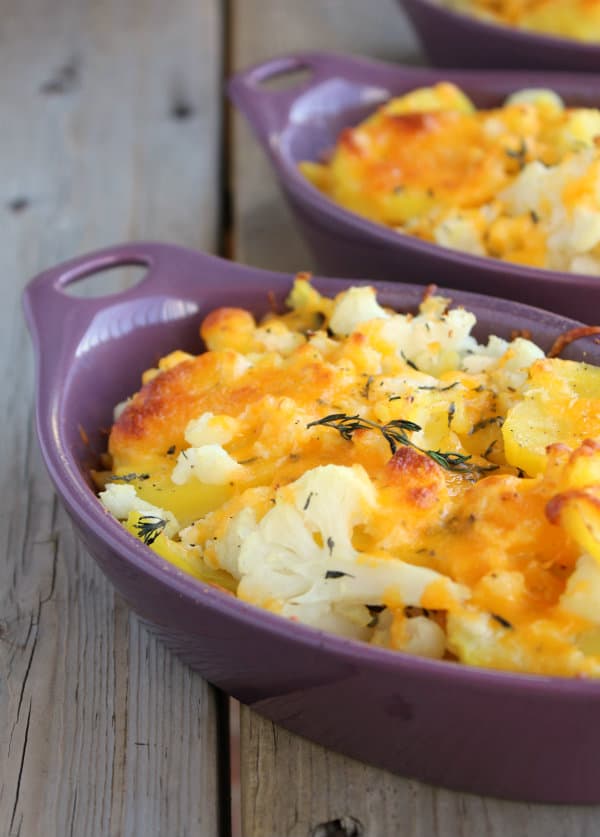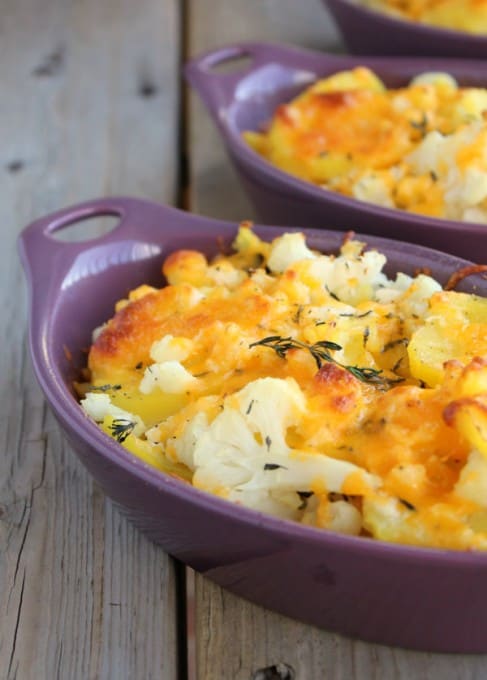 Cauliflower and potatoes with lots and lots of cheese is sure to make everyone happy.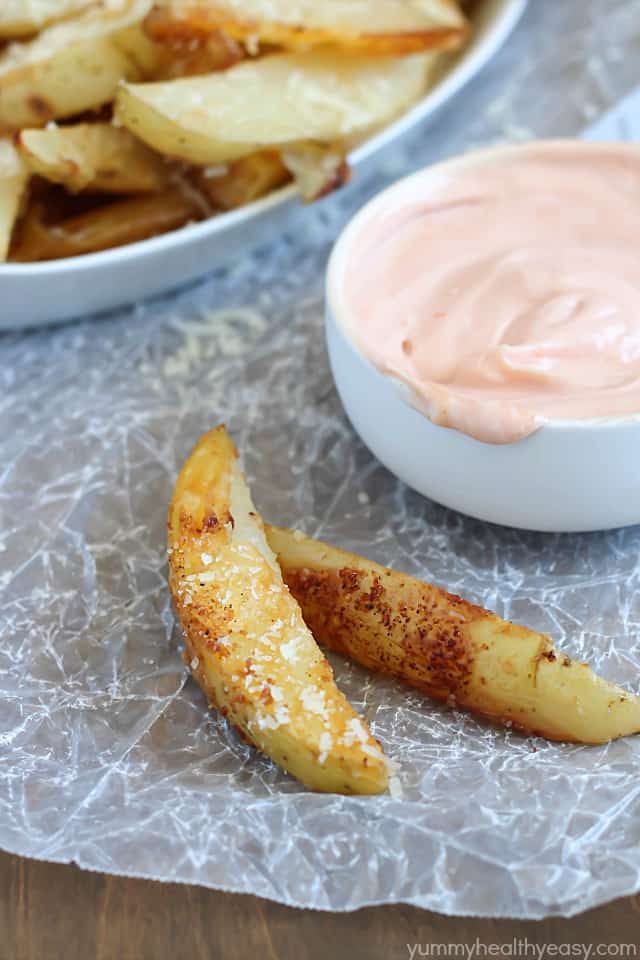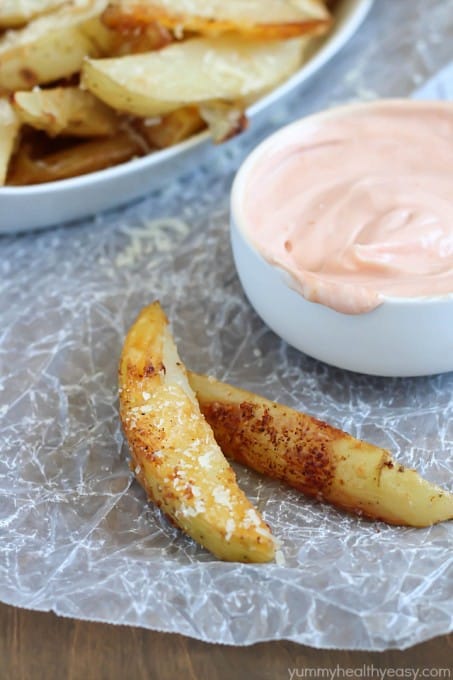 Another brilliant use of parmesan cheese on potatoes!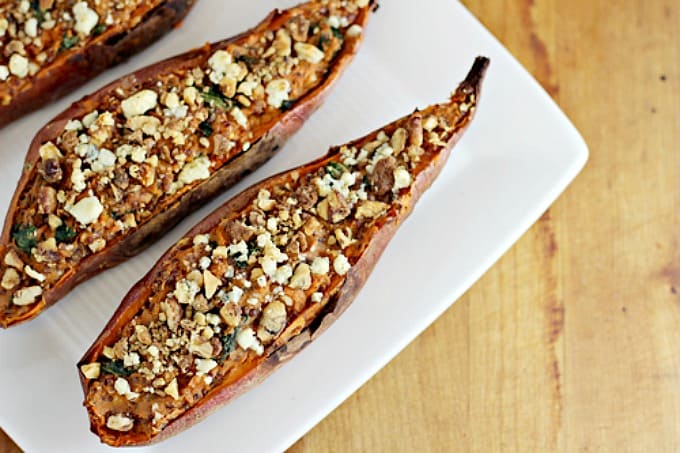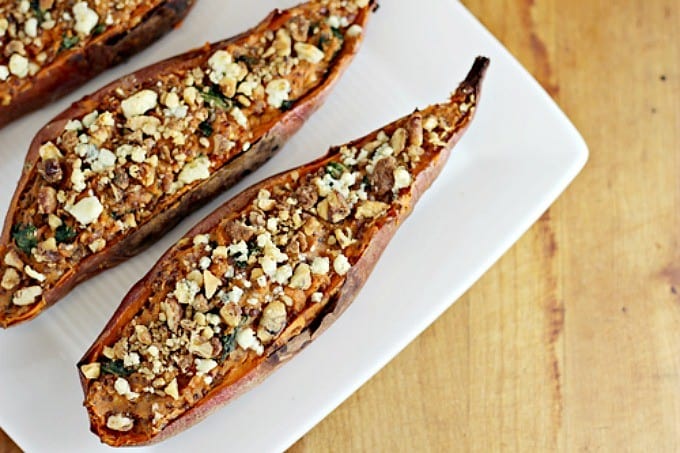 Here's a healthy potato side dish that tastes like an indulgent comfort food!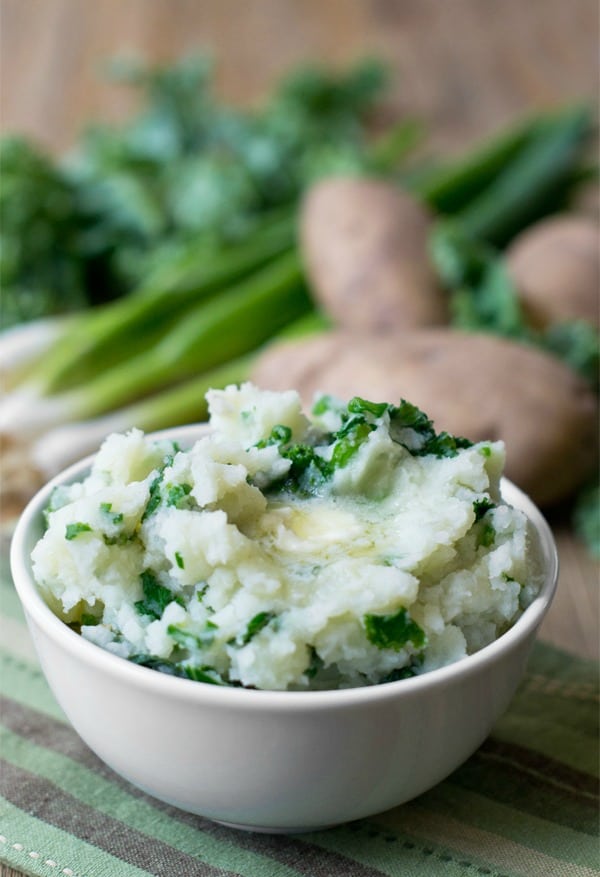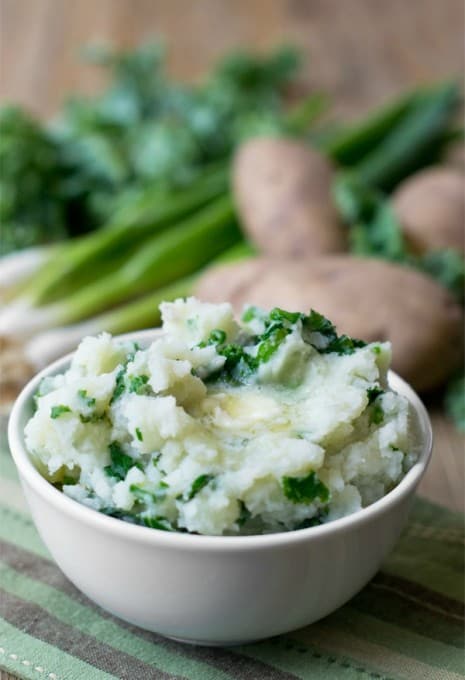 I'll never turn down a bowl of this Irish spin on mashed potatoes.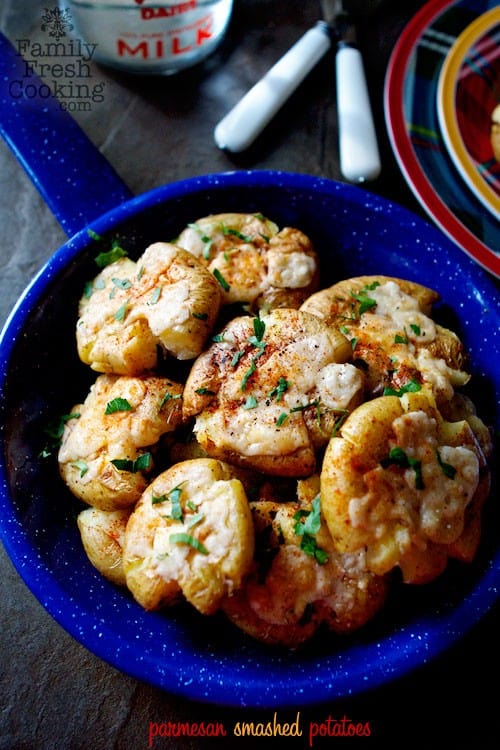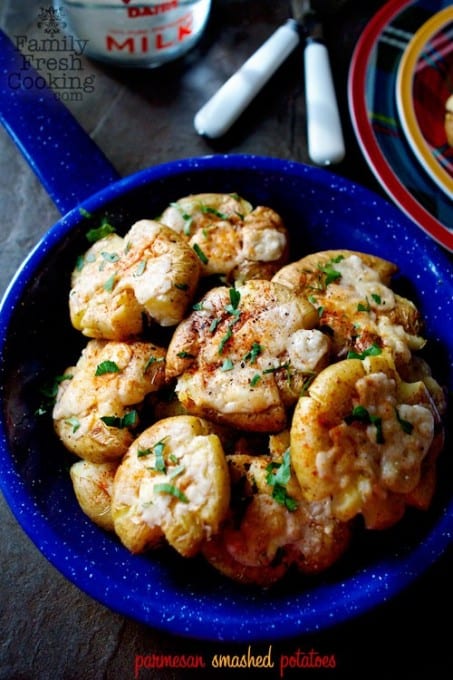 Put a bowl full of these potatoes on the table at your Thanksgiving dinner and watch how fast they disappear.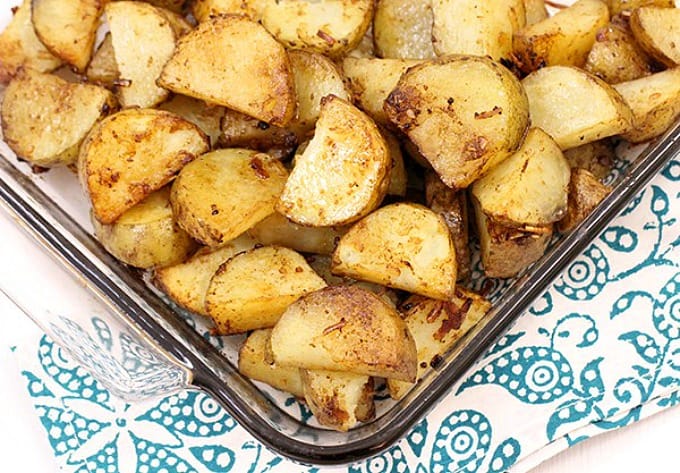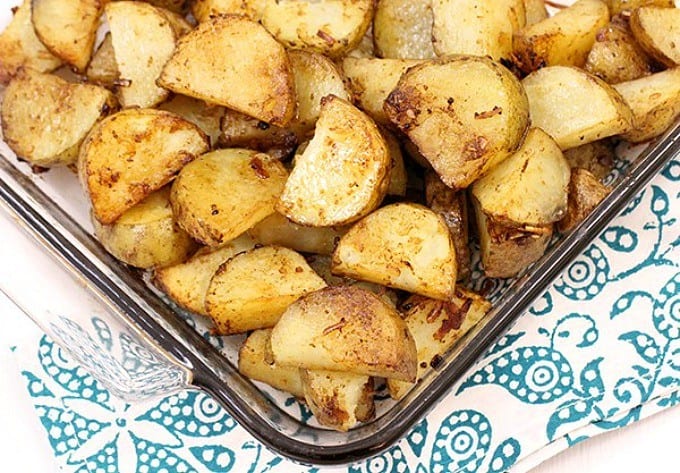 Sometimes the simplest recipes are the best. A pan of roasted potatoes has never done me wrong.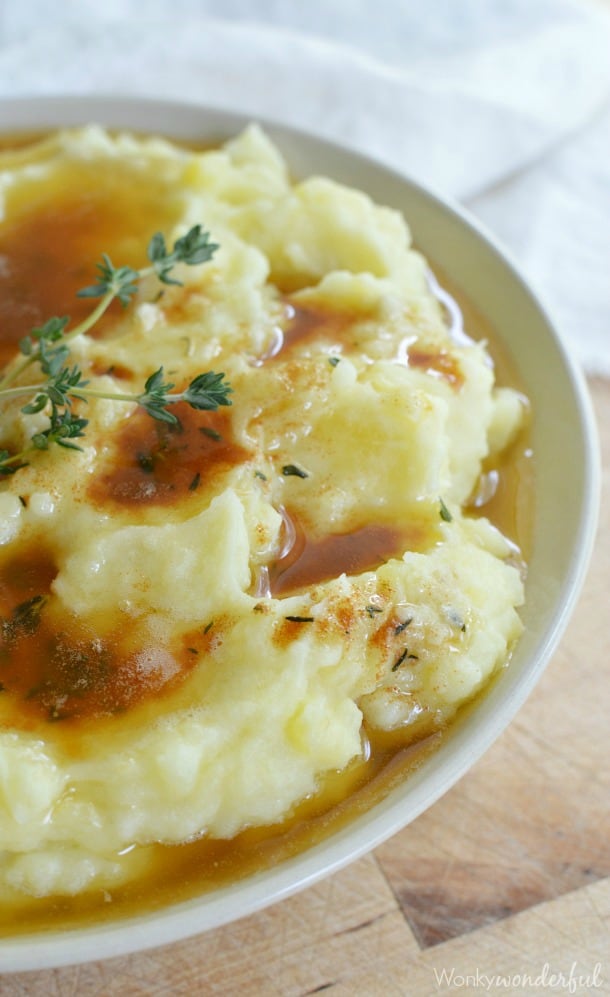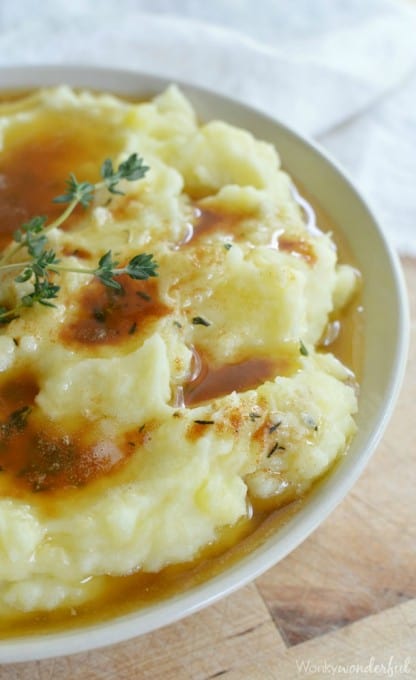 Speaking of simple classics, here's the only mashed potato recipe you'll ever need to satisfy everyone at your holiday table this year!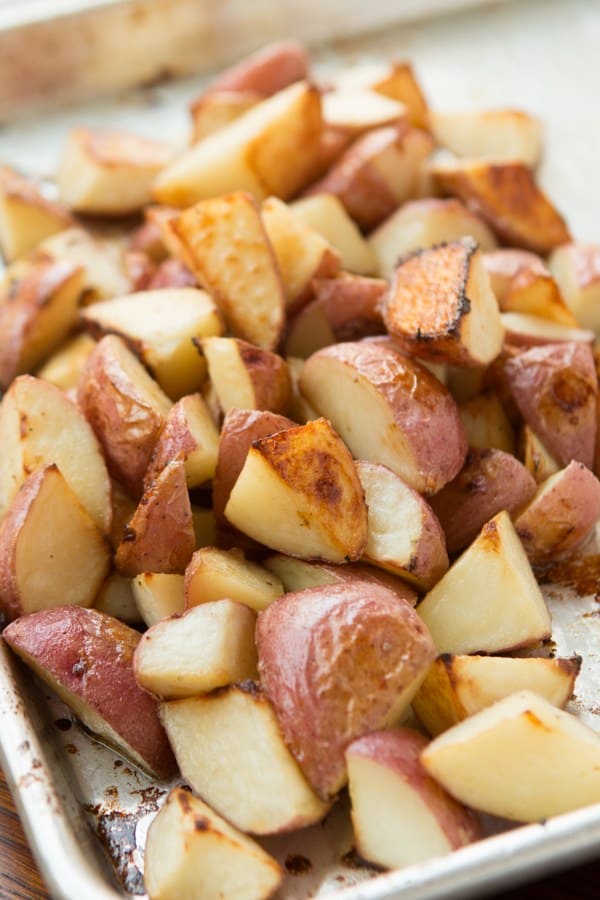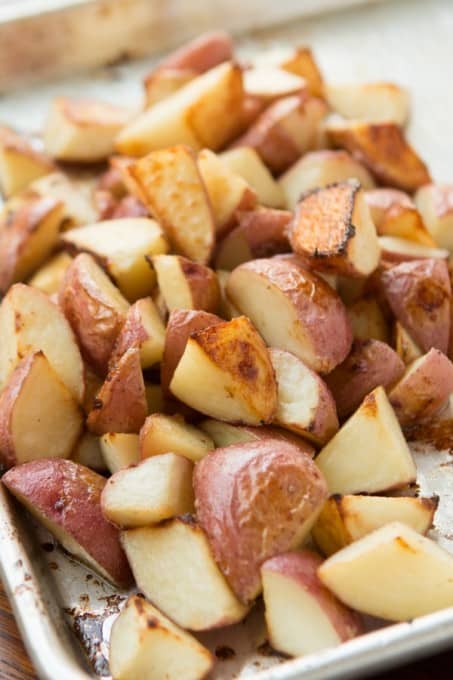 I love the idea of adding a touch of honey to roasted red potatoes!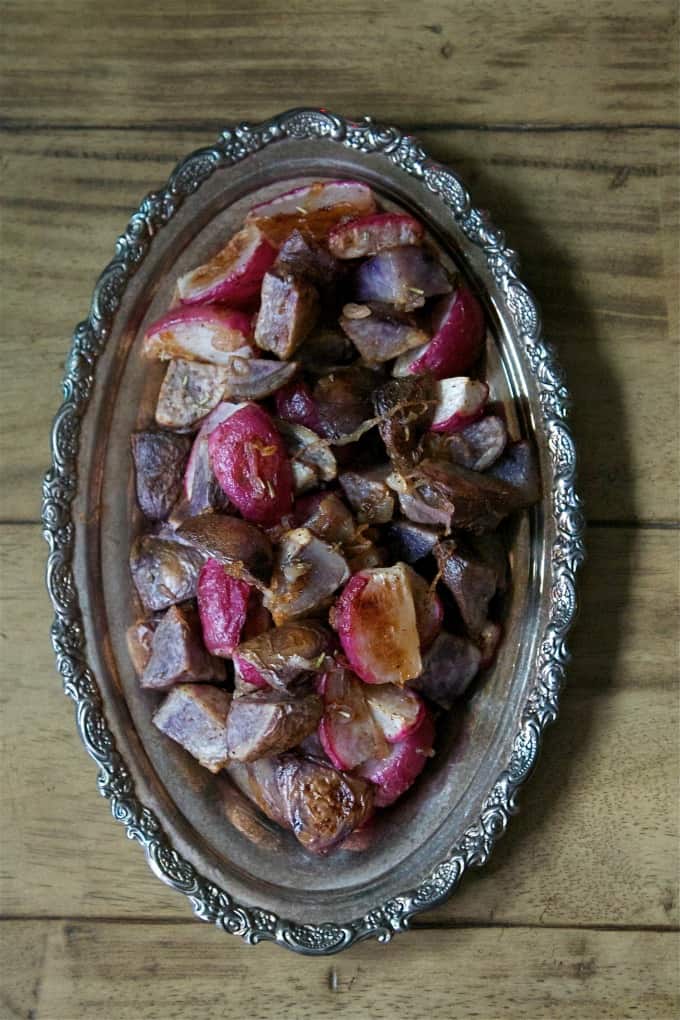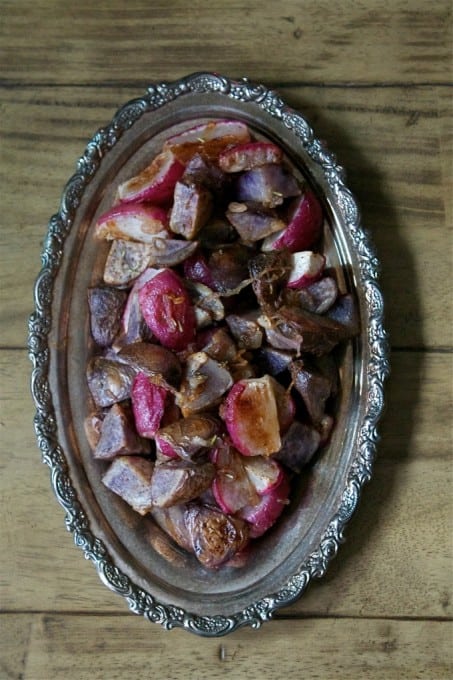 Radishes with potatoes make for such a pretty side dish!
Loaded Red Bliss Potato Salad – 365 Days of Baking and More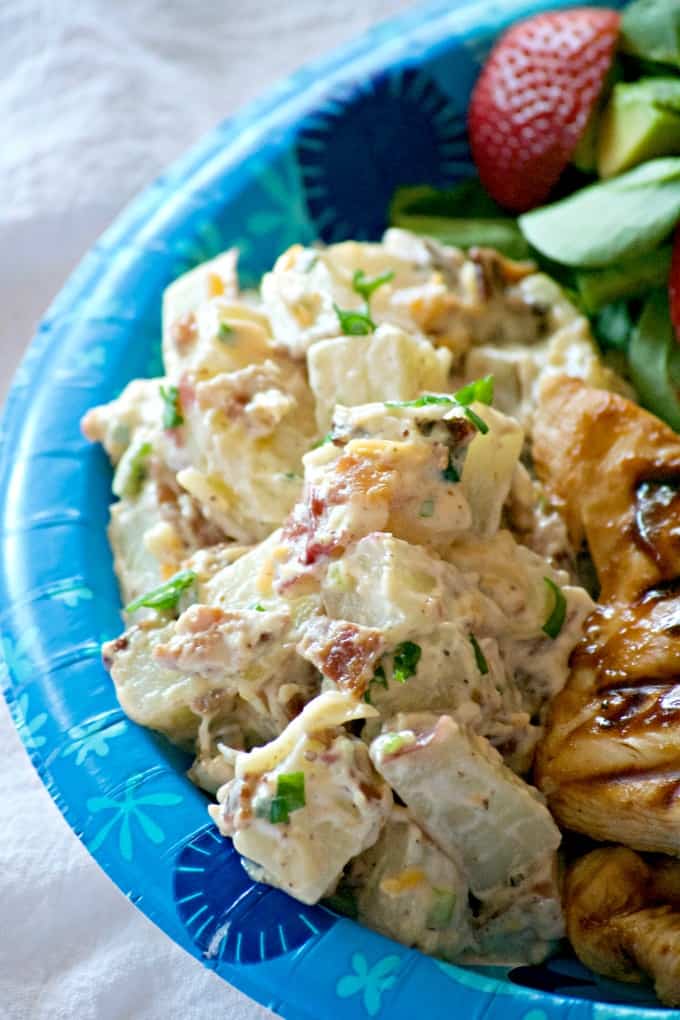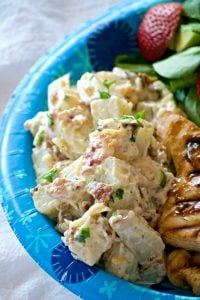 This red potato salad is one of the very best potato salads I've ever made. It works wonderfully as both a summer time and winter time side dish, too!
Thanks for reading and be sure to pin and share these great recipes with your friends!
What are the different potato varieties?
There are more than two hundred potato varieties. Each of them fall into the seven potato categories: white, red, russets, yellows, and blue/purple, fingerling and petite.
Is it best to boil the water before adding the potatoes when making mashed potatoes?
No, it is best to add your peeled, and cut potatoes to a pot of cold water. This way the potatoes will not become mushy as they cook.
How long will potato salad last in the refrigerator?
Potato salad is will keep in a well-sealed container placed in the refrigerator for 3-5 days.
What are the best potatoes to use for mashed potatoes?
Russet or Yukon Golds are the best potatoes to mash. They have the most flavor and will also be fluffy and smooth in consistency.