Molasses Glazed Sweet Potatoes are Thanksgiving side dish at its best! With rich molasses flavor and a toasty pecan marshmallow topping, these sweet potatoes have everyone coming back for seconds.
People tend to have strong feelings about sweet potatoes. 
Have you ever noticed that? 
For some, sweet potatoes are an absolute must at Thanksgiving. Others I know won't touch the orange tubers with a 10 foot pole. 
I'm firmly on Team Sweet Potato! For years and years, I served sweet potatoes boiled and topped with butter and marshmallows. It was a perfectly good side dish but nothing to write home (or the blog) about. 
Then, I discovered Molasses Glazed Sweet Potatoes.
SAVE THIS MOLASSES GLAZED SWEET POTATOES RECIPE TO YOUR FAVORITE PINTEREST BOARD!
Game. Changed. 
The buttery maple glaze on these potatoes is simply divine. I added a hint of cinnamon and brown sugar to enhance the natural sweetness of the  potatoes. 
You sprinkle them with mini marshmallows and pecans, then bake until the top is golden and bubbly. Pure sweet potato heaven! 
What do I need?
sweet potatoes
molasses
cinnamon
brown sugar
butter
toasted pecans
miniature marshmallows
Pro Tip: No need to peel the potatoes before boiling. Add them whole to boiling water and cook until tender. The skin will slide right off and they're ready to chop!
Can I make this ahead of time?
You can definitely make this sweet potato casserole ahead of time! It's delicious served room temperature or you can reheat it in the oven before serving. 
You could also prep the casserole in advance and store it in the fridge before baking. Then, just pop it in the oven when you're ready!
Potato Recipes
Do you love all kinds of potatoes as much as I do? 
These Maple Roasted Sweet Potatoes are another of my family's favorite starchy side dishes. Roasting brings out a smoky flavor to complement the sweetness of the maple. 
For those who prefer potatoes of the salty savory variety, Twice Baked Potatoes win the day. Or grab a masher and put these  Roasted Smashed Potatoes with Cheese on your holiday table! 
Feel like elevating your ordinary mashed potatoes this year? My Vanilla Mashed Potatoes offer a surprising and undeniably tasty twist on the classic side dish. 
Side Dish Recipes
Ask me to name my favorite Thanksgiving side dish and I'll probably name ten different foods, depending on my mood. While I LOVE a good roast turkey, it's really all the delicious side dishes that get me excited for the meal. 
Once thing is for sure: my meal is going to have rolls. These copycat Texas Roadhouse Rolls are maybe the best yeast roll I've ever eaten. Use them to soak up all that extra gravy or spread them with cinnamon honey butter. You can't go wrong. 
Despite my devotion to carbs, I do make a priority to squeeze some greens into the meal. Both these Maple Bacon Brussels Sprouts and these Classic Roasted Brussels Sprouts will turn even sprout skeptics into believers! 
Check out these other fantastic side dish ideas, too:
Skip the plain side of mashed or boiled spuds this year. Instead, impress all your Thanksgiving guests with the BEST Molasses Glazed Sweet Potatoes!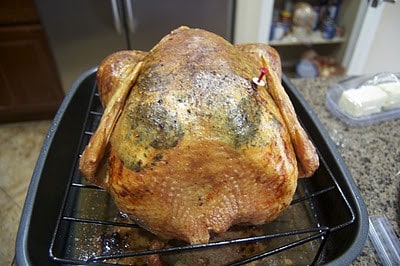 Molasses Glazed Sweet Potatoes
Tender sweet potatoes are baked with a rich molasses glaze and pecans for the ultimate Thanksgiving side dish.
Ingredients
7 sweet potatoes
½ cup molasses
½ tsp cinnamon
½ cup light brown sugar
6 tbsp butter
1 cup toasted pecans chopped
2 cups miniature marshmallows
Instructions
Preheat oven to 375 degrees F. Prepare a 9 X 13-inch baking dish with cooking spray. Bring a large pot of water to boil on the stove.

Place potatoes into a large pot of boiling water. Boil for approximately 25 minutes until they are just fork tender

Remove from water and allow to cool until they can be easily peeled by hand. The skin will easily come off at this point. Cut potatoes into small cubes and place into a large bowl.

In a small saucepan over medium heat, combine molasses, cinnamon, brown sugar, and butter. Stir until smooth, about 5 minutes. Remove from heat and pour over potatoes. Toss to coat the potatoes in the glaze.

Bake for 30 minutes. Let cool and serve!
Did you make this recipe?
Share it with me on Instagram and make sure to follow me on Pinterest for more recipes.
Reader Interactions