I hope you had a most wonderful Thanksgiving with your family and/or friends and of course, that you had a most delicious meal.
I'm exhausted…
And VERY full!
Here's a picture of our bird.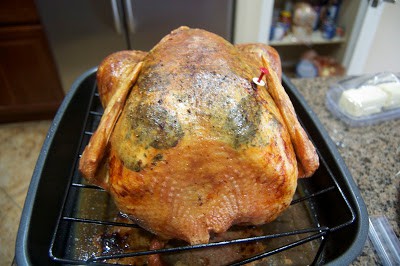 I finely chopped about 1 tablespoon each of fresh rosemary and thyme.
I gently separated the skin from the bird and spread the herbs inside and placed 6 sage leaves inside, too.
Then I brushed the outside of the bird with olive oil and generously sprinkled it with salt and freshly ground pepper.
This year I decided to use the herbs and it definitely added some wonderful flavor.
I didn't take a picture of the whole meal though. The family was becoming restless.
I made a side of sweet potatoes adapted from Bobby Flay's recipe from this past Sunday's 'Thanksgiving Live' on the Food Network.
Molasses Glazed Sweet Potatoes – serves 6-8
7 sweet potatoes
1/2 cup molasses
1/2 teaspoon cinnamon
1/2 cup light brown sugar
6 tablespoons butter
1 cup toasted pecans, chopped
2 cups miniature marshmallows
Preheat oven to 375 degrees F.
Prepare a 9 X 13-inch baking dish with cooking spray.
Place potatoes into a large pot of boiling water. Boil for approximately 25 minutes until they are just fork tender.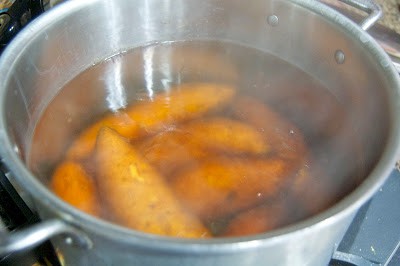 Remove from water and allow to cool until they can be easily peeled by hand. The skin will easily come off at this point.
Cut potatoes into small cubes and place into a large bowl.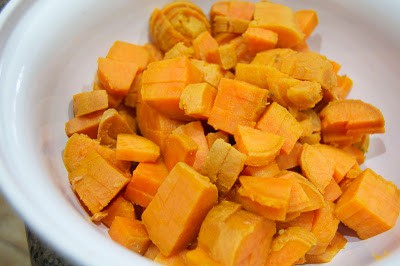 In a small saucepan over medium heat, combine molasses, cinnamon, brown sugar, and butter.
Stir until smooth, about 5 minutes.
Remove from heat and pour over potatoes.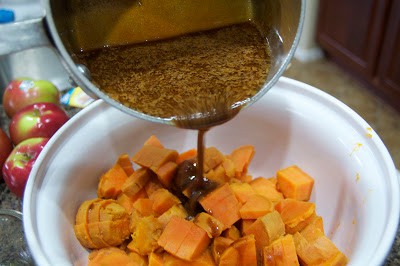 Toss to coat.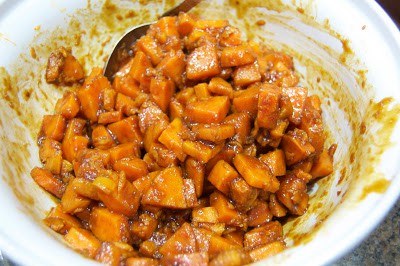 Place mixture into prepared baking dish.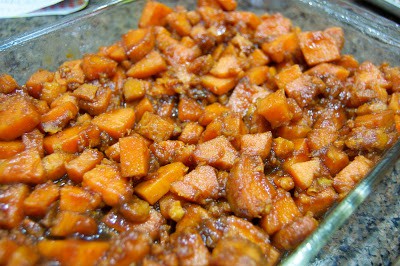 Sprinkle pecans over the potatoes.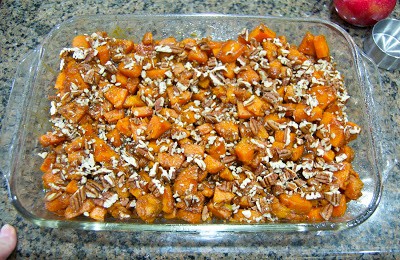 Cover with marshmallows.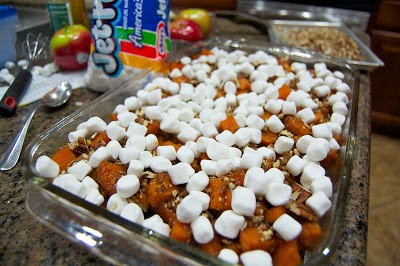 Bake for 30 minutes.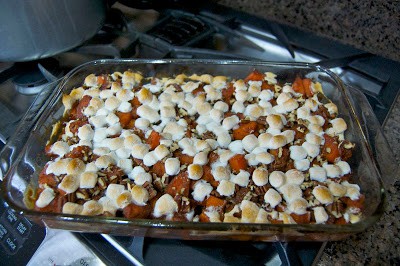 I rate everything I bake on a scale of 1-4 with 4 being the best and these Molasses Glazed Sweet Potatoes eared 3 1/2 rolling pins.
I make a side of sweet potatoes every year, but only dot them with butter and put marshmallows on top, but this is now my go-to sweet potato recipe for Thanksgiving.
The family loved it.
The family also loved the rest of the meal and I received many thanks.
I think they were mostly grateful that we were eating at home this year as opposed to dining (haha) at Marie Callender's like we did last year.
Oh, THAT was a Thanksgiving we shall never forget.
We went to California to spend the 4 days at the amusement park, Magic Mountain and some sight-seeing in Los Angeles.
If you're ever wondering if you should do something like that because it you're thinking it will be empty since people are spending time with their families on this wonderful holiday,
THINK AGAIN!
Oh. My. Goodness.
The amusement park was packed.
People everywhere! Why weren't all of these people eating turkey with their loved ones like they should be doing.
Hmpf.
They were probably saying the same thing about us.
It was cold and windy, our eldest daughter wasn't feeling well, so she decided to skip most of the rides and because it was so windy, the roller coaster we were looking forward to most, was closed.
Major bummer.
Then, to top it off, the dinner at the restaurant left little to be desired.
I think pizza would have been better.
Be sure to come back tomorrow because I'm starting the 12 Days of Cookies.
Enjoy the rest of your long weekend!
I give you BIG baking hugs and muffins!!