In my daily perusals of blogs the other day, I happened across a site called Bloggers Bake for Hope.
The following is taken from the About page on Bloggers Bake for Hope:
Bake for Hope is a week long, nation-wide, 100% volunteer-run, bake sale event happening, the week leading up to Mother's Day. Proceeds donated to local Susan G. Komen for the Cure affiliates.
Bloggers Bake for Hope is a virtual bake sale. Bloggers will donate their time, ingredients, and shipping costs so there are no expenses associated with this virtual bake sale. All proceeds from the bake sale will be sent to the Massachusetts Komen for the Cure.
Jen and Cara, two Boston area food bloggers have teamed up for a project called Bloggers Bake for Hope, a virtual bake sale as part of Bake for Hope. Jen serves up sweets at Beantown Baker, while Cara shares healthy, creative dinners at Cara's Cravings.
Both Cara and Jen have been successful fundraisers for Susan G. Komen for the Cure in the past. Cara is currently organizing the third annual Bake for Hope at her company's office site in Marlboro, MA. Last year's event raised over $2500. Jen has made breast cancer awareness part of her personal mission. In 2004, Jen's mother was diagnosed with breast cancer. Since then, Jen, her sisters, mom, and aunts walk the Race for the Cure every year. Jen and her family have raised thousands of dollars for the various Komen for the Cure affiliates.
Jen and Cara feel a strong connection to the cause, and are avid bloggers with a strong following. Thus, teaming up to host an online bake sale seemed like a fun and natural way to take things to the next level. The virtual bake sale will take place on May 4-6, 2011. Bloggers and bakers from across the country will agree in advance to donate baked goods. Buyers will make virtual pledges on the Bloggers Bake for Hope site, and at the close of the bake sale the highest bidders will be awarded the donated baked goods. They will make their donations via PayPal, and the bakers will then bake and ship their goods. Because the bakers are donating their ingredients, time, and shipping costs, there are no expenses associated with the virtual bake sale. 100% of the proceeds will be donated to the Massachusetts Komen for the Cure. Jen and Cara are challenging their fellow bakers and bloggers to help them raise $2000 through Bloggers Bake for Hope.
Years ago I participated and raised donations in a cancer walk back in Rhode Island.
As many of you know my mother passed away from breast cancer in 1992 at the age of 47. She had been diagnosed in 1977 at the age of 32. I am also doing this in honor of her sister and my aunt, Jeanne, and my very close friend, Tina, who are both breast cancer survivors. I am baking two dozen Pignoli Cookies and then shipping them to the person who pledges the most.
There are many bloggers who will be participating and I am honored to be able to contribute. I know there will be absolutely delicious items donated and I encourage you all to look at the site and make a pledge on some baked goods. I'm getting hungry just thinking about it.It's horrible!
I was able to bake today and I'm now a happy camper.

It was good to be back in the kitchen.

I used The Martha Stewart Living Cookbook, The New Classics, p. 569-570; author, Martha Stewart; publisher, Clarkson Potter/ Publishers, an imprint of Crown Publishing Group, a division of Random House, Inc.; ISBN 978-0-307-39383-8.

Cornbread Muffins – makes 12

5 tablespoons unsalted butter, melted, plus more for the muffin tin
1 cup stone-ground yellow cornmeal
1 cup all-purpose flour
¼ cup confectioners' sugar
¼ cup granulated sugar
½ teaspoon baking powder
1 teaspoon baking soda
1 teaspoon salt
½ vanilla bean, split lengthwise
2 large eggs
1½ cups buttermilk (I used buttermilk powder and water.)Preheat the oven to 375ºF.
Brush a 12-cup standard muffin tin with melted butter; set aside. In a large bowl, whisk together the cornmeal, flour, sugars, baking powder, baking soda, and salt.

(*I added 6 tablespoons buttermilk powder to the dry ingredients and just added 1½ cups water to the liquids.*)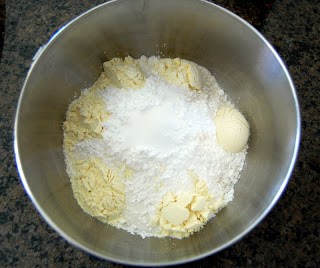 In a small bowl, scrape in the vanilla seeds; add the eggs and buttermilk (water), and whisk to combine. Pour over the flour mixture. Add the 5 tablespoons butter, and stir until blended, using as few strokes as possible.
Spoon the batter into the prepared tin, filling each cup three-quarters full.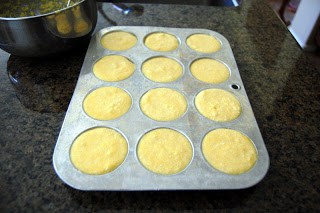 Yeah, almost completely filled and I still had batter left over.
Bake until golden and firm to the touch, 17 to 20 minutes. Serve warm.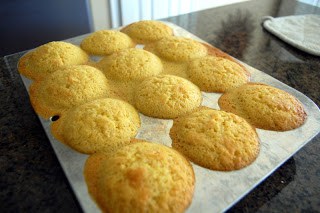 I don't think they were supposed to look like this.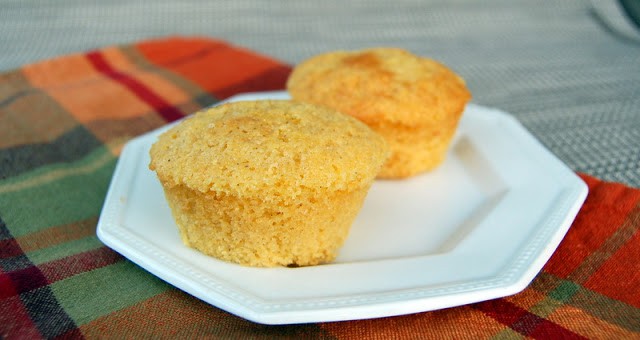 See the little vanilla bean seeds?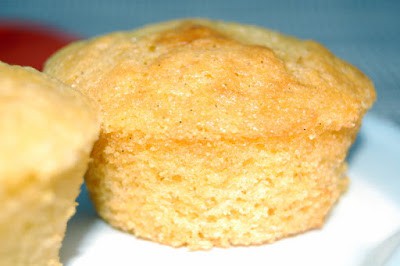 I have to say that these were the most moist cornbread muffins (say that 3 times fast!) I have ever had! They were delicious! I like cornbread and corn muffins, but I can't stand how dry they are sometimes.
I use a rating system from 1-4 with 4 being the best, so these muffins earned 3½ rolling pins. I will definitely be adding these to my recipe collection of keepers even though there was spillage on the tin.
No biggie.
They were yummy anyway!
Happy baking!