I don't know about you, but it seems like the only way this family ever eats potatoes is when I mash them.

Geez, let's live a little, people and go out of our box for a change! Mashed potatoes are good and all, but variety is the spice of life.
Isn't it? I mean, if I ate mashed potatoes whenever I made a meat dish, I'd be bored out of my GOURD!! Get it, gourd. It's Fall. Fall reference? And they rhyme. Bored. Gourd.
Or you can spell it this way…gored, but that is not what I'm referring to and that can be pretty disgusting. But we're here to talk about potatoes!
SAVE THIS ROASTED POTATO RECIPE TO YOUR FAVORITE PINTEREST BOARD!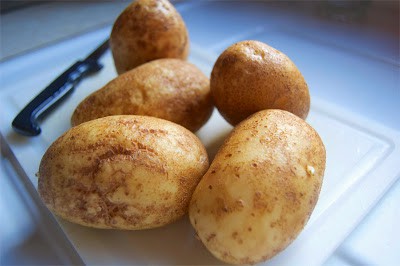 I was thinking about preparing dinner last night and wanted to use up some ingredients that we have in the house, mainly the eggs and potatoes. Light bulb moment ~ we'll have BREAKFAST for dinner!!
Yeah, not that we haven't ever done that before. It's a regular occurrence around here, but mostly with pancakes. So, I made scrambled eggs, cooked up some yummy bacon in a special way that everyone loved (so, will make it again very soon and post that recipe), and these, not mashed, potatoes.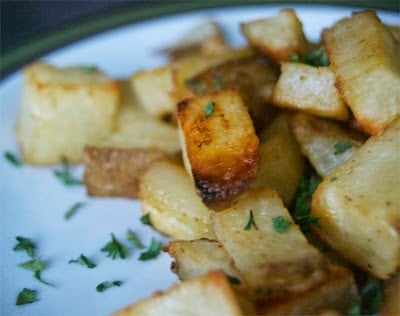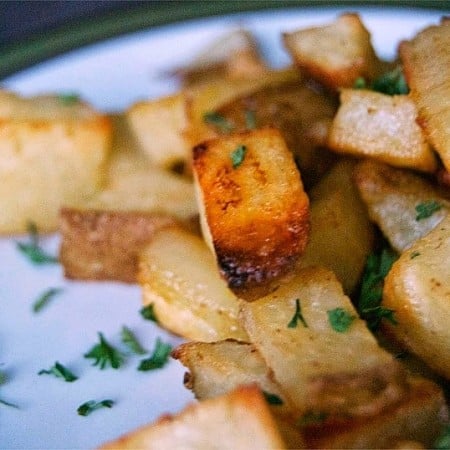 Ingredients
5 small to medium potatoes
1 1/2-2 tablespoons olive oil
1 ½ teaspoons Lawry's seasoned salt
½ teaspoon garlic powder
Instructions
Preheat oven to 425 degrees, and prepare a rimmed baking sheet by lining it with parchment paper.

In a medium bowl, combine olive oil, Lawry's salt, and garlic powder. Mix until well combine.

Slice the potatoes lengthwise, turn the potatoes over a quarter turn and cut lengthwise again.

Cut the potatoes into one-inch pieces and add to mixing bowl. Toss to evenly coat.

Place onto the prepared baking sheet into a single layer.

Bake for 15 minutes and remove from oven to gently toss. Make sure potatoes are again in a single layer and return to oven to roast for an additional 30 minutes.
Nutrition
Calories: 48kcal | Fat: 5g
Did you make this recipe?
Share it with me on Instagram and make sure to follow me on Pinterest for more recipes.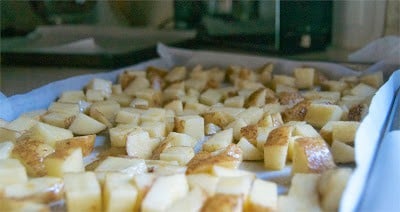 I rate everything I make on a scale of 1-4 and these Oven Roasted Potatoes earned 3 1/2 rolling pins. I think I would have left them in an additional 5-10 minutes to make them just a touch crisper, but the masses were begging for dinner.
We can all get behind a good potato recipe! Here are a few keepers for years to come.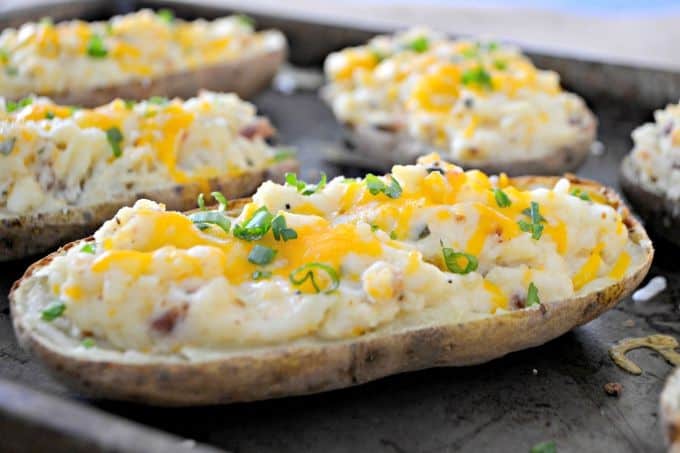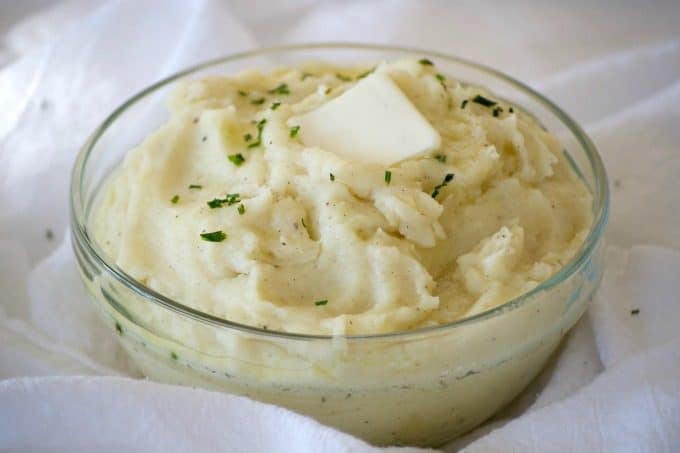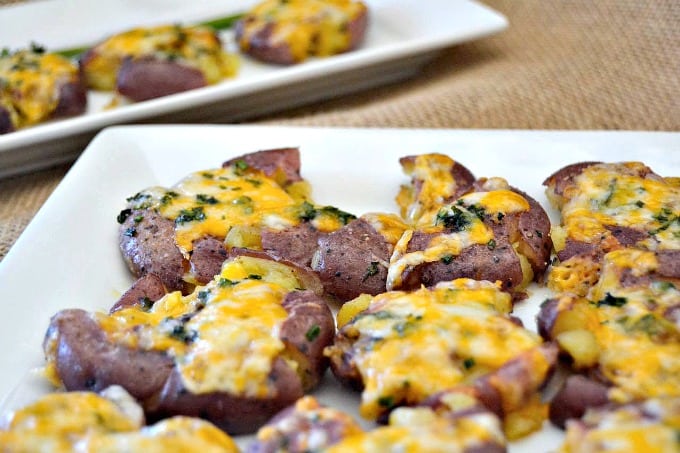 If you've come to find us through Facebook or have been referred by someone, or just if you're here,
THANK YOU!! We've had some pretty AMAZING growth on Facebook these past few weeks and I couldn't be happier with all of the NEW FRIENDS we've made.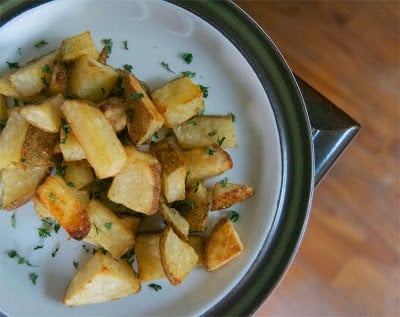 So, thank you for all that you're doing through your pins, sharing, "Like"s, reTweets, and above all IMMENSE SUPPORT!!! I am very grateful to all of you for making this blog what it is. It's pretty wonderful to be enjoying it as much as I am and I hope you all are as well!
Reader Interactions