The holidays are all about gathering with loved ones, sharing meals, and creating memories. And what better way to bring everyone together than with a delicious Herb-Roasted Turkey as the centerpiece of your feast? This classic dish is a crowd-pleaser that never goes out of style and for good reason. The aroma of fresh herbs and savory roasted turkey is enough to make anyone's mouth water.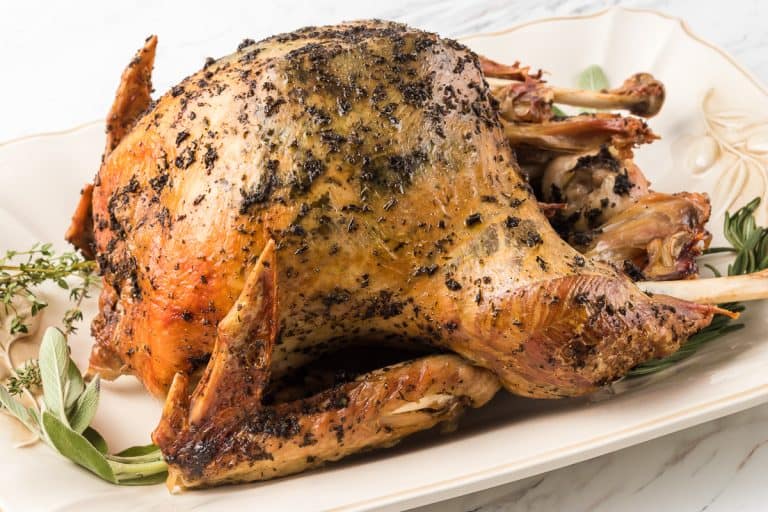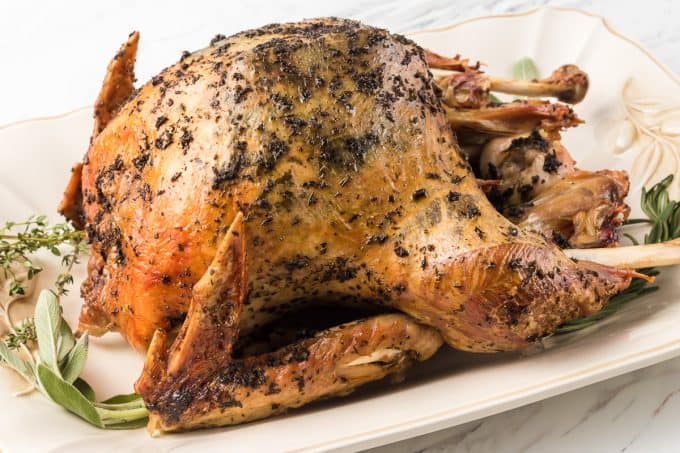 But it's not just about the taste. A perfectly roasted turkey is also a sight to behold, with crispy golden skin and juicy meat that's sure to impress your guests. Whether you're hosting a Thanksgiving dinner or a Christmas feast, an herb-roasted turkey is the ultimate showstopper that will have everyone coming back for seconds. Be sure to purchase a large enough bird so that everyone can enjoy a leftover turkey sandwich later in the day!
So, let's make the perfect herb-roasted turkey for your next holiday gathering!
Turkey Variations
I know that nowadays, people have different ways of preparing their Thanksgiving turkey. Lots of folks I know fry it or turn the whole turkey upside down, which allows the juices to seep into the turkey breast, keeping it moist.
Feeding a smaller crowd this Thanksgiving? Then this Smoked Turkey Breast is a great option. With a homemade dry rub, this easy recipe can be ready in just about two hours!
Another trend is leaving the bird stuffed. Me, I've got to roast it the old-fashioned way, right-side up. I love it covered with flavorful herbs and almost always unstuffed. Though I do have very fond memories of Thanksgivings with a stuffed turkey and sneaking pieces of that crusty semi-homemade stuffing before Grandpa would carve it.
Cooking the Thanksgiving meal this way brings back memories of the women in my family who cooked plenty of turkeys before me. I'm so excited to share my beloved Herb Roasted Turkey Recipe with you this holiday season!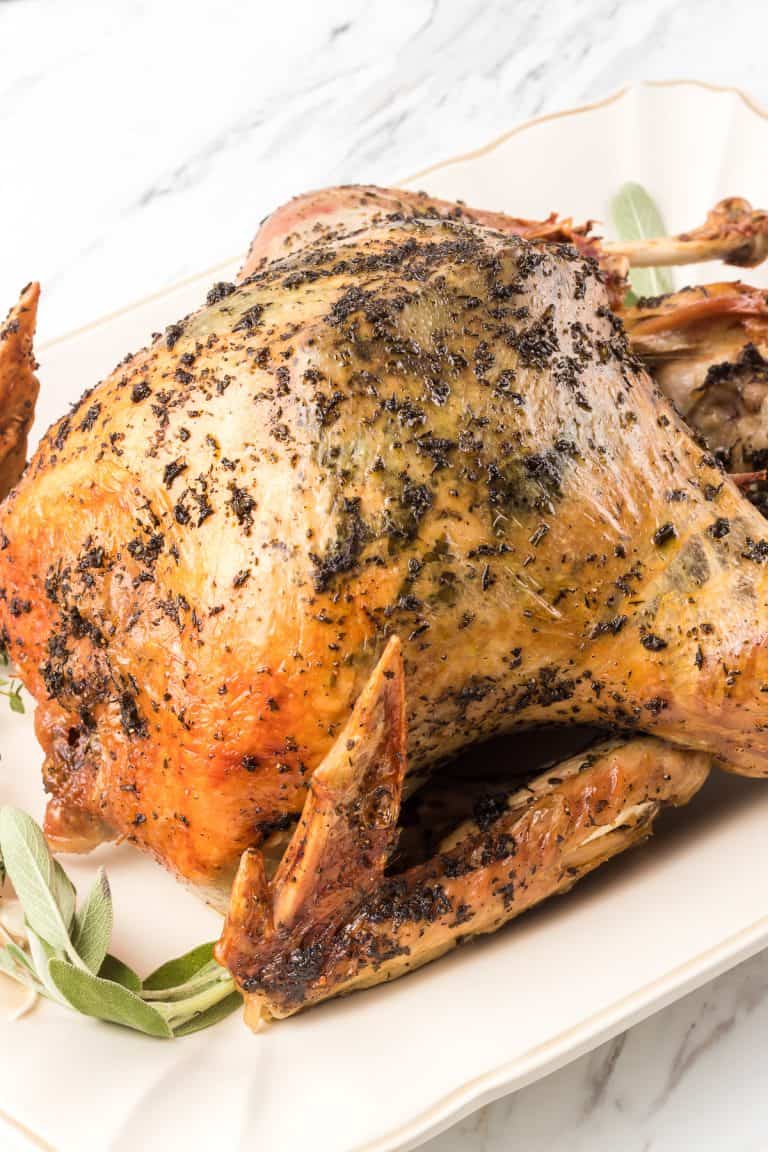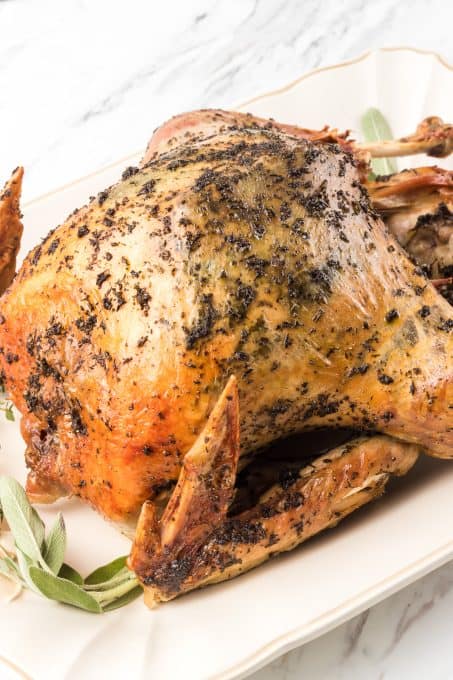 Choosing the Best Turkey
The first step to a delicious herb-roasted turkey is choosing the right turkey! When shopping for a turkey, consider the number of guests you will be serving, as well as the amount of leftovers you want. A good rule of thumb is to estimate 1 pound of turkey per person. If you want leftovers, you may want to go for a slightly larger turkey.
When selecting a turkey, look for one that is fresh and not frozen. Fresh turkeys will have a better flavor and texture than frozen ones. If you must use a frozen turkey, be sure to thaw it completely before roasting. This can take up to several days, depending on the size of the turkey. See the chart below.
Once you have your turkey, remove it from the packaging. and discard the giblets and neck. Rinse it inside and out with cold water and pat turkey dry with paper towels. Your turkey is now ready for roasting.
How many days in advance do I need to thaw my turkey?
Use the following chart from Food Safety.gov to determine how long you will need to thaw your turkey either in the refrigerator or in cold water, changing the water every 30 minutes.
To thaw in a refrigerator, allow about 24 hours for every 4 to 5 pounds.For cold water thawing, allow about 30 minutes per pound. A turkey thawed in cold water should be cooked right after thawing.
Turkey Size
Thaw in Refrigerator
(set to 40°F (4°C) or below)
Thaw in Cold Water
(change water every 30 minutes)
4 to 12 lbs.
1 to 3 days
2 to 6 hours
12 to 16 lbs.
3 to 4 days
6 to 8 hours
16 to 20 lbs.
4 to 5 days
8 to 10 hours
20 to 24 lbs.
5 to 6 days
10 to 12 hours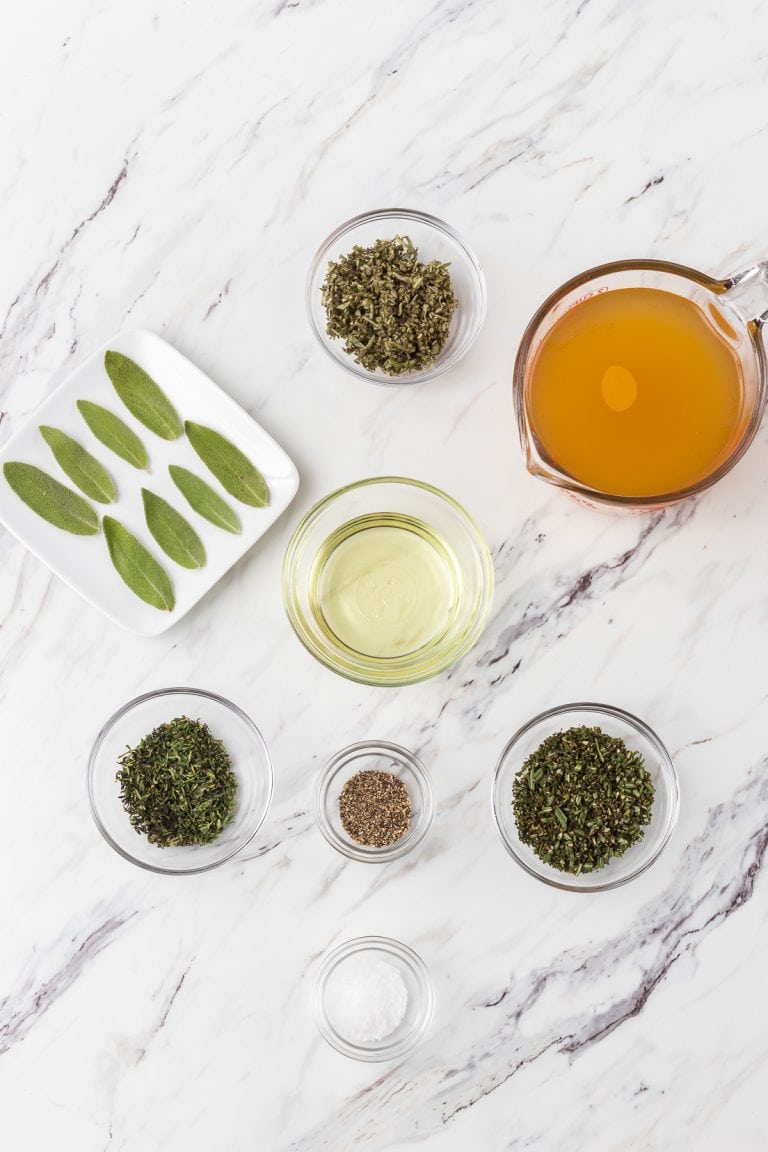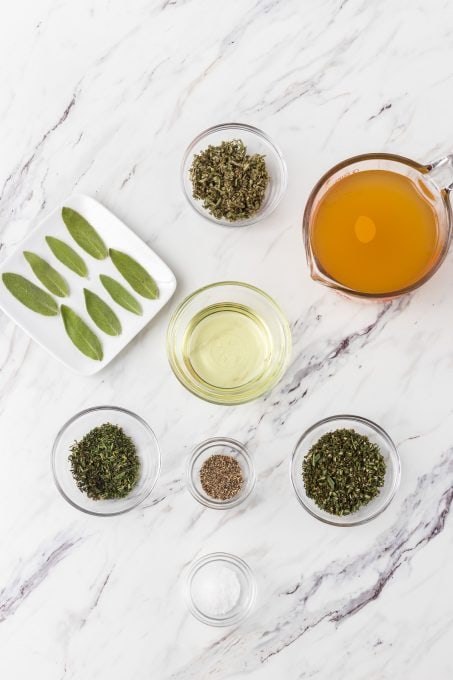 What you'll need to make Herb-Roasted Turkey
This recipe was made with a 10 pound turkey, so if yours is larger or smaller, you might need to adjust the amounts accordingly. Here's what else you need:
2 tablespoons chopped fresh rosemary
2 tablespoons chopped fresh sage (plus additional whole leaves)
1 tablespoon chopped fresh thyme
¾ teaspoon kosher salt
¾ teaspoon freshly grated black pepper
3 tablespoons canola oil
2-4 cups turkey or chicken broth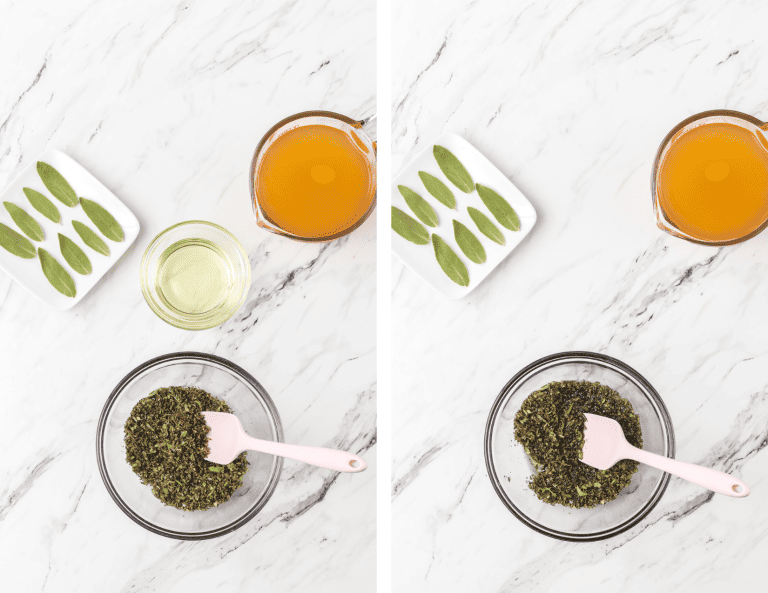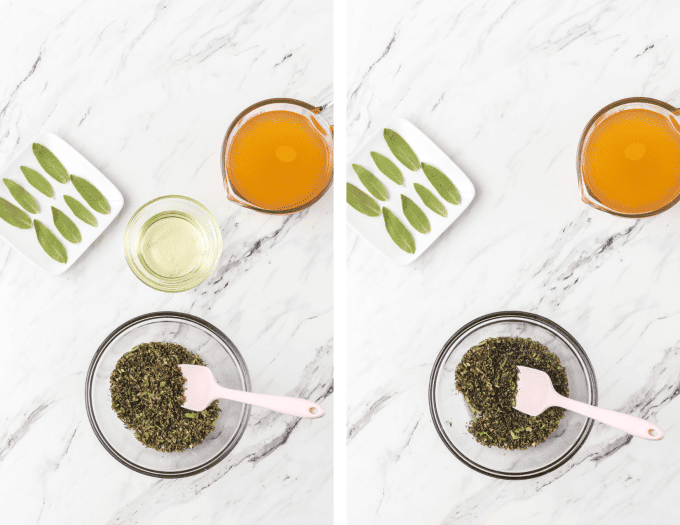 Preparing the Turkey for Roasting
Before you stuff the bird (even if you decide not to stuff it), you have the option of making a bouquet of fresh herbs to put inside the turkey. I use springs of thyme, rosemary, and sage in addition to the amounts of chopped herbs called for in the recipe. Stick that bouquet into the cavity of the turkey to allow the flavors to penetrate the inside.
Or, if you prefer, put it into the roasting pan about an hour before you're due to remove it from the oven. This will flavor the drippings that you can use to make the gravy!
I can't tell you what a difference the herb bouquet makes in the meat! It's such a simple thing to do but, in my opinion, results in the very best-tasting roasted turkey each and every time.
Finally, tuck the wings under the body of the turkey and tie the legs together with kitchen twine. This will help the turkey cook evenly and prevent the legs from spreading apart during roasting. If you prefer a more traditional look, you can also leave the legs untied.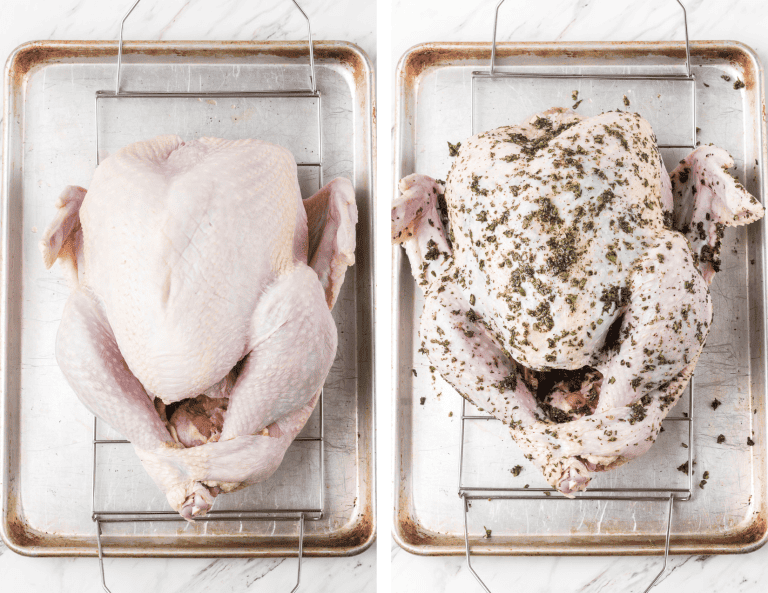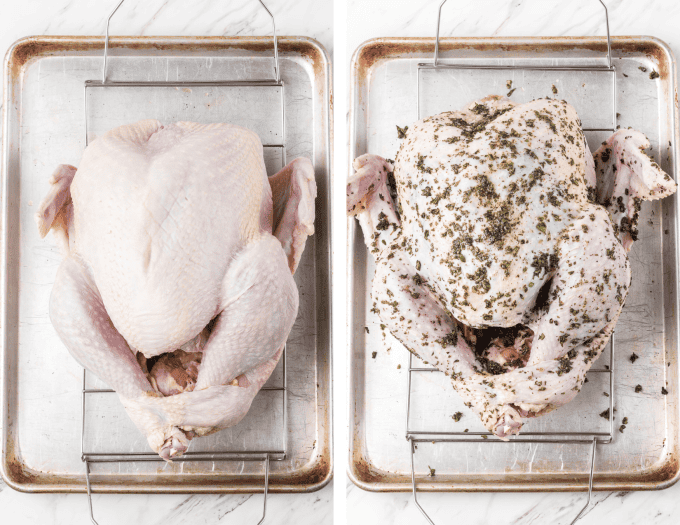 Making the Perfect Herb Butter Rub
Mix all those fresh herbs together along with the salt, pepper, and canola oil, and you're just going to slather that mixture all. over. that. bird. Carefully lift the turkey skin and spread the herb mixture underneath as well.
Be sure to cover as much of the turkey as possible, including the legs, thighs, and back (the side resting on the rack). This will help to keep the meat moist and add flavor to the turkey.
Roasting the Turkey to Perfection
To roast the turkey, you will need a large roasting pan or a portable roaster oven which I have and L-O-V-E because it frees up the oven to cook the sides, etc.. You can use a disposable aluminum pan or a heavy-duty roasting pan. If using a disposable pan, be sure to place it on a sturdy baking sheet to prevent it from bending or breaking.
Add 2 cups of chicken broth to the bottom of the roasting pan, then place turkey inside. This will help to keep the turkey moist and prevent it from sticking to the pan. You can also add chopped onions, carrots, and celery to the bottom of the pan for extra flavor.
Heat the oven to 325 degrees F. Place the turkey in the roasting pan, breast-side up, and roast the turkey in the preheated oven for 2 hours, basting it with the pan juices every 30-45 minutes. Continue roasting the turkey for an additional 1-2 hours, or until the internal temperature of the turkey reaches 165°F or 74°C. (Note: the time stated is for the 10 lb. turkey I used for this recipe. Please use the chart below to determine how long the weight of your turkey will need.)
If the skin of the turkey is browning too quickly, you can cover the top with aluminum foil.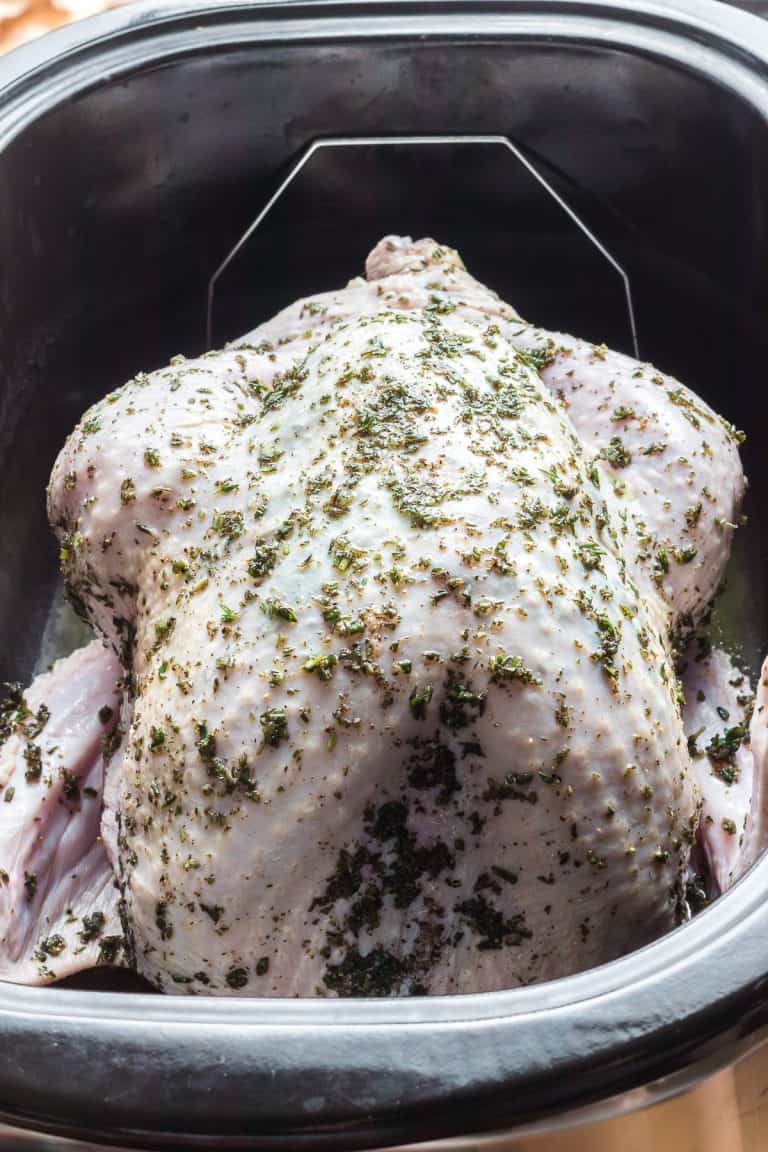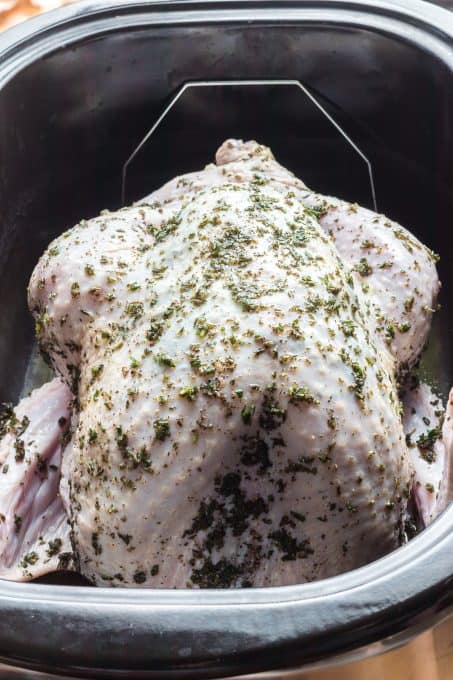 How long do I need to roast my turkey at 325°F (163°C)?
Use the following chart from Food Service.gov to figure out how many hours your stuffed turkey or unstuffed turkey will need to cook for.
Turkey Roasting Time by Size
Set oven temperature to 325°F (163°C).Minimum internal temperature = 165°F (74°C)
Turkey Size
Unstuffed
Stuffed
4 to 6 lbs. (breast)
1 ½ to 2 ¼ hours
Not usually applicable
6 to 8 lbs. (breast)
2 ¼ to 3 ¼ hours
3 to 3 ½ hours
8 to 12 lbs.
2 ¾ to 3 hours
3 to 3 ½ hours
12 to 14 lbs.
3 to 3 ¾ hours
3 ½ to 4 hours
14 to 18 lbs.
3 ¾ to 4 ¼ hours
4 to 4 ¼ hours
18 to 20 lbs.
4 ¼ to 4 ½ hours
4 ¼ to 4 ¾ hours
20 to 24 lbs.
4 ½ to 5 hours
4 ¾ to 5 ¼ hours
How to Tell When Your Herb Roasted Turkey is Done
Use an instant-read thermometer to check the temperature of the turkey. Insert the meat thermometer into the thickest part of the thigh, being careful not to touch the bone.
Another way to tell if the turkey is done is to check the color of the juices. When the turkey is fully cooked, the juices should run clear. If the juices are still pink or red, the turkey needs to cook for a bit longer.
Finally, it's time to slice and serve your beautiful Herb Roasted Turkey!
Carving and Serving the Herb-Roasted Turkey
Now it's time to carve the turkey. In the good ol' days, we used a regular carving knife, but purchasing an electric knife was seriously a game changer – SO much faster and more efficient, too! We may only use it a couple times a year at Thanksgiving, or when making a large roast, but it was definitely worth it.
To carve the turkey, start by removing the twine from the legs and cutting them off at the joints. Next, remove the wings and set them aside.
Then, carve the breasts by making horizontal slices across the grain of the breast meat. Finally, carve the thighs and drumsticks and arrange the meat on a large serving platter.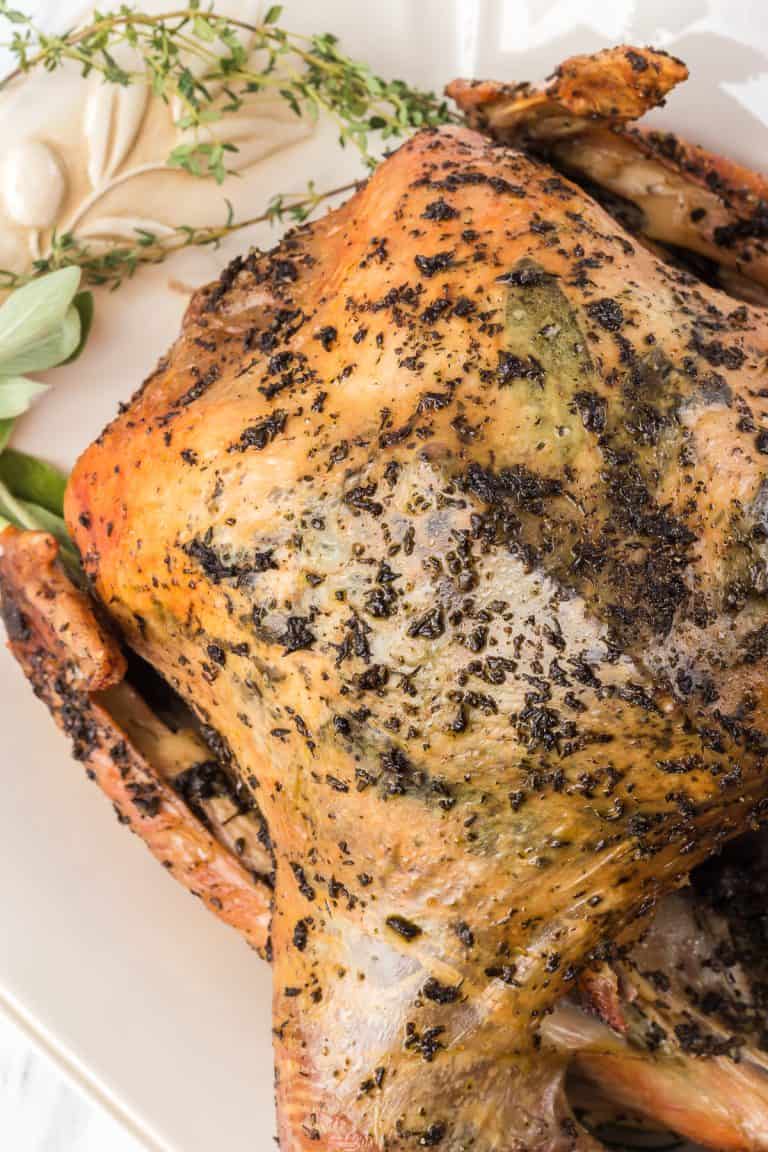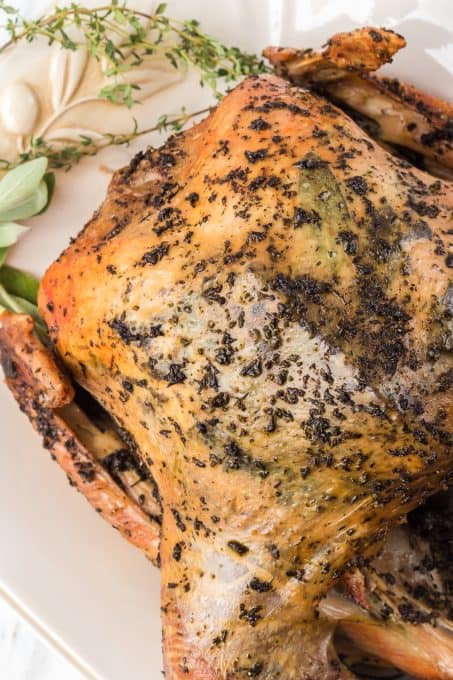 Pairing the Herb-Roasted Turkey with Sides and Sauces
When you have a roast turkey as delicious as this one at the center of the table you're going to need some KILLER side dishes to match.
Both Vanilla Mashed Potatoes and Smashed Roasted Cheesy Potatoes have been big hits as Thanksgiving side dishes at my house. The last time I made Maple Roasted Sweet Potatoes for a holiday dinner, they disappeared so fast that I hardly got to taste any myself!
If you love maple flavor with your meal, you should also give Maple Bacon Brussels Sprouts.
This Roasted Butternut Squash is so good and naturally sweet, that there might not be any leftovers!
You can make gravy from the pan drippings by adding flour and chicken broth to the pan and whisking it until it thickens. You can also serve the turkey with cranberry sauce, apple sauce, or any other sauce that complements the flavors of the turkey.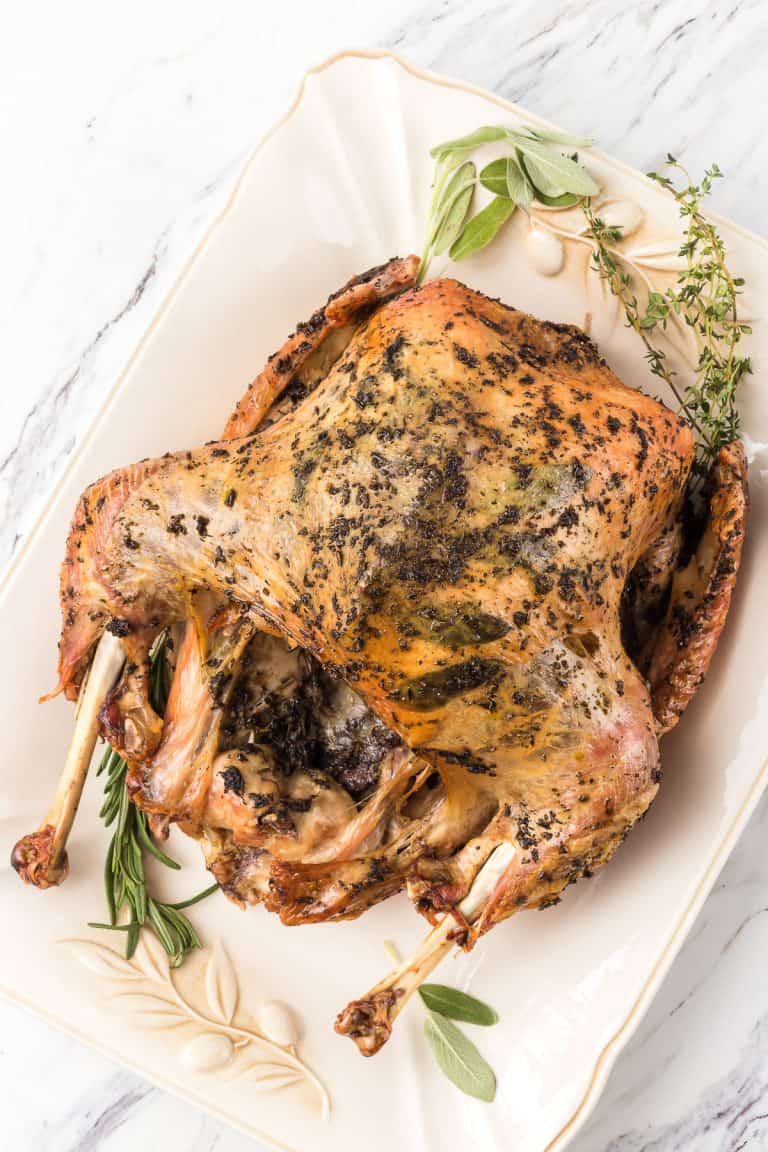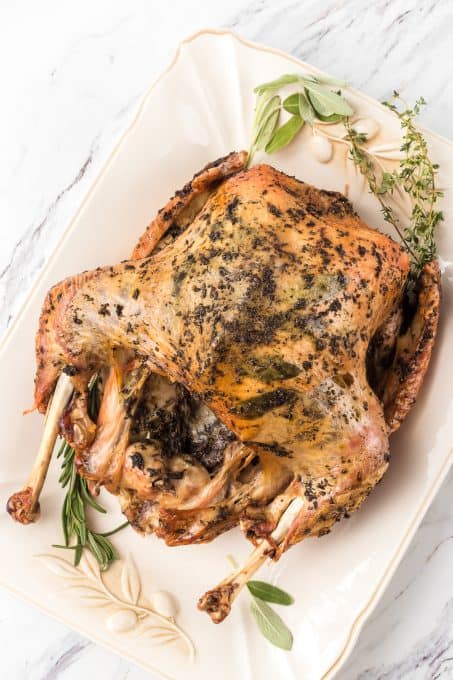 Tips for Leftover Turkey
If you have leftover turkey, don't let it go to waste! Let it cool completely to room temperature before slicing the rest of the meat and storing it in an airtight container. There are many delicious ways to use leftover turkey, such as making turkey sandwiches, turkey pot pie, or turkey soup. You can also use the leftover turkey to make turkey noodle casserole, turkey chili, or turkey tetrazzini.
What's your favorite way to cook a turkey? Try this roasted turkey recipe with herbs, and let me know how you like it!
Check out these Thanksgiving Dinner side dishes and dessert ideas for even more inspiration :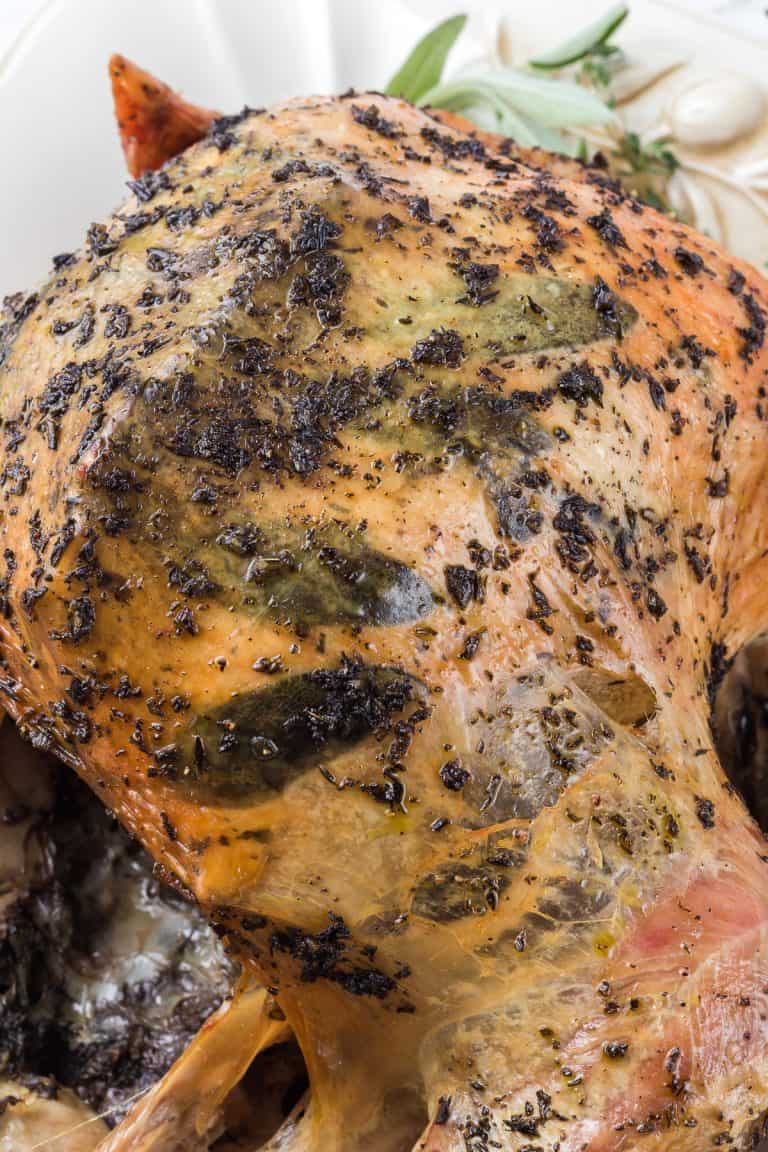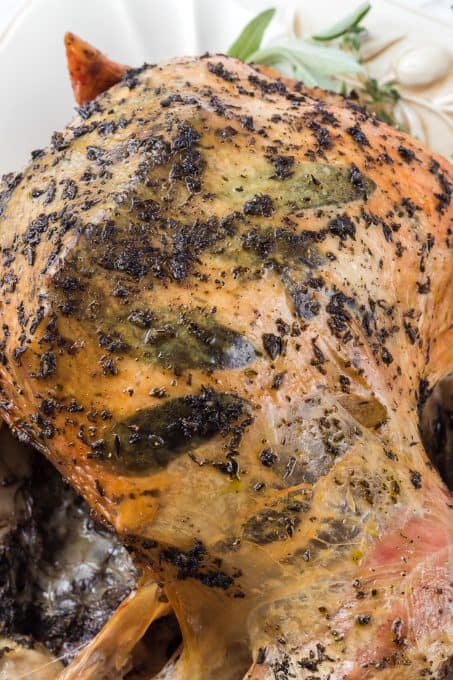 ~ FOLLOW ME ~
Keep an eye out for more of my easy recipes each week!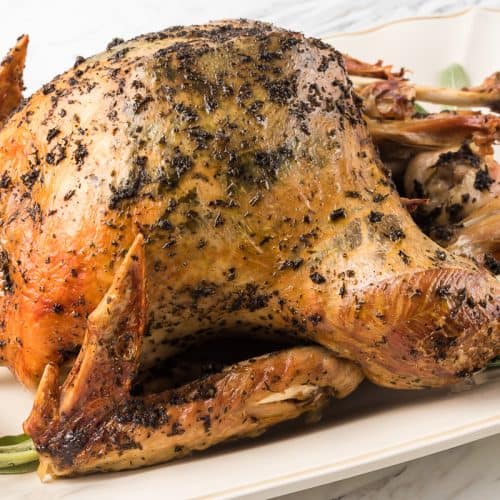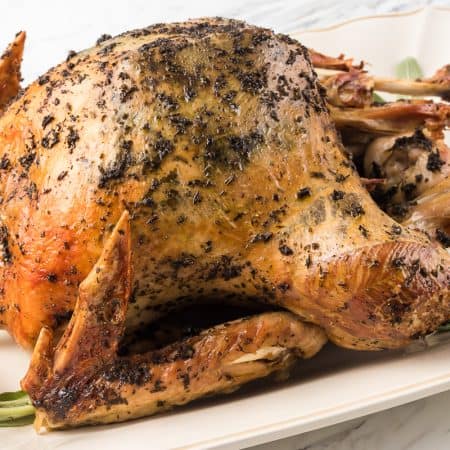 Bring everyone together for the holidays with a delicious Herb-Roasted Turkey as the centerpiece of your feast. This classic dish is a crowd-pleaser with fresh rosemary, sage, thyme and a savory roasted turkey.
Ingredients
10 lb. turkey
2 tablespoons chopped fresh rosemary
2 tablespoons chopped fresh sage plus 8 additional whole leaves to place under the turkey's skin
1 tablespoon chopped fresh thyme
¾ teaspoons Kosher salt
¾ teaspoon freshly grated pepper
3 tablespoons canola oil
2 cups low sodium turkey or chicken broth plus more if needed for basting
Instructions
Preheat oven to 325 degrees F.

Remove all contents from the cavities of the fresh or thawed turkey. Be sure to check both ends of the turkey as the neck and gizzards will probably be stored separately and at different ends.

Place onto a rack, breast side up, in a roasting pan.

In a small bowl, mix together the rosemary, sage, thyme, salt and pepper.

Add canola oil and thoroughly combine.

With the fingers of one hand, gently loosen the skin from the breast of the bird. It will be easy if done slowly and with sweeping motions of your fingers between the skin and the breast.

Evenly rub one tablespoon of the herb mixture, all over the breast, under the skin.

Arrange the 8 whole sage leaves in a diagonal pattern under the skin of the turkey breast with four on each side.

Rub the remaining herb mixture over the entire turkey, including the portion closest to the rack.

You may or may not choose to stuff your turkey before placing it into the oven. See Note.

Cook the turkey for 3 1/4 – 3 1/2 hours for a stuffed 10 lb. turkey and 2 ¾ – 3 hours for unstuffed.

Every 45 minutes, be sure to baste the turkey with the drippings in the roasting pan. it may be necessary to add additional broth to the pan for basting purposes. If turkey is browning too quickly before it has finished roasting, cover loosely with a sheet of aluminum foil.

Be sure to use a meat thermometer to check for doneness. It should read 170 degrees F. at the breast and 180 degrees F. at the thigh.

Allow turkey to rest 15 minutes before carving (so your guests can admire your hard work).
Notes
Note: cooking times will vary depending on the size of your turkey and whether it is stuffed or unstuffed. Please refer to the charts in the post for thawing times and cooking times. They can be printed out at FoodService.gov.
Nutritional information and cooking times given are for a 10 lb. unstuffed turkey.
Optional: After spreading the herbs on the turkey, cut 1-2 onions, 1-2 lemons, and an orange into quarters as I did in this Lemon Herb Roasted Chicken. Gently place the pieces into the cavity of the turkey. Doing this will add additional flavor to the turkey as it cooks. You may need to increase the cooking time by 15 minutes to ½ hour if you choose to do this. 
Nutrition
Serving: 1serving | Calories: 608kcal | Carbohydrates: 0.3g | Protein: 142g | Fat: 3g | Saturated Fat: 0.04g | Polyunsaturated Fat: 0.01g | Monounsaturated Fat: 0.01g | Cholesterol: 354mg | Sodium: 261mg | Potassium: 5mg | Fiber: 0.2g | Vitamin A: 16IU | Vitamin C: 0.3mg | Calcium: 6mg | Iron: 1mg
Did you make this recipe?
Share it with me on Instagram and make sure to follow me on Pinterest for more recipes.
This post was originally published November 14, 2014. It has been updated in format and with pictures on October 25, 2023.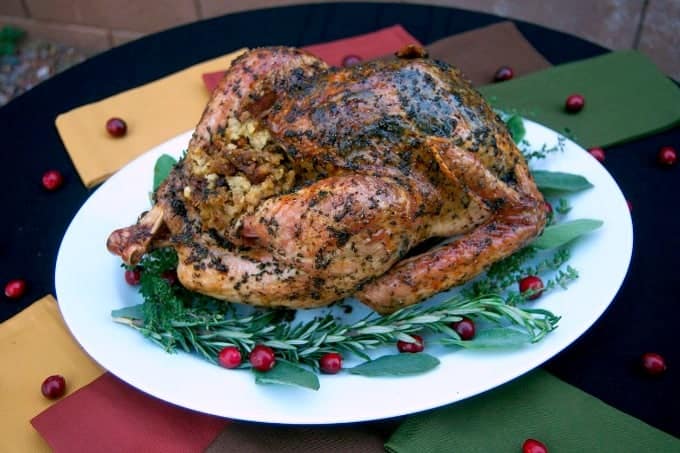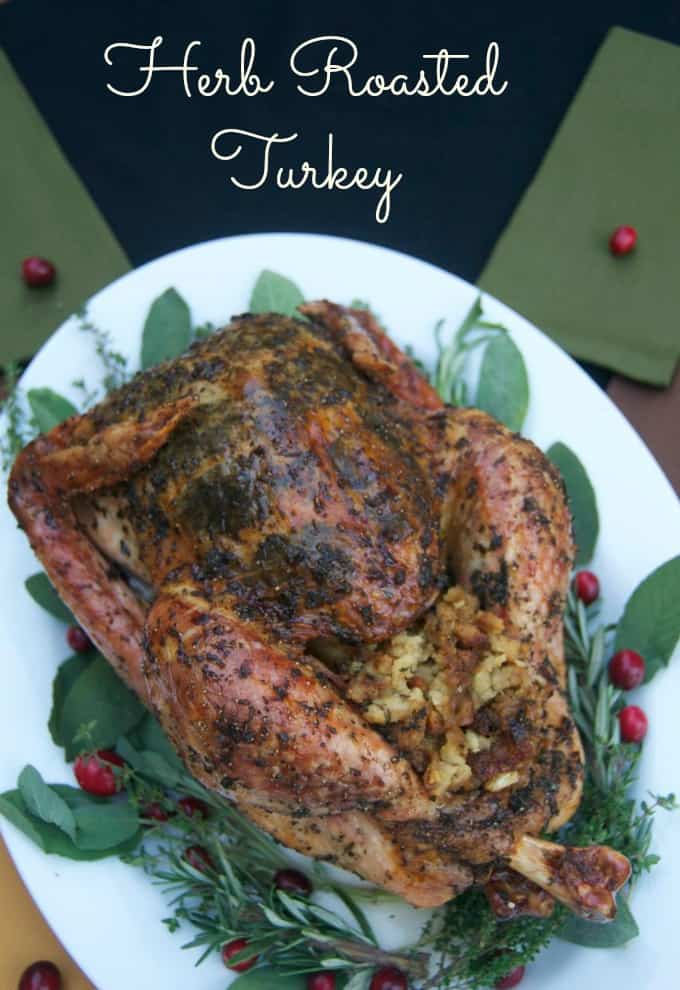 Reader Interactions