Thanksgiving is just around the corner and if you're hosting, you're going to want to put an impressive and tasty bird on the table, so I've got just the recipe for you – Herb Roasted Turkey.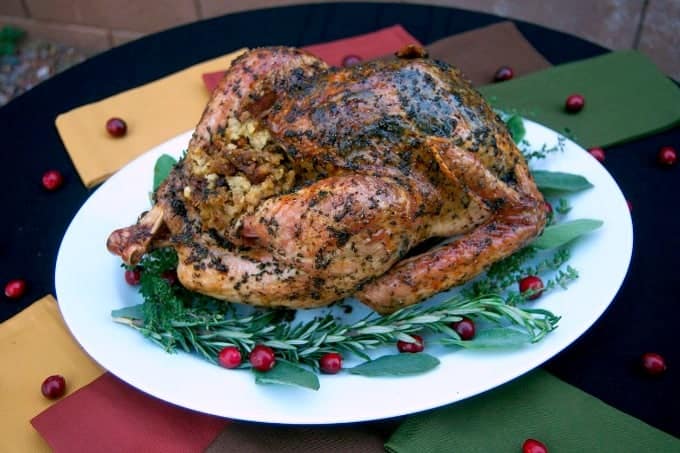 Is there anything better than turkey on Thanksgiving?
OXO has provided me with free products to use and display in this #OXOTurkeyDay post. I was not compensated financially and all opinions are my own.
I think not, but that's just my own personal opinion. Some people like to have ham or even lasagna. For me, it has been and will always be a turkey kind of day.
I know that nowadays, people have different ways of preparing it – you can fry it or turn the bird upside down which allows the juices to seep into the breast keeping it moist or leaving it unstuffed.
Me, I've got to roast it. Right-side up. And Stuffed.
It's just the way I do it and the way I was raised – brings back memories of the women in my family who cooked plenty of turkeys before me.
And I haven't regretted it since I made my first one years ago.
SAVE THIS ROASTED TURKEY RECIPE TO YOUR FAVORITE PINTEREST BOARD!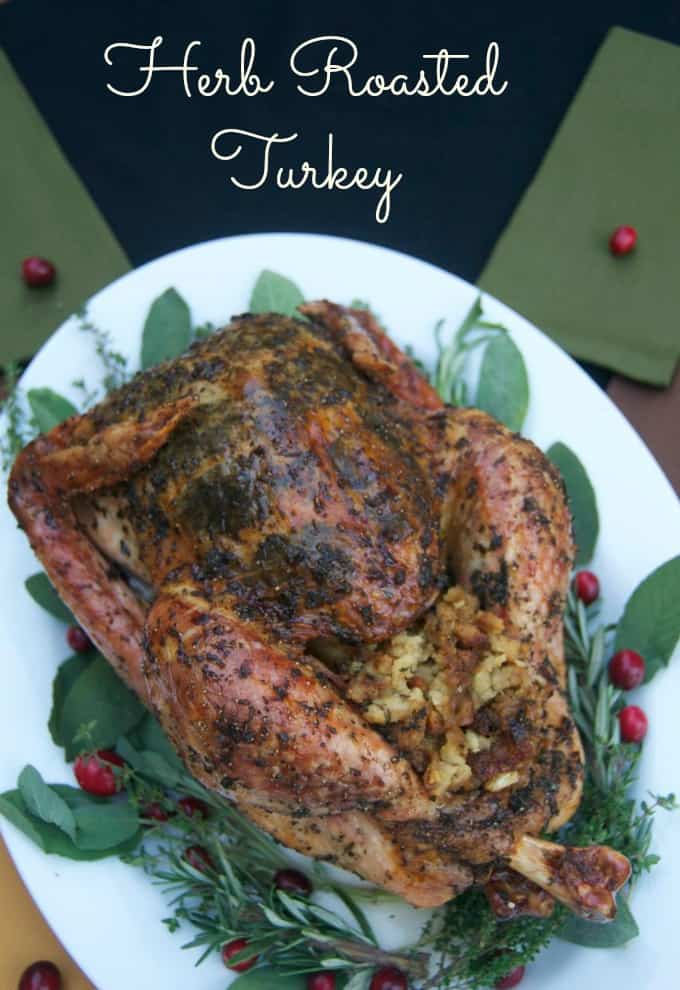 Today for this incredible turkey recipe (if I do say so myself) I've teamed up with OXO to bring you some products that will help make this Thanksgiving easier for you. The great thing is, YOU could WIN the products I used to put this turkey dinner together! Pretty cool, huh? Details and entry will follow the recipe.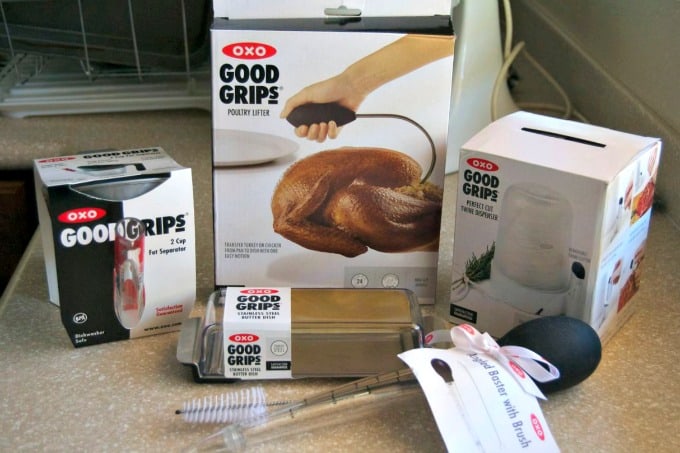 Alright, let's get started on this bird, shall we?
First, you're going to need to start with a turkey, of course. Mine was on the smaller side, seeing as how there are now only three of us in the house as opposed to the usual five, but you can use any size turkey you like.
I'm not really big on pictures of raw meat, but I feel that you need to see this bird's before because you've already been privy to his…or her (I have no clue, but don't want to be gender bias) transformation picture above.
*Disclaimer: This bird was not photoshopped. All fat, curves, wrinkles, sags, bony appendages, and dimply skin was left as is.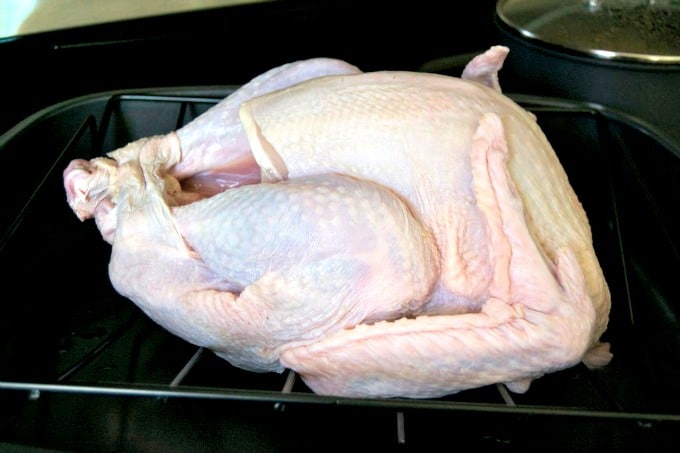 The bird pictured above has been rinsed in a cold water bath and had a good pat down with some paper towels. That part's important. It's the beginning of his spa day and prepares him for what's to come.
Also, be sure to remove the bags from the cavity of the bird. I didn't do that one year. Oops! Be sure to check the large cavity down at the legs which was where I found a bag of gravy (SCORE!) and the neck, and up at the top where you may possibly find the bag of organs – liver, kidneys, and heart.
Some people discard them, others cook them up and shred them to put into the gravy – your choice.
Before you stuff the bird (if you even you don't decide to stuff it), you're going to make up a bouquet of fresh herbs. This OXO Perfect Cut Twine Dispenser sure did come in handy for that!
The twine easily moves around the base as you pull it, doesn't move on the counter when you do, and even has a recessed blade that cuts it neatly. The blade can also be removed for easy cutting after you take any wrapped meat out of the oven.
Stick that bouquet into the bird to allow the flavors to penetrate the inside. Or if you prefer, put it into the roasting pan about an hour before you're due to remove it from the oven. This will flavor the drippings!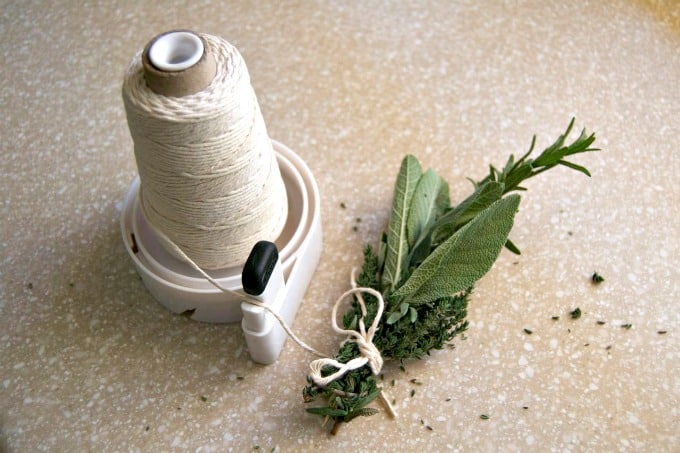 You're going to mix all those fresh herbs together along with the salt, pepper, and canola oil and you're just going to slather that mixture all. over. that. bird.
He's getting there.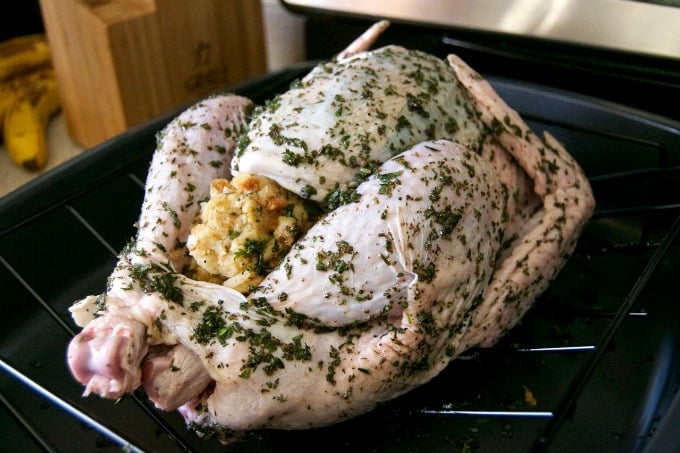 While this lovely guy is in the oven, you're going to bathe him with this baster! He'll love the feeling as the drippings move over his hot body.
Ok, a little much? Sorry. I love to baste and became carried away at the thought because OXO's Angled Baster made it so easy! The angled tip is able to pull up more drippings than other basters I've used. I loved that I could just set it on the counter afterward using its built-in stand. It also comes with an angled brush for cleaning and the bulb can be removed as well.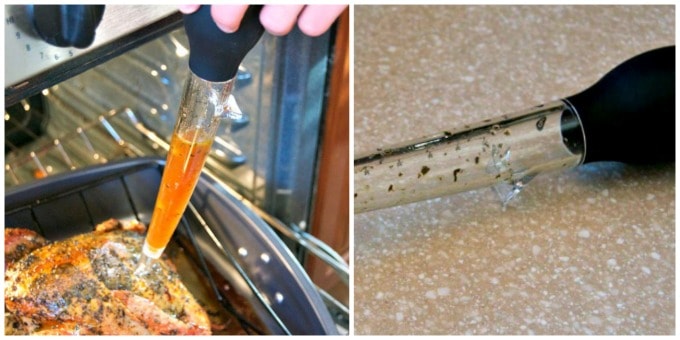 Once he's had his day in the oven, you can easily transfer him from roasting pan to platter with the OXO Poultry Lifter. I don't have to use my spatulas anymore! That wasn't pretty and I always thought I'd drop the thing. This lifter goes right into the cavity and can transport (not on long journeys, mind you) up to 24 pounds.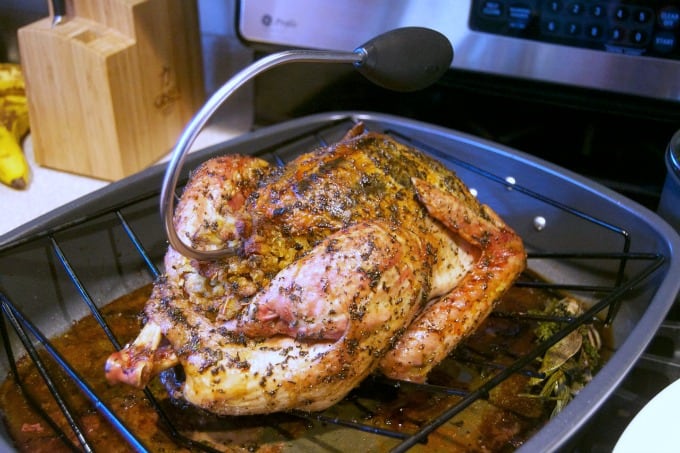 Once you've moved the turkey and are ready to go ahead with the gravy, use the OXO 2 Cup Fat Separator. It comes with a stopper to keep fat out of the spout and a shield/strainer to prevent gravy from spilling and to catch any clumps you might not want in your gravy.
Also, be sure to use the OXO Stainless Steel Butter Dish at the table to butter those delicious rolls you'll be having with this incredible turkey.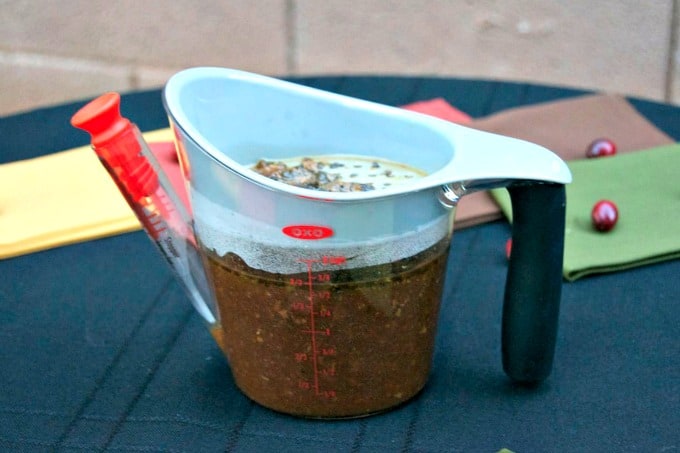 Herb Roasted Turkey
Ingredients
9.8

lb.

turkey

2

tablespoons

chopped fresh rosemary

2

tablespoons

chopped fresh sage

plus 8 additional whole leaves to place under the turkey's skin

1

tablespoon

chopped fresh thyme

3/4

teaspoons

Kosher salt

3/4

teaspoon

freshly grated pepper

3

tablespoons

canola oil

2 - 4

cups

turkey or chicken broth

if needed for basting
Instructions
Preheat oven to 325 degrees F.

Remove all contents from the cavities of the fresh or thawed turkey.

Rinse it completely with cold water and pat it down well with paper towels to dry it.

Place onto a rack, breast side up, in a roasting pan.

In a small bowl, mix together the rosemary, sage, thyme, salt and pepper.

Add canola oil and thoroughly combine.

With the fingers of one hand, gently loosen the skin from the breast of the bird. It will be easy if done slowly and with sweeping motions of your fingers between the skin and the breast.

Evenly rub one tablespoon of the herb mixture, all over the breast, under the skin.

Arrange the 8 whole sage leaves in a diagonal pattern under the skin of the turkey breast with four on each side.

Rub the remaining herb mixture over the entire turkey, including the portion closest to the rack.

You may or may not choose to stuff your turkey before placing it into the oven.

Cook the turkey for 2 3/4 - 3 1/4 hours for a stuffed 9.8 lb. turkey and 2 1/2 - 3 1/2 hours for unstuffed.

Every 45 minutes, be sure to baste the turkey with the drippings in the roasting pan. Throughout the cooking process, I added a few cups of turkey broth because there were very little drippings from my turkey.

Be sure to use a meat thermometer to check for doneness. It should read 170 degrees F. at the breast and 180 degrees F. at the thigh.

Allow turkey to rest 15 minutes before carving (so your guests can admire your hard work).
Recipe Notes
Cooking times will vary depending on the size of your turkey and whether it is stuffed or unstuffed.
I recommend following the cooking instructions that you receive with your turkey.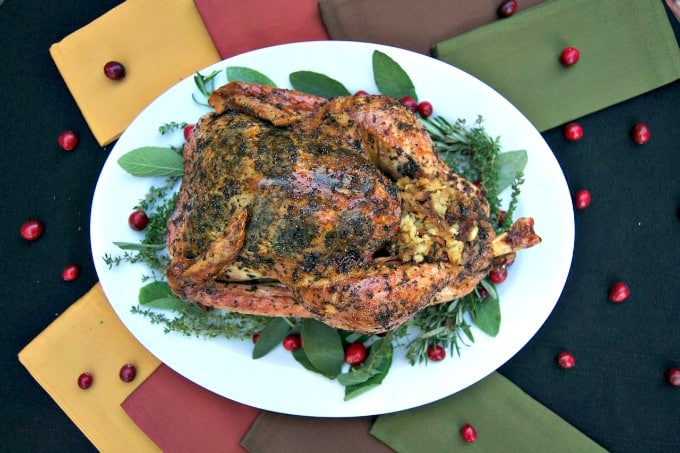 I rate everything I make on a scale of 1 -4 and this Herb Roasted Turkey earned 4 rolling pins!!
It was absolutely delicious!! The fresh herbs gave it so much flavor, the skin was cracklin'-delicious and it was a sight to behold with the design of the sage leaves under the skin.
If you're interested in some other turkey recipes, try out these favorites!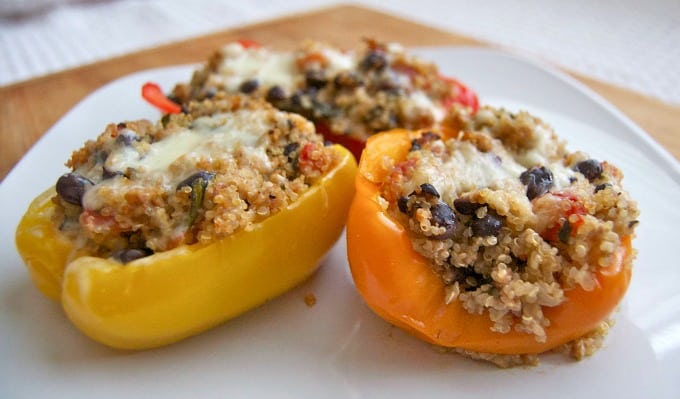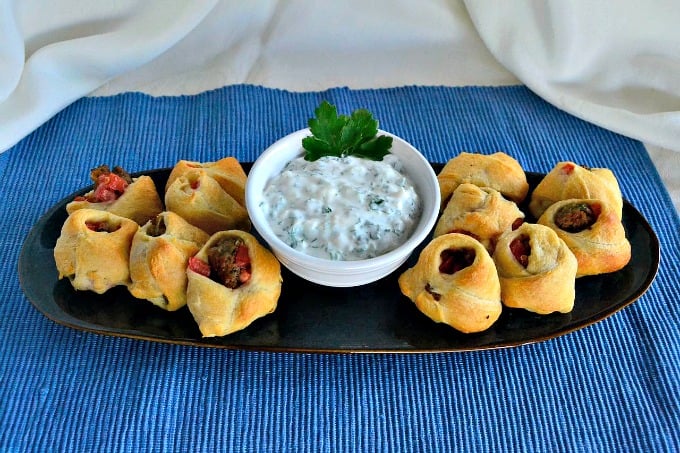 I saw Martha Stewart do this years ago and thought it was the coolest thing. It makes for a great conversation piece at dinner, too!
Now on to the #OXOTurkeyDay Giveaway. It ends Thursday, November 20th at 5 pm EST.
I hope you win and have a wonderful Thanksgiving!