Cranberry Coffee Cake has arrived just in time for fall baking! Tart, sweet and made deliciously moist with sour cream, this cranberry cake from The Weeknight Dessert Cookbook is sure to put a smile on your face. Make it for dessert and enjoy it with your morning cup of coffee, too!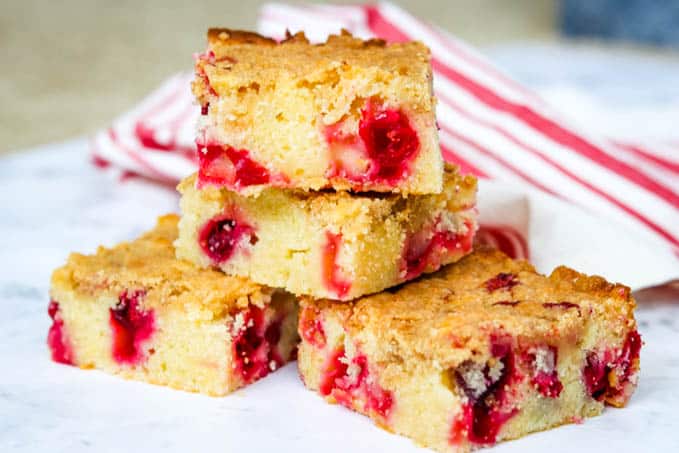 I wish I could take credit for this beautiful, perfect cranberry coffee cake. That honor belongs to one of my blogging besties, Mary Younkin from Barefeet in the Kitchen.
*This post contains an affiliate link(s).
Are you familiar with Mary? If not, you should know that Mary is the QUEEN of simple and delicious homemade meals and desserts. Whenever I'm trying to think of something different for a quick weeknight dinner, Mary always has a recipe handy to blow my mind.
Her recipes and photos are always easy to follow and the results have yet to disappoint. Did I mention she's also one of the sweetest people alive? (I know, I know. It's hardly fair!)
Seriously, folks, I love her. And if you don't already, you will, too.
SAVE THIS CRANBERRY COFFEE CAKE TO YOUR FAVORITE PINTEREST BOARD!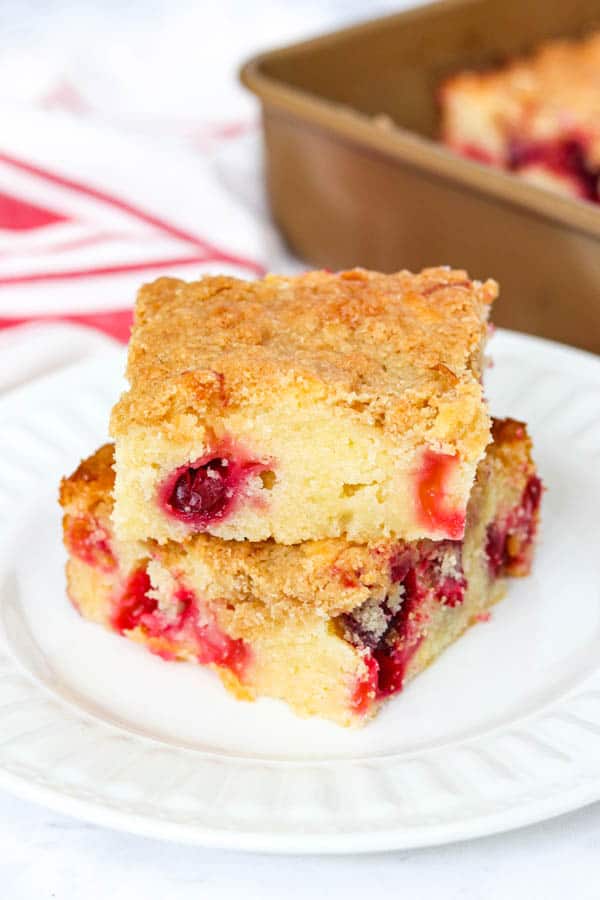 Mary's first two books, The Weeknight Dinner Cookbook and The Weekday Lunches and Breakfasts Cookbook, are lifesavers. Each and every recipe I've tried from these books has been a hit.
I even bought both books for each of my three kids to have in their own kitchens and they love them, too!
The Skillet Mexican Street Corn here on the blog came from her Weeknight Dinner Cookbook and the whole family LOVED it, especially me!
I could seriously eat the whole pan myself for dinner, it's just that delicious.
As convenient as it is to get recipes online, I love thumbing through a physical cookbook and bookmarking the recipes I want to make. That's why I was BEYOND EXCITED when Mary told me she had a brand new book coming out all about my favorite thing–desserts!
The Weeknight Dessert Cookbook includes 80 recipes, all of which call for only 5 to 15 minutes of prep time. This means you can have your coffee cake and the time to enjoy it too!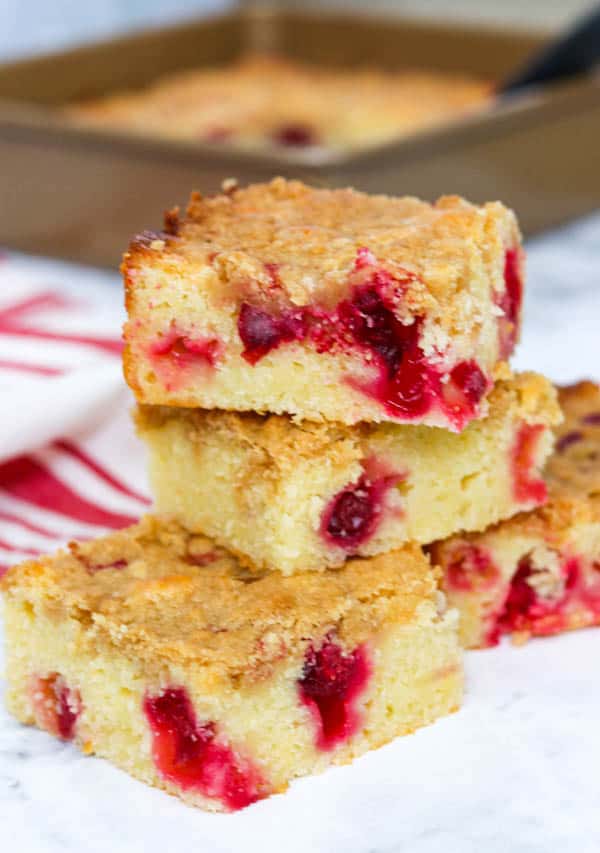 Cranberry Coffee Cake
Because I'm familiar with Mary's wonderfulness, I had no doubt that this coffee cake would be good. But I wasn't prepared for how absolutely heavenly those beautiful red cranberries would taste in a moist sour cream coffee cake.
I also couldn't believe how easy it was to make such a pretty cake. With Thanksgiving and Christmas just over the horizon, I always have my eye out for new ways to bake with cranberries.
Cranberry Orange Dream Bars and Cranberry Ginger Pistachio Sugar Cookies are always on my list for holiday desserts but sometimes it's nice to shake things up with something a bit different. With a buttery crumb topping, tart bites of cranberry and a moist interior, this cranberry coffee cake everything I want in a slice of coffee cake and more.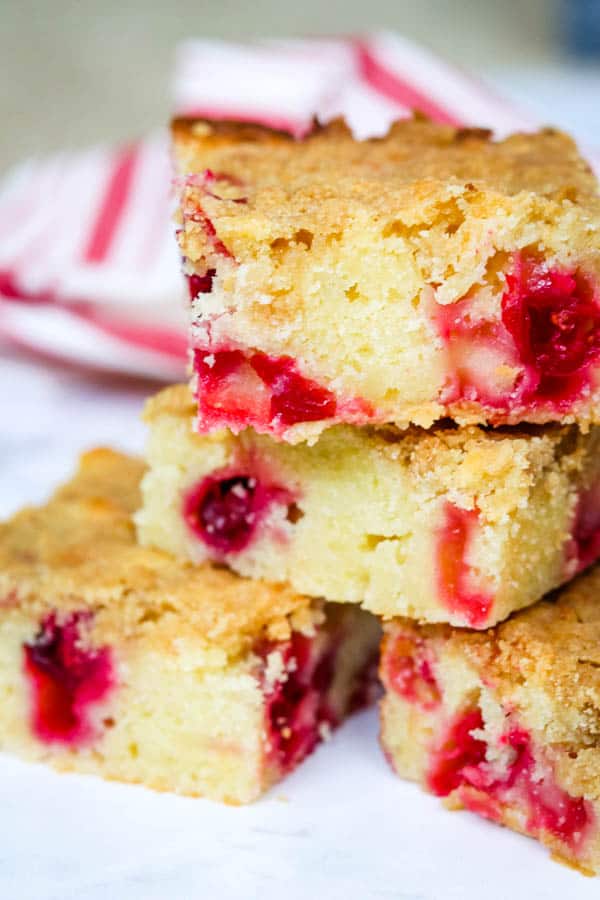 Coffee Cake
In a world of fancy frosted cakes, I sometimes feel like coffee cake doesn't get the love it deserves. Coffee cake recipes are some of my favorites because they don't require a ton of fuss with icing or decorations. When I'm in a rush or overwhelmed with other holiday baking tasks, coffee cake is there to save the day.
Maybe it's because they typically don't call for icing or because they can be less sweet than other cakes, but I also enjoy that coffee cake feels acceptable to eat for breakfast. Who doesn't want a cake they can serve for dessert and then enjoy first thing out of bed the next morning?
This coffee cake is perfect for sharing with friends any time of day over a cup of coffee or tea. It also tastes phenomenal for a midnight snack. . . not that I have any first-hand experience.
It could also be a very thoughtful gift this holiday season. Who on your list would love receiving it? I bet you could think of a few people!
I've shared with you before how much I adore this Cinnamon Sour Cream Coffee Cake with its streusel topping. And the reason it's one of THE most popular recipes on the blog…
because it's from Miss Mary's Weekday Lunches & Breakfasts cookbook, of course!
SEE, I told you her recipes are AWESOME!
This citrusy sweet Orange Cranberry Coffee Cake is another great one to put on your Fall baking list.
These cakes can be served as dessert or you can enjoy them in the morning with a cup of coffee of tea.
It's hard to choose, but I have to say that this might be the best cranberry coffee cake recipe I've ever tasted.
Kurt even says it's his new favorite thing, so I know you'll love it, too!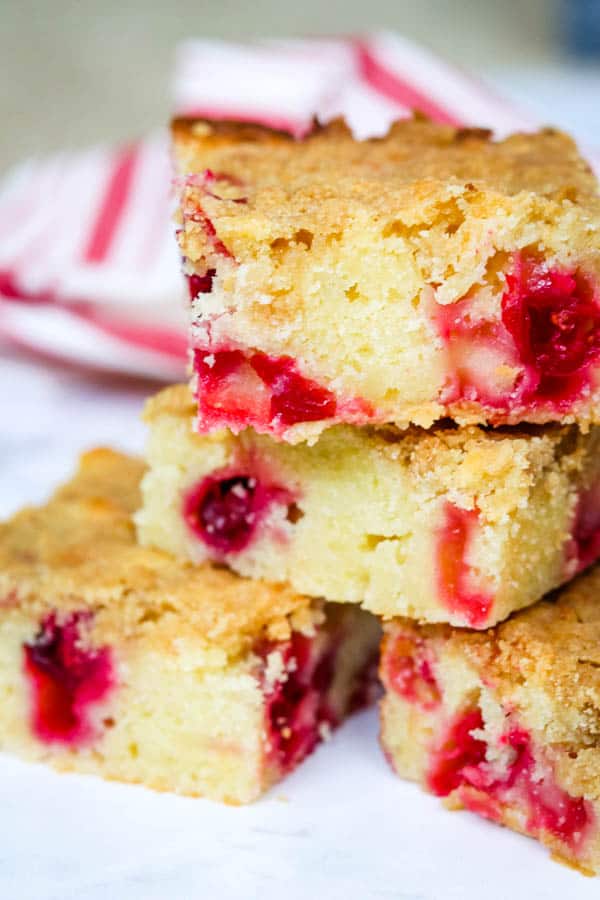 Cranberry Cake
Lots of recipes this time of year call for dried cranberries. This coffee cake calls for fresh cranberries which makes for a whole different and spectacular taste and texture. They add a pop of color to the white cake that's so festive it makes me want to sing carols and a trim a tree.
The tartness of the cranberries also balances out the sweetness of the cake in a way that made my taste buds extremely happy. A little lemon juice in the batter helps bring out the rich cranberry flavor.
Frozen cranberries work just as well in this recipe as fresh and there's no need to thaw them. You also might be lucky enough to have a local grocery store that sells frozen cranberries throughout the year like I do.
If not, stock up on cranberries this holiday season and stick a bunch of the bags in the freezer. Then serve it this Cranberry Coffee Cake to mom on Mother's Day (or maybe these Cranberry Pancakes). Boy, will she be surprised!
What's the other secret ingredient in this moist coffee cake recipe? Sour Cream.
Some of the best coffee cake I've had gets its moist crumb from the sneaky addition of sour cream. A sour cream coffee cake always seems to stay moist and tender longer than other recipes. It's also a superpower ingredient in other baked goods like these Chocolate Sour Cream Cake.
SIGN UP FOR THE
365 DAYS OF BAKING & MORE
NEWSLETTER
BELOW!
Cranberry Coffee Cake Recipe
This coffee cake recipe is as simple as stirring together a cake batter, folding in cranberries and then sprinkling on a brown sugar topping. After a little time in the oven, and a little more time to cool (if you can wait), you have a beautiful festive cranberry cake to share.
Leave it to Mary to create a quick and easy dessert that's better than anything you can buy at a bakery. I know for sure I'll be serving this at Christmas time (along with my go-to Holiday Favorites) but don't expect me to reserve cranberry coffee cake for the holiday season.
You know I'll be making it all year long!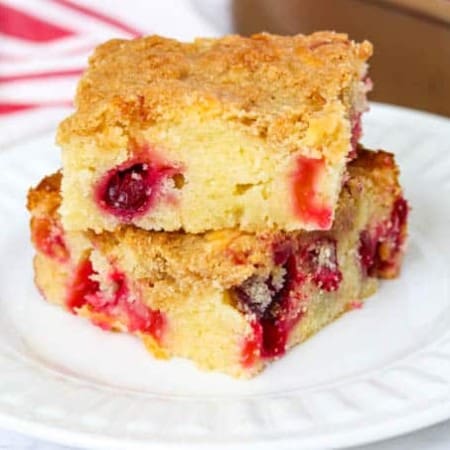 This Cranberry Coffee Cake has the perfect balance of tart and sweet, and is from Mary Younkin's, The Weeknight Dessert Cookbook. It's perfect for your Fall baking and will be a delicious addition to your holiday dessert and even breakfast table.
Equipment
8 X 8-inch baking pan

Electric Mixer
Ingredients
For the Cake
½ cup butter room temperature, plus more for the pan
1 cup white sugar
2 eggs
2 tablespoons fresh lemon juice
2 teaspoons pure vanilla extract
1 cup all-purpose flour
1 tablespoon all-purpose flour
½ teaspoon baking powder
1 cup fresh cranberries
½ cup sour cream
For the Topping
⅔ cup all-purpose flour
⅓ cup packed brown sugar
¼ cup melted butter
Instructions
Preheat the oven to 350°F. Grease an 8-inch square pan with butter.

To make the cake, combine the butter and white sugar in a large bowl. Beat with an electric mixer for approximately 3 minutes, or until light and fluffy. Add the eggs, lemon juice, and vanilla, and mix until just combined.

In a medium bowl, combine 1 cup of the flour and the baking powder.

Place the cranberries in a separate bowl and sprinkle with the remaining 1 tablespoon of flour, stirring gently to coat the berries. Add half of the dry ingredients to the wet ingredients and stir to combine. Add the sour cream, mix again, and add the remaining dry ingredients. Mix until just combined. Gently stir in the cranberries and pour the batter into the prepared pan.

To make the topping, place the flour and sugar in the same bowl that was holding the berries and add the melted butter. Stir lightly with a fork to combine. Sprinkle the sugary crumbs over the batter in the pan.

Bake for 42-46 minutes, or until a toothpick comes out clean or with moist crumbs. Let it cool completely before slicing.
Notes
Frozen cranberries can also be used with no need to thaw first. 
Nutrition
Calories: 387kcal | Carbohydrates: 51g | Protein: 4g | Fat: 19g | Saturated Fat: 12g | Cholesterol: 84mg | Sodium: 163mg | Potassium: 99mg | Fiber: 1g | Sugar: 31g | Vitamin A: 612IU | Vitamin C: 3mg | Calcium: 44mg | Iron: 1mg
Did you make this recipe?
Share it with me on Instagram and make sure to follow me on Pinterest for more recipes.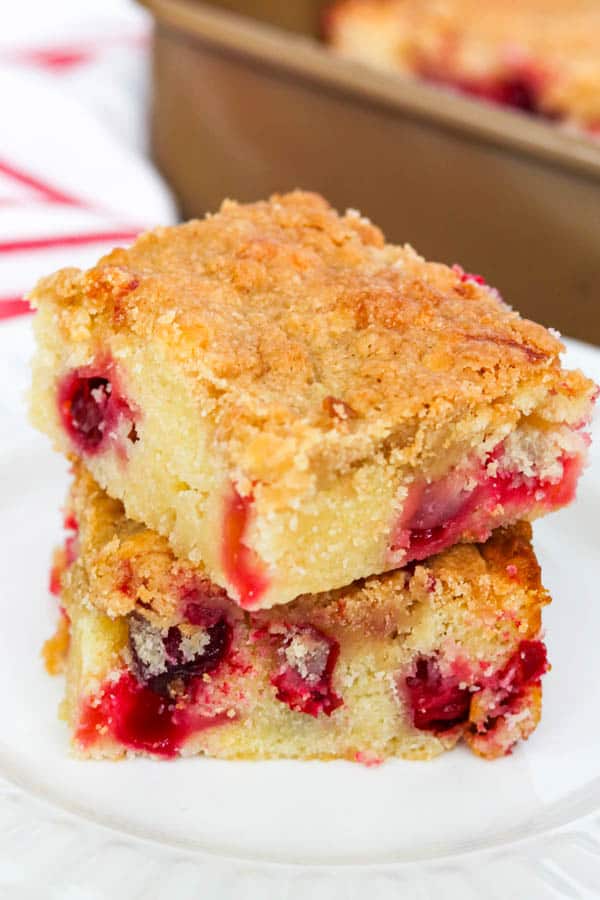 The Weeknight Dessert Cookbook
Once you try this coffee cake, I know you'll be dying to get your hands on even more of Mary's recipes.
Aimee over at Shugary Sweets recently posted the Chocolate Pound Cake from Mary's new book and it looks so good I might have to whip it up for dessert tonight.
Then there's the Pretzel Avalanche Fudge from the book that Melissa's Southern Style Kitchen shared. If you're a fan of the sweet and salty flavors in that easy fudge, then the Little Bit Salty Little Bit Sweet Skillet Cookies shared by Country Cleaver are right up your alley, too.
These are just a few of the 80 amazing dessert recipes included in the pages of The Weeknight Dessert Cookbook along with dozens of beautiful photos of each recipe. Don't forget to get your copy! Be sure to order a couple extras as well because they'll make great gifts!
*We are a participant in the Amazon Services LLC Associates Program, an affiliate advertising program designed to provide a means for us to earn fees by linking to Amazon.com and affiliated sites.
These are links that can take you to a product (or products) that I recommend. I do receive a portion of the sales or credit for my future purchases from any items purchased through those links. Your purchases encourage my baking, cooking and butter habit, and contribute to the life of this blog. I thank you so very much for your support. Let's keep having fun in the kitchen!!
Reader Interactions