Nutella Swirl Banana Bundt Bread – Nutella mixed into a banana bread batter in the shape of a beautiful bundt cake. This starts your weekend morning off on the right foot when enjoyed with your first cup of coffee.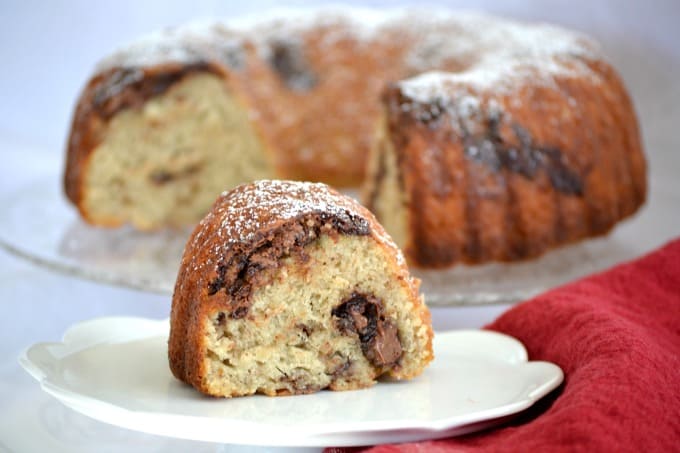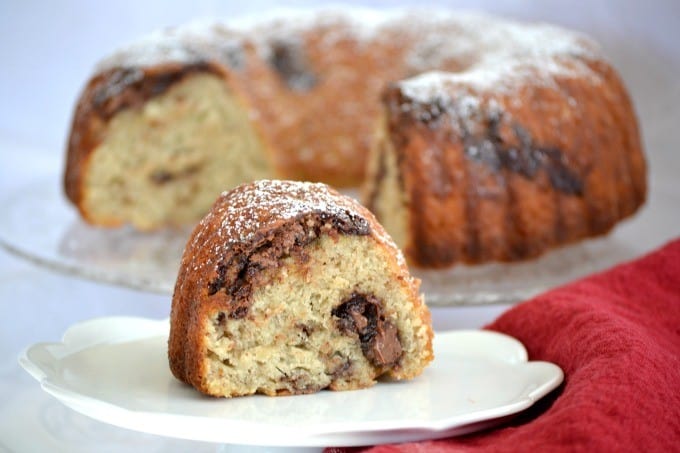 My love affair started back in the early-80's.
My love affair with Nutella, that is. C'mon, did you think I was having an extramarital affair?? Nope, never had one, never will. Not worth risking what I've been blessed with. Nutella, on the other hand, is something I'll continue to swoon over.
SAVE THIS BUNDT BREAD TO YOUR FAVORITE PINTEREST BOARD!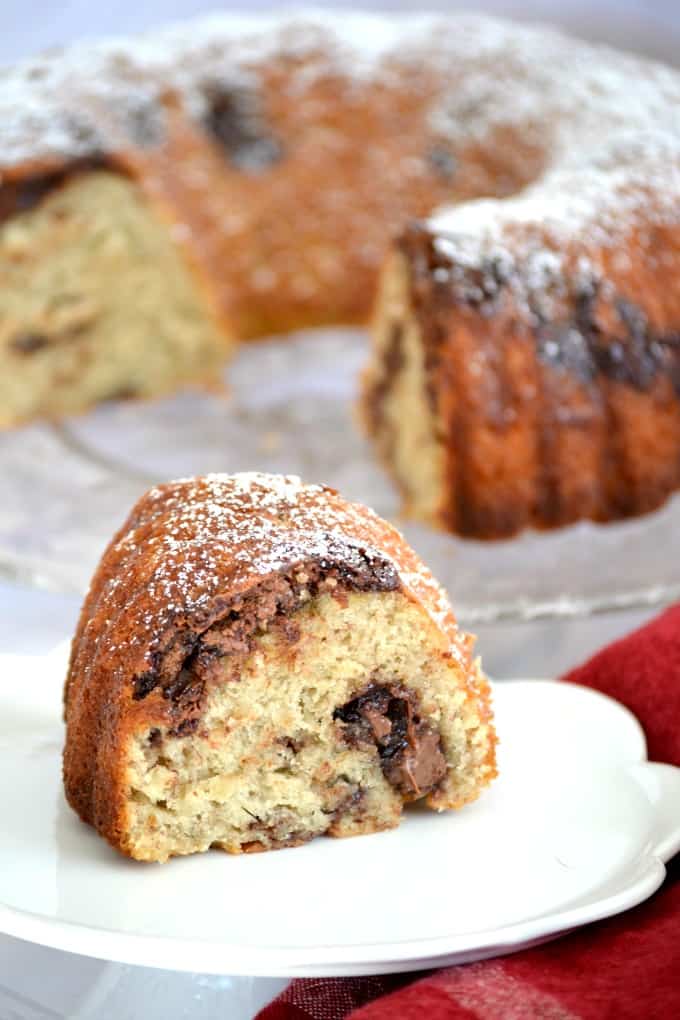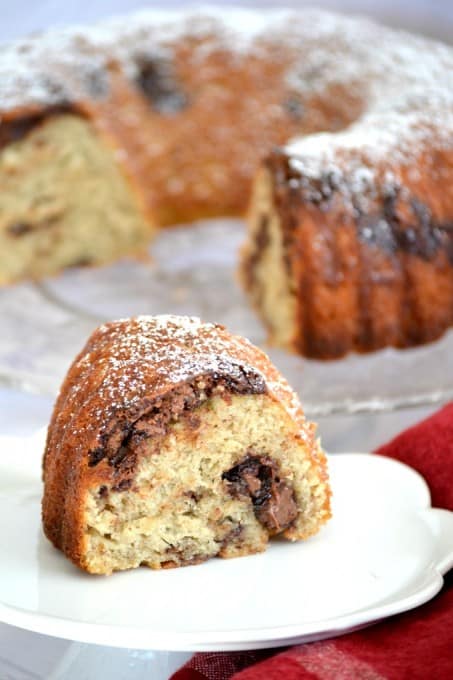 I had my first taste of Nutella when I was at my regular babysitting job when I was in middle school, I think. I had never heard of it and had no idea what it was, but it had something to do with chocolate, so I was game.
Take a look at other Nutella recipes from these terrific bloggers…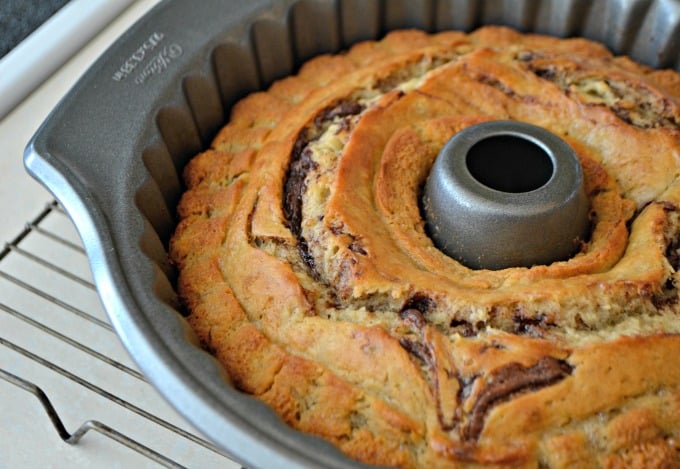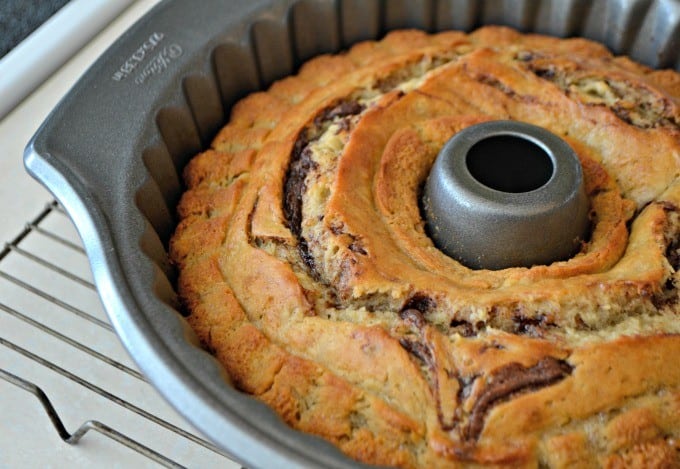 Needless to say, I've been hooked on it ever since, eating it on toast, English muffins, bread with bananas, or just by the plain ol' spoonful. Who's with me?
Some days, I just can't get enough of the stuff and now my kids are hooked as well.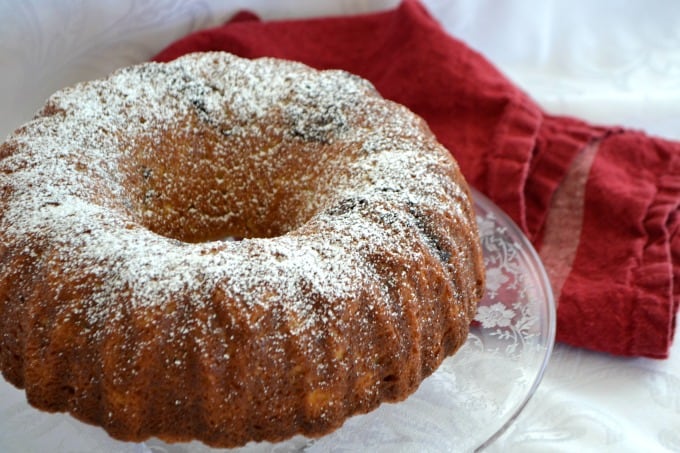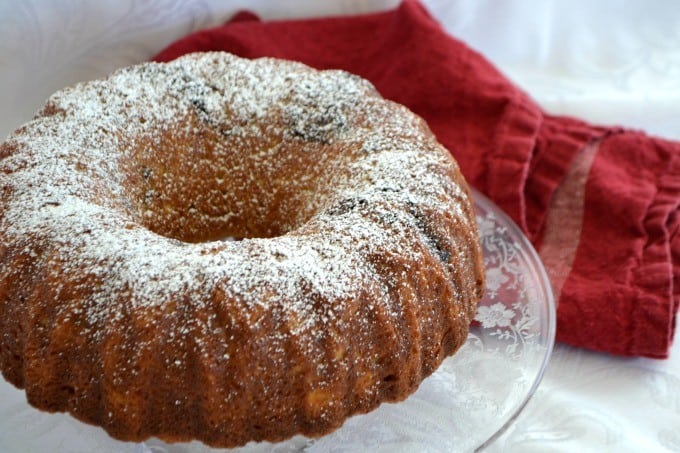 So, when you've got overripe bananas on your kitchen counter and a lonely jar of Nutella sitting in your pantry, bake up this bundt! It will feed the masses. Or at least half of them anyway.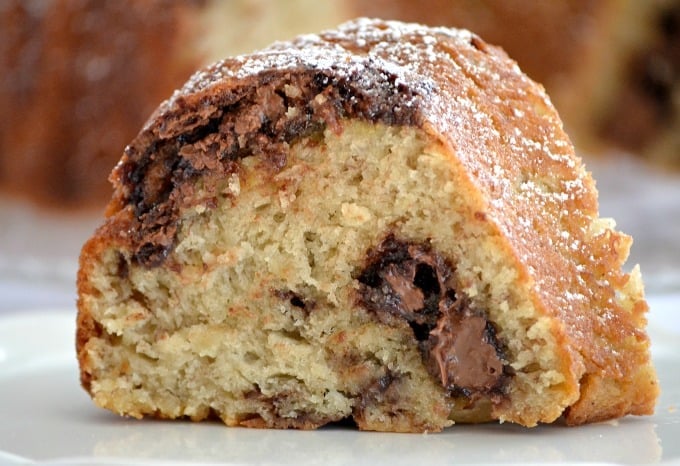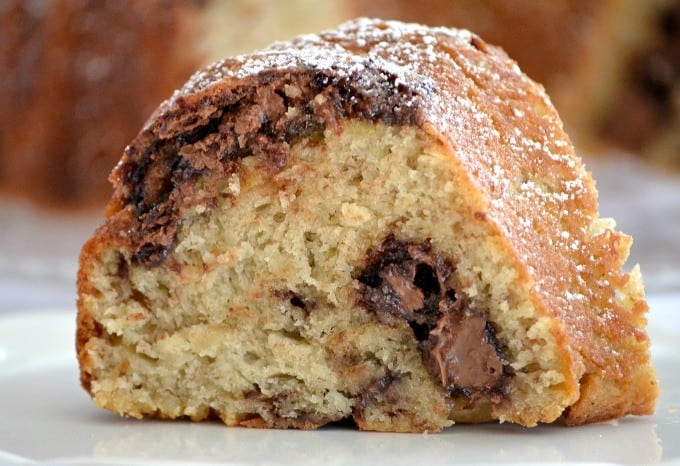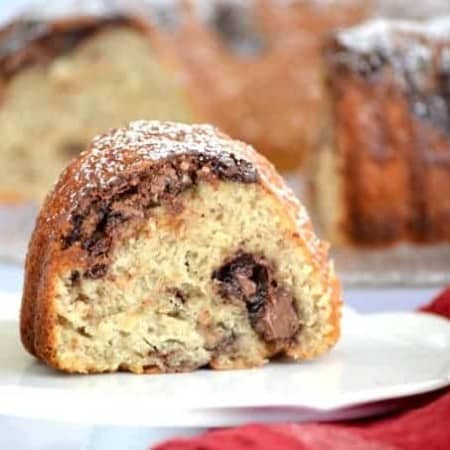 Nutella Swirl Banana Bundt Bread
Nutella mixed in to a banana bread batter and shaped into a beautiful bundt cake. This start your weekend morning off on the right foot when enjoyed with your first cup of coffee.
Ingredients
⅓ cup milk
1 teaspoon white vinegar
2 cups all-purpose flour
1 cup granulated sugar
1 ½ teaspoons baking powder
½ teaspoon baking soda
¼ teaspoon nutmeg
¼ teaspoon cinnamon
¼ teaspoon kosher salt
2 eggs
4 ripe bananas mashed
½ cup unsalted butter melted
½ cup Nutella divided into 8 tablespoons
Instructions
Preheat oven to 350 degrees F. and prepare a 9-cup bundt pan by greasing and dusting it with flour or use a flour baking spray.

In a measuring cup, pour the 1/3 cup of milk. Add the teaspoon of vinegar and let sit for at least 15 minutes while you combine the other ingredients.

In a large mixing bowl, whisk together the flour, sugar, baking powder, baking soda, nutmeg, cinnamon, and salt.

In a medium mixing bowl, lightly beat the eggs. Add the mashed bananas, melted butter and milk mixture. mix to combine.

Add the wet ingredients to the dry and stir until just combined.

Pour half of the batter into the prepared bundt pan.

Place 4 tablespoons of Nutella around the bundt pan and using a knife, swirl it into the batter.

Pour the remaining batter into the pan and again place and swirl the remaining 4 tablespoons of Nutella.

Bake for 30 - 35 minutes or until a toothpick inserted into the center comes out clean.

Transfer pan to a wire rack and allow to cool for 10 minutes before inverting to a cake plate or serving dish.
Did you make this recipe?
Share it with me on Instagram and make sure to follow me on Pinterest for more recipes.
If you like Nutella AND banana bread this will be something you won't want to stop eating, so be careful! Enjoy it and be sure to share it with family and friends!
If you like this Nutella Swirled Banana Bundt Bread, you'll love…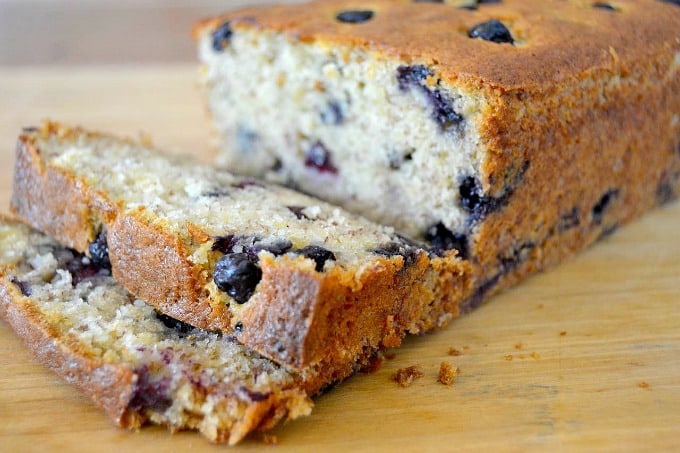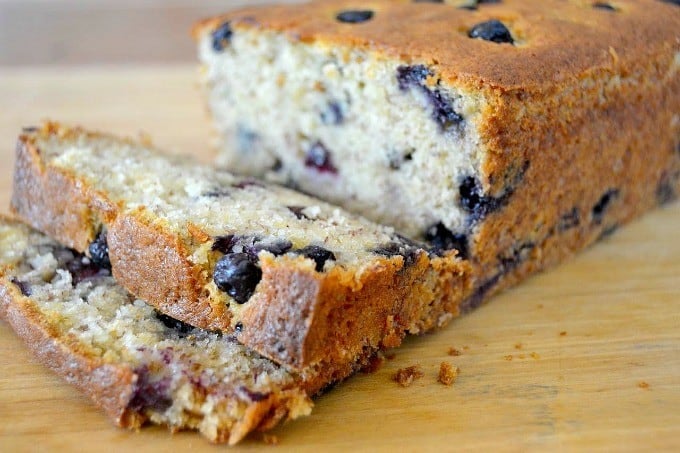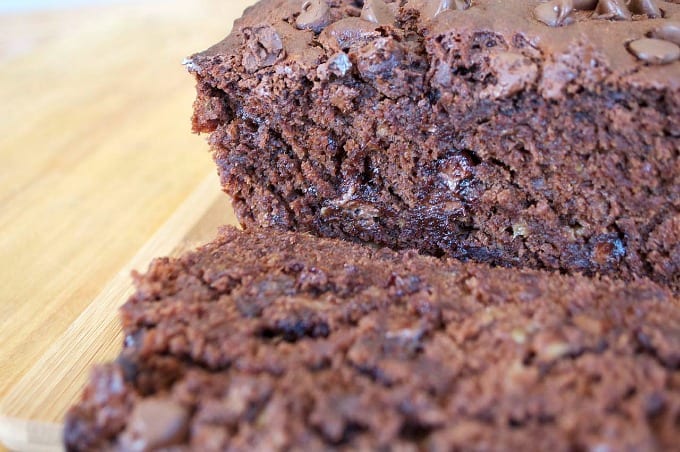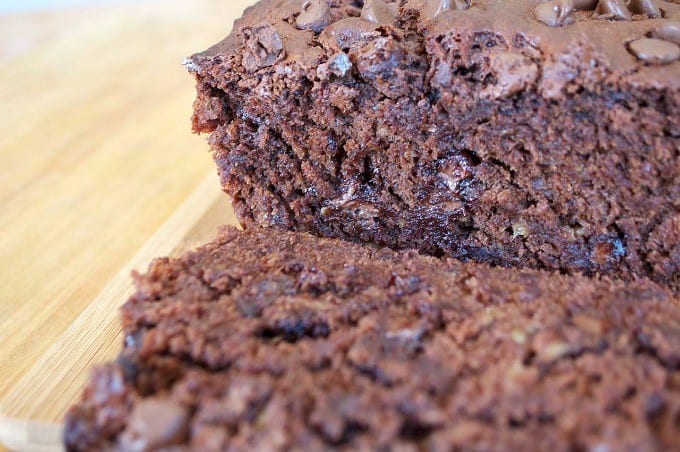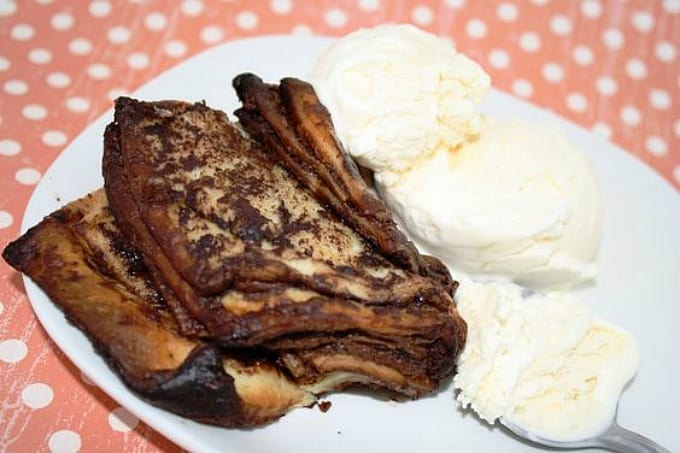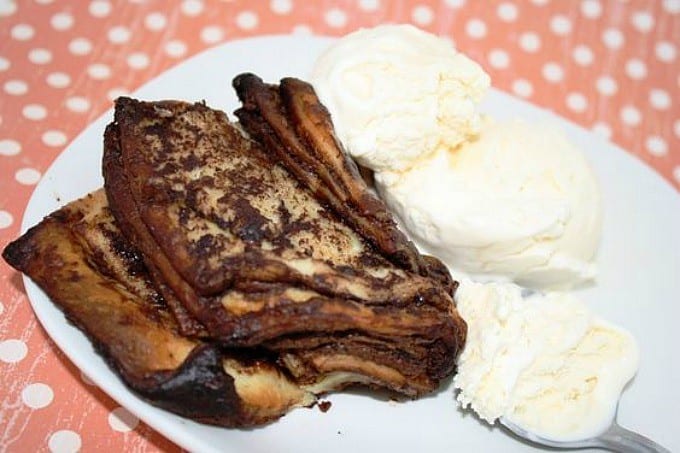 Here are some great snacks to munch on while you're waiting for the bundt to bake!

Reader Interactions