Double Chocolate Banana Bread – that banana bread you grew up on made even better with the addition of unsweetened cocoa powder and semi-sweet chocolate chips. Eat your bananas and enjoy a double chocolate fix at the same time.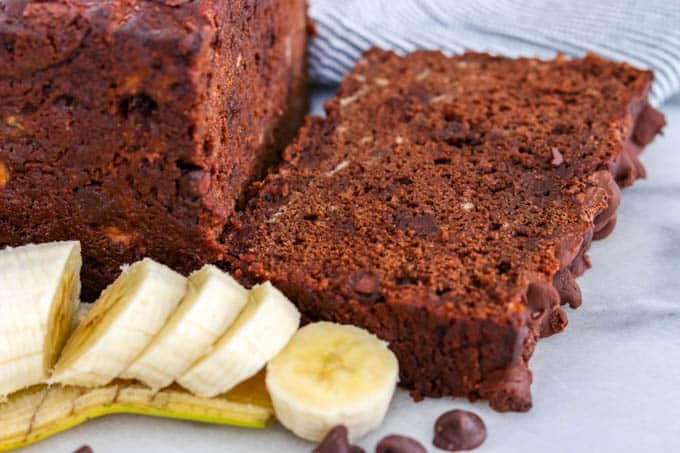 Are you a reader?
*This post contains an affiliate link(s).
I used to be. I mean, I do still read, but I haven't sat down with a book since we were living in New Hampshire which was about 5 years ago.
It was an older book sitting on the shelf of our furnished rental and for the life of me, I can't even remember the name of it or who the author was.
Eeks, if my high school English teachers only knew.
I haven't even read 50 Shades of Grey, nor have I seen the movie. Or any other of the books in the series for that matter.
There was just so much hype about it, that I didn't want to be one to jump on the bandwagon and read it because it was the "in" thing to do.
SAVE THIS DOUBLE CHOCOLATE BANANA BREAD RECIPE TO YOUR FAVORITE PINTEREST BOARD!
I loved reading as a kid. My favorites were The Boxcar Children and all of the Judy Blume books. Have you read any of them?
I remember when everyone was passing Forever around in junior high.
It got so that those of us who hadn't read it yet knew the best page numbers because it was all the girls talked about.
Ah, the good ol' days.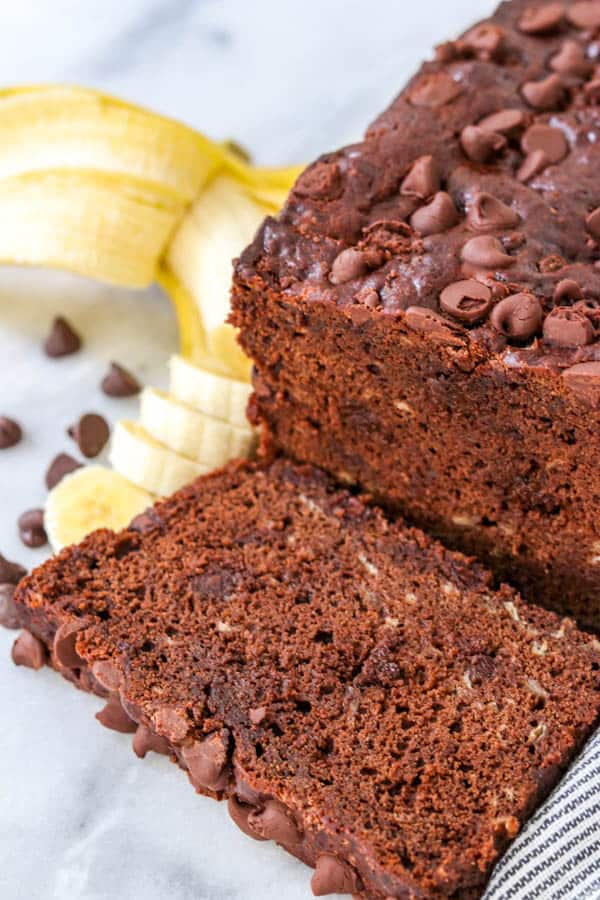 And I love holding a book. I don't want to read it on an iPad, my phone or a computer.
Give me a fat hardcover so that I can hold it and turn the pages before heading off to bed.
Ok, just talking about it makes me want to go grab a book.
On another note, I had company today while photographing this Double Chocolate Banana Bread.
Winnie, my daughter's cat, who you may well remember from her antics in this post was patiently waiting for her slice.
Surprisingly though, this is as far as she crept up on to the table. I think she knew had she put all four paws on, that she was headed for the water bowl.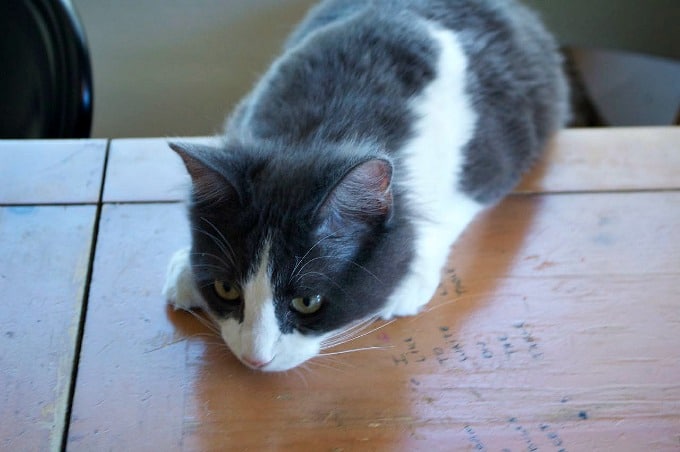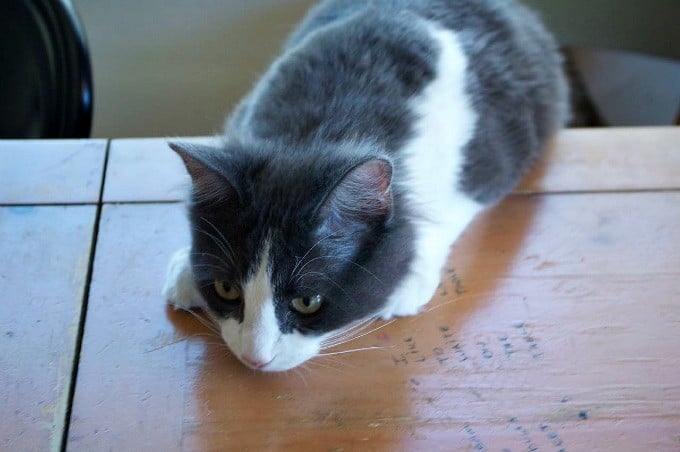 My rule is that if she jumps on the table or the counters, I dip her two front paws in the dog's water bowl and she loves it (said sarcastically as I could). Haha
SIGN UP FOR THE WEEKLY 365 DAYS OF BAKING & MORE
WEEKLY NEWSLETTER DOWN BELOW!
Items you'll need to make this Double Chocolate Chip Banana Bread recipe –
9 X 5-inch loaf pan
Baker's Joy Baking Spray
ripe bananas, but not too ripe. Yellow bananas with quite a few brown spots are good, but not completely browned.
Glass bowls for mixing. I love these.
GIR spatula – the best for getting every last bit of batter out of the bowl!
This cooling rack when you remove it from the pan and before serve it or wrap it in foil to serve later.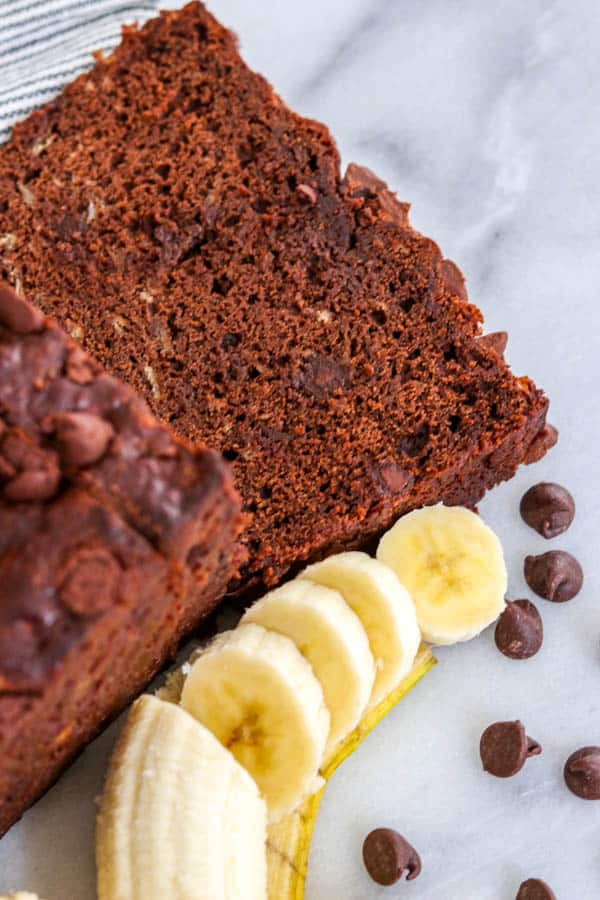 How to make Chocolate Chocolate Chip Banana Bread –
grease and flour your 9 x 5-inch baking pan with a baking spray or grease with butter and dust with flour. It will make it SO much easier to remove it.
Don't use overripe bananas. You want ones that are still a little yellow with brown spots.
If your bananas are really brown, leaky and have attracted fruit flies then it's probably time to toss them as the flies could have laid some eggs. I know, it's not fun to discuss, but it's reality.
Whisk all of your dry ingredients together in a large bowl and your wet ingredients together in a medium bowl.
Add the wet ingredients to the dry and then mix until JUST combined. You don't need to mix to the point where the whole batter is moist – there can be some dry ingredients left.
The more you mix, the more gluten is created which in turn makes it more dense and chewy.
So, a good rule of thumb is stir until just moistened.
Pour the batter into the prepared baking pan and then gently spread to evenly disperse the batter.
Bake for 55-60 minutes or until a cake tester or toothpick inserted into the middle comes out clean.
Cool the bread into the pan for at least 10 minutes before turning out on to a cooling rack to cool completely.
I've found that this Double Chocolate Chip Banana Bread recipe tastes best and slices best after it's been wrapped in plastic wrap and tin foil and left to sit overnight.
Just imagine how delicious that first slice will be with your morning cup of coffee or tea!
Enjoy the bread…
If you make this Double Chocolate Banana Bread, please be sure to tag @365daysofbaking on Instagram and use the hashtag #365daysofbakingandmore. I'd love to see it!
Now that I've got you thinking about chocolate, you might be interested in these Easy Chocolate Bear Claws. They'll be a great addition to any breakfast menu.
You can't go wrong with chocolate chip cookies and these Soft and Chewy Chocolate Chip Cookies made with pudding mix are perfect for dipping into a cold glass of milk.
Too hot outside and looking for some double chocolate to drink? Then this Double Chocolate Malted Milkshake recipe has your name written ALL over it. Admittedly, I have a hard time sharing when I make it.
When the weather turns cold you can make this Chocolate Covered Cherry Hot Chocolate. The cherry and chocolate flavor combination is out of this world and really does taste like you're drinking a chocolate covered cherry.
You can even eat chocolate for breakfast when you make this Chocolate Croissant Baked French Toast. You'll be sure to surprise the kids and bring smiles to their faces when they wake up to this one morning!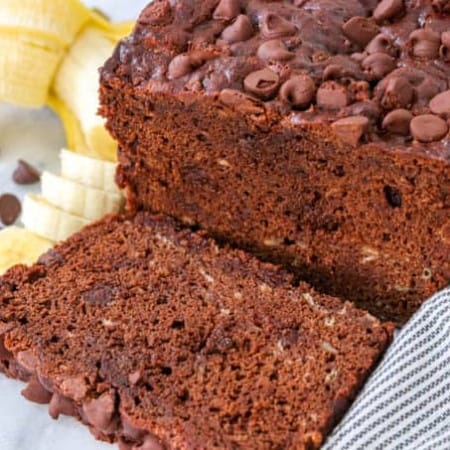 Double Chocolate Banana Bread
This Double Chocolate Banana Bread - is the banana bread you grew up with, but now it's even better with unsweetened cocoa and semi-sweet chocolate chips!
Ingredients
2 cups all-purpose flour divided
1 cup granulated sugar
½ cup unsweetened cocoa powder
1 teaspoon cinnamon
1 ½ teaspoons baking powder
½ teaspoon baking soda
¼ teaspoon Kosher salt
4 medium ripe bananas mashed
2 eggs
½ cup unsalted butter melted
¼ cup milk
1 ½ teaspoons pure vanilla extract
1 ¼ cup semi-sweet chocolate chips divided
Instructions
Preheat oven to 350 degrees F. and prepare a 9 X 5-inch bread pan by greasing it with butter and lightly flouring it.

In a large bowl, whisk together the flour, sugar, unsweetened cocoa powder, cinnamon, baking powder, baking soda, and salt.

In a medium bowl, mix together the bananas, eggs, melted butter, vanilla and rmilk.

Add wet ingredients to dry and mix until just incorporated.

Gently fold in 1 cup of the semi-sweet chocolate chips.

Pour into prepared loaf pan and spread to even out.

Scatter the remaining 1/4 cup semi-sweet chocolate chips on top of batter.

Bake for 55 - 60 minutes or until a toothpick inserted into the middle comes out clean.

Allow to cool in pan for 10 minutes before turning out onto a wire rack to cool completely.

Bread is best and easiest to cut when stored in tin foil overnight and eaten the next day.
Nutrition
Serving: 1g | Calories: 455kcal | Carbohydrates: 60g | Protein: 7g | Fat: 22g | Saturated Fat: 13g | Cholesterol: 66mg | Sodium: 149mg | Potassium: 334mg | Fiber: 4g | Sugar: 32g | Vitamin A: 390IU | Calcium: 73mg | Iron: 3.8mg
Did you make this recipe?
Share it with me on Instagram and make sure to follow me on Pinterest for more recipes.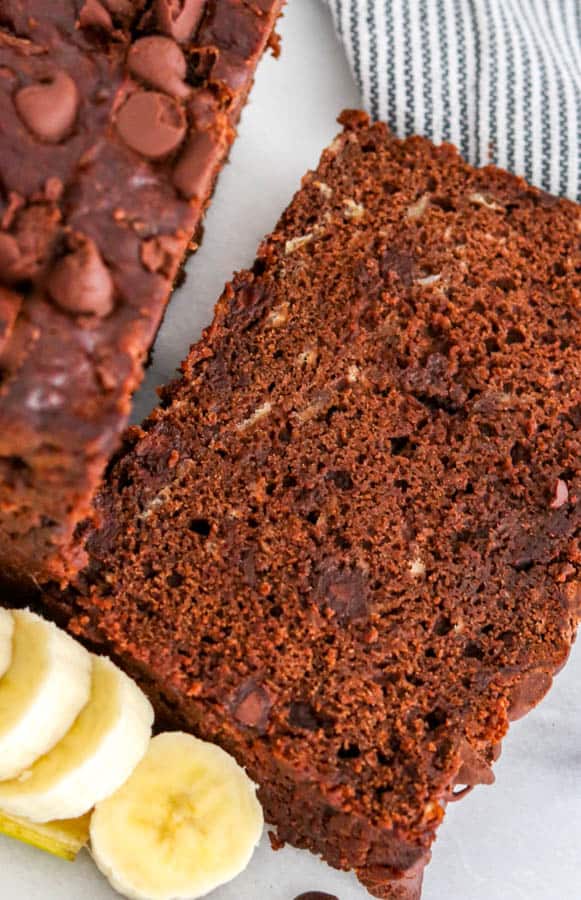 I used to rate everything I made on a scale of 1 – 4 and this Double Chocolate Banana Bread earned 3 rolling pins.
We liked it.
I like love banana bread and this one might just be my favorite.
You can even make French toast with it.
And I like love chocolate. This recipe is my favorite and is the most popular one on the blog, too!
However, I just don't think I like chocolate in my banana bread.
Sometimes, things just shouldn't be brought together.
Like Swedish Fish and Oreos.
NOOOOO!!!!
The rest of the family really liked this Double Chocolate Banana Bread though and will probably want me to make it again which I will, I just think the chocolate overshadowed the taste of the banana.
Try it for yourself and report back to me – I'd love to hear what you think!
If you like this Double Chocolate Banana Bread then you'll LOVE…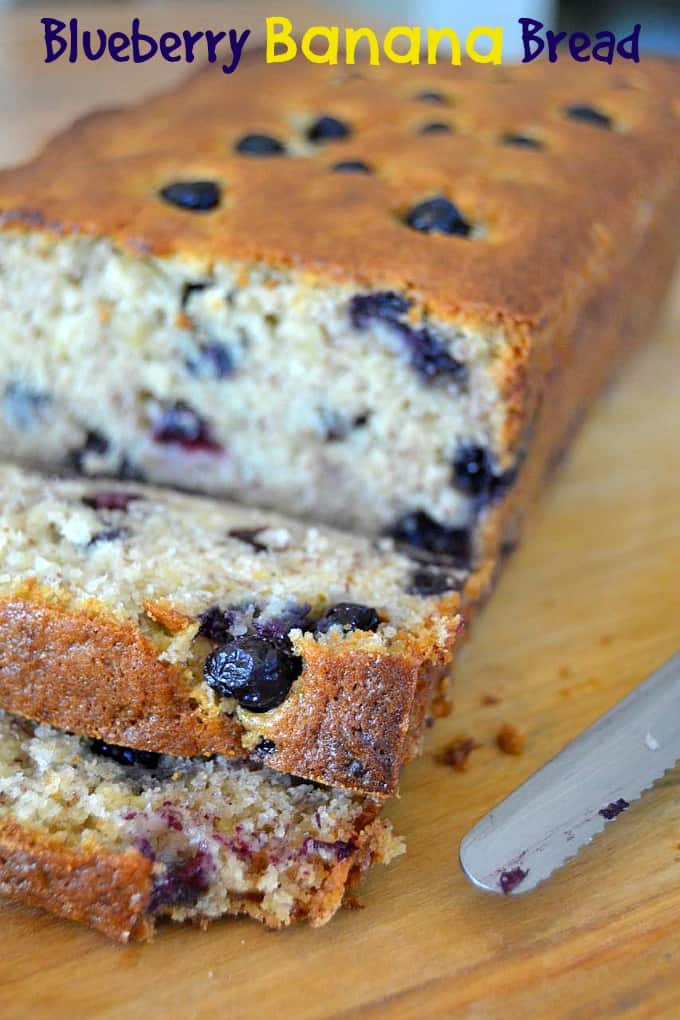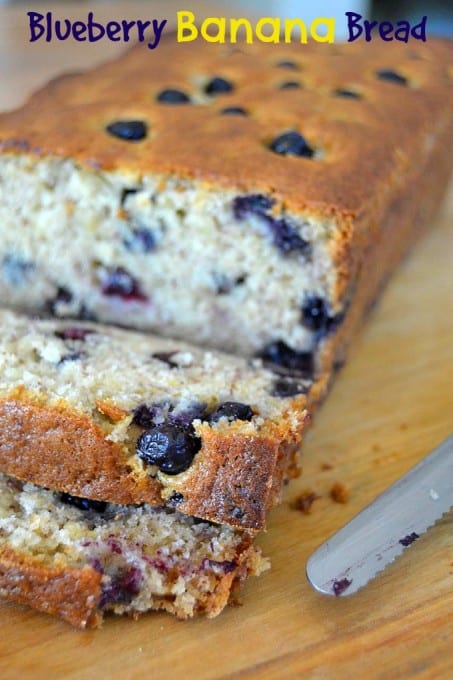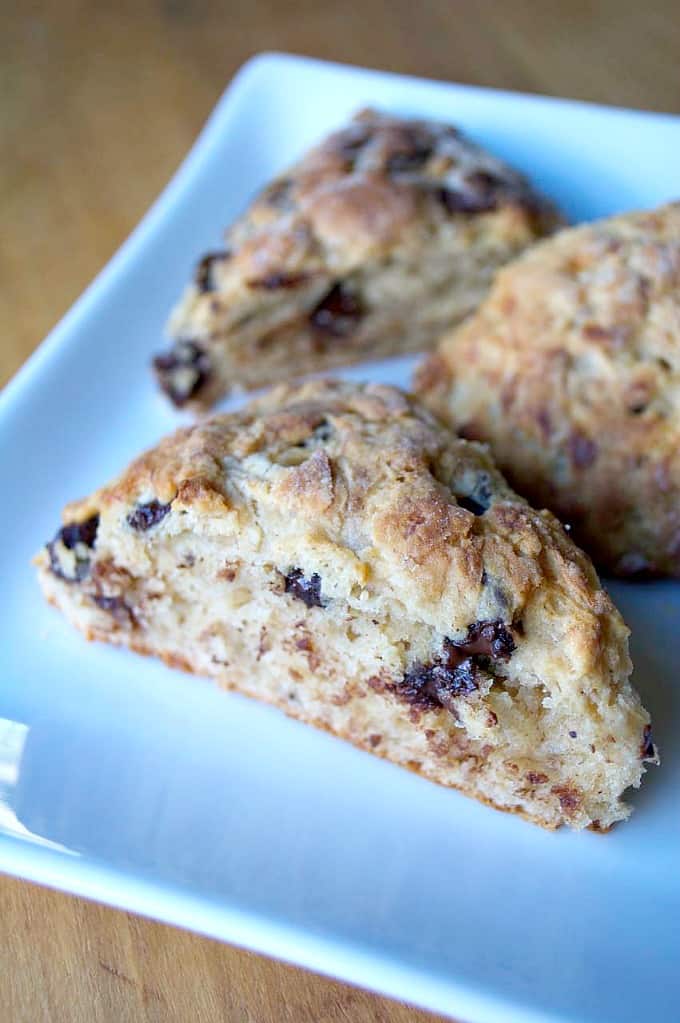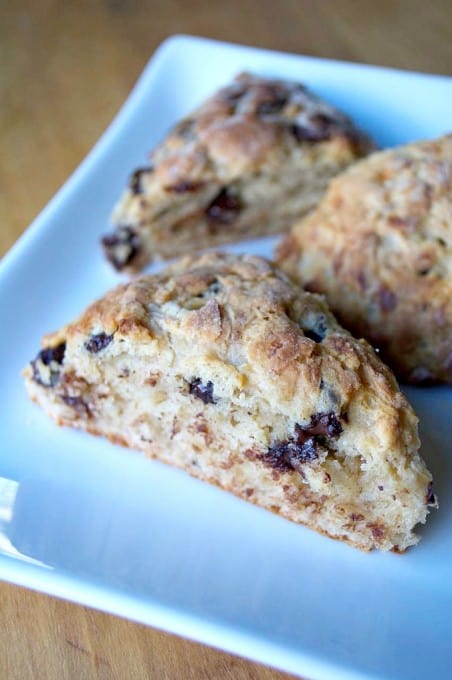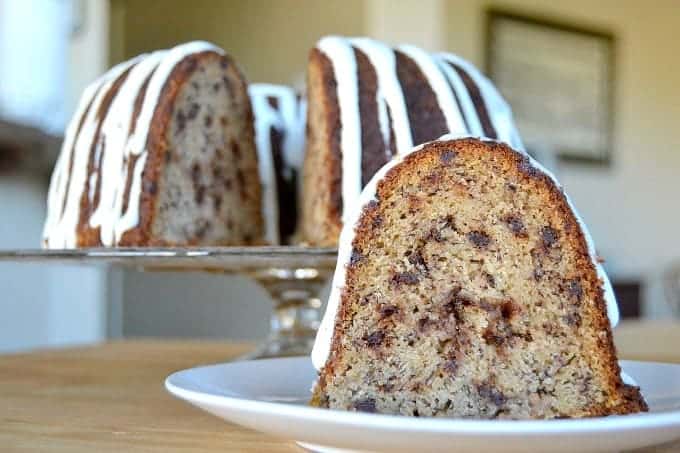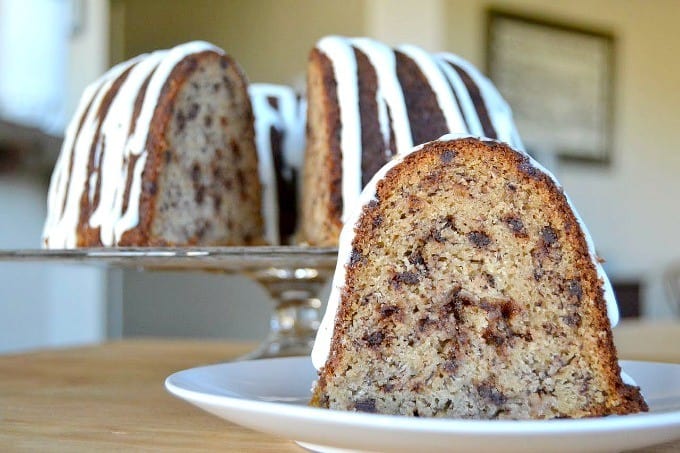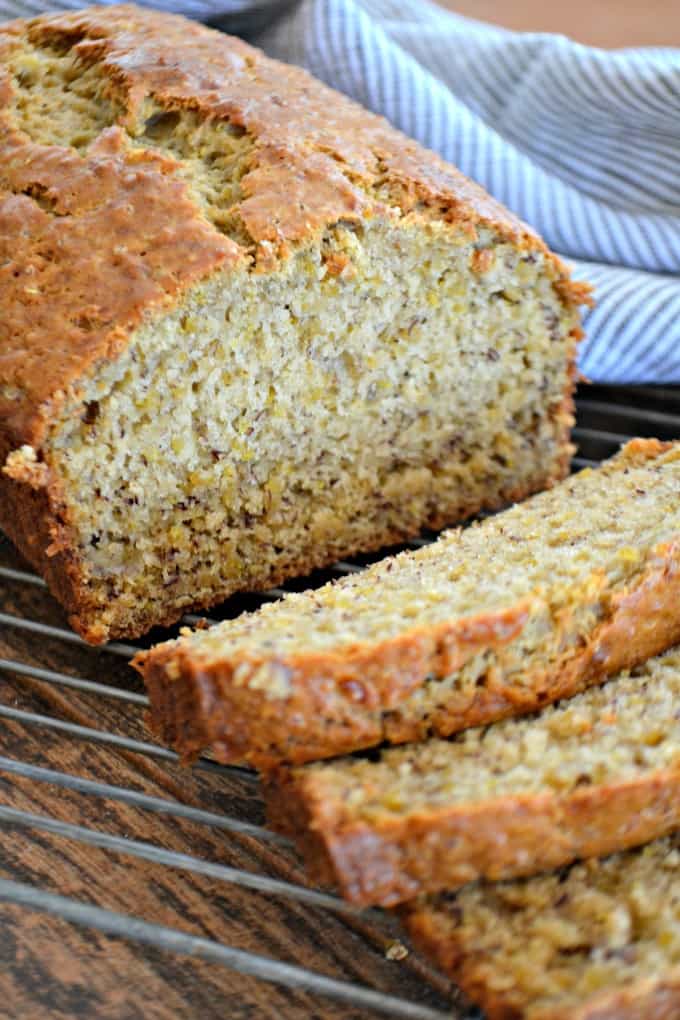 This post was originally published May 19, 2015, and has been updated with pictures and in format on July 24, 2019.
This post contains an affiliate link(s). These are links that can take you to a product (or products) that I recommend. I do receive a portion of the sales from any items purchased through those links and your purchases encourage my baking, cooking and butter habit, and contribute to the life of this blog. I thank you so very much for your support. Let's keep having fun in the kitchen!!
Reader Interactions