This Chocolate Croissant Baked French Toast is made of mini chocolate chips, flaky croissants, and cream cheese combined with a sweetened egg mixture. It's the perfect morning treat for your chocolate lover. Serve it as an easy make ahead breakfast or as a chocolate croissant bread pudding for dessert. It's another French toast casserole similar to this Baked Cinnamon French Toast that everyone loves!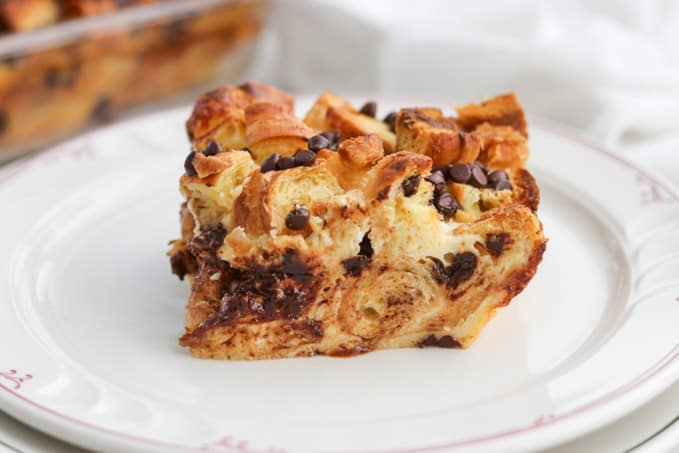 Yes, you can have chocolate for breakfast.
I know what you're thinking because I've often thought about it, too.
It seems a little odd to have a favorite treat so early in the day, but believe me, each bite of this is worth it.
If this chocolate recipe might be a little too much first thing in the morning, then think about making it for a brunch or even enjoying it as dessert.
But, if you'd still like some chocolate for breakfast, you can have a slice or two of this double chocolate banana bread.
These easy chocolate bear claws are seriously one of THE easiest breakfast treats I've ever made.
Everyone who tries them absolutely loves them.
Another even simpler chocolate breakfast recipe are theses 2-ingredient Nutella cinnamon rolls. Ok, so they might not exactly be chocolate, but they're still super delicious!
Or, if you're a muffin lover, then you'll definitely want to make these Chocolate Banana Muffins.
They most certainly don't last long whenever I bake them, that's for sure.
SAVE THIS CHOCOLATE FRENCH TOAST CASSEROLE RECIPE TO YOUR FAVORITE PINTEREST BOARD!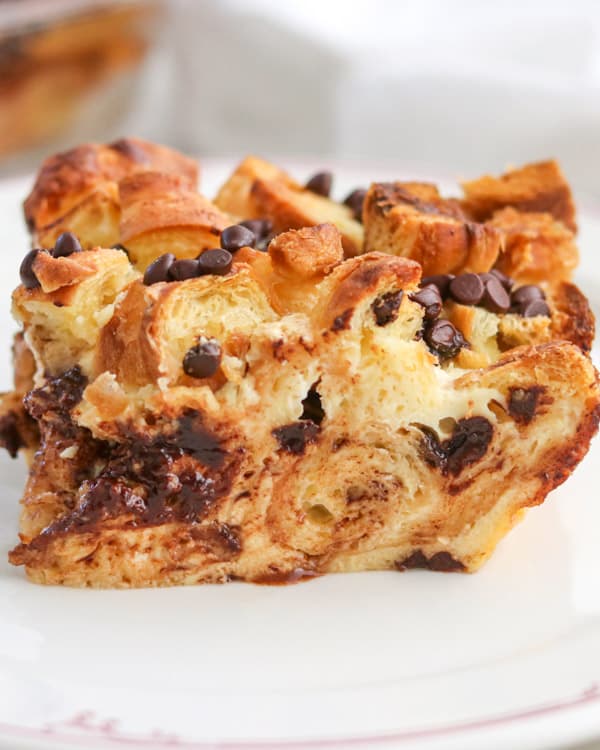 I absolutely love baked French toasts because they are so gosh darn easy.
I love that you can put them together the night before and pop them into the oven with little or no fuss the next morning.
This makes them especially great breakfast recipes for holidays or mornings when you'll have company.
Everyone loves them, too!
With different flavors like blueberry, peaches and cream, and even caramel apple, there's something for everyone in the family.
You can even make a French toast casserole with waffles and strawberries!
What ingredients do I need to make this croissant breakfast casserole?
croissants – small or large, it doesn't matter. You'll either tear or cut them up into bite size pieces to make 10 cups. This way if you'd still like to make this recipe, but use another bread such as a challah or even bagels, you can do that.
mini chocolate chips – you can use the regular size if you'd like. I found that the mini melted better when it was baking
cream cheese – two packages and bring them to room temperature so that they're easy to mix.
sugar
pure vanilla extract – you can use regular vanilla extract. I prefer to use the pure vanilla extract because it tastes better, but I know that it might be in the budget for some. But whatever you do, PLEASE do not use the imitation vanilla extract if you can afford to. You don't want to sacrifice taste for a few pennies.
eggs
milk
heavy cream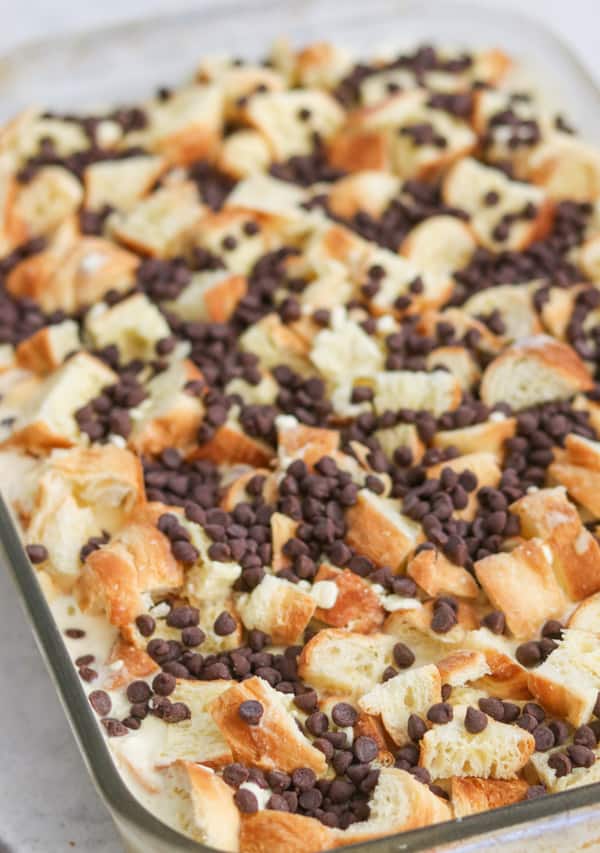 SIGN UP FOR THE WEEKLY
365 DAYS OF BAKING & MORE
NEWSLETTER BELOW!
Tips for making this Chocolate Croissant French Toast –
Spray your baking dish – it will make removing slices from the pan that much easier.
Tear or cut the croissants into small pieces. Bite size will be good. You want a total of about 10 cups. You can see my note in the recipe.
Put half of the croissant pieces into the dish and sprinkle half of the chocolate chips over them. Then put the remainder of croissants on top.
In a mixing bowl, beat the cream cheese until smooth.
Add in the eggs, sugar, vanilla and salt and mix thoroughly.
Slowly pour in the milk and heavy cream while mixer is running on low. A hand whisk works well for this step, also.
Gently pour the egg mixture all over the croissants.
Sprinkle the remainder of chocolate chips over the pan.
Cover with plastic wrap and refrigerate overnight or for a minimum of 8 hours.
When ready to bake, preheat oven to 350°F and remove plastic wrap.
Bake for 45-55 minutes. 45 minutes will give you a softer texture and baking for 55 minutes will be quite a bit firmer. My personal preference is at about the 52 minute mark.
Sprinkle with confectioners' sugar and serve with maple syrup.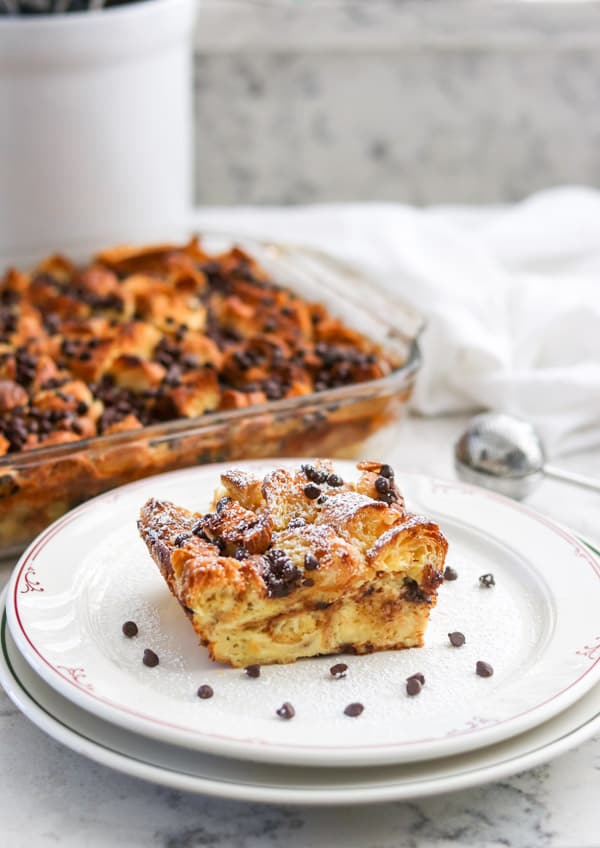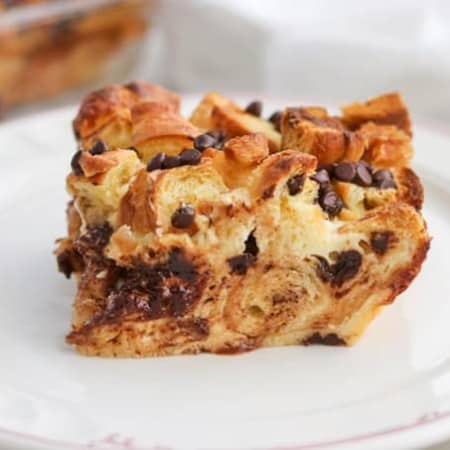 Chocolate Croissant Baked French Toast
Chocolate Croissant Baked French Toast is chocolate and croissants soaked overnight in an egg cream cheese mixture. It's a delicious overnight breakfast that chocolate lovers will adore.
Ingredients
10 cups small sliced croissant pieces
12 ounces package mini semi-sweet chocolate chips
16 ounces cream cheese room temperature
8 eggs
2 cups milk
½ cup heavy cream
½ cup sugar
2 tablespoons vanilla
¼ teaspoon salt
Instructions
Prepare a 9 X 13-inch baking dish by spraying it with cooking spray.

Cut the croissants up into bite-size pieces or 1-inch cubes. Layer half of them into the prepared pan.

Sprinkle half of the mini chocolate chips over the croissants.

Place the remaining croissants into the pan.

In a large mixing bowl, beat the cream cheese until smooth.

Add the eggs, sugar, vanilla and salt, and mix until thoroughly combined. With the mixer on low, pour in the milk and heavy cream. Beat until well mixed.

Gently pour and evenly distribute the egg mixture over the entire pan.

Cover with plastic wrap and refrigerate overnight.

When ready to bake in the morning, preheat oven to 350 degrees F and remove plastic wrap. Bake for 45 – 55 minutes. 45 minutes will give you a softer, slightly unfinished middle whereas 55 minutes will be firmer.
Notes
For the original recipe, I used 8 jumbo croissants which I found at Walmart, but you can use 12 regular size. You'll need about 
Nutrition
Serving: 1g | Calories: 1480kcal | Carbohydrates: 141g | Protein: 30g | Fat: 88g | Saturated Fat: 49g | Cholesterol: 363mg | Sodium: 1388mg | Potassium: 660mg | Fiber: 9g | Sugar: 54g | Vitamin A: 2830IU | Vitamin C: 1mg | Calcium: 236mg | Iron: 8mg
Did you make this recipe?
Share it with me on Instagram and make sure to follow me on Pinterest for more recipes.

Reader Interactions