This Peaches and Cream Baked French Toast recipe is a delicious combination of peaches, cream cheese, French Bread and an egg mixture. It's a make-ahead breakfast everyone's sure to love.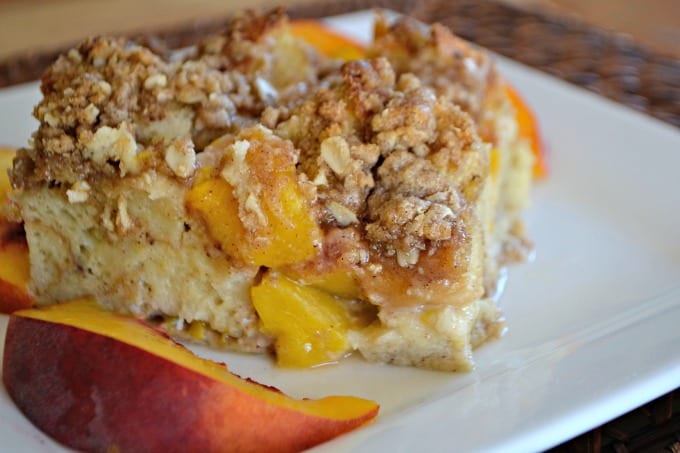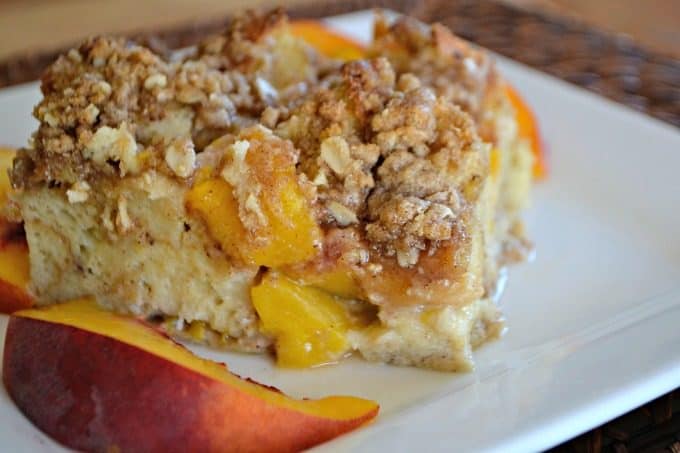 Whenever I make an overnight French toast bake I feel like I'm cheating.
I think it's because it's just SO easy to put together. You'll prepare them the night before, put the crumb topping on in the morning and then stick it in the oven so it's ready when everyone wakes up!
That is if you're up before everyone else. If not, have someone else put it in the oven and you sleep in. I think I like that idea better.
SAVE THIS BAKED FRENCH TOAST CASSEROLE TO YOUR FAVORITE PINTEREST BOARD!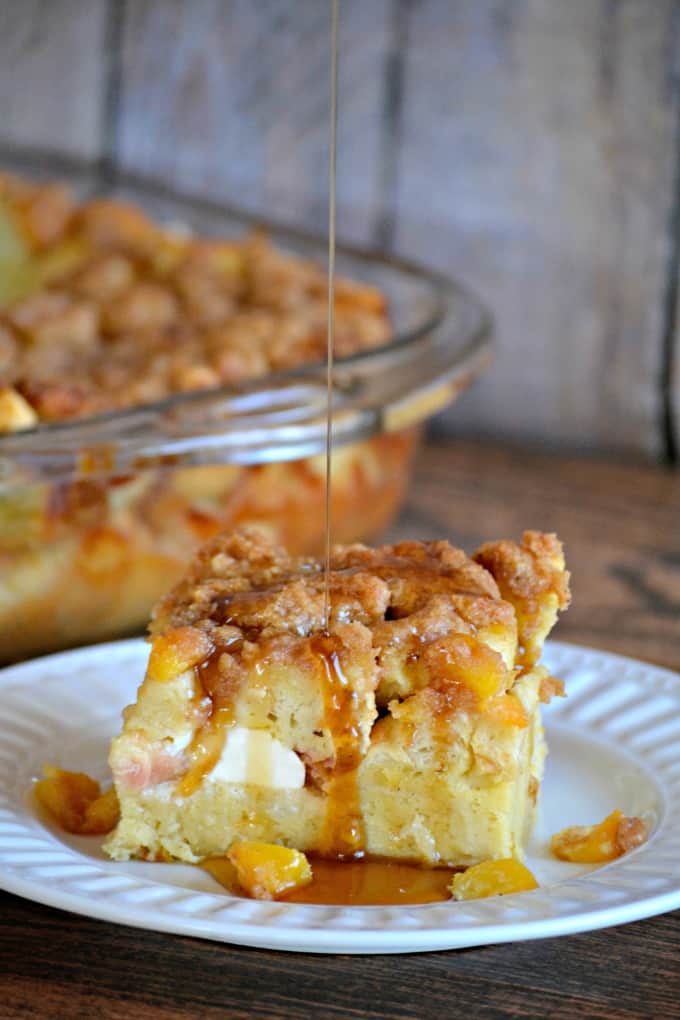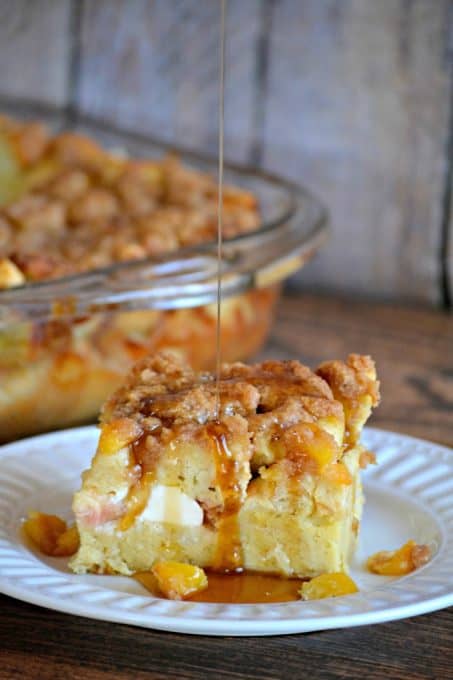 The great thing about these baked French toast recipes is that they can be changed in so many ways. I've already got a few of them on the blog and will be coming up with others soon as well.
The family loves taste testing them all and they get so excited when I make them because it's one of our favorite breakfasts. I think I should put them all into an e-book, so they're handy for you to access, Be on the look-out for it!
What ingredients do I need to make this French Toast Casserole?
A loaf of French bread
You don't even need to make it a French bread loaf. You can use sourdough, Italian, challah, or even a ciabatta.
I've even used bagels, and croissants in some of my baked French toast recipes.
You just want to make sure you have enough of it, anywhere from 8-10 cups.
Peaches – THE most important ingredient! I mean, come on, you can't make an overnight peach French Toast recipe without them!
I used 3 medium fresh peaches for this recipe, but of course, you can use canned peaches. Just make sure you drain them first.
Maybe cut up a few extra, too so you can enjoy these Cinnamon Peach Pancakes while you're waiting for the French toast to set overnight.
Cream cheese
Cut the cream cheese into smaller squares as directed so that they're evenly distributed throughout the casserole.
Eggs
Milk
Heavy cream
Granulated sugar and light brown sugar
Vanilla
Cinnamon, nutmeg, and salt
Flour
Butter, chilled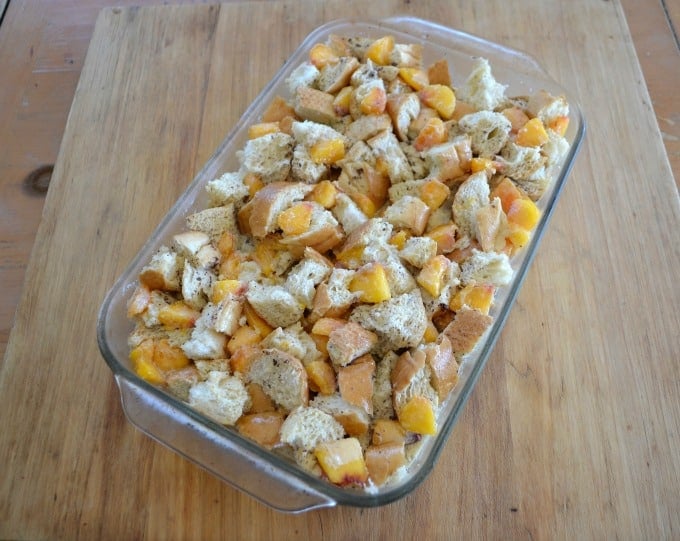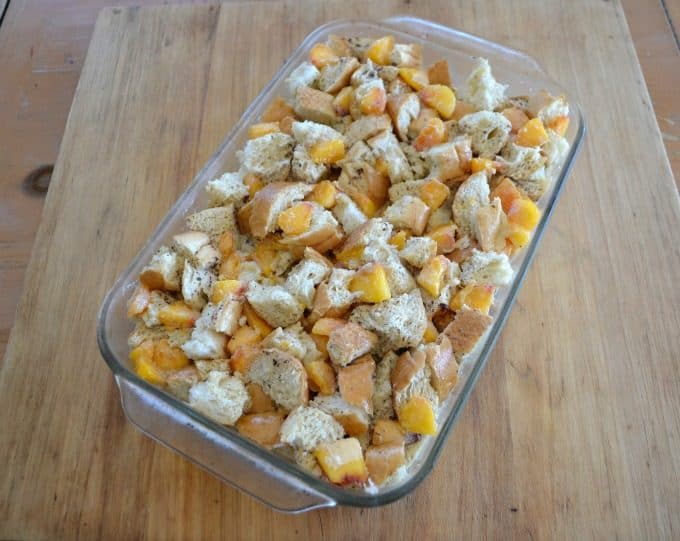 How do I make this oven baked French toast?
Cut the loaf of bread into 1-inch cubes.
You can even rip it if you'd like.
Place half of the bread cubes, peaches and cream cheese into the baking dish. Then do the same with the remaining bread, peaches, and cream cheese.
Mix the eggs, milk, heavy cream, sugar, vanilla and cinnamon.
Pour over the bread, making sure it is evenly distributed.
Cover tightly with plastic wrap and refrigerate for a minimum of 6 hours, but best overnight.
You can assemble the topping either the night before and refrigerate it overnight or make it before baking.
When ready to bake, preheat oven to 350° F. Remove the plastic wrap and sprinkle the topping over the whole thing.
Then pop her into the oven to bake for 45 – 55 minutes. The longer you bake, the harder it will become, so if you like a softer, more custard-like texture, then bake for 45 minutes. We've found our liking to be at 52 minutes.
Serve with maple syrup!

SIGN UP FOR THE WEEKLY
365 DAYS OF BAKING & MORE
WEEKLY BELOW!
This Peaches and Cream Baked French Toast and my other baked French toast recipes are a hit any time of year. They're absolutely perfect for when your next morning will be a busy one, like Christmas!
I know the holidays are over, but I've got cans of pumpkin in my pantry. I'll definitely be making this Pumpkin Spice Baked French Toast in the next few weeks for sure! We also give it to our dog, Logan when his tummy bothers him. It's good for their digestive system.
With berry season approaching, I'm super excited to make this Almond Berry French Toast Casserole. The flavors in it are amazing and I feel great about serving it with the fresh fruit. I just feel like it makes the whole dish a bit healthier, even if that is in my own head. haha
Have you even had stuffed French toast? It's life changing, I tell ya. Seriously.
If you're a Nutella lover, then this Banana Nutella Stuffed French Toast has your name written ALL over it! It's easy to make and so much more delicious to eat! Man, I want some now!!
Strawberry Stuffed Mocha French Toast is for you coffee and strawberry lovers. why not combine your favorite beverage with one of your favorite breakfasts? Kill to birds with one stone, so to speak. 😉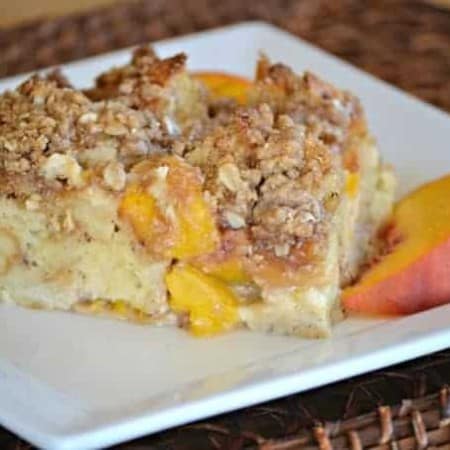 Peaches and Cream Baked French Toast
This Peaches and Cream Baked French Toast is made of peaches, cream cheese, French Bread and an egg mixture to make it the perfect make-ahead breakfast favorite everyone's sure to love. 
Ingredients
1 loaf French bread cut into one inch cubes
2 ½ cups chopped peaches
8 ounces cream cheese cut into 16 cubes
8 eggs
2 cups milk
½ cup heavy cream
¾ cup sugar
2 tablespoons vanilla
½ teaspoon cinnamon
Topping
½ cup all-purpose flour
½ cup packed light brown sugar
1 teaspoon cinnamon
½ teaspoon nutmeg
¼ teaspoon salt
8 tablespoons butter chilled
Instructions
Spray an 9 X 13-inch baking dish with cooking spray.

Place half of the bread cubes into the prepared baking dish and evenly distribute half of the peach pieces and half of the cream cheese cubes.

Place the remaining bread cubes on top along with the remaining peaches and cream cheese.

In a medium bowl, whisk together eggs, milk, cream, sugar, vanilla and the 1/2 teaspoon cinnamon.

Evenly pour mixture over the bread and peaches.

Cover with plastic wrap and place into refrigerator to sit overnight.
Topping
In a medium bowl, combine flour, brown sugar, and teaspoon cinnamon, nutmeg, and salt. Mix thoroughly.

Cut butter into small pieces and with a pastry cutter or two forks, blend butter into mixture until it resembles coarse meal.

Place mixture into a plastic bag. Seal and refrigerate overnight. This step can also be done in the morning before placing baking dish into the oven.
Baking
When ready to bake the next morning...preheat oven to 350° F.

Uncover the baking dish and sprinkle the butter mixture evenly around the top.

Bake uncovered for 45 – 55 minutes. 45 minutes will give you a softer, slightly unfinished middle whereas 55 minutes will be firmer.
Nutrition
Serving: 1g | Calories: 676kcal | Carbohydrates: 77g | Protein: 17g | Fat: 34g | Saturated Fat: 19g | Cholesterol: 251mg | Sodium: 619mg | Potassium: 378mg | Fiber: 2g | Sugar: 42g | Vitamin A: 1443IU | Vitamin C: 3mg | Calcium: 173mg | Iron: 3mg
Did you make this recipe?
Share it with me on Instagram and make sure to follow me on Pinterest for more recipes.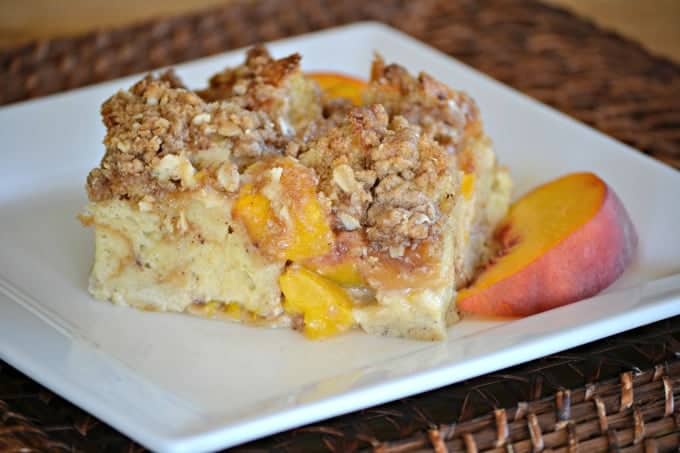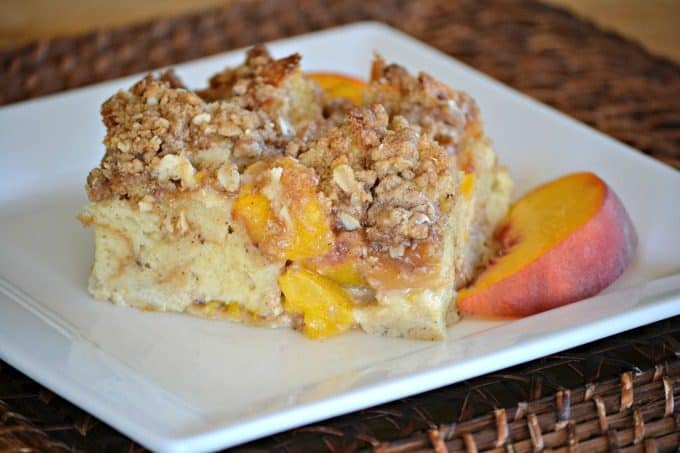 Reader Interactions