With a long weekend ahead, this Almond Berry French Toast Casserole will be the perfect breakfast for your Sunday morning! Filled with fresh berries, and the great taste of almonds, it's delicious plain, drizzled with maple syrup or covered in waffle sauce. Everyone will love it!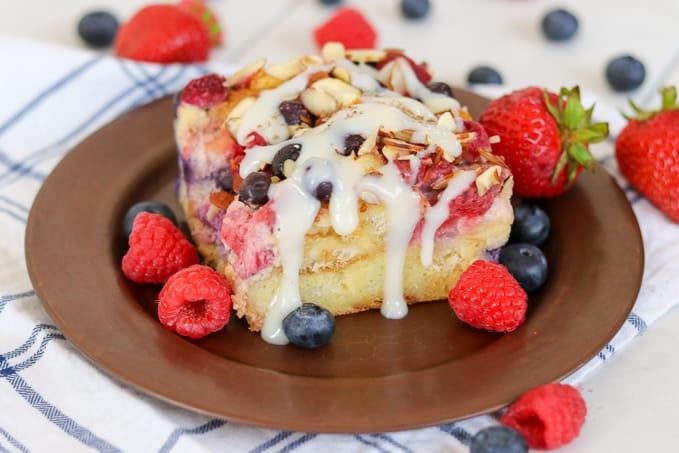 Berries for breakfast!
*This post contains an affiliate link(s).
Isn't fresh fruit one of THE best things to eat for breakfast?
Yeah, you can eat your eggs, bacon and hash browns, but it's the fresh fruit that I love having more than anything else at that time of day.
If it's breakfast for dinner, that's another story. The fresh fruit doesn't fit for me. That meal has to be more of a savory one.
But in the morning, I'm ALL over it. Parfaits, a simple bowl of fruit, crepes with fruit, pancakes topped with the stuff.
Yup, gotta have it in the morning. No ifs, ands, or buts!
SAVE THIS ALMOND BERRY FRENCH TOAST CASSEROLE TO YOUR FAVORITE PINTEREST BOARD!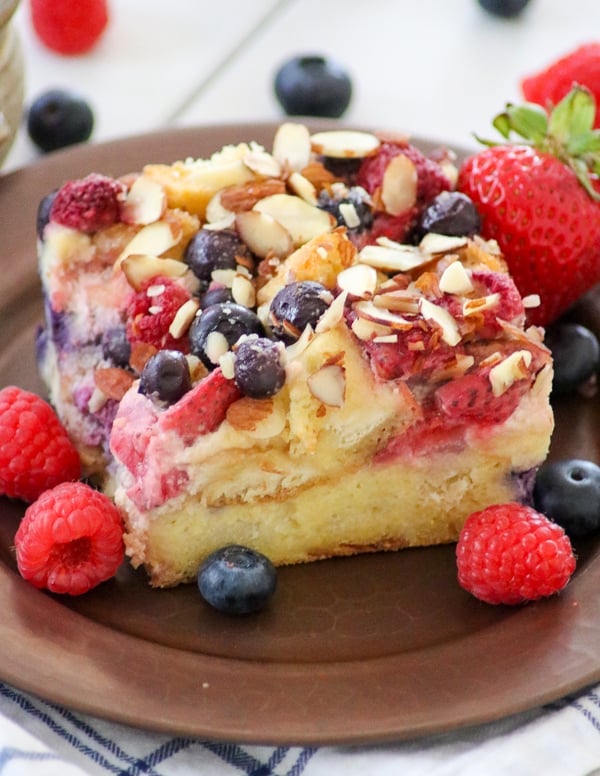 One of my favorite things to make for breakfast is French toast. It's always been one of my favorite things to eat, so over the years, I do believe my family has eaten their fair share of it. They've come to love it, too, especially Cameron.
It's most definitely one of his favorite foods. I wonder if he's found a place in Philadelphia that makes a great one.
If you're in the Philly area or have been and can recommend a place I'd love to be able to pass that on to him, so let me know!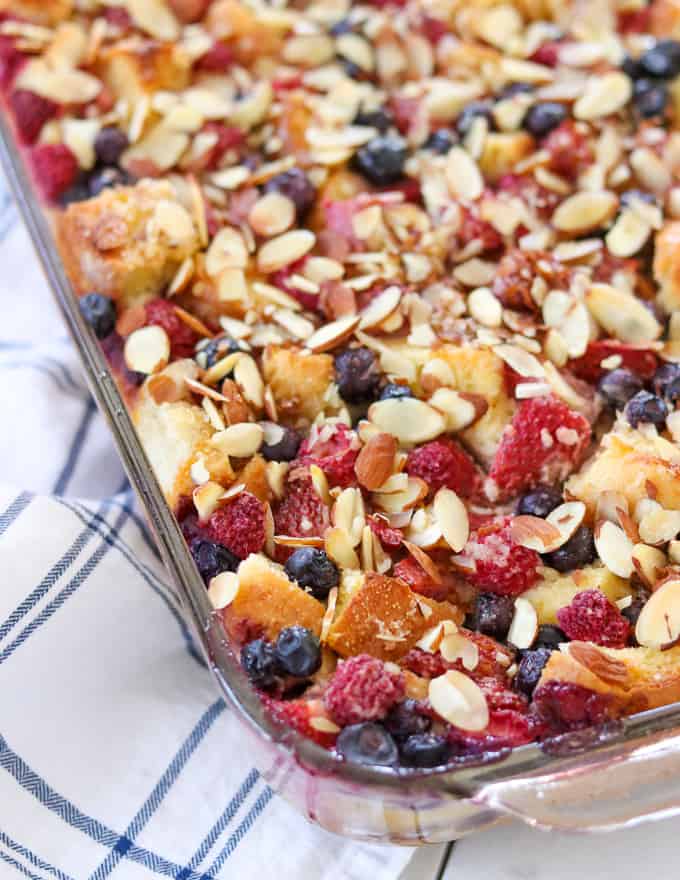 I absolutely fell in love with this Almond Berry French Toast Casserole when I made it. It was just so doggone tasty! And you can say, "oh Lynne, you're just saying that because you made it and want us to make it, too". Nope.
I'd come up with the idea to combine the almond flavor with the fresh fruit and had been mulling it around in my head for a while until it came to fruition.
LOL see what I did there – FRUIT-ion?? I couldn't resist. It was just so appropriate, right?
Yes, the Almond Berry French Toast Casserole is quite delicious, but I must say that it's even BETTER when drizzled with Miss Mary's Grandma's Waffle Sauce! No joke.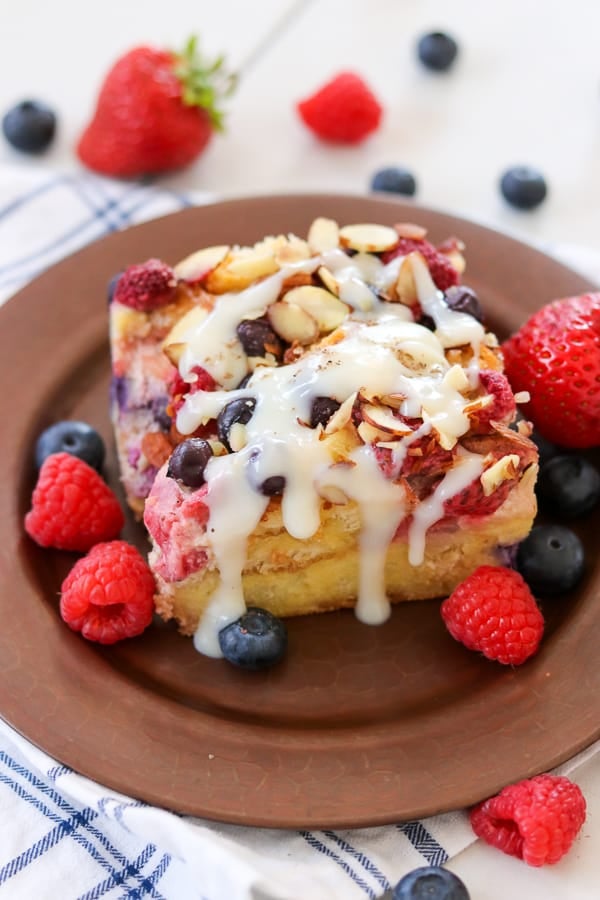 I mean, you don't have to put it on. You can eat it plain or with maple syrup, but OMG, is it that much better with it! I really think you'll agree. This sauce is just like magic! I tasted it a few months ago when I was at Mary's house and it literally changed my life. For the better, of course.
Now I just want to put it on everything! Well, maybe not pot roast, but all breakfast carby things. haha
Do it. You won't be sorry.
Frankly, I can never have enough ideas for French toast. When I came up with the idea for this Almond Berry French Toast Casserole, I was browsing the web for similar ideas and saw these wonderful recipes from other bloggers.
When I was growing up, my aunt made THE best Cinnamon French Toast, like this one from Jenny at Honey and Birch. I could never figure out why my mom didn't use cinnamon and never wanted it any other way after eating it at my aunt's. It was seriously life-changing. haha
These Cranberry-Orange Baked French Toast Cups from Allie at Baking a Moment will surely be a hit on Thanksgiving or Christmas morning. I can't wait to make them. YUM! Bring on the holidays!!
So while looking for delicious French toast recipes, I came across this wonderful idea from Dara at Cookin' Canuck. They're Savory French Toast Bites with Bacon. And while you probably wouldn't have them for breakfast, they'll make a great appetizer! I love the idea of cutting them into bite-size pieces for guests. I'm excited to serve them both at holiday parties and for those upcoming game days.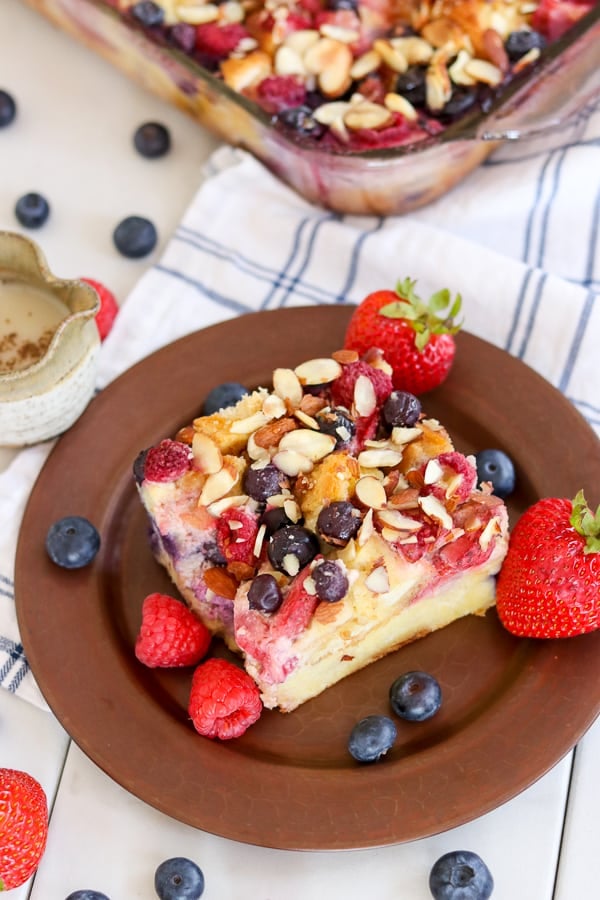 How to Make this Almond Berry French Toast Casserole –
Use 12 cups of bread cubes. This recipe, as well as my other Baked French Toast recipes all, use about 12 cups of cubed bread. I most often use a loaf of French or Italian bread, but a Challah or croissants taste delicious as well.
While mixing the batter, be sure to scrape down the sides of the bowl. The almond paste and cream cheese will stick to the sides and bottom, so you want to make sure everything is mixed together really well. These silicone spatulas are my absolute favorite! They're all one piece and are really sturdy.
I'm not nuts about the seeds in raspberries and if you dislike them as well, they can be omitted altogether or you can use just 6 ounces instead of the full 12.
The recipe can be divided in half and placed into an 8 X 8-inch baking dish.
When baking, I like to place a cookie sheet on the rack underneath the Almond Berry French Toast Casserole. As it bakes, it will expand and will just make clean-up easier should anything fall out of the pan.
I use this raw sugar, but you can find it at your local Walmart or favorite grocery store. And it's not imperitive that you use it, it just adds a nice little texture and sweetness.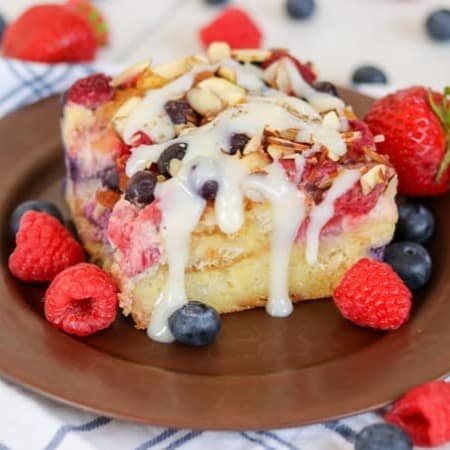 Almond Berry French Toast Casserole
This Almond Berry French Toast Casserole with fresh berries is the perfect breakfast for this weekend! Drizzled with waffle sauce, everyone will want more!
Ingredients
8 ounces cream cheese room temperature
8 ounces almond paste
8 large eggs
½ cup sugar
2 tablespoons pure vanilla extract
2 cups milk
2 cups heavy cream
12 cups bread cubes
1 pound strawberries diced and divided
12 ounces blueberries divided
12 ounces raspberries divided
½ cup sliced almonds
2 tablespoons raw sugar
Instructions
Prepare a 9 X 13-inch baking dish by spraying it with cooking spray.

Beat the cream cheese and almond paste until smooth, about 2-3 minutes.

Add 4 eggs and mix until incorporated. Scrape the bowl and add the 4 remaining eggs. Mix well again.

Add sugar and vanilla.

Gradually add the milk and cream and mix until thoroughly combined, scraping down the sides and bottom of the bowl as needed.

Place half of the bread cubes into the prepared baking dish. Add half of the strawberries, blueberries, and raspberries.

Repeat with remaining bread cubes, strawberries, blueberries, and raspberries.

Mix the batter again and gently pour over the entire baking dish. I find that using a ladle is the easiest way to do it.

Cover with plastic wrap and refrigerate overnight for at least 8 hours.

When ready to bake, preheat oven to 350° F. Remove the plastic wrap and sprinkle with the sliced almonds and raw sugar.

Bake for 45-55 minutes. 45 minutes will give you a softer, slightly unfinished middle whereas 55 minutes will be firmer. I usually bake ours for about 51 minutes.

Serve plain, with pure maple syrup or with this delicious Waffle Sauce from Barefeet in the Kitchen.
Nutrition
Calories: 551kcal | Carbohydrates: 48g | Protein: 13g | Fat: 34g | Saturated Fat: 15g | Cholesterol: 203mg | Sodium: 288mg | Potassium: 423mg | Fiber: 5g | Sugar: 28g | Vitamin A: 1110IU | Vitamin C: 32.7mg | Calcium: 207mg | Iron: 2.5mg
Did you make this recipe?
Share it with me on Instagram and make sure to follow me on Pinterest for more recipes.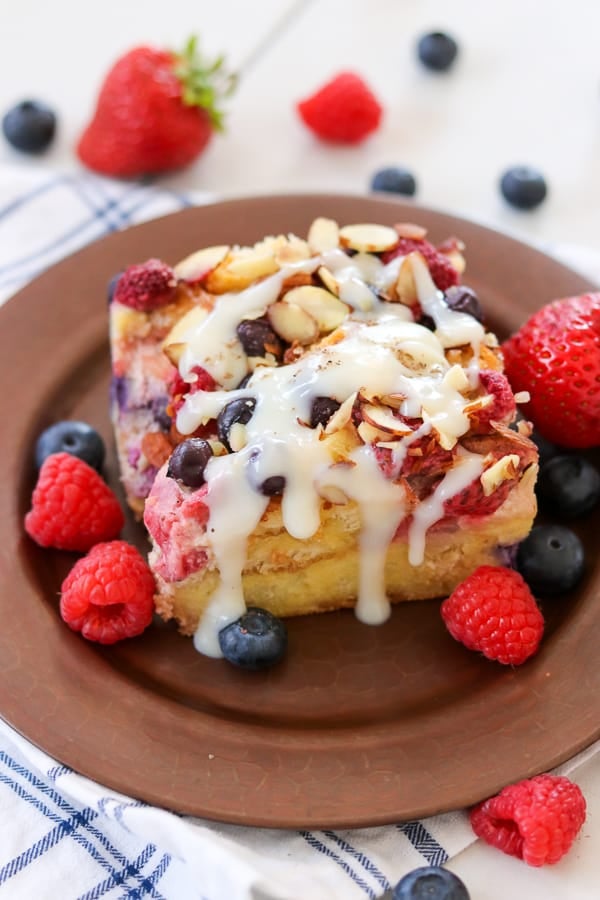 If you like this Almond Berry French Toast Casserole then you'll enjoy…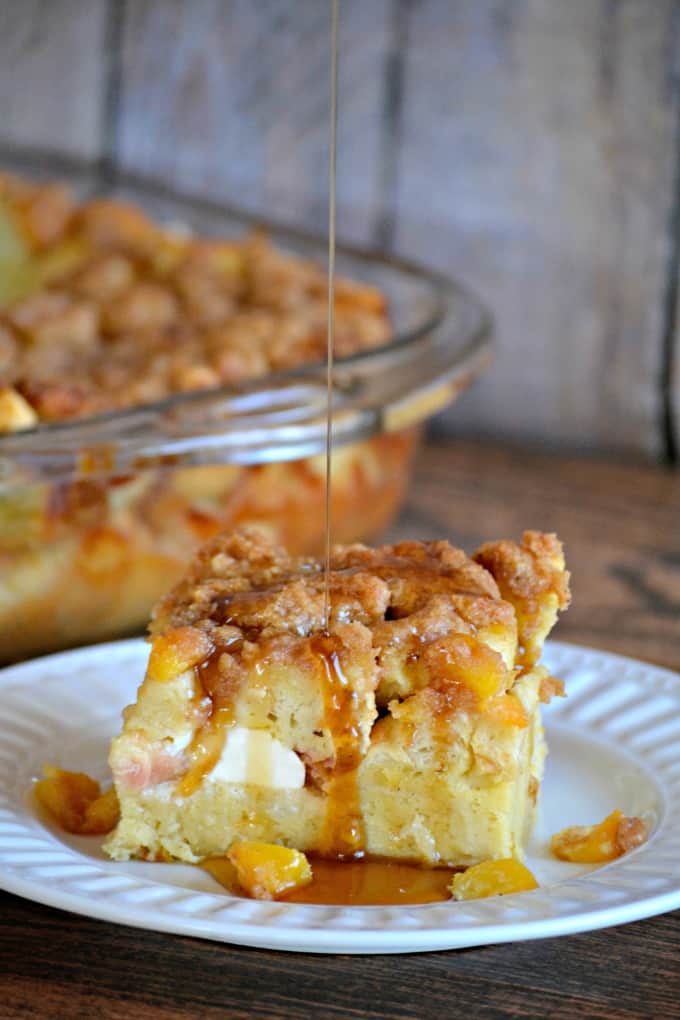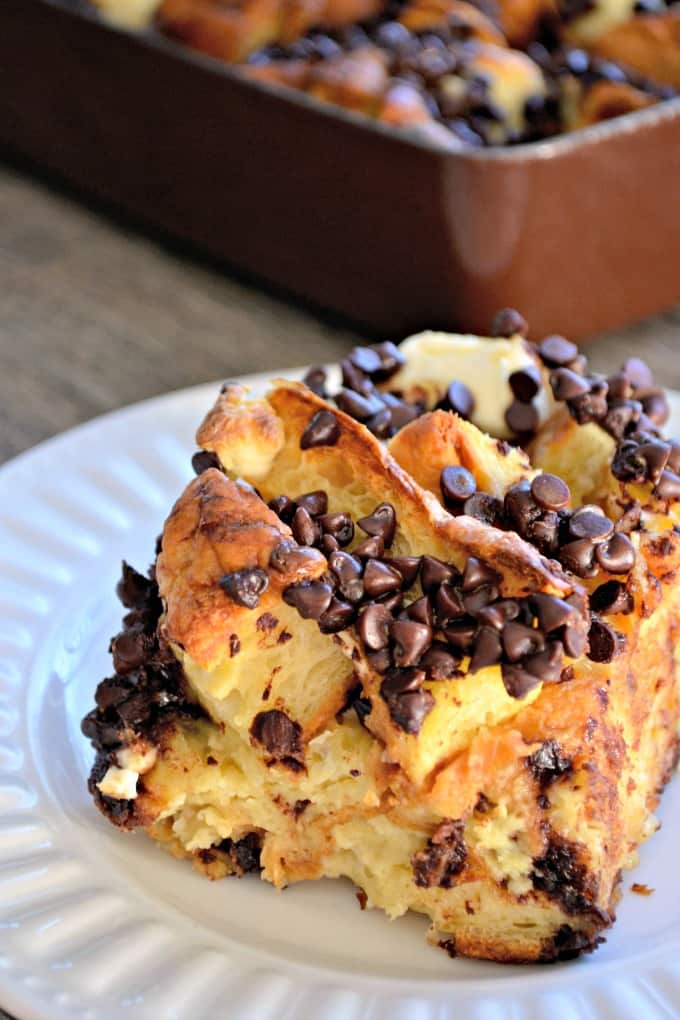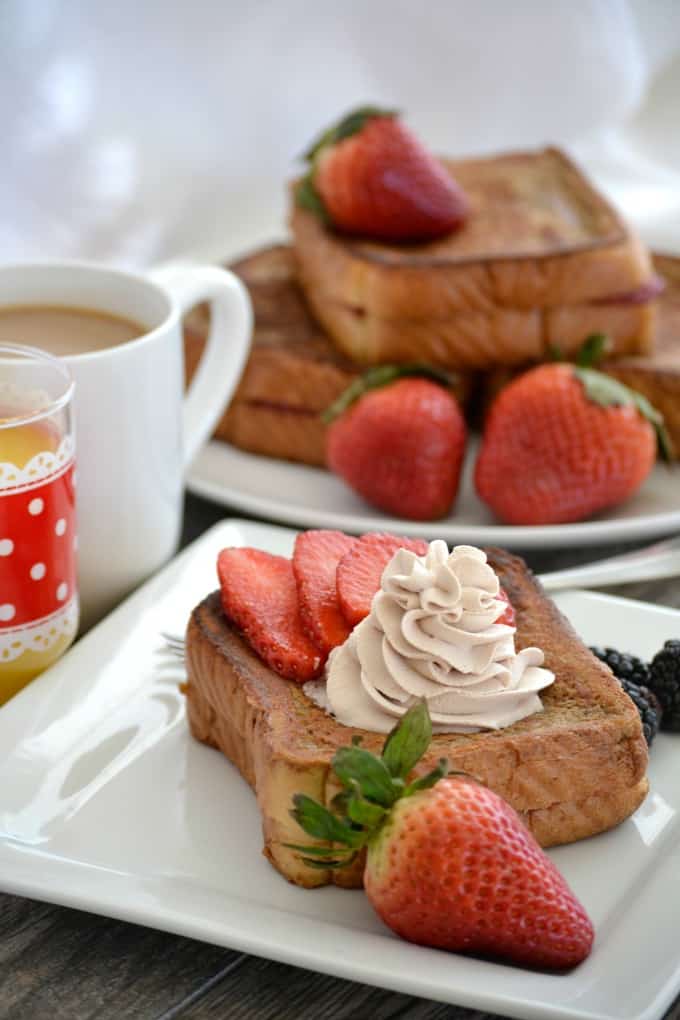 And of course, you can't forget the BACON!!!!
Make your bacon THIS way and it will come out PERFECTLY every time!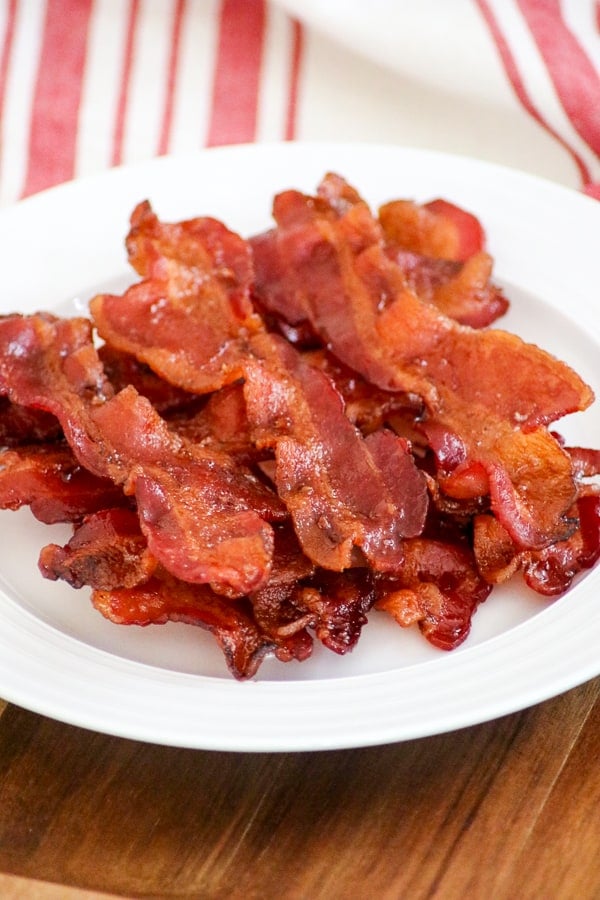 *We are a participant in the Amazon Services LLC Associates Program, an affiliate advertising program designed to provide a means for us to earn fees by linking to Amazon.com and affiliated sites.
These are links that can take you to a product (or products) that I recommend. I do receive a portion of the sales or credit for my future purchases from any items purchased through those links. Your purchases encourage my baking, cooking and butter habit, and contribute to the life of this blog. I thank you so very much for your support. Let's keep having fun in the kitchen!!
Reader Interactions