This Chocolate Cheesecake Dip is a deliciously creamy chocolate treat. Served with O Organics® Vanilla Animal Cookies, O Organics Mini Chocolate Chip Cookies, and O Organics Cheddar Lions along with a variety of assorted fruit, this will quickly become a new favorite after-school snack!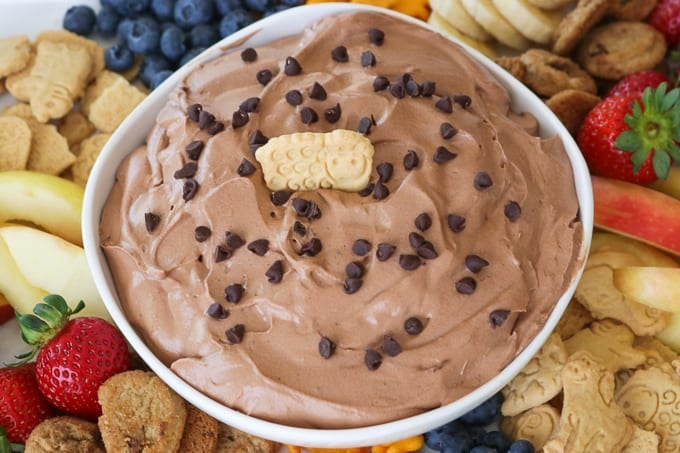 After school snacks don't have to be difficult.
They can be easy, delicious AND fun!
I so remember having those long days at school when I was either stressed out over a pop quiz, tired from listening to teachers talk all day long, bored out of my mind or all of the above.
Am I alone in this?
I can't be.
I'm sure you've been there.
SAVE THIS CHOCOLATE CHEESECAKE DIP RECIPE TO YOUR FAVORITE PINTEREST BOARD!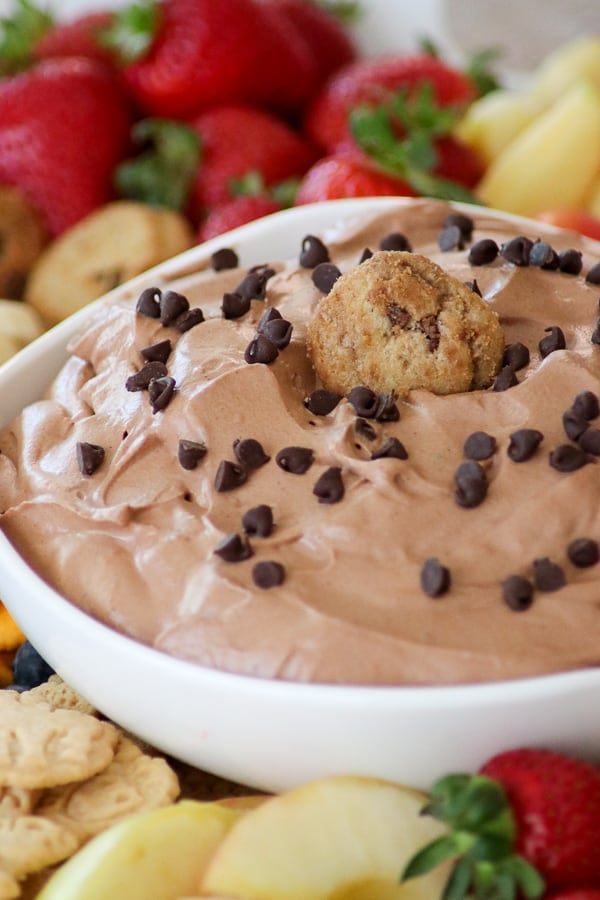 It was years ago, but at the same time, it seems like yesterday, too.
One thing I definitely remember though is walking in the door after school and grabbing a snack. I'd eat while vegging out in front of the TV for the hour that General Hospital was on.
Nearly every day in high school I couldn't wait to get off the bus to see what Luke and Laura were up to.
I laugh when I think about how obsessed my friends and I were with that show.
I was a latchkey kid. Remember those?
Is that what they're even called now? There must be some new term for kids who are home without adult supervision after school that I'm not aware of.
Growing up, my mother worked in my father's office, so more often than not I was left to feed and entertain myself until they both returned home around dinner time. And of course, I was expected to finish my homework as well.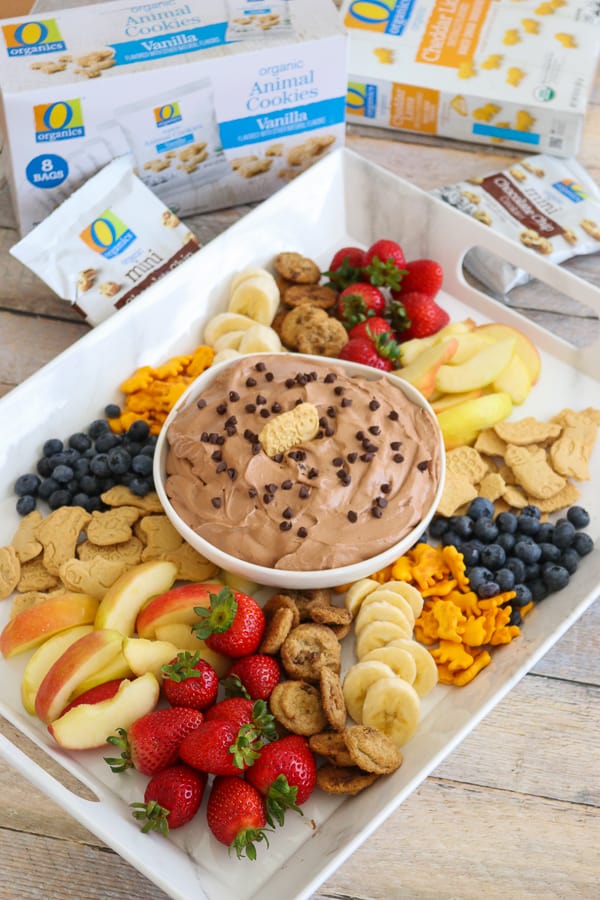 Fast forward about 30 years and I know how busy life is.
I have three kids and our school days were filled with an assortment of activities – practices, play dates, homework, appointments, sports and more. After school, they'd always need something to eat to get through the rest of their day.
It was important to me to feed them snacks I knew would satisfy them and, at the same time would feel good about giving them. I'm sure you feel the same way, too!
That's where O Organics and this easy Cheesecake Dip comes in. I can find everything I need to make this Cheesecake Dip recipe at my favorite Safeway store.
You can find them near you, too because O Organics products are widely available-exclusively at your local Albertsons Companies family of stores including Albertsons, ACME, Jewel-Osco, Vons, Pavilions, Randalls, Tom Thumb, Shaw's, Star Market, and Carrs/Safeway. I know there's one near you!
Go to Albertsons.com or Safeway.com to find it. And, while you're there take a look at their meal prep and recipe ideas. There are plenty of great ideas to help you meal plan throughout this busy school year!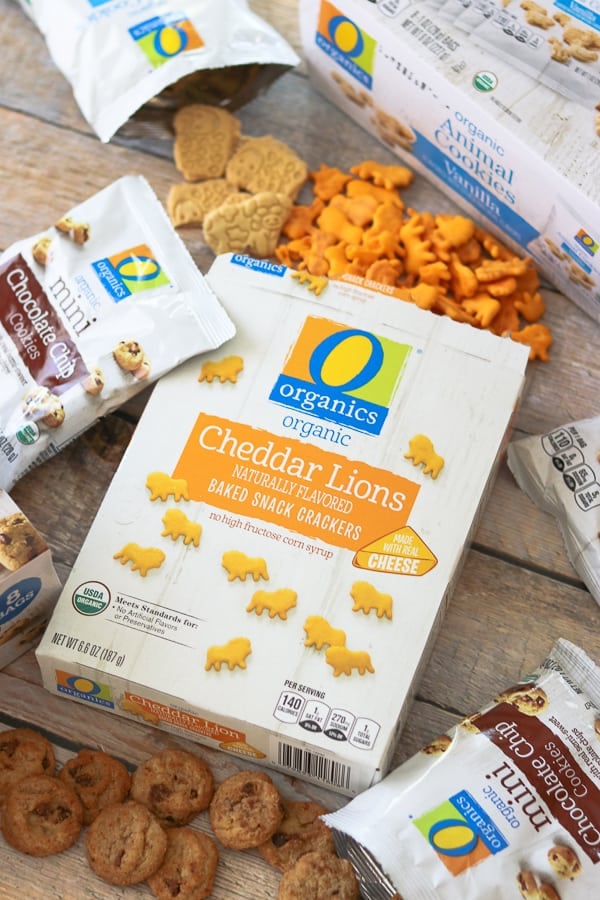 I love my local Safeway store because not only is it convenient, but the staff there is super friendly and always helpful. They say hello with a smile, ask if I was able to find everything I needed each time at check out, and walk me to the location (not point to the aisle! – don't you hate that?) of an item I'm searching for. Whenever I visit, I know that I'll be leaving as a satisfied customer.
And believe me, I visit A LOT!
Whether I'm there for a single ingredient or my weekly shopping trip, I know they'll have what I need and more. That includes over 1,300 USDA certified O Organics products my family has grown to love.
They are a great value for the quality and better tasting than many brand name products I've purchased. It also eases my mind knowing that I can feed my family good food without having to second guess what's in it or how it's made.
Those O Organics items I've listed in the recipe pair perfectly with this cheesecake dip or they'll be great to enjoy on their own when you're really on the go!
Dipper Ideas for this Chocolate Cheesecake Dip –
Cookies are always a fun and tasty idea. O Organics Vanilla Animal Cookies and O Organics Mini Chocolate Chip Cookies are the perfect accompaniment to this tasty treat.
Not everyone wants a sweet snack, so put some O Organics Cheddar Lions on the tray as well. Watch the kids have fun "roaring" with laughter while they snack. (Yes, pun intended.)
Use a variety of fresh fruit. Use strawberries, blueberries, slices of fresh banana, and add a bag of O Organics Sweet Apple Slices. They'll enjoy scooping up the Chocolate Cheesecake Dip with those.
You can also add some grapes, too!

It's just more fun when you can dunk things into a bowl of goodness instead of scooping it out with a spoon, isn't it?
I found these other great snack dips that the O Organics Vanilla Animal Cookies, O Organics Mini Chocolate Chip Cookies, and O Organics Cheddar Lions would pair well with, too!
Perfect for the upcoming Fall season, this Fluffy Pumpkin Pie Dip from Holly at Spend with Pennies would be a great addition to any holiday dessert table. It looks so good you just might want to make a double batch!
Of course, Fall means the beginning of school, but it also means football season's upon us and who wouldn't want to dive right into this Peanut Butter Football Dip from Dorothy at Crazy for Crust? You'll score a touchdown when you put it out onto the table for sure!
I'm drooling at the sight of this Strawberry Fluff Dip from Lisa at Wine & Glue. I can't wait to taste how delicious those Vanilla Animal Cookies are with a big scoop of this stuff on top! YUM!!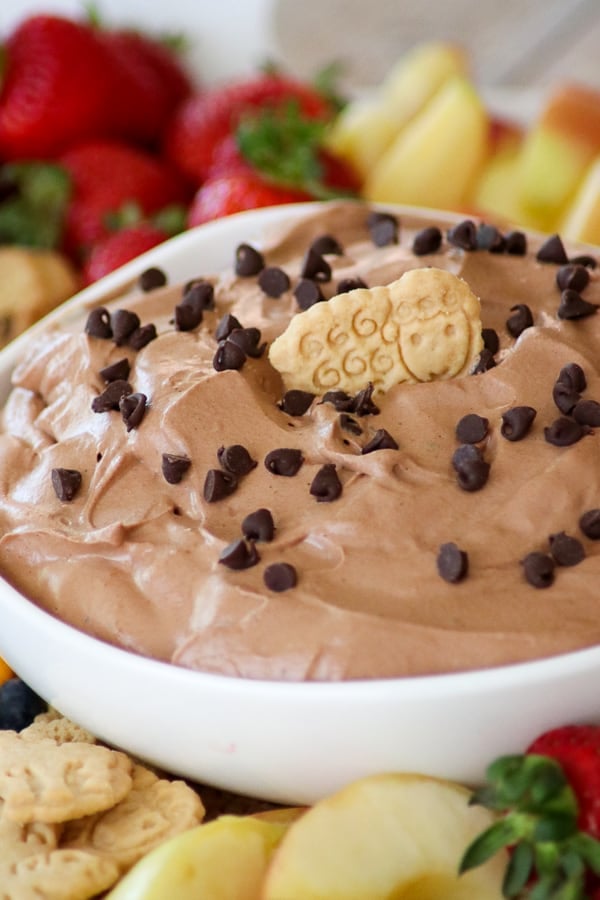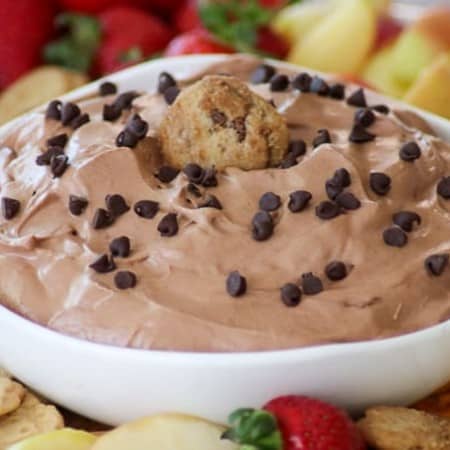 This Chocolate Cheesecake Dip is a deliciously creamy chocolate treat. Served with assorted cookies and fruit, it will be a new favorite after-school snack!
Ingredients
Chocolate Cheesecake Dip
4 ounces semi-sweet baking chocolate
8 ounces cream cheese room temperature
½ cup powdered sugar
2 tablespoons salted butter room temperature
1 ½ teaspoons pure vanilla extract
1 cup heavy whipping cream
1 tablespoon mini semi-sweet chocolate chips
Dipping Items
4 1-ounce packages O Organics® Vanilla Animal Cookies
4 1-ounce packages O Organics® Chocolate Chip Cookie
1 cup O Organics® Cheddar Lions
1 14-ounce package O Organics® Sweet Apple Slices
16 ounces fresh strawberries
6 ounces fresh blueberries
1 banana, sliced
Instructions
Melt the baking chocolate in a microwavable bowl for 30-second intervals, stirring in between until completely melted and smooth.

In a mixing bowl, mix together the cream cheese, powdered sugar, butter, vanilla, and melted chocolate until well combined. Scrape down the sides of the bowl as needed.

Slowly pour in the heavy whipping cream and beat for about three minutes until soft, but somewhat sturdy peaks form.

Spoon into a serving bowl and refrigerate for 30 minutes before serving.

Place the bowl of Chocolate Cheesecake Dip into the middle of a tray or large cutting board. Around the bowl, place the O Organics Vanilla Animal Cookies, O Organics Mini Chocolate Chip Cookies, and O Organics Cheddar Lions interspaced with the assorted fruit.
Notes
Makes about 3 1/3 cups calculated at 1/3 cup serving per person. Refrigerate until serving as well as any unused portion.
Nutrition
Calories: 279kcal | Carbohydrates: 14g | Protein: 2g | Fat: 23g | Saturated Fat: 14g | Cholesterol: 64mg | Sodium: 103mg | Potassium: 121mg | Fiber: 1g | Sugar: 11g | Vitamin A: 730IU | Vitamin C: 0.2mg | Calcium: 45mg | Iron: 0.9mg
Did you make this recipe?
Share it with me on Instagram and make sure to follow me on Pinterest for more recipes.
Need other snack ideas besides my Chocolate Cheesecake Dip? Try these…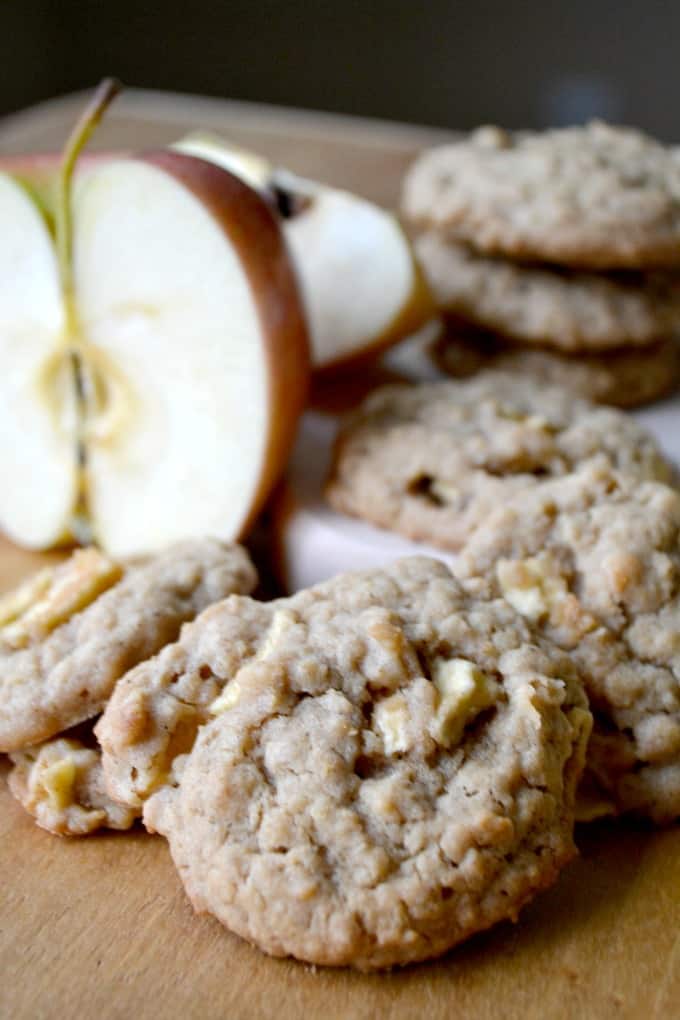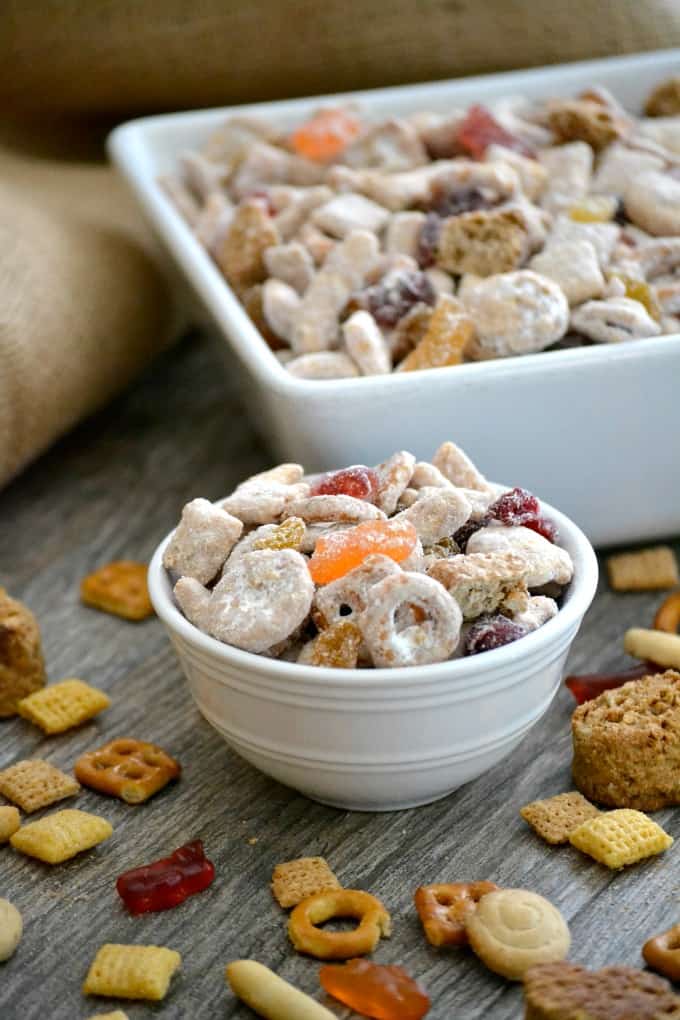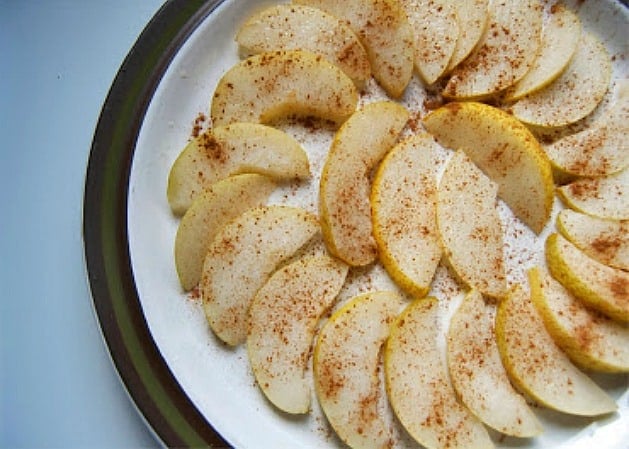 This is a sponsored conversation written by me on behalf of Albertsons Companies. The opinions and text are all mine.
Reader Interactions