This Easy BBQ Pork Mac & Cheese recipe is a delicious and hearty dinner made with the pork in your freezer and ingredients you already have in your pantry! Easy, simple and delicious meals are where it's at right now. I want to show you how you can combine simple ingredients while saving money using pork as your protein to create many flavorful dishes.

With what's going on in the world, it's imperative we all stay at home to keep ourselves and our family safe.
I know it hasn't been easy.
I am proud to be partnering with the National Pork Board to bring you this sponsored post. As always, all opinions are 100% my own.
We're having to cook, bake, and eat meals at home which might not be something you and your family are used to doing.
Our trips to the grocery store are limited, we can't just "run to the store to pick something up", and a delivery could be days or even a week away.
On the other hand, we are able to eat meals together as a family.
We're connecting, making meals together, and even involving the kids which can create lasting memories for all of us.
Though it might be frustrating at times figuring out what to make, I'm here to tell you that you CAN do this.
You'll be able to make recipes that don't take much work, use ingredients you have on hand while saving money, and provide you with a resource to make everything so much easier.
So let's go shopping in your fridge, freezer and pantry and get creative!!
SAVE THIS BBQ PULLED PORK MAC & CHEESE TO YOUR FAVORITE PINTEREST BOARD!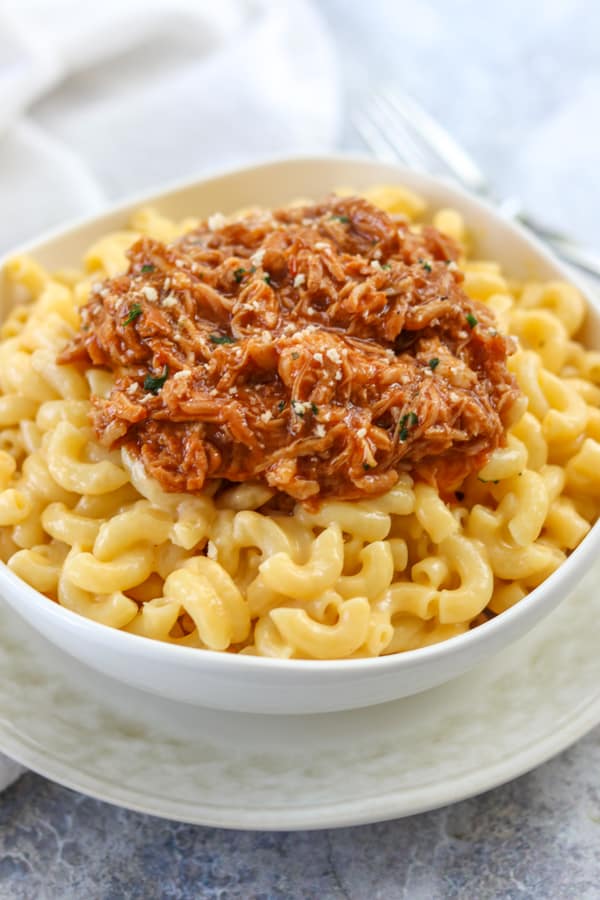 The National Pork Board is a wonderful resource for pork recipes, cooking videos, and nutrition.
You'll find various recipes such as this Pulled Pork Mac and Cheese, Pulled Pork Nachos, Ham Jambalaya, and Pork and Bean Soup.
These will make great dinner meals and then you can enjoy leftovers in a different form the next day!
For example, when you make the pulled pork for this macaroni and cheese, you can use the leftover pork to top nachos, or even some tacos!
You'll also find different ways to prepare your meals using your oven, slow cooker, Instant Pot, stove top, and grill.
You can even involve the whole family.
Mom and dad can cook, bake or grill while teenagers can chop and/or help younger siblings gather and measure ingredients.
It's important to note that when cooking whole muscle cuts – loin roasts, tenderloin, and chops that you want an internal meat thermometer to read 145°F. when inserted into the thickest part, and follow it with a 3-minute rest.
Then, when you cut into it, it can even be a light pink in color! You can read more about temperatures for cooking pork here.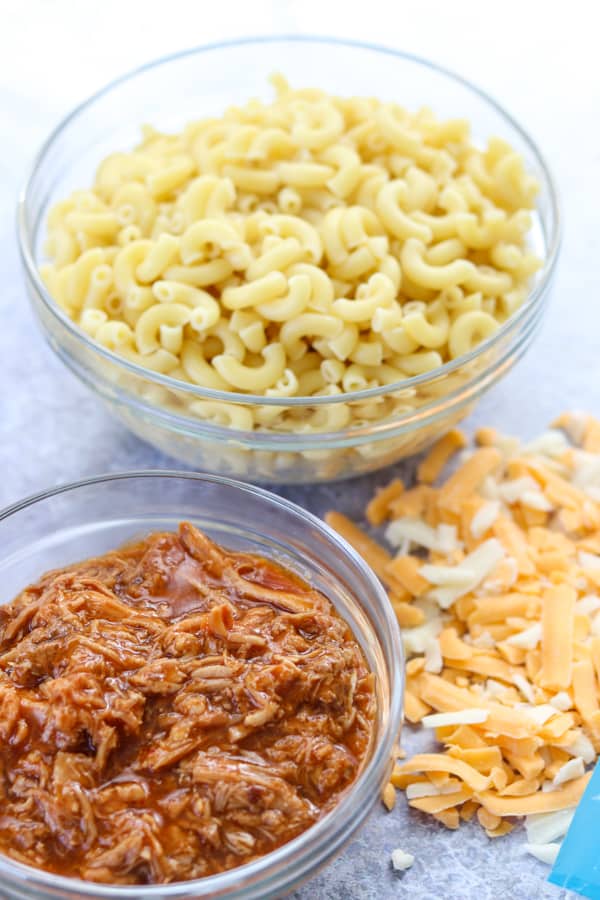 Pork has been a go-to meat for my family for as long as I can remember.
I always have at least one tenderloin, and a pound or two of ground pork in my freezer. Then throughout the month, I'll add other cuts.
This meat is an inexpensive option, and such a great source of protein.
With so many different pork cuts, it's easy to use it in a variety of recipes.
I use the tenderloins to make this Jack Daniel's Pork Tenderloin or these Rosemary Pork Medallions with Mushroom Wine Sauce, and this Crockpot Pork Ragu.

My MOST FAVORITE pork recipe that I've made to date are these Pork Potstickers.
It's easy using the ground pork, and you don't even need to run to the store to get the wrappers, you can make your own at home!
Tired of cooking in the kitchen? Fire up the grill!
Ground pork is also perfect for these Cheesy Spiced Pork Burgers.
You can even use the ground meat to make ham balls for spaghetti night.
Got pork chops in the freezer? Make these Parmesan Pork Chops.
You can also serve Ham Salad made from the leftover ham you might make for Easter.
These Ham and Cheese Sandwiches can be made with it as well.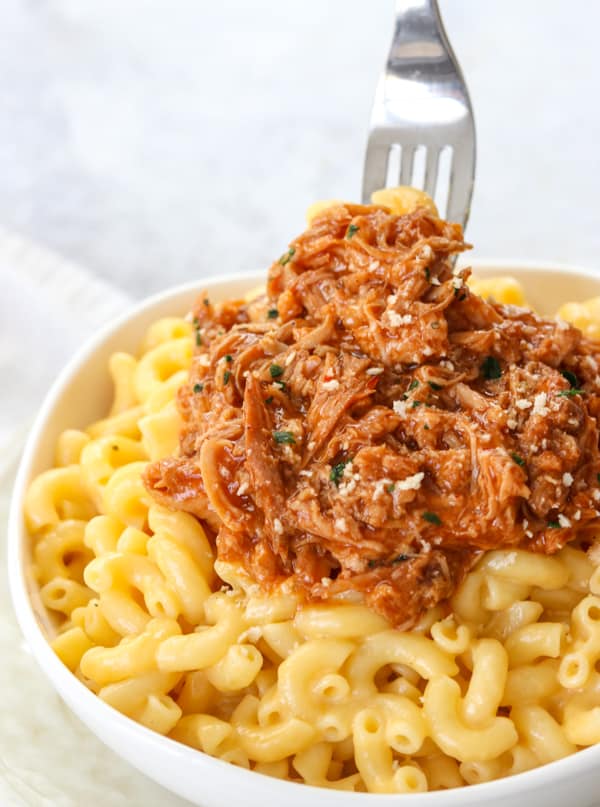 What do I need to make this recipe?
3 lbs. pork shoulder.
Shoulder cuts are also known as Boston butt or a picnic roast.
You can use a boneless pork roast if you don't have a shoulder on hand.
barbecue sauce
Don't have barbecue sauce on hand? You can make your own with this Tangy Memphis BBQ Sauce recipe from Barefeet in the Kitchen!
elbow macaroni or any of your favorite pasta.
butter
milk or you can use half and half.
shredded cheddar / Monterey Jack – if you have block cheese, you can shred it yourself.
Feel free to substitute a different type of cheese if you don't have that combination in your fridge.
Cheddar is the most popular, but you can also use Gouda, Fontina, Parmesan, Gruyère, and Mozzarella.
salt and pepper to taste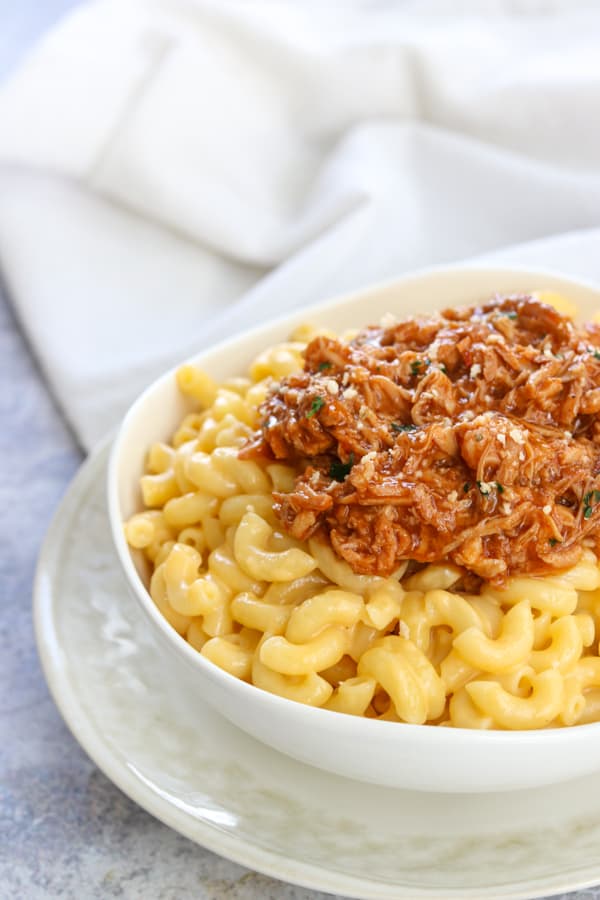 Pair your pork dinner with a Strawberry Spinach Salad, some Easy Homemade Italian Bread, or these Maple Bacon Brussels Sprouts.
And of course, if you've got bacon in the freezer, I can show you the best way to make it so it comes out perfectly every time.
SIGN UP FOR THE WEEKLY
365 DAYS OF BAKING & MORE
WEEKLY BELOW!
How do I make this Macaroni and Cheese with Pulled Pork?
Put the pork shoulder into the slow cooker, pour the barbecue sauce over it, and cook on low for 8-10 hours.
Feel free to add more flavor to the pork by rubbing it with a mix made of 1 teaspoon each – onion powder, garlic powder, paprika, and a ½ teaspoon each of salt and pepper. Make sure it's well-coated before placing into the slow cooker.
Once cooked, shred the meat with two forks, and keep in the slow cooker to stay warm.
Cook the elbow macaroni as directed on the package and reserve a half cup of the pasta water before draining.
Once cooked and drained, return the pot to the stove to melt the butter over medium low heat.
Add the milk and cook until steaming.
Pour in the cheese, and stir until melted. Add salt and pepper to taste.
Return the macaroni to the pan and stir to completely cover. If macaroni and cheese is too thick, mix in one tablespoon of the reserved pasta water at a time.
Place a helping of the mac & cheese into a serving bowl and top with a serving of the pulled pork.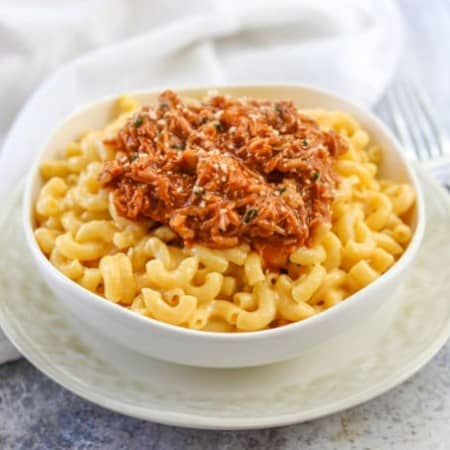 This BBQ Pork Mac & Cheese is a delicious dinner made with the pork in your freezer and ingredients already in your pantry. No need to run to the store!
Ingredients
3 pound pork shoulder
18 ounces barbecue sauce
12 ounces elbow macaroni
2 tablespoons butter
1 cup milk
2 cups shredded cheddar / Monterey Jack cheese
salt to taste
pepper to taste
½ cup reserved pasta water if needed
panko bread crumbs for garnish, if desired
dried or fresh parsley for garnish, if desired
Instructions
Place the pork into a slow cooker and cover with the barbecue sauce. Cover and cook on low for 8-10 hours or on high for 4-6 hours.

When pork has finished cooking, shred with two forks and keep in the slow cooker to remain warm.

Bring a large pot of water to a boil over high heat. Add the pasta and cook according to directions on the package.

Reserve 1/2 cup of the pasta water, and then drain the pasta.

Return empty pot to stove and over medium-low heat, melt the butter. Add the milk and when milk is steaming, add the cheese. Stir until completely melted.

Add the pasta and mix completely. Add salt and pepper to taste. If the macaroni and cheese is too thick, stir in one tablespoon at a time of the reserved pasta water.

Place mac & cheese into a bowl, and top with a serving of the BBQ Pulled Pork. Garnish with parsley and panko crumbs, if desired.

Use the leftover shredded pork to make tacos for lunch tomorrow!
Nutrition
Serving: 1g | Calories: 685kcal | Carbohydrates: 80g | Protein: 46g | Fat: 19g | Saturated Fat: 8g | Cholesterol: 115mg | Sodium: 1263mg | Potassium: 874mg | Fiber: 3g | Sugar: 32g | Vitamin A: 451IU | Vitamin C: 2mg | Calcium: 262mg | Iron: 3mg
Did you make this recipe?
Share it with me on Instagram and make sure to follow me on Pinterest for more recipes.
Reader Interactions