Can you really make bacon in the oven? Yes, you can! I will show you how to bake bacon in the oven with very little effort. When you make oven-baked bacon, there are no more splattering grease burns, the clean-up is super easy,
AND it's the best way to make sure each piece comes out perfectly every time.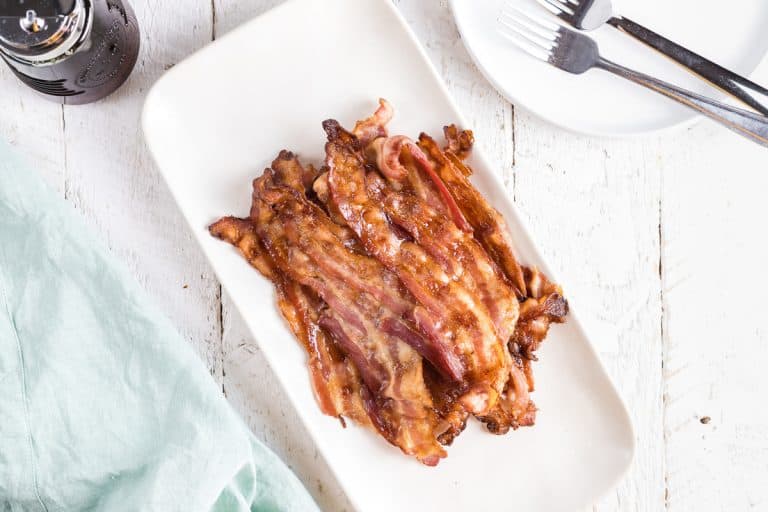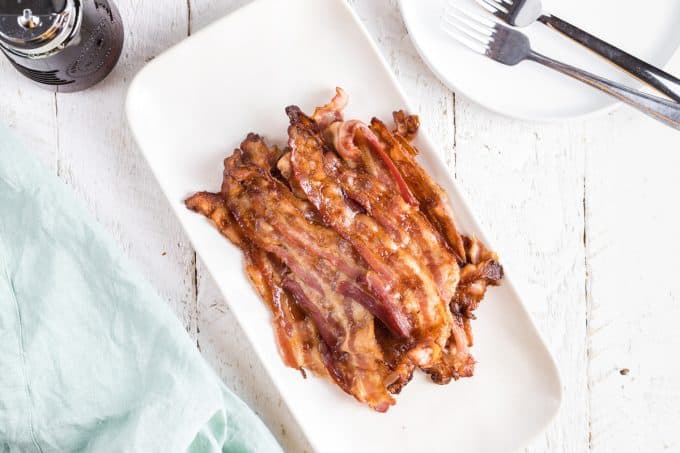 I have to say that I LOVE bacon. Up until now, I didn't make it often because I am forever burning myself with grease that splatters ALL over the kitchen. Baking Bacon? Well, that changes the game for this girl.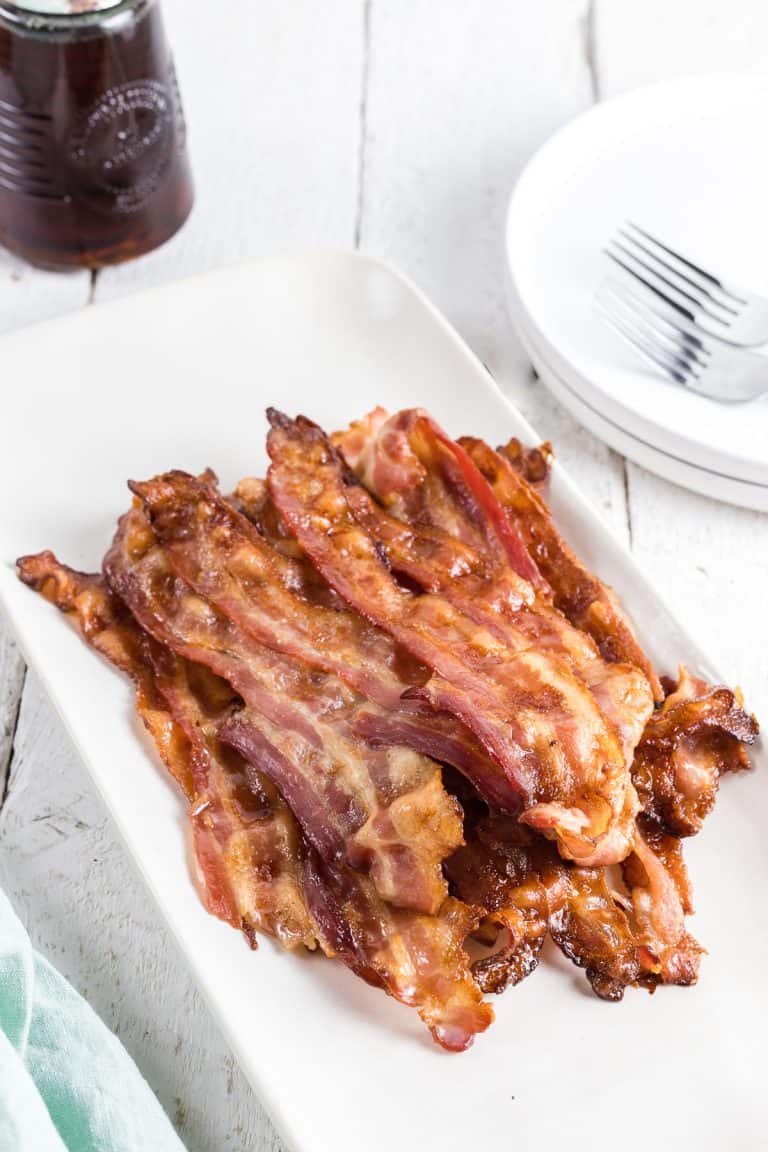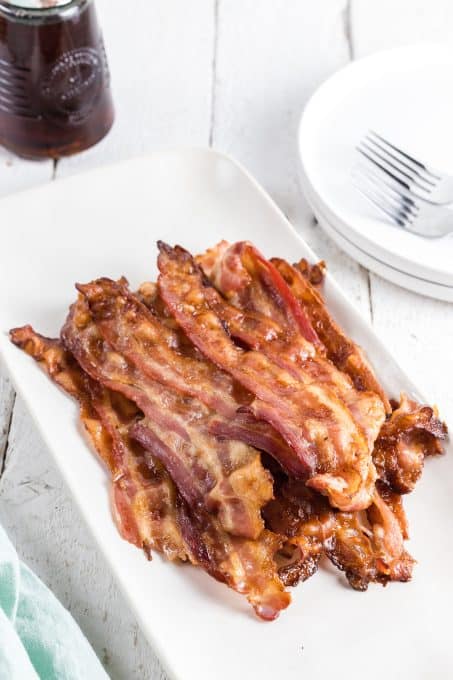 Can you bake bacon in the oven?
Like most of us, I was taught how to cook slices of bacon in a skillet or pan on the stove. It's the only way I'd EVER seen it cooked, so I didn't question it.
I'm here to share the good news that you CAN bake bacon in the oven! This Baked Bacon Recipe makes perfectly crispy bacon each and every time, all without the grease burns and guesswork.
It's a dream come true for bacon lovers like me. Not only can you make perfect bacon without the mess, but you can also make bigger batches of it at once. More bacon = happier people around my breakfast table.
Can I tell you how incredibly easy baking bacon is? Plus, clean-up is easy because the tin foil contains the grease, preventing a messy baking sheet! But if you are one to save bacon grease, you can easily pour it in to a container, too.
Oh, but the absolute BEST reason to stick the bacon in the oven is that it comes out exactly how I like it, crisp and delicious. I'm a crisp bacon gal, but two of my three children like their baked bacon this way. If you don't like it super crispy but still want it delicious and flavorful, lessen the baking time by a couple of minutes.
Whether you make it ultra-crispy or slightly underdone, this oven-baked method works every time.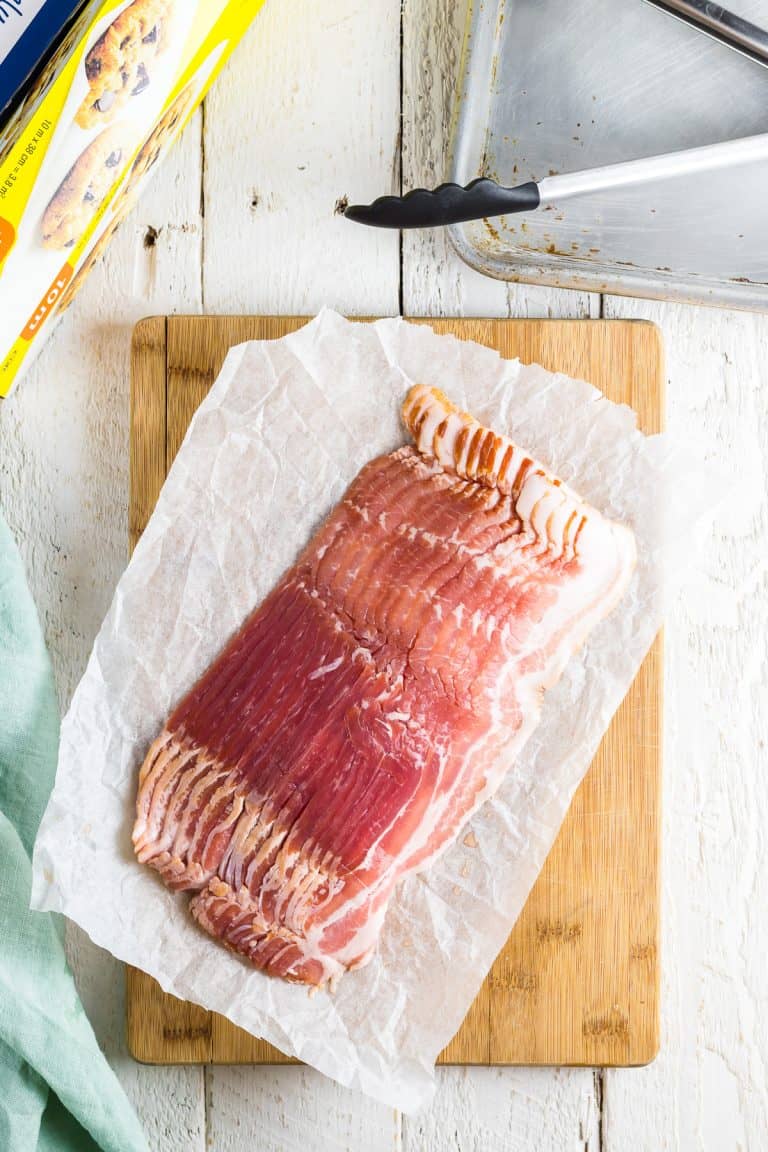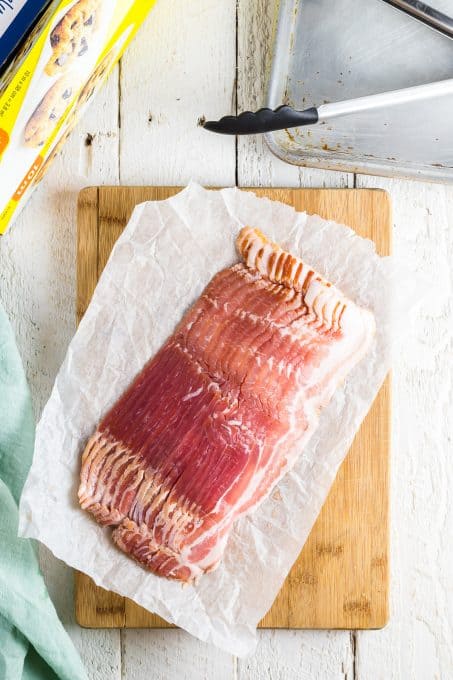 Instructions for Baking Bacon
First, Use a rimmed baking sheet so there isn't any grease runoff into your oven. Believe me, no one wants grease spills in the oven.
Next, line the rimmed baking sheet with heavy-duty aluminum foil and then place a sheet of parchment paper down on top of the foil. This makes cleanup a breeze.
Place your bacon into the pan so that it is in a single layer and the pieces don't overlap. They will stick together even if they touch, but they are harder to split apart if they are on top of each other.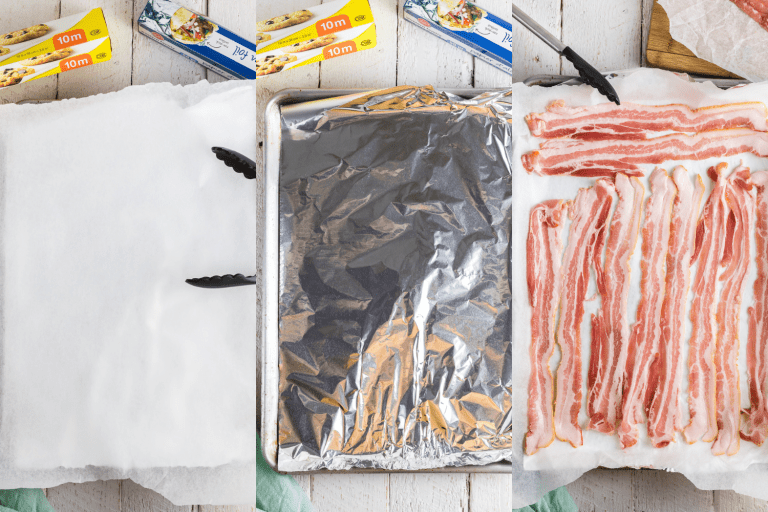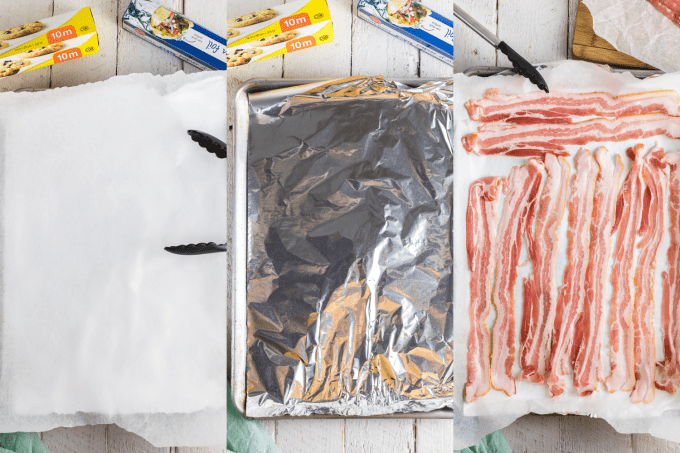 At what temperature should I cook bacon?
There is NO NEED to preheat the oven. Trust me on this! I've done it both ways, and starting with a cold oven gives you much better results.
After baking bacon in the oven, I'm convinced this is the best way to cook my favorite breakfast meat. It preserves flavor and texture far better than the microwave, of course, but starting from a cold oven also resulted in bacon that was evenly cooked across the pan.
As directed in the recipe, I placed the sheet pan into the oven with 8 bacon strips and then turned it up to 400° F. I baked it for 10 minutes and then checked on it as directed.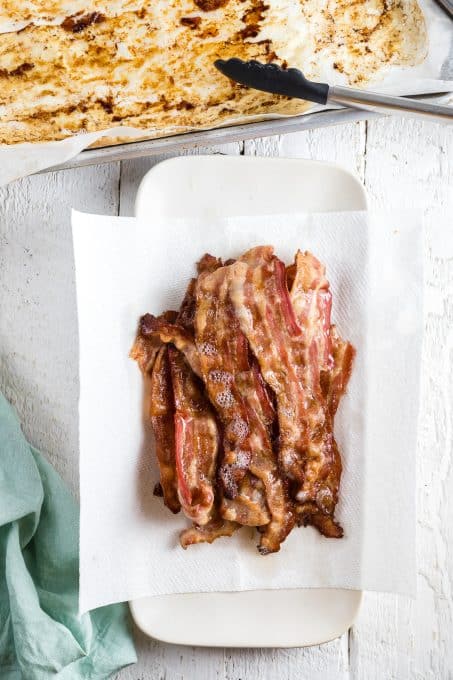 How long should I cook bacon in the oven at 400°?
Remember, no need to preheat the oven!
Start checking your bacon at the 10-minute mark. I checked every few minutes after that until it looked perfectly crispy. There were no underdone chewy pieces and nothing burnt, just the way I like it.
I took it out and placed the pan on a wire rack to cool. I couldn't wait, so I ate the top three pieces. It just smelled SO good!
Plan on 15-20 minutes depending on your oven temperature, the thickness of your bacon, and your preferred level of crispiness.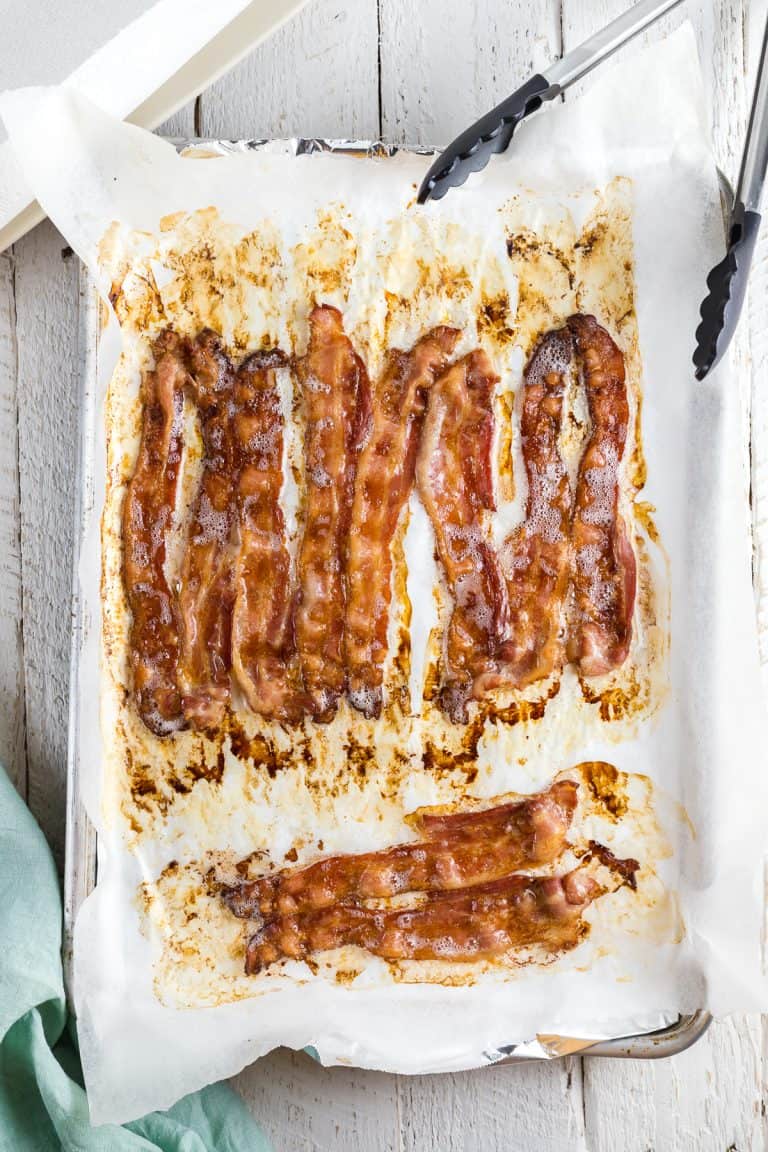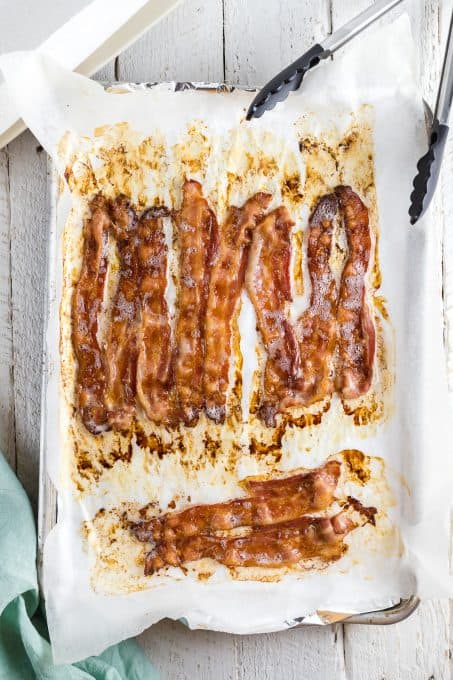 Does this work with Thick Cut Bacon?
You can cook any bacon in the oven! Thick bacon will need a little more time in the oven, though, so plan accordingly.
More Tips for the Best Oven Baked Bacon
Starting with a cold oven yielded better results by far.
This bacon cooks perfectly and is fantastic served hot out of the oven. You might be like me and cannot resist immediately snacking on a few pieces!
When the bacon is done, you can remove excess grease by pressing the bacon between paper towels. Or, transfer the bacon pieces to a paper towel-lined plate.
Store any leftover bacon at room temperature in an airtight container for up to 2-3 days.
Don't throw out that bacon fat! Save it in a jar and let the extra grease cool to use in frying or to add extra flavor to your favorite dishes!
It's divine all on its own or served up with all your breakfast favorites. My mouth is watering, thinking of a few strips of this bacon alongside a stack of Banana Peanut Butter Chip Pancakes or French Toast.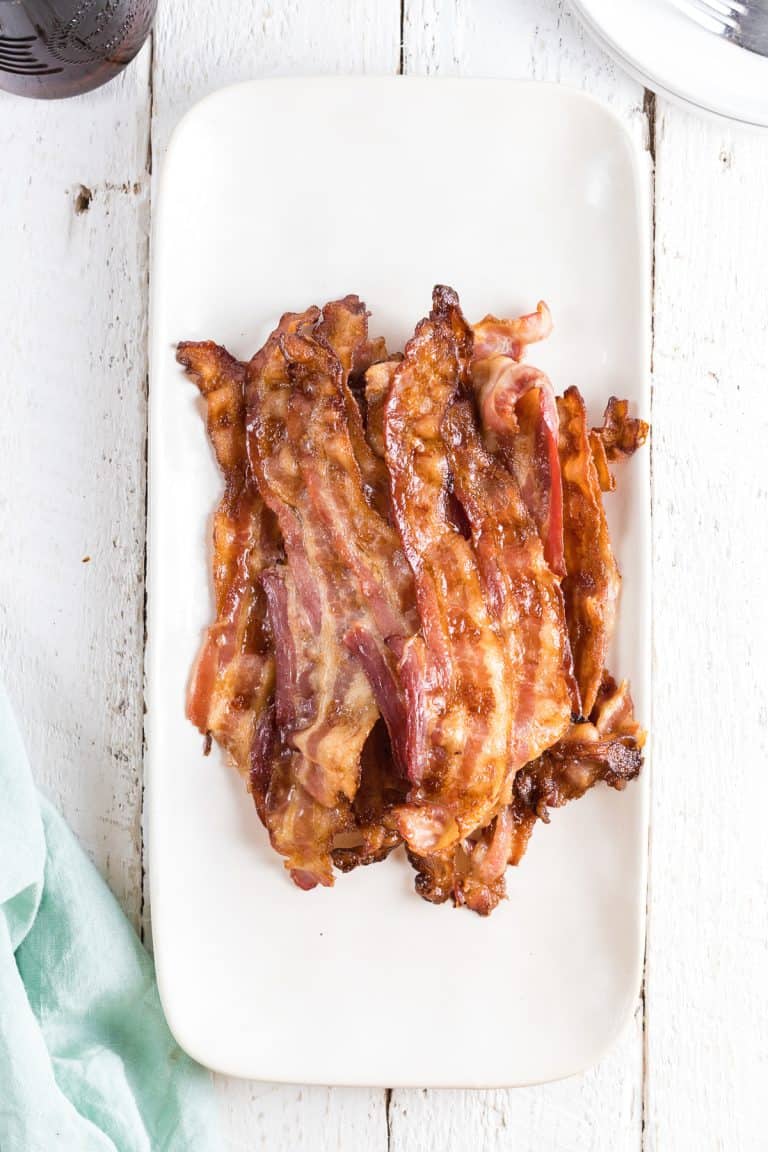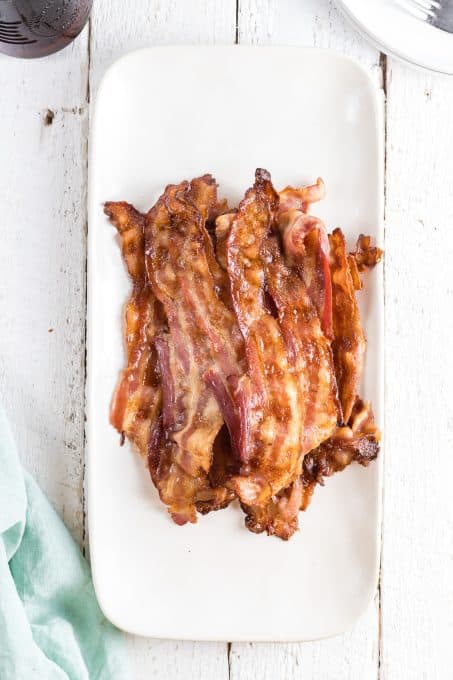 Bacon Recipes
This easy-baked bacon is delicious in all its simplicity. My kids and I would be happy to eat a whole plateful of it for breakfast all on its own, honestly.
After discovering how to bake bacon, I got so excited that I couldn't help but create a few spins on it. My Sweet and Spicy Ranch Bacon, Pecan Sugared Bacon , and Cajun Sugared Bacon have a little extra sweetness and zest that I can't get enough of.
Bacon is a crucial ingredient in many of my go-to recipes all year long, especially in autumn. A bowl of One Pot Bacon and Tortellini Zuppa Toscana warms body and soul on a chilly fall evening.
A batch of baked bacon is also mouthwatering when crumbled on top of a cup of Creamy Tomato Basil Soup. Add a handful of shredded cheese, and you have a lunch I could eat just about every day from now until spring.
When it comes to desserts, Bacon Caramel Apple Crisp is a game changer. Savory, salty bacon tastes amazingly good paired with the buttery sweet caramel.
Still can't get enough ideas for using bacon?
These Maple Bacon Brussels Sprouts have your name on them, my friend. Don't tell me you're not a fan of Brussels Sprouts until AFTER you've tried them cooked with delicious maple and smoky bacon. Incredible.
We also really enjoy Bacon Sage Wrapped Chicken and the ever-popular Buttermilk, Bacon, and Cheese Muffins.
Bacon.
Just the way you want it. No splatters. Easy cleanup. And a happier you.
No more wondering about baking bacon or even if bacon can be baked at all.
You're welcome.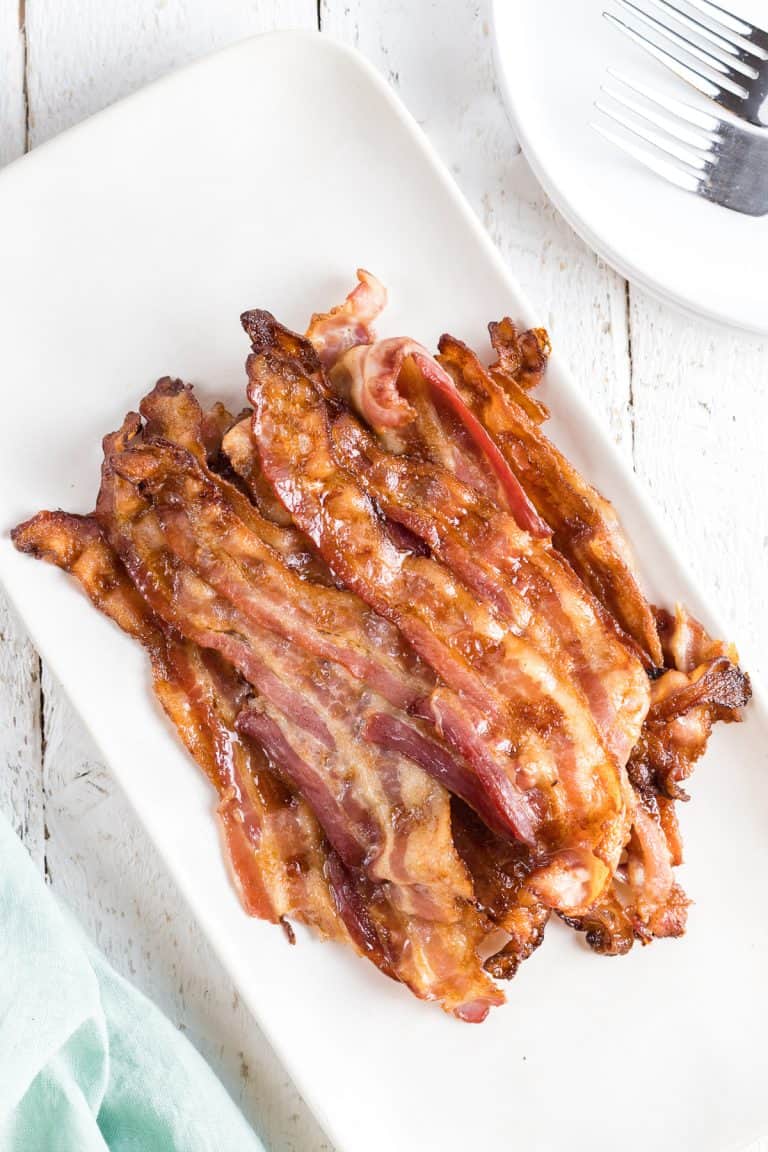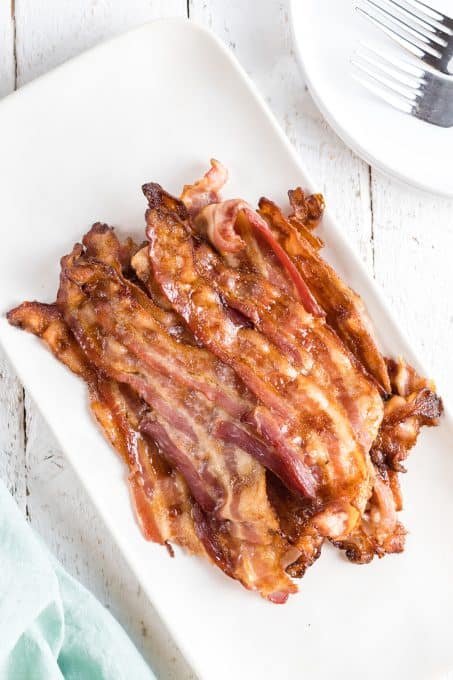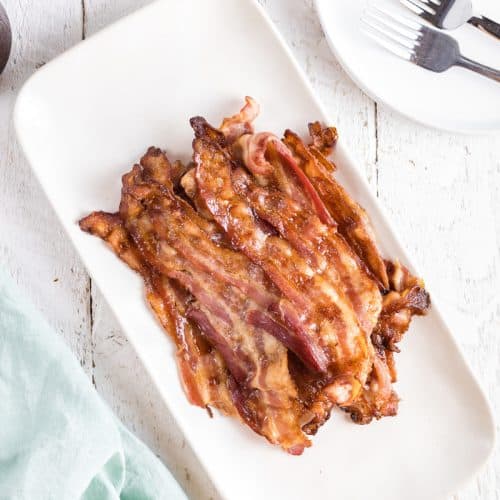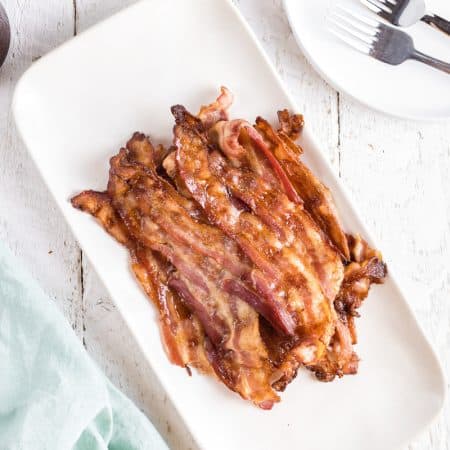 Baking Bacon – How To Bake Bacon in the Oven
Can you really make bacon in the oven? Yes, you can! I will show you how to bake bacon in the oven with very little effort. When you make oven-baked bacon, there are no more splattering grease burns, the clean-up is super easy, AND it's the best way to make sure each piece comes out perfectly every time.
Equipment
heavy duty tin foil

parchment paper
Instructions
Prepare a rimmed baking sheet by lining it with a sheet of heavy-duty tinfoil and then place a piece of parchment on top of that.

Place the bacon on the prepared baking sheet in a single layer, making sure to not overlap them.

Place the baking sheet into the oven and turn oven to 400 degrees F.

Bake for 12 – 17 minutes, being sure to check at the 10-minute mark to see how it's doing. I checked every 3 minutes after that until it was golden and then removed it from the oven. The bacon can go from being perfectly done to burnt in a very short time, so it's important to keep your eye on it after that 10-minute mark to make sure it'd done to your desired doneness.

Remove bacon from the oven and place on a plate lined with paper towels before serving.
Notes
Of course, since oven temperatures vary, your cook time may differ. Keep a close eye on it after it's been in the oven after 10 minutes to ensure it doesn't burn.
Nutrition
Serving: 1serving | Calories: 473kcal | Carbohydrates: 1g | Protein: 14g | Fat: 45g | Saturated Fat: 15g | Polyunsaturated Fat: 7g | Monounsaturated Fat: 20g | Trans Fat: 0.1g | Cholesterol: 75mg | Sodium: 751mg | Potassium: 225mg | Vitamin A: 42IU | Calcium: 6mg | Iron: 0.5mg
Did you make this recipe?
Share it with me on Instagram and make sure to follow me on Pinterest for more recipes.
This post was originally published in October 2014. It has been update in format and with photos 8/17/18 and on 3/31/23.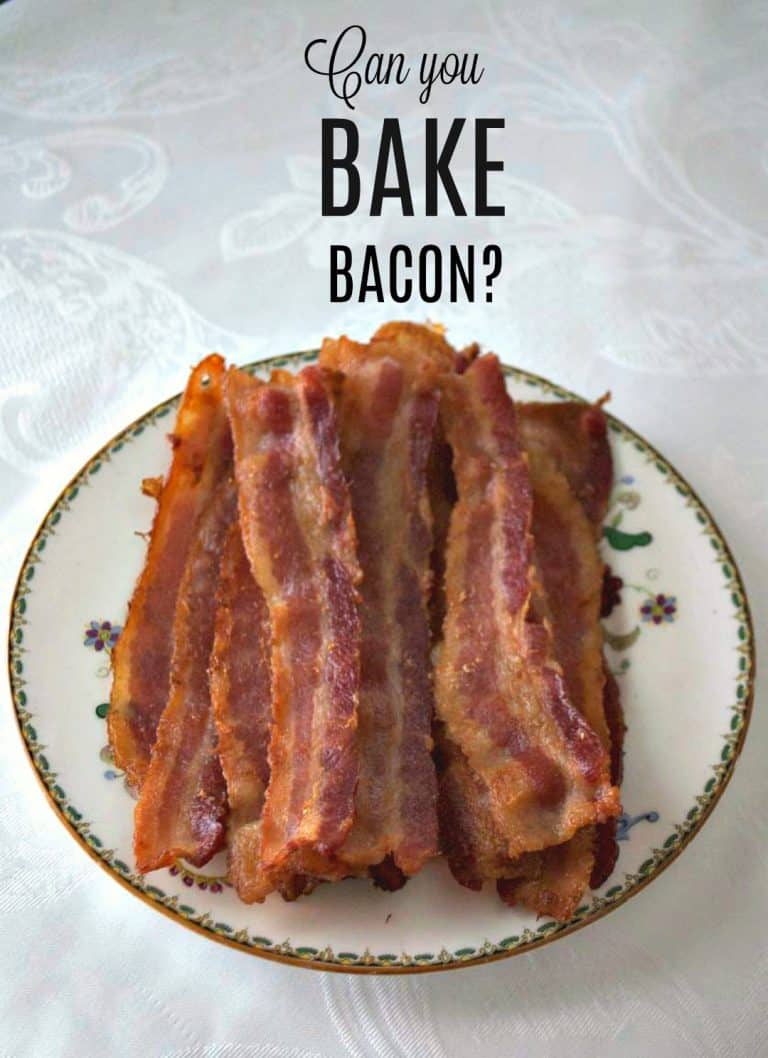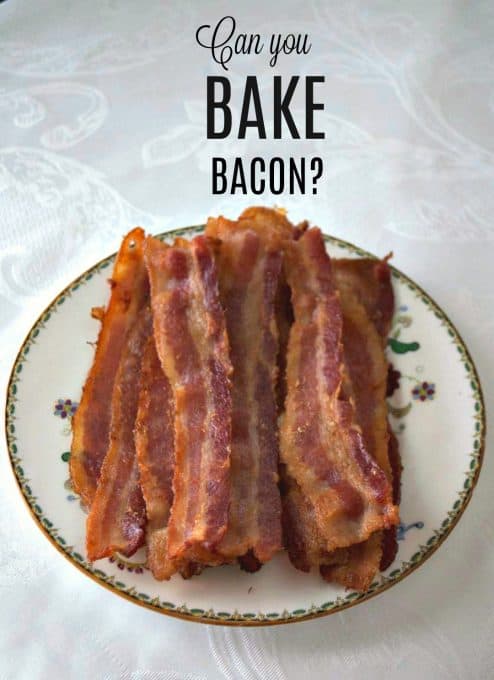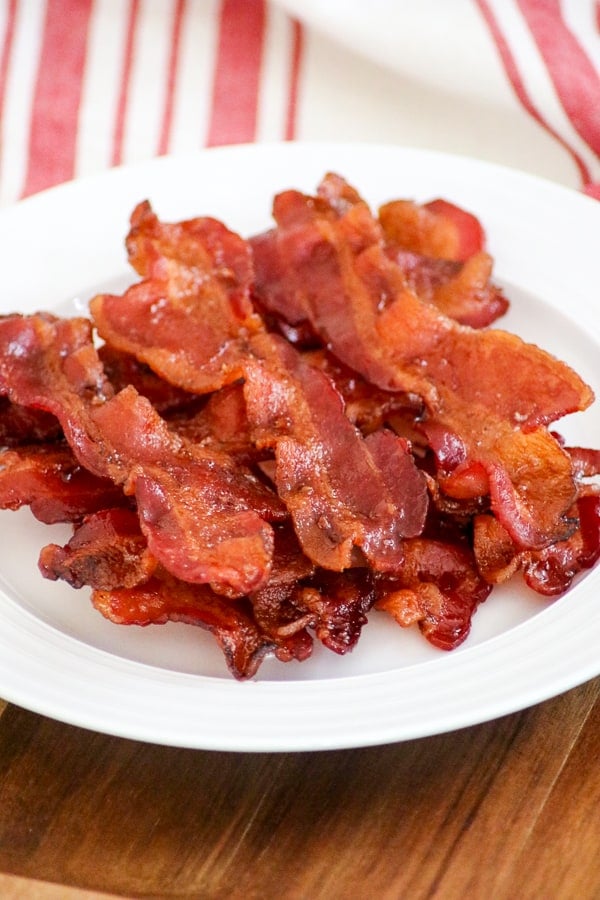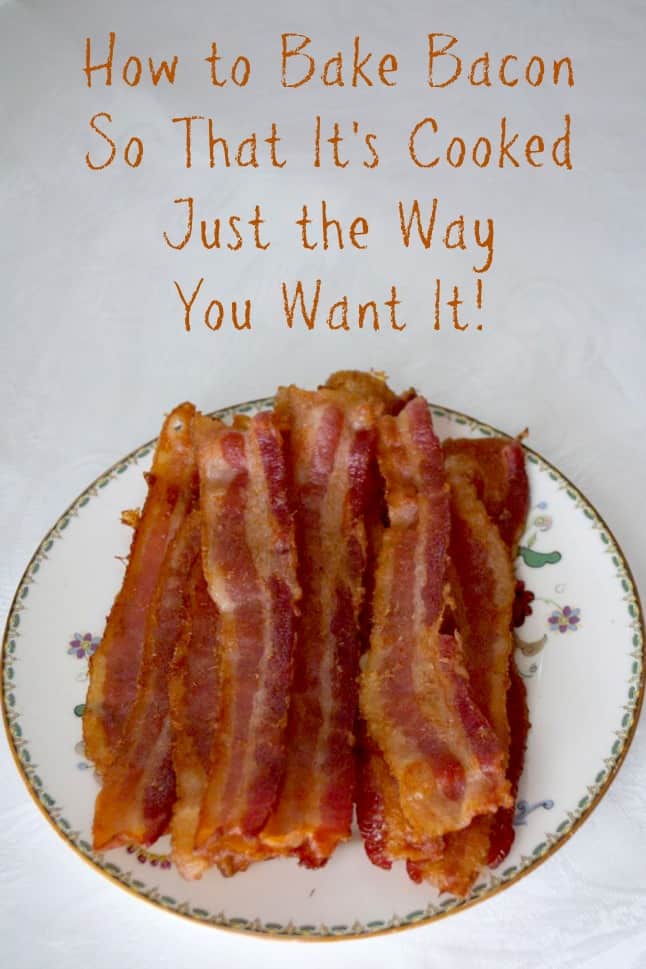 Reader Interactions