Baking bacon in the oven? You can do that??!!
Yes, you can!! I will show you how to bake bacon in the oven with little to no effort. No more splattering grease burns AND each piece comes out perfectly EVERY single time, too!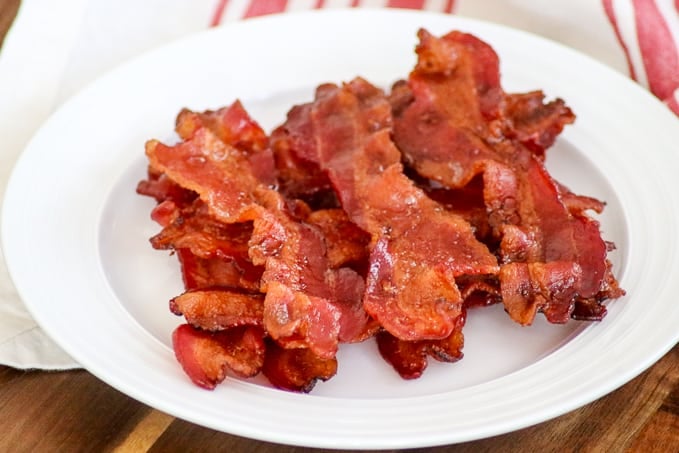 There's no need to slave away over the stovetop getting splattered with bacon grease anymore. Those days are officially over! Read on and I'll tell you why.

I have to say that I LOVE bacon. Do you think Kevin Bacon loves it, too?
Yeah, give me those clogged up those arteries, elevate my cholesterol. I'm going for it. It's the little things in life, am I right?
No. I don't overindulge, but when it's offered, I sure as heck ain't passing the stuff up!
Heck, I don't even buy it that often for my family to eat. I think I purchase it once a month if that.
And I do believe that one of the reasons we don't have it at home more often is because I am forever burning myself with that dang nab grease that splatters ALL over the kitchen. I know, it's always been part of cooking bacon, but when it's all over me, that's where I draw the line.
SAVE THIS BAKING BACON – HOW TO BAKE BACON IN THE OVEN TO YOUR FAVORITE PINTEREST BOARD!

I don't think there's been one time when I haven't yelled, "OUCH!" or a somewhat more expletive word while tending to the stuff on the top of the stove. Don't hide it, I know you've done it, too!
And it just takes so lllloooooooonnnnnnggggggg!!!! I mean, how do you know when it's done? It's an eye test for sure.
Can you hear me whining? Sorry, but it's a pain in my patootie.
Well, no more. I've done gradumatated to baking it in the oven, I have!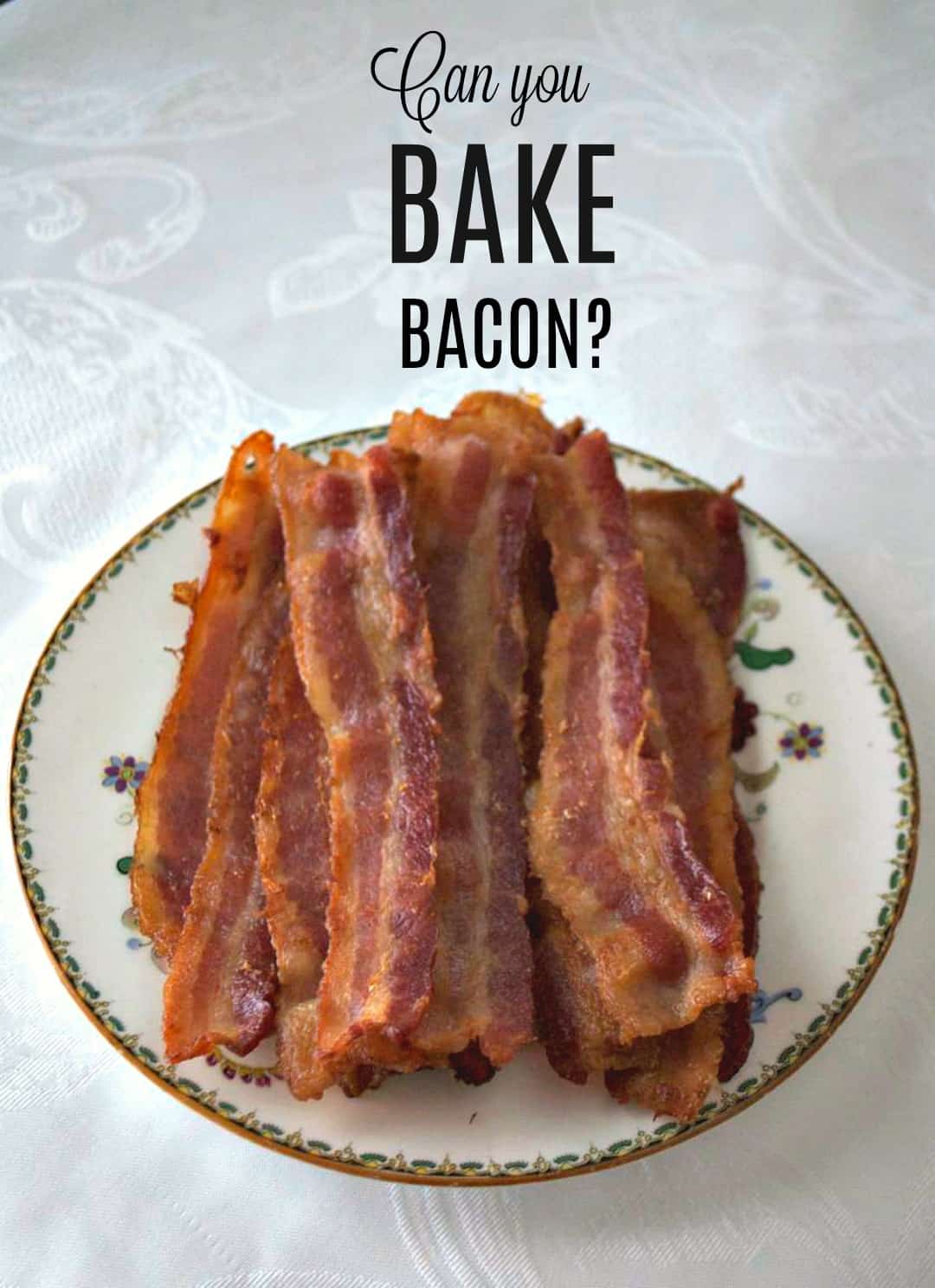 Can I tell you how incredibly easy baking bacon is?!?
I am NOT kidding. I feel like I've just found a pot of gold or discovered sliced bread for the first time. I'm ECSTATIC!
Not only is it easy peasy, but you're not hovering like a helicopter over the stovetop W-A-I-T-I-N-G for it to cook, you can prepare other dishes for the meal AND there are no choice words escaping from the kitchen during the cooking process.
That right there in itself is a reason to give this a go!
Plus, clean up is so gosh darn easy because the tin foil contains the grease preventing a very messy baking sheet! Unless, of course, you're like me and accidentally rip the stuff while not really paying attention when removing the bacon from the tray. haha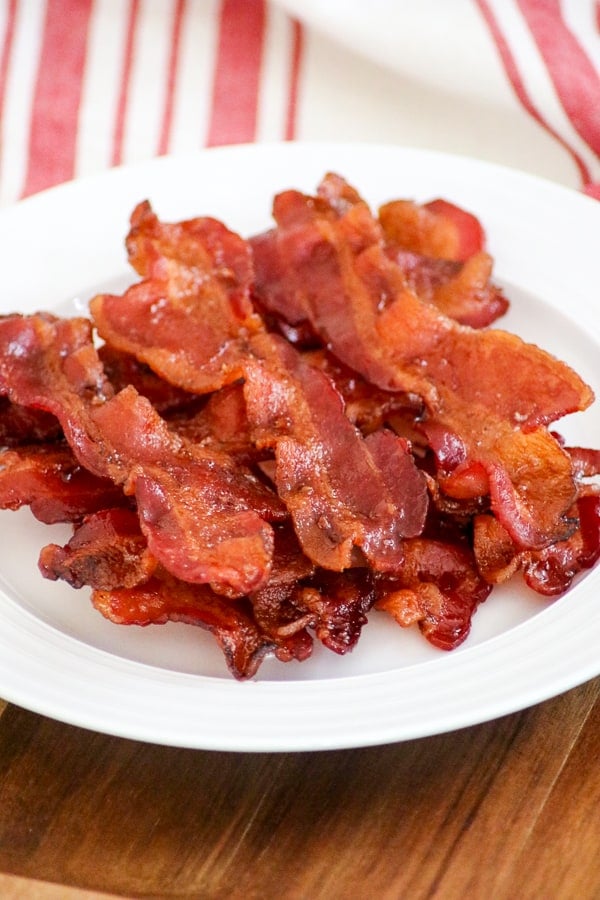 Oh, but the absolute BEST reason to stick the bacon in the oven, is that it comes out exactly how I like it, crisp and delicious.
If you don't like it crisp, but still want it delicious and just a little underdone as two of my three children like it, just lessen the baking time by a couple minutes.
I found this from Trish's site, Mom On Timeout.
If you don't want to eat your bacon plain, here are some great recipes that use it.
I'm putting this 5-Minute Fully Loaded Ranch Dip on our upcoming Game Day menus for sure! Sandra from Dash of Sanity put some bacon in this and it looks AMAZING! The hungry football crowd will make it disappear quickly, I'm sure!
That bacon that you baked up so perfectly in your oven will be delicious in this Apple Bacon Salad from Lisa's site, Wine & Glue! I love that taste of it in salads, don't you? And this salad is perfect with Fall right around the corner, too.
I thought I died and went to heaven when I saw this Bacon Jam recipe from Meseidy at The Noshery! YOWZA!! I think I'll be skipping the grape jelly on my toast in the mornings from now on if this is my option!
The Best Ways for Baking Bacon – How to Bake Bacon in the Oven –
Use a rimmed baking sheet so that there isn't any run off of grease into your oven.
Line the rimmed baking sheet with heavy-duty aluminum foil and then place a piece of parchment down on top of the foil.
Place your bacon into the pan so that it is in a single layer and the pieces are not overlapping. They will stick together even if they touch, but are harder to split apart if they are on top of each other.
There is NO NEED to preheat the oven. Trust me on this! I've done it both ways and starting with a cold oven gives you much better results. Let me show you…
As directed in the recipe, I placed the baking sheet into the oven with 8 slices of bacon on it and then turned the oven up to 400° F. I baked it for 10 minutes and then I checked on it as directed. It wasn't cooked to my liking, so I left it in the oven for 3 more minutes. Still not to my liking, so it cooked for an additional 6 minutes, and I checked it at every 2 minutes. So, a total of 19 minutes and it really was absolutely perfect. No underdone chewy pieces and nothing burnt!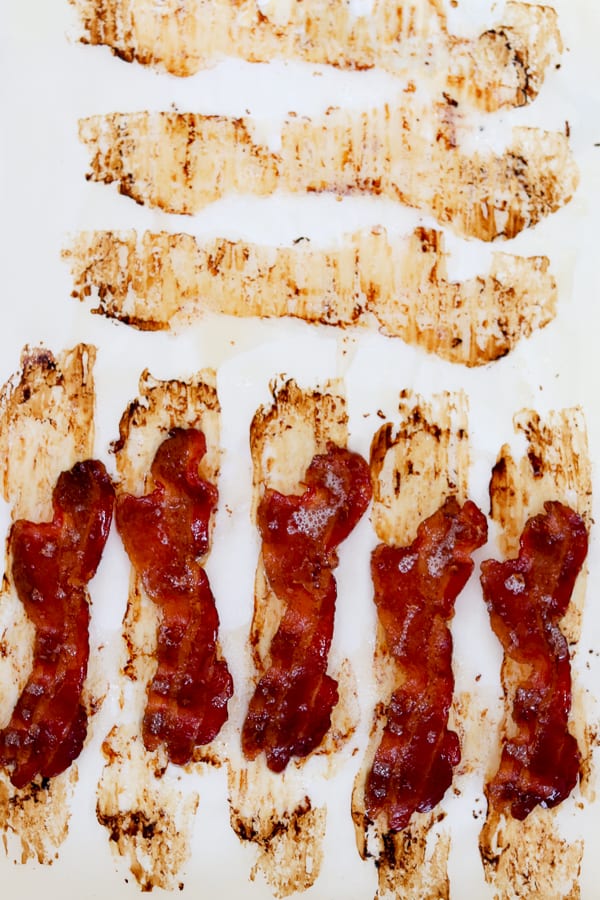 Oh, and I couldn't wait, so I ate the top three pieces. It just smelled SO good!
So with the oven already preheated to 400°F from the last batch, I put another baking sheet with the remaining 8 pieces into the oven. I again cooked it for 10 minutes then checked and cooked it for another 3 minutes. Still not to my liking and looked as if it was cooking unevenly, so I left it for another 2 minutes.
I DID NOT like the way that the last batch turned out! Parts were done perfectly, but some of it was burnt. Definitely cooked uneven and in a shorter amount of time. Sorry about the blurry pic!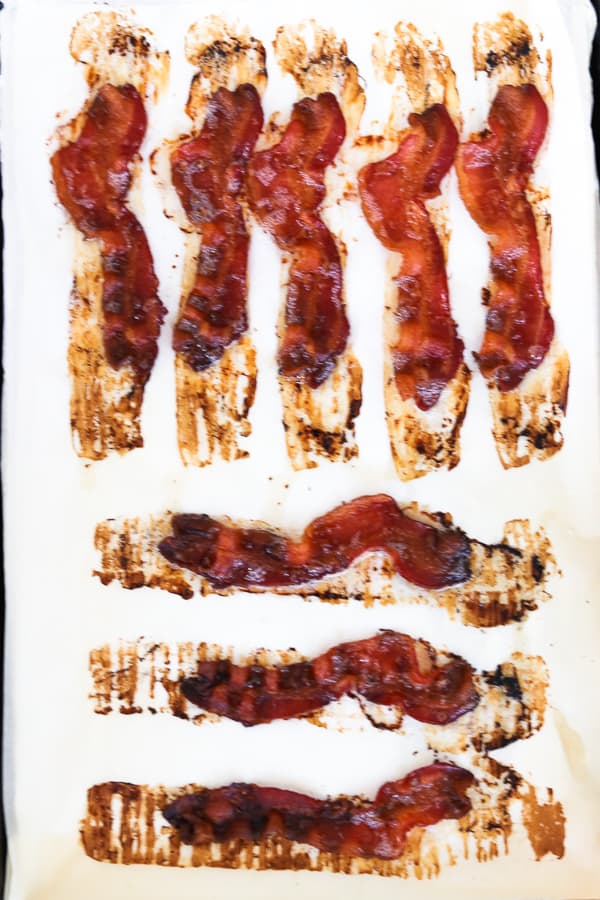 See, good things come to those who wait. 😉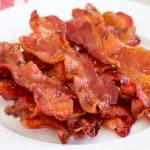 Baking Bacon – How To Bake Bacon in the Oven
How to bake bacon in the oven so that it's just the way you want it! No more burns from that splattered bacon grease and clean up is super easy. Hooray!
Keyword:
bacon, baking bacon, How to bake bacon in the oven
Ingredients
1

lb.

bacon

heavy duty tin foil

parchment paper

rimmed baking sheet
Instructions
Prepare a rimmed baking sheet by lining it with a sheet of heavy-duty tinfoil and then place a piece of parchment on top of that.

Place the bacon on the prepared baking sheet in a single layer, making sure to not overlap them.

Place the baking sheet into the oven and turn oven to 400 degrees F.

Bake for 12 - 17 minutes, being sure to check at the 10-minute mark to see how it's doing. I checked every 3 minutes after that until it was golden and then removed it from the oven. The bacon can go from being perfectly done to burnt in a very short time, so it's important to keep your eye on it after that 10-minute mark to make sure it'd done to your desired doneness.

Remove bacon from the oven and place on a plate lined with paper towels before serving.
Recipe Video
Nutrition Facts
Baking Bacon – How To Bake Bacon in the Oven
Amount Per Serving
Calories 472
Calories from Fat 405
% Daily Value*
Fat 45g69%
Cholesterol 74mg25%
Sodium 750mg33%
Potassium 224mg6%
Carbohydrates 1g0%
Protein 14g28%
Vitamin A 40IU1%
Calcium 6mg1%
Iron 0.5mg3%
* Percent Daily Values are based on a 2000 calorie diet.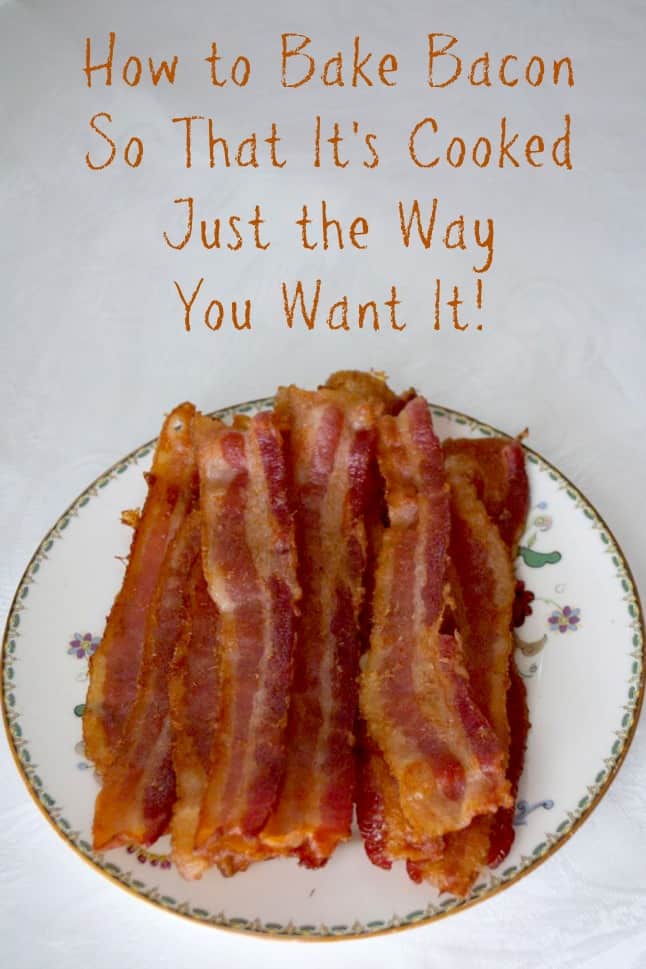 Here are some delicious breakfast ideas that you can serve right along with your bacon!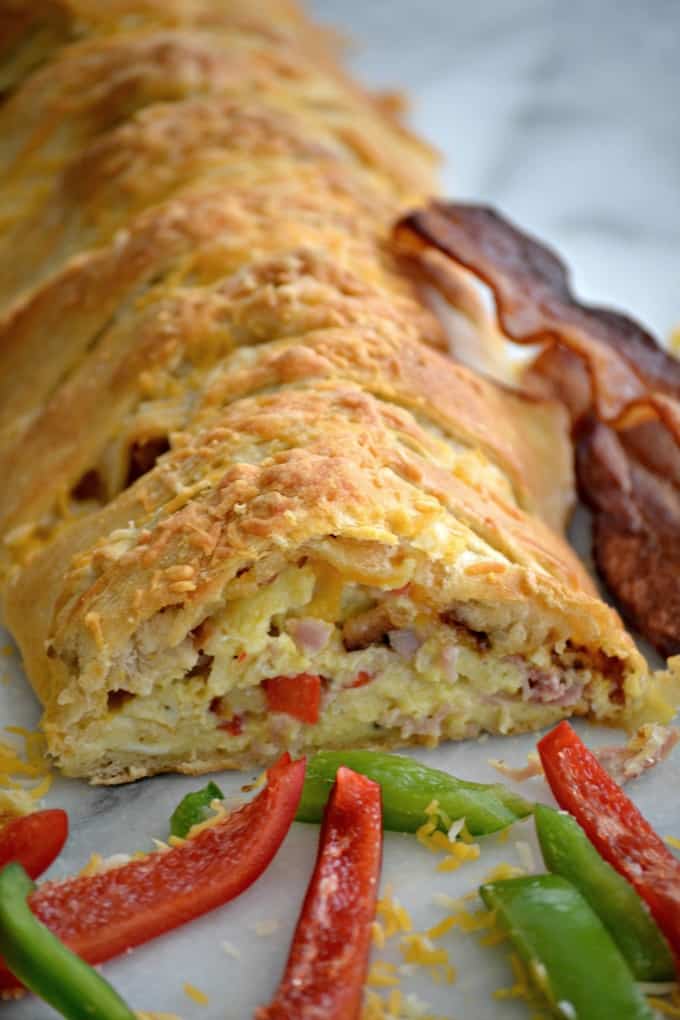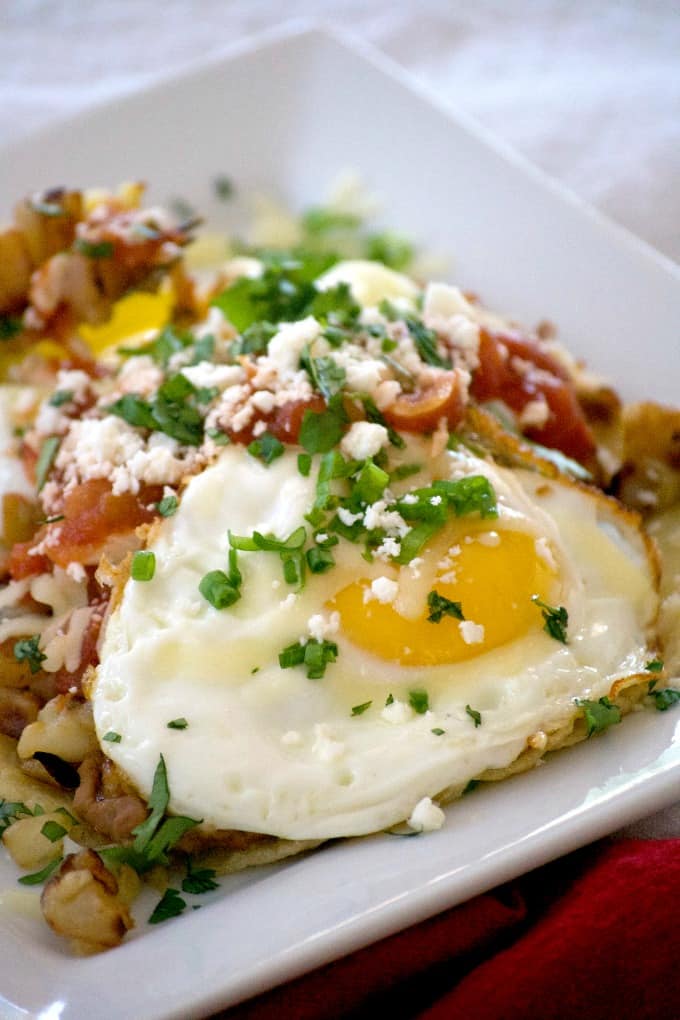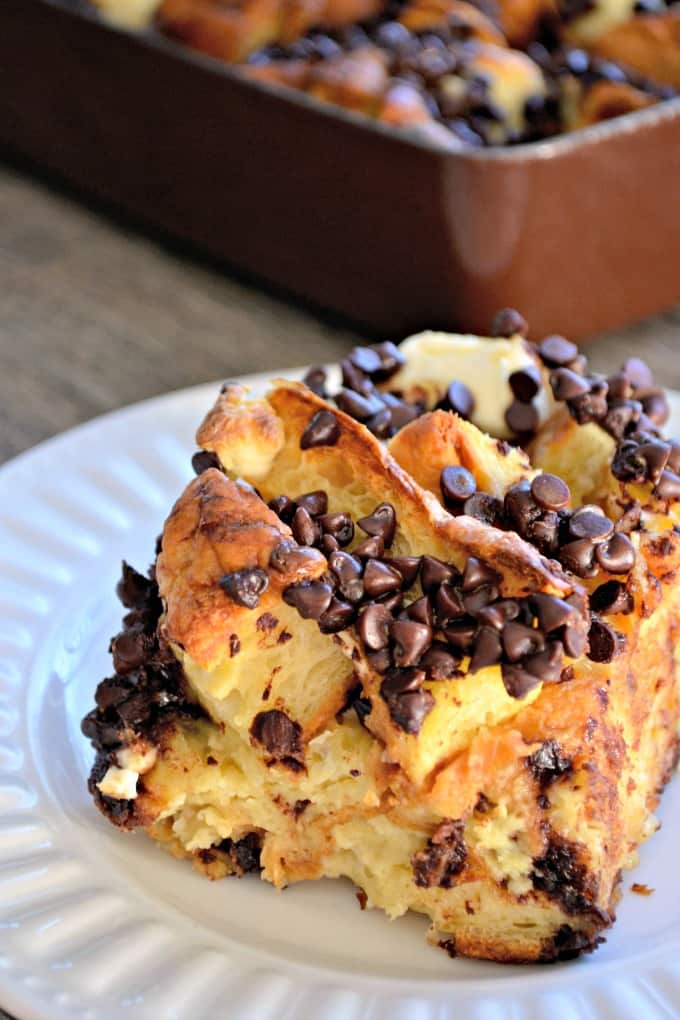 Bacon.
Just the way you want it. No splatters. Easy cleanup. And a happier you.
Your question of how to cook bacon in the oven has been answered.
You're welcome.