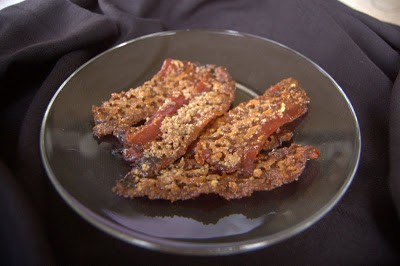 Do you know what today is?
Yes, it's Friday.
Yes, it is January 27.
And do you why January 27 is significant here at 365?
It is what is supposed to be the final day of 365.
Yes, it is 365 Days of Baking's one year blogiversary.
No fanfare, no big hoopla.
Just an observance.
Because this was supposed to be the final post, the final frontier, the end of my baking. every. single. day.
Today is Day 324.
I cannot believe that I have skipped 41 days!
I really didn't think it was that many.
When I finish this, I kind of want to do another 365 of Baking because I really feel as if I"m needing closure, that it needs to be completed as it was intended to be.
It just my anal-retentiveness.
I won't be though because I know the family would like to see me venture on to other recipes, and also the oven needs a good rest.
It will also be nice to see the electric bill slightly decrease.
After I have completed my 365th baked item, we will celebrate.
There will be cause for celebration and there actually already is.
You're here and that's wonderful!
Sugared Pecan Bacon – serves 4
1 lb. thick-cut bacon
1 cup light brown sugar, packed
1/4 cup finely chopped pecans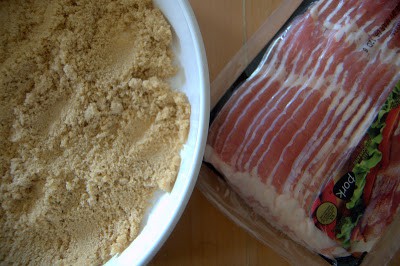 Preheat oven to 350 degrees F.
Prepare two rimmed baking sheets by lining them with parchment and placing a wire rack onto each of them.
Spray each wire rack with cooking spray.
Place brown sugar onto a plate.
Remove the bacon from the packaging and cut the pieces in half (just makes it easier if the pieces aren't so long).
Take a piece of the bacon and place it into the dish, lightly pressing into the sugar.
Turn the piece over and coat the other side.
Transfer bacon to the prepared wire rack.
Repeat process with remaining pieces of bacon.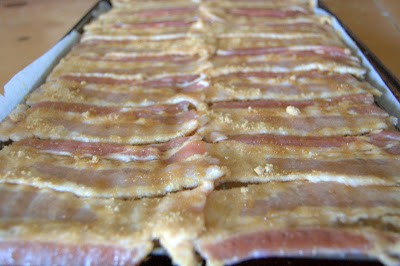 At about the 30 minute mark, sprinkle finely chopped pecans onto each bacon piece and rotate pans.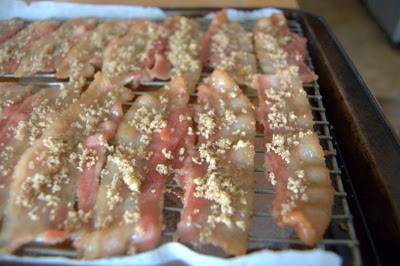 Finish baking for another 10-20 minutes depending on how well done you like your bacon cooked.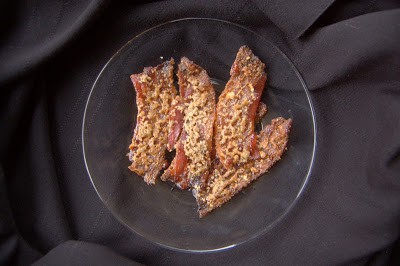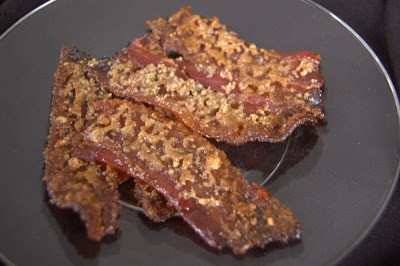 I rate everything I bake on a scale of 1-4 with 4 being the best and this Sugared Pecan Bacon earned 3 1/2 rolling pins.
That first bite was quite bizarre.
I guess it wasn't what I was expecting. I like my bacon WELL DONE, almost to the point of burnt.
And very crunchy.
Some of the pieces were a little on the burnt side, and I expected those to taste awful, thinking the brown sugar would be burnt, too, but those pieces were quite delicious and somewhat literally melted in my mouth.
The first bite of one that wasn't burnt was much softer than I had anticipated. I was thinking it be extra crunchy, but it wasn't.
It's kind of hard to explain and I don't know if it's because that's the way bacon is when it's cooked in the oven (never had it that way) or if it was the sugar and nuts on it.
I'm thinking the latter.
It was in between chewy and crunchy. It was chunchy.
My new word, CHUNCHY.
I don't know, I can't really even think if anything that I could relate it to, so that you'd understand.
It certainly wasn't a bad thing, just different.
I took one bite and really didn't think I liked it, but the more I ate, the more I fell in love with it.
This stuff is just a heart attack waiting to happen, boy.
You eat a little and then keep going back for more.
I can't sat that there's anything really healthy about it, so it's one of those things you'll need to eat in serious moderation and drink lots of green smoothies after you've consumed it.
We ate it with our eggs for dinner.
Tomorrow, I'm crumbling it and putting it onto some salads.
At least then I won't feel so guilty. 😉
I give you all BIG baking hugs and muffins!!