Easter M&M Blondies are an easy bar dessert perfect for any spring time occasion. Grab a package of Easter M&Ms (or even leftover Easter candy) and make these deliciously rich and chewy blondies!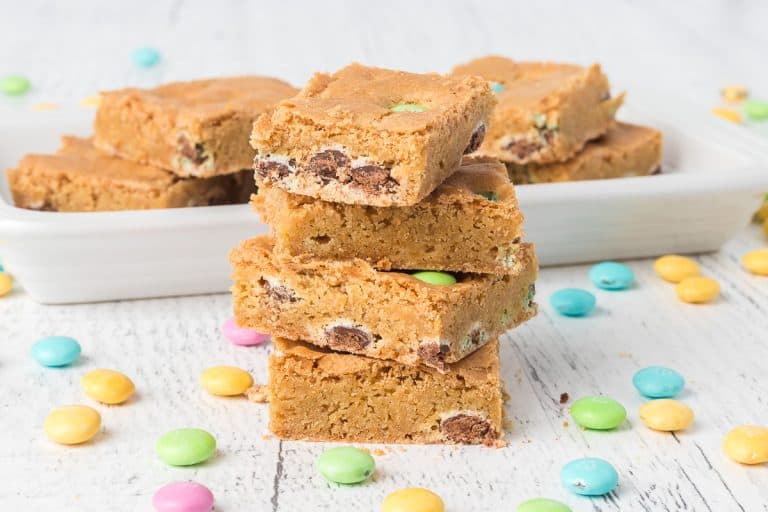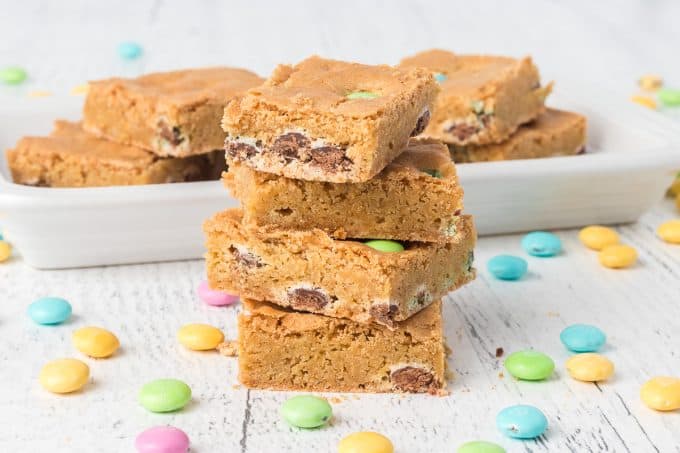 Blondies are always a good idea.
Especially when they deliver sweet chocolate candies in every bite!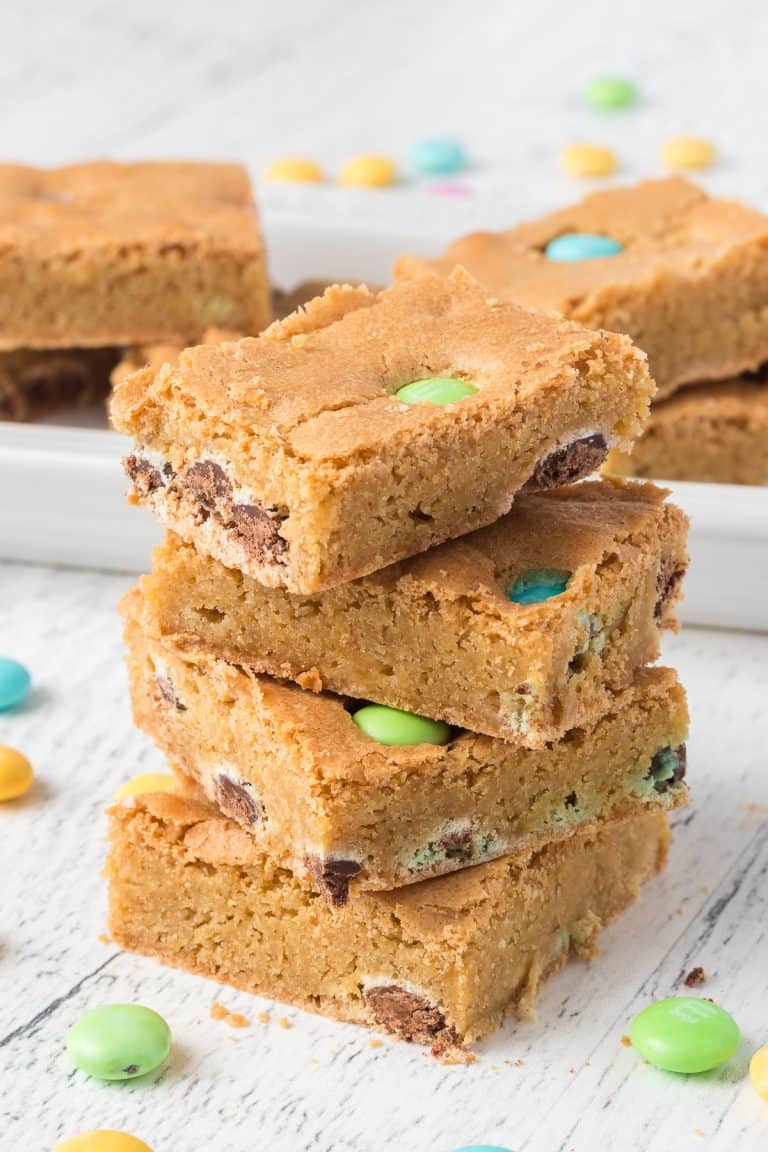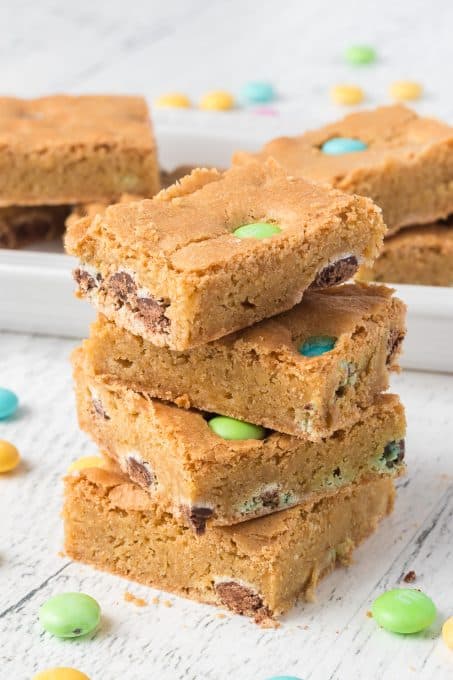 These M&M Easter Blondies recipe are sweet, colorful and easy to make. You'll love serving these as an Easter dessert or at a spring potluck. Once you learn how to make buttery blondies, you can even change up the colors of the M&Ms for different holidays and occasions any time of year.
Did I mention how fun these are to eat? I love the assortment of pastel colors mixed into the golden blondie. It makes me think of Easter traditions like egg hunts and baskets overflowing with all kinds of candy.
The best part about this recipe is how amazing the blondies taste. The second best part is that it's quick and easy to make!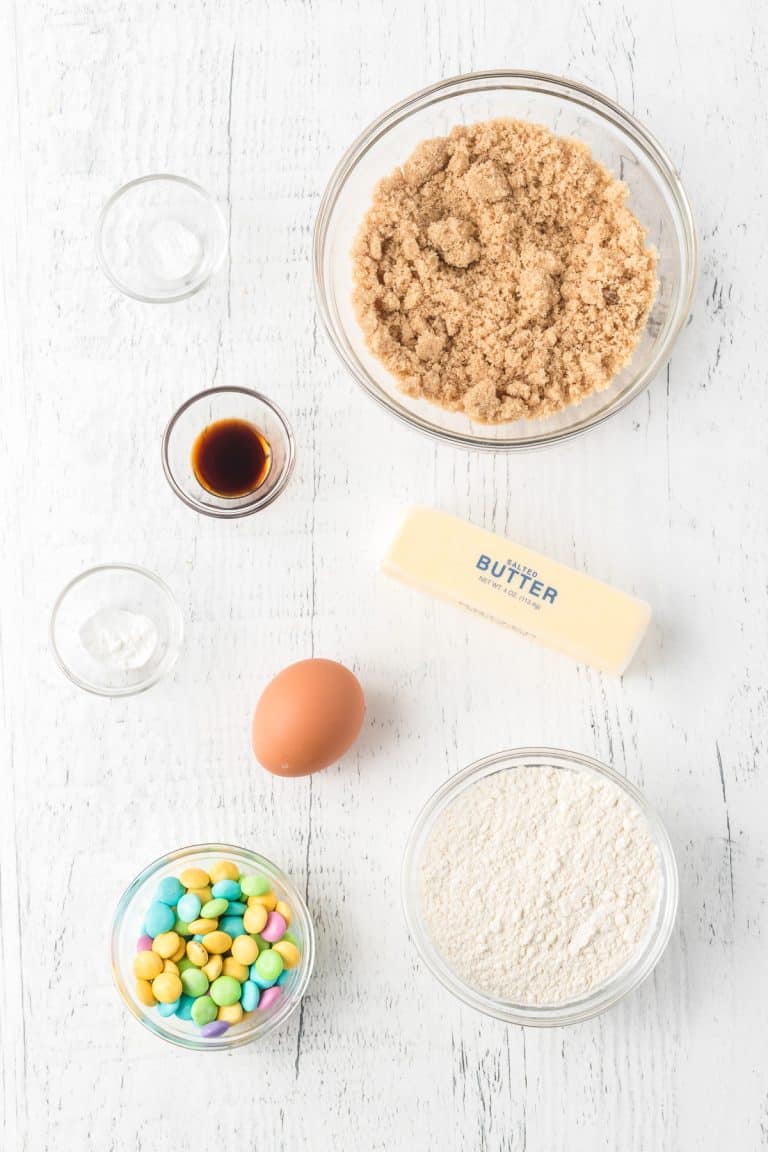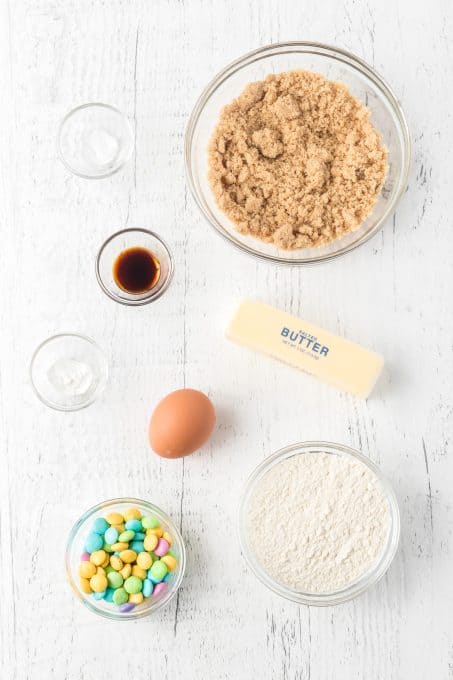 What do I need to make this easy blondie recipe?
You will need the following ingredients to make this Easter M&M blondies recipe:
Melted unsalted butter
Light Brown sugar
Egg
Vanilla extract
All-purpose flour
Baking powder
Baking soda
Salt
Pastel M&M candies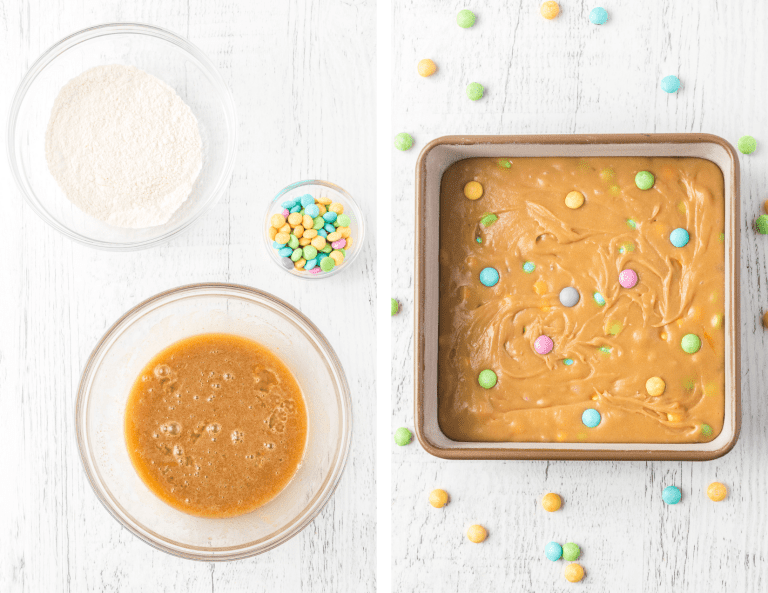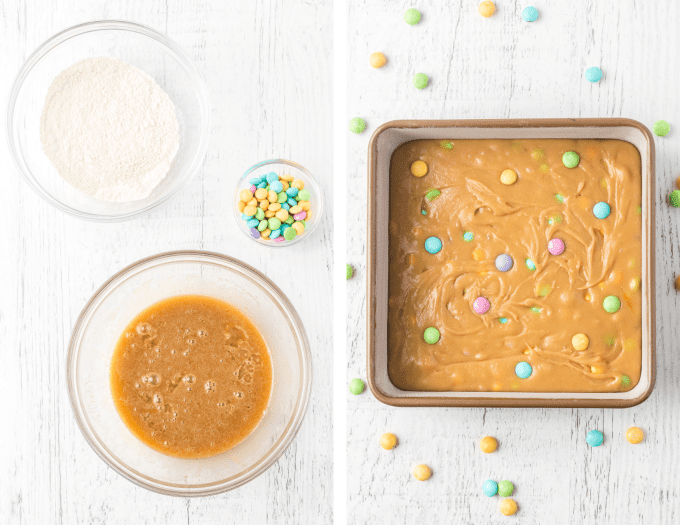 How do I make blonde brownies?
Blondies are an easy bar dessert that comes together with just a few minutes of effort.
I make mine in a square 8×8 baking pan to get about 12 equal bars. Start by buttering your baking dish and lightly dusting it with flour or line it with a piece of parchment paper. This makes the M&M blondies easier to remove after baking.
Next, mix together the dry ingredients in a bowl and set them aside. In a separate large bowl, combine melted butter with brown sugar. Mix in the vanilla and egg until well combined.
Now add the flour mixture to the wet ingredients and mix to form a thick batter. Fold in the M&Ms. Be sure to scrape the sides of the bowl to make sure everything has been mixed.
To bake, spread the blondie batter into your prepared pan. Baking time in a preheated oven is 20 to 25 minutes. If the M&M's have sunk as the dessert has baked, place a few remaining m&m candies on top of the blondies for more color. Let cool completely before slicing and serving.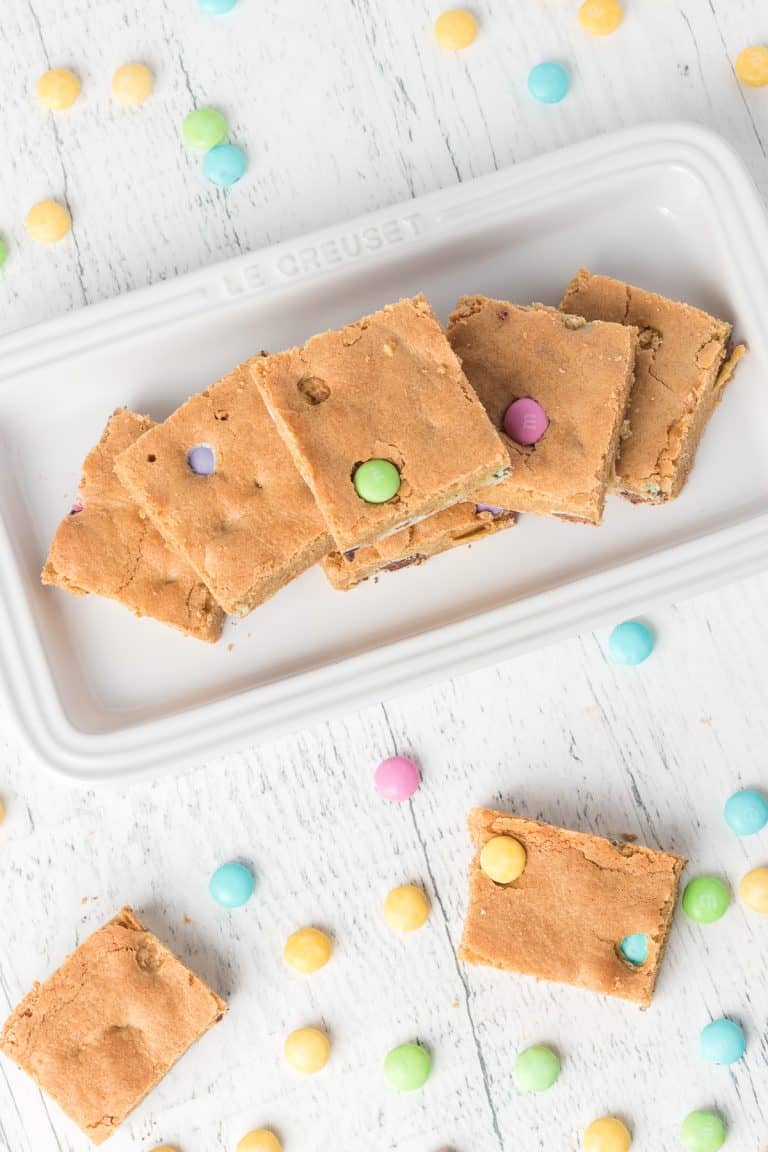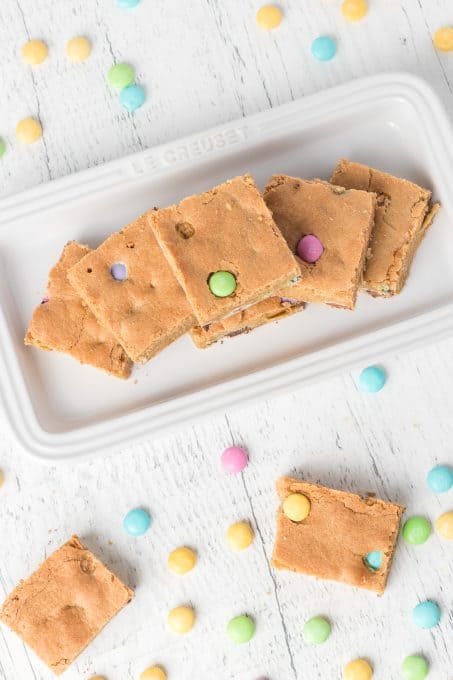 Tips for Perfect Festive Easter Blondies
The blondies will still look slightly soft when they come out of the oven. Like cookies, they'll continue to set as they cool. Be careful not to over bake or you could end up with hard crumbly bars instead of soft and chewy ones.
To check the blondie bars for doneness, insert a toothpick into the center of the pan. If it comes out clean, you're good to go.
Blondies are a little easier to slice than brownies, but for perfect edges I recommend using a clean sharp knife, wiping off excess crumbs before making each cut. You can serve your Easter Blondies right away or store them in an airtight container at room temperature for up to 5 days.
Can I freeze blondies with M&Ms?
Yes, blondies with M&Ms can be stored in the freezer for up to 3 months. Like other blondies made with colorful candies or sprinkles, the color may "bleed" as they thaw, but I actually think this makes the Easter bars look even more colorful and fun.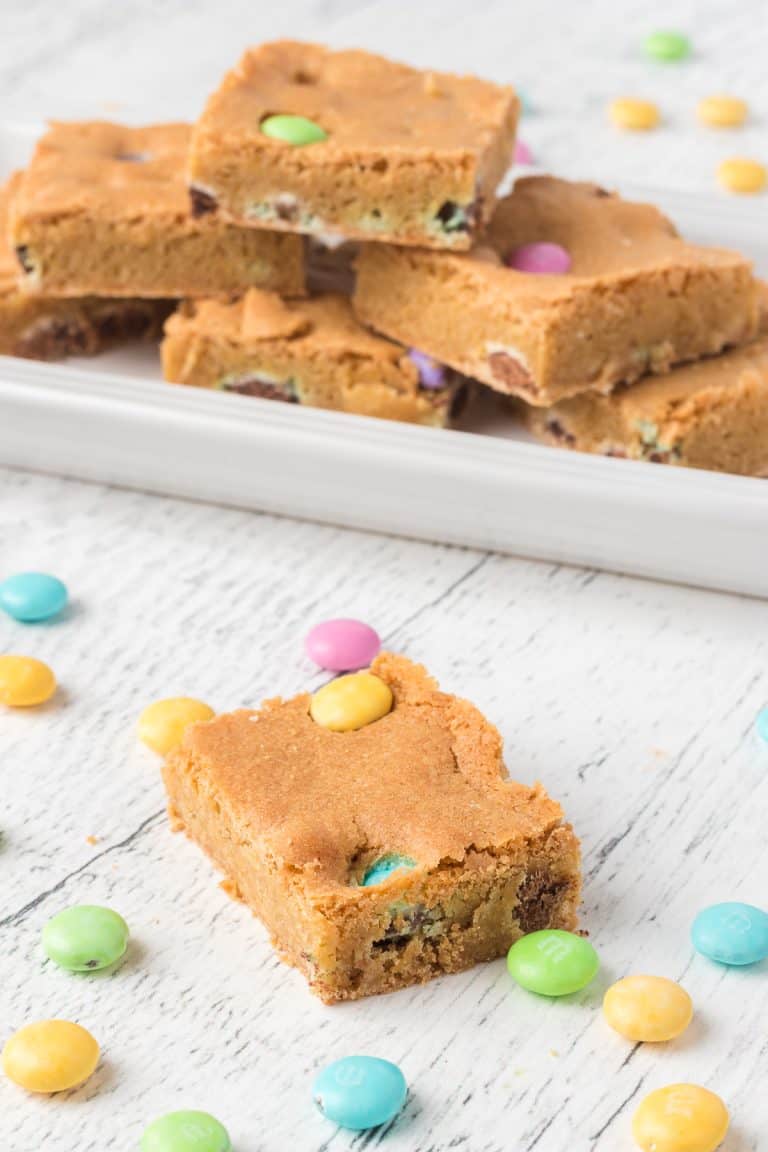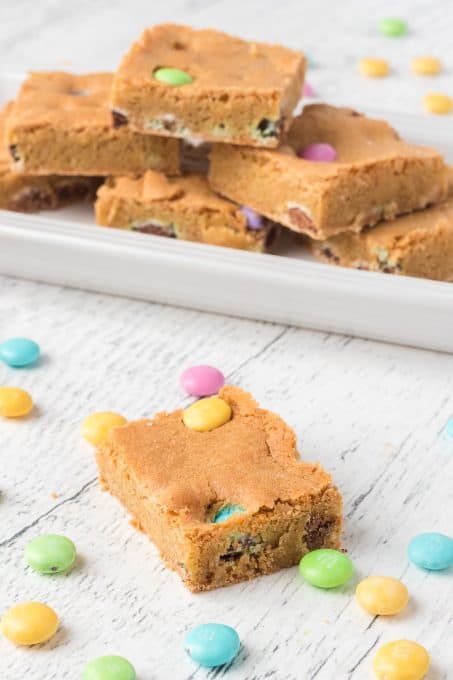 Chewy Bars and Cookie Recipes
There are so many tasty ways to make bar desserts. We love bars because they're easy to serve and you can (usually) eat them with your hands. No utensils necessary.
If you like these M&M Easter Blondies, save our Valentine's Day Blondies to make next February 14th. Then add these Chocolate M&M Cookies to your cookie trays when the Christmas season rolls around.
Speaking of chocolate, have you tasted these Chocolate Overload Loaded Brownies? It's absolute heaven for chocolate lovers!
Check out all of the bar and cookie recipes we've shared over the years: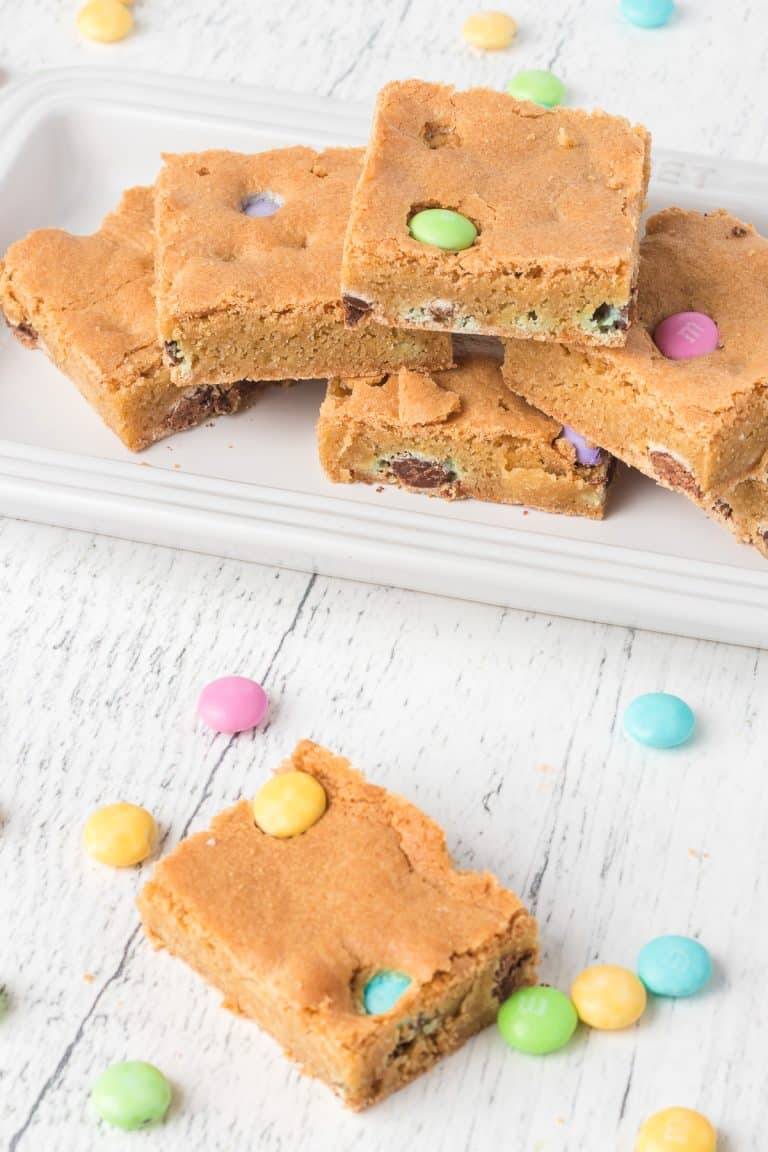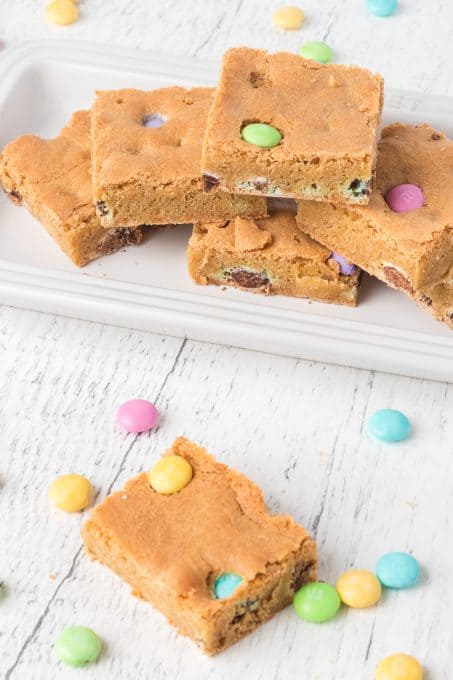 Easter Desserts
Give your Easter menu a sweet finish with these other spring dessert ideas.
Keep an eye out for my new recipes every week!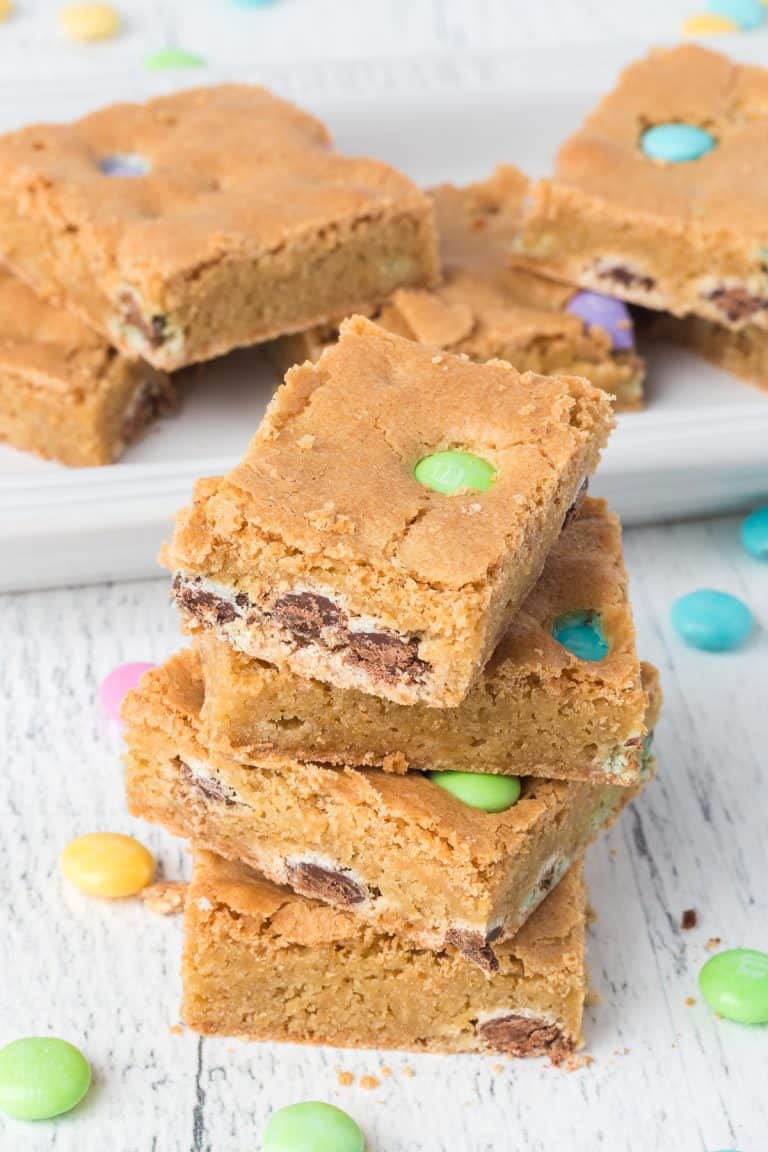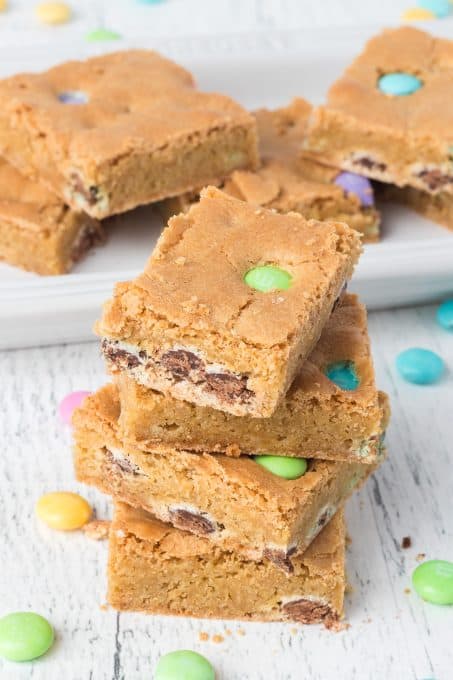 Make Easter M&M Blondies part of your Easter celebration this year! Kids and adults alike can't get enough of these Easter dessert recipe loaded with pastel M&Ms and sweet flavor. Happy Baking!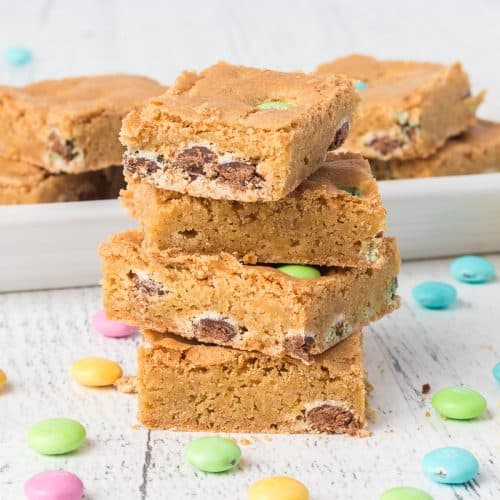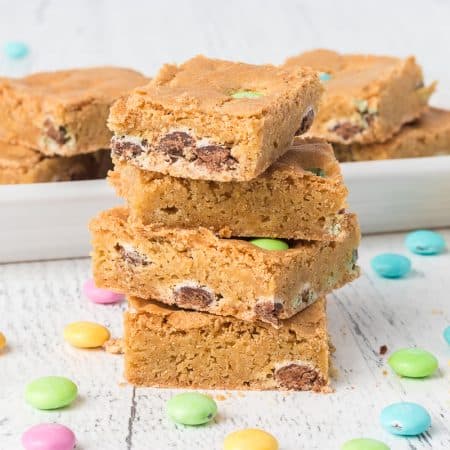 M&M Easter Blondies with a colorful twist! You'll love this classic blondies recipe dotted with pastel colored M&Ms candies. Sweet, chewy and fun to eat, these M&M Blondies are the perfect treat to bake for an Easter treat.
Ingredients
1 cup all-purpose flour
½ teaspoon baking powder
⅛ teaspoon baking soda
1 Pinch salt
½ cup unsalted butter melted
1 cup packed light brown sugar
1 egg beaten
1 teaspoon pure vanilla extract
⅓ cup Easter M&M's pastel colors
Instructions
Preheat the oven to 350°F. Prepare an 8X8 pan by buttering it and lightly dusting with flour.

In a small bowl, whisk together the flour, baking powder, baking soda, and salt.

In a medium bowl, whisk the melted butter and brown sugar together.

Mix in the egg and vanilla.

Add the flour mixture to the butter mixture and combine thoroughly.

Add the M&M's and mix.

Place batter into the pan and spread evenly

Bake for 20-25 minutes or until a toothpick inserted into the middle comes out clean.

Place on a wire rack and cool before serving.
Nutrition
Serving: 1bar | Calories: 211kcal | Carbohydrates: 30g | Protein: 2g | Fat: 9g | Saturated Fat: 6g | Polyunsaturated Fat: 1g | Monounsaturated Fat: 2g | Trans Fat: 1g | Cholesterol: 35mg | Sodium: 27mg | Potassium: 60mg | Fiber: 1g | Sugar: 21g | Vitamin A: 269IU | Vitamin C: 1mg | Calcium: 35mg | Iron: 1mg
Did you make this recipe?
Share it with me on Instagram and make sure to follow me on Pinterest for more recipes.
Reader Interactions